July 14, 2020
Half Dome. El Capitan. Tuolumne Meadows. Yosemite Falls. The names of Yosemite's majestic granite walls, grassy leas, and thundering waterfalls are more familiar to many of us than the features of parks in our own regions. Yosemite National Park has long occupied a cherished spot in America's imagination, fed by John Muir's lyrical writings of the late 1800s and Ansel Adams's dramatic photographs from the 1920s. Even today, acclaimed documentary films Free Solo and The Dawn Wall wow us with Yosemite's breathtaking scenery and the human drive to scale its forbidding heights.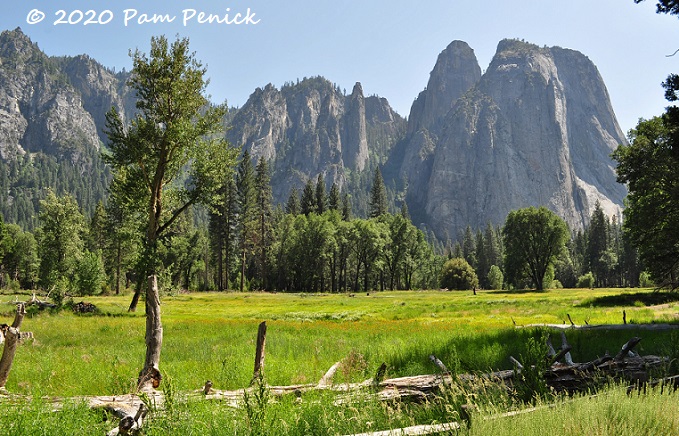 We visited Yosemite in June, the ultimate destination on a road trip through six national parks of the Southwest (how we pulled it off is detailed in my first post, linked here). Because of Covid-19, Yosemite currently requires a reservation in order to reduce visitor numbers, and I'd made ours the day the reservation system debuted. It granted us 7 days of entry into the park, and we ended up using 4 of those days.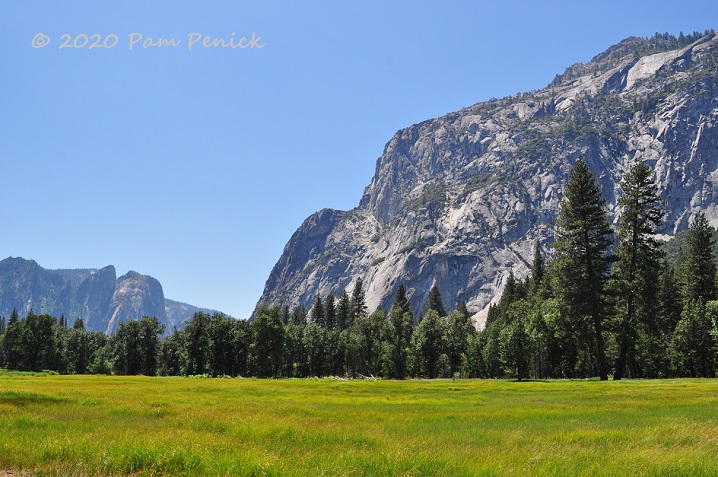 Enough of logistics. Let me share with you pictures of one of the most beautiful places on earth. I first visited Yosemite in 1995, and I was prepared to be awed again by its sublime scenery. But memory and faded photos can't substitute for rippling, yellow-green meadows fringed by dark firs pointing toward hulking, sheer cliffs, surmounted by a dome of blue sky.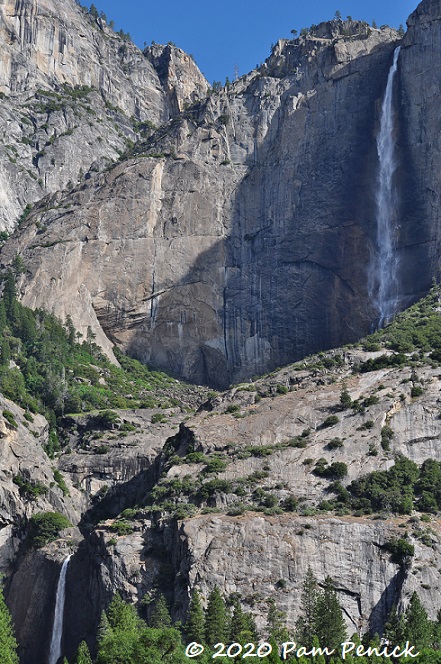 At every turn, lofty waterfalls thunder from cliff faces into the valley. While some of Yosemite's waterfalls dry up by late summer, in mid-June they flowed freely.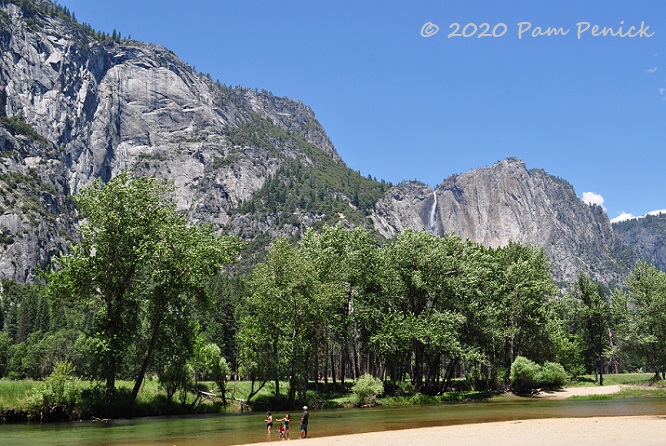 The only other time I'd been to Yosemite was in chilly October, so I was surprised to see how many people come to the park to play in the Merced River, which winds through the valley. Several beaches offer easy access as well as fantastic views. One late afternoon we saw a black bear swimming across the river and clambering into the brush on the other side. That one we named River Bear. (See other bear sightings in my post about Sequoia National Park.)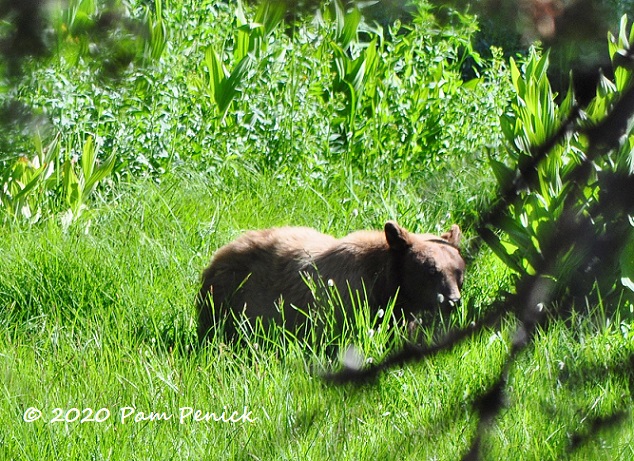 Another day we saw Meadow Bear, above. Earlier that day we'd seen Tunnel Bear, who'd darted across the highway right in front of a tunnel, from which a car was emerging. Thanks heavens the other driver saw it in time and slowed down. Signs throughout the park remind visitors to drive slowly and watch for bears on the roads. Sadly, a number are struck and killed each year.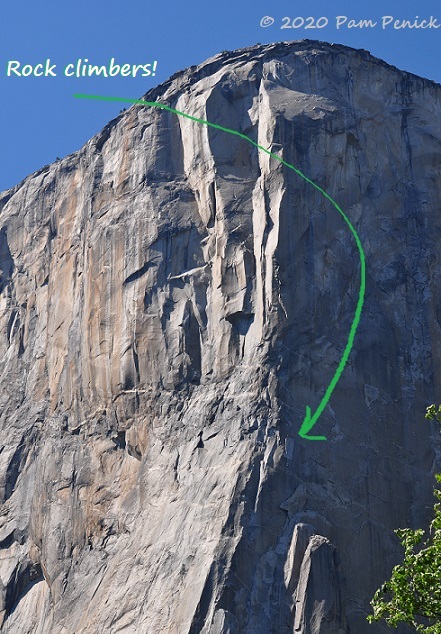 Having watched Free Solo and The Dawn Wall several times (yep, we're fans of climbing documentaries; I highly recommend Touching the Void too), we expected to see climbers on El Capitan, a gargantuan block of sheer granite. With binoculars and a zoom lens, we watched two climbers who seemed to be scouting a path upward.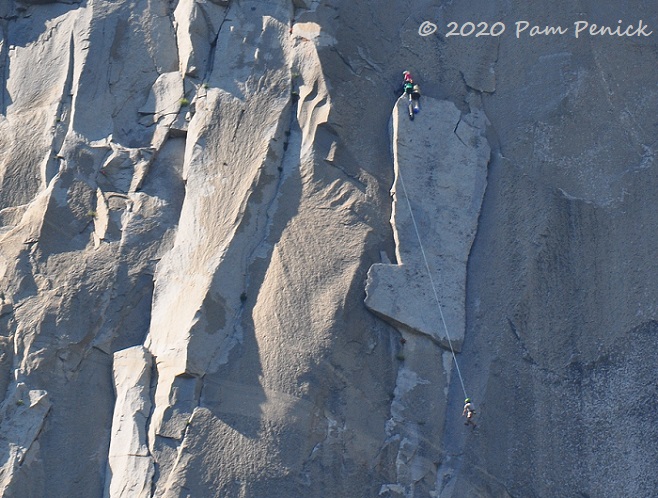 Atop a boot-shaped sliver of a ledge, one climber anchored the rope of another, who swung in a great arc back and forth, looking for what exactly we did not know.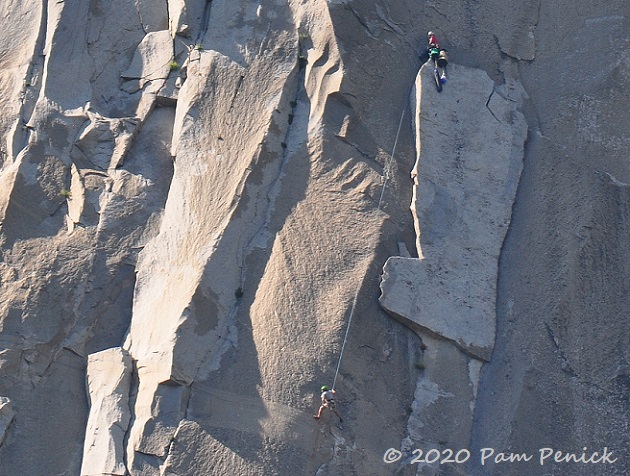 Insanity, right? But also awe-inspiring.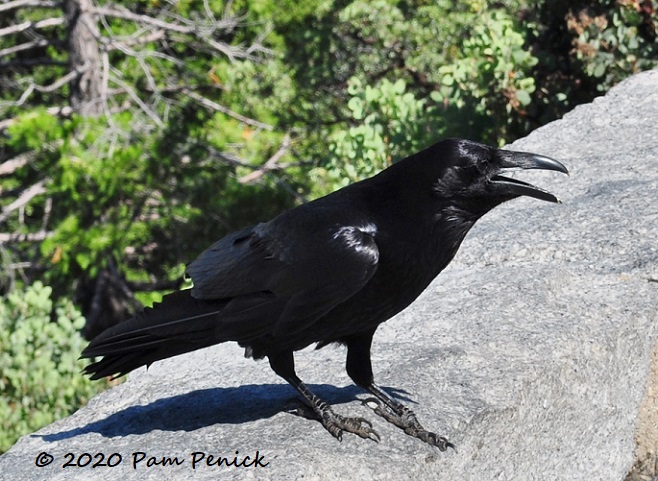 One day we drove up to Glacier Point. At a pullout along the way I photographed this curious raven, one of many we saw throughout the park.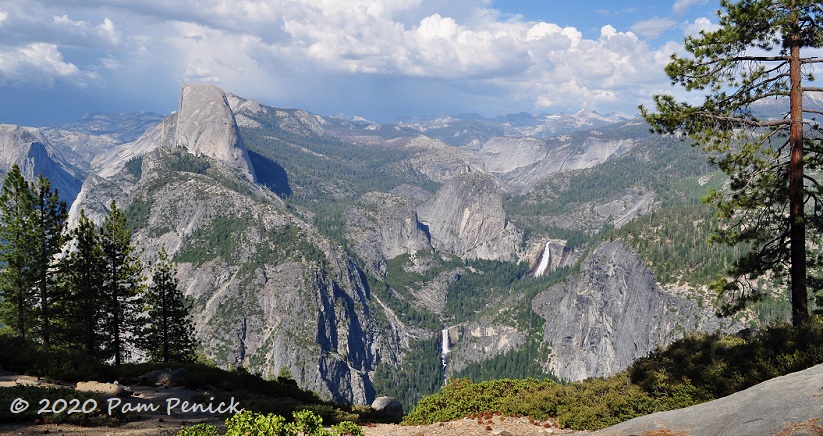 Near the end of the one-hour winding drive upward, I caught sight of this view and yanked the wheel into a pullout. Just. Look. At. That. This is the view from Washburn Point, just south of Glacier Point. Half Dome, like a cowled monk in profile, juts skyward. Behind it the "giant staircase" is marked by a forested hanging valley and the white streamers of Nevada Fall (597 feet) and Vernal Fall (317 feet).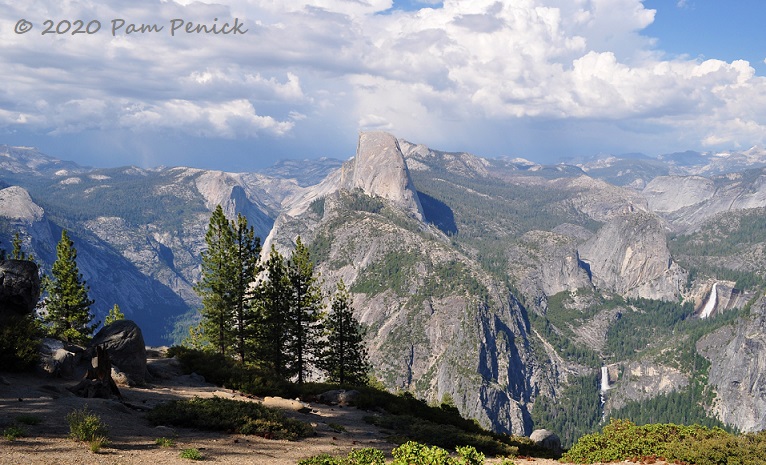 Panning left you see blue shadows and the chasm in which Yosemite Valley lies.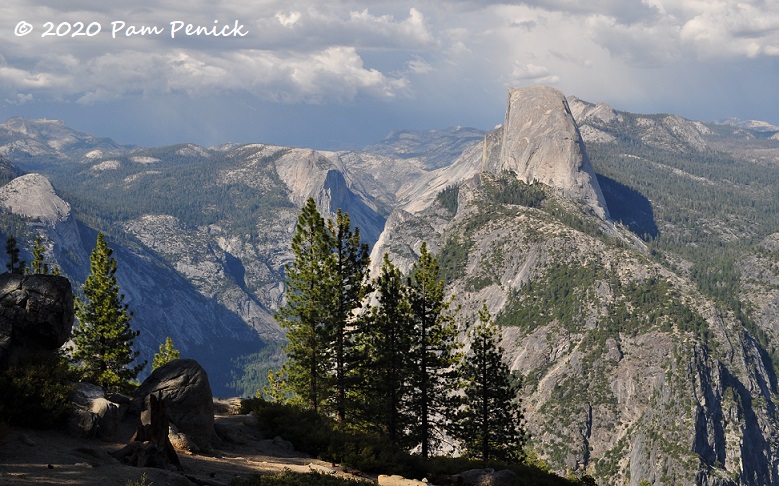 Is it not the most epic scenery?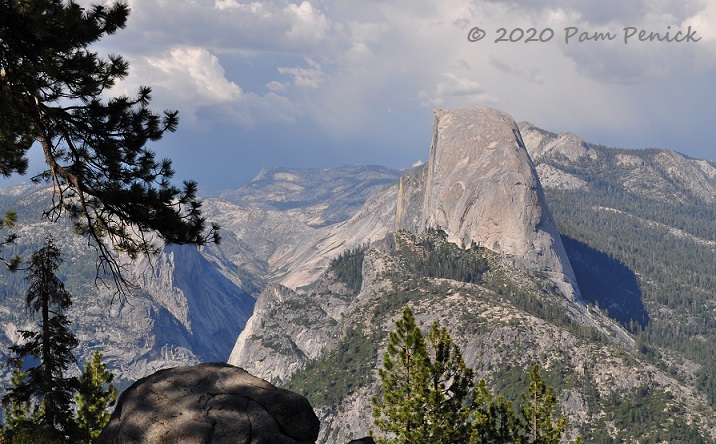 Half Dome in profile. David hiked to the top of Half Dome on our second day in the park (yes, he's a badass), and I'll tell about that in my next post.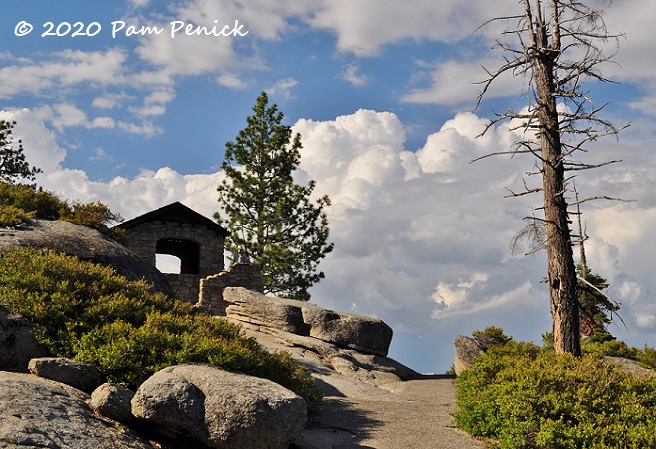 As clouds gathered and the afternoon light grew more golden, we drove on to Glacier Point. A short trail leads to a stone hut, known as Trailside Museum, overlooking Half Dome.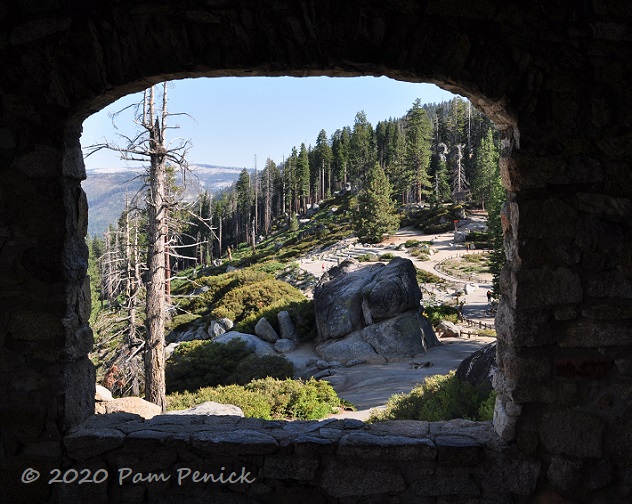 I waited outside until the hut was empty of other visitors and then took my turn, framing a view of the trail through a window…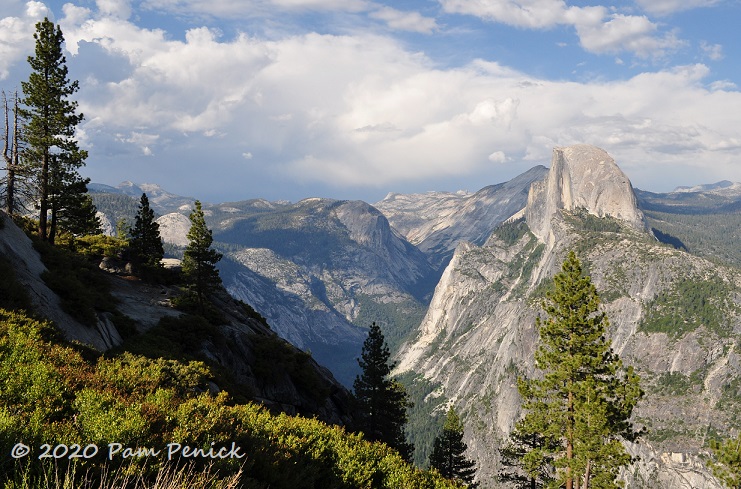 …and then admiring the majestic view of Half Dome, its sheer face visible from this vantage point at 7,200 feet above sea level, and 3,200 feet above the valley floor.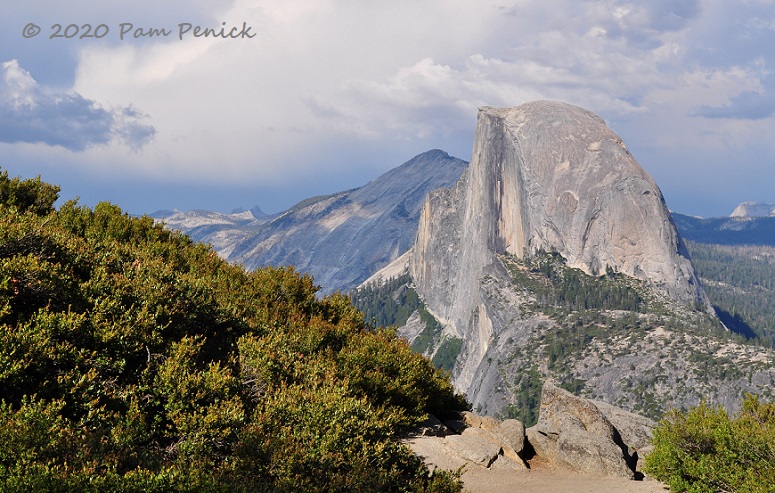 It seems almost as though you could reach out and touch it.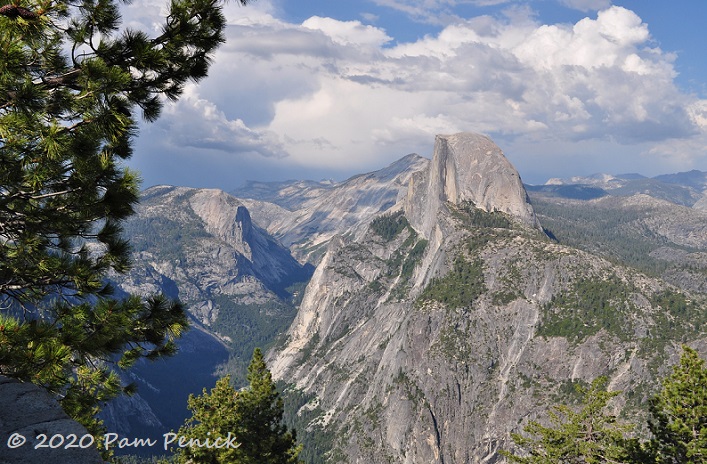 But you'd have to sprout wings. The hiking route ascends the back (non-sheer) side — but it's still extremely steep. More details on that in my next post.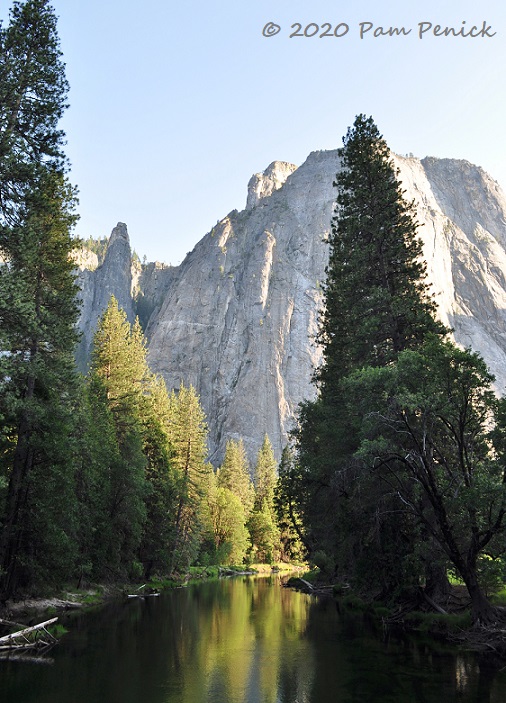 For now I'll leave you with golden trees reflecting in the Merced…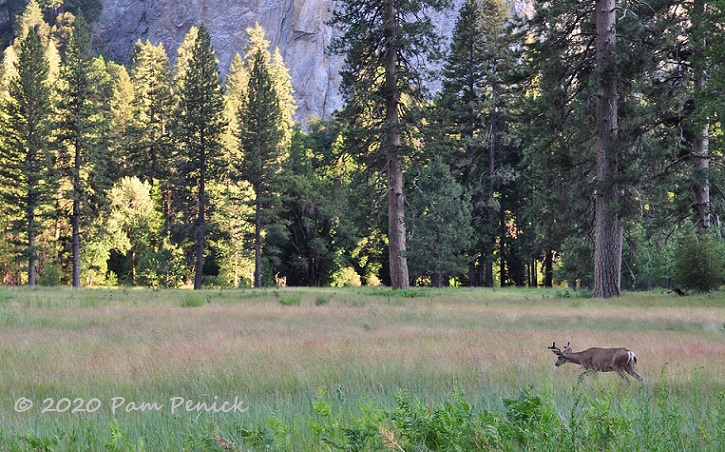 …and a mule deer picking its way through a valley meadow.
Up next: Tales from a hike up Half Dome, plus the Dawn Wall and Olmsted Point. For a look back at the wildflowers and whitewater of Kings Canyon National Park, click here.
I welcome your comments; please scroll to the end of this post to leave one. If you're reading this in a subscription email, click here to visit Digging and find the comment box at the end of each post.
_______________________
Digging Deeper: News and Upcoming Events
Join the mailing list for Garden Spark! Hungry to learn about garden design from the experts? I'm hosting a series of talks by inspiring garden designers, landscape architects, and authors a few times a year. Held in Austin, the talks are limited-attendance events that sell out quickly, so join the Garden Spark email list to be notified in advance. Simply click this link and ask to be added.
All material © 2020 by Pam Penick for Digging. Unauthorized reproduction prohibited.