January 14, 2021
Want to know what's inspiring me this week? It's the South Australian garden of Kurt Wilkinson, a professional gardener and topiarist in the Adelaide area. Kurt's work came to my attention via a Danger Garden post about Gardening Australia, a TV show from Down Under with episodes viewable online. The "Yalamurra" episode about Kurt's garden caught Danger's eye, and boy, did it grab mine as well.
The first thing that struck me about Kurt's garden is a feeling of sympathy with our own Texas Hill Country landscape. Hilly, rocky, scrubby, and hot, his property northeast of Adelaide presented him, he says, with the necessity of ditching familiar garden plants and experimenting with tough natives and roadside weeds to see what would live. Sound familiar, my fellow Texans?
The second thing that struck me is his use of clipped topiary to add structure and punctuation amid airier, dry-loving plants that grow in a meadowy matrix with native grasses.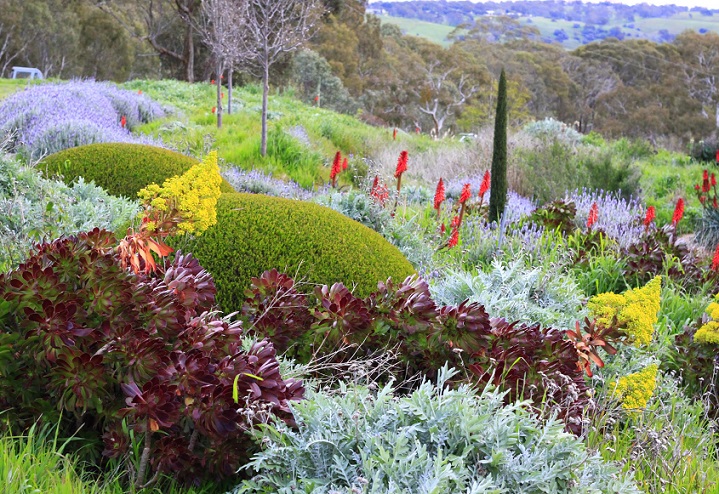 Here in central Texas, with our sauna-like but drought-prone summers — unlike Kurt's dry Mediterranean summers — we can't always successfully grow the fabulous maroon euphorbias aeoniums he favors for foliage color, nor his rivers of lavender. But look, we have our own unique and well-adapted plants that we can use to similar effect. Pop some zig-zagging, lead-the-eye topiary spheres or spires in there, and it's magic.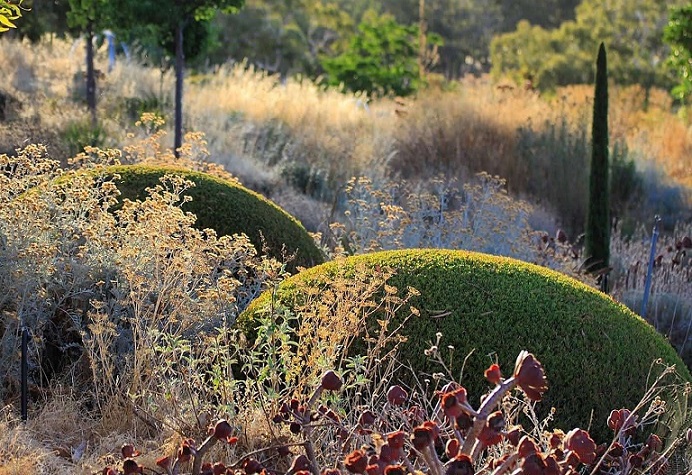 I reached out to Kurt on Instagram (check out his stunning images of his garden), and he kindly agreed to send me some photos to use in this post. When I asked if he'd ever been to Texas, he replied, "I have never visited any other gardens other than those I work in, in Adelaide. I do visit gardens vicariously through books, YouTube and Insta but that's it." Instead he focuses intently on his own plot of land, trying out anything that occurs to him and seeing what works. He also works hard on his photography skills, and it shows.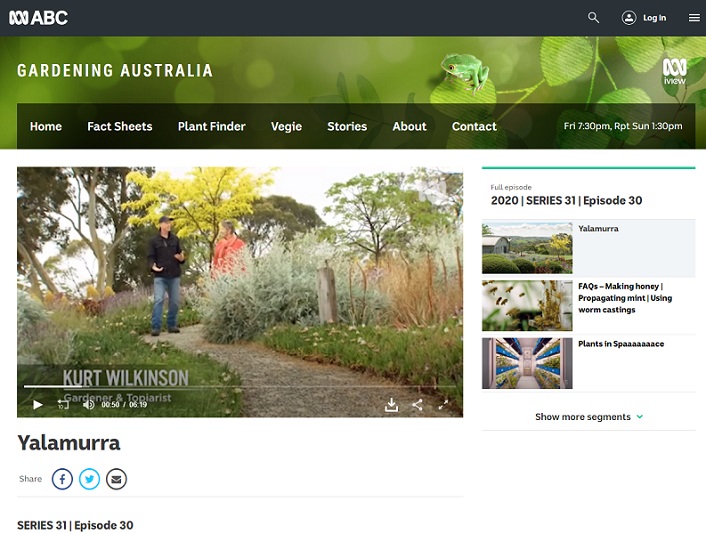 After watching his segment on Gardening Australia, I looked for more and found an article in Country Style magazine and a fascinating, in-depth interview with Kurt on the podcast Horticulture Rising. There I learned that Kurt is a self-taught gardener with a predilection for topiary and hedges. When he and his wife moved to their current home, he found himself gardening in a climate quite different from where he gardens for clients. So he needed a new plant palette for his thin soil and hot summers. As he says on the podcast, "I'm a professional plant killer. What's left is just what has survived….I can't be babying plants."
Formerly he favored formal gardens. But now that he's growing what desert garden designer Steve Martino appreciatively calls "weeds," he blends native, tough-as-nails plants with the formal topiary elements. And he's not afraid to topiary natives to see what happens, which reminds me of former Austin designer (now based in Santa Fe) James David, who once showed me an oak he'd topiaried. Kurt says, "Once you understand a plant, then you can really start getting creative with it."
Pruning advice
Kurt believes in trimming plants regularly, even the "pencil pines," aka Italian cypresses, that most people allow to grow into tall spires. He controls their height and diameter by starting young with side trimming and staying on top of their growth. Don't let them grow to the size you want and then start trimming, he advises. Instead, trim them tight from the start and then let them expand to the desired size amid regular pruning. "Don't be scared of the plant," he says. "Cut it hard. Just do it." For demonstrations, check out his pruning videos on his YouTube channel.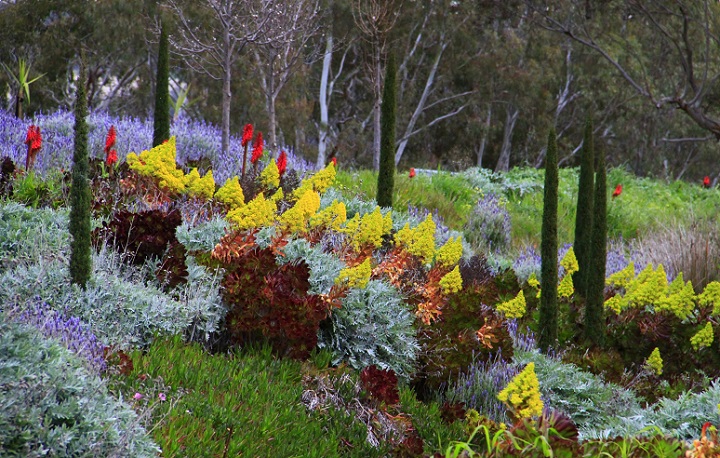 I learned a lot about experimentation with plants, finding one's own way with what works, and just the sheer joy of playing with plants from my deep-dive yesterday into Kurt's gardening world. Dive in yourself, and see how it inspires you.
Photos courtesy of Kurt Wilkinson. My thanks for their use.
I welcome your comments; please scroll to the end of this post to leave one. If you're reading this in a subscription email, click here to visit Digging and find the comment box at the end of each post.
_______________________
Digging Deeper: News and Upcoming Events
Last day is Friday! Enter my giveaway of new book Fearless Gardening by Loree Bohl of the popular blog Danger Garden. To enter, simply comment on my blog post about the book (click the link above). Giveaway rules can be found in that post. Good luck! The winner will be announced on the 16th.
Join the mailing list for Garden Spark! Hungry to learn about garden design from the experts? I'm hosting a series of talks by inspiring garden designers, landscape architects, and authors a few times a year. Held in Austin, the talks are limited-attendance events that sell out quickly, so join the Garden Spark email list to be notified in advance. Simply click this link and ask to be added.
All material © 2021 by Pam Penick for Digging. Unauthorized reproduction prohibited.