[ad_1]

January 01, 2021
What is Austin's 56th annual Trail of Lights without the people? Without the experience of walking among brilliantly illuminated trees with throngs of other Austinites, some boosting little kids up on their shoulders, some wearing Santa hats, some stopping to take selfies, all chattering and laughing?
Let's just say that a covid-safe, drive-through Trail of Lights is better than no Trail of Lights, but still, it's a solitary, disconnected experience compared to years past.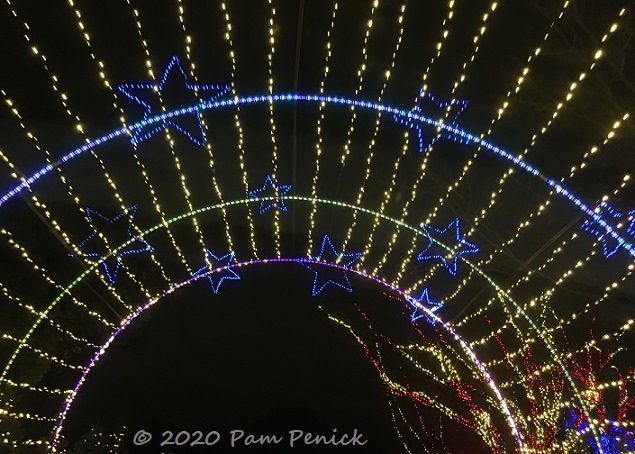 I bought tickets a couple weeks before Christmas, and by then nearly all the time slots were sold out. So I signed us up for New Year's Eve at 9:45 pm, and last night we zipped downtown on a nearly empty MoPac, arriving 20 minutes early. No other cars were queued up, and we were directed straight into the park.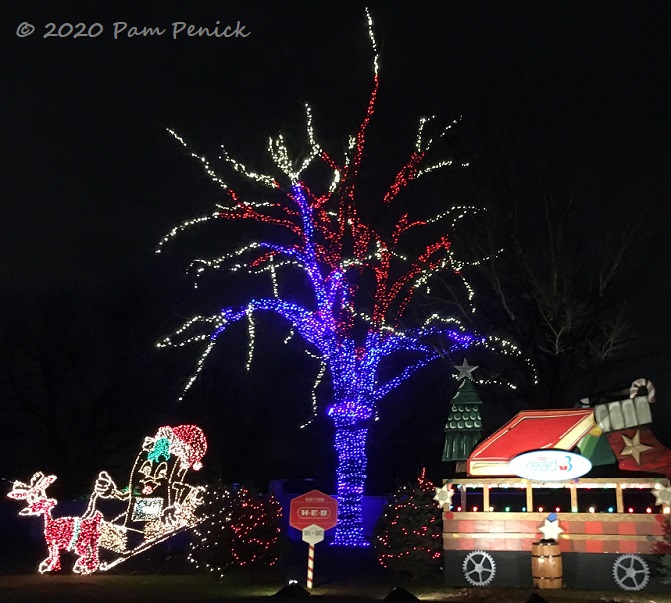 Tuning our radio to the Trail of Lights station, we hummed along with Christmas tunes and listened to elves talking about something or other as we crawled along at a walking pace.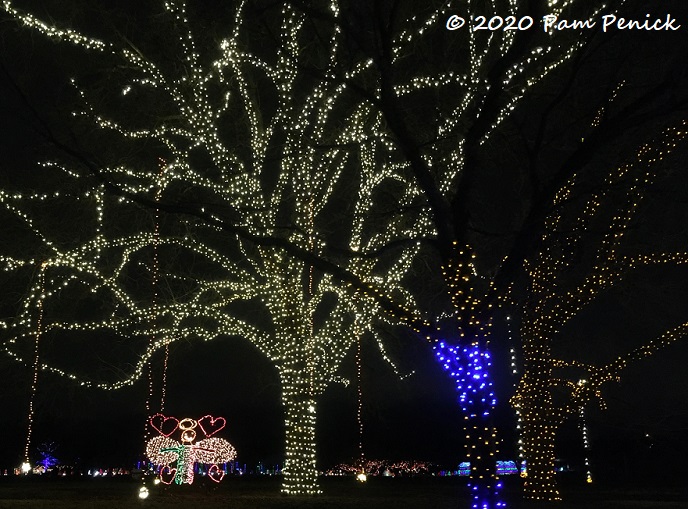 The pecan trees were beautifully lit, each branch picked out with thousands of glowing white or colored lights.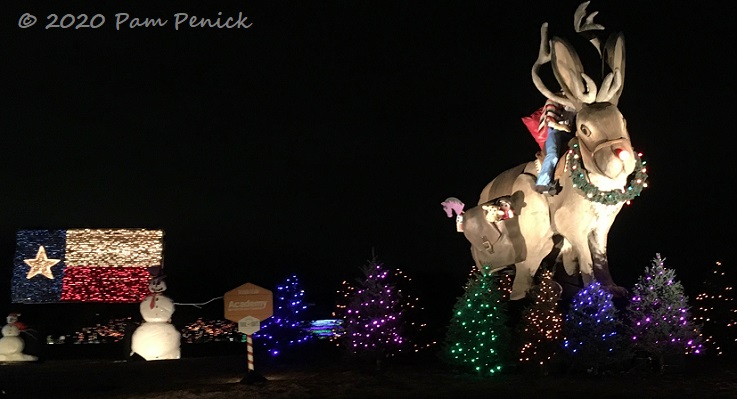 Beneath the trees, sponsor displays alternated with weird and beloved Austin decorations, like this jacklope ridden by a cowboy Santa.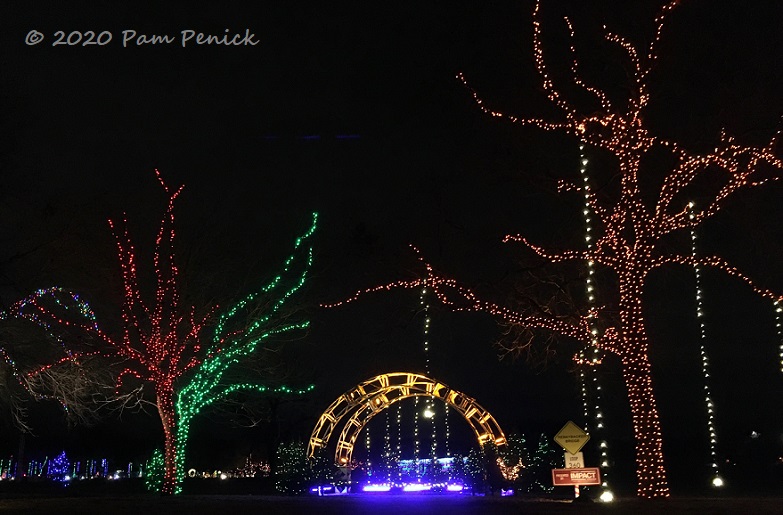 A rendering of Austin's Pennybacker Bridge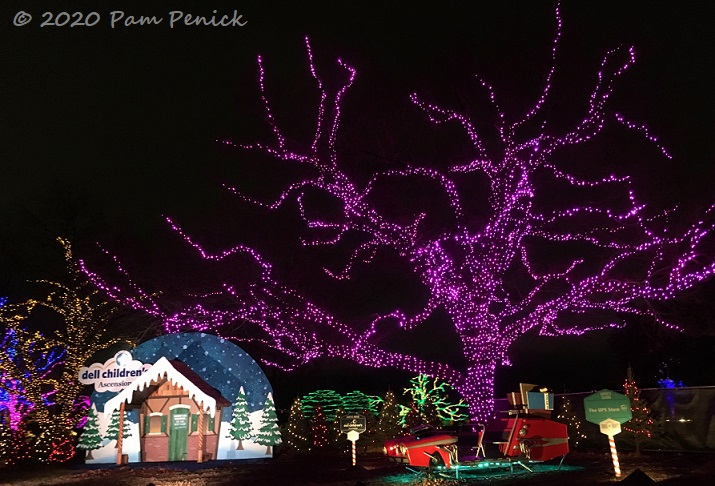 This is one of my favorite trees in Austin, all the more beautiful lit up in raspberry lights.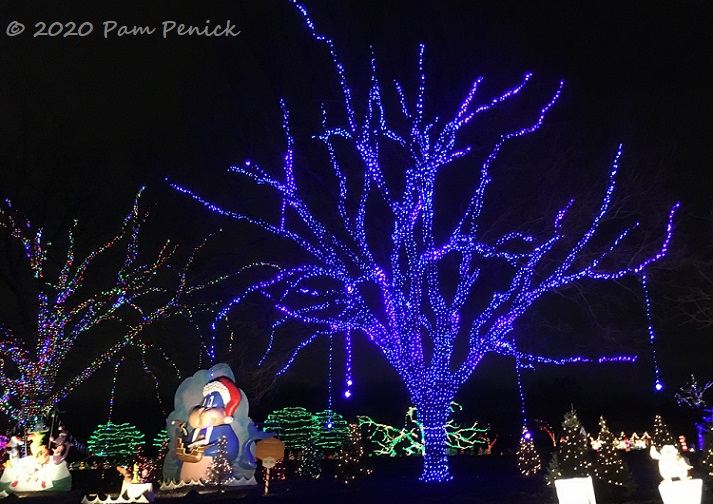 Ooh, this blue-purple one is good too.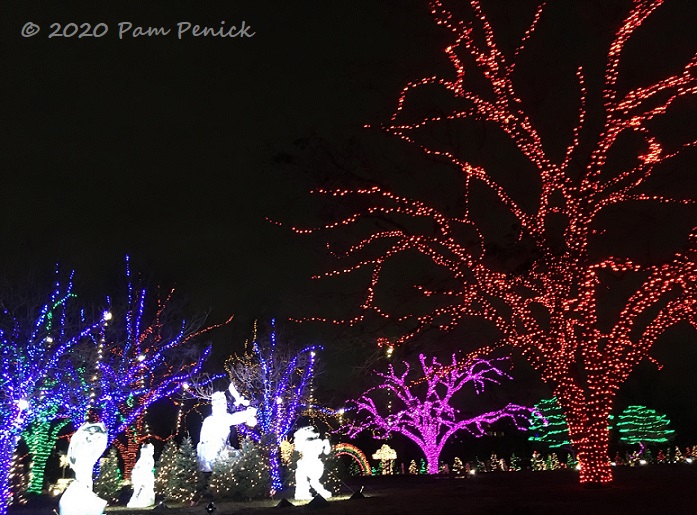 Honestly, the trees are the best feature of the Trail of Lights every year.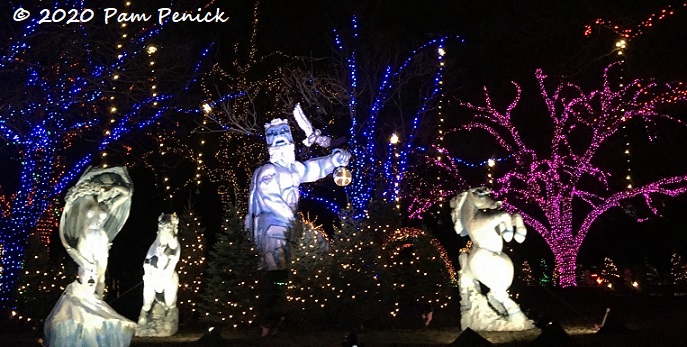 But in the tradition of Keeping Austin Weird, check out these surreal Greek god and rearing horse sculptures, because…Christmas?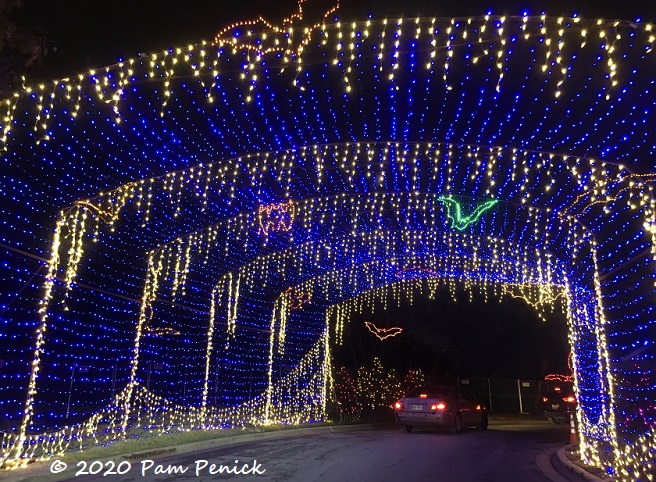 And what's Austin without bats?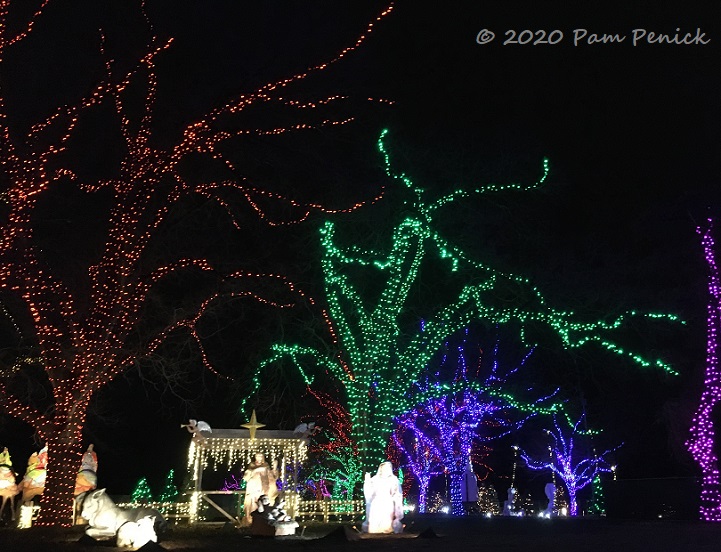 A traditional manger scene keeps all the bases covered.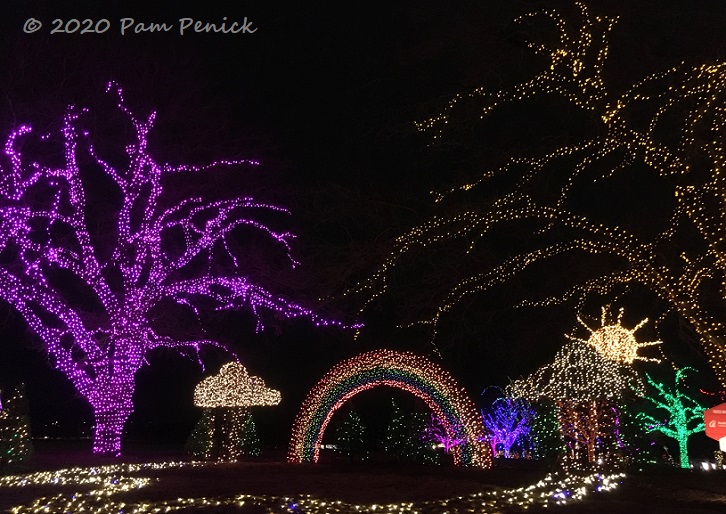 A rainbow arches between two "raining" clouds, with flashing lights standing in for flowing water.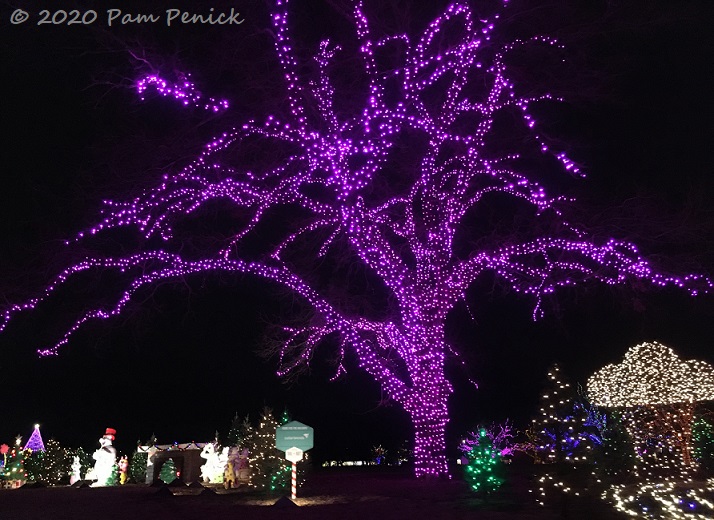 Another magenta tree. I LOVE it.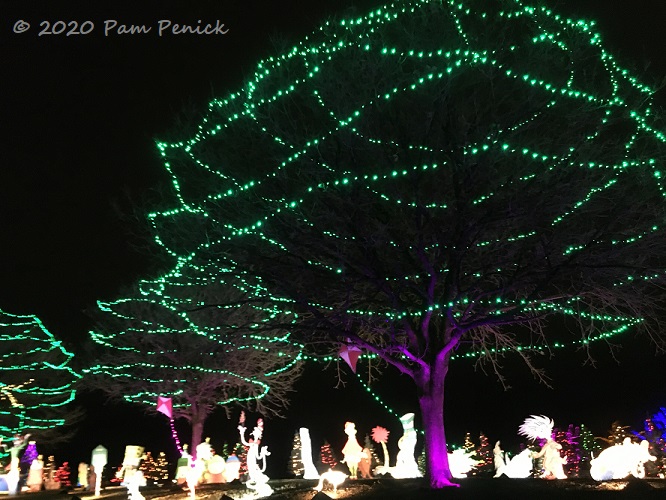 Trees with leafy canopies were lit with wrap-around lights.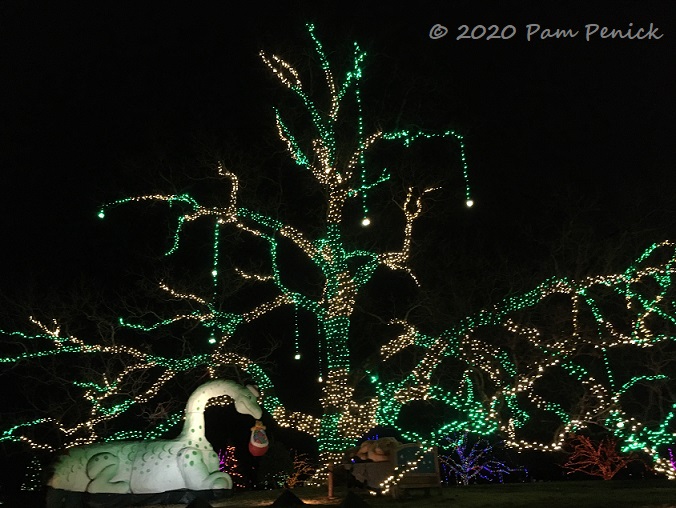 Ah, the dinosaur tree — perhaps my favorite of all in its striped white and green, with hanging balls of lights and a reclining brontosaurus.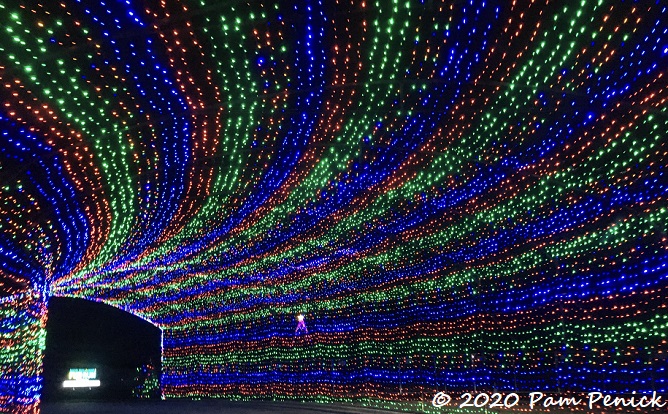 Driving out through the glowing arch, we agreed that it was fun. But festive? A lot less so without the people.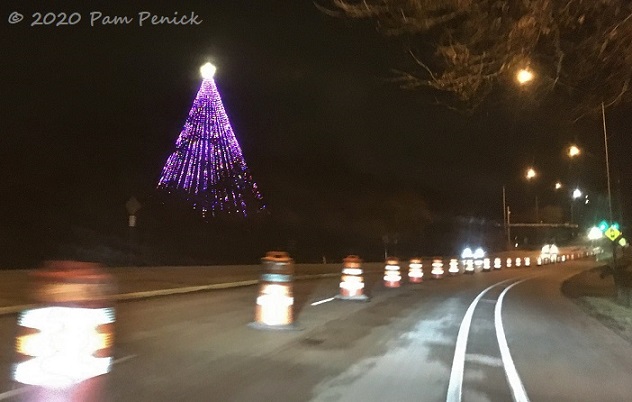 Even the Zilker Tree was just a distant vision along the road, inaccessible this year for would-be spinners. I miss you, Austin. I miss you, World. I hope we can be together again soon in this new year.
I welcome your comments; please scroll to the end of this post to leave one. If you're reading this in a subscription email, click here to visit Digging and find the comment box at the end of each post.
_______________________
Join the mailing list for Garden Spark! Hungry to learn about garden design from the experts? I'm hosting a series of talks by inspiring garden designers, landscape architects, and authors a few times a year. Held in Austin, the talks are limited-attendance events that sell out quickly, so join the Garden Spark email list to be notified in advance. Simply click this link and ask to be added.
All material © 2021 by Pam Penick for Digging. Unauthorized reproduction prohibited.
[ad_2]

Source link