[ad_1]

July 12, 2020
When you visit Sequoia National Park in California's Sierra Nevada mountains, you get two parks for the price of one. Kings Canyon National Park abuts Sequoia's northern edge, and the parks are managed together; one admission gets you into both. It's well worth an extra day to see the vertigo-inducing vistas of Kings Canyon. (Visit my first post in this series to learn more about the trip.)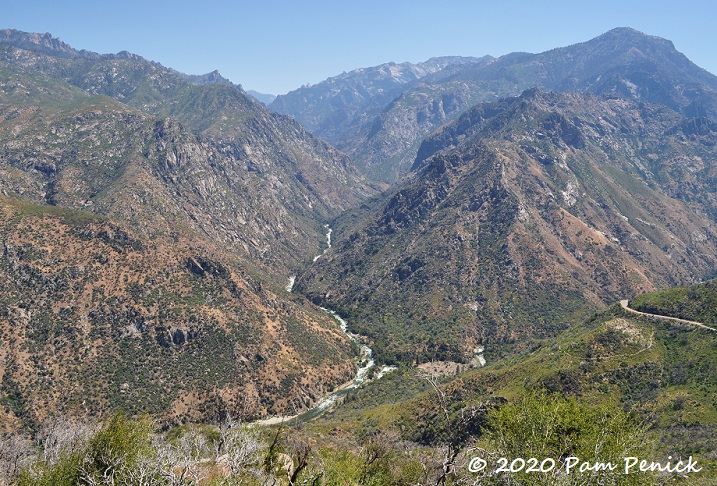 From its highest mountain ridges, Kings Canyon plunges more than a mile deep — deeper than the Grand Canyon — to the foaming river below. Why is it called "Kings?" Spanish explorers in the early 1800s named the river El Río de los Santos Reyes, or The River of the Holy Kings. Later the name was Anglicized and shortened to Kings River, from which the canyon took its name.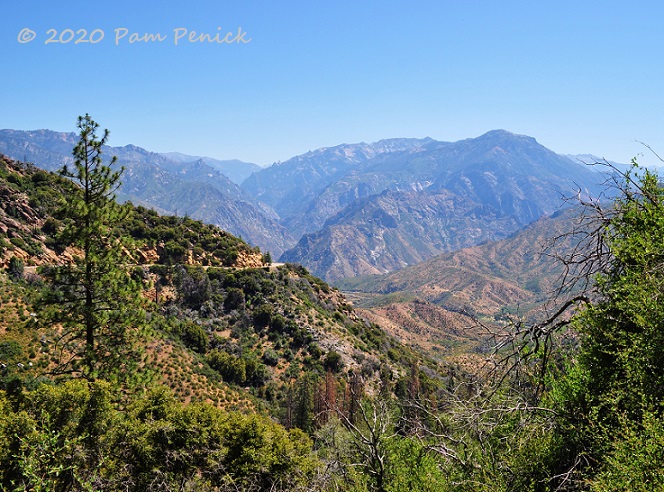 Most of the park remains wilderness, accessible only to back-country hikers. But you can drive into the canyon via the Kings Canyon Scenic Byway, a serpentine, 30-mile ribbon clinging to sheer walls.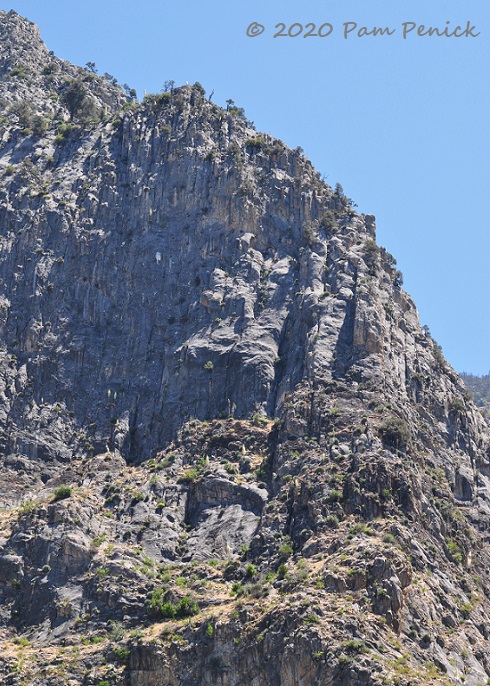 Sheer indeed! Crumbly, vertically striated cliff walls were alight in mid-June with white flower spikes of chaparral yucca (Hesperoyucca whipplei).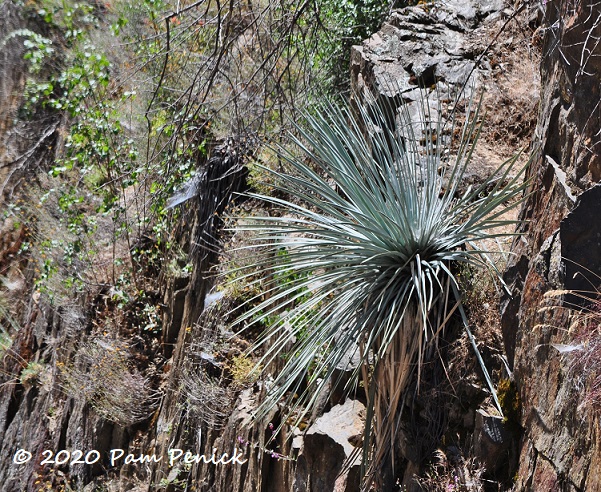 Clinging barnacle-like to vertical rock, chaparral yucca looks like a blue-green sea urchin. In bloom it's even more stunning.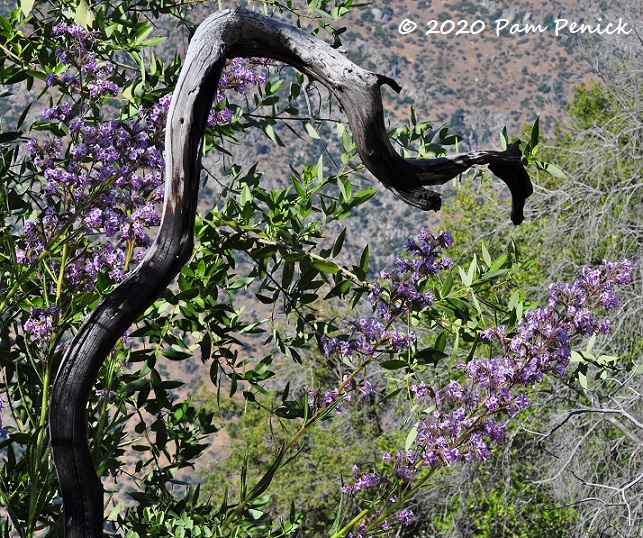 Wildflowers were blooming throughout the canyon. I can't ID many of them, so feel free to share names if you know them. These long, lavender flower spikes (same plant as top photo at the beginning of this post) were abundant in the higher reaches of the canyon. Update: ID'd by a reader as Turricula, aka (I think) Eriodictyon parryi, or poodle dog bush. I understand that contact with this plant can give you a painful, lingering rash, so don't touch!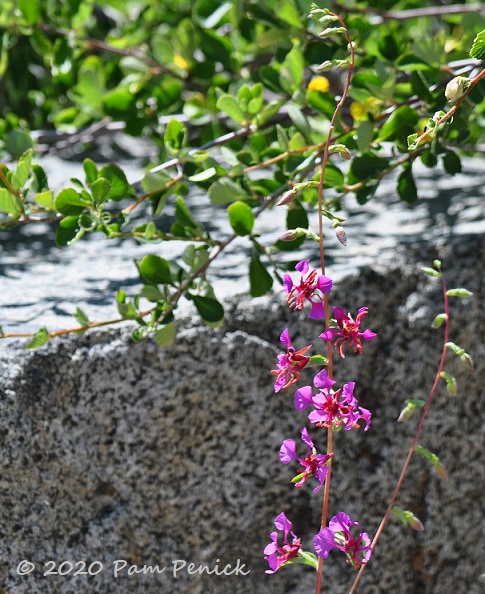 This daintier pink-purple wildflower was lovely too. Update: ID'd as Clarkia, perhaps elegant clarkia (Clarkia unguiculata)? Thanks, Scott!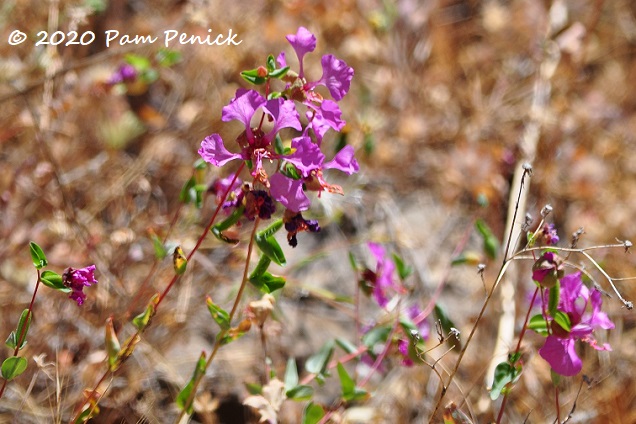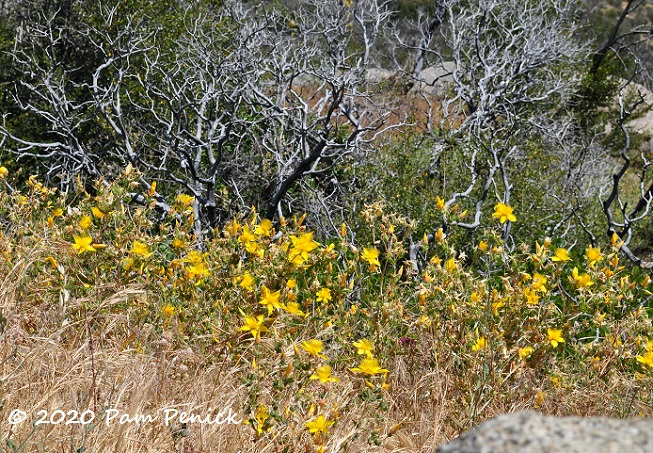 St. John's wort I recognize. Oops, correction: it's Sierra blazingstar (Mentzelia crocea). Thanks, Scott.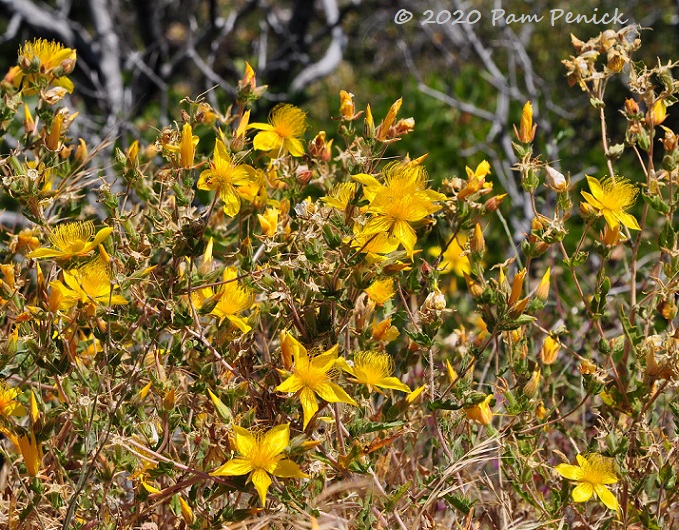 Butter-yellow flowers with star-shaped petals make a sunny show.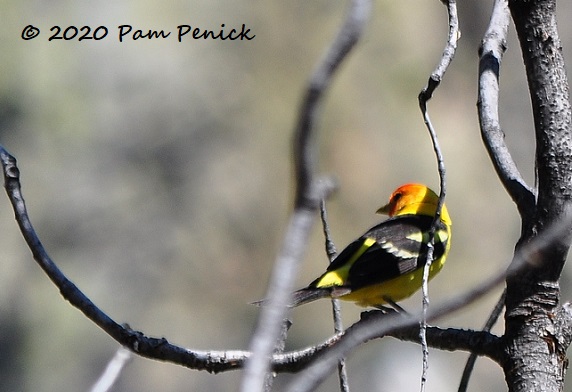 A male western tanager color-coordinates with his bright-yellow breast and dashes of yellow on tail and wing.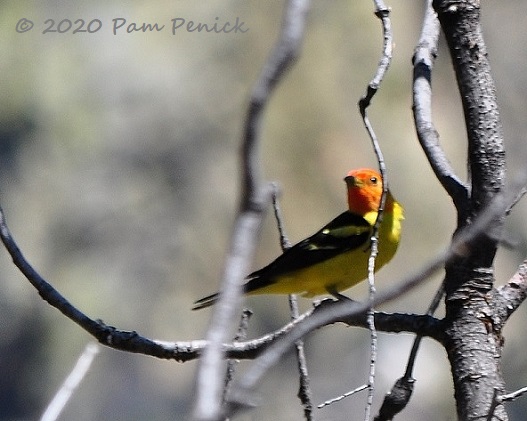 None of us had ever seen one, and he was much admired before flying away.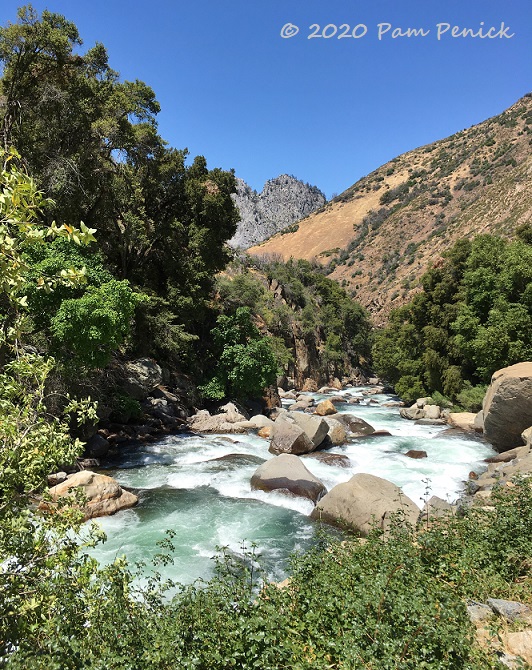 I can't remember if this is a tributary or Kings River itself, but so beautiful, right?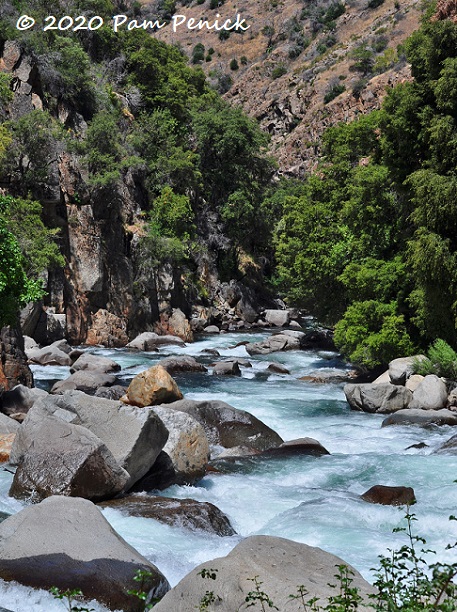 The aqua river foams white around an obstacle course of putty-gray boulders.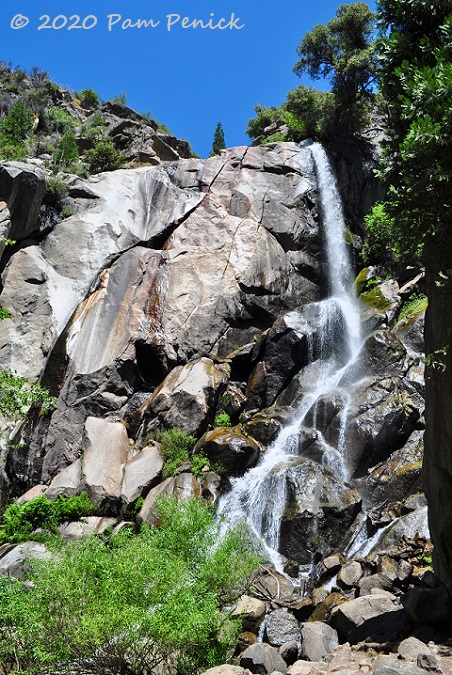 Just off the road, Grizzly Falls cascades 75 feet down a broken, vertical rock face.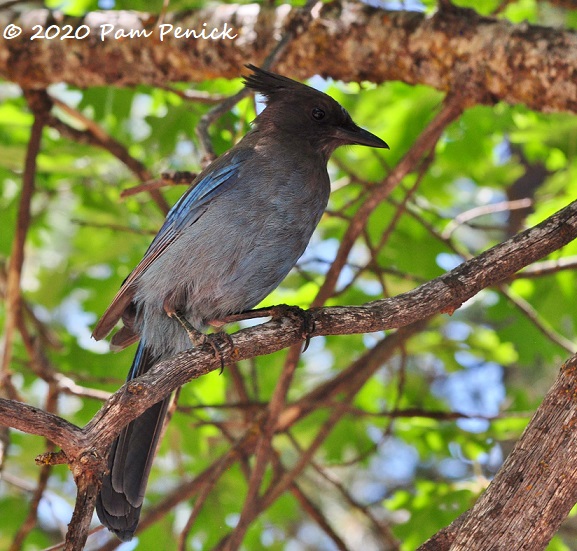 We stopped to picnic along the way, and four or five Steller's jays instantly appeared, watching expectantly for unattended sandwiches.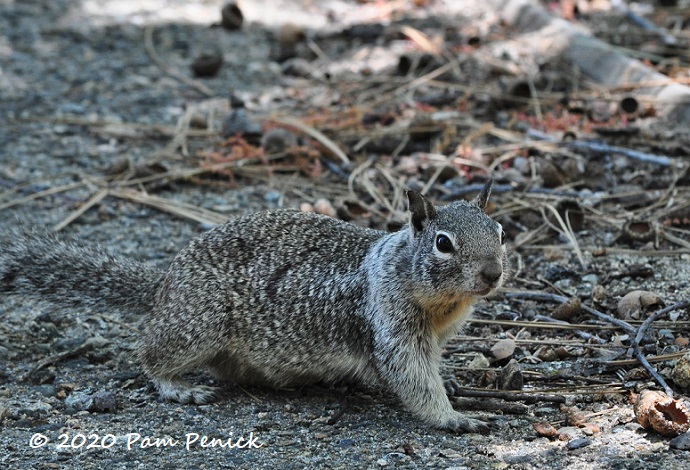 This grizzled little squirrel too.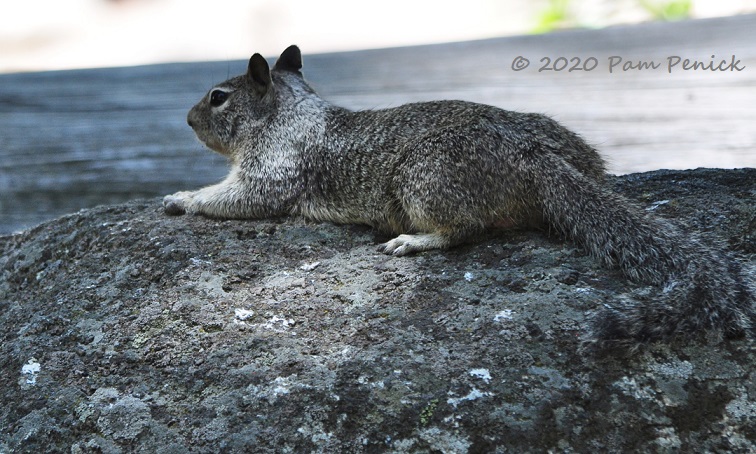 He soon gave up and contented himself with lounging on a cool rock.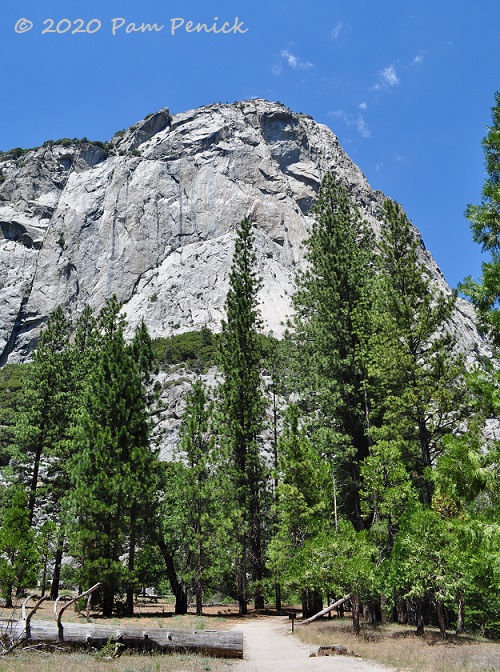 Near the end of the scenic byway, we parked and started on the trail to Zumwalt Meadow, enjoying views of sheer walls around us. The day was hot, but the trail was mostly flat.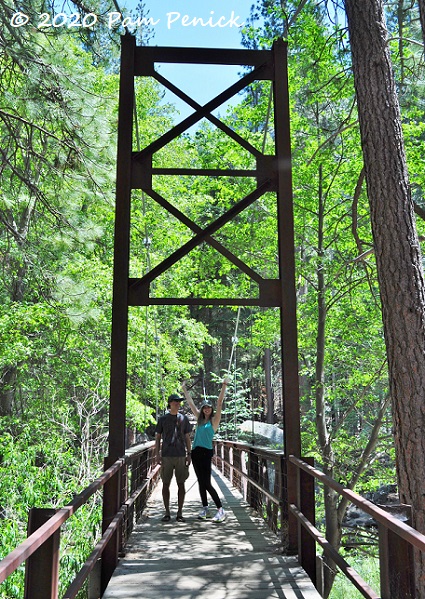 A suspension bridge crosses a pretty creek.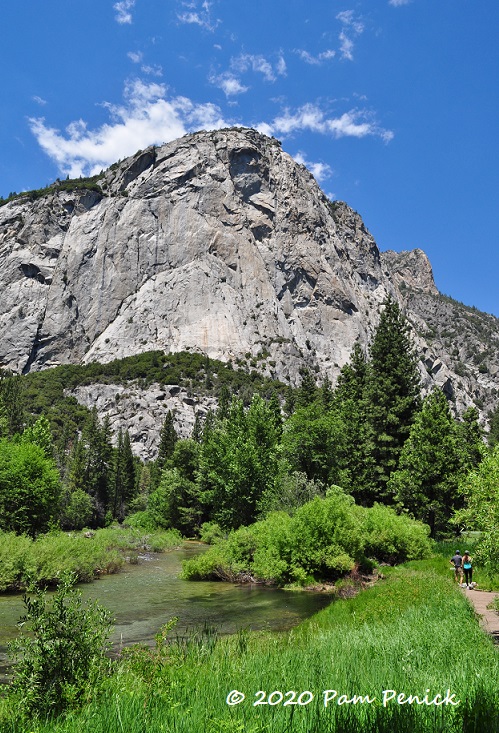 As we reached the meadow (just out of view to the right), we found the trail washed out, with a sign urging hikers not to go further. The mucky ground showed where people had trampled meadow plants to get around the washout, but we elected to turn back.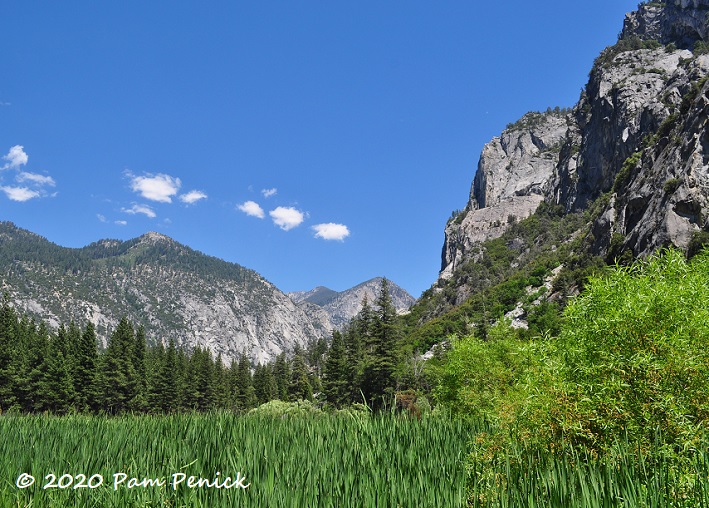 I was disappointed not to be able to walk the whole 1.5-mile loop, but we still got glimpses of Zumwalt Meadow.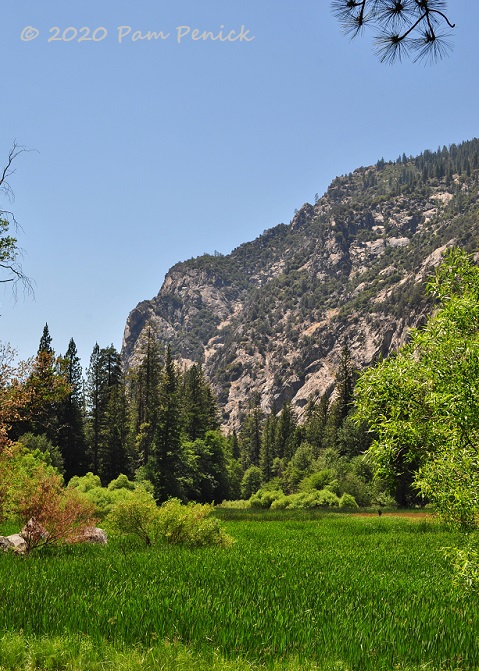 The openness of the meadow makes surrounding cliffs even more dramatic. We would see more like this in Yosemite in coming days.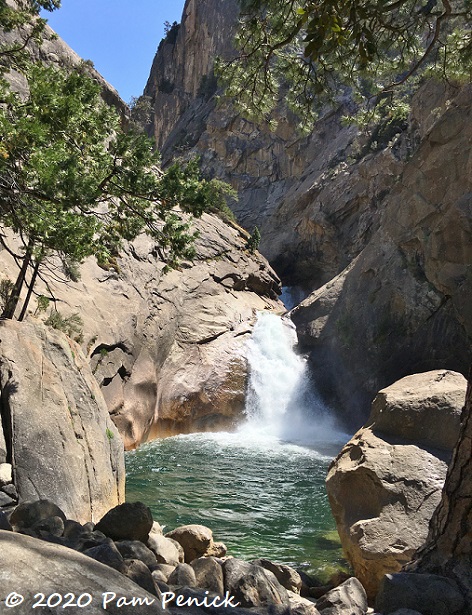 On our return drive, we stopped to hike a short uphill trail to Roaring River Falls, a torrent of whitewater that drops into a deep, green pool.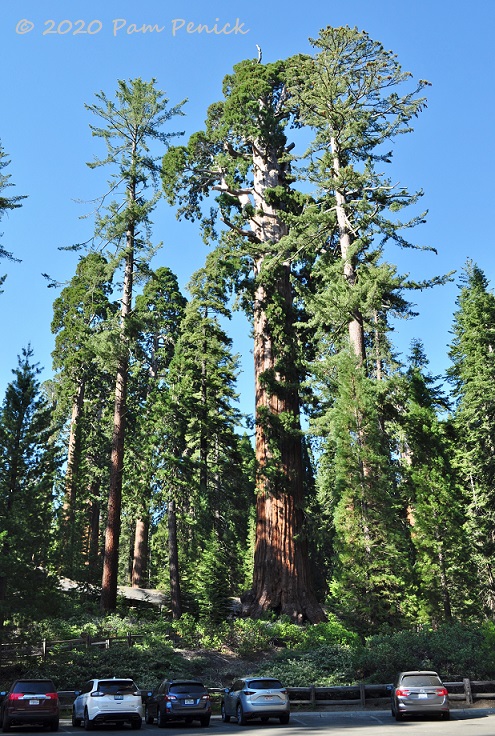 Our final stop was at Grant Grove to see more giant sequoias.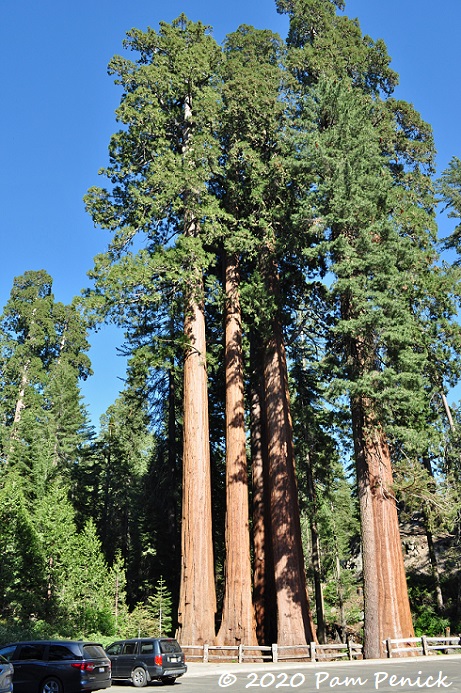 Such majestic trees!
Up next: Breathtakingly beautiful Yosemite National Park and — hello! — our first earthquake. For a look back at our visit to Sequoia National Park, complete with bear encounters, click here.
I welcome your comments; please scroll to the end of this post to leave one. If you're reading this in a subscription email, click here to visit Digging and find the comment box at the end of each post.
_______________________
Digging Deeper: News and Upcoming Events
Join the mailing list for Garden Spark! Hungry to learn about garden design from the experts? I'm hosting a series of talks by inspiring garden designers, landscape architects, and authors a few times a year. Held in Austin, the talks are limited-attendance events that sell out quickly, so join the Garden Spark email list to be notified in advance. Simply click this link and ask to be added.
All material © 2020 by Pam Penick for Digging. Unauthorized reproduction prohibited.
[ad_2]

Source link