[ad_1]

April 28, 2020
Texas spiny lizards tend to be skittish, scuttling under the car or a potted plant when you walk by. But one very laid-back lizard has taken up residence on the shady upper patio in recent weeks. It calmly eyes me and holds its ground, even when I'm dragging a hose around. It has even allowed a few close-up paparazzi pictures. That wrinkly face!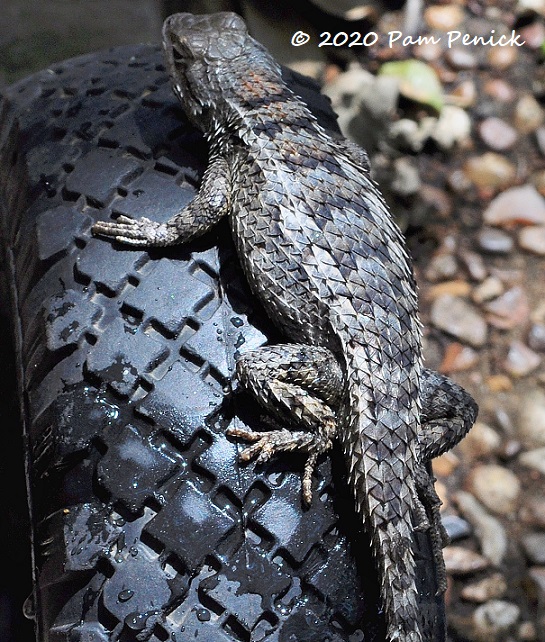 Its scaly coloring is lovely, isn't it? It's meant for camouflage against tree bark rather than hose-cart tires. Texas spiny lizards are Southwest-native arboreal lizards that also enjoy nosing around in leaf litter and basking in the sun. They eat plenty of bugs, so I'm a fan.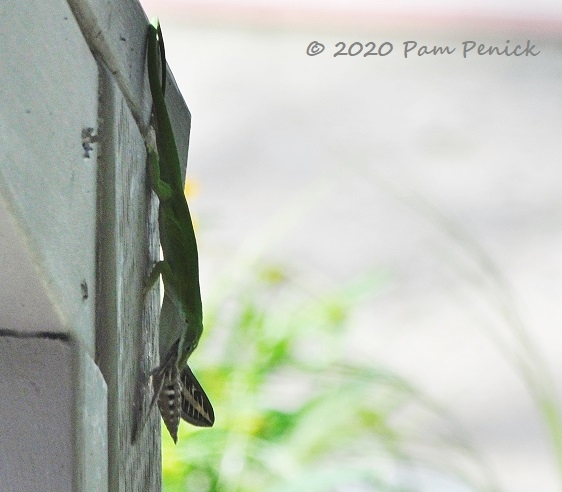 Another bug hunter in my garden is the green anole, a favorite of children and wildlife observers because of its ability to change color from green to brown and its placid temperament. It'll cock its head and watch you brightly as it sunbathes on a fence or leaf, seemingly unafraid. I spotted this one eating a sphinx moth and still have no idea how he managed to choke it down.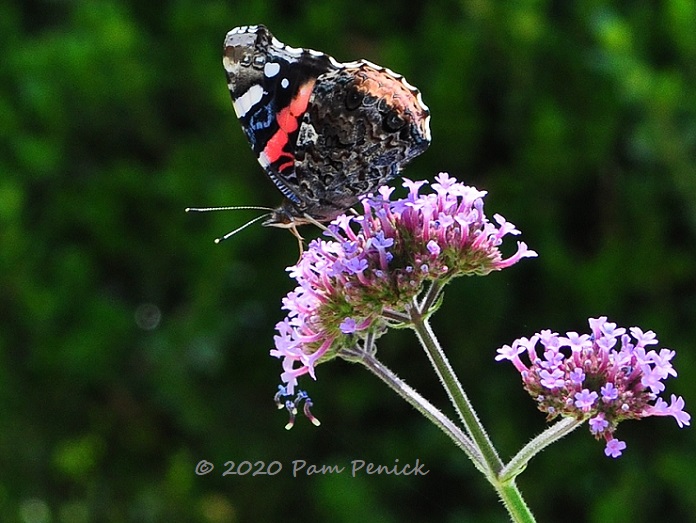 Red admiral butterflies have been sipping nectar from tall verbena (V. bonariensis) in the Circle Garden.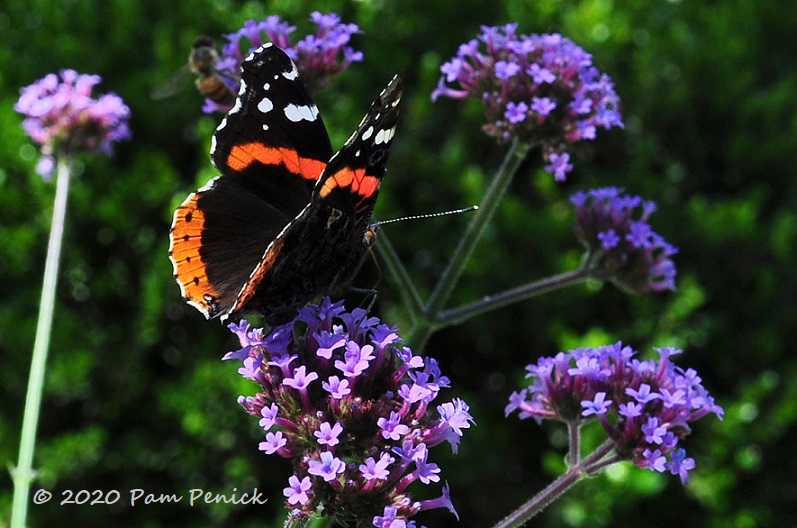 They are quick fliers but allow photos if I don't make sudden movements.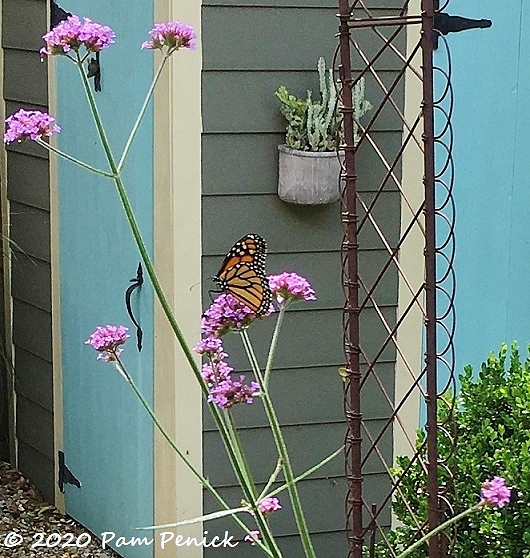 This morning I saw a monarch there too.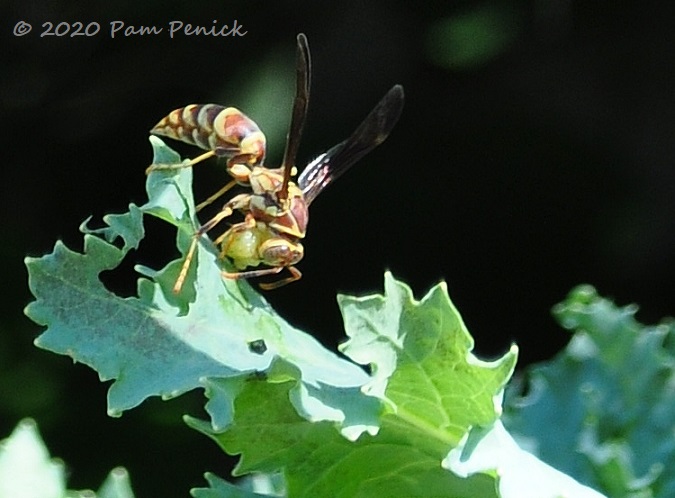 I accidentally got a photo of a wasp on a poppy leaf. What is it doing, I wonder? It seems to be rolling something up.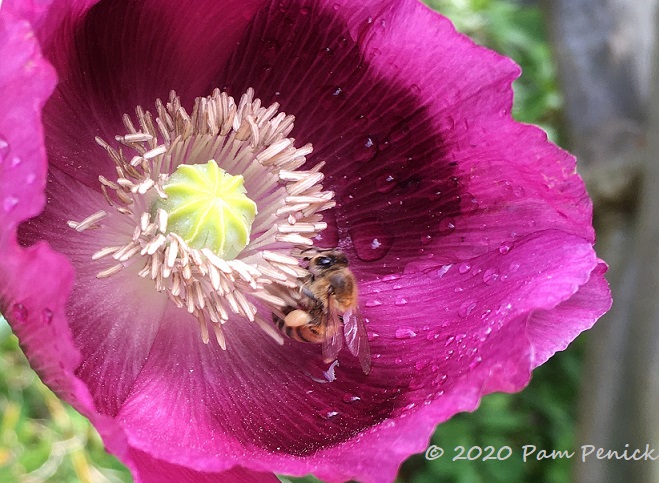 Honeybees busily gather pollen in the poppies.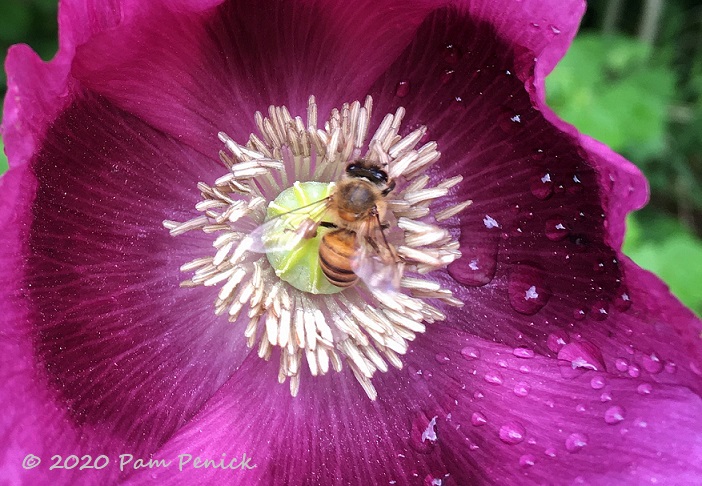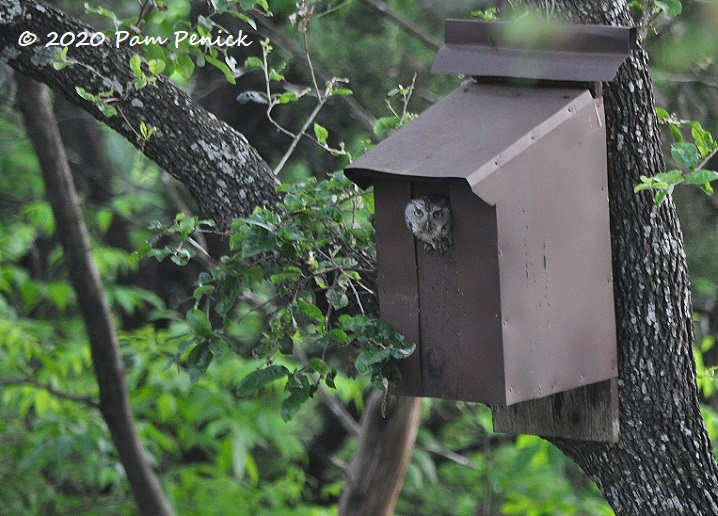 And check this out! One very skittish screech owl has been spotted multiple times in the owl box. We've no idea if it's a nesting female or just taking occasional refuge here. About 1-1/2 years ago we lost our owl tree and had to move the box. Since then, no owl has chosen to raise chicks here again, a loss I feel keenly. But maybe this spring…
What kind of animal activity is going on in your wild kingdom?
I welcome your comments; please scroll to the end of this post to leave one. If you're reading this in a subscription email, click here to visit Digging and find the comment box at the end of each post.
_______________________
Digging Deeper: News and Upcoming Events
Take a virtual garden tour May 1 through 31! From the comfort of your home, stroll through lovely, quirky gardens and meet the amazing gardeners who created them. This is a month-long, online version of the annual Cooper-Young Garden Walk in Memphis, Tennessee, a self-guided tour of private gardens and businesses highlighting urban gardening throughout the historic Cooper-Young neighborhood.
Join the mailing list for Garden Spark! Hungry to learn about garden design from the experts? I'm hosting a series of talks by inspiring garden designers, landscape architects, and authors a few times a year. Held in Austin, the talks are limited-attendance events that sell out quickly, so join the Garden Spark email list to be notified in advance. Simply click this link and ask to be added.
All material © 2020 by Pam Penick for Digging. Unauthorized reproduction prohibited.
[ad_2]

Source link