September 22, 2020
Every time I visit my friend Cat Jones's garden, it's lovelier than the time before. Over the past 4 to 5 years she's been busily making her Steiner Ranch garden, which overlooks a wildflower meadow and a wooded canyon, into a retreat for her and her family and for the wildlife she encourages. Water features tucked here and there throughout her garden are a key part of her avian welcome mat, and she's noticed that birds coming in for a drink or a bathe favor different water features — a birdbath, the brown ceramic fountain pictured above, shallow water dishes, a steel bowl with dwarf waterlily, and a stock-tank pond — depending on the species.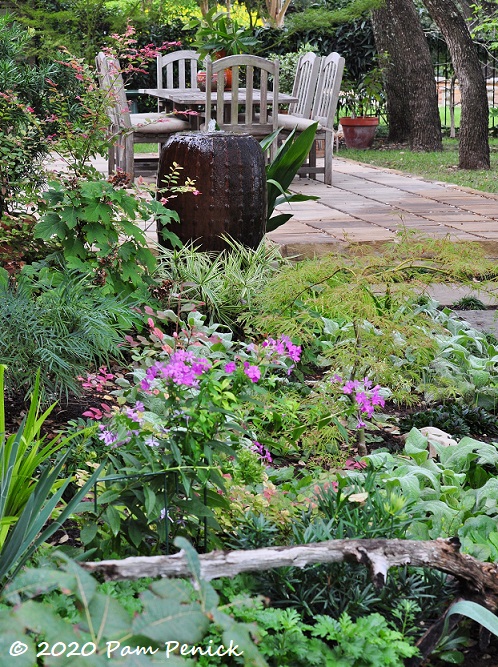 Here's what Cat says: "The blue birdbath is favored by cardinals and eastern phoebes. The fountain by the deck is the finches' absolute favorite, along with the mockingbirds and summer tanagers. Chickadees, titmice, and cardinals visit the dishes on the north side of the house. Doves visit the tanks, as do springtime flocks of cedar waxwings and robins. They robins and waxwings also like congregating around the base of the fountain."
It's interesting to hear how varied are birds' preferences for water features, and it's also a compelling argument for having multiple kinds.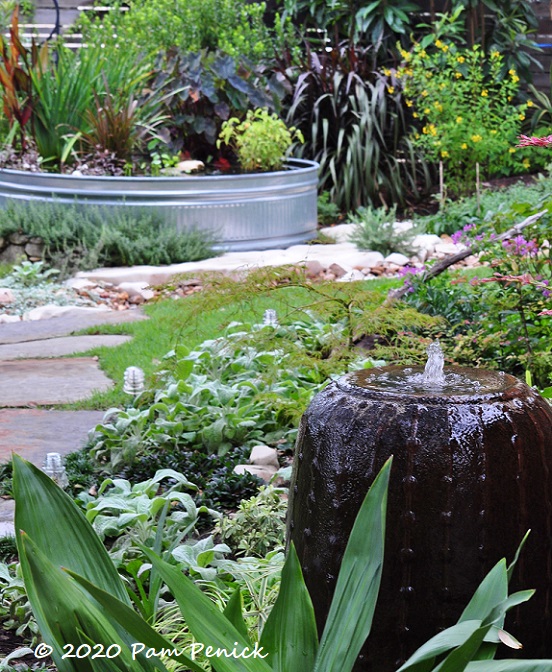 A tall, dark, and handsome, pot-style disappearing fountain burbles near Cat's dining patio amid shade-loving shrubs and groundcovers. Looking past it you see her sunny stock-tank pond, which is so much better than mine ever was with its lush-leaved pond plants. Whenever I need a stock-tank pond fix, I'll just come here.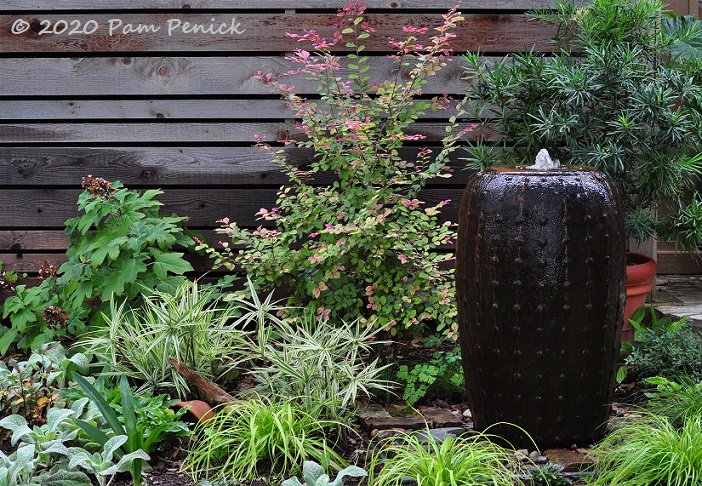 But to be honest, I think this vignette is even more beautiful, in a quieter way. The tall, bubbling fountain has a dish-style top that allows birds to wade in for a bath. It's surrounded by brightly contrasting 'Everillo' sedge and stripey 'Sparkler' sedge, both of which Cat uses to fill in the gaps, as do I. Oakleaf hydrangea, loropetalum, and a potted yew add taller foliage along the horizontal skirting of an elevated deck.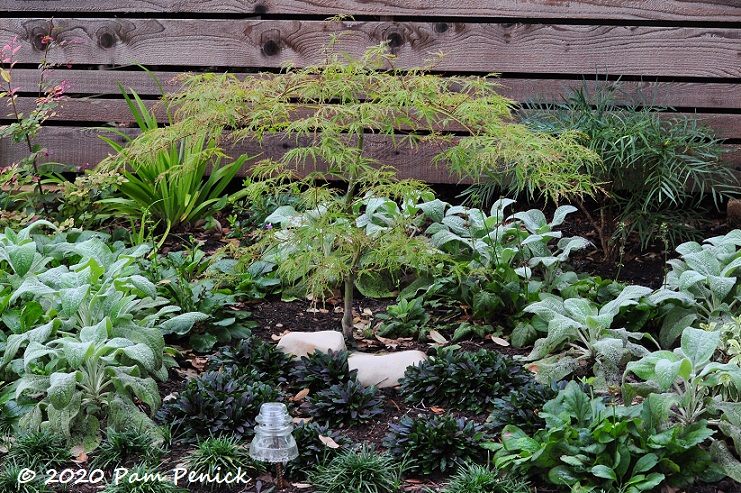 A feathery Japanese maple stands like a tiny parasol over a nearly-black pool of 'Chocolate Chip' ajuga and a silvery ribbon of lamb's ear.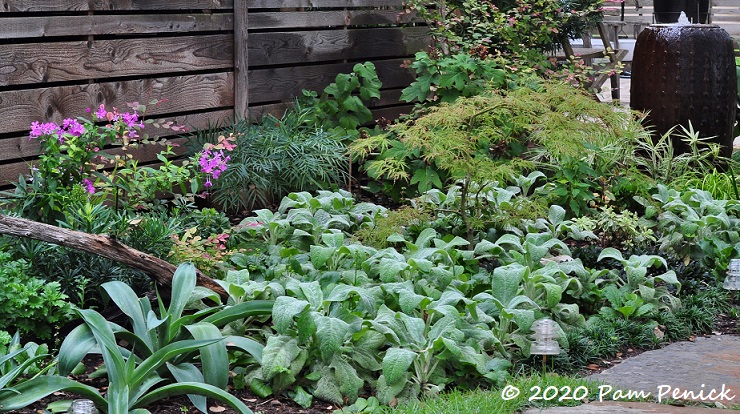 Pink phlox stands out amid shades of green. Along the front of the bed, stakes topped with glass telephone insulators act as hose guards.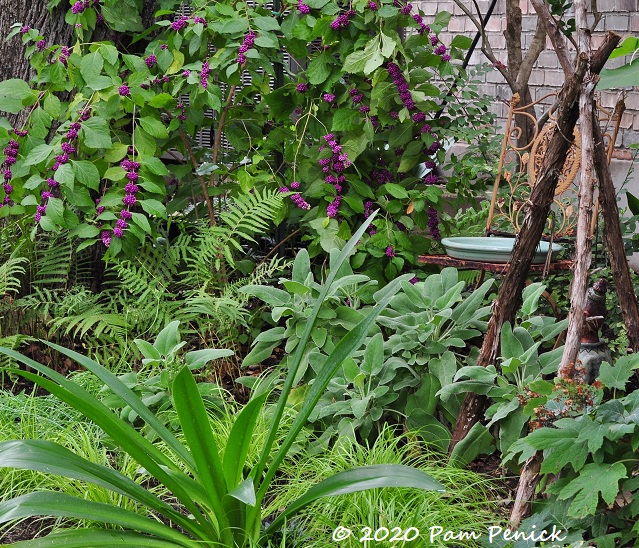 Around the side of the house, American beautyberry is loaded with magenta berries — for now, until the mockingbirds find them.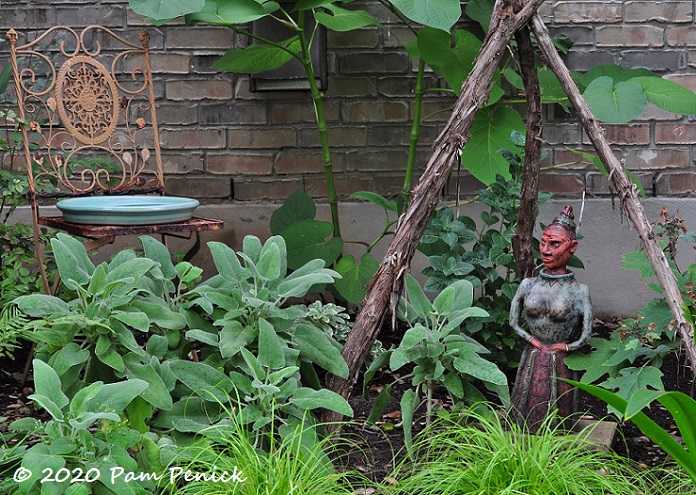 A blue saucer on a garden chair holds water for the birds. Under a cedar tepee, a ceramic figure that Cat made gazes across the garden.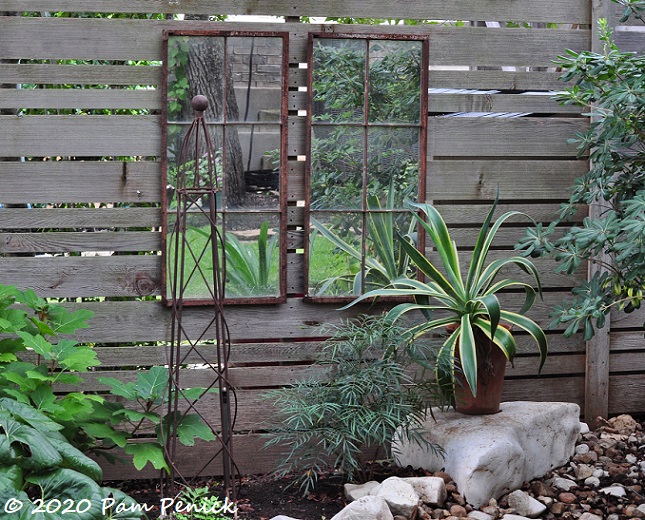 Against a contemporary privacy fence, two mirrors, a metal tuteur, and a potted Agave desmettiana 'Variegata' atop a limestone boulder make a pretty vignette.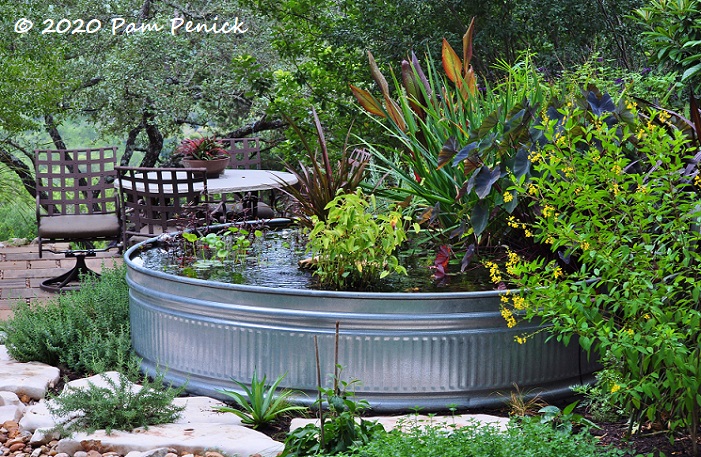 That limestone boulder is part of the edging for a robust dry creek that funnels water from Cat's uphill driveway through the side garden and past the stock-tank pond. I wish I'd gotten a better photo because it's nicely done.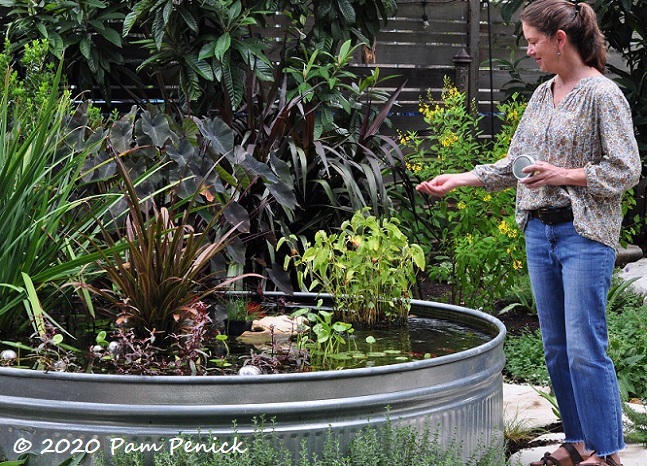 Broad slabs of limestone provide places to stand next to the pond for tending plants or feeding the goldfish. The fish come "running" when Cat appears.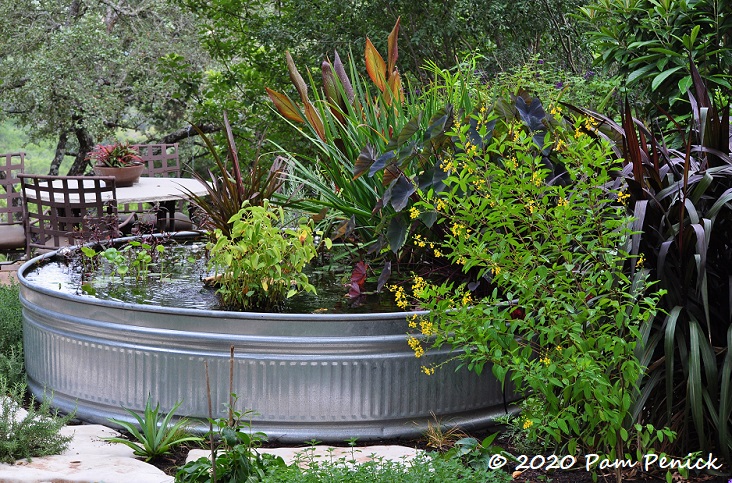 One thing that makes Cat's pond so successful is how she's integrated it with taller plants that embrace the back curve, making the pond an extension of the border bed. Nearly black colocasia in the pond echoes the eggplant leaves of in-ground 'Princess Caroline' pennisetum, and both contrast with the yellow flowers of golden thryallis. The color echoes and contrasts appear across the pond in progressively smaller plants.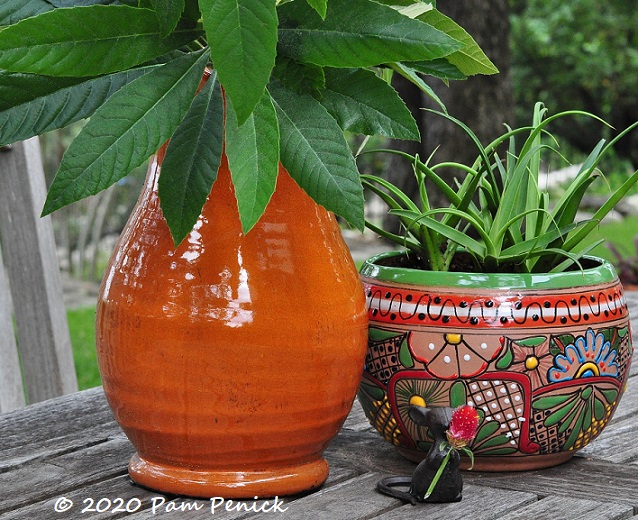 On her outdoor dining table, Cat displays a pretty arrangement of loquat cuttings and squid agave pups, passed along from my garden, in a round Mexican-style bowl.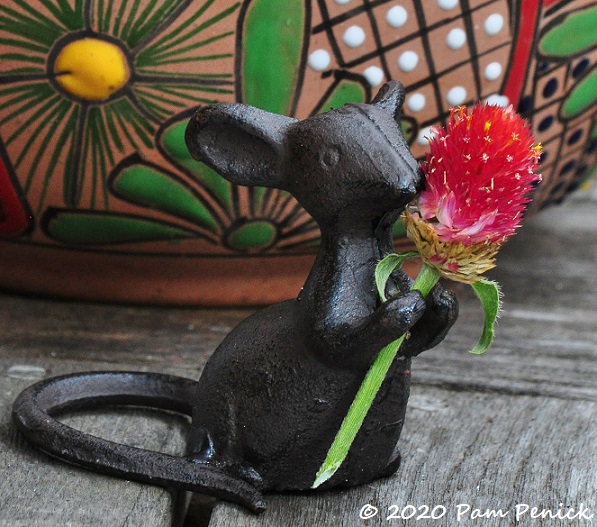 A little bronze mouse holds a single red gomphrena stem like an offering.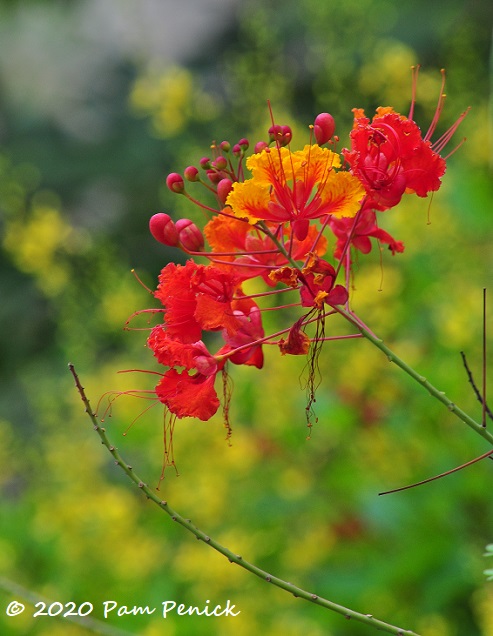 Passing through the sunny side yard I stopped to admire Pride of Barbados…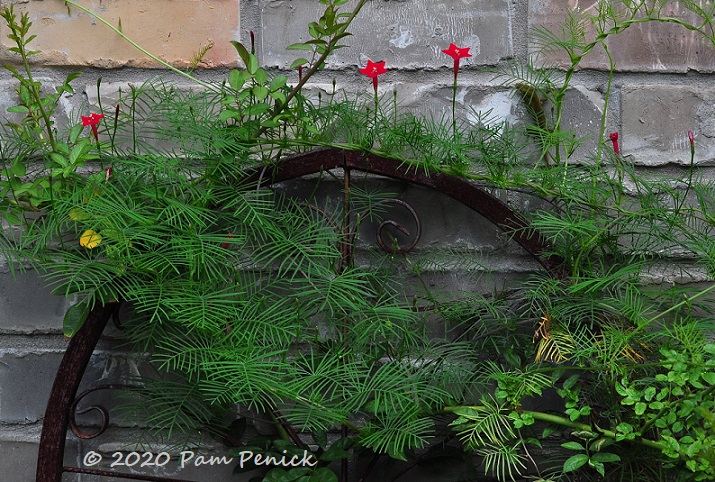 …and ferny-leaved cypress vine.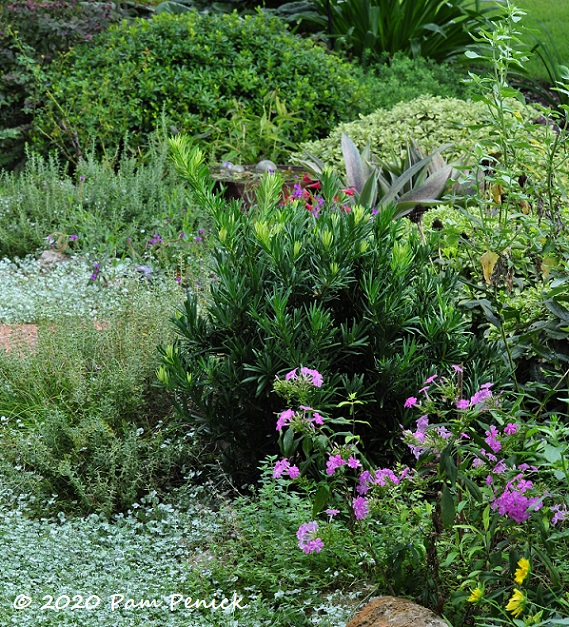 The front garden that flows out from Cat's front porch is a tapestry of low-growing foliage mounds, drifts of flowering perennials, and a stream of silver ponyfoot. Some of her favorite foliage plants for this morning-sun space are 'Pringles' dwarf yew (I'm determined to find a place for this one myself) and 'Cream de Mint' pittosporum.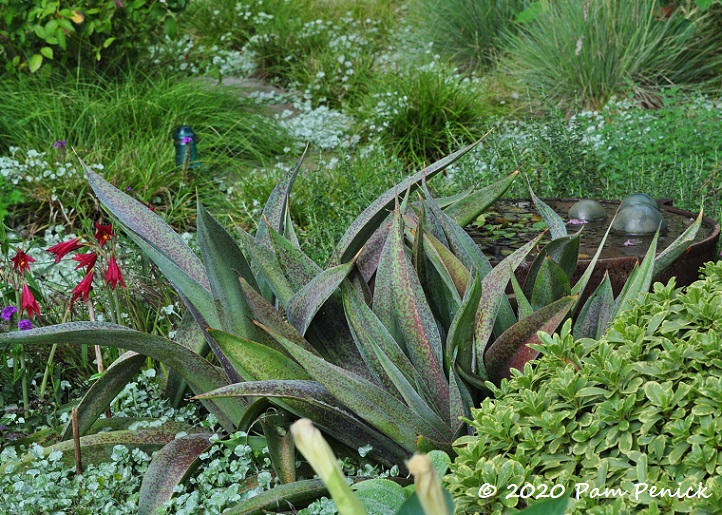 'Macho Mocha' mangave's purple-freckled leaves add fleshy texture amid the wisps of Berkeley sedge and 'Ruby Crystals' grass. Another of Cat's water features, a steel vessel tucked behind the mangaves, holds a dwarf waterlily and floating balls.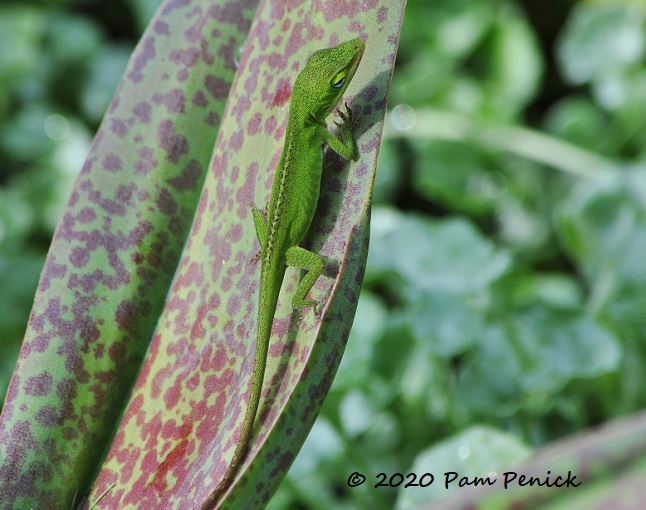 I saw a baby anole sunning itself here.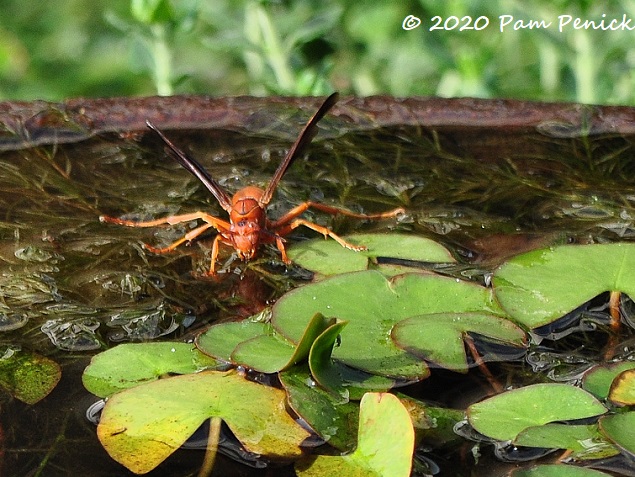 A thirsty wasp alighted on the floating plants in the steel bowl for a drink.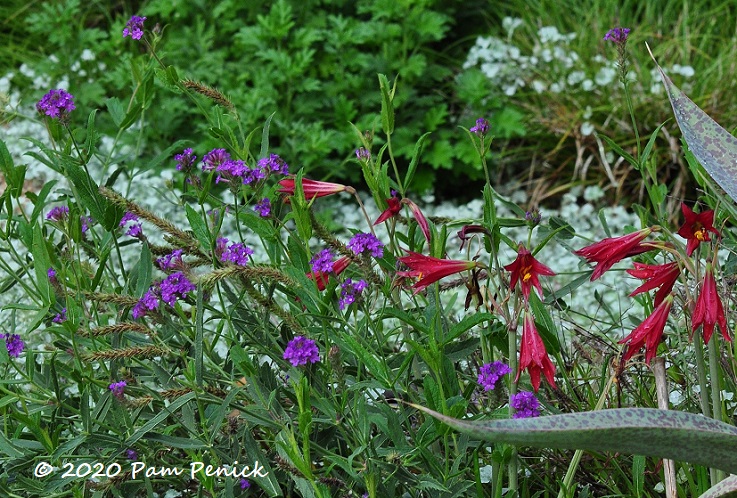 Oxblood lilies were still flowering when I visited last week. They look pretty next to the purple flowers of sandpaper verbena (Verbena rigida). The silver ponyfoot stream meanders behind.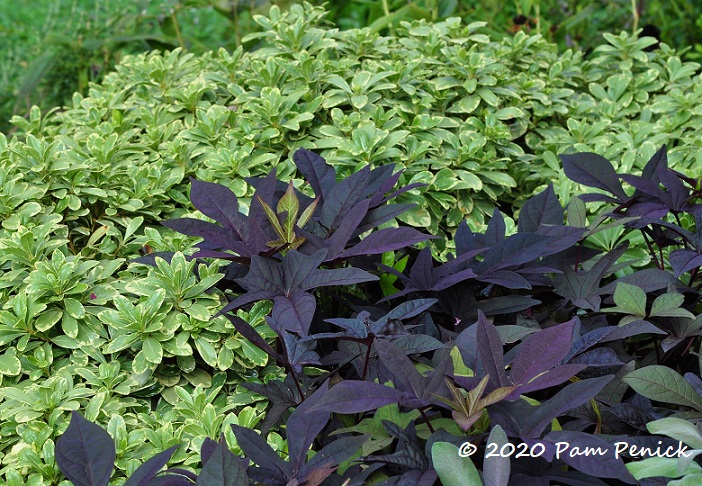 Purple sweet potato vine rambles across a lime-green 'Cream de Mint' pittosporum.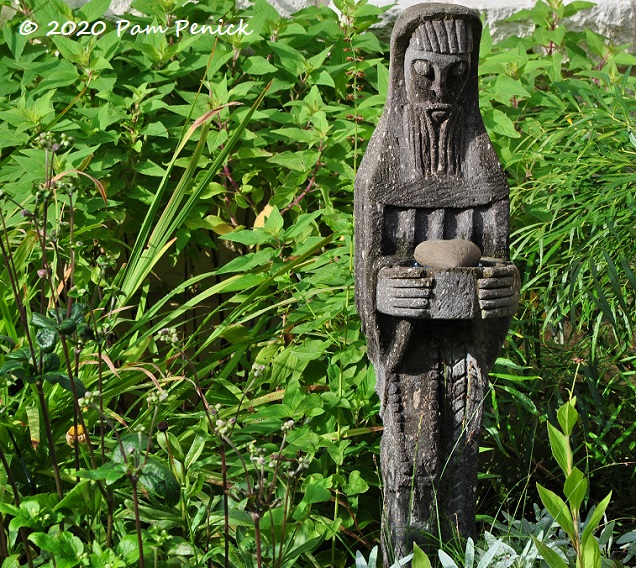 Pink Japanese anemones will be blooming soon next to this Celtic garden spirit.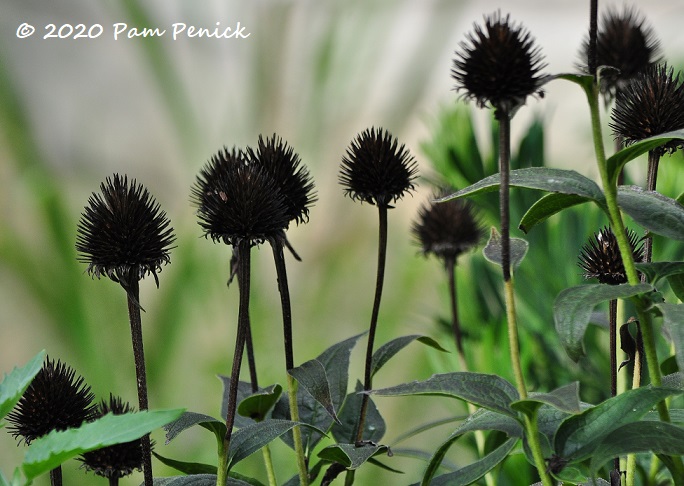 Even gone to seed, coneflowers add interesting texture to the garden, and birds love to eat the seeds.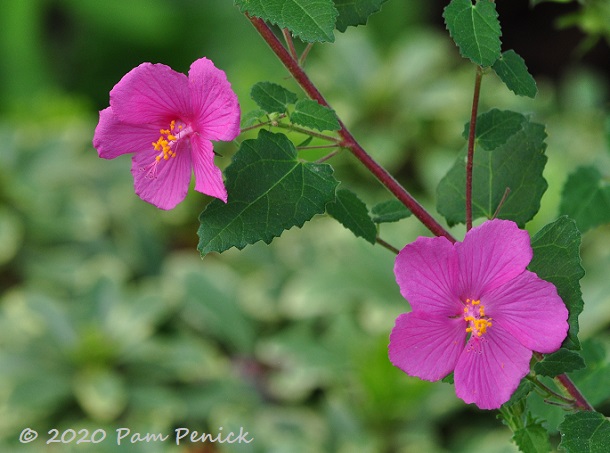 Native rock rose (Pavonia lasiopetala) adds carnation-pink color spring through fall.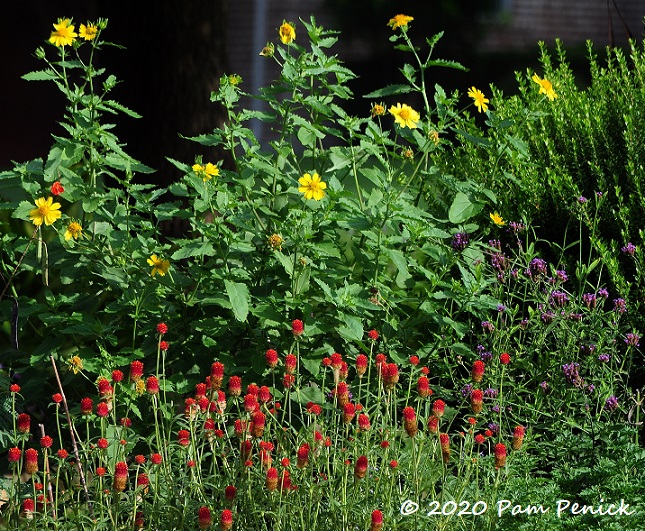 Glowing daisies and 'Strawberry Fields' gomphrena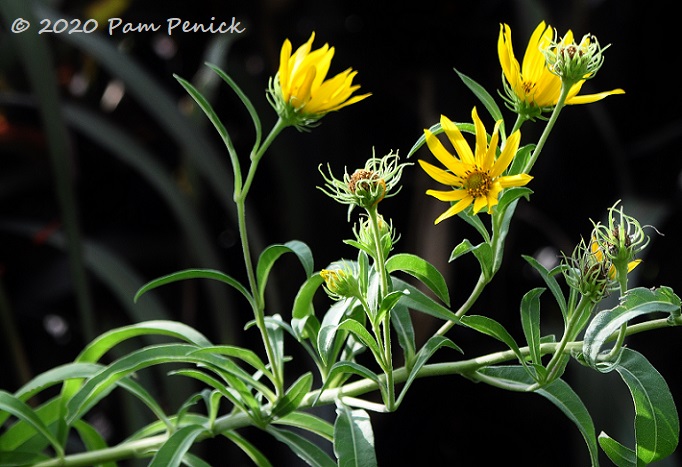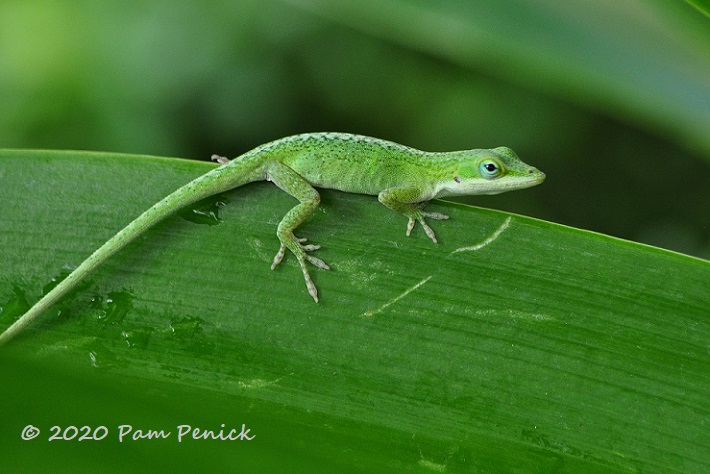 Another cute anole. Don't you love her blue eyeliner?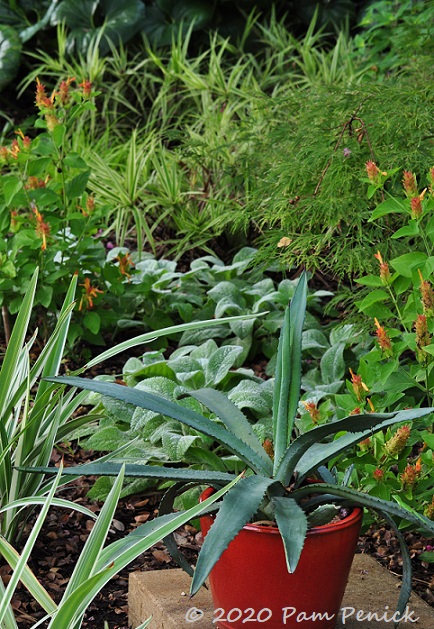 An orangey shrimp plant picks up the color of a rust-orange agave pot.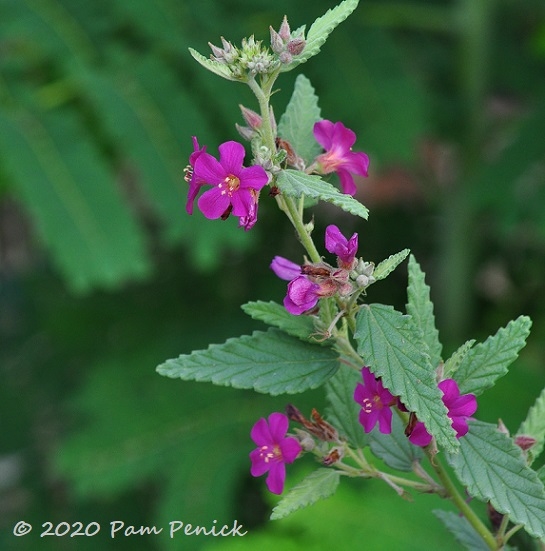 In a sunny spot near the street, Cat is growing a plant I'd never seen before: pyramid plant, or teabush (Melochia tomentosa), native to South Texas and South Florida and on down to Mexico, the West Indies, and Brazil. Lovely magenta flowers are held along upright stems of this 2-3-ft. relative of globe mallow. Cat said she found it at Barton Springs Nursery about a year ago, and it bloomed throughout the long, hot summer. We'll all be looking for this one, won't we?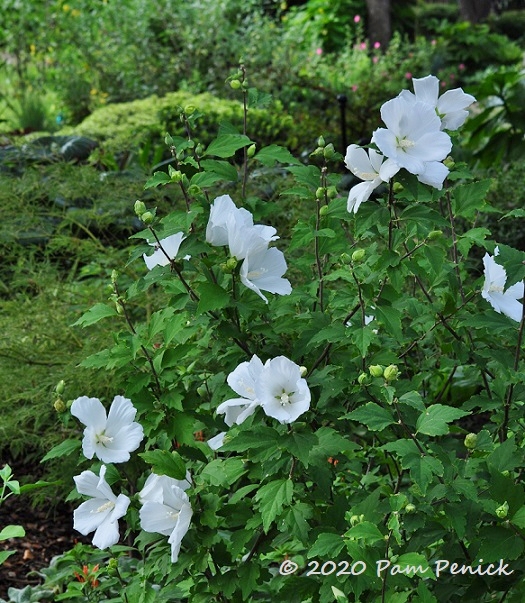 I'll leave you with 'Diana' rose of Sharon, whose white flowers glow in the shade. My thanks to Cat for sharing her beautiful garden with me once again!
I welcome your comments; please scroll to the end of this post to leave one. If you're reading this in a subscription email, click here to visit Digging and find the comment box at the end of each post.
_______________________
Digging Deeper: News and Upcoming Events
Join the mailing list for Garden Spark! Hungry to learn about garden design from the experts? I'm hosting a series of talks by inspiring garden designers, landscape architects, and authors a few times a year. Held in Austin, the talks are limited-attendance events that sell out quickly, so join the Garden Spark email list to be notified in advance. Simply click this link and ask to be added.
All material © 2020 by Pam Penick for Digging. Unauthorized reproduction prohibited.