[ad_1]

March 07, 2020
Responding to warm temps and a good rain this week, the garden is awash with new growth and pockets of spring color, like glowing yellow bulbine. Mild winter temps didn't kill it back, and now each bloom spike is a yellow sunbeam.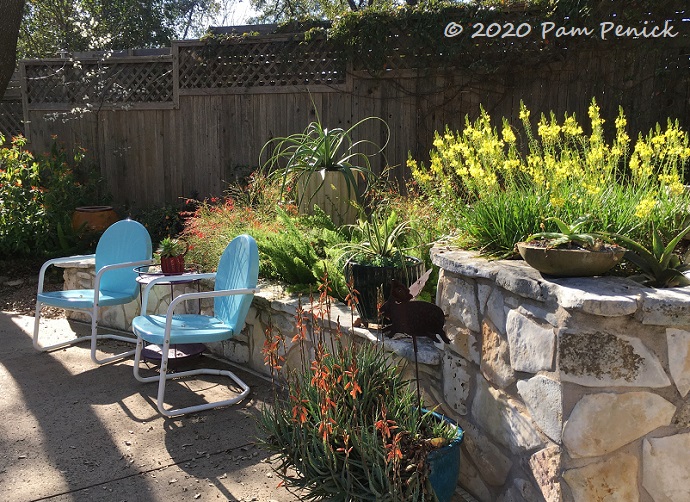 The coral-red flowers of 'Blue Elf' aloe (in the blue pot on the patio) are calling to the first hummingbirds returning from Mexico. I hope to see one soon. In the background, red firecracker fern and the white blossoms of a sapling Mexican plum add to the spring show.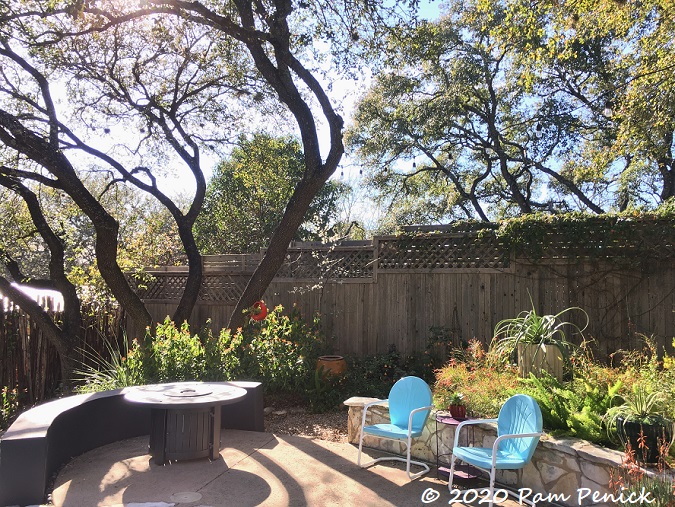 A wide view shows that our live oaks are dropping last season's leaves. You wouldn't believe how much blowing and raking I did to get this clean shot. Sharp-eyed readers will also notice that I got rid of our old rusty, wood-burning fire pit and replaced it with a propane-burning fire table. While it doesn't put out as much heat, it's oh so easy to light and turn it off when you're done. And no smoke pollution or flying sparks either. Of course s'mores are out of the question…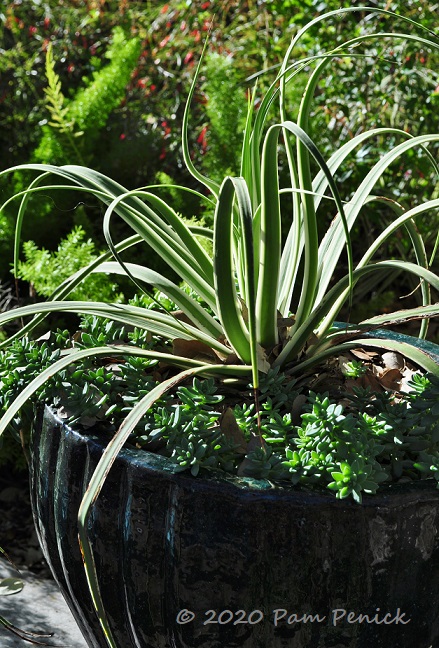 Variegated squid agave 'Monterrey Frost' looks pretty in an emerald-green pot underplanted with a creeping succulent.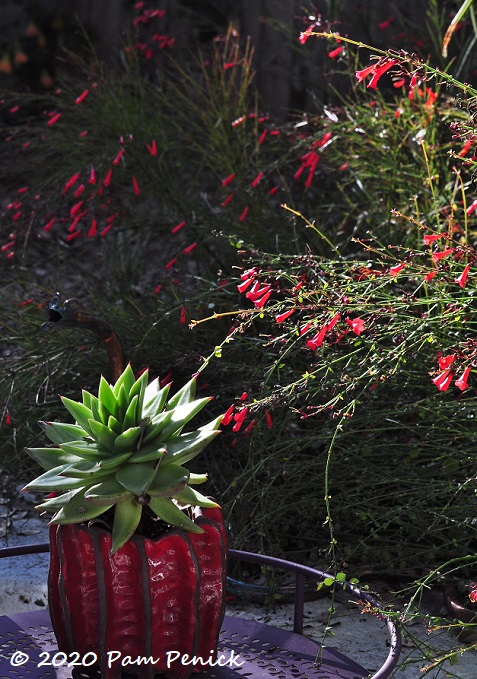 And a red-potted aloe glows alongside light-catching roundleaf firecracker fern. I just put all my tender potted plants like the aloe back out on the patios, which no doubt means a late-season cold snap is due any time.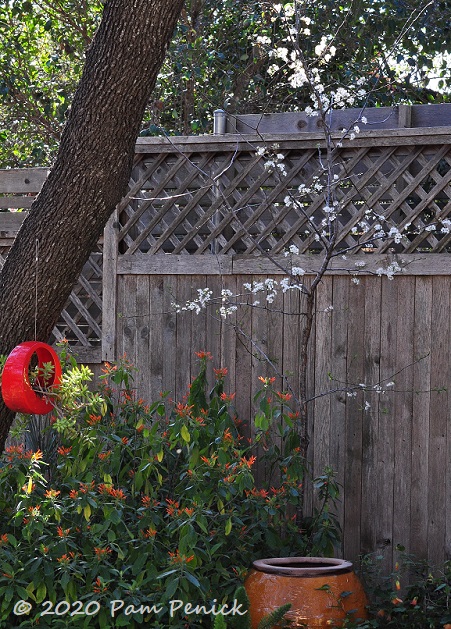 Spicy-scented Mexican plum and Mexican honeysuckle in the back corner.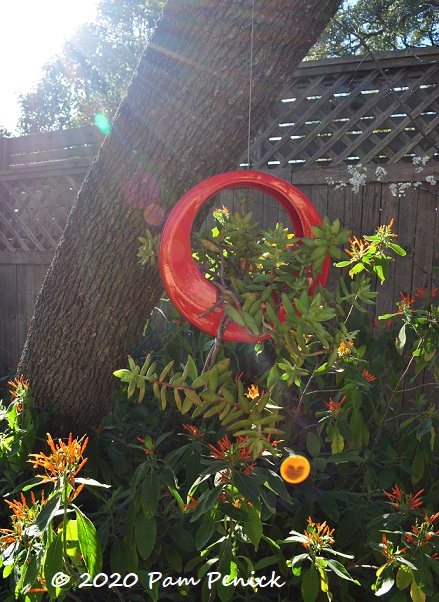 A red Circle Pot planted with orange-tinged Coppertone sedum pairs with the orange flowers of Mexican honeysuckle.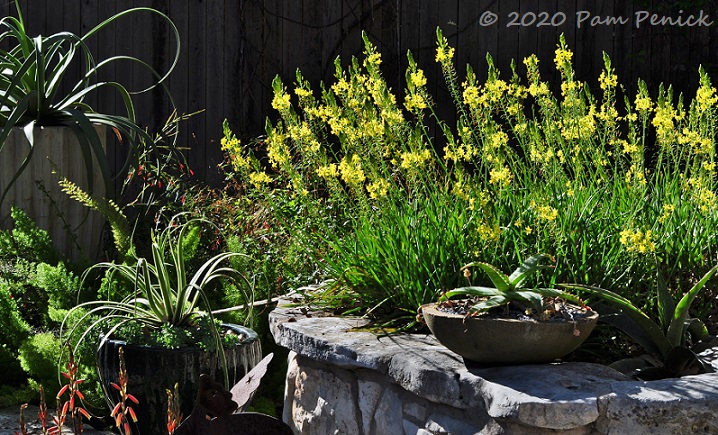 But let's get back to that yellow bulbine.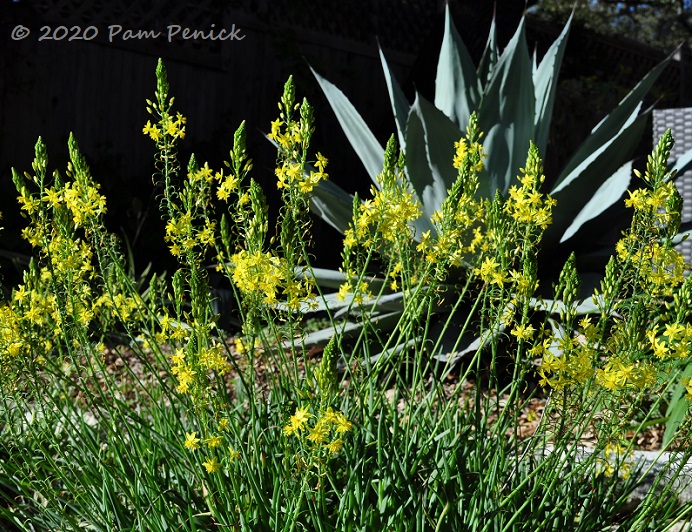 Seen from another angle, it echoes the spiky, upright flukes of a whale's tongue agave.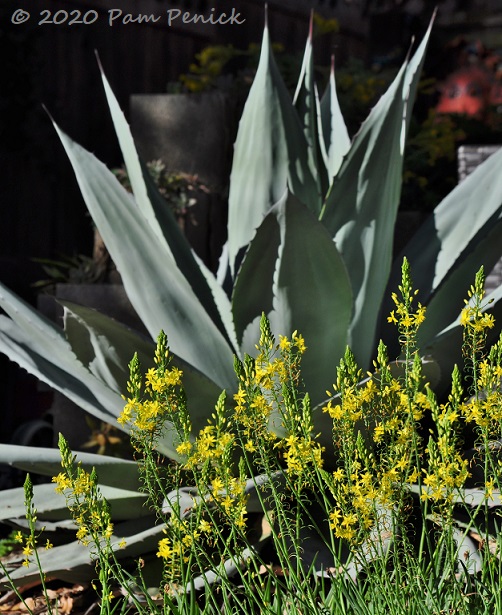 Muscular vs. delicate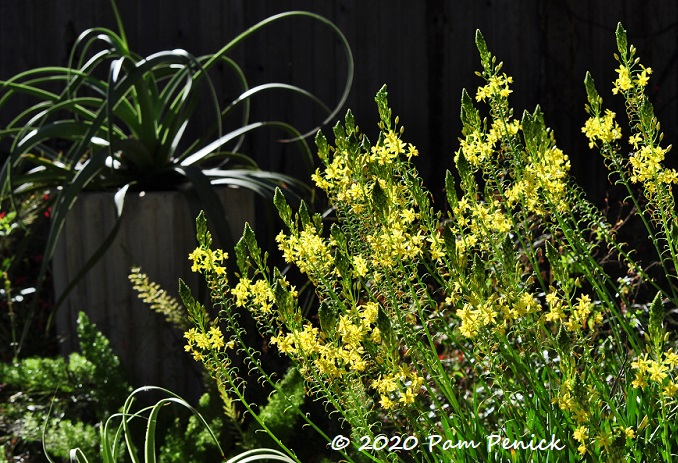 And what a light-catching plant!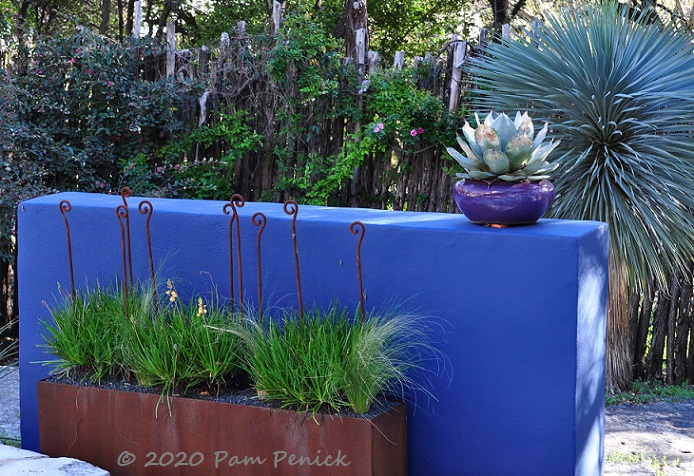 The orange bulbine in the steel planter is just starting to bloom. A few pink 'Peggy Martin' roses also have appeared on the rose climbing the cedar-post fence. But the hot-pink flowers of the loropetalum at back-left are already done.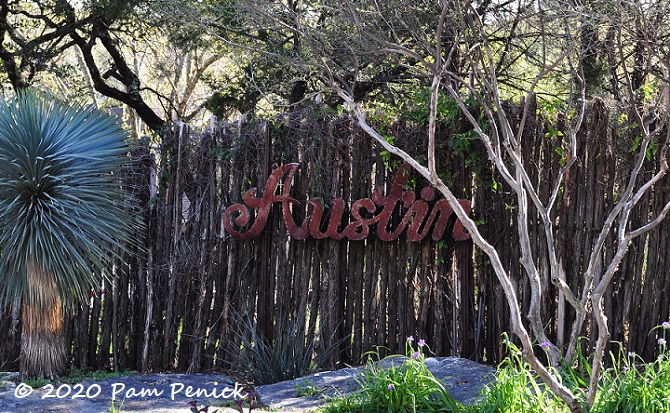 In the lower garden, a few volunteer spiderworts seeded themselves into cracks in the rock and are now blooming. The white trunks of a native Texas persimmon stand out against the dark posts of the coyote fence.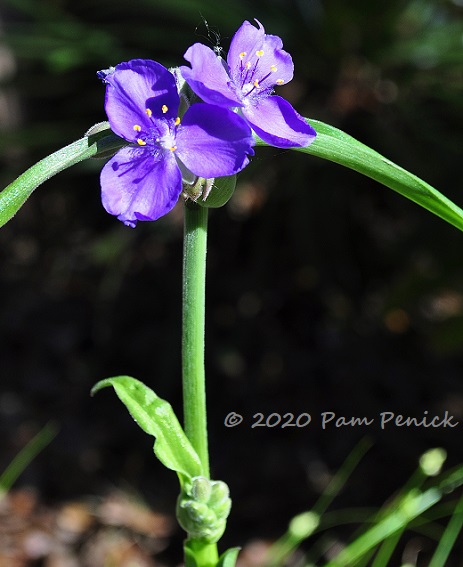 Spiderwort is a native, shade-loving wildflower with an unlovely name.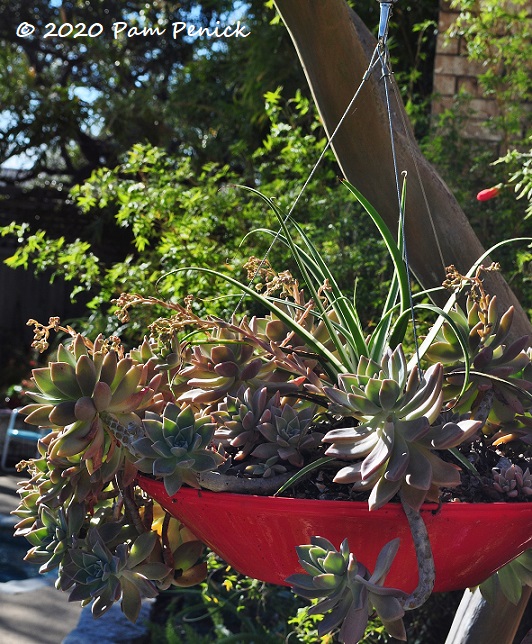 Ghost plant jostles for space with a variegated squid agave in an orange dish planter hanging from a crape myrtle. I leave this pot outside all winter, although I do put it on the ground so the plants can absorb a little heat from the soil.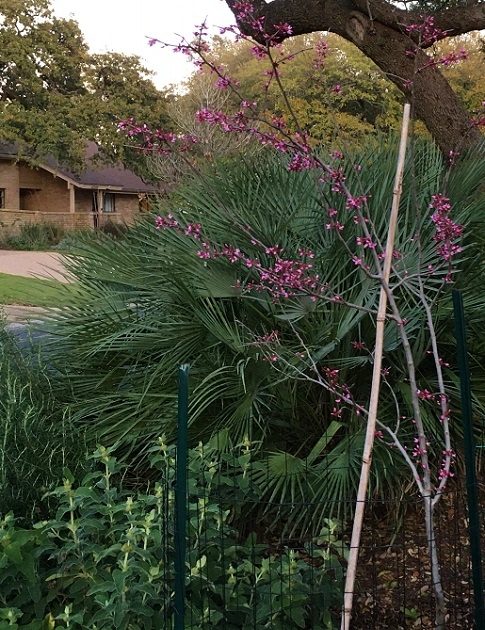 Out front, a new Mexican redbud is blooming against a bold-foliage backdrop of silver Mediterranean fan palm and Jerusalem sage. The sage will be next to flower.
This time of year is always a visual contest between annoying drifts of live oak leaves and pollen catkins and the beauty of spring blossoms. I can't clean up the leaves and pollen fast enough, so I need to get better at overlooking them and appreciating the spring display. Gardening goals!
I welcome your comments; please scroll to the end of this post to leave one. If you're reading this in a subscription email, click here to visit Digging and find the comment box at the end of each post.
_______________________
Digging Deeper: News and Upcoming Events
I'm giving a keynote talk at the Texas Master Gardener Conference in Waco, Texas, on May 13 from 10:45 a.m. to 12 noon: "Sod Busting: 8 Great Ideas for Your Yard After Digging Up the Lawn." If you're a Texas master gardener who's registered for the conference, I hope to see you there!
Mark your calendar for the May 16th Inside Austin Gardens Tour hosted by the Travis County Master Gardeners. Six private gardens in and around Austin will offer opportunities to learn about drought/deluge-tolerant, Earth-Kind® landscaping and butterfly, herb, vegetable, and succulent gardening.
Join the mailing list for Garden Spark! Hungry to learn about garden design from the experts? I'm hosting a series of talks by inspiring garden designers, landscape architects, and authors a few times a year. Held in Austin, the talks are limited-attendance events that sell out quickly, so join the Garden Spark email list to be notified in advance. Simply click this link and ask to be added.
All material © 2020 by Pam Penick for Digging. Unauthorized reproduction prohibited.
[ad_2]

Source link