June 07, 2020
We've had a lot of screech owls nest in our owl box over the past 10 years. But after we lost our owl tree and had to relocate the box, it sat empty all last year, to our disappointment. And until two days ago, I didn't even realize we had a nesting female again. But we do, and there's at least one owlet in the box!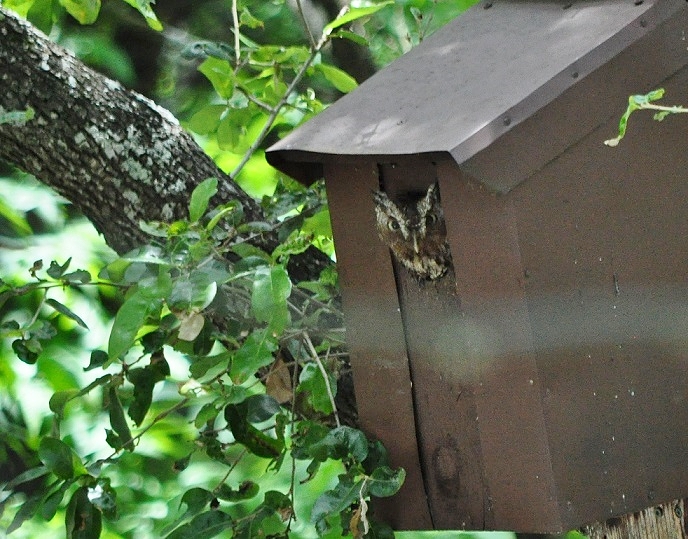 Here's mama owl, whom we'd seen in the doorway on occasion, although she's so skittish she'd hide as soon as we stepped outdoors. Past owls have been content to doze in the doorway all day, once the chicks get big and are taking up all the space in the bottom of the box. But not this mama, even though the box is now farther away from our house. Also, previous owlets have always fledged around Memorial Day, so we thought it was simply too late to expect to see chicks.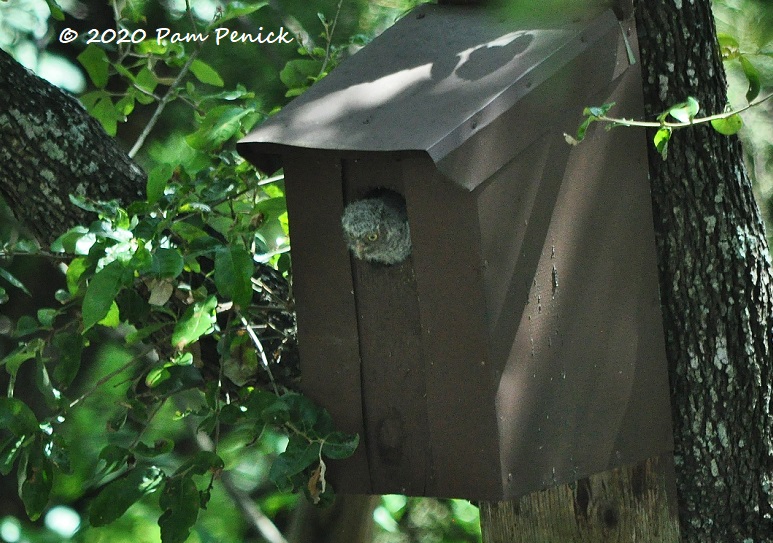 But on Friday, as I glanced out my office window at the box, I saw the fuzzy, white-gray head of an owlet peering out. What joy! I took a few photos through the window with my zoom lens, fearful of scaring it off if I stepped outside.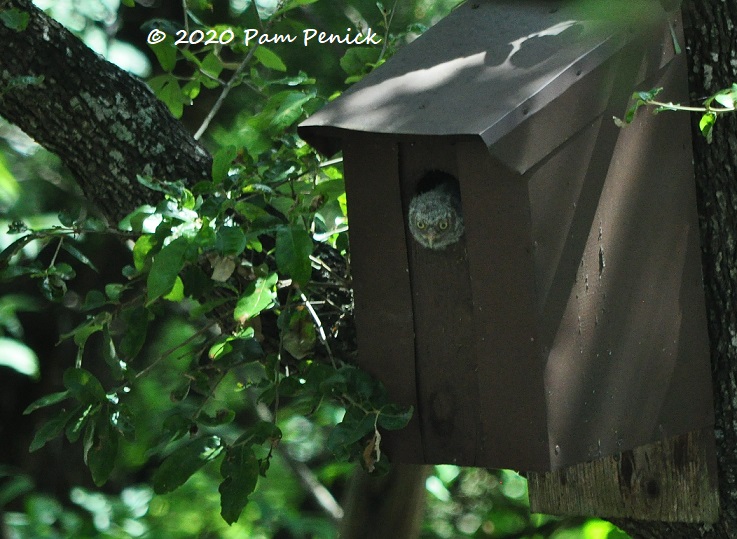 He or she bobbed and gazed around at the big new world. I kept hoping for a glimpse of another owlet, but I only saw the one. Still, I wouldn't be surprised if there's another one in there, working up the courage or strength to peer out.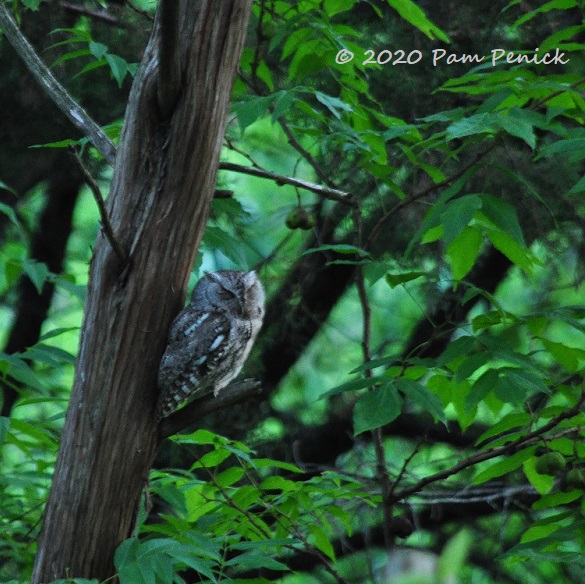 At twilight, I walked down to the pool patio and sat quietly in a chair for about 45 minutes, listening to the faint trills from the parents in the trees behind our property. Mom or dad was sitting on a juniper branch just beyond the fence.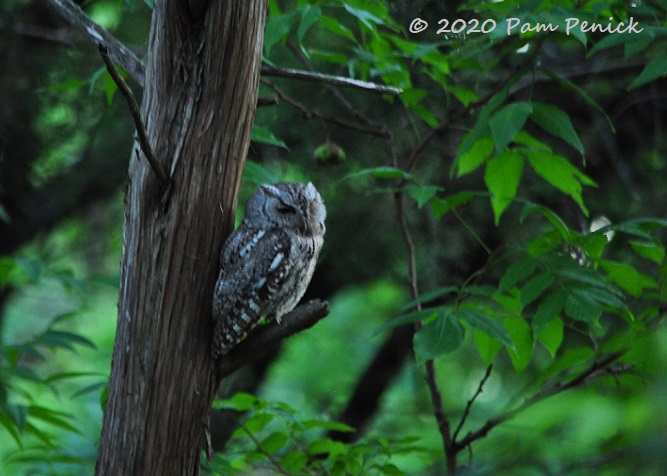 As it got darker, the owl opened its eyes and grew more alert, at one point lifting its wing to scratch an itch.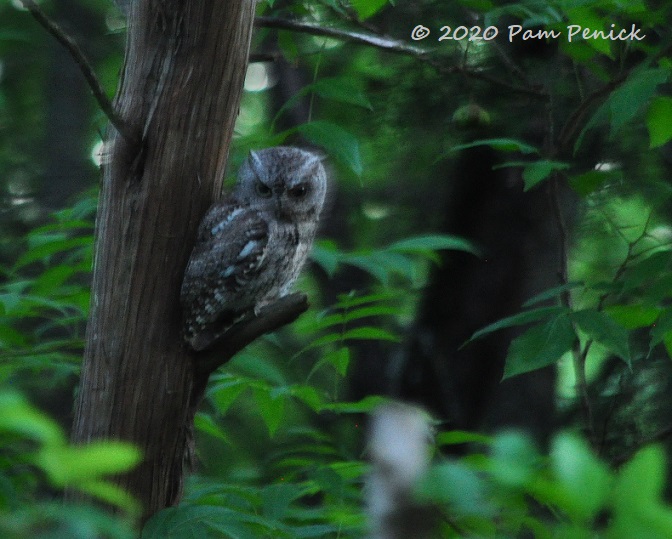 With a hungry owlet to be fed, soon it was time to hunt.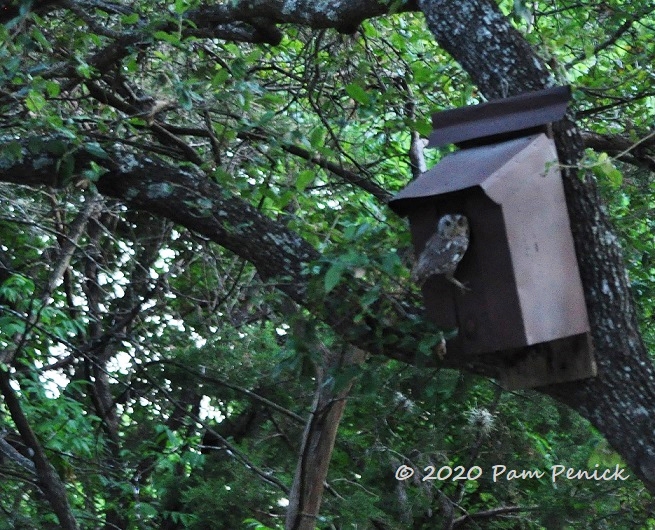 Although I couldn't locate the second adult, I assume that both parents are feeding the chick. Just before it grew dark, I watched two feedings at the box, as a silent-winged parent swooped low through the garden and onto the tree limb, then hopped over to the opening with whatever small rodent, insect, or reptile it had captured. My guess is always tree roach. There are plenty to go around.
Last evening, from the far side of the pool, our family watched the dark shapes of swooping owls making another feeding run. I can't tell you how happy it makes me to see owls nesting in our garden again!
I welcome your comments; please scroll to the end of this post to leave one. If you're reading this in a subscription email, click here to visit Digging and find the comment box at the end of each post.
_______________________
Digging Deeper: News and Upcoming Events
Donate to the Tom Spencer Million Trees for Austin Fund, established by TreeFolks in March 2020 to honor Tom Spencer, a tireless environmental advocate and longtime host of Central Texas Gardener. Tom's bold vision of planting another million trees in the Austin community inspired TreeFolks to pursue this goal, and they invite others to join the campaign. In Tom's own words, "Plant trees, plant hope."  For information about making an annual gift, stock donation, or charter contribution, please call Andrew W. Smiley, TreeFolks Executive Director at 512-413-7774, or visit their website for additional information.
Join the mailing list for Garden Spark! Hungry to learn about garden design from the experts? I'm hosting a series of talks by inspiring garden designers, landscape architects, and authors a few times a year. Held in Austin, the talks are limited-attendance events that sell out quickly, so join the Garden Spark email list to be notified in advance. Simply click this link and ask to be added.
All material © 2020 by Pam Penick for Digging. Unauthorized reproduction prohibited.