September 16, 2020
"There is no magic or revelation," world-renowned plantsman Dan Hinkley modestly declares in the preface of his book Windcliff: A Story of People, Plants, and Gardens (Timber Press, 2020), just "my attempt to convey my thoughts on good gardening as applied to my own climate and surroundings." Nevertheless, magical images (by photographer Claire Takacs) and revelatory anecdotes and humor abound in Hinkley's garden autobiography. Whether or not you're a collector of rare plants, as Hinkley is, Windcliff is worth reading for glimpses of the rarefied world of international plant exploration and stories about the making of an extraordinary garden.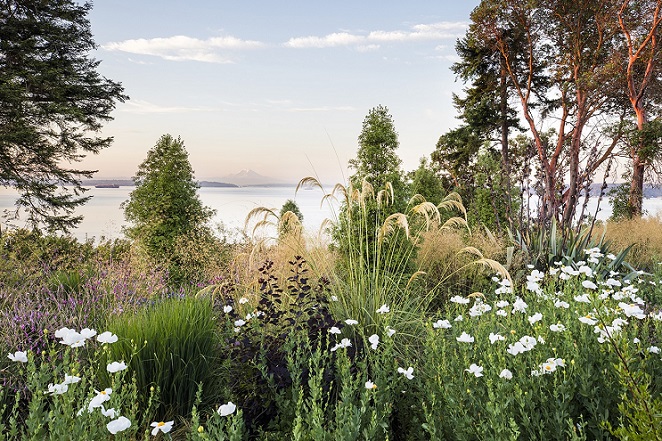 Hinkley's gardening climate near Seattle is edenic, his surroundings majestic. He and his husband live atop a bluff overlooking Puget Sound, Seattle, and Mount Rainier, and one might have thought to keep the garden low and subtle so as not to compete with the incredible vistas. Not Hinkley. Having sold Heronswood, his former garden and nursery, and moved to a house with an intimidatingly large expanse of lawn and juniper, he was eager to create a plant-rich garden in the sunny, open landscape.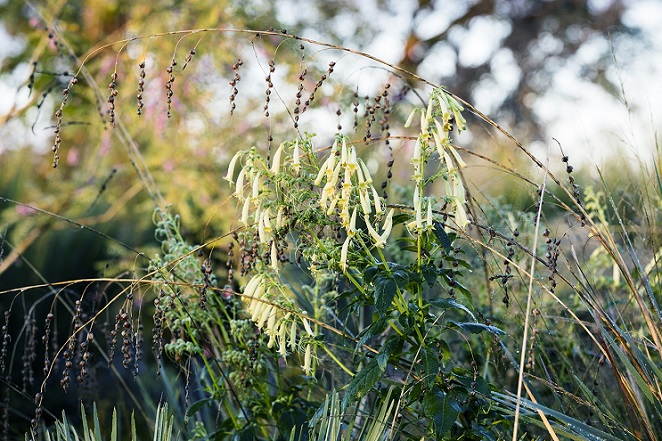 Windcliff, the garden he's made over the past 20 years, surprises in many ways. Densely planted, the garden takes precedence over the bluff-edge views, which are dangled via sight lines to entice visitors through the garden. And the plants! Palms tower over sky-reaching grasses ribboned by flowering perennials, their fan-dancing fronds adding a Jurassic note. Crinkly, umbrella-sized gunnera leaves capable of hiding a velociraptor bring the jungle home. Spear-like yucca leaves radiate like blue-green suns atop woody trunks. Exoticism rules, as befitting a gardener who's spent his life scrambling up cliffs and through jungles to collect seeds from plants unknown in cultivation.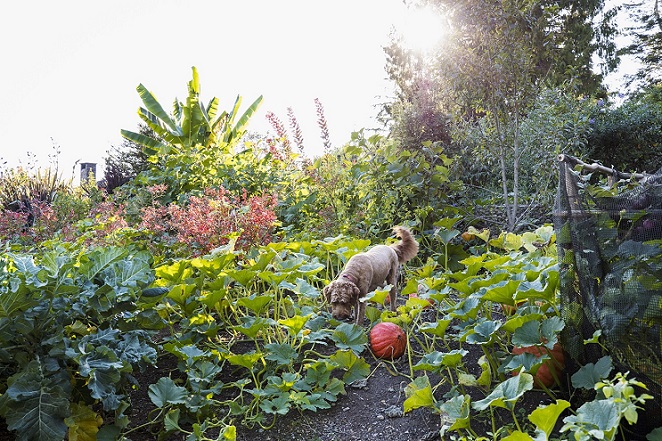 Hinkley's goal was to create "a garden in which to lose oneself, a place of rediscovery, a personal journey for the guests and gardeners alike to celebrate the joy that comes from the containment of the natural world." It looks as if he's reached his goal (though of course a garden is never finished). I hope to see it for myself one day.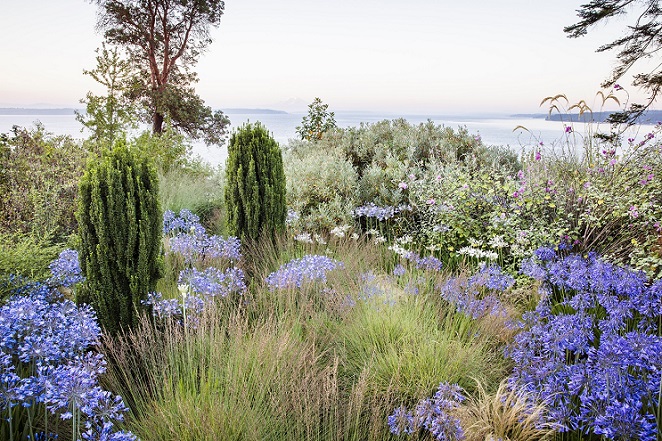 The images are lovely, but the real reason to read a book like this is to get in the gardener's head and understand what motivates and excites him, to learn from his mistakes if he's brave enough to acknowledge them — Hinkley is, hilariously so — and to hear the stories of plant-obsessed people in his orbit. Windcliff delivers on all counts. At times I was surprised by Hinkley's candid, almost cringe-worthy confessions about being a traveling speaker (including mandatory, Groundhog Day-like garden visits with deeply sincere home gardeners), and I laughed out loud at his open (and tongue-in-cheek) gloating over his acquisition of a rare plant: "[M]y specimen still stirs a sinful pride; I have it and you probably don't and never will."
Hinkley is tart and diffident about offering anything construed as gardening advice, deeming it hubris while being blessed with a felicitous gardening climate. He's quick to self-deprecate and readily owns up to his errors and plants that he's killed. In other words, his garden memoir comes across as refreshingly honest, a warts-and-all account by one of the most famous plantspeople in America, at an age when he's ready to survey a successful career, preserve for posterity (in print) a remarkable garden, and share the stories of the plants and people he's loved along the way.
I welcome your comments; please scroll to the end of this post to leave one. If you're reading this in a subscription email, click here to visit Digging and find the comment box at the end of each post.
Disclosure: Timber Press sent me a copy of Windcliff for review. I reviewed it at my own discretion and without any compensation. This post, as with everything at Digging, is my own personal opinion. Photographs courtesy of Timber Press.
_______________________
Join the mailing list for Garden Spark! Hungry to learn about garden design from the experts? I'm hosting a series of talks by inspiring garden designers, landscape architects, and authors a few times a year. Held in Austin, the talks are limited-attendance events that sell out quickly, so join the Garden Spark email list to be notified in advance. Simply click this link and ask to be added.
All material © 2020 by Pam Penick for Digging. Unauthorized reproduction prohibited.