February 05, 2021
Are you craving greenery? Want to drool over gorgeous Southern California patio and entry gardens while gleaning excellent design ideas for your own garden? Then immerse yourself in Los Angeles designer Scott Shrader's book, The Art of Outdoor Living: Gardens for Entertaining Family and Friends (Rizzoli, 2019). This beautifully photographed, oversized hardback was published pre-pandemic, but I didn't come across it until late last year. It's especially timely for the Covid era, when we're all using our outdoor hangout spaces more than ever and wanting them to be more inviting and comfortable.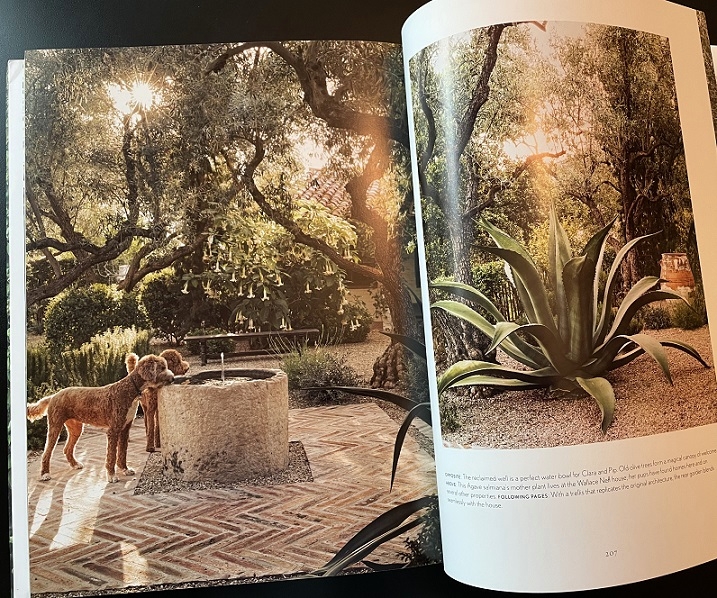 Shrader is a designer to the stars — Ellen DeGeneres and Patrick Dempsey are name-dropped on the book flap — and that might dissuade the average gardener from looking here for design inspiration. It shouldn't. While the featured gardens are very high-end, their loveliness is rooted in elegant simplicity, an emphasis on greenery over masses of hardscaping (Shrader favors inexpensive gravel paving), and an inviting practicality that the designer explains in an overview of each garden.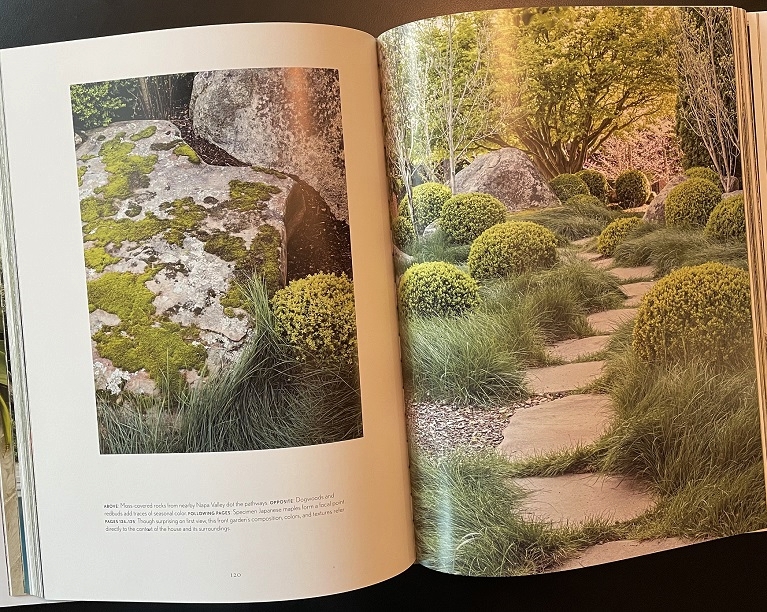 For instance, I'm in love with this front yard's meadowy swath of sedge cut through by a sinuous flagstone path, with different-sized balls of clipped boxwood adding playful dynamism — like bowling balls in a game played by giants, come to rest on an overblown lawn. There are only four plant species in this vignette if you include the trees in the background, but it could never be called boring.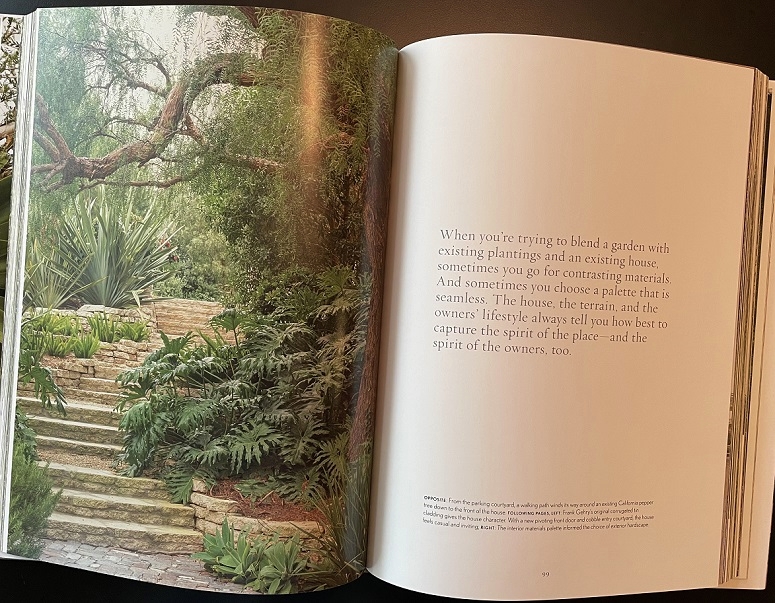 Shrader's Mediterranean aesthetic of evergreen shrubs, olives, agaves, and flowering fruit trees lapped by pea gravel paths and patios and set off by rugged stone paving can readily be translated to green Southern gardens and to central Texas gardens especially. Think Hotel San Jose's greenery-wrapped gravel courtyard, or Jackson Broussard's manicured yet expressive garden, or Deborah Hornickel's clipped formality offset by Texas natives. For Austin homes with a contemporary aesthetic, this is a popular look — a lusher alternative to the also-popular spiky desert-ish garden.
Shrader defines his role as extending the character and style of a home into the garden, so that the whole space flows cohesively. He believes gardens are for living in, not just looking at, and he shows how to create welcoming spaces that invite you to sit and relax. Your own gardening budget (and mine) may be a fraction of Shrader's clients', but much of what he accomplishes is done with gravel and plants — and the elusive yet powerful qualities of well-defined space and simplicity.
Disclosure: I purchased this book myself and reviewed it without any compensation. This post, as with everything at Digging, is my own personal opinion.
I welcome your comments; please scroll to the end of this post to leave one. If you're reading this in a subscription email, click here to visit Digging and find the comment box at the end of each post.
_______________________
Digging Deeper: News and Upcoming Events
Make a prairie garden, or a pocket prairie! Learn how in the webinar "Restore. Reimagine. Reinvent. Prairie Landscapes for Austin" by John Hart Asher on Feb. 9 from 10:00 am to noon. Hosted by Travis County Master Gardeners, the webinar is free, but you must register to attend.
Take a guided tour of the John Fairey Garden at 11 am on Feb. 13 or 27 to see camellias in bloom and more. Located in Hempstead, Texas. $10 per person, or free for members and children.
New to central Texas? Learn about native Texas plants and gardening tips in "Gardening for Newcomers," a virtual class at the Lady Bird Johnson Wildflower Center on March 6, from 9 to 11 am. Cost is $35, with a discount offered for members of the garden.
Join the mailing list for Garden Spark! Hungry to learn about garden design from the experts? I'm hosting a series of talks by inspiring garden designers, landscape architects, and authors a few times a year in Austin. (While in-person talks are currently on hiatus due to the pandemic, I plan to resume again as soon as possible.) Talks are limited-attendance events that sell out quickly, so join the Garden Spark email list to be notified in advance. Simply click this link and ask to be added.
All material © 2021 by Pam Penick for Digging. Unauthorized reproduction prohibited.