August 10, 2020
Potted plants green up my patio, deck, and porch, and I often plunk them into garden beds as focal points. But being in Texas, mine aren't packed with flowering annuals or perennials that require daily or twice-daily watering. Instead they showcase water-thrifty plants like succulents, cacti, even foxtail fern — plants I can leave to their own devices in 100-degree heat and not fuss about them for a week or more.
Here are a few of my faves.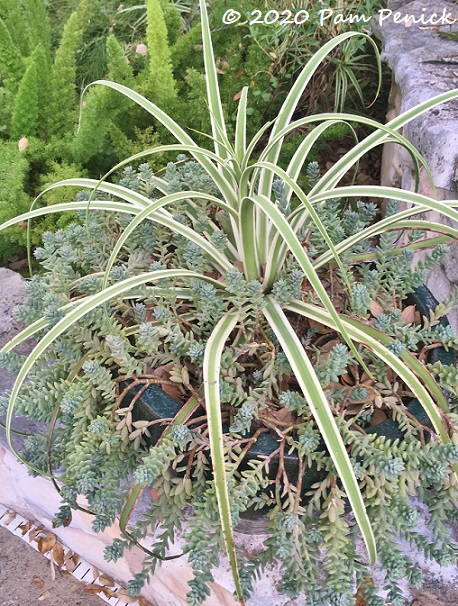 Variegated squid agave (Agave bracteosa 'Monterrey Frost') thrives in bright shade, with blue-green sedum (Sedum reflexum 'Blue Spruce') frothing at its feet.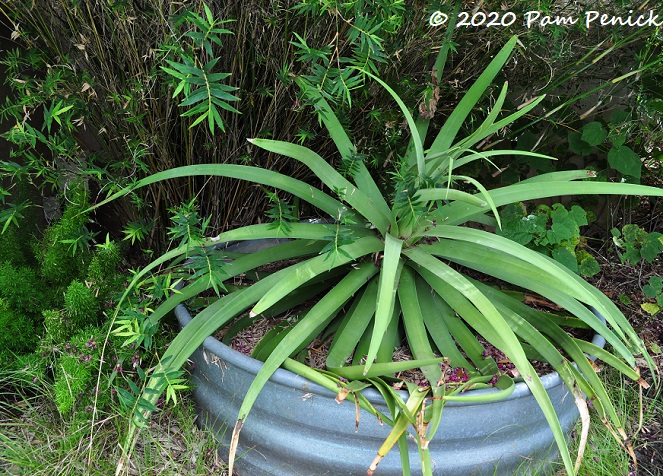 A standard squid agave — this one's at least 13 years old — has spread its tentacles across a 3-foot stock-tank planter, reaching for more light under an exuberant 'Tiny Fern' bamboo.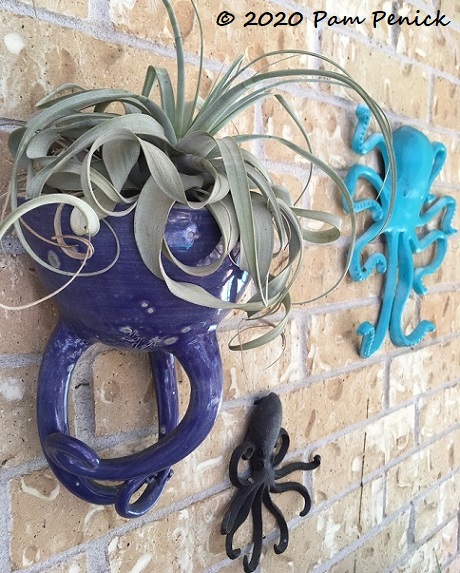 Speaking of tentacles, I adore this Tentacle Pot, and a wavy-armed Tillandsia xerographica is the perfect partner along with a couple of decorative octopi. Indoors, tillandsias require regular misting. But outdoors in the shade in Austin's muggy summer, mine needs misting only a couple of times a month.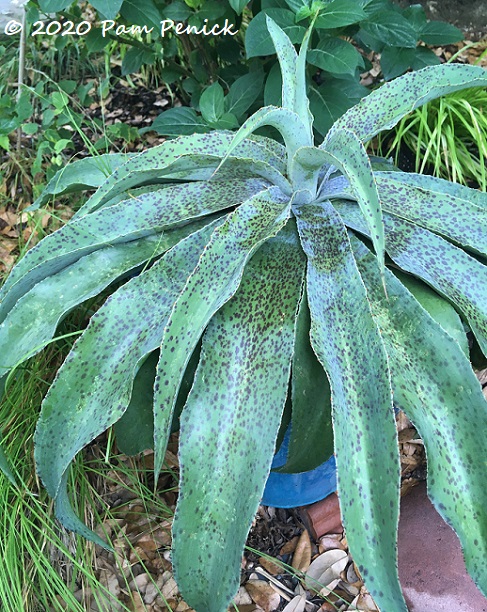 In a blue pot in a mostly shady bed, a 'Spotty Dotty' mangave shows off its freckles.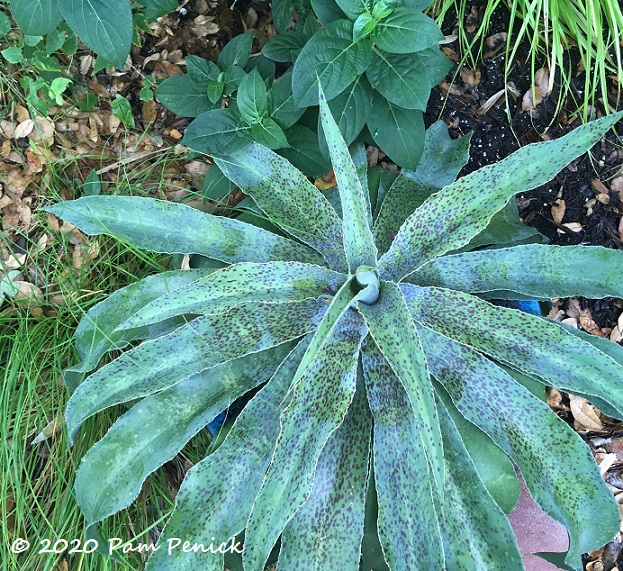 But I think its coloring would be even better in more sun, so I may try to find a new spot for it.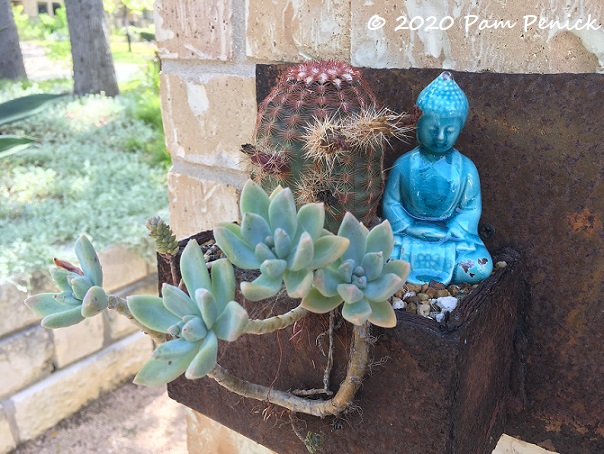 A steel planter on the garage wall catches my eye whenever I walk by, thanks to a turquoise Buddha accent.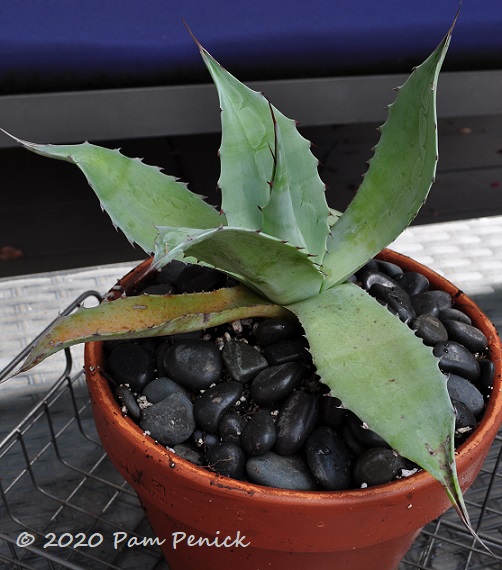 If you've wondered what happened to my Moby pups — bulbils I harvested from my dying whale's tongue agave, Moby — here's one of them. Four remain from the original six I kept, and I recently repotted them into bigger pots. I'm keeping them in reserve for the next time a big agave dies and I need a replacement.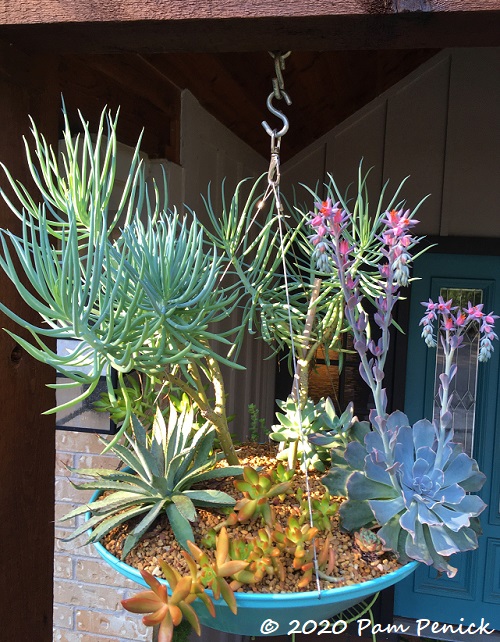 I'm feeling pretty pleased with this hanging container, which I replanted a month or two ago with succulent cuttings and a 'Bloodspot' mangave I grew from a bulbil. Now the dusty blue echeveria is blooming!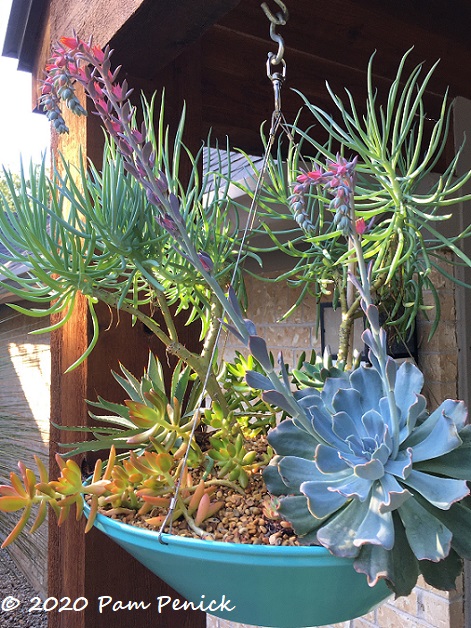 Good ol' succulents — so easy to grow, and they're a gift that keeps on giving.
I welcome your comments; please scroll to the end of this post to leave one. If you're reading this in a subscription email, click here to visit Digging and find the comment box at the end of each post.
_______________________
Digging Deeper: News and Upcoming Events
Join the mailing list for Garden Spark! Hungry to learn about garden design from the experts? I'm hosting a series of talks by inspiring garden designers, landscape architects, and authors a few times a year. Held in Austin, the talks are limited-attendance events that sell out quickly, so join the Garden Spark email list to be notified in advance. Simply click this link and ask to be added.
All material © 2020 by Pam Penick for Digging. Unauthorized reproduction prohibited.