[ad_1]

October 07, 2020
With beautiful fall weather on tap and the first of the Mexico-bound monarch butterflies reaching North Texas, last weekend seemed like the perfect time for a trip to Dallas-Fort Worth. So I reached out to a few gardeners there and mapped out a 2-day itinerary, and my husband and I hopped in the car and headed north.
Our first stop was the Fort Worth studio of Redenta's Landscape Design, operated by Lorie and Michael Kinler. Lorie and Michael met while studying landscape architecture, and Michael's mother, Ruth Kinler, owns the wonderful Dallas nursery Redenta's Garden. The love of gardens and modern design is clearly a family affair.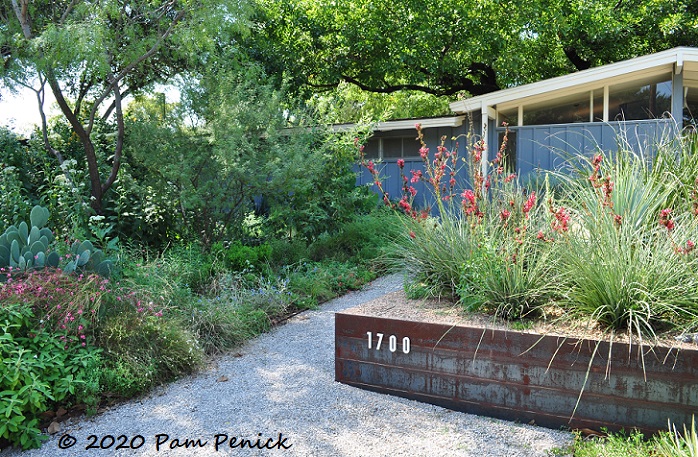 The Kinlers' contemporary, plant-rich aesthetic informs the design of their office garden from the moment you arrive, with a rusty steel wall displaying the street number and elevating a raised bed of xeric plants.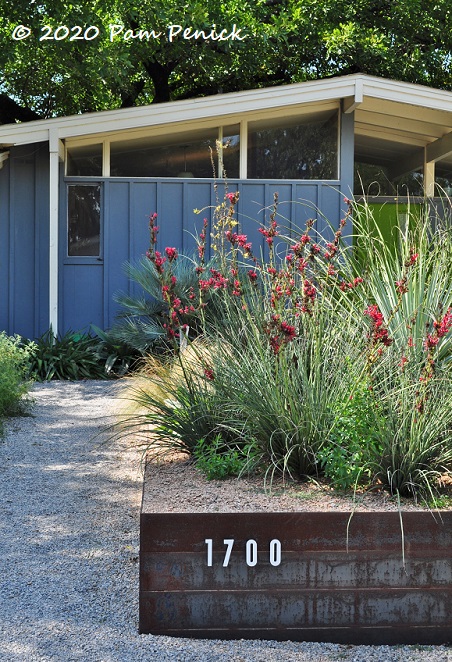 The office is located in a mid-century modern house located right next door to Lorie and Michael's own home. Painted a stormy blue, the house makes a fine backdrop for the plants, like this cluster of 'Brakelights' hesperaloe. For so long I've wished we could grow kangaroo paws (Anigozanthos) here without them melting away, but now I see that 'Brakelights' in flower produces much the same effect.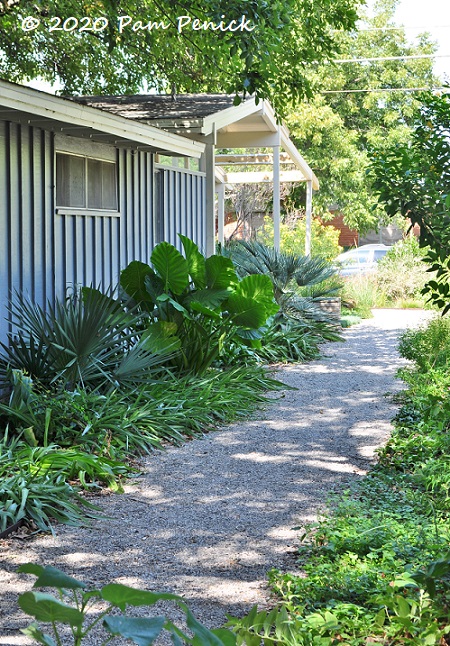 Michael told me they like to trial plants for toughness in the office garden, and they cram in a wider variety of plants than they'd normally do for clients. All disclaimers aside, the garden is quite appealing — and clearly the work of plant lovers. Shade plants thrive along the front walk and foundation, including Texas dwarf palmetto, giant alocasia, manfreda, and silver Mediterranean fan palm.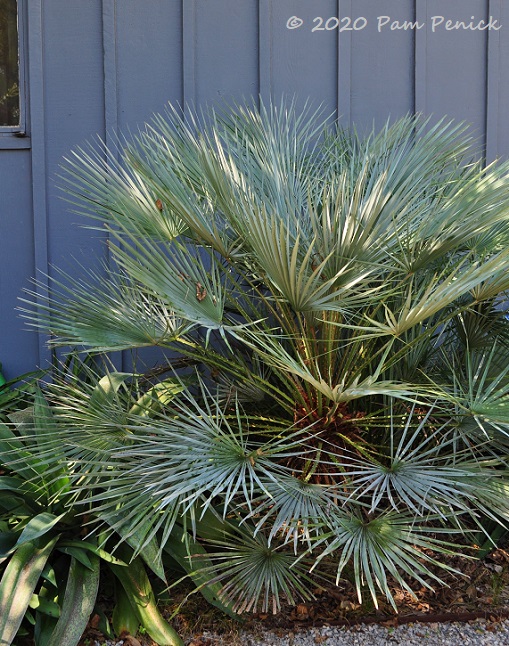 Silver Mediterranean fan palm is one of my favorites for dry shade, and a slow grower.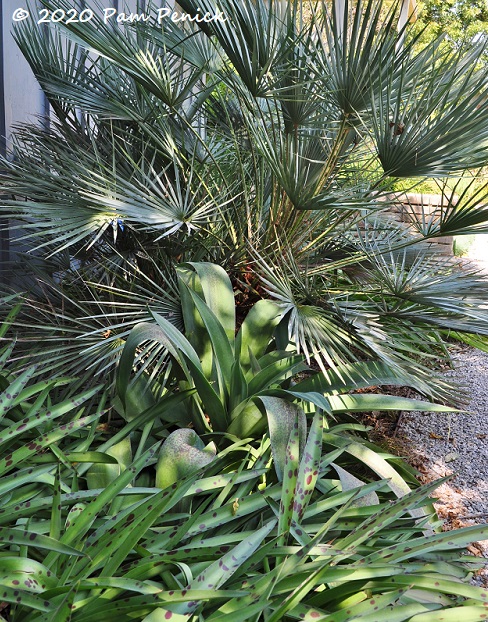 Purple-spotted native manfreda and 'Macho Mocha' mangave contrast their fleshy, strappy leaves with the thin, jazz-hand fronds of the fan palm.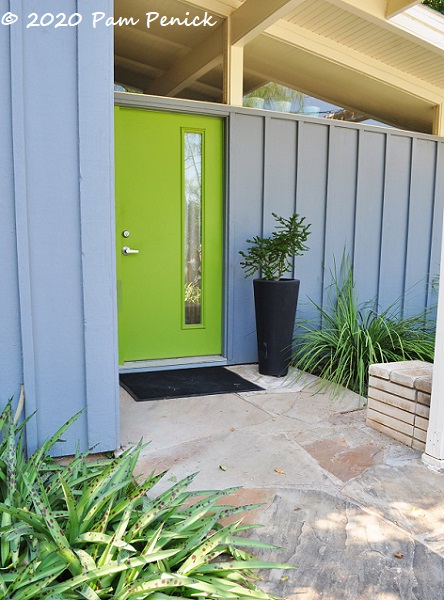 Manfreda makes a cool groundcover when planted en masse. And I LOVE the lime-green door color.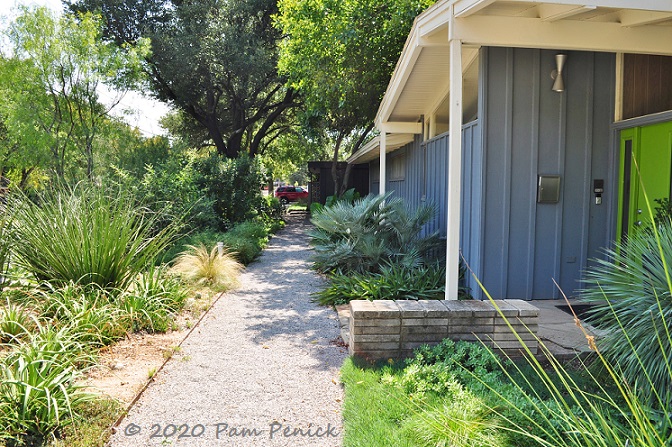 Looking back along the path you see a winding line of tentacle-leaved squid agaves at left. Dianthus and sedge fill in as groundcovers at right.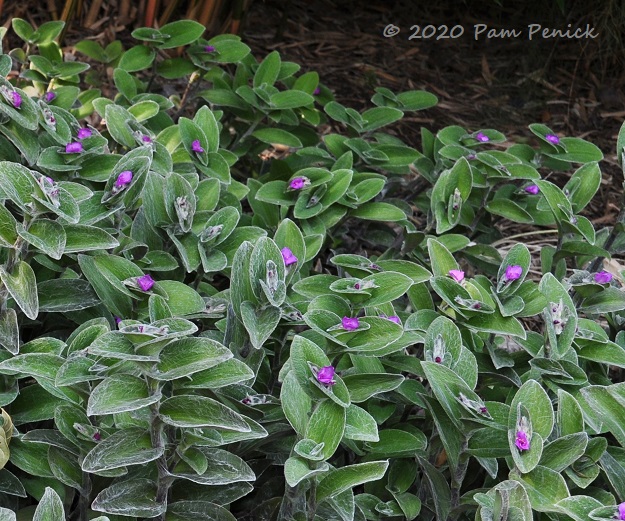 Around the corner, cobweb trandescantia (Tradescantia sillamontana) thrives in dry shade.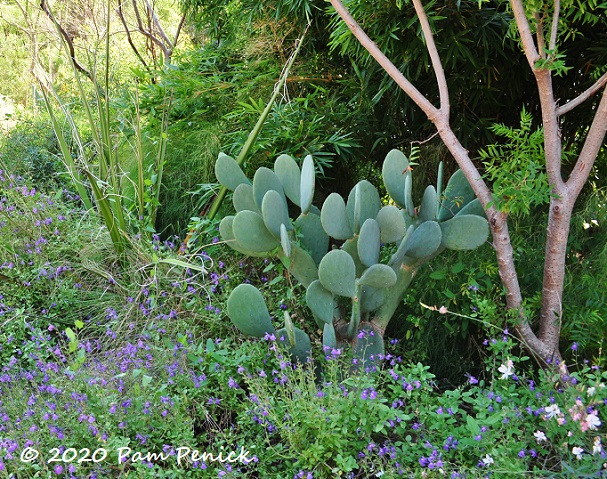 Along the street, the strong form (like mouse ears) of spineless prickly pear contrasts with the fine texture of Salvia microphylla 'Mesa Azure'.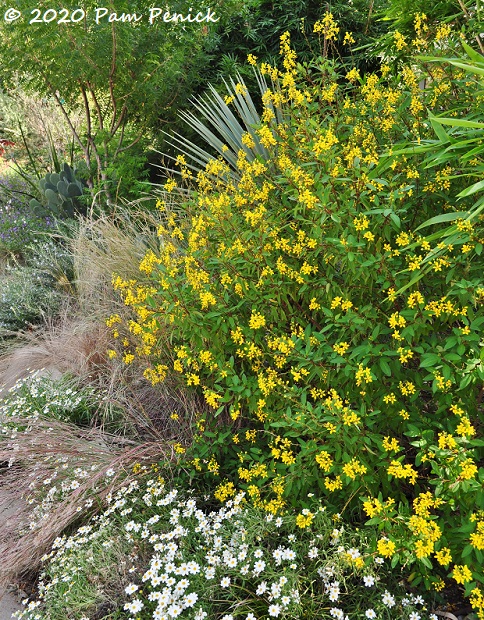 Golden thryallis and blackfoot daisy shrug off the Texas heat in summer and look good well into fall.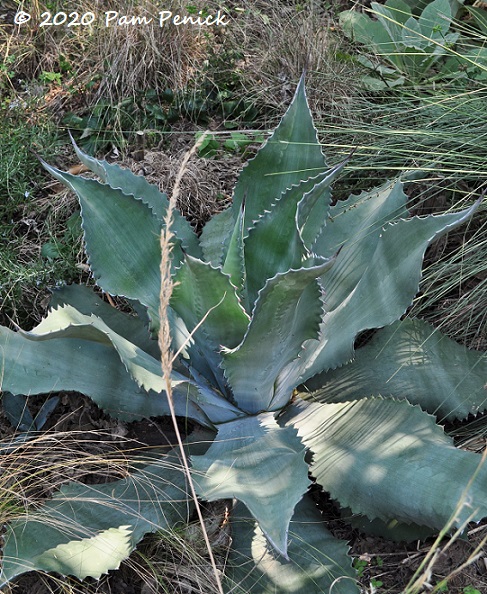 A beautiful, wavy-leaved 'Vanzie' whale's tongue agave with a silvery sheen to its green leaves stopped me in my tracks. I was sure this wasn't a 'Vanzie' because the leaves look so different from others I've seen, but Lorie confirmed with their nursery manager.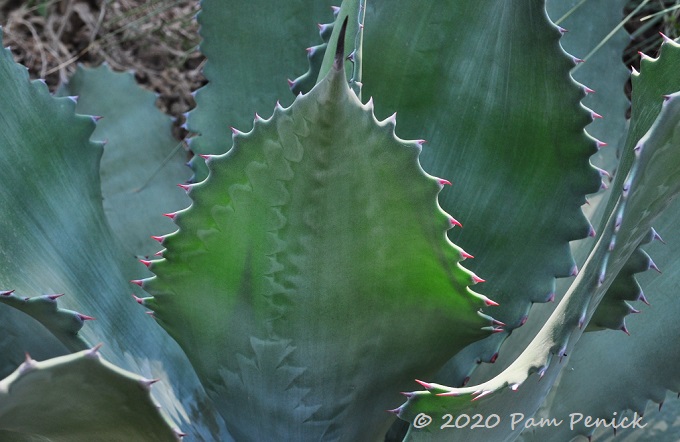 Check out those red-tipped teeth and the ghostly leaf imprints on its leaves.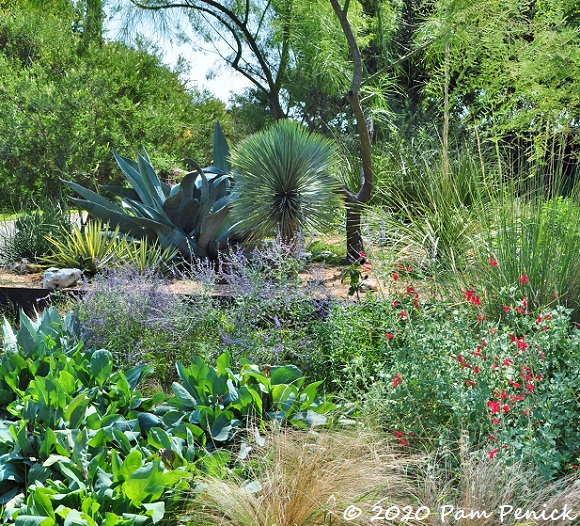 The garden occupies a corner lot, and as you come around the corner you see how Lorie and Michael elevated a raised bed of very xeric plants, edged in raw steel panels. Yucca rostrata, some large agaves, and 'Color Guard' yuccas grow beneath a yellow-flowering retama tree.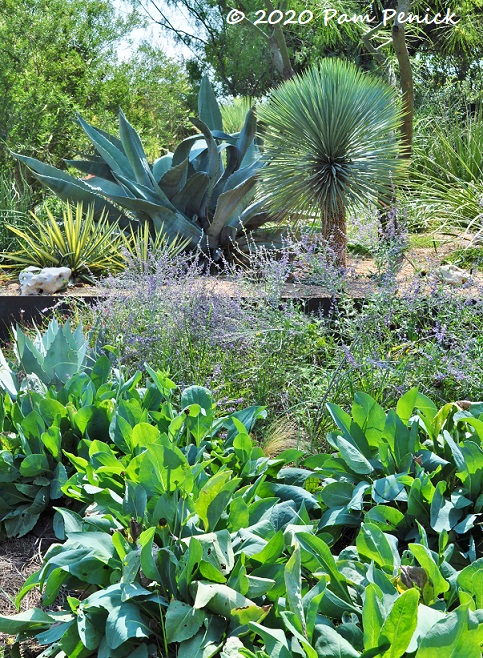 Giant coneflower foliage in the foreground contrasts with airy, lavender-flowering salvias.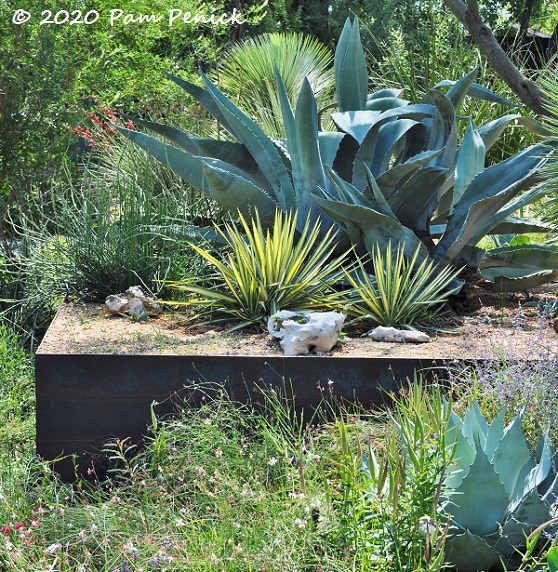 A closer look at the elevated xeric bed, which makes a strong impression when you first see the garden.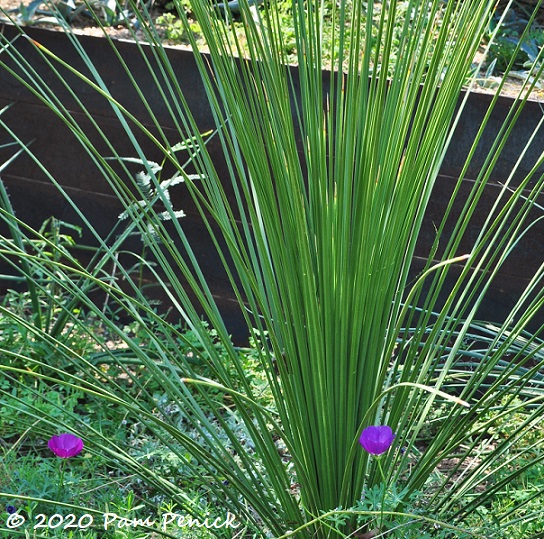 Winecups were still blooming! Its magenta flowers ramble under a Mexican grass tree's leaves.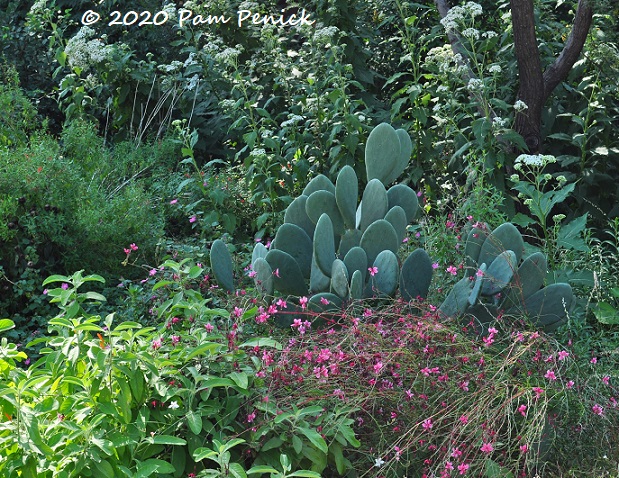 On the other side of the garden, a dense planting reveals lovely vignettes like spineless prickly pear between white-flowering frostweed and carnation-pink guara.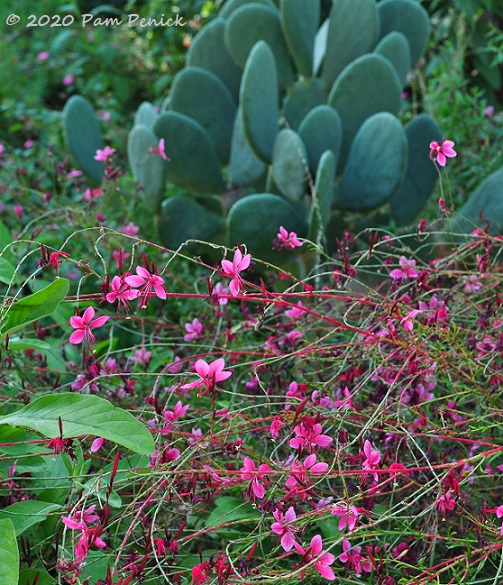 Pink guara and spineless prickly pear make a pretty combo.
The day was windy, but monarchs battled the breeze to nectar on frostweed flowers.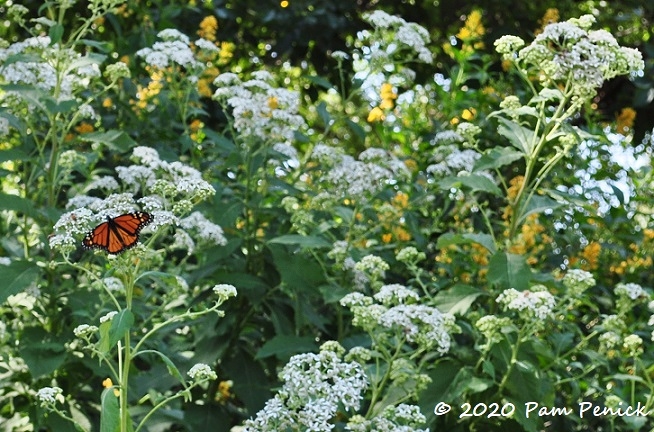 The migrating butterflies were really drawn to the frostweed.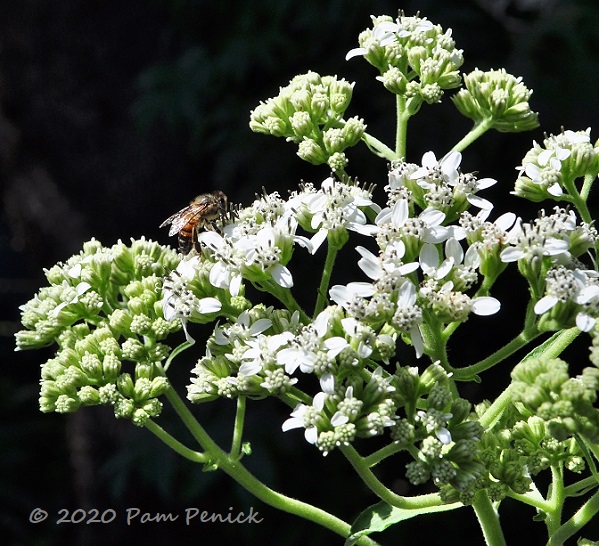 So were bees.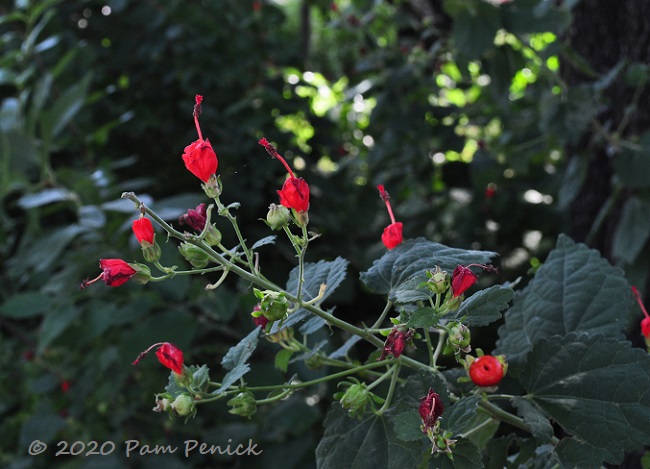 If any hummingbirds haven't yet left for Mexico, they'll enjoy these Turk's cap flowers. Or maybe they're already in Austin and enjoying mine.
Up next: A tour of Lorie and Michael Kinler's home garden, complete with a fun cowboy swimming pool.
I welcome your comments; please scroll to the end of this post to leave one. If you're reading this in a subscription email, click here to visit Digging and find the comment box at the end of each post.
_______________________
Digging Deeper: News and Upcoming Events
Join the mailing list for Garden Spark! Hungry to learn about garden design from the experts? I'm hosting a series of talks by inspiring garden designers, landscape architects, and authors a few times a year. Held in Austin, the talks are limited-attendance events that sell out quickly, so join the Garden Spark email list to be notified in advance. Simply click this link and ask to be added.
All material © 2020 by Pam Penick for Digging. Unauthorized reproduction prohibited.
[ad_2]

Source link