November 03, 2020
The big-box stores are pushing mums and Christmas tree rosemary topiaries (too early!!). But branch out to your local nursery and you'll find more interesting fall fare for your garden. Like forsythia sage (Salvia madrensis), one of my favorite late-blooming perennials here in central Texas.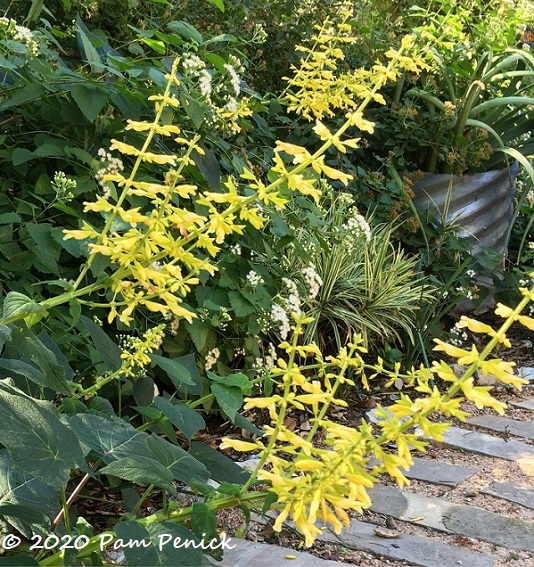 A yellow-flowering salvia? This late in the season? Yes and yes! Named for its resemblance to spring-flowering forsythia shrub, Salvia madrensis hails from mountainous northern Mexico. Here in Austin, it requires shade and a little extra water in the hottest part of summer, or else it shows its displeasure by wilting. But mine does well in live oak shade with once-a-week irrigation, even in August, bouncing back from pouty wilting once it gets a drink.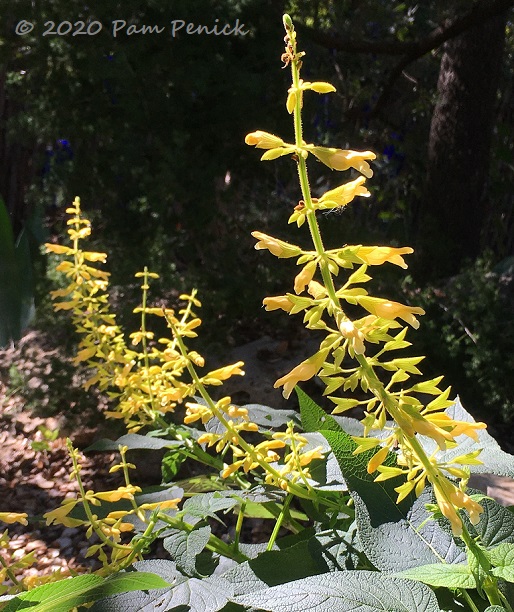 Come late October, it sends up butter-yellow spires that bloom into mid-November if we don't get an early freeze. I like its big, cat's-tongue-textured leaves too.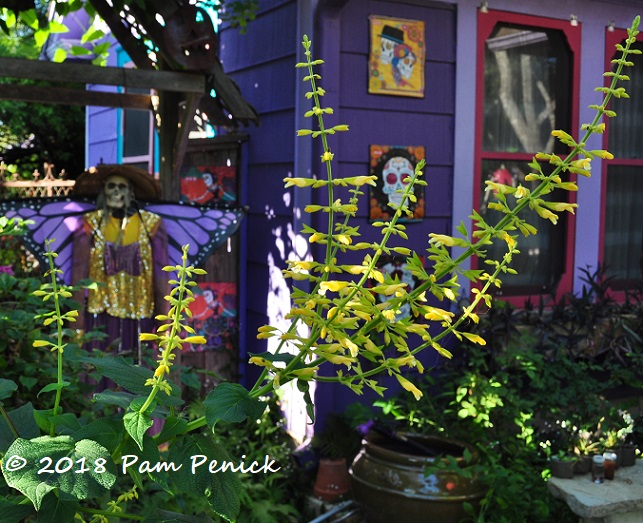 I got mine as a passalong from my friend Lucinda Hutson. Here is her forsythia sage growing in front of her purple casita all decked out for Day of the Dead.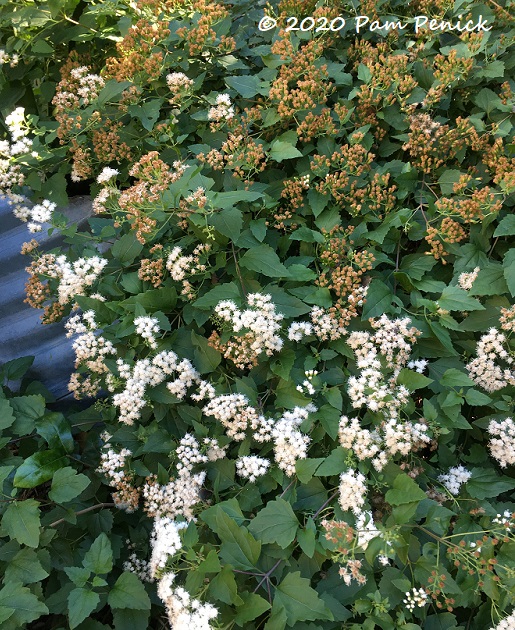 I planted mine next to shrubby boneset, or white mistflower (Ageratina havanensis), which blooms at the same time and also grows in live oak shade.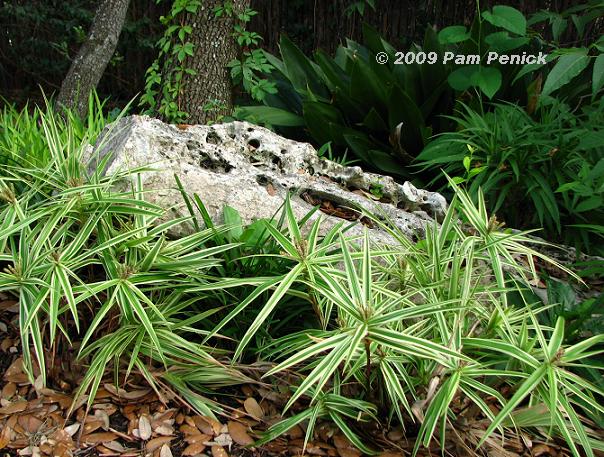 'Sparkler' sedge (Carex phyllocephala 'Sparkler') looks great with it too, planted at the front of the border.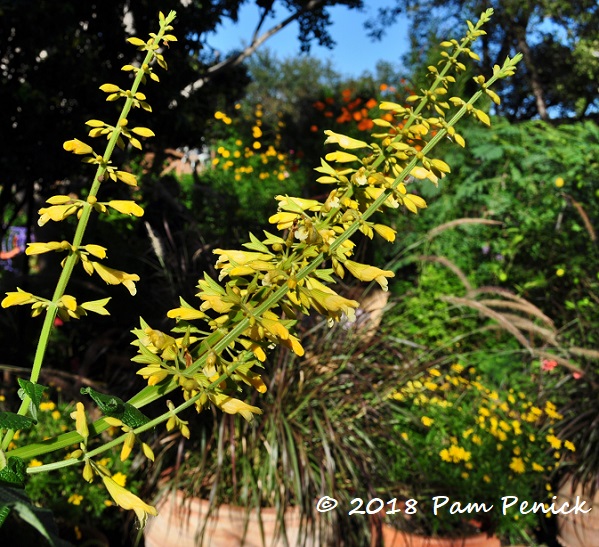 Forsythia sage is hardy in zones 7b-10 and grows well throughout the South. Look for a red-stemmed cultivar called 'Red Neck Girl' at Plant Delights Nursery. Or see if a neighbor who's growing it can give you a division next spring. And for anyone reading this in Austin, I just called Barton Springs Nursery, and they told me they have about a dozen for sale right this second.
Note: My Plant This posts are written primarily for gardeners in Central Texas. The plants I recommend are ones I've grown myself and have direct experience with. Check online forums for your region or local independent nurseries to see if a particular plant might work in your area.
I welcome your comments; please scroll to the end of this post to leave one. If you're reading this in a subscription email, click here to visit Digging and find the comment box at the end of each post.
_______________________
Digging Deeper: News and Upcoming Events
Join the mailing list for Garden Spark! Hungry to learn about garden design from the experts? I'm hosting a series of talks by inspiring garden designers, landscape architects, and authors a few times a year. Held in Austin, the talks are limited-attendance events that sell out quickly, so join the Garden Spark email list to be notified in advance. Simply click this link and ask to be added.
All material © 2020 by Pam Penick for Digging. Unauthorized reproduction prohibited.