[ad_1]

April 09, 2020
Spring bounds ahead as we confine ourselves at home, waiting for the corona specter to pass us by. I spent an unproductive couple of hours late last night googling how to cut my own hair and watching makeup tutorials promising to make me look 10 years younger. So that's where I am mentally on Week 4 of sheltering-at-home. How about you?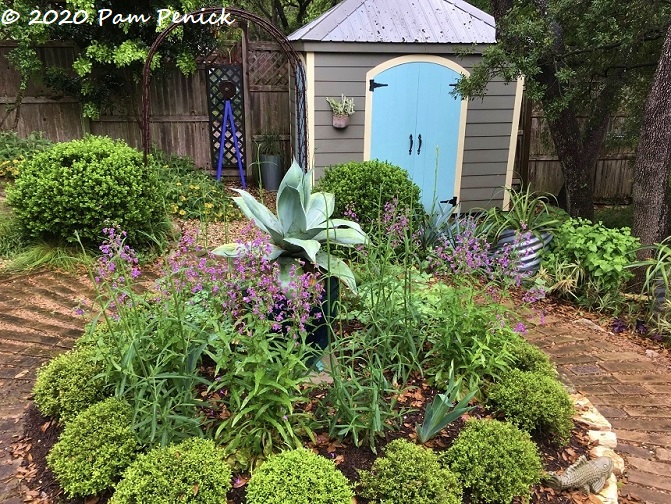 How much more pleasant — and less risky, tonsorially — to work on a garden makeover instead. My old stock-tank pond garden is filling in quickly with lavender-flowered Gulf Coast penstemon (Penstemon tenuis) and airy Verbena bonariensis blooming inside a circle of 'Micron' yaupon hollies. A few yellow columbines and a transplanted iris or two are struggling to bloom despite the high temperature of 95 F that blasted Austin yesterday.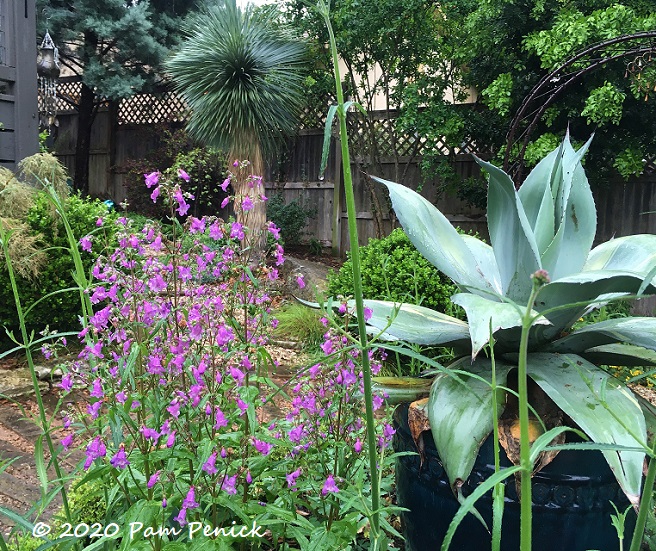 Gulf Coast penstemon is buzzing with bees, which makes me happy.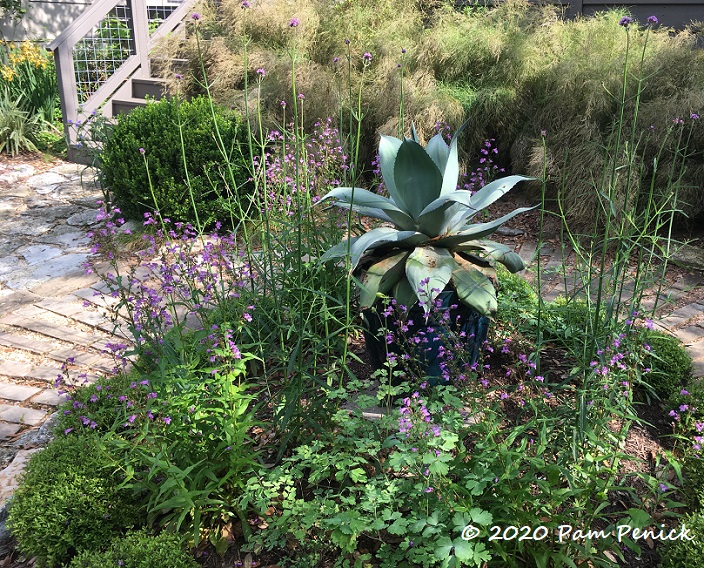 The tall verbena is soaring skyward and approaching 5 feet. I've ordered some 'Fireworks' gomphrena from Burpee (I couldn't find it locally before the nurseries shut down) and look forward to adding it to the mix for summer color.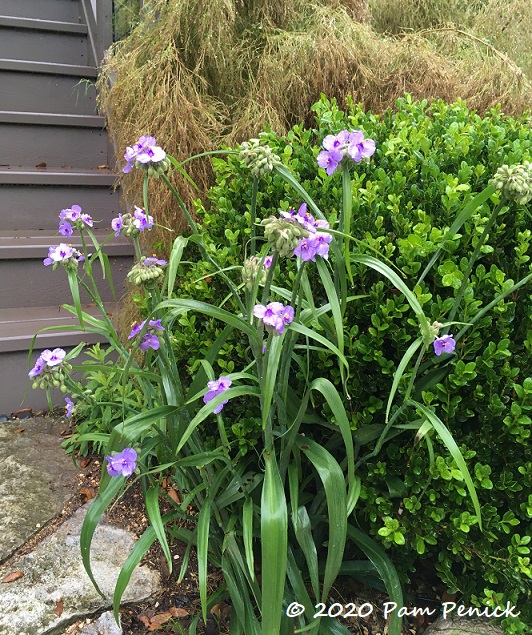 Native spiderwort (Tradescantia occidentalis) has self-seeded into niches throughout the garden, including alongside a boxwood ball. I pull out some but always leave plenty for the pretty purple flowers that feed the bees before closing up in the afternoon.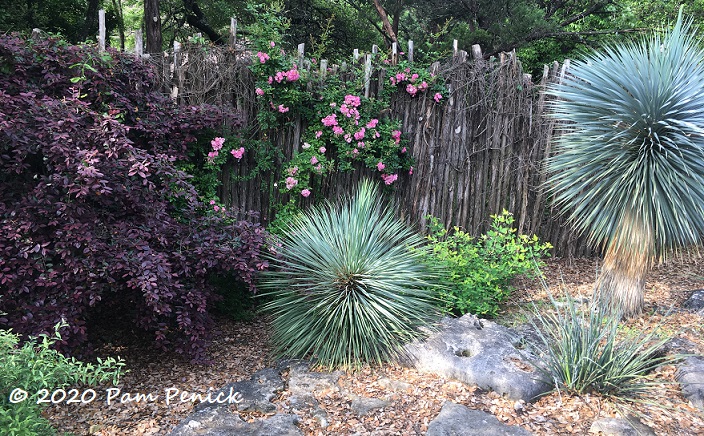 In the lower garden, where shade gives way to sun for a few midday hours, 'Sizzling Pink' loropetalum harmonizes with the rich pink of a 'Peggy Martin' rose clambering along the coyote fence. Blue Koosh-ball heads of Yucca rostrata add spherical form and shimmery movement.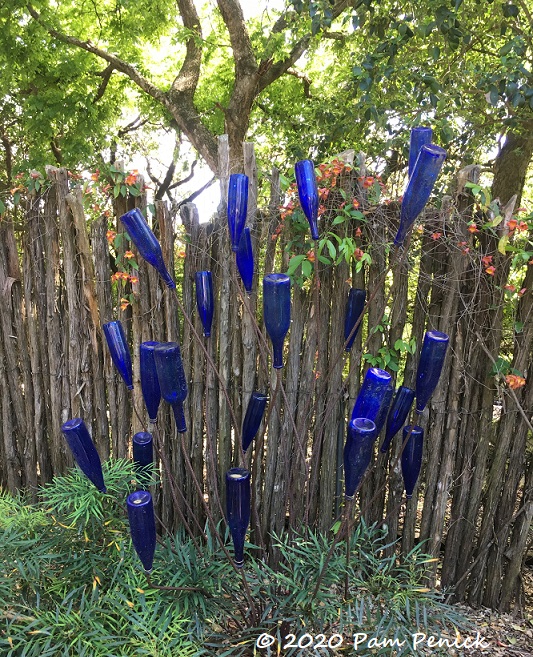 In a shadier spot, blue bottles gleam on a rebar "tree," accompanied by a rambling 'Tangerine Beauty' crossvine (Bignonia capreolata). 'Soft Caress' mahonia adds fringey evergreen foliage below.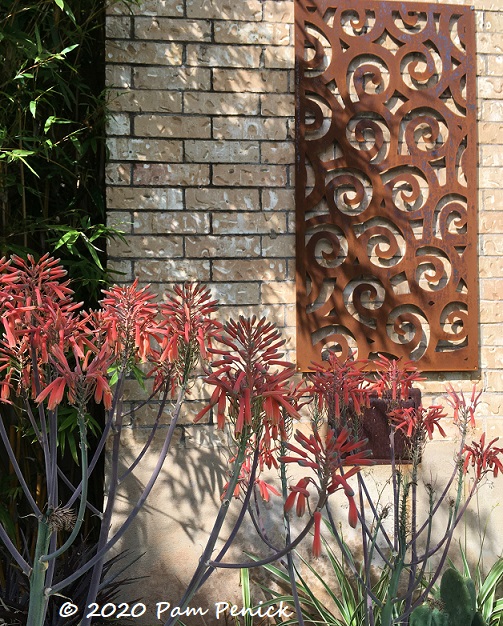 In a hot, sunny spot against the house, a trio of soap aloes (Aloe maculata) are flowering, attracting bees that spelunk into the dangling, tubular blooms. I'm also loving the metal wall art I found on Etsy by CoastalMetalArt. Over the past few months it's patinaed to the rusty look I love. Metal spacers keep rust from staining the brick chimney wall.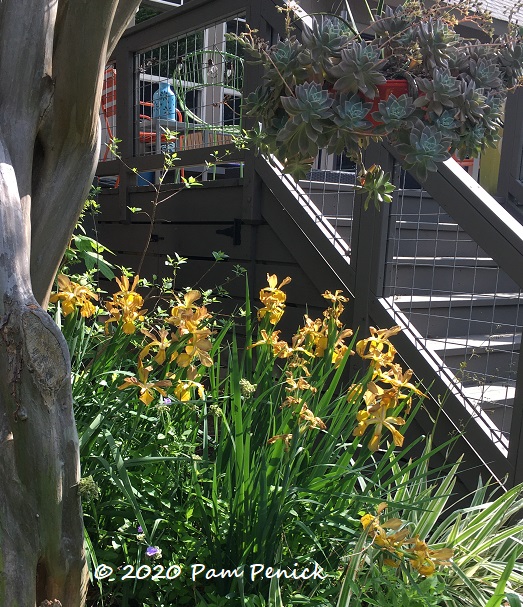 Burnt-gold spuria irises are in full bloom by the deck stairs.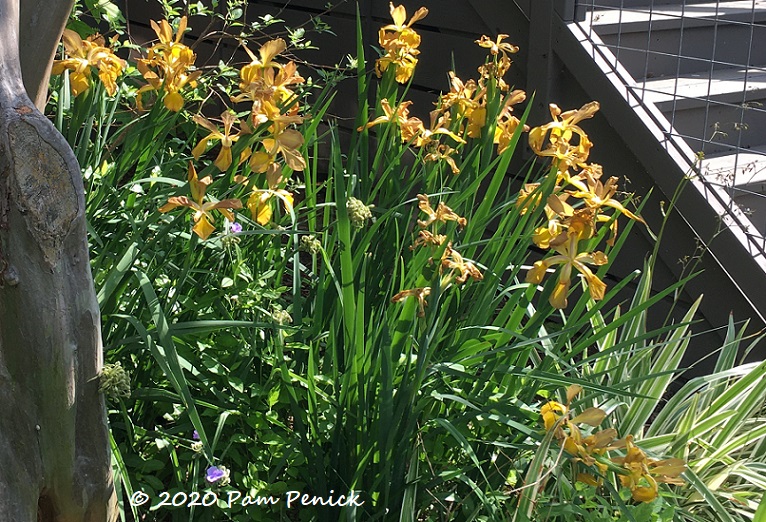 One more look. These make me so happy every spring!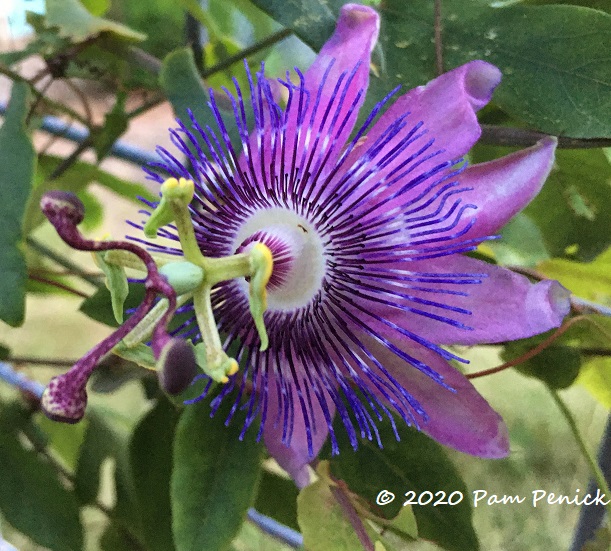 This also sparked joy this week: my two-year-old 'Lavender Lady' passionflower vine bloomed for the first time. Since the first flower opened I've had several more. I've also spotted a few Gulf fritillary butterflies hovering around, no doubt laying their eggs on the vine, which is a favorite food for their caterpillars. I'll leave them to grow into more beautiful butterflies, but before the munching begins I'll enjoy these frilly, outrageous flowers.
I welcome your comments; please scroll to the end of this post to leave one. If you're reading this in a subscription email, click here to visit Digging and find the comment box at the end of each post.
_______________________
Digging Deeper: News and Upcoming Events
Join the mailing list for Garden Spark! Hungry to learn about garden design from the experts? I'm hosting a series of talks by inspiring garden designers, landscape architects, and authors a few times a year. Held in Austin, the talks are limited-attendance events that sell out quickly, so join the Garden Spark email list to be notified in advance. Simply click this link and ask to be added.
All material © 2020 by Pam Penick for Digging. Unauthorized reproduction prohibited.
[ad_2]

Source link