September 08, 2020
It's oxblood lily time, baby! That excitement you hear is my delight over the early and unexpected end to break from Texas's interminable summer. Late last week, two inches of rain and a welcome drop in temperatures made it feel like early October rather than early September. As soon as the rain ended, up popped the crimson trumpets of oxblood lily (Rhodophiala bifida).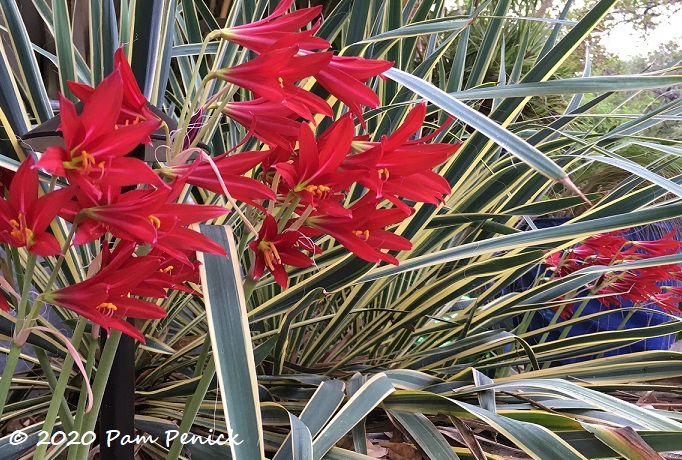 I believe this is the usual time of year for oxbloods to put on a show throughout Austin, but looking back through my blog posts from last year, I found nothing — not until early October. Of course September 2019 was dreadfully hot and dry. This September is more to their liking, and mine!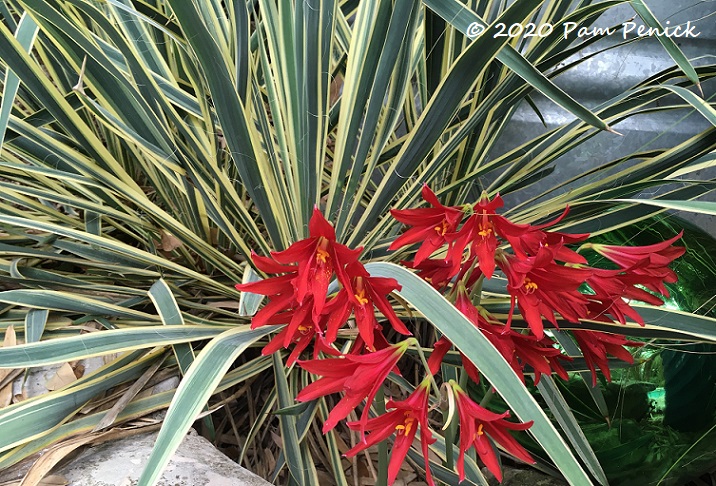 I'll have more oxblood lilies to show you in my upcoming post about Tom Ellison's garden, so stayed tuned.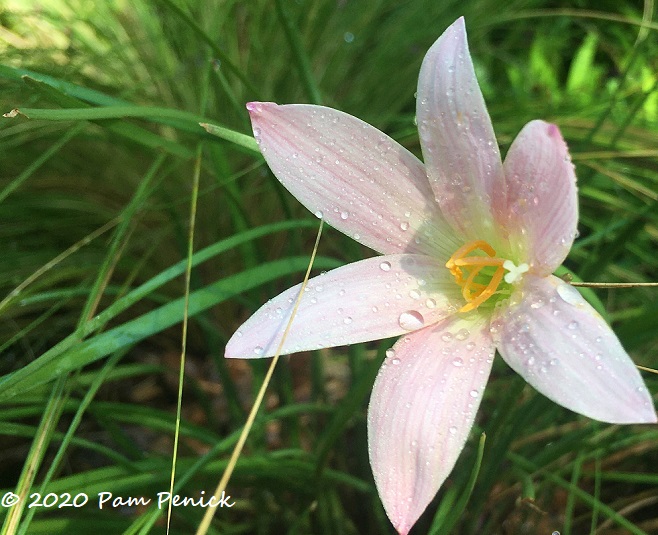 Candy-pink rain lilies also popped up right after the rain.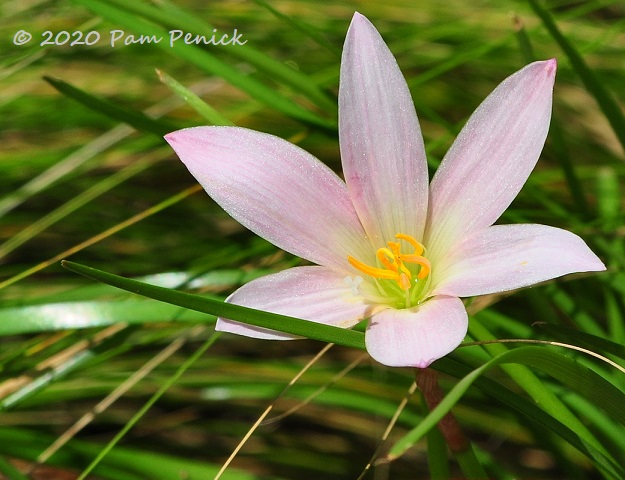 So sweet!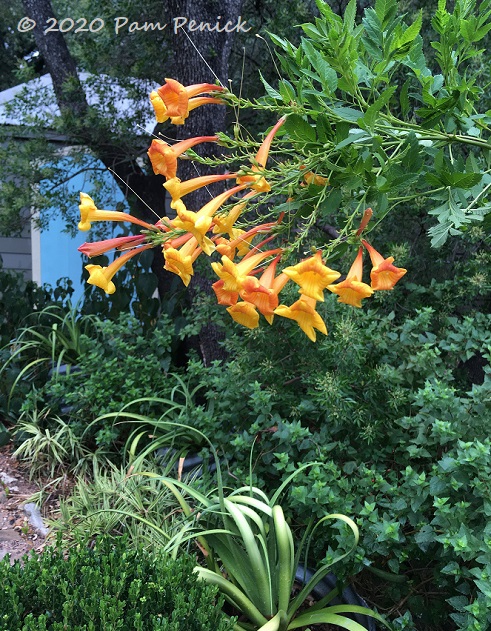 Well, why stop with just the bulbs? Let's go on a walkabout again to see what else is happening. Tecoma 'Orange Jubilee' has been flowering and attracting native bees.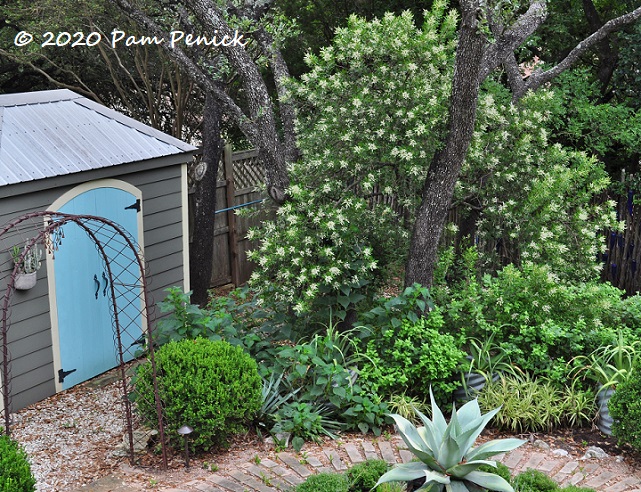 Speaking of bee attraction, evergreen sumac (Rhus virens) has absolutely erupted with flowers, and the bees are in heaven. It's the white-flowering tree between two live oak trunks.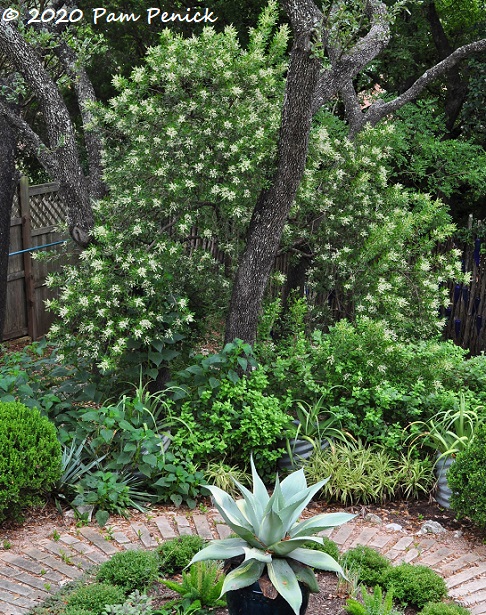 This is the best it has ever flowered, I think, in the 12 years we've lived here. In another month, white mistflower, one of the rambling woody perennials in that bed, will take over with white, pollinator-attracting flowers that continue into early November.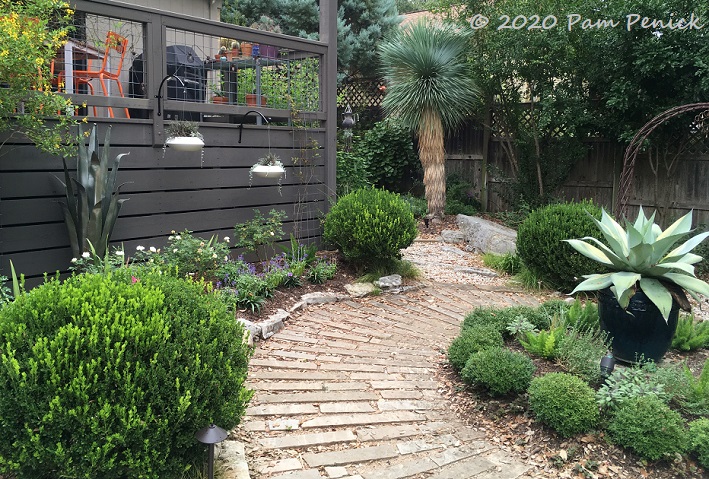 Hopefully the new white 'Icecap' roses (at left) will still be blooming then. Silver ponyfoot in the Orbit planters is beginning to trail downward, adding more frostiness.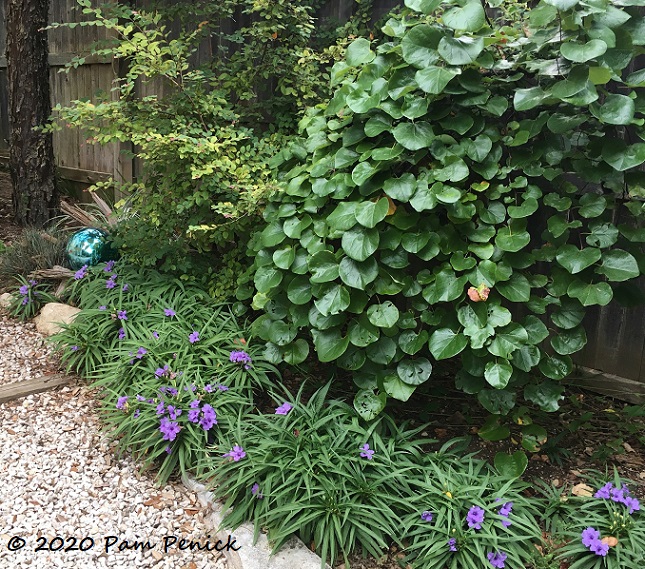 Under the 'Traveller' weeping redbud and a chlorotic loropetalum, 'Katie' dwarf ruellia has been putting on a show for weeks. I love the way it's grown into a winding river of narrow leaves with crapey, purple flowers.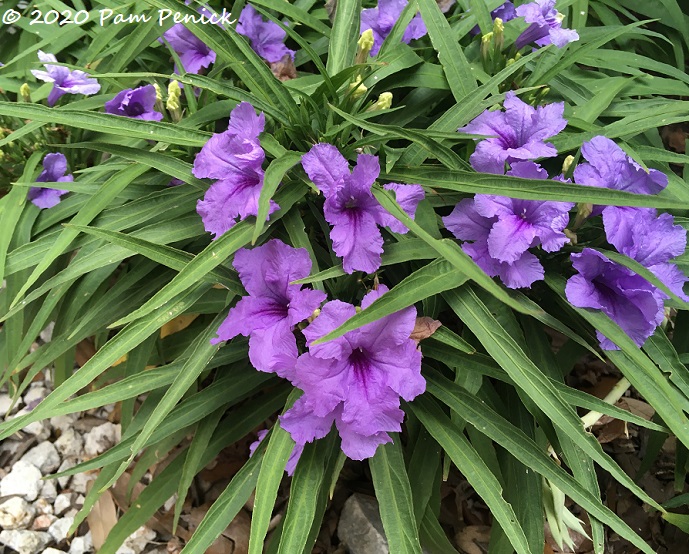 'Katie' ruellia does spread by seed, but not to any degree of annoyance in my garden.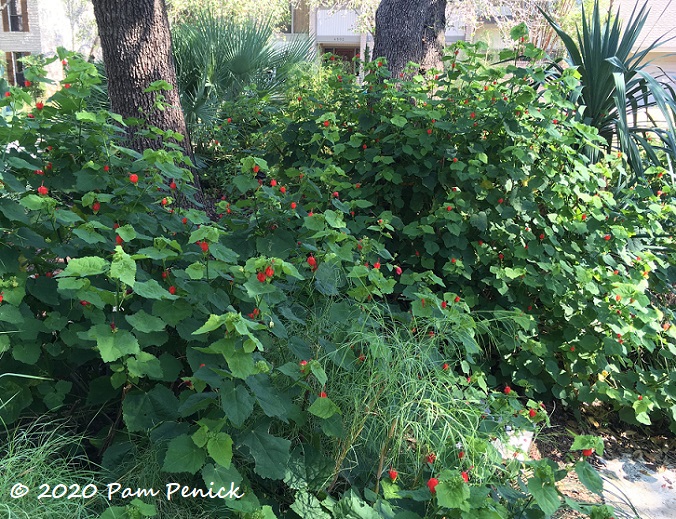 Out front in the island bed, dependable native Turk's cap (Malvaviscus arboreus var. drummondii) raises the red lantern — hundreds of them — to the delight of bees and hummingbirds.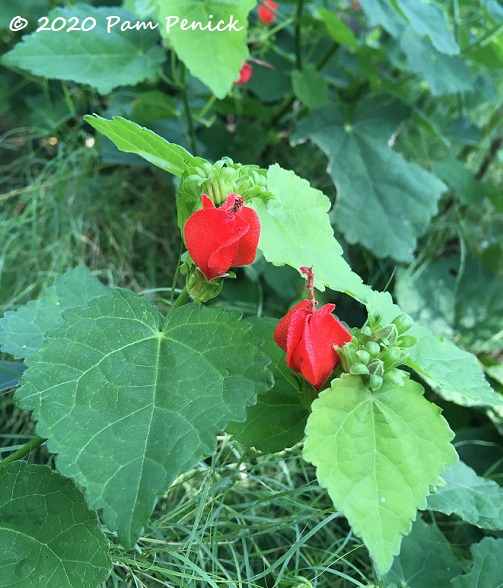 You want hummers too? This is the main plant I'd recommend for anyone in central Texas who wants hummingbirds darting about in their garden. It grows well in shade, part shade, or morning sun, and it's drought tolerant and deer resistant. All it needs is a big cutback in mid-February and maybe another one-third trim in July or August.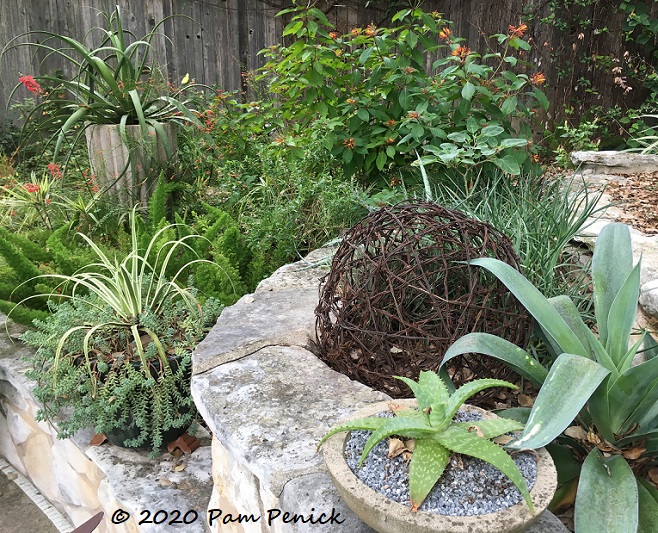 Firebush (Hamelia patens) and firecracker fern (Russelia rotundifolia) add more reds to the squid agave bed in the backyard.
As we head into our second spring, aka autumn, it's exciting to see plants start flowering again, especially since we got such a good rain and the Death Star has relented. Is anything new blooming in your garden as summer comes to a close?
I welcome your comments; please scroll to the end of this post to leave one. If you're reading this in a subscription email, click here to visit Digging and find the comment box at the end of each post.
_______________________
Digging Deeper: News and Upcoming Events
Join the mailing list for Garden Spark! Hungry to learn about garden design from the experts? I'm hosting a series of talks by inspiring garden designers, landscape architects, and authors a few times a year. Held in Austin, the talks are limited-attendance events that sell out quickly, so join the Garden Spark email list to be notified in advance. Simply click this link and ask to be added.
All material © 2020 by Pam Penick for Digging. Unauthorized reproduction prohibited.