[ad_1]

January 06, 2021
A giant purple octopus wraps its tentacles around the restrooms at brand-new Jessie Andrews Park in Austin's Mueller development. Like the monsters in 20,000 Leagues Under the Sea or Lord of the Rings, this supersized sea creature menacingly creeps close, ready perhaps to grab someone or wrench open the doors at any moment.
Ocho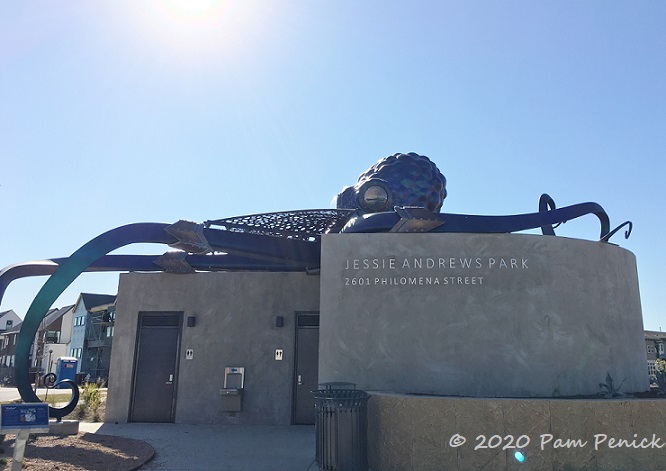 How fun, right? I mean, who wouldn't want to look out at a giant octopus from their front window?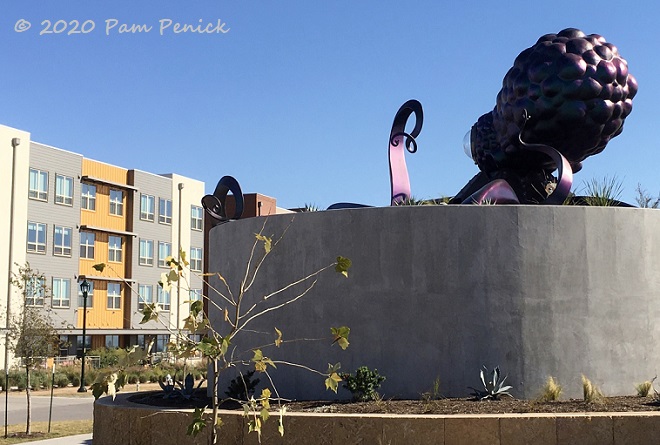 And since a middle school is under construction nearby, Ocho will be a magical part of the students' everyday view as well.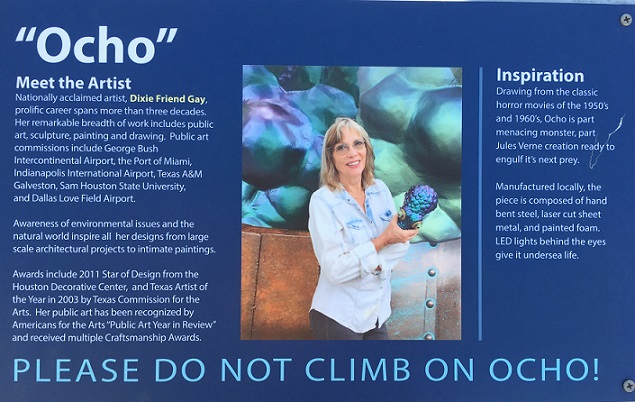 Houston artist Dixie Friend Gay, Ocho's creator, has designed multiple fantastical creatures at Mueller's parks, including a Loch Ness Monster at Lake Park and a giant spider strolling through Southwest Greenway's prairie (see pics below). A sign gives more info, although as a former editor I had to avert my eyes from the "it's" typo. (A simple test: if you wouldn't say "it is" or "it has," don't use the contraction "it's." Just write "its.")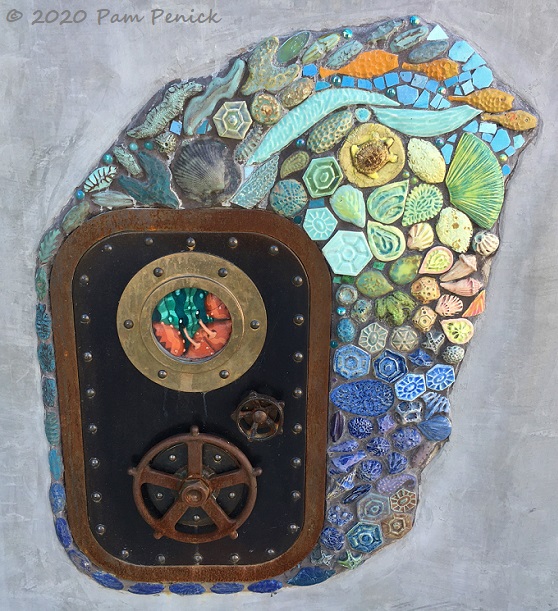 Gay is known for her colorful ceramic mosaics, and Ocho includes a small "mermaid door" built into the restroom's outer wall, complete with glazed pieces evoking coral, shells, and tiny sea creatures.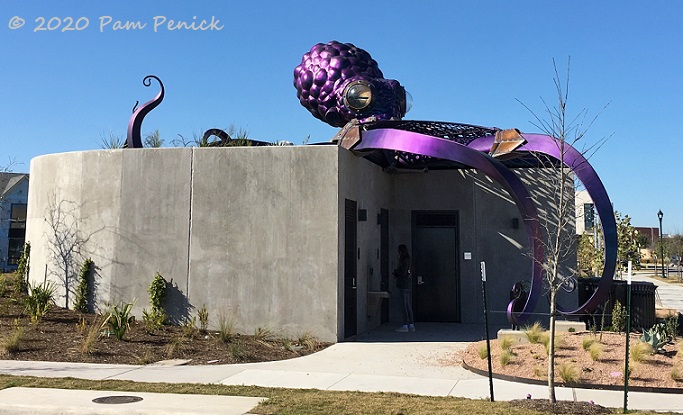 Open to the public, Mueller's numerous parks are fun to explore, and Ocho makes a unique focal point for Jessie Andrews.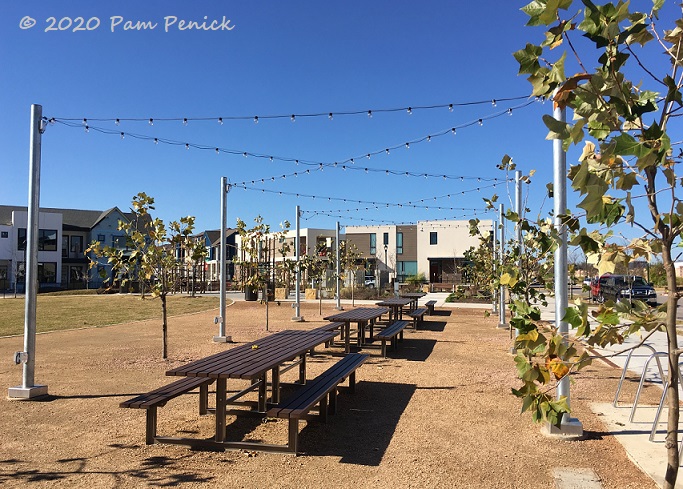 In additional to climbable play structures for kids, the park also features a biergarten-style line of picnic tables overhung with festive string lights. Mexican sycamore saplings will eventually shade the tables, perfect for a block party or food truck lunches.
Nessy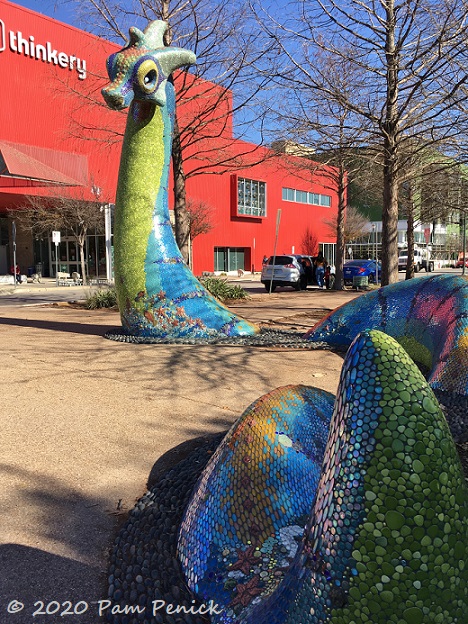 Less than half a mile away, between Mueller's Lake Park and Thinkery children's museum, another Dixie Friend Gay sculpture undulates along a sidewalk.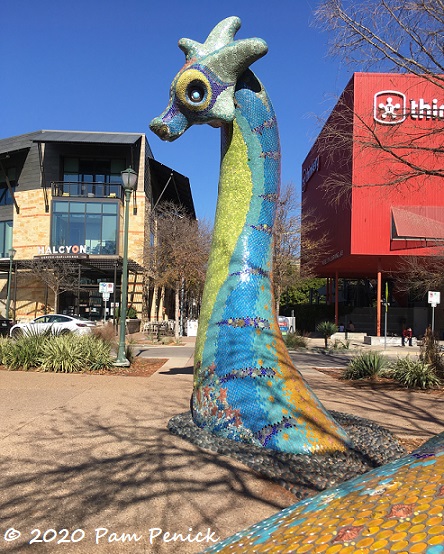 As friendly-looking as Puff the Magic Dragon, Nessy overlooks a playground, and you'll usually find kids climbing on her tiled back, despite a sign begging visitors not to. She's just too tempting!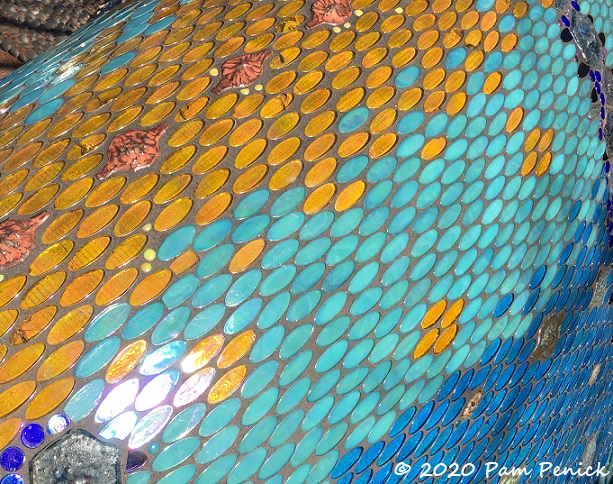 Glass tiles evoke reptilian skin.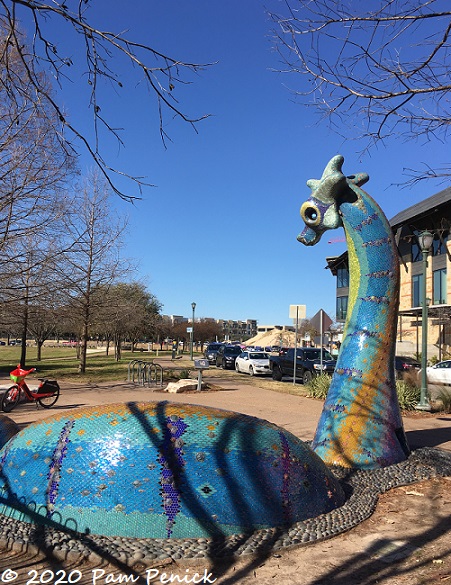 She's adorable, isn't she?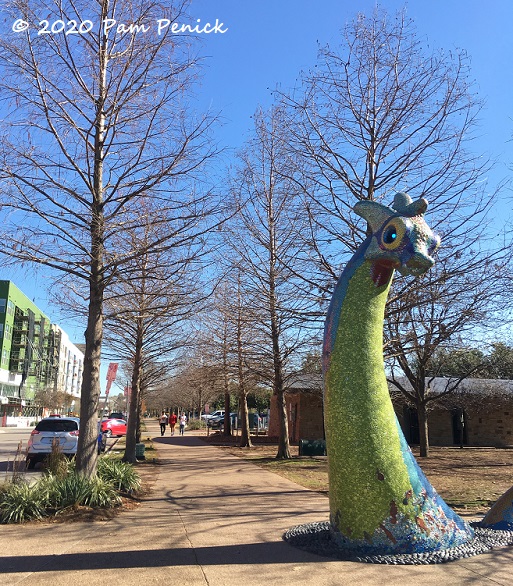 Lake Park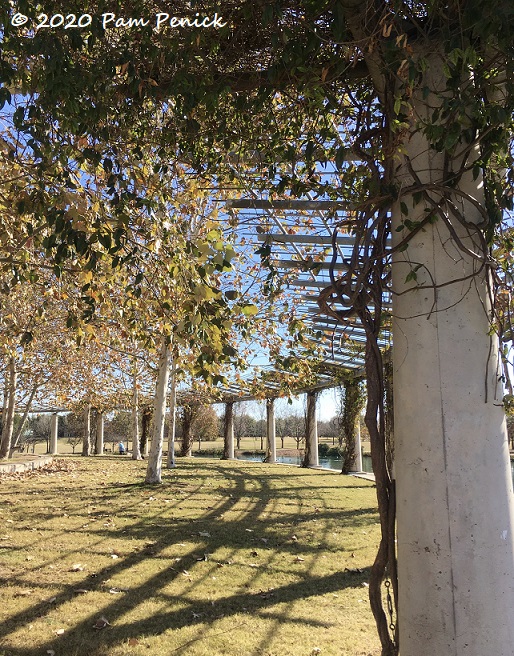 Just past Nessy you'll find Lake Park and a curved colonnade that echoes the white trunks of stately Mexican sycamores (Platanus mexicana).
Arachnophillia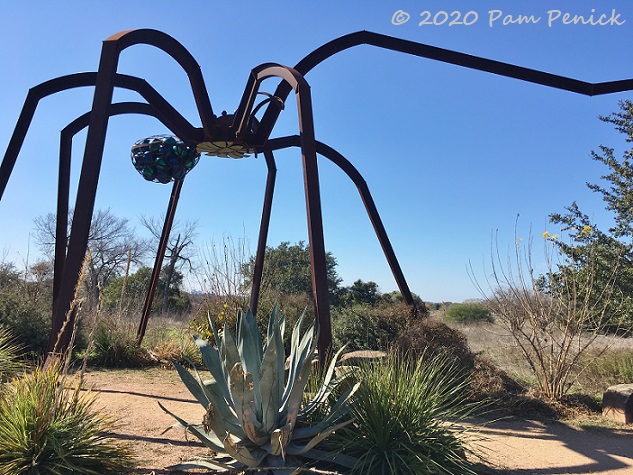 The third magical beastie created by Dixie Friend Gay for Mueller is Arachnophillia, a horror-movie-sized spider that somehow never creeps me out, arachnophobe though I am. Maybe it's the friendly, waving leg as it marches along the Southwest Greenway trail. I didn't photograph the spider on my recent visit, but I blogged about it last year, so just follow this link to read more.
If you live in the Austin area, visiting Gay's giant creatures at Mueller is a fun, relatively covid-safe activity for a pleasant winter's day. I can't wait to see what she adds to the Austin parks scene next. And if you know of any cool sculptures, murals, or other public art I should visit in or around Austin, please let me know! I love checking out public art. Here are some other works I've shared:
I welcome your comments; please scroll to the end of this post to leave one. If you're reading this in a subscription email, click here to visit Digging and find the comment box at the end of each post.
_______________________
Digging Deeper: News and Upcoming Events
Join the mailing list for Garden Spark! Hungry to learn about garden design from the experts? I'm hosting a series of talks by inspiring garden designers, landscape architects, and authors a few times a year. Held in Austin, the talks are limited-attendance events that sell out quickly, so join the Garden Spark email list to be notified in advance. Simply click this link and ask to be added.
All material © 2021 by Pam Penick for Digging. Unauthorized reproduction prohibited.
[ad_2]

Source link