June 24, 2020
It only took 12 years, but we finally installed path lighting and uplighting in the backyard, and what a big difference it makes. We already had two sets of string lights for parties, which are on manual switches. But now we have ground-level lighting that highlights plants and garden art and comes on automatically at dusk.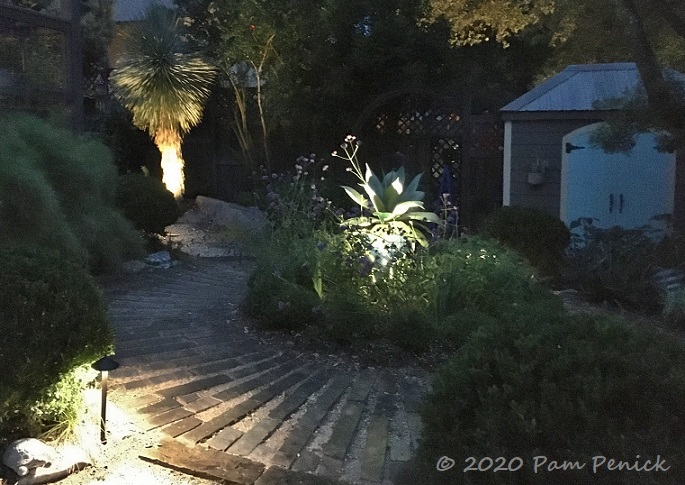 Now, even when we're inside, we enjoy the soft glow of the nighttime garden through windows and doors. And outdoors we have practical path lighting as well as the drama of uplighting on bold plants like agaves and yuccas, as well as a few trees.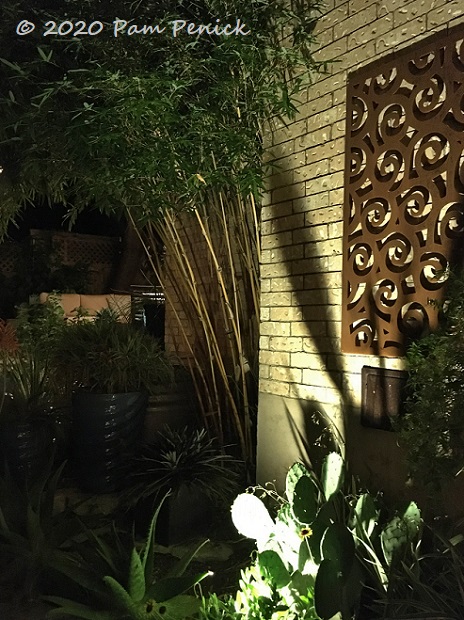 It makes all the difference in the world in the feel and utility of our garden after dark.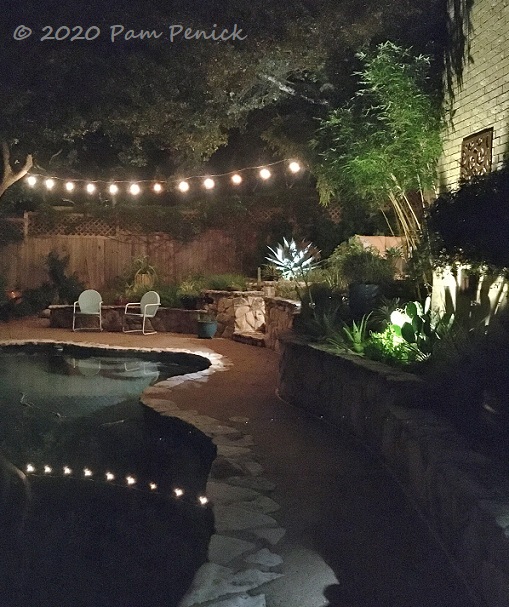 Props to my DH for installing it! We were about to hire someone, just to get it done, but then the pandemic happened, and we were loath to have anyone at our house, even outside. So he worked on it a little at a time over a couple of weekends, running low-voltage wiring in shallow trenches under gravel paths and along the edge of planting beds. Plugging in a transformer at each end of the yard (one at the upper patio, the other in the pool pump shed) worked best for our long, narrow backyard. From each side he then ran wiring up and down paths and beds.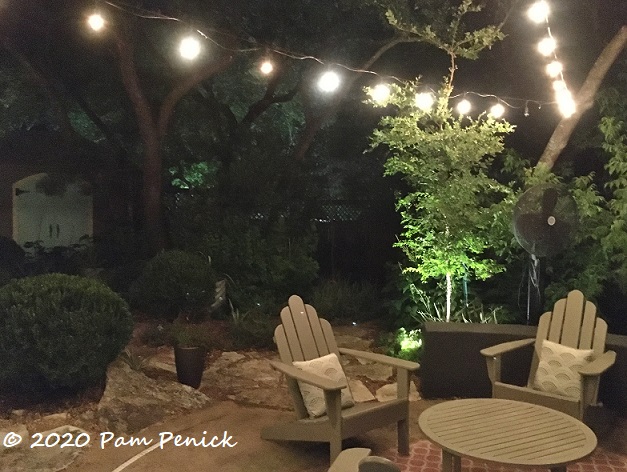 The lights I bought are from superbrightleds.com: path lights and uplights. (I chose them based on my own research; this is not a paid endorsement.) I got them in Natural White but kind of wish now I'd opted for the Warm White, which has a lower wattage and warmer hue. Still, we're very happy with them and just wish we hadn't waited 12 years.
I welcome your comments; please scroll to the end of this post to leave one. If you're reading this in a subscription email, click here to visit Digging and find the comment box at the end of each post.
_______________________
Digging Deeper: News and Upcoming Events
Donate to the Tom Spencer Million Trees for Austin Fund, established by TreeFolks in March 2020 to honor Tom Spencer, a tireless environmental advocate and longtime host of Central Texas Gardener. Tom's bold vision of planting another million trees in the Austin community inspired TreeFolks to pursue this goal, and they invite others to join the campaign. In Tom's own words, "Plant trees, plant hope."  For information about making an annual gift, stock donation, or charter contribution, please call Andrew W. Smiley, TreeFolks Executive Director at 512-413-7774, or visit their website for additional information.
Join the mailing list for Garden Spark! Hungry to learn about garden design from the experts? I'm hosting a series of talks by inspiring garden designers, landscape architects, and authors a few times a year. Held in Austin, the talks are limited-attendance events that sell out quickly, so join the Garden Spark email list to be notified in advance. Simply click this link and ask to be added.
All material © 2020 by Pam Penick for Digging. Unauthorized reproduction prohibited.