October 23, 2020
Blackland prairie, a sash of Texas grassland across the center of the state, running southwest from the Oklahoma border to San Antonio, is the most endangered ecosystem in the U.S., with less than 1% remaining, according to Austin environmental designer John Hart Asher in a Wildflower article. One hundred and seventy years ago, bison grazed and fertilized the prairie, and natural wildfires and controlled burns by native peoples kept the land free of trees and shrubs, allowing grasses and perennials to thrive. That ecosystem disappeared when Europeans arrived and claimed the rich land for agriculture and settlement. Today small pockets of preserved Blackland prairie are all that remain.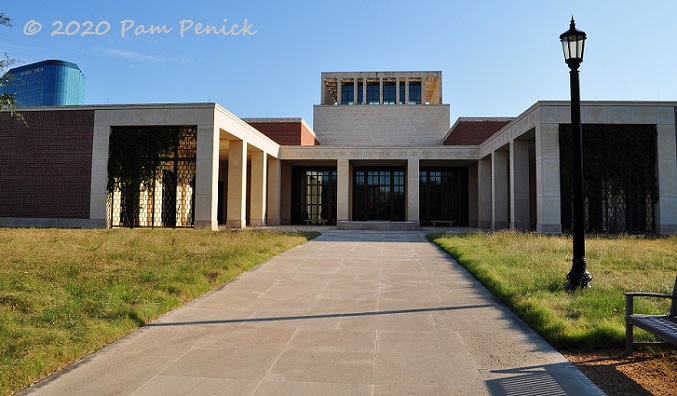 Encouragingly, however, reconstructed Blackland prairie landscapes are increasingly being created for urban sites, like Native Texas Park, a 15-acre prairie surrounding the George W. Bush Presidential Library and Museum in Dallas. Located on the Southern Methodist University campus, just off a busy interstate and overlooked by glass business towers, the park was designed and planted in partnership with the Lady Bird Johnson Wildflower Center and completed in 2013.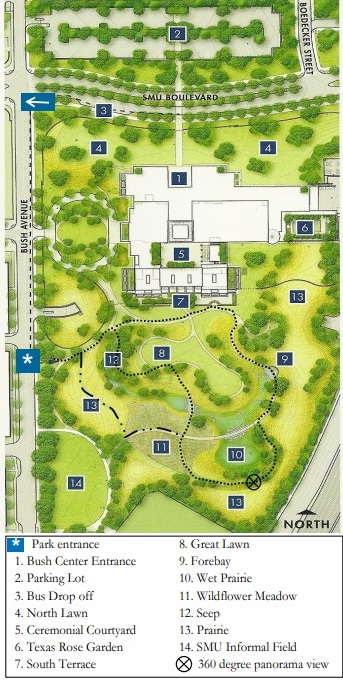 I visited for the first time on a late Saturday afternoon in early October. In the shadow of SMU's football stadium, where lights were glowing and a game announcer could be heard via loudspeaker, my husband and I found a pay parking lot and walked across the street into the park. Entry to the park is free and open to the public 365 days a year, from sunrise to sunset. (The library and museum are currently closed due to Covid-19.)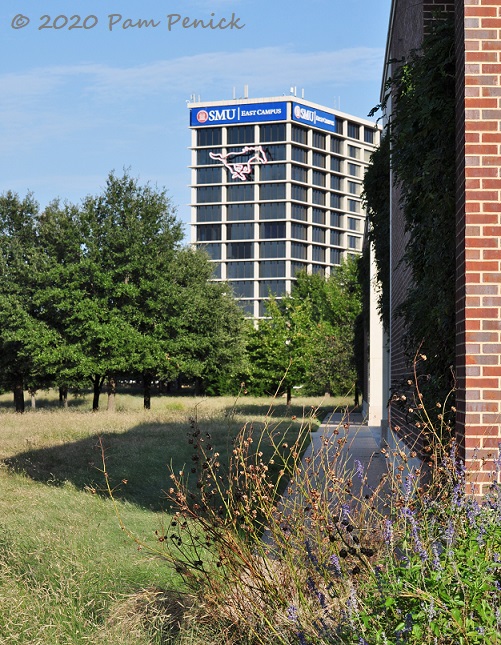 Native Texas Park features one mile of trails, mostly at the back of the Bush Library. But even at the main entrance, a native-blend lawn similar to Habiturf, left shaggy and with seedheads visible, announces that the landscaping is not going to be a mow-and-blow affair.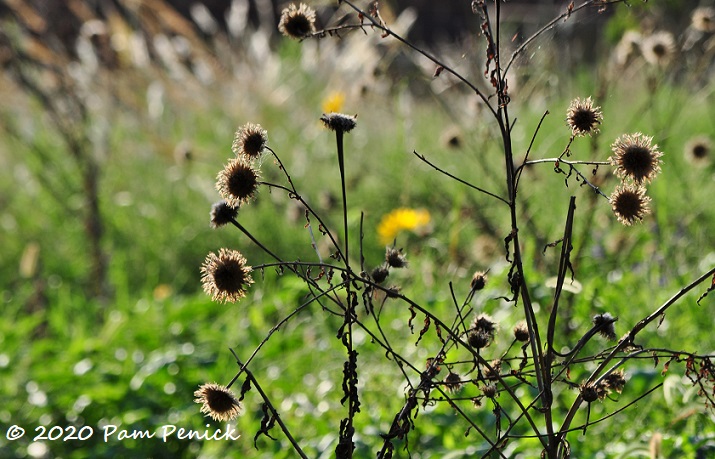 "Many years ago this site would have been a breathtaking Texas prairie," reads a quote by former First Lady Laura Bush in the park's brochure. "Today the park is planted once again with native habitat for birds, butterflies and other wildlife. Visitors can experience this state's beautiful natural environment in the center of Dallas."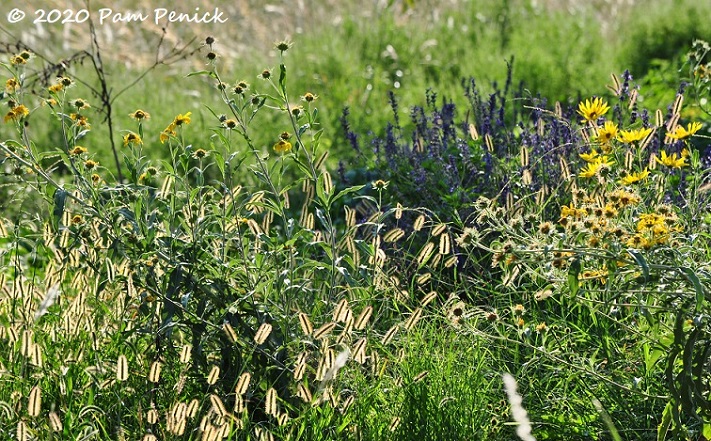 "The site was previously occupied by post-World-War-II housing that was densely developed, almost entirely paved, and conspicuously devoid of open green space. The new landscape puts nature itself at the center of interest for visitors, who can step away from the rush of everyday life in a major metropolis to engage all of their senses in the serene rhythms of plants and wildlife," according to the park brochure.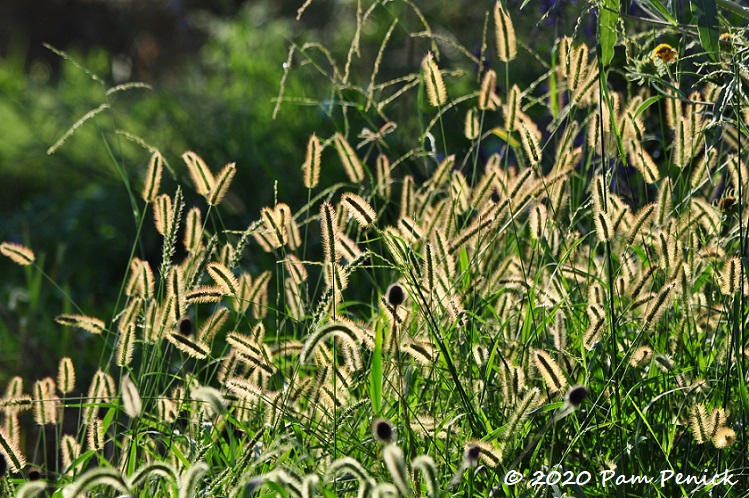 Backlit by the sinking sun, fuzzy grasses were glowing with light.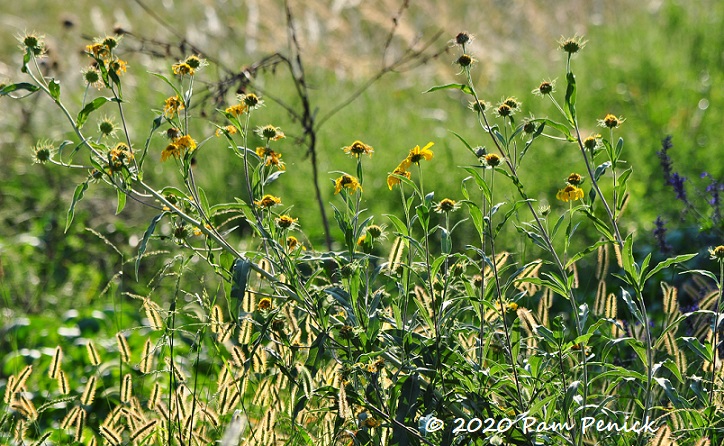 Golden flowers too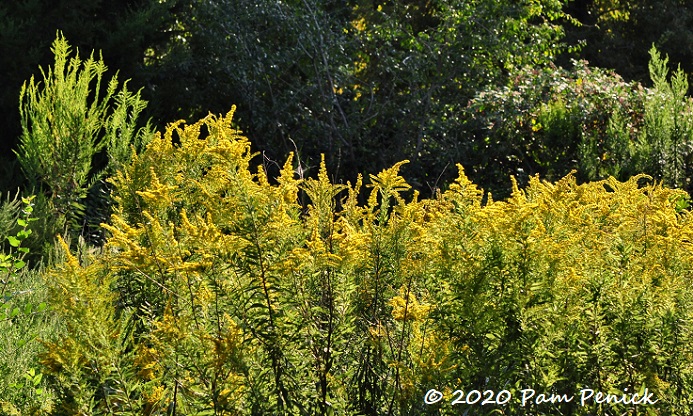 Tall goldenrod stood shoulder-to-shoulder in mustard-colored glory.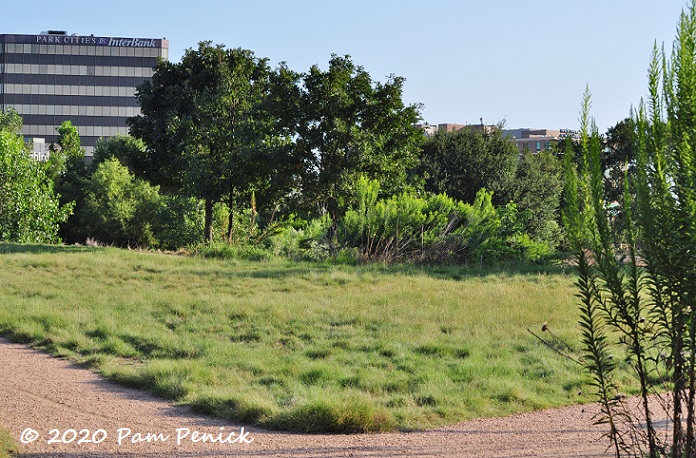 In the center of the trails, a native lawn provides open space. It's a blend of short-grass native grasses — buffalograss, blue grama, Texas grama, poverty dropseed, and curly mesquite — which requires minimal mowing, watering, and fertilizing. While not suitable for high-traffic areas or athletic fields, once it's established it can be mowed to a height of 3-4 inches for a more traditional look, according to the brochure.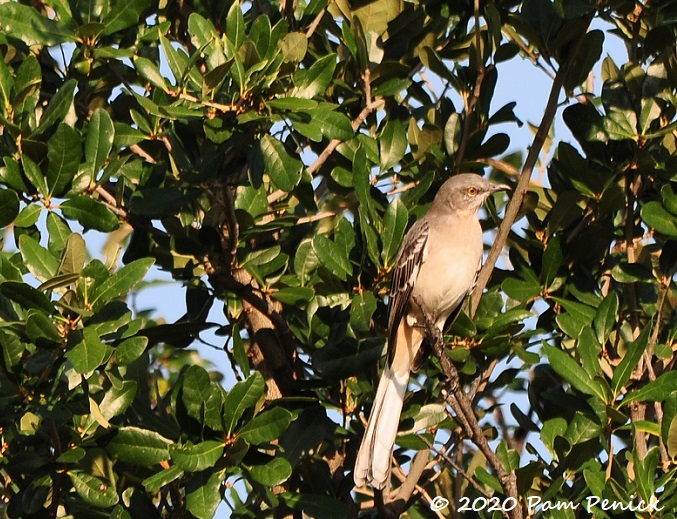 A mockingbird, Texas's state bird, looked on from its perch in a tree.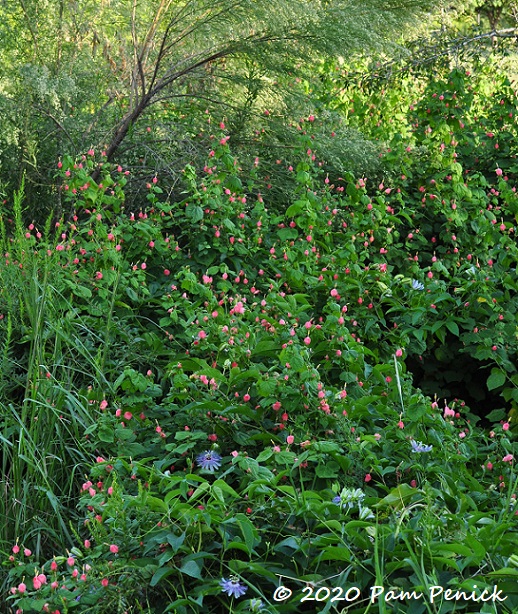 'Pam's Pink' Turk's cap in full bloom, woven through with purple passionflower vine, made a stunning display.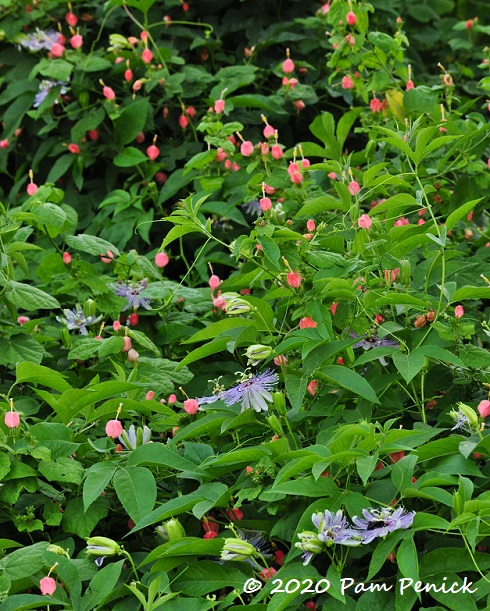 Such easy color — both plants are favorites of mine.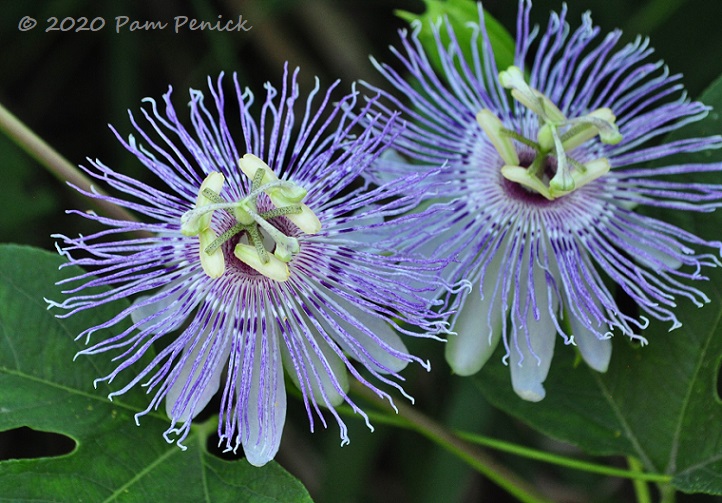 Passionflower's electric blooms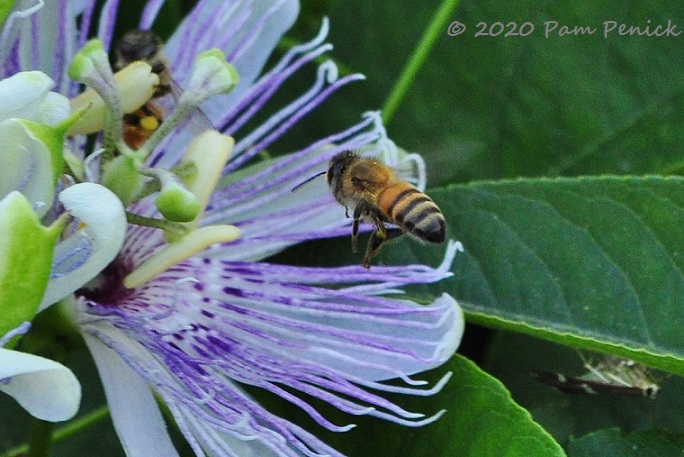 Bees appreciate them too.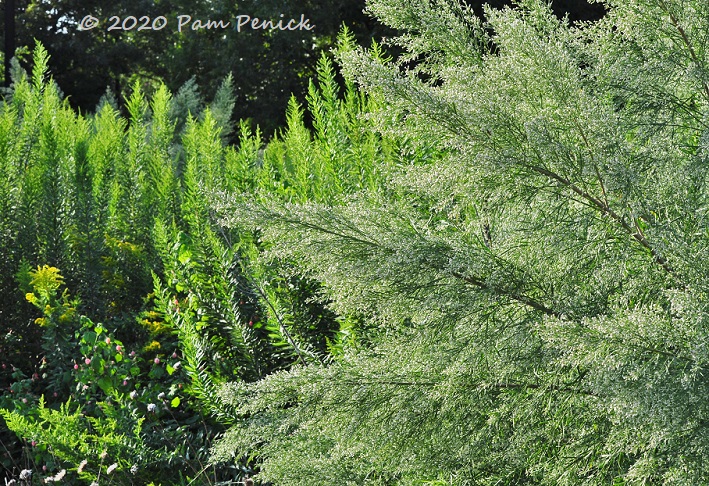 Beebrush? Not sure about this one.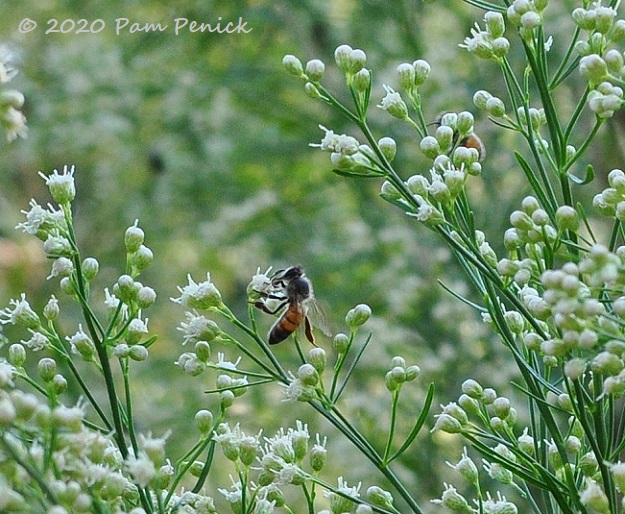 The bees did seem eager for the flowers to open.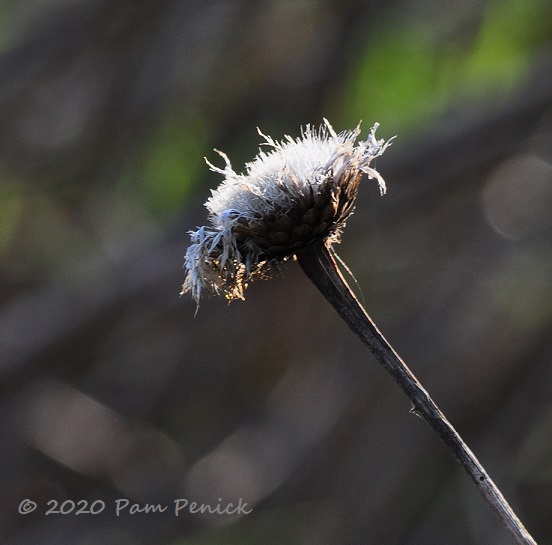 Many summer flowers had gone to seed, but they're lovely as they die too.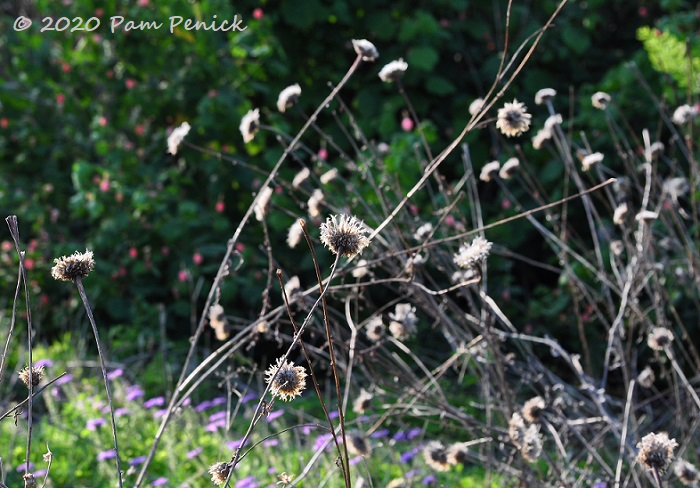 Especially when white, fluffy seedheads catch the sunlight.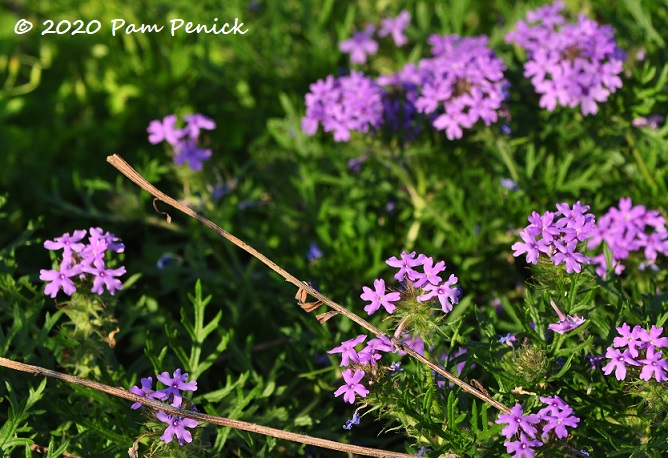 Prairie verbena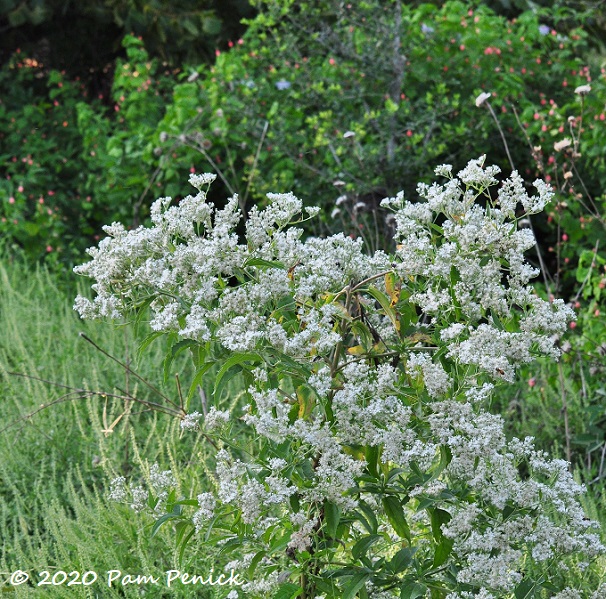 Fragrant white mistflower, or shrubby boneset, is a Halloween-time bloomer in my garden, and in fact it's scenting my garden right now with its spicy fragrance. It's one of my fall favorites, and I was pleased to see it blooming here too.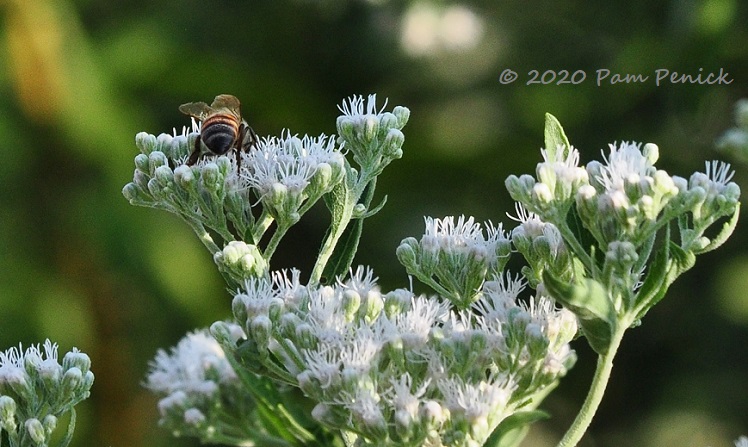 I spotted this cute bee butt on one. Butterflies love this plant too.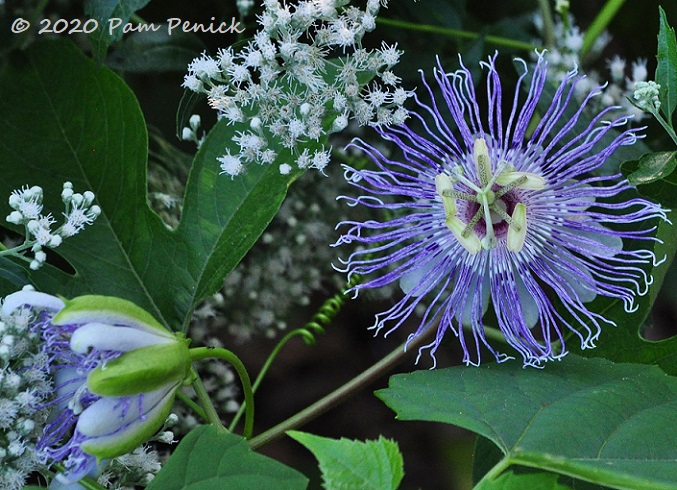 Seeing the way passionflower is allowed to ramble across shrubby perennials like white mistflower and Turk's cap, I'm thinking about trying this effect myself.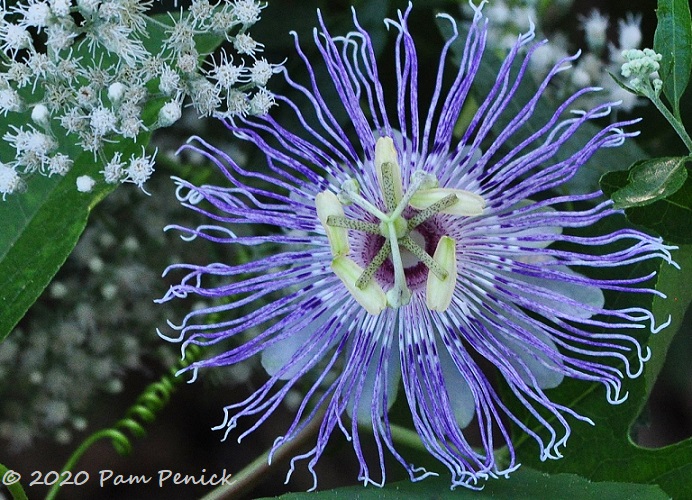 Purple passionflower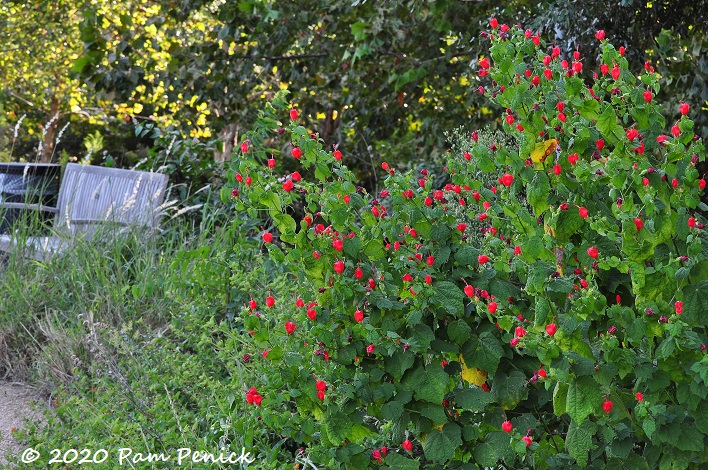 Red Turk's cap, beloved by hummingbirds, is a tried-and-true native in my own garden.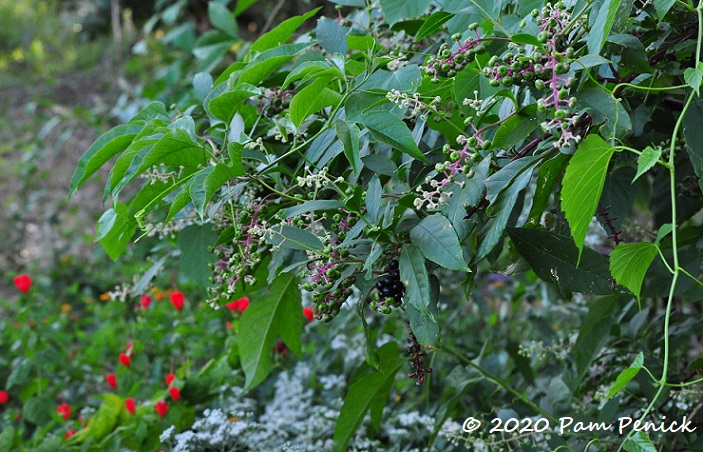 Pokeweed may be aggressively weedy in home gardens, but it's attractive, and birds love its berries.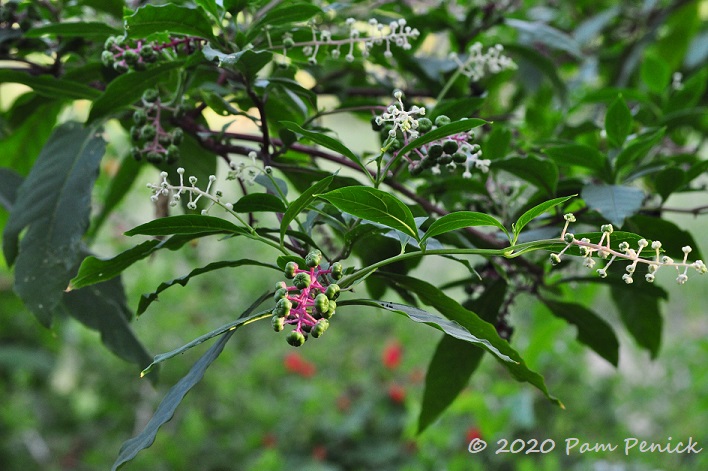 The fruiting stems are particularly pretty, with magenta stems and apple-green berries that ripen to purple-black.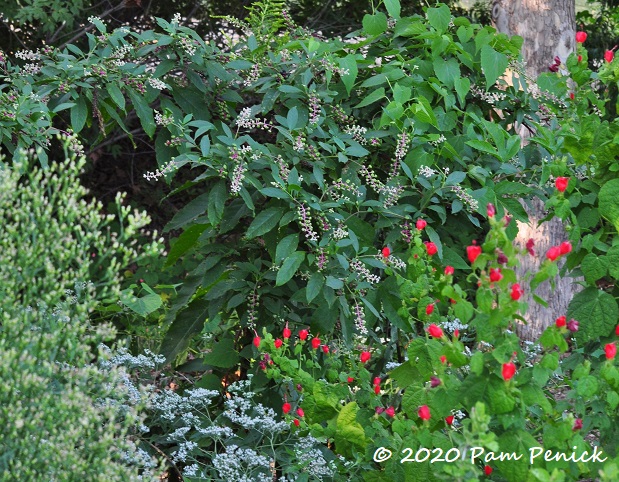 Pokeberry, Turk's cap, and white mistflower — a bee-, butterfly-, and bird-attracting trio.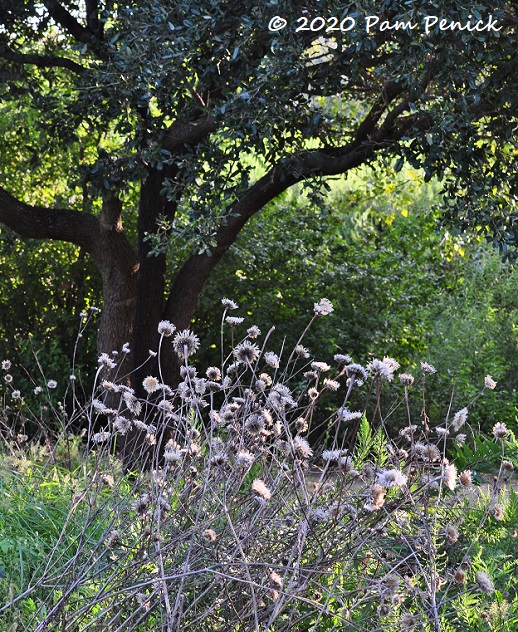 American basketflower gone to seed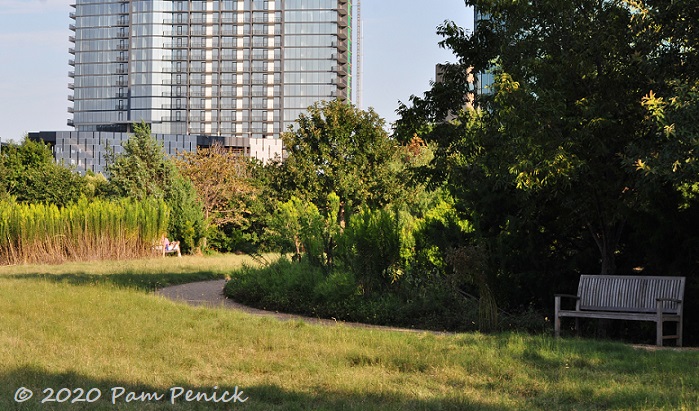 Native lawn and a place to sit and enjoy the view. Tall office buildings overlook the urban prairie park.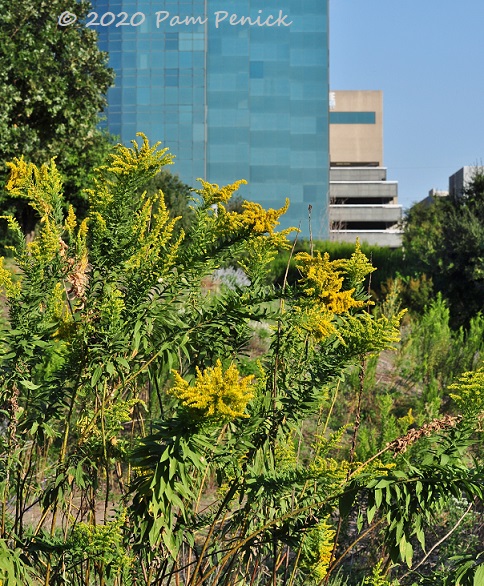 Yellow goldenrod pops against a blue-glass office building.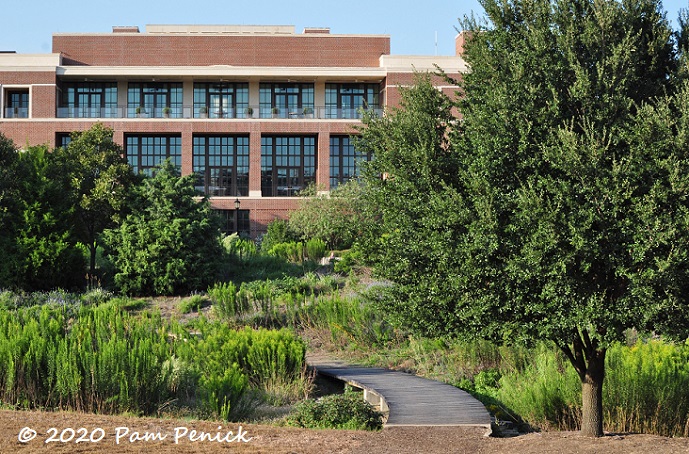 A view of the LEED-certified presidential library from the center of the park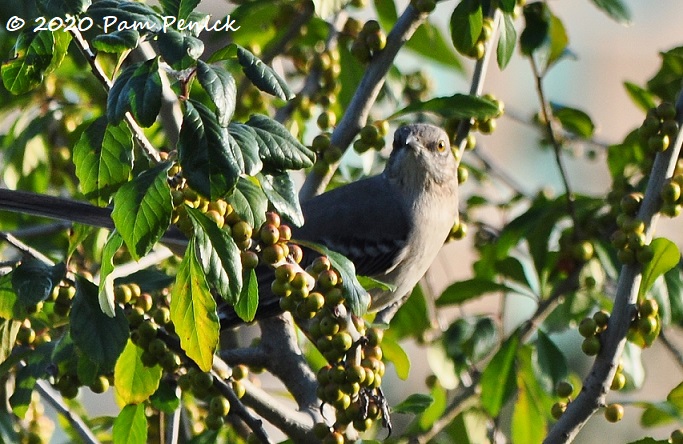 A mockingbird checking on the ripening of yaupon berries?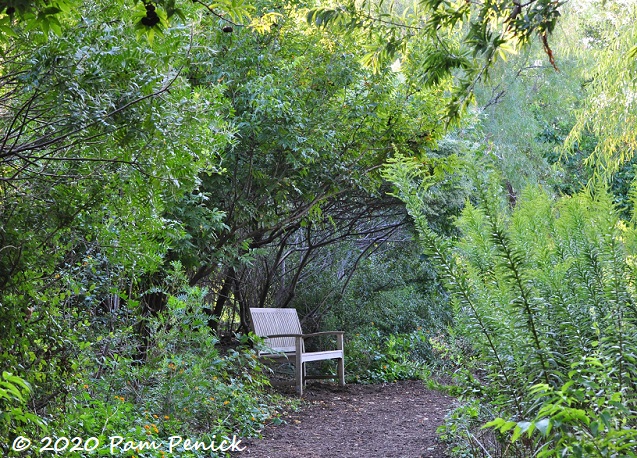 A shady trail leads around a wet prairie…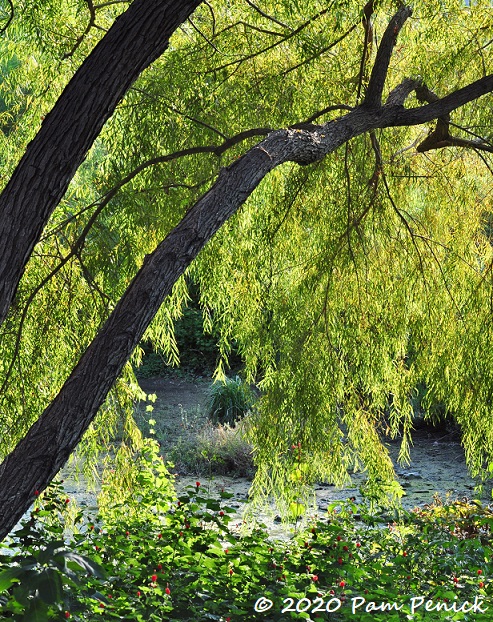 …where water runoff is directed via bioswales and pipes to a 250,000-gallon collection tank, where it's reused for irrigation.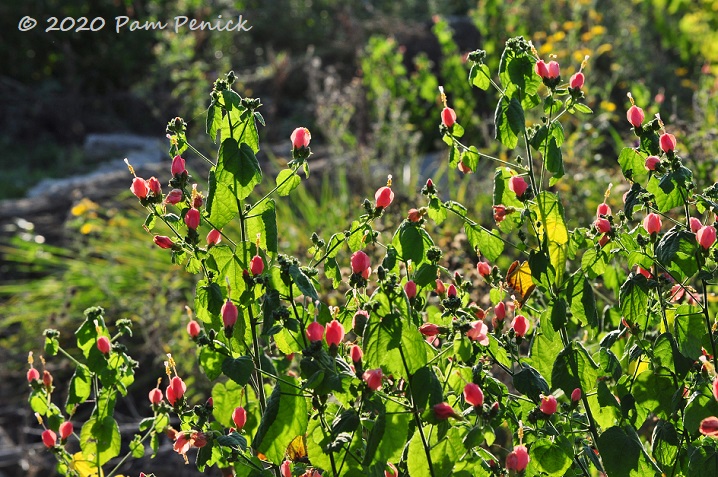 Pink Turk's cap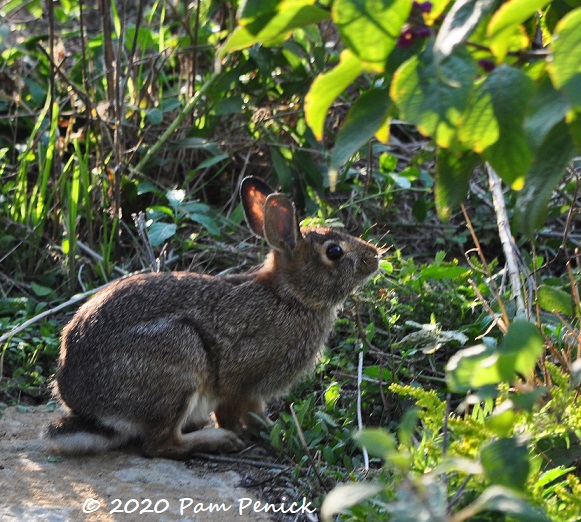 We spotted a number of rabbits here.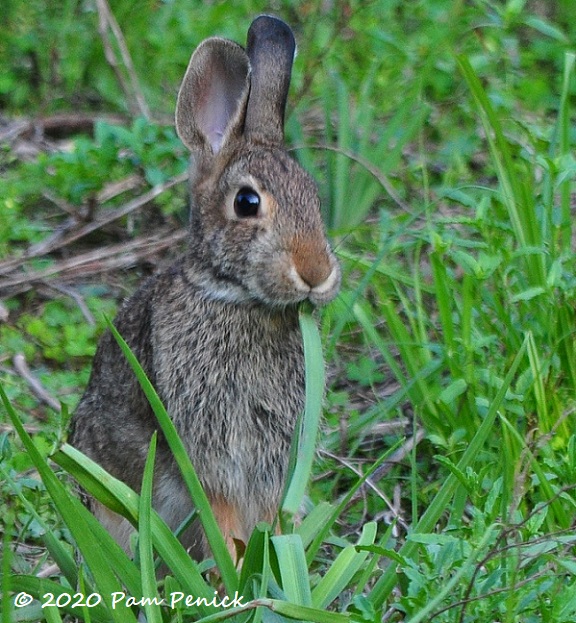 Silflay time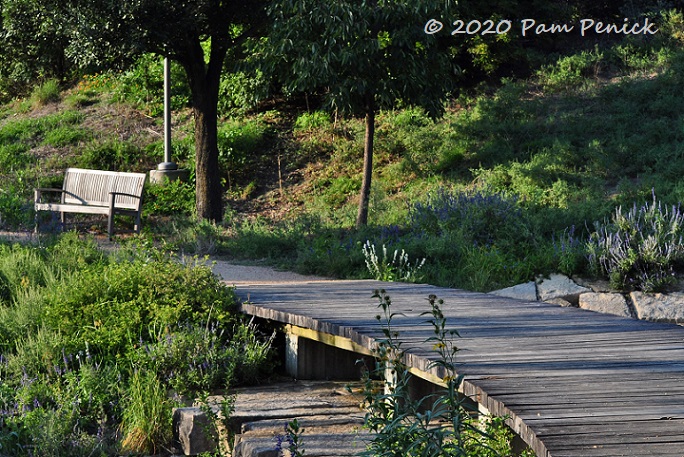 Wooden bridges span the bioswales, in which giant blocks of limestone have been placed to slow down water runoff and give it time to soak into the soil.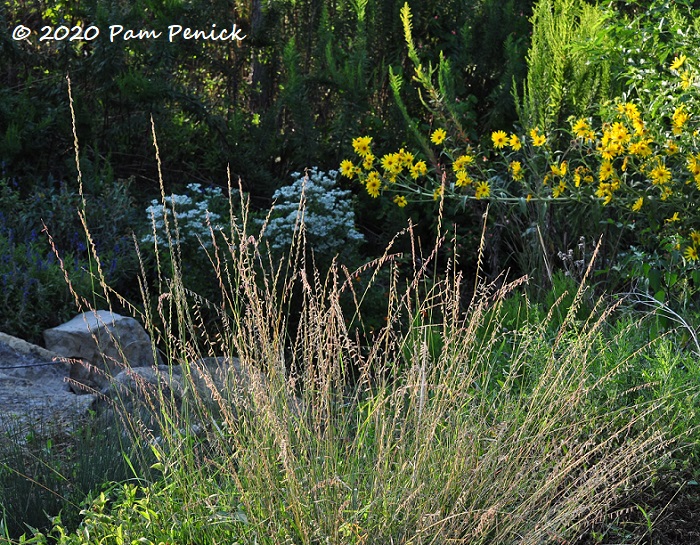 Grasses and sunflowers, a pretty autumn scene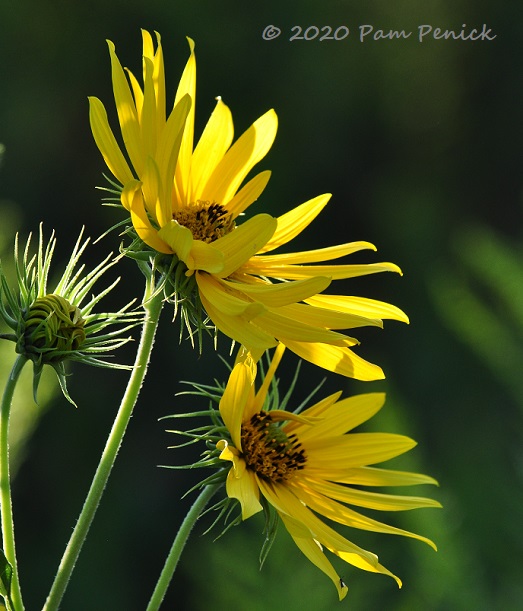 Sunflowers aglow with sunlight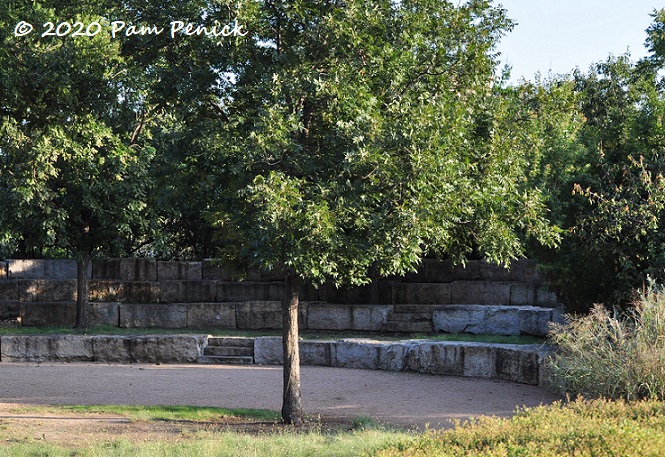 A limestone amphitheater offers seating for a lunch break or an outdoor class.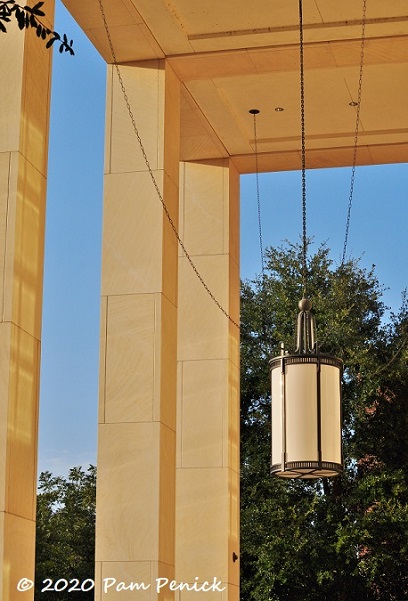 Circling back around to the library, I stopped to admire the creamy stone and elegant swagged light under a portico.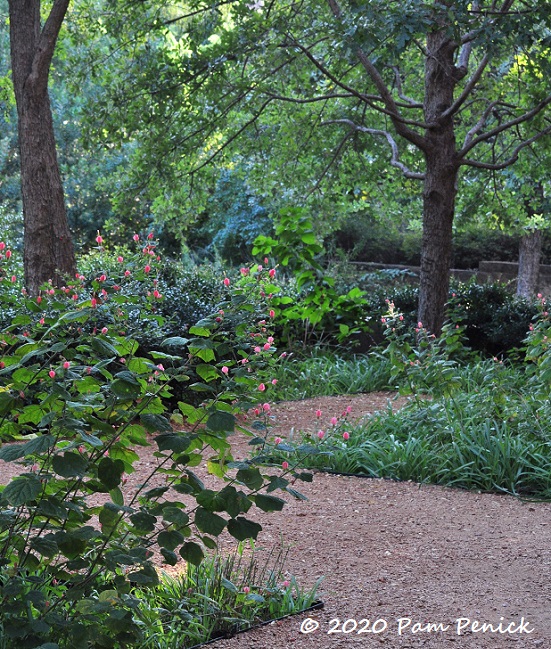 More-formal, straight-line paths lead through a shade garden at the side of the building, where 'Pam's Pink' Turk's cap was flowering.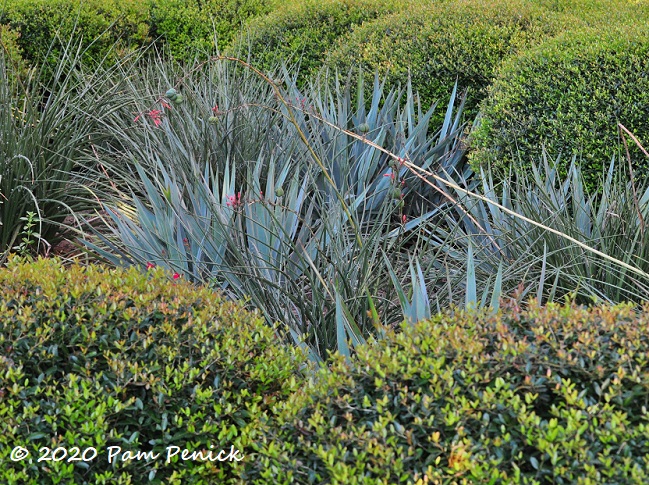 In a sunnier spot, dwarf yaupon hollies surround a spiky mass planting of paleleaf yucca and red yucca.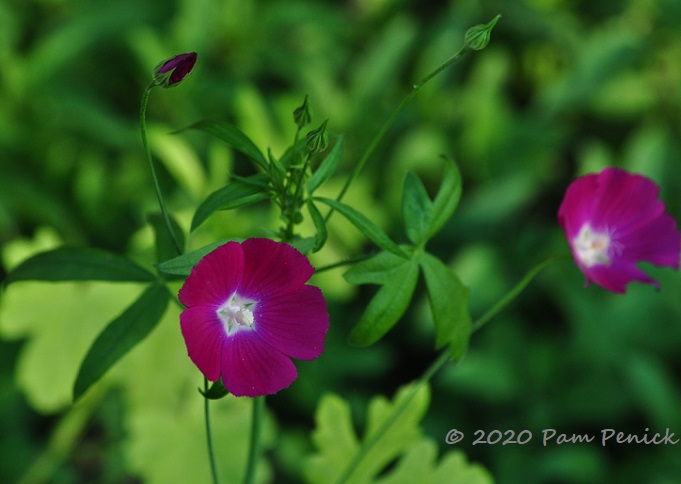 Winecup blooming in October!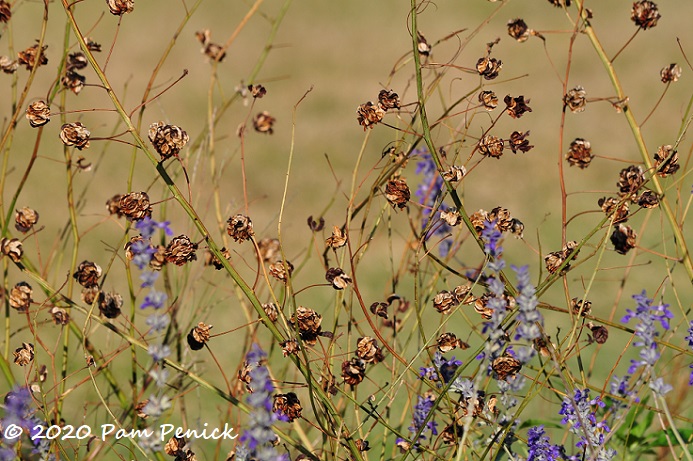 It's still pretty surprising to see this kind of landscaping in an urban setting, especially in Dallas, which I think of as more traditional and buttoned up than Austin. But maybe that's changing as we are understanding what a positive impact native plants can have, particularly in an over-paved urban environment. Plus it shows off the natural beauty of one's home state — if you have the eyes to see it. Not everyone does, and I can imagine that some visitors to the library have complained about the lawns being overgrown and weedy. I applaud the former president and first lady for advocating for a different aesthetic with this park, and for conserving precious resources like water, helping wildlife, and making urban Dallas a little wilder and more beautiful.
For more prairie plants in unlikely settings, check out my post about Michael McDowell's prairie garden in suburban Plano, Texas, which I visited during this same trip. Up next: A visit to Peter Schaar's garden in central Dallas.
I welcome your comments; please scroll to the end of this post to leave one. If you're reading this in a subscription email, click here to visit Digging and find the comment box at the end of each post.
_______________________
Digging Deeper: News and Upcoming Events
Join the mailing list for Garden Spark! Hungry to learn about garden design from the experts? I'm hosting a series of talks by inspiring garden designers, landscape architects, and authors a few times a year. Held in Austin, the talks are limited-attendance events that sell out quickly, so join the Garden Spark email list to be notified in advance. Simply click this link and ask to be added.
All material © 2020 by Pam Penick for Digging. Unauthorized reproduction prohibited.