March 27, 2020
A romantic, violet veil brightens Mexico City each spring, when jacaranda trees unfurl a profusion of purple flowers on bare, sinuous trunks lining parkways, park paths, and residential streets.
Jacaranda trees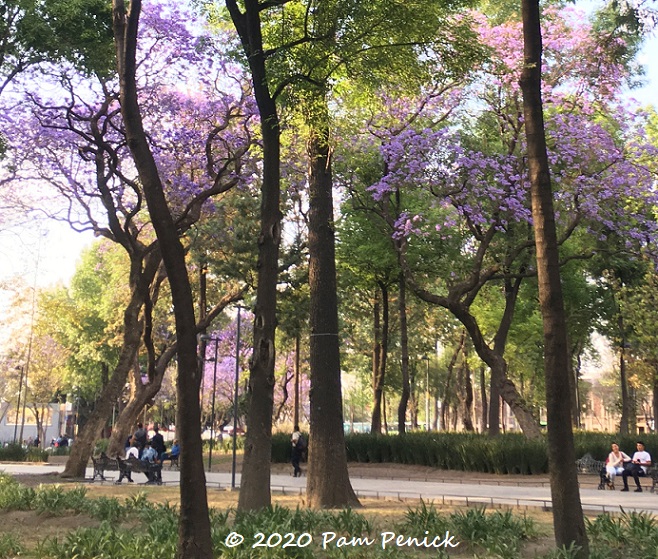 I caught sight of the purple haze from the airplane as we descended over the smoggy city in early March. At ground level, in placid Alameda Central park in Centro Histórico, the historic city center, the view is even better.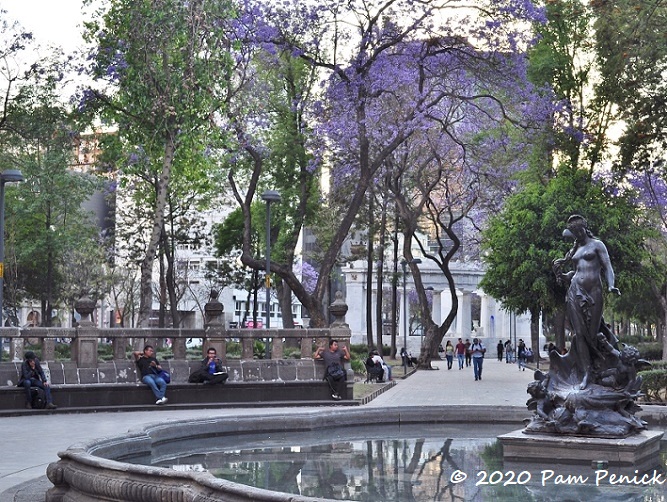 These otherworldly, head-turning trees came from South America. According to online sources, a Japanese immigrant to Mexico (via Brazil) imported the jacaranda in place of cherry trees, which fared poorly in Mexico's dry climate. The jacaranda thrives in Mexico City's mild, dry, high elevation (7,300 feet!).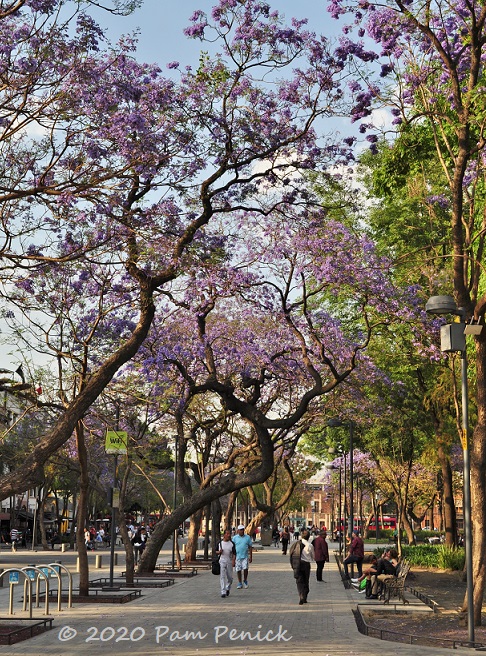 I've seen jacarandas in the U.S. in frost-free (or nearly so) locations like Phoenix and Southern California. But the profusion in Mexico City dazzled me.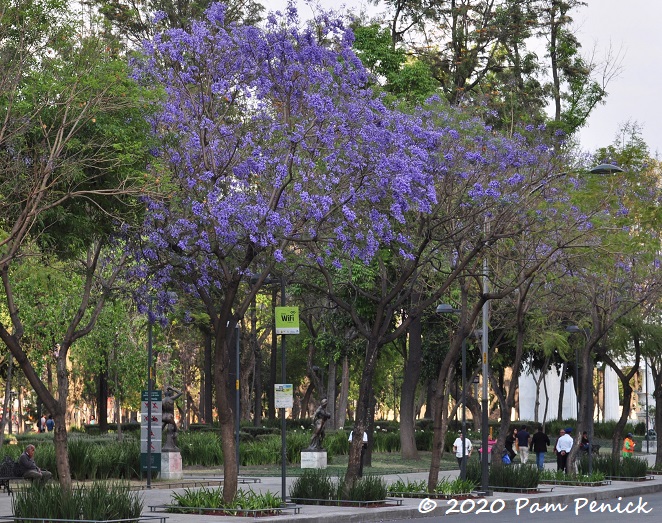 I was forever stopping my family for "one more photo." The airy trees are hard to photograph against a hazy sky, but the purple flowers pop against the greenery of other trees.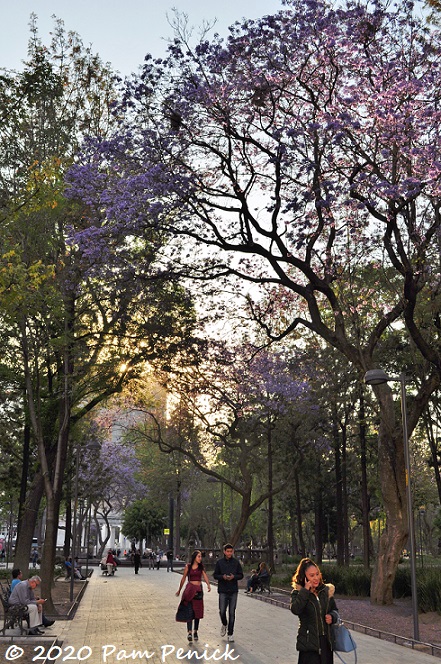 Lilac loveliness everywhere.
Palacio de Bellas Artes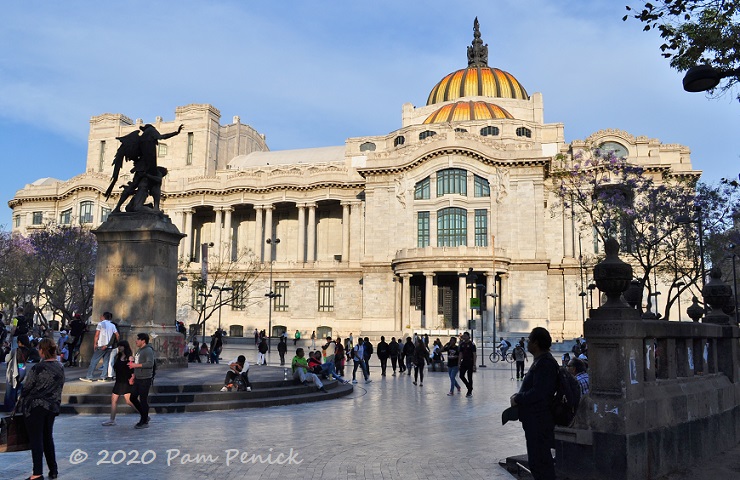 Aside from jacarandas, Centro offers plenty of other attractions, like the amber-domed Palacio de Bellas Artes, overlooking the park.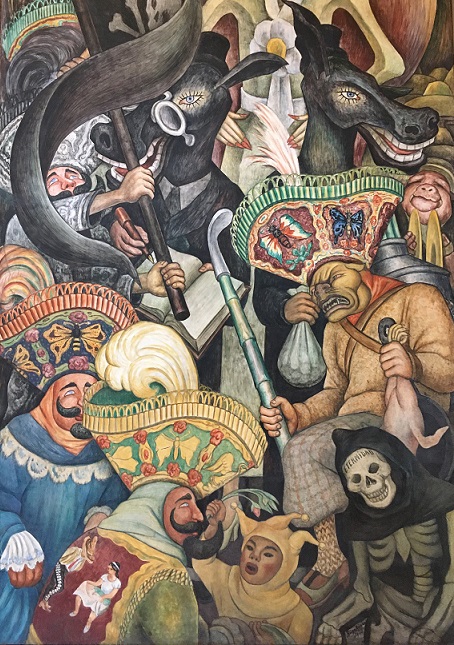 Inside you can view trippy murals by Diego Rivera and others.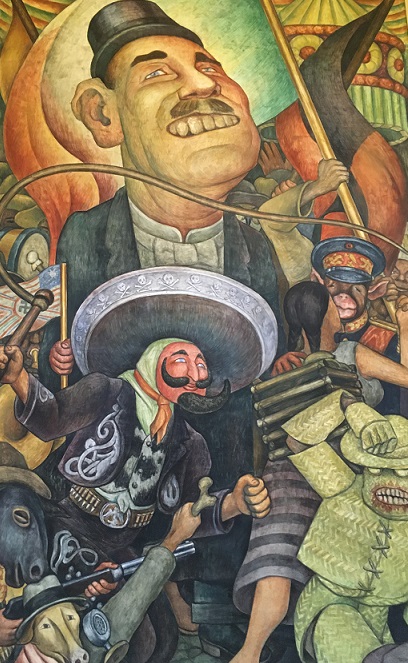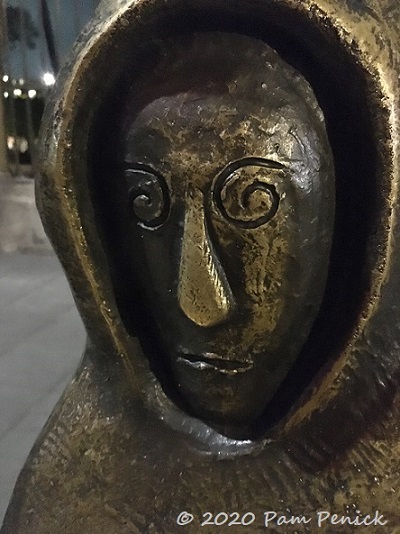 Speaking of trippy, here's a spiral-eyed bronze figure, part of a sculptural park bench near Metropolitan Cathedral.
Native plant garden at Plaza del Marqués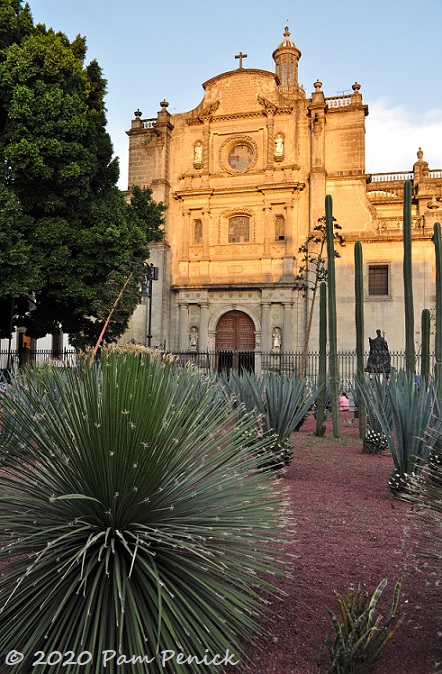 We first saw the cathedral after dark on the evening of our arrival. Even at night I couldn't help noticing a spiky garden on the side, in Plaza del Marqués. We returned another day at sunset, and I walked all around the raised-bed, native-plant garden, admiring fringe-tipped sotols, pineappled agaves (but why?), and columnar cacti.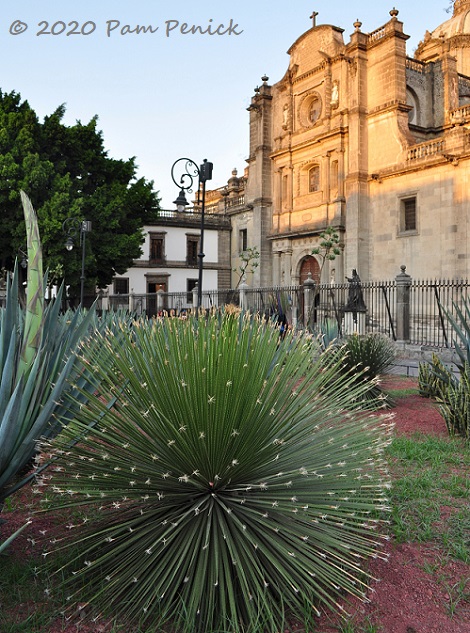 I'm in love with this big, round sotol with tufted tips — like a fiber-optic light turned into a plant! I've never seen a sotol with tufted tips. I think it may be Dasylirion serratifolium?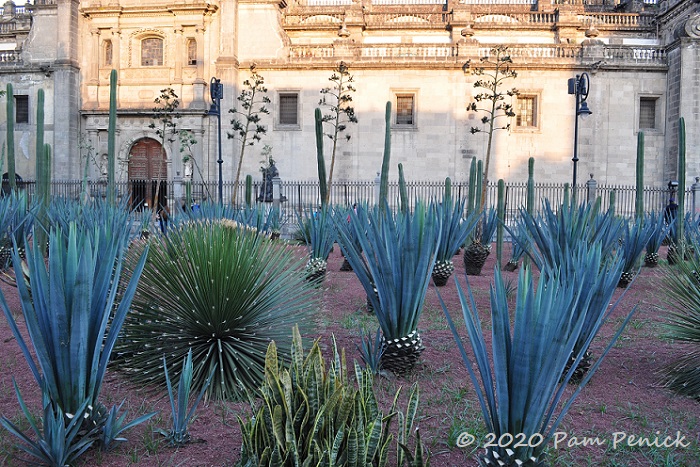 A mass planting of big, blue agaves is impressive, but they've all been pineappled, i.e., pruned up so that only the central upright leaves remain. I've never been a fan of this look, but with so many it does make a statement, especially with some of them sporting tree-like bloom spikes. No doubt they're pruned up to make maintenance easier, only there were still a lot of weeds and some agave pups.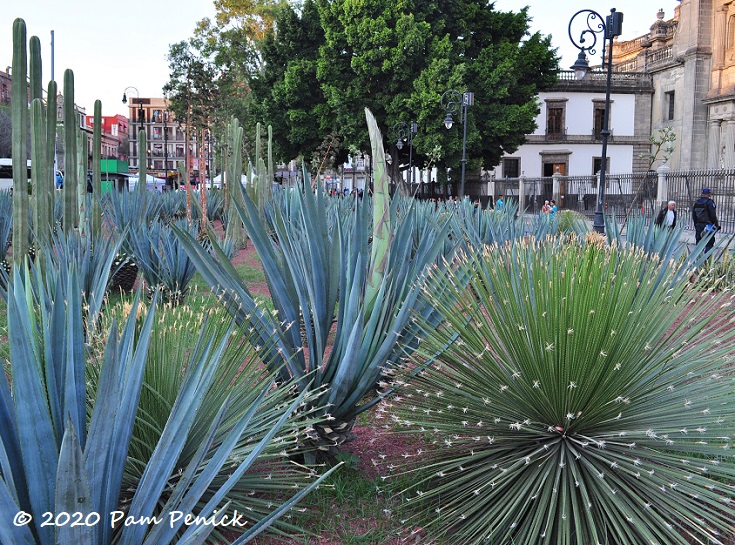 Even with the oddly aggressive pruning, it's a striking display. And those sotols!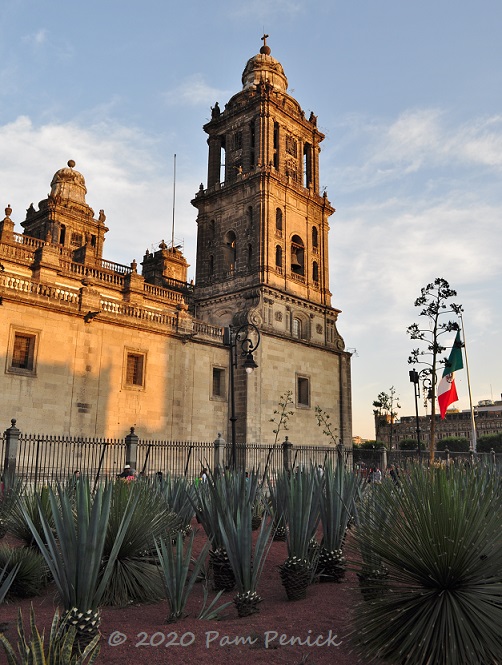 And now let's head around the corner to see the front of the Metropolitan Cathedral.
Metropolitan Cathedral and Zócalo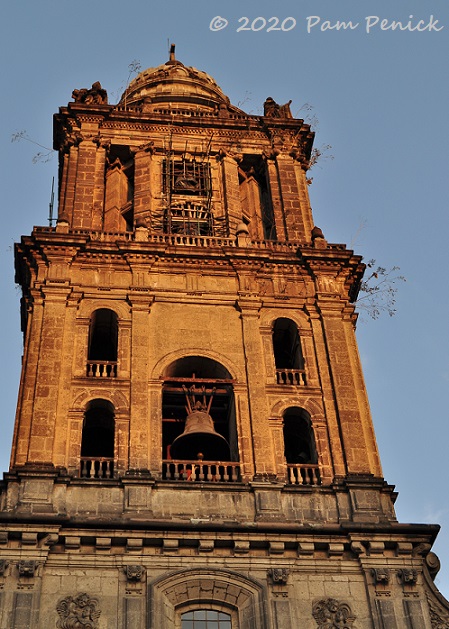 Illuminated by the setting sun, the stonework of the cathedral's bell tower glows, and you can clearly see stems and flowers of plants that have self-seeded into crevices.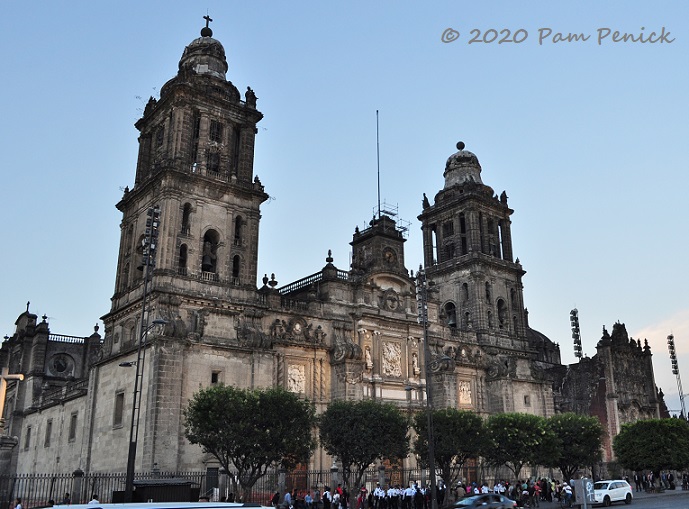 The grand cathedral faces Zócalo, one of the biggest plazas in the world. We popped inside just before closing and admired its golden altar.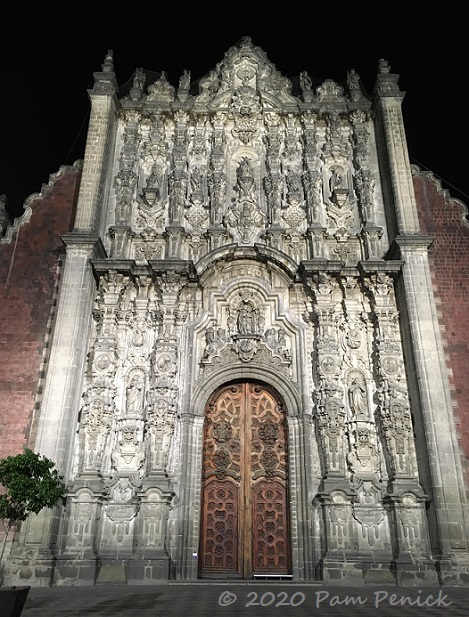 At night the arched doors on the right side of the church are dramatically lit.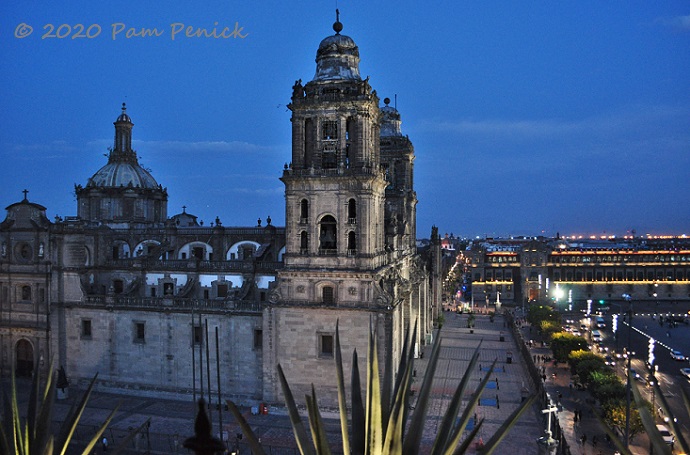 But nothing beats the glowing, romantic view from the rooftop restaurant at Zócalo Central Hotel.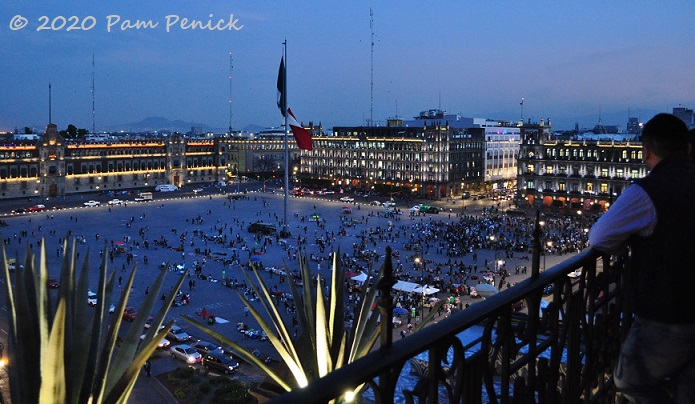 From the balcony you have a bird's-eye view of Zócalo. Filled with merchants earlier in the day, the plaza was still humming with demonstrators for some cause in the evening. Aztec dancers and drumbeats and the Mexican flag waving over the grand plaza, a ring of mountain peaks dusty blue in the distance. This is Centro Histórico in Mexico City.
Up next: The pre-Aztec pyramids of Teotihuacán. For a look back at the charming neighborhood of Coyoacán, click here.
I welcome your comments; please scroll to the end of this post to leave one. If you're reading this in a subscription email, click here to visit Digging and find the comment box at the end of each post.
_______________________
Digging Deeper: News and Upcoming Events
Join the mailing list for Garden Spark! Hungry to learn about garden design from the experts? I'm hosting a series of talks by inspiring garden designers, landscape architects, and authors a few times a year. Held in Austin, the talks are limited-attendance events that sell out quickly, so join the Garden Spark email list to be notified in advance. Simply click this link and ask to be added.
All material © 2020 by Pam Penick for Digging. Unauthorized reproduction prohibited.