[ad_1]

March 23, 2020
Before the scope of the coronavirus crisis had crystallized, my husband, daughter, foreign exchange-student daughter, and I made an early spring-break trip to Mexico City. Had we known how fast the situation would escalate at home, I don't think we'd have dared to go. But in early March — which now seems a lifetime ago — with virtually no news of the virus in Mexico and no U.S. warnings against traveling there, we decided to carry on with the trip we'd been planning for more than a year.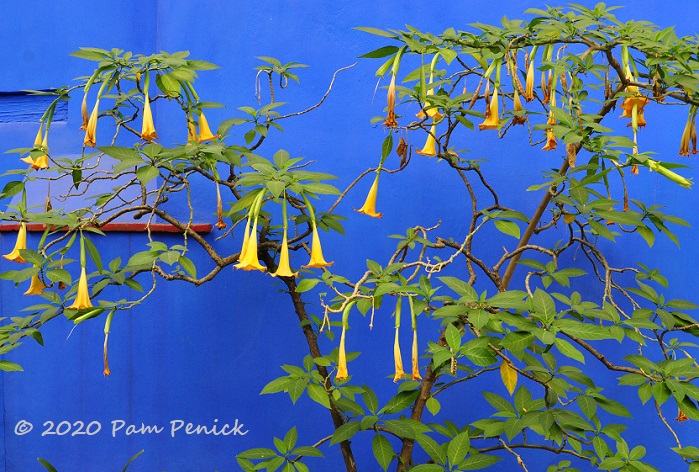 And it was wonderful. Mexico City is only two hours by air from San Antonio but a world away in terms of scenery, history, and climate. Now that we've been home for a week and are self-isolating for the indefinite future, I plan to share the trip via a series of blog posts.
La Casa Azul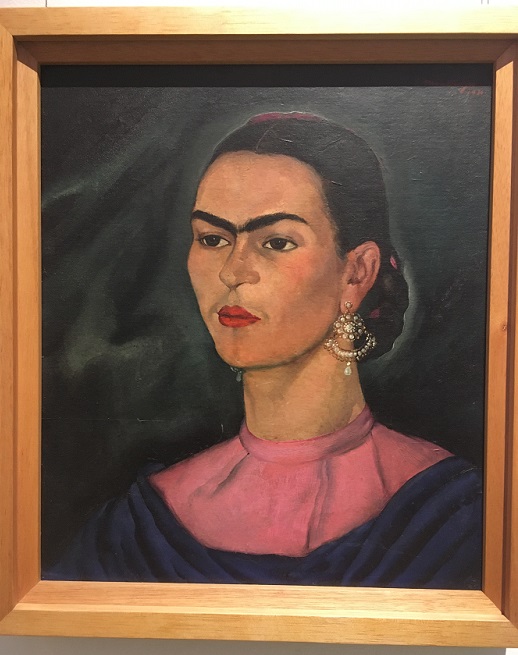 On Day 1 we visited the Frida Kahlo Museum, also known as the Blue House — La Casa Azul — on the corner of a residential street in the Coyoacán neighborhood. A survivor of a crippling case of polio, a debilitating streetcar accident, and a tempestuous marriage to the muralist Diego Rivera, Frida was a painter and activist who posthumously became a pop-culture icon.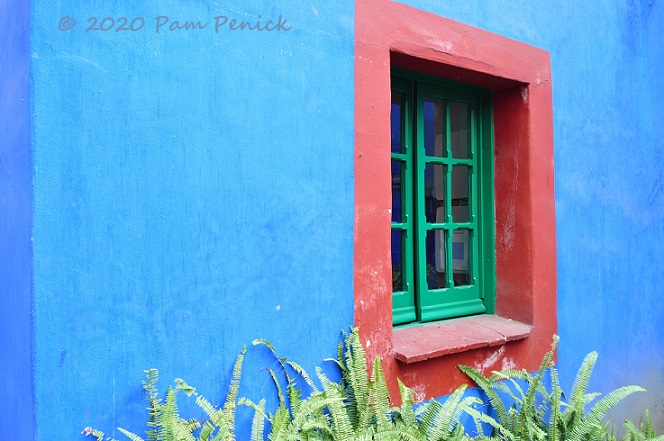 The Blue House was her birthplace and childhood home, a shared marital home with Diego, and it's where she died. Today the home-turned-museum attracts throngs of tourists. We bought tickets online for the opening time slot to avoid a wait outside the famous blue walls.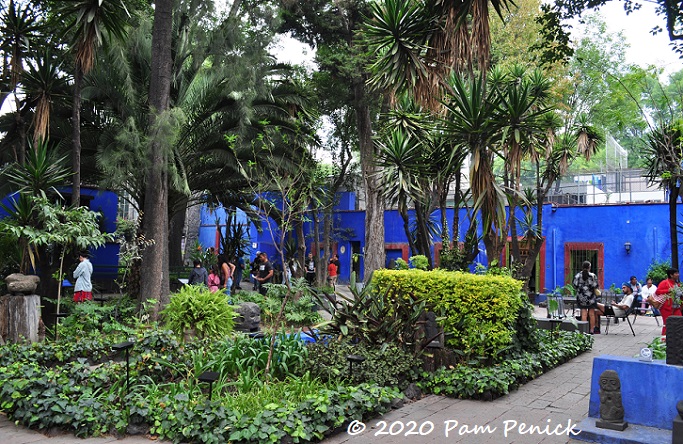 Inside those cobalt walls, we discovered a spacious courtyard lushly planted with palms, trunking yuccas, shrubs, flowering bulbs, and ivy.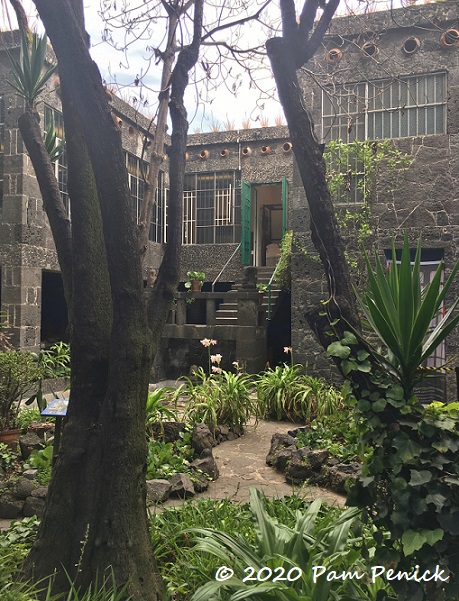 Frida's art studio and bedroom are upstairs in this basalt addition to the stuccoed house, just inside the green doors.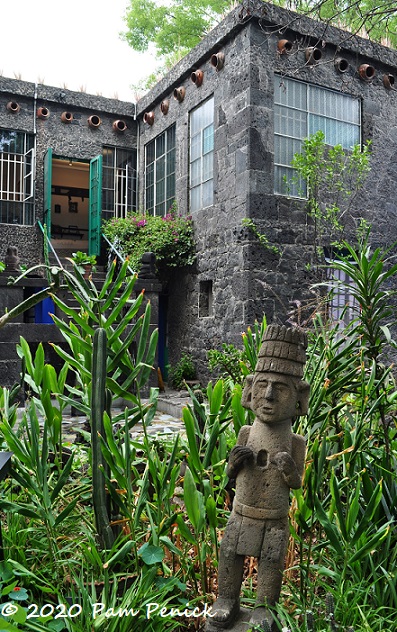 Clay pitchers embedded under the eaves provide nesting places for doves.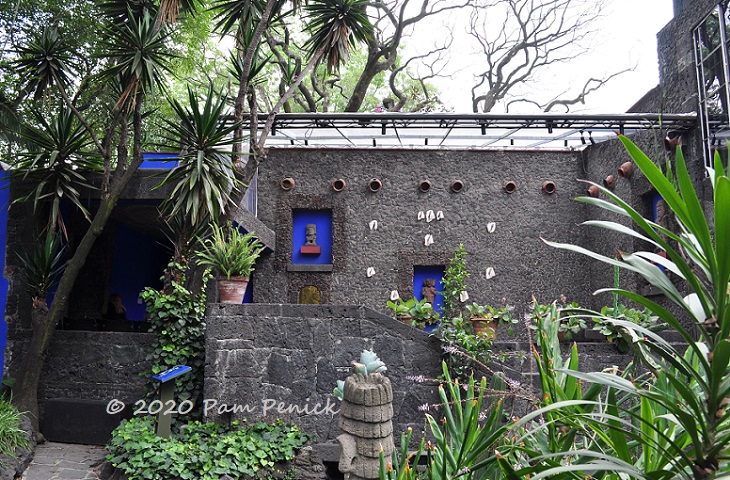 Another wall is adorned with embedded conch shells and cobalt niches.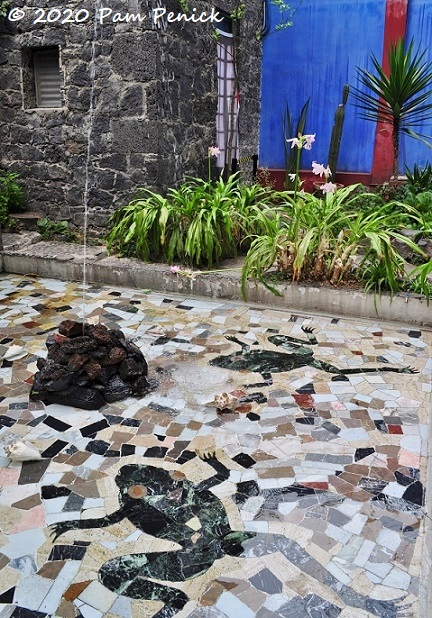 In a shallow mosaic pool just below Frida's studio, emerald frogs "swim" around a spouting fountain.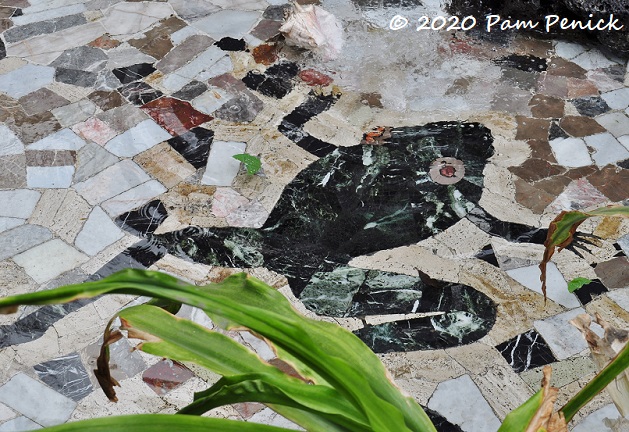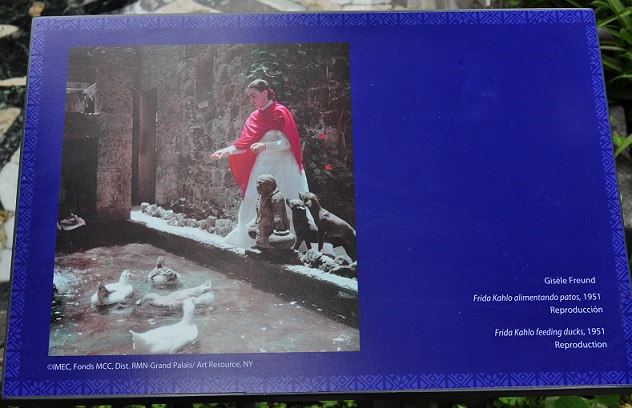 A photograph from 1951 shows her feeding ducks in the pool.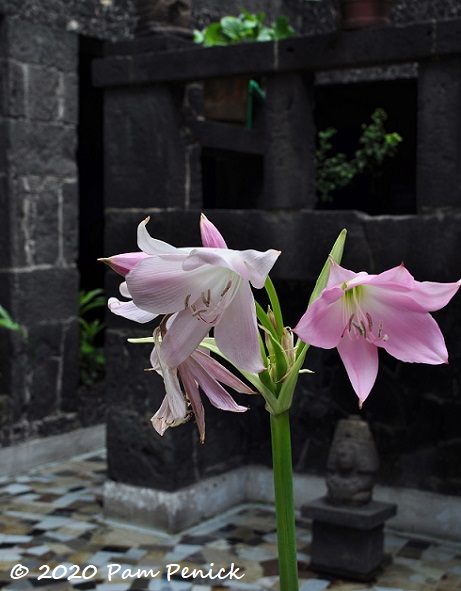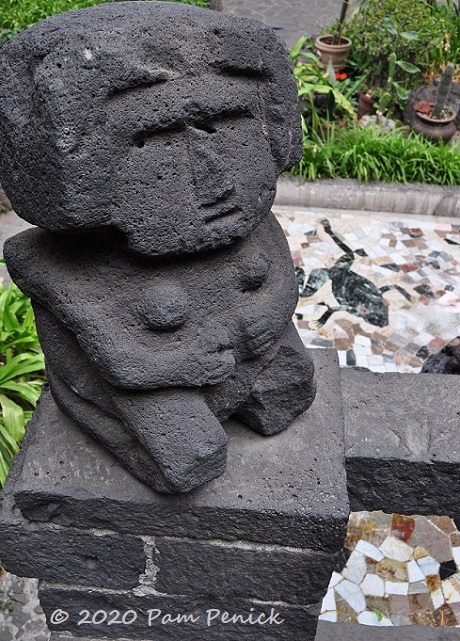 On the stairs to her studio, a roughly chiseled female figure kneels on the stone baluster.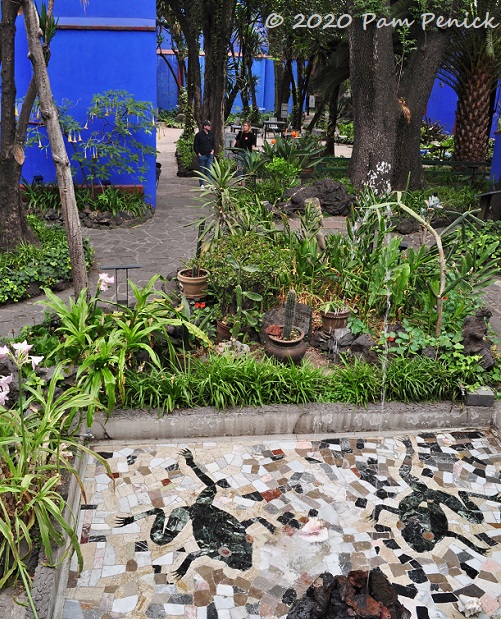 View of the frog fountain and surrounding garden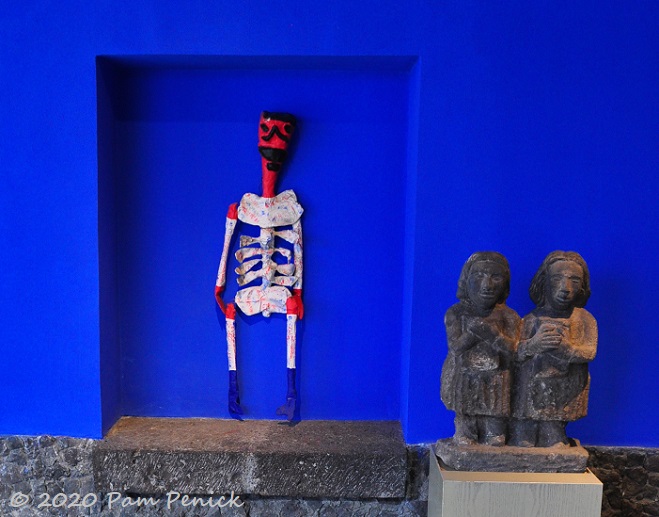 In an alcove below, a folk art collection is displayed.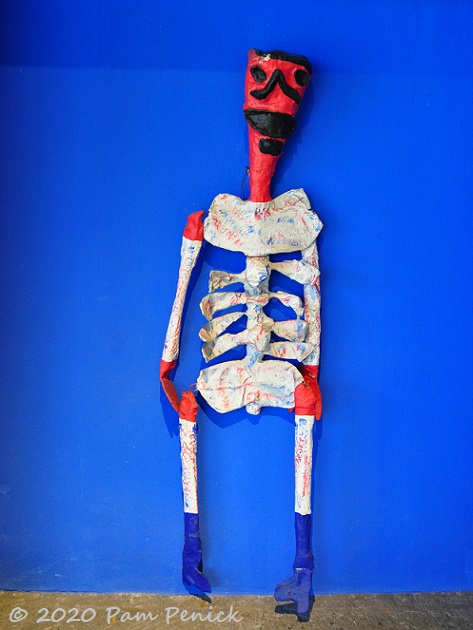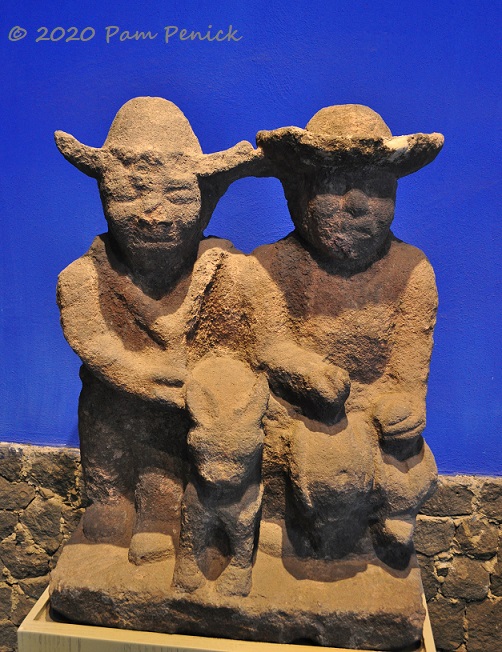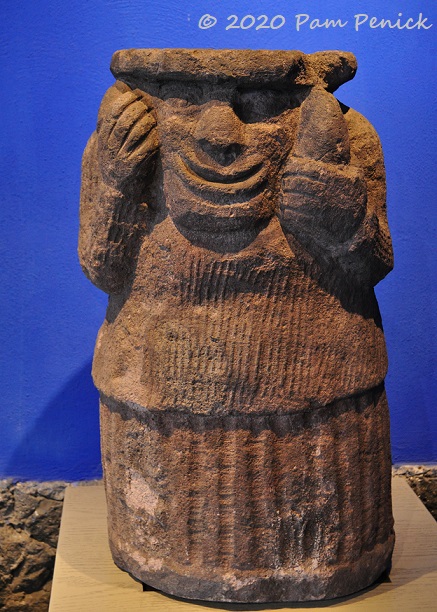 I love this one.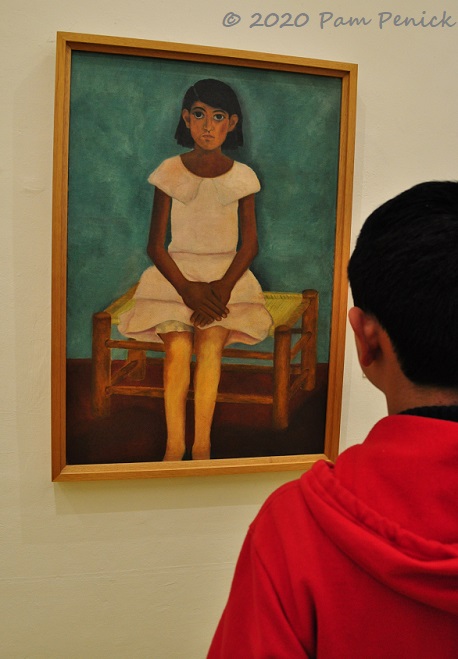 Inside the house we toured the family's kitchen, breakfast room, bedrooms, Frida's art studio, and gallery rooms like this one.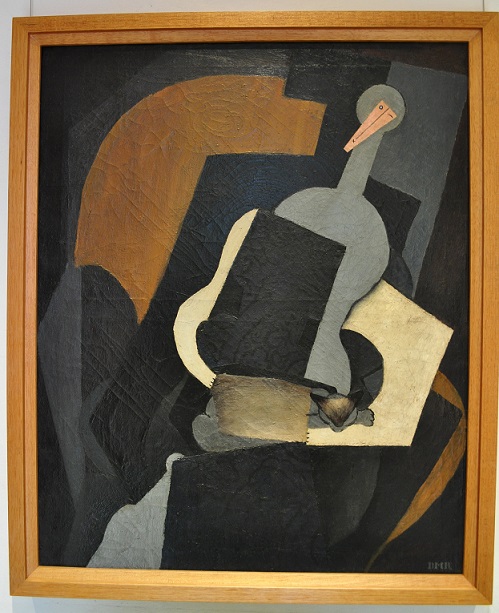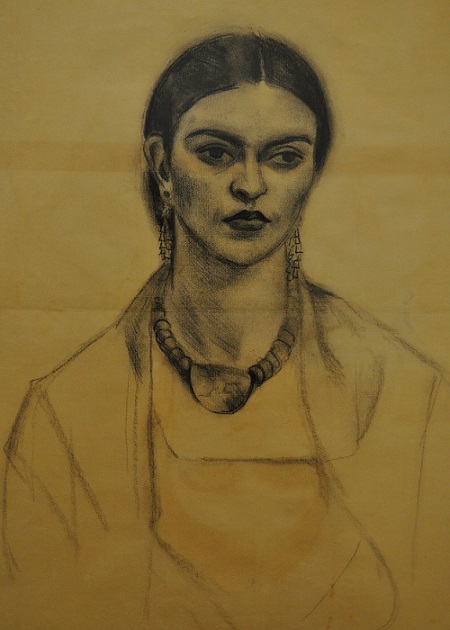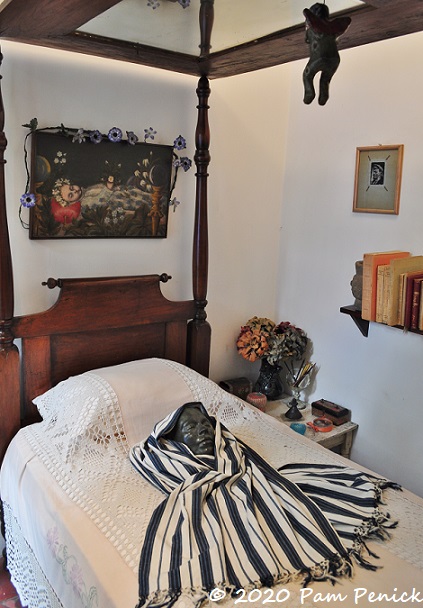 Frida died in her bed at the Blue House in 1954. Swathed in a scarf, her death mask lies on the canopy bed, her ashes in an urn across the room.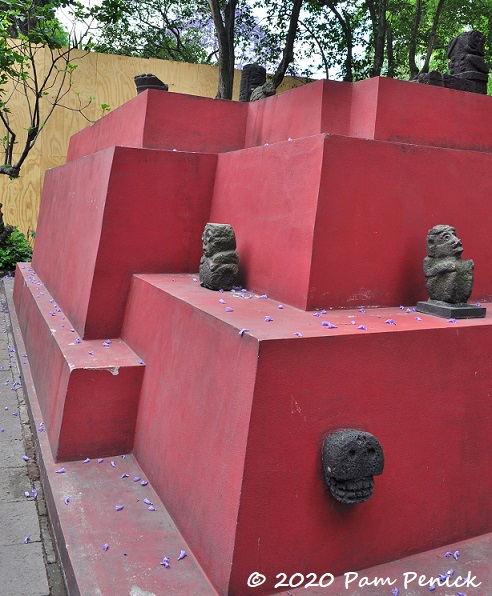 Back outside in the courtyard, a red stucco pyramid displays a collection of pre-Hispanic art…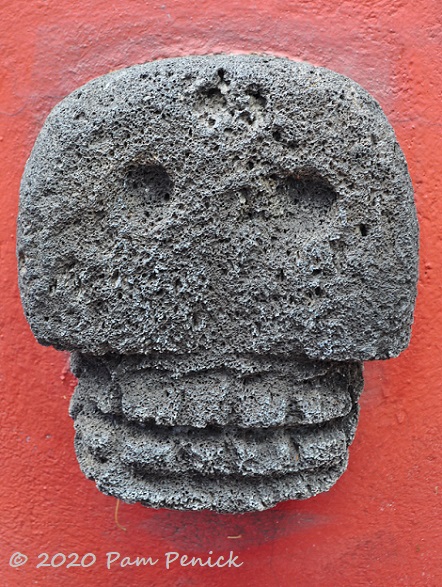 …including this skull.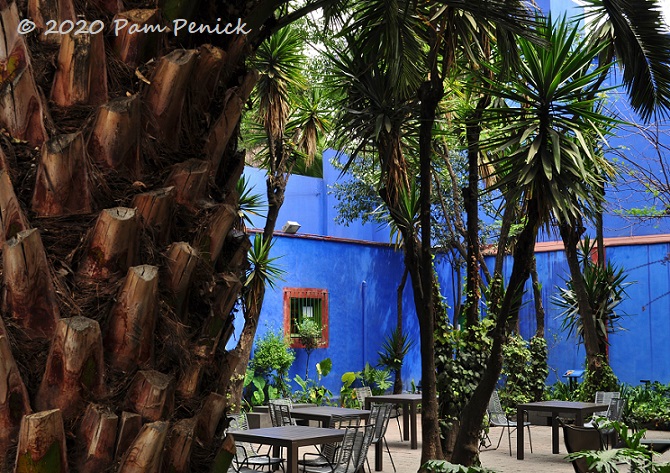 Cafe seating under towering yuccas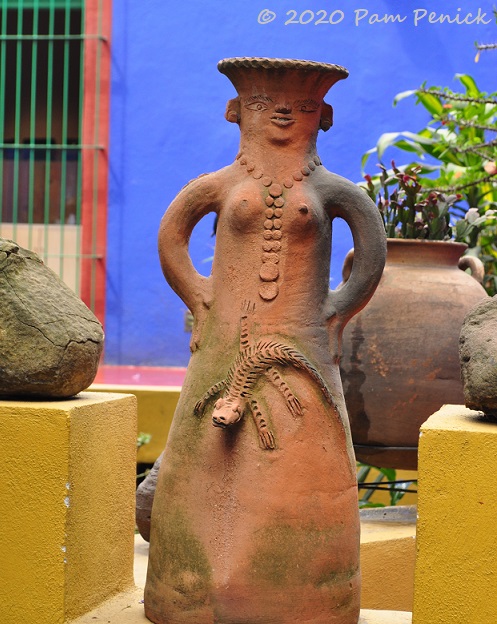 Another charming piece of pottery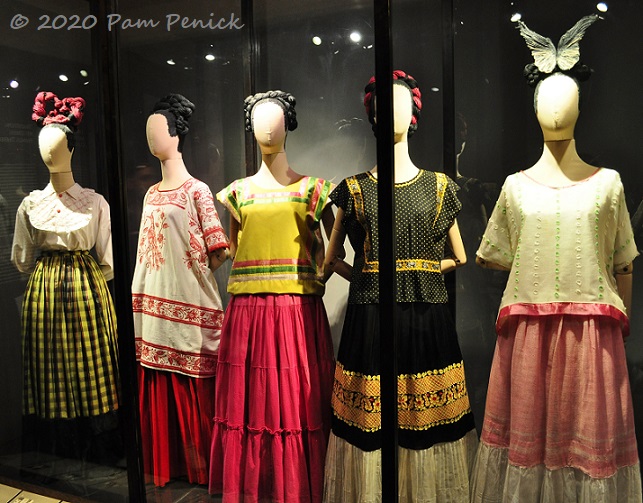 Famous for her adoption and elaboration of Oaxacan traditional dress, Frida wore long peasant skirts that disguised a leg withered by polio and square-cut blouses and hairstyles of braids and flowers that instead drew attention to her upper body. In an exhibition titled Appearances Can Be Deceiving, her clothing and the corsets that supported her crippled back are displayed.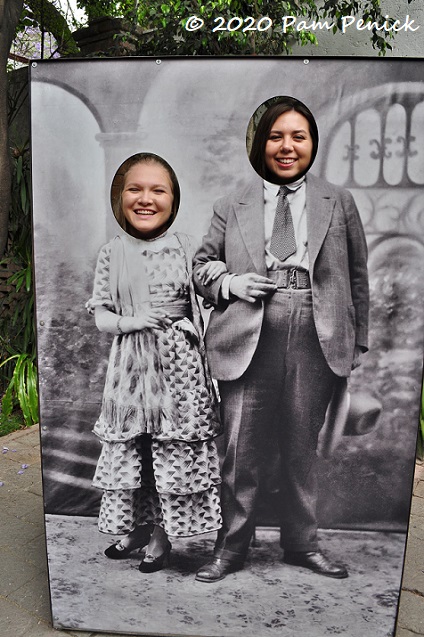 We enjoyed learning more about Frida at La Casa Azul and couldn't pass up an opportunity to be Frida and Diego for a funny photo op.
Up next: Public parks and sightseeing in Coyoacán.
Cancellations: Due to coronavirus, several events that I've been promoting in Digging Deeper have been cancelled or postponed:
I welcome your comments; please scroll to the end of this post to leave one. If you're reading this in a subscription email, click here to visit Digging and find the comment box at the end of each post.
_______________________
Digging Deeper: News and Upcoming Events
Join the mailing list for Garden Spark! Hungry to learn about garden design from the experts? I'm hosting a series of talks by inspiring garden designers, landscape architects, and authors a few times a year. Held in Austin, the talks are limited-attendance events that sell out quickly, so join the Garden Spark email list to be notified in advance. Simply click this link and ask to be added.
All material © 2020 by Pam Penick for Digging. Unauthorized reproduction prohibited.
[ad_2]

Source link