[ad_1]

August 26, 2020
Like a starfish clinging to a rock, this soap aloe (Aloe maculata) I stuck in a pie-pan planter has grown more beautifully than I expected. It seems to love the crevice life. Snaking stems of ghost plant (Graptopetalum paraguayense) add their flower shapes to the composition. A barbed-wire star completes the astral look.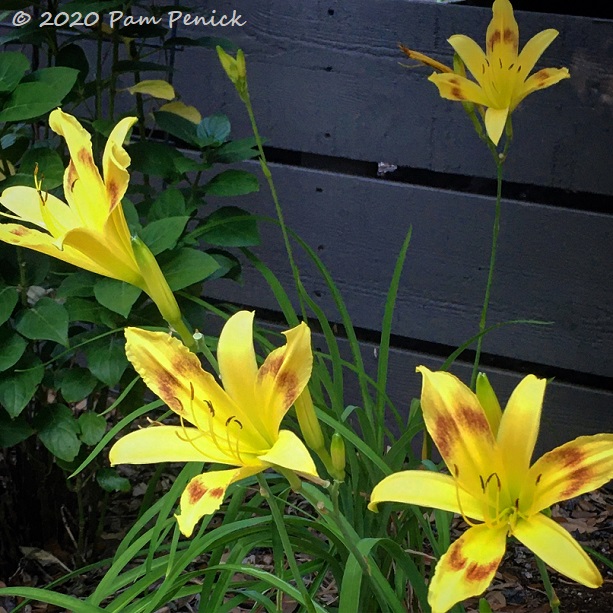 Come meander around the garden with me. This is what I do every day, snapping photos with my ancient phone of whatever catches my eye. Here's 'Wilson's Yellow' daylily, blooming in late August instead of early summer like it usually does. Weird but welcome!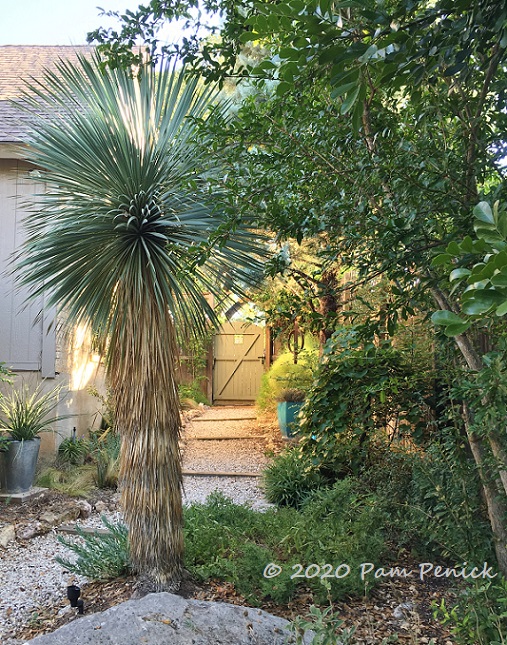 'Sapphire Skies' Yucca rostrata stands tall alongside the path up to the eastern gate. Its bristly head now stands high enough for us to see it from the elevated deck. From this vantage down by the shed, it towers over me.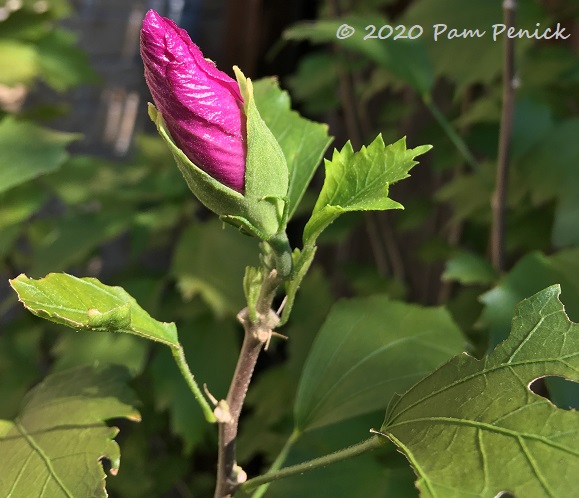 Just inside the gate, 'Purple Pillar' rose of Sharon (Hibiscus syriacus 'Purple Pillar'), a trial plant from Proven Winners, continues to pump out cerise blossoms.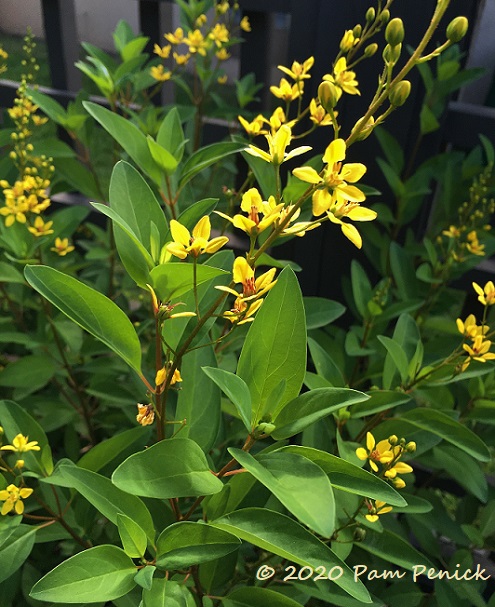 Outside the gate — we're in deer territory now — I'm growing a trio of golden thryallis (Galphimia gracilis) in dappled shade — and they couldn't be happier. As they grow I plan to hedge them, since this is a narrow space, an idea I'm stealing from Ruthie Burrus's garden.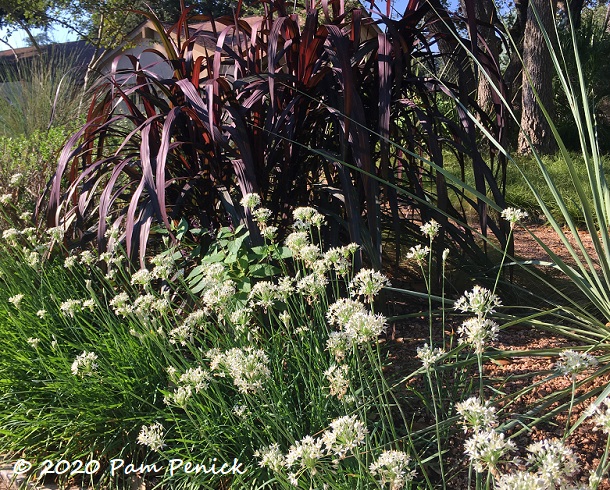 In the hellstrip garden — which isn't so hellish since it receives only morning sun — the garlic chives (Allium tuberosum) are blooming, a sign that summer is waning. Hallelujah! 'Vertigo' pennisetum has finally achieved its late-summer girth and looks like I want it to look all summer. Alas, it takes a while to get going (too much shade perhaps?) and doesn't really fill out until July.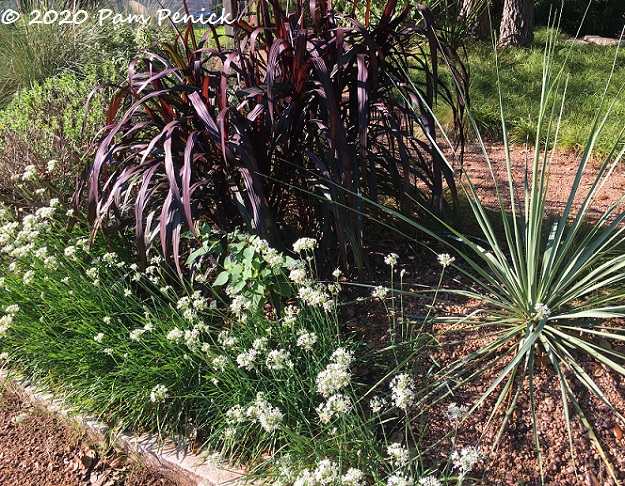 The blue sea urchin on the right is a young Nolina nelsonii, which replaces Mexican oregano that struggled here (again, lack of sun, probably).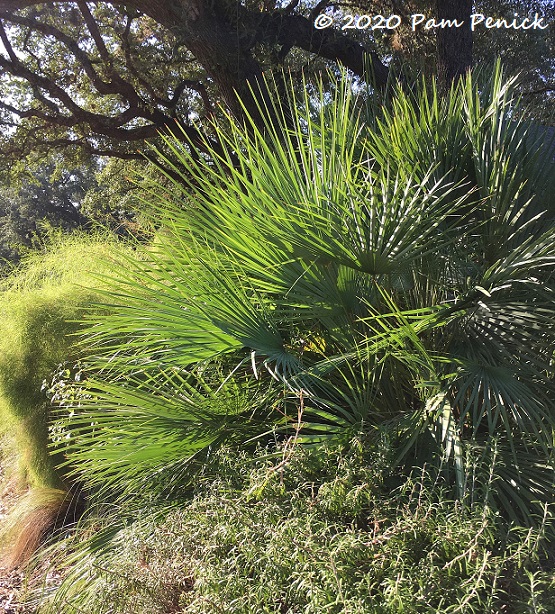 In the island bed, the silver Mediterranean fan palm (Chamaerops humilis var. argentea) is finally getting big! What a slow grower this one is. But a beauty. It looks fairly green in this photo, but at other times its narrow leaves have a distinct silvery-blue hue. Bamboo muhly in the background and rosemary in the foreground thrive in the same conditions and resist deer incursions.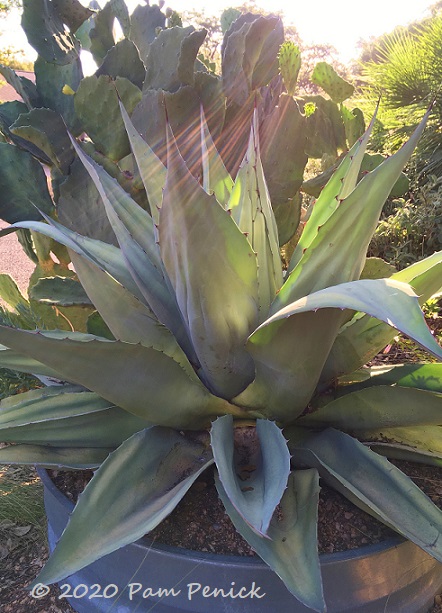 'Vanzie' whale's tongue agave (Agave ovatifolia 'Vanzie') flexes his flippers in the galvanized fire-ring planter. Check out those deeply channeled leaves, a 'Vanzie' hallmark. It looks like someone making a U-shape with their tongue.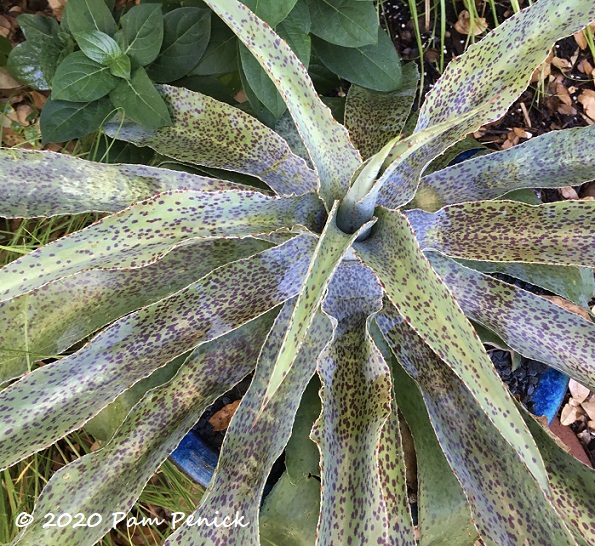 Heading back into the rear garden — farewell, deer! — I have to stop and admire 'Spotty Dotty' mangave's wavy, purple-speckled leaves. When the Philippine violet behind it starts flowering, it should make a pretty duet.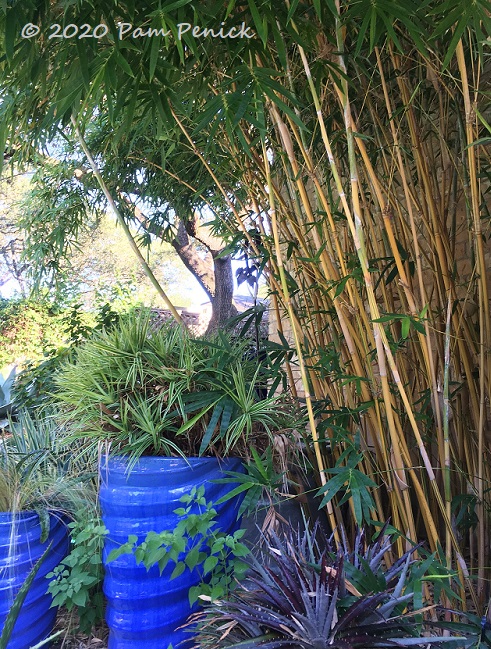 A tropicalesque combo grows nearby: 'Alphonse Karr' bamboo (Bambusa multiplex 'Alphonse Karr'), 'Sparkler' sedge (Carex phyllocephala 'Sparkler') in the blue pot, and maroon 'Burgundy Ice' dyckia.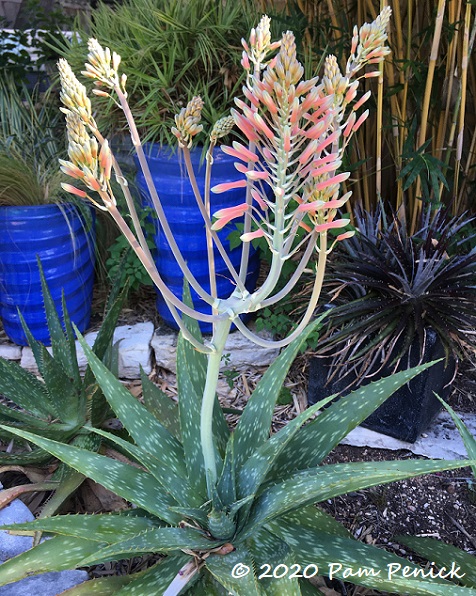 A trio of soap aloes grows here, which I keep as solitary specimens by pulling out pups by the dozens all year. The center one is flowering again, for maybe the third time this year.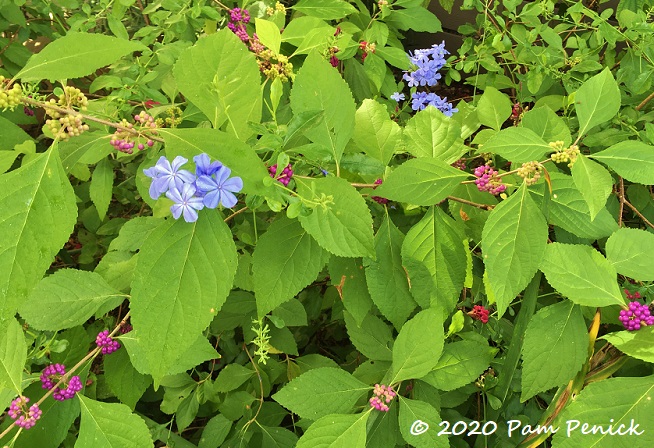 Plumbago (Plumbago auriculata) nestles under an American beautyberry (Callicarpa americana), whose berries are purpling up, another sign that fall is coming.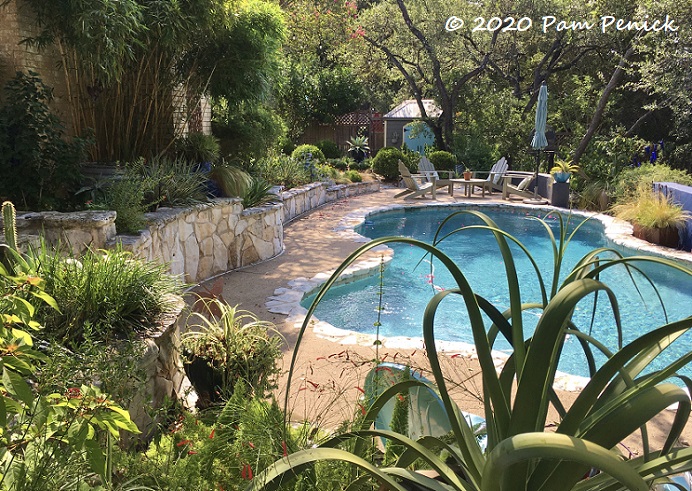 But for now summer still reigns, and it will until early October. One more month until our second spring arrives in central Texas.
I welcome your comments; please scroll to the end of this post to leave one. If you're reading this in a subscription email, click here to visit Digging and find the comment box at the end of each post.
_______________________
Digging Deeper: News and Upcoming Events
Garden Bloggers Fling, the online community and annual meet-up for garden bloggers since 2008, has expanded to include garden vloggers, podcasters, and Instagrammers. Check out their announcement AND their newly revitalized Instagram page, which is sharing pics from past Fling tours as well as community member profiles.
Join the mailing list for Garden Spark! Hungry to learn about garden design from the experts? I'm hosting a series of talks by inspiring garden designers, landscape architects, and authors a few times a year. Held in Austin, the talks are limited-attendance events that sell out quickly, so join the Garden Spark email list to be notified in advance. Simply click this link and ask to be added.


[ad_2]

Source link