March 25, 2020
Before Austin's shelter-in-place (i.e., stay-at-home) order went out yesterday, I grabbed my camera and hopped in the car with our Italian high-school exchange student to find a nice field of bluebonnets a friend had told me about. We soon located a denim-blue field of dreams.
As it happens, it's an excellent year for our state flower, and it pains me a little to know that I won't be making a wildflower safari this spring, my annual ritual. But defeating the coronavirus is a group effort, and I plan to comply. Let's all work together to shut down this disease!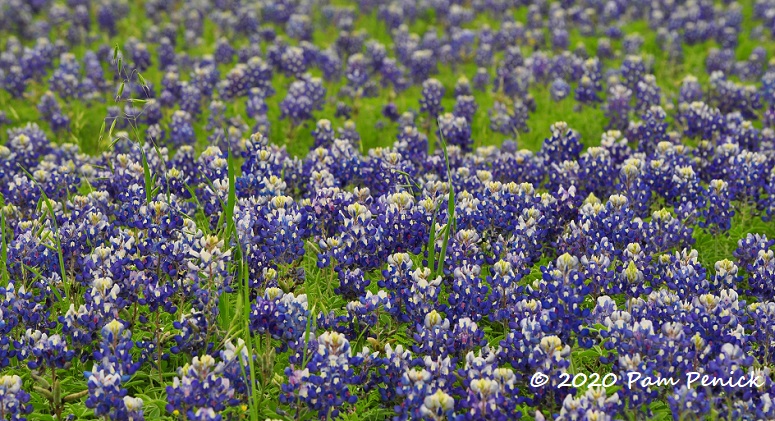 But back to the lupines. Keeping to ourselves — no one else was around anyway — we carefully stepped around the flowers, she found an open spot to sit, and I snapped her first-ever (maybe only-ever) photo in a patch of bluebonnets. A rite of passage for every Texan, even a temporary one! Now I can rest easy knowing my duty as a host mom is complete. (If you're wondering, she will be with us until a safe flight home can be arranged for her and other Italian exchange students in the U.S.)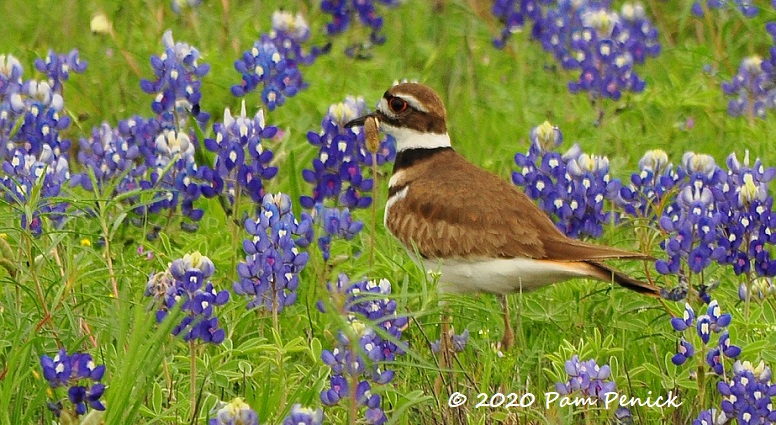 As we were leaving, we flushed a killdeer from her nesting place in the open field. I immediately recognized the fake broken-wing trick she was putting on, dragging one wing along the ground in feigned helplessness in an attempt to lure us away from her eggs or chicks. I never saw her nest, but we backed away and left her in peace. She's a handsome bird, isn't she?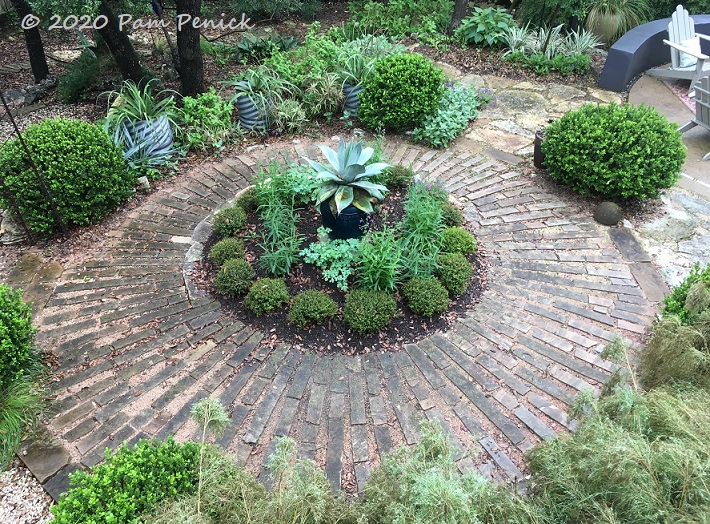 Back at home, the garden is coming alive with fresh leaves and new flowers every day. I shared this photo of the Circle Garden — the old stock-tank pond garden — on Instagram the other day, and since then there's already a lot more color in the center, where Gulf penstemon is blooming.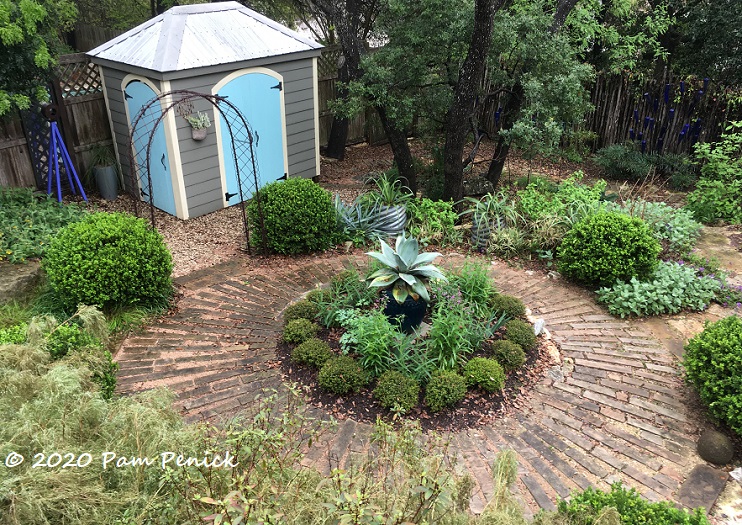 It's a big change from the pond that used to anchor the center of the circle, but I like it. Sure, the pond was gorgeous, but it was one more thing to take care of, and I'm looking to simplify these days. If you like it too, yay! And if you don't, well, you can always install a pond in your garden! xoxo
I welcome your comments; please scroll to the end of this post to leave one. If you're reading this in a subscription email, click here to visit Digging and find the comment box at the end of each post.
_______________________
Digging Deeper: News and Upcoming Events
Join the mailing list for Garden Spark! Hungry to learn about garden design from the experts? I'm hosting a series of talks by inspiring garden designers, landscape architects, and authors a few times a year. Held in Austin, the talks are limited-attendance events that sell out quickly, so join the Garden Spark email list to be notified in advance. Simply click this link and ask to be added.
All material © 2020 by Pam Penick for Digging. Unauthorized reproduction prohibited.