[ad_1]

July 07, 2020
In the before-times, a summer road trip was a pleasurable, even adventurous, undertaking. In the covid era it feels almost miraculous to pull off any kind of travel while adhering to federal and local health guidelines. But a few weeks ago I did, along with my husband and daughter. Having sheltered in place together since mid-March, with no indoor visits from anyone, not even our adult son (only outdoors, separated by 6 feet or more), we were eager to get out of the house and out of town if we could find a way that felt safe. Car travel was a given, and getting outdoors to enjoy nature appealed to us.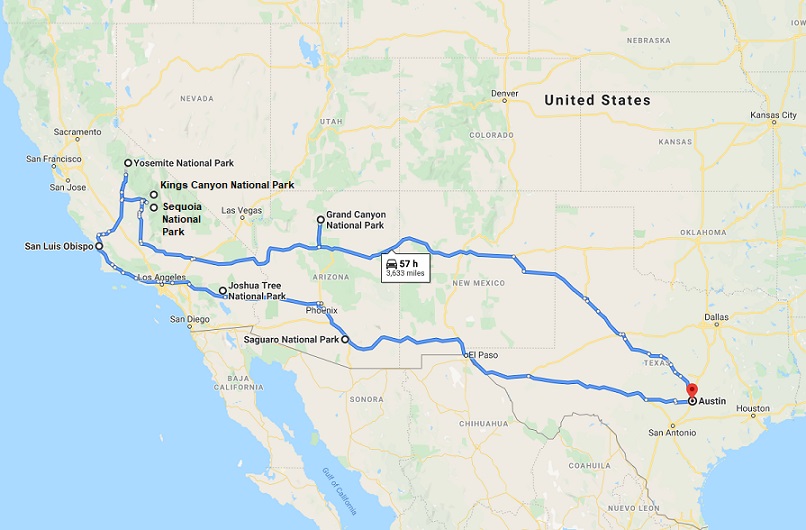 Cue an old-fashioned, all-American road trip. The day that Yosemite National Park reopened via a reservation system allowing for only 50% of normal car traffic, I booked our dates and started planning. We ended up making a 4,000-mile road trip through six national parks of the Southwest and West: Grand Canyon, Sequoia, Kings Canyon, Yosemite, Joshua Tree, and Saguaro.
Our overstuffed Subaru stood in for a kitchen thanks to a big blue cooler and wicker picnic basket (a wedding gift from 30 years ago — still useful!), allowing us to avoid restaurants except the occasional drive-through or take-out. We ate outdoors at rest stops along the way, or in the car. Packing a stash of face masks, liquid hand sanitizer, and disinfecting wipes, and reserving hotels with first-floor rooms (no elevator required) or rooms that opened directly to the parking lot, we set off. Each time we checked into a hotel room, we wiped everything down, taking turns like Hermione, Harry, and Ron in performing the protective enchantments.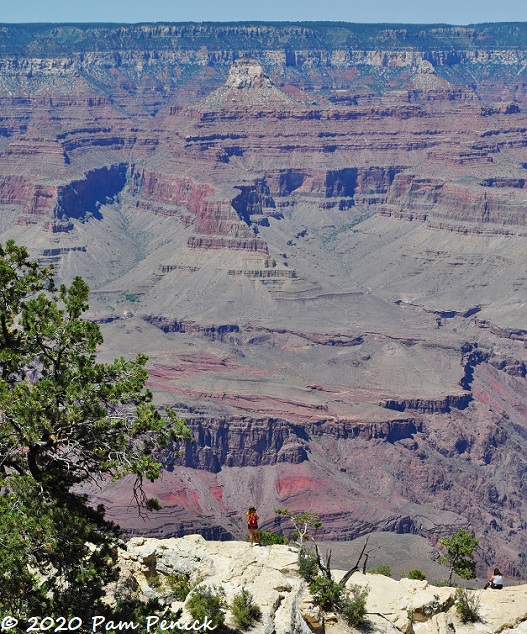 Was it worth it? Yes. We made it to Grand Canyon National Park on the second day. This was my third time to see Grand Canyon, 17 years after my last visit, when I rode a mule named Buttermilk to the bottom and back up. Every time I see it I am blown away. Photos cannot convey the epic grandeur of the canyon.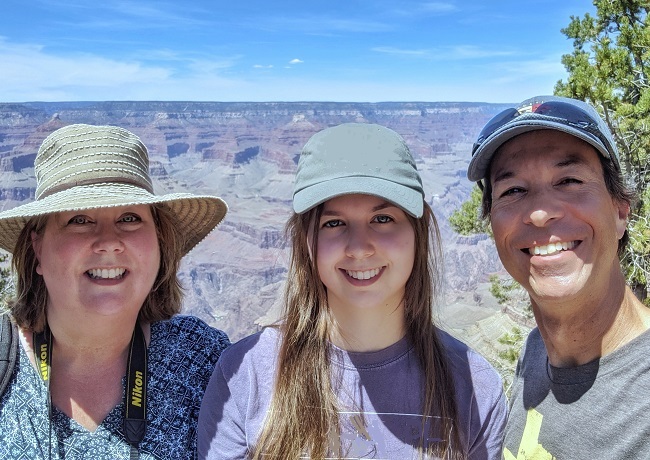 We wore masks whenever we were around other people, but alone we popped them off for a quick photo.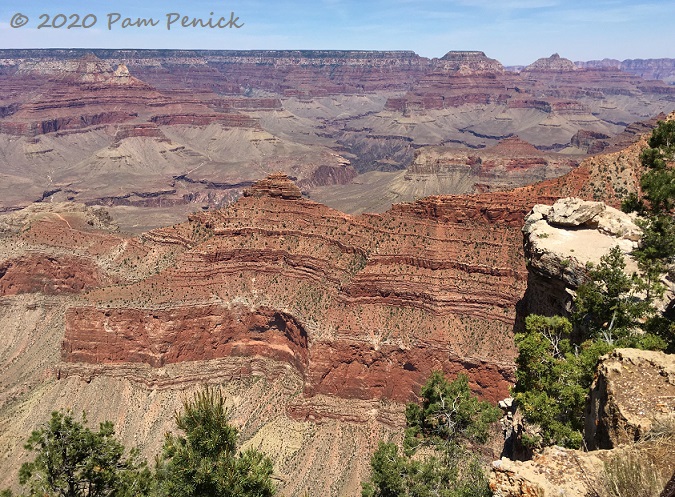 From the rim, the Grand Canyon plunges more than a mile down to the Colorado River, which continues its eons-long excavation of the canyon walls. At its widest point, the gulf is 18 miles across.
Striated red turrets and buttresses in the upper canyon make for awe-inspiring vistas.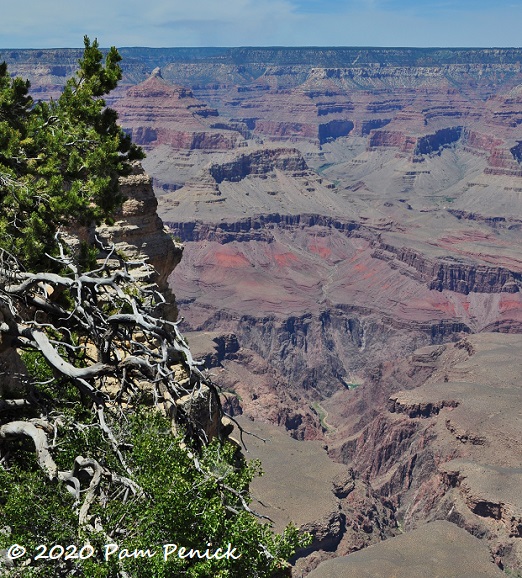 Far below, the river wriggles like a green snake through the steep-sided inner canyon, visible from the rim only at certain vantage points.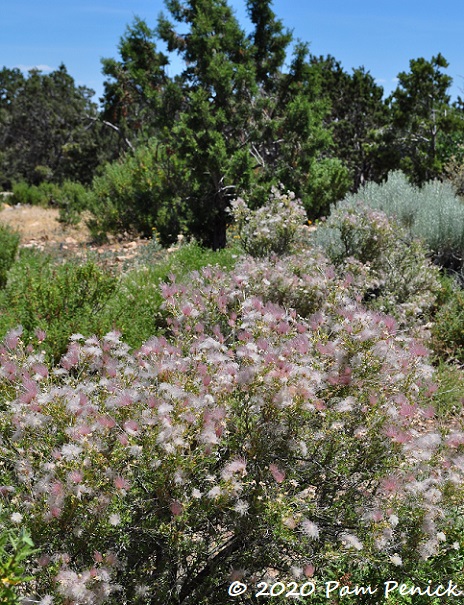 We spent about an hour walking along the rim — a short visit, but we encouraged our daughter to return one day and explore at least a little of Bright Angel Trail descending into the canyon. Pink-filamented apache plume caught my eye as we headed for a good picnicking spot.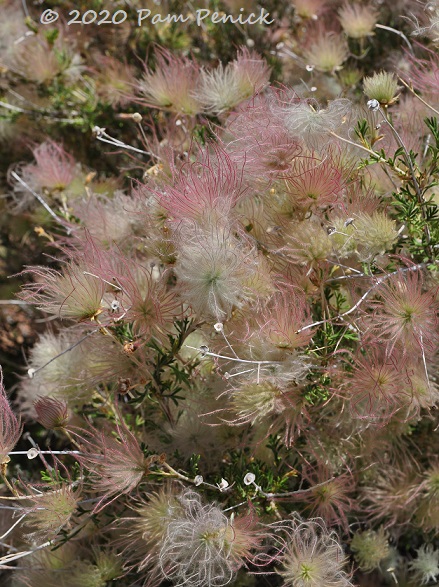 So pettable!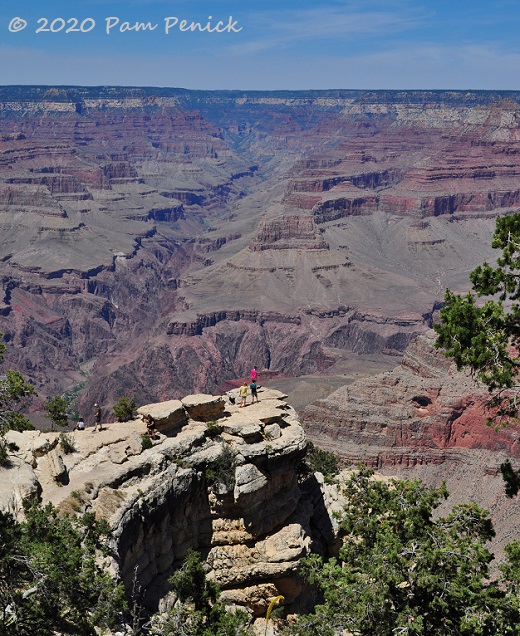 Farewell, you grand old canyon, until we meet again if I am so fortunate.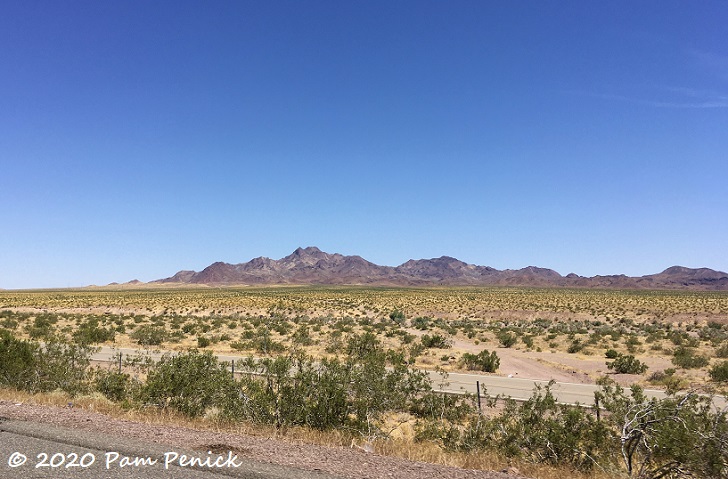 The next day we were off, crossing through California's Mojave Desert under a vast blue dome, the distant lavender mountains of Mojave National Preserve jaggedly raking the sky.
Up next: Gigantic trees and black bears in Sequoia National Park.
I welcome your comments; please scroll to the end of this post to leave one. If you're reading this in a subscription email, click here to visit Digging and find the comment box at the end of each post.
_______________________
Digging Deeper: News and Upcoming Events
Join the mailing list for Garden Spark! Hungry to learn about garden design from the experts? I'm hosting a series of talks by inspiring garden designers, landscape architects, and authors a few times a year. Held in Austin, the talks are limited-attendance events that sell out quickly, so join the Garden Spark email list to be notified in advance. Simply click this link and ask to be added.
All material © 2020 by Pam Penick for Digging. Unauthorized reproduction prohibited.
[ad_2]

Source link