[ad_1]

August 07, 2020
If you're feeling ticked off about the covid state of the world, Saguaro National Park might be the perfect place to go, since its namesake flora look like they're giving the finger to the universe.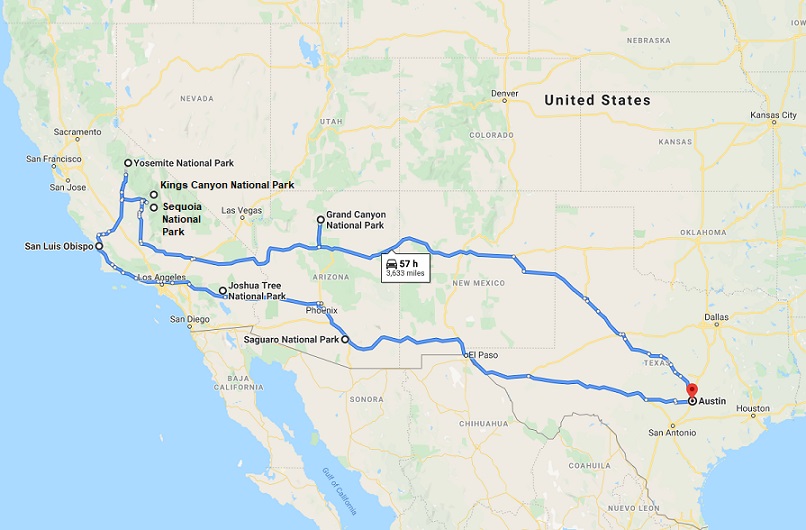 Saguaro was the last park we visited during our family road trip through the Southwest in mid-to-late June. We arrived under a blazing sky, on a 100-degree afternoon, at this Sonoran Desert preserve near Tucson, Arizona.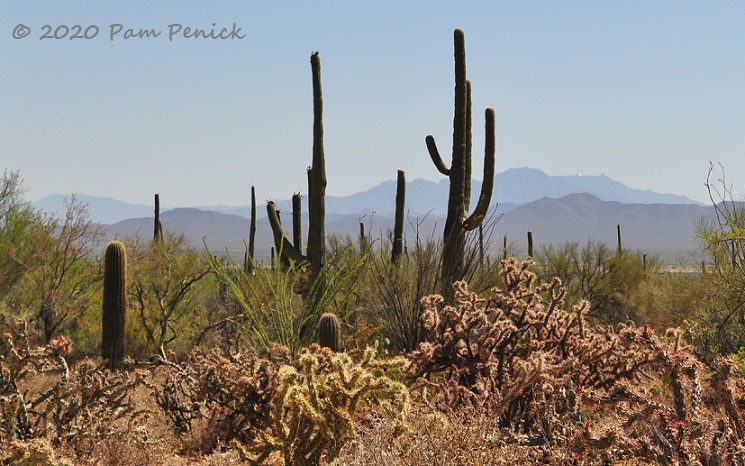 Tucson divides the two districts that make up Saguaro National Park: Rincon Mountain District on the east and Tucson Mountain District on the west. We chose the western district for its density of saguaros and its 6-mile Bajada Loop Drive, which is unpaved but well maintained.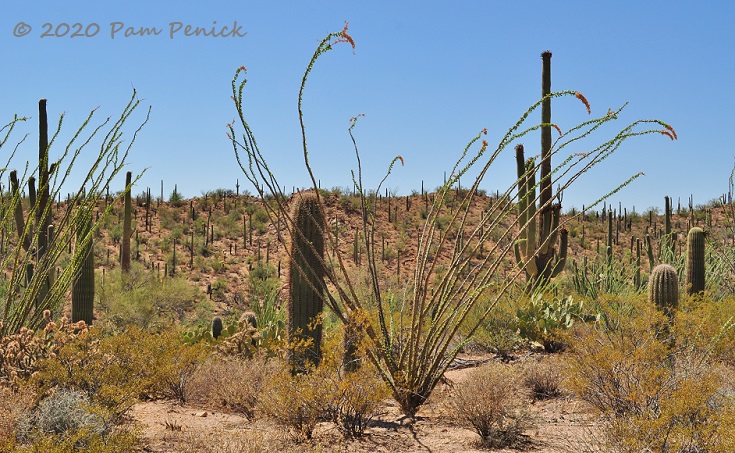 Literally no one was there. With the visitor center closed (as at all the parks we visited) and no one manning even a ticket booth, we drove on in and tucked away our annual parks pass. It was just the saguaros and us.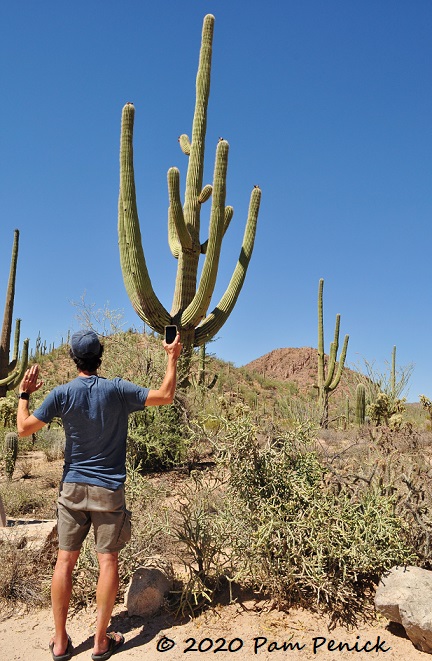 You can't help thinking of these branching cacti as sort of human-looking. Here's my husband doing his best saguaro imitation. By the way, if you're not from this part of the world, saguaro is pronounced sa-WAH-ro. Drop that hard "g."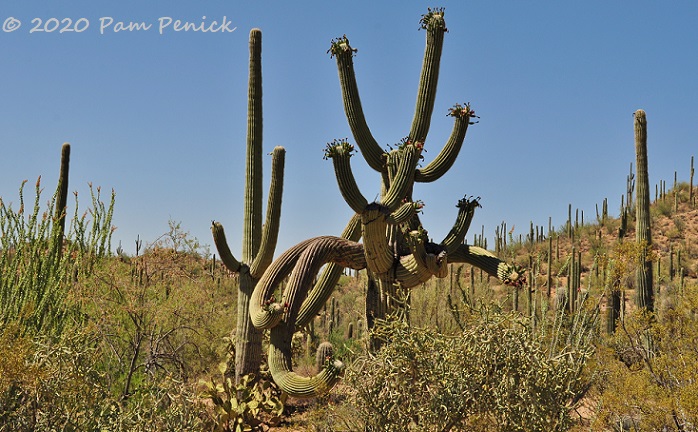 The sagauro (Carnegiea gigantea) is pretty clever about surviving on 10 inches of rain a year. With flesh that's pleated like an accordion, the saguaro's stem swells with water sucked up by its roots after a big rain. During dry times, the saguaro contracts as it lives off its stored water reserves. Mature plants full of water can weigh 6 tons. Talk about water weight!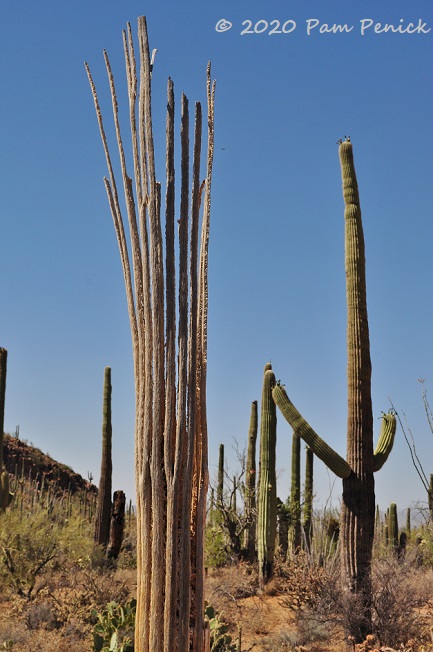 A woody, ribbed skeleton supports all that weight, and when a saguaro dies, the framework may remain standing as a ghostly memorial.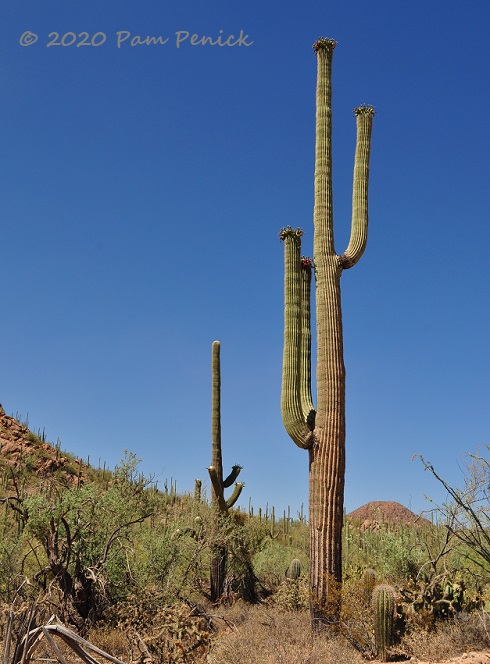 Saguaros can grow 50 feet tall, but they take their time to get that big. They grow only a couple of inches during the first decade, generally under a sheltering "nurse" tree. Another 50 to 100 years may tick by before a saguaro sprouts its iconic branching arms.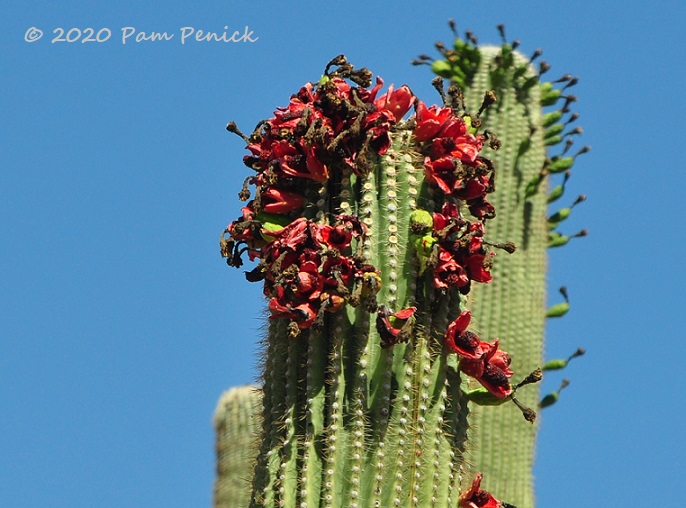 After 35 years, a saguaro has matured enough to flower. Large white flowers open at night in a sort of flower crown atop its head. Bats pollinate the flowers at night and birds and bees in the morning, until the flowers close up in the afternoon. Pollinated flowers mature into red fruits, which look rather Christmasy against the cactus's green stem.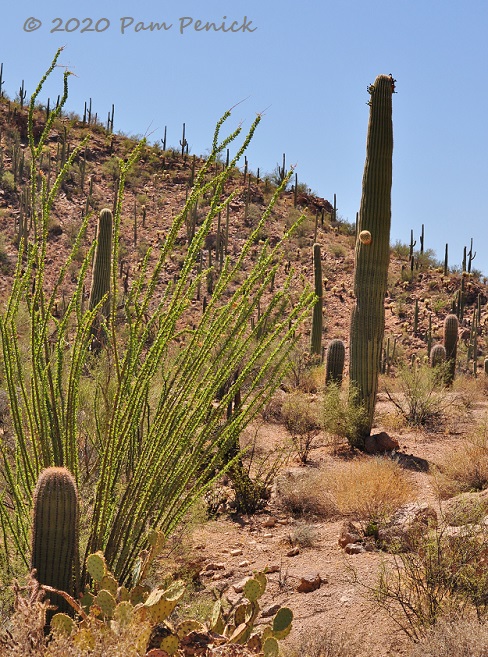 Pipe-cleaner ocotillo and paddle-shaped prickly pear keep the saguaro company, along with other fine-textured, scrubby plants.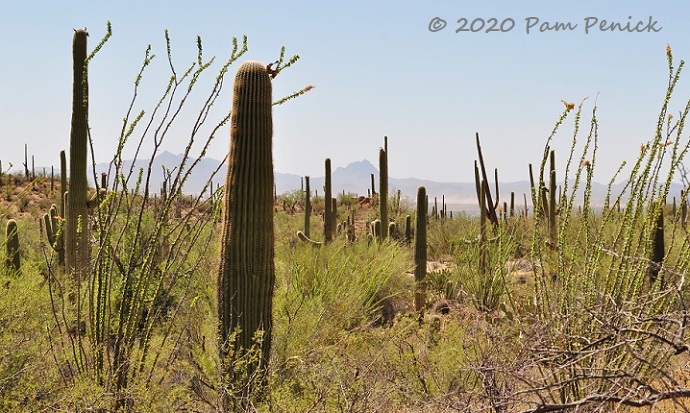 Mountains in the distance make a dramatic backdrop to the columnar cacti.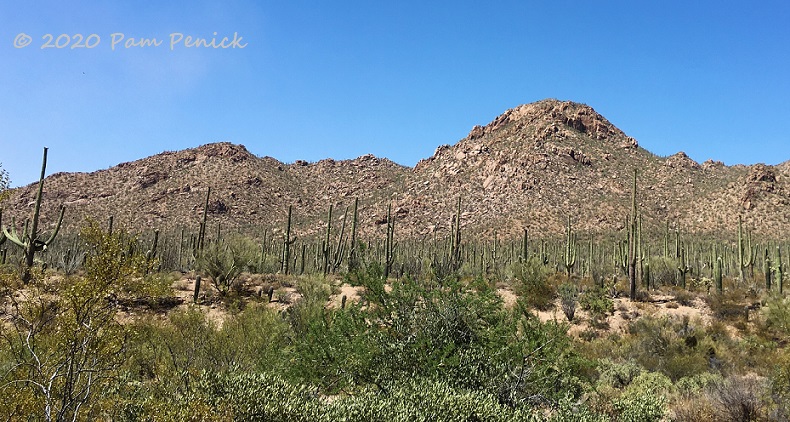 A forest of saguaros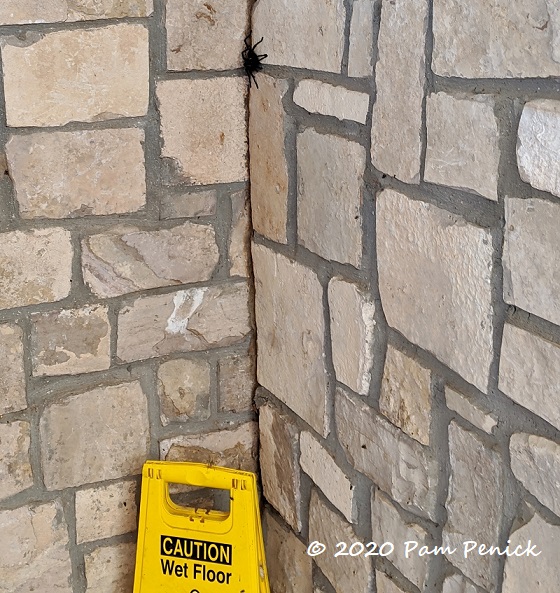 After we left Saguaro, we drove another 5 hours to reach the Texas state line near El Paso. We stopped at the welcome center to use its open-air restrooms and noticed a tarantula on the wall on the way out.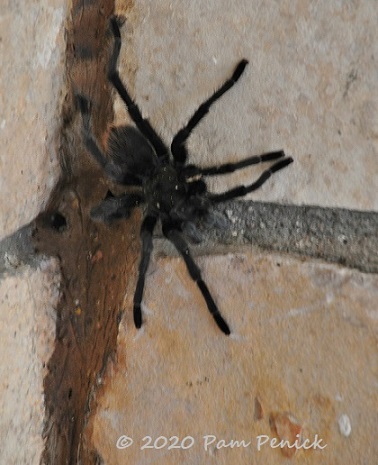 Everything's bigger in Texas. *shudder*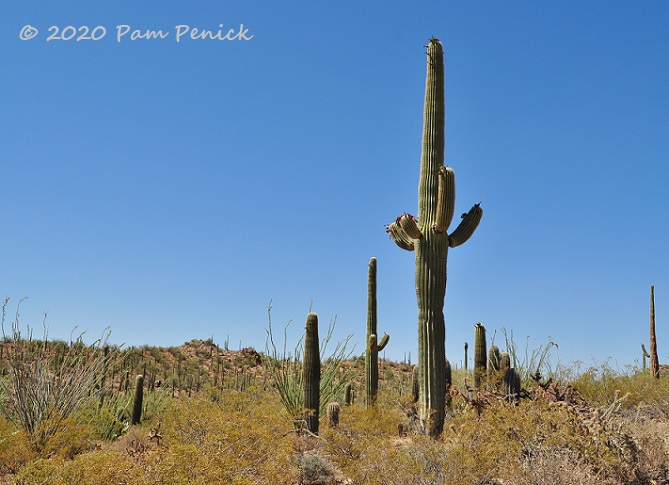 I can't leave you with a photo of a gigantic spider, so here's one more of the majestic saguaro. Adios, pardner!
I hope you've enjoyed my coverage of our national parks road trip. For a look back at our exploration of Joshua Tree, click here. You can follow the link at the end of that post and work your way through all of the beautiful parks that we visited.
I welcome your comments; please scroll to the end of this post to leave one. If you're reading this in a subscription email, click here to visit Digging and find the comment box at the end of each post.
_______________________
Digging Deeper: News and Upcoming Events
Join the mailing list for Garden Spark! Hungry to learn about garden design from the experts? I'm hosting a series of talks by inspiring garden designers, landscape architects, and authors a few times a year. Held in Austin, the talks are limited-attendance events that sell out quickly, so join the Garden Spark email list to be notified in advance. Simply click this link and ask to be added.
All material © 2020 by Pam Penick for Digging. Unauthorized reproduction prohibited.
[ad_2]

Source link