[ad_1]

May 22, 2020
A young visitor dropped by my garden yesterday. Actually I think she was here a couple of days ago, although I didn't see her that day. I was moving around the side of the house and heard a startled rustling in the sedge and thought I might have flushed a fawn from its hiding place.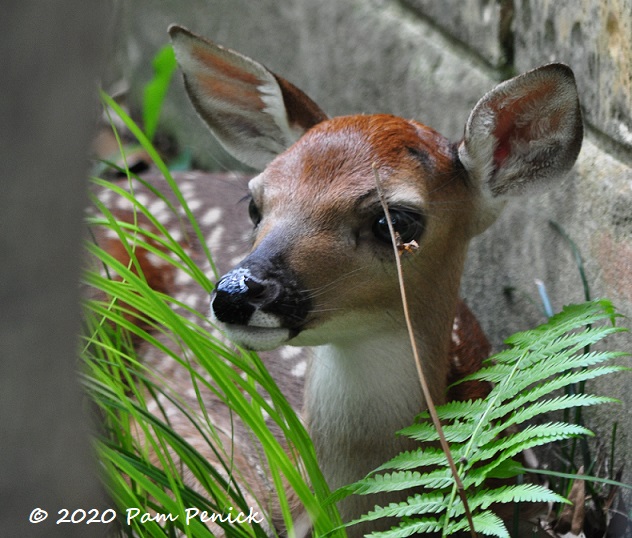 Yesterday I was dragging trash bins down the driveway and through the back gate, and when I reemerged into the front garden, something caught my eye along the foundation of the house. Curled up behind an 'Everillo' sedge, a tiny fawn held still, hoping its camouflaging spots would keep me from seeing it. No luck this time, but I kept a quiet and respectful distance while using my long lens to get these photos.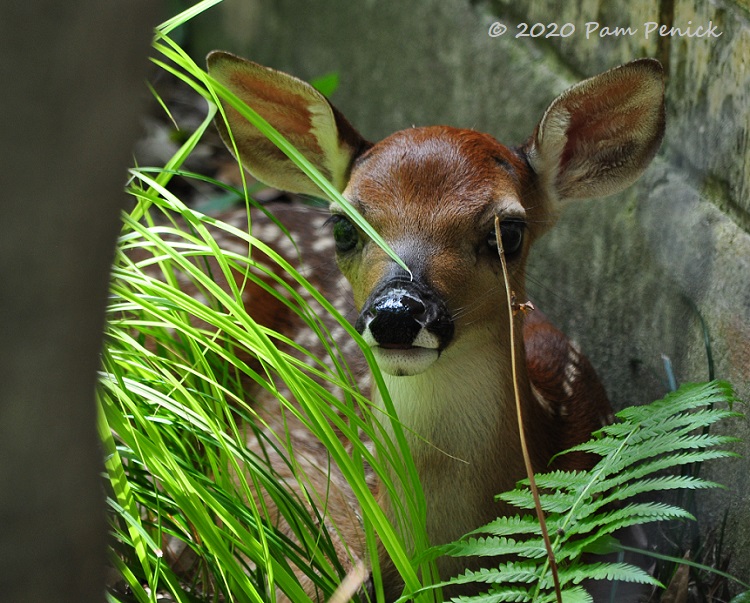 What a sweet baby, waiting for her mama to come back and collect her. I'll be on the lookout for her again tomorrow, maybe in a different spot.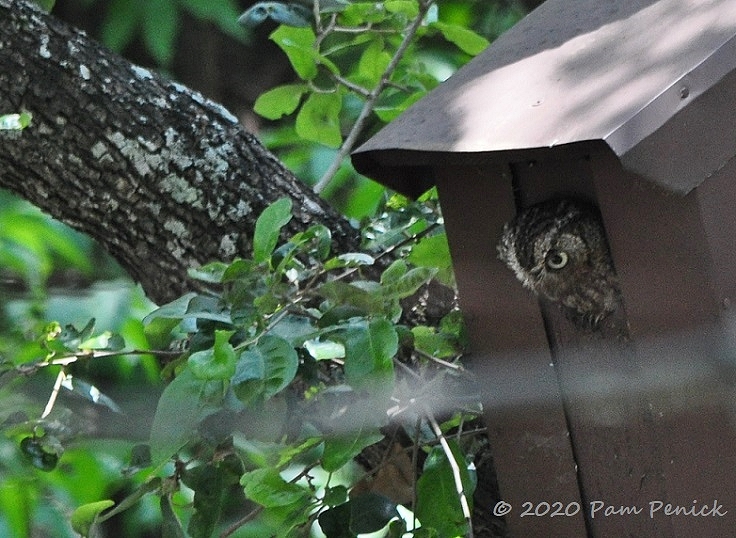 In the back garden, another happy sighting: the screech owl that's been hanging out in the owl box. I don't really think it's a nesting female, mainly because it doesn't sit for long periods in the doorway, like nesting females do as their chicks grow larger and more active. Whenever it sees us, it immediately hides inside the box, making it the shyest owl we've ever had. The only photos I've been able to get were taken from inside the house, through a window. What a recluse!
What kinds of wildlife are you seeing in your garden this spring?
I welcome your comments; please scroll to the end of this post to leave one. If you're reading this in a subscription email, click here to visit Digging and find the comment box at the end of each post.
_______________________
Digging Deeper: News and Upcoming Events
Donate to the Tom Spencer Million Trees for Austin Fund, established by TreeFolks in March 2020 to honor Tom Spencer, a tireless environmental advocate and longtime host of Central Texas Gardener. Tom's bold vision of planting another million trees in the Austin community inspired TreeFolks to pursue this goal, and they invite others to join the campaign. In Tom's own words, "Plant trees, plant hope."  For information about making an annual gift, stock donation, or charter contribution, please call Andrew W. Smiley, TreeFolks Executive Director at 512-413-7774, or visit their website for additional information.
Join the mailing list for Garden Spark! Hungry to learn about garden design from the experts? I'm hosting a series of talks by inspiring garden designers, landscape architects, and authors a few times a year. Held in Austin, the talks are limited-attendance events that sell out quickly, so join the Garden Spark email list to be notified in advance. Simply click this link and ask to be added.
All material © 2020 by Pam Penick for Digging. Unauthorized reproduction prohibited.
[ad_2]

Source link