[ad_1]

July 17, 2020
On Day 2 of our June Yosemite visit (click here for part 1 and here for how we pulled off the trip), we rose well before dawn, drove the 40 minutes into the park, and dropped David off at the trailhead for Half Dome. To day-hike up Half Dome, you must have a permit, and there's a lottery for the limited number available each day. On his second try he scored a permit, and he was ready with hiking poles, hiking boots, and gloves for pulling himself up the steel cables strung on the dome.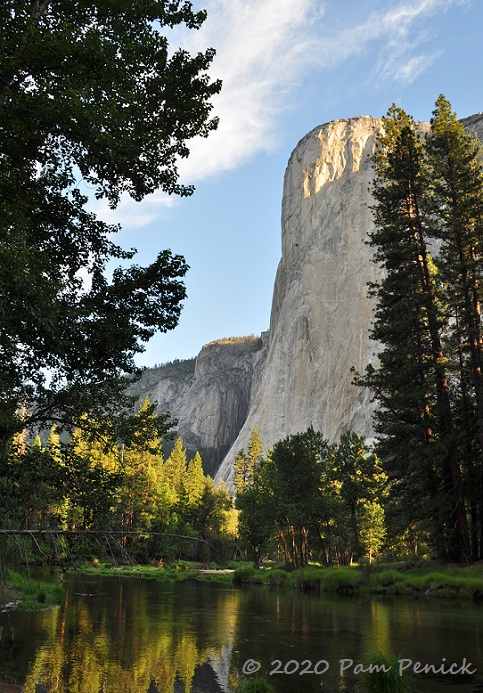 While David powered his way through the "extremely strenuous" Half Dome hike, measuring 16 miles round-trip with a 4,800-foot ascent, including 400 feet on steep, bare rock aided by cables, my daughter and I had plans to lounge on a beach, take in the scenery, and relax. We headed straight for Cathedral Beach along the Merced River, where tall pines frame a glowing view of El Capitan's east-facing Dawn Wall.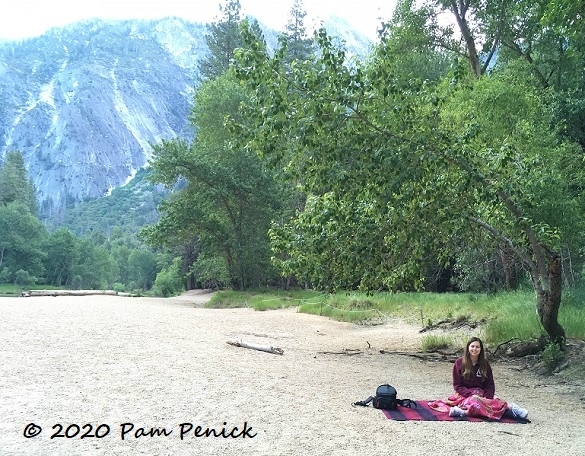 No one else was there at that hour. It was utterly peaceful. I couldn't believe how lucky we were to have the beach to ourselves.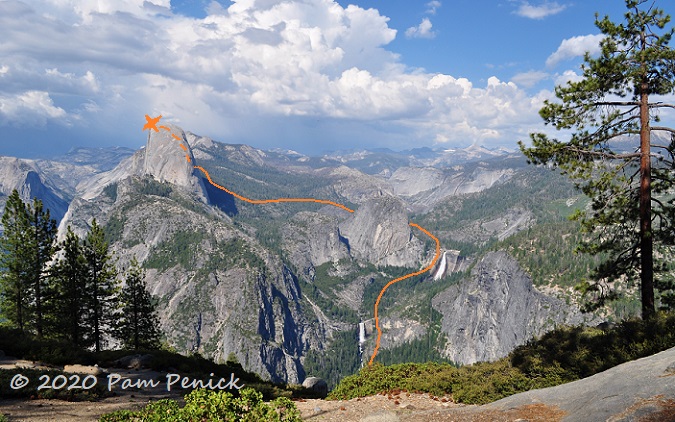 Meanwhile, David was making good time, as we learned from his texted updates. Here's a rough idea of his hiking route. This is the view of Half Dome from Washburn Point, and his trail (the orange line) would take him up past Vernal Fall and Nevada Fall and around the back right shoulder (not visible from this angle, hence the dotted line) of the towering granite monolith.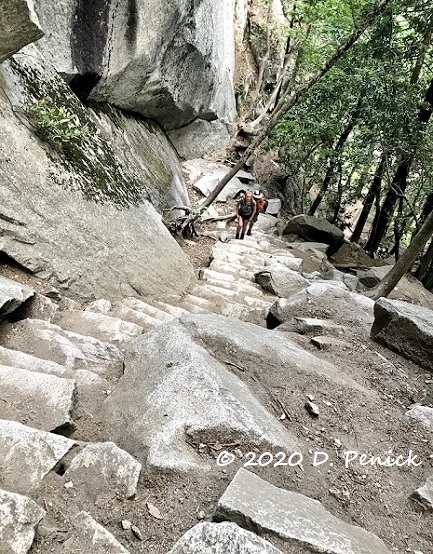 There's never been a tower, hill, or mountain David didn't want to stand on top of, and he viewed climbing Half Dome as a fun adventure. To me it sounded like torture. But the scenery, I'll admit, looks grand. Here are a few pics he took along the way.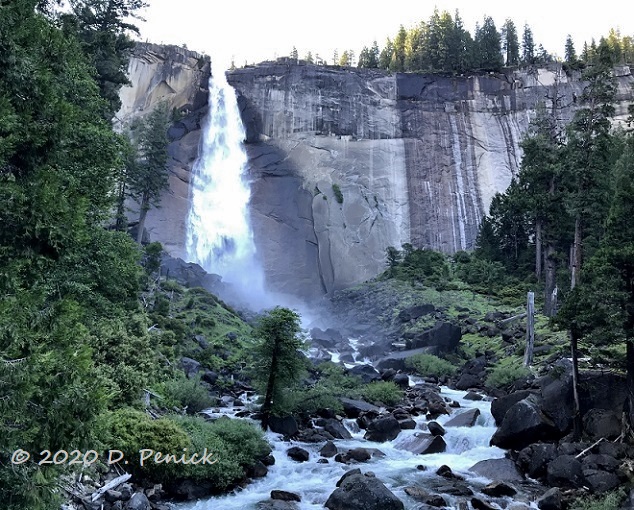 Nevada Fall, the second big waterfall on the ascending trail. (Because of Covid-19, Yosemite has made the route partially one-way, and the descent takes a different trail above this waterfall.)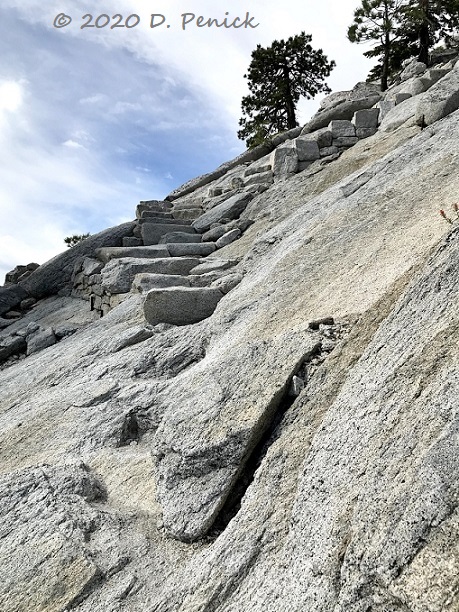 Rough stone steps on the granite sub-dome just below Half Dome.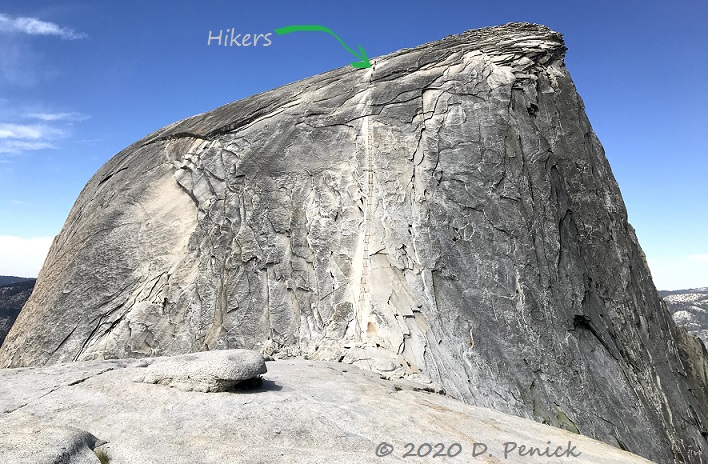 And then you reach the infamous cables along the back shoulder of Half Dome. For 400 feet, you climb slippery-smooth bare rock at a 45-degree incline, aided by two waist-high steel cables secured by stanchions bolted into the rock.
If this sounds like fun to you, well, my husband would probably like to shake your hand. Someday. When we can all shake hands again. Speaking of Covid, David says trail traffic was pretty light, and all going the same way, so it was fairly easy to distance himself from others. Once he got to the narrow cable trail, he encountered a couple people coming down and resorted to holding his breath and turning his head away as they passed. Not ideal, but he had to focus on not slipping, as did everyone else.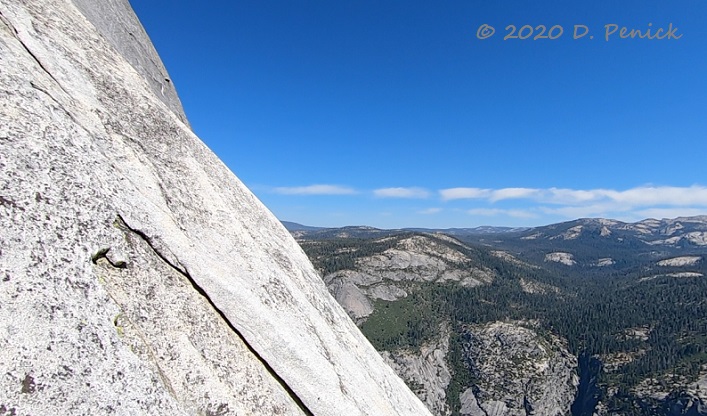 The angle of the climb — steep!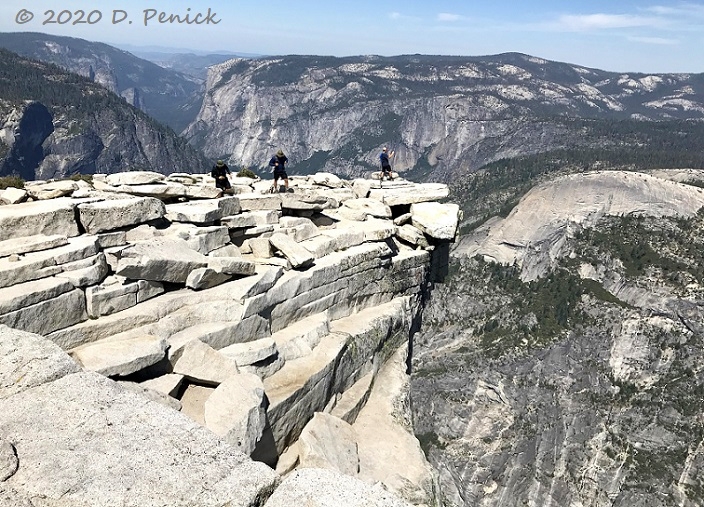 And then he reached the top. I get vertigo just looking at this photo of people on the crumbling edge.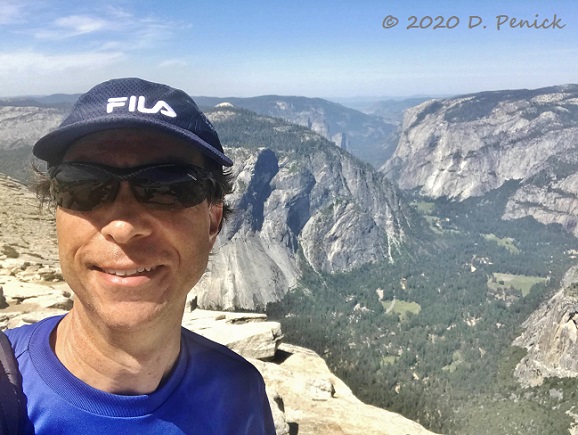 But he waited his turn and got his own triumphant selfie.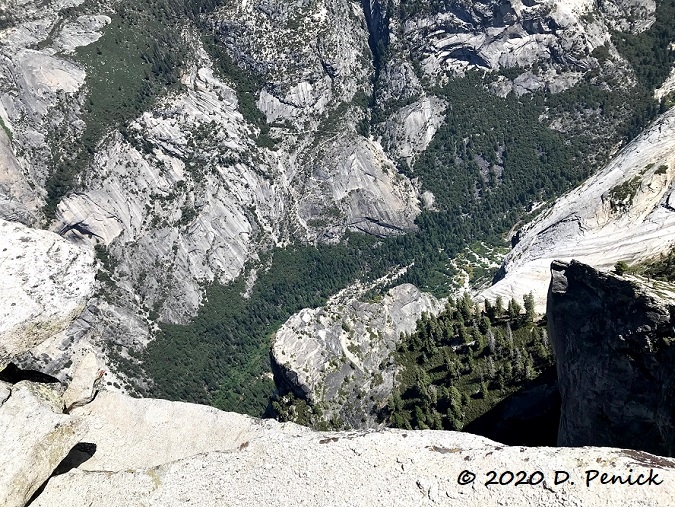 Insanely, he even peeked over the sheer face of Half Dome at the valley far, far below, where J. and I were still lounging on Cathedral Beach, post picnic brunch, and watching other people's kids playing in the water. At around 10:40 a.m. my phone rang, and it was David, calling from the summit. The connection was glitchy, and I could only catch every few words.
While I was straining to hear him, the sandy ground beneath our picnic blanket began gently jouncing up and down, like a bed when little kids jump on it. Confused, I looked behind me, trying to understand how that many people could be clomping down to the beach to make the ground shake like that. Wait, that doesn't make sense. The ground continued to jiggle in a most un-ground-like way. With dawning astonishment I shouted, "Earthquake!"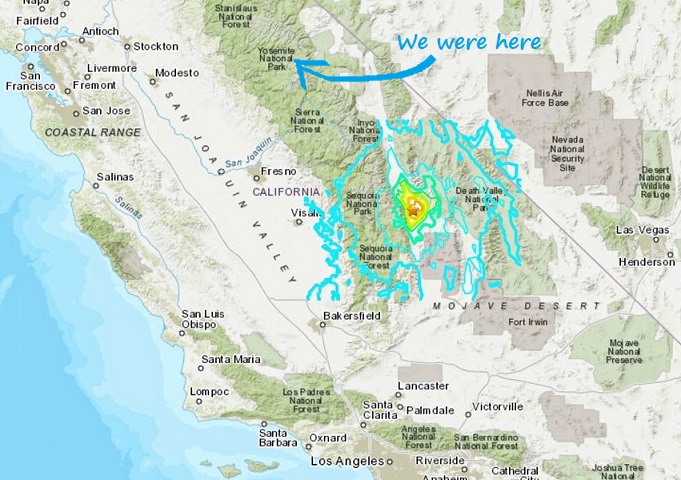 I jumped to my feet, said, "Come on!" to my daughter, and sprinted out from under the trees (would they fall? would the quake get worse?) onto open beach, the phone still pressed to my ear. "What?! You've got to be kidding me!" I heard my equally astonished husband saying from the sheer edge of Half Dome, where he felt the rocks move slightly. Then the ground stopped moving, and I could hear that my husband was still alive and calm and not falling off the cliff.
Turns out it was a 5.8 magnitude earthquake centered in Lone Pine, California, about 119 miles away as the crow flies. A family from San Francisco who were also on the beach, after expressing admiration at my fleetness, said the quake was a "pretty good-sized one." When I explained, breathlessly, that we were from Texas, the husband nodded sagely and said, "Ah, that's not something you get there, is it?" No. No, it is not. Also, once was enough.
The rest of the day we talked about the experience and cracked up over my startled reaction, and when David was safely down, hours later, we marveled that he happened to be on the sheer edge of Half Dome when it hit. Of all the crazy timing.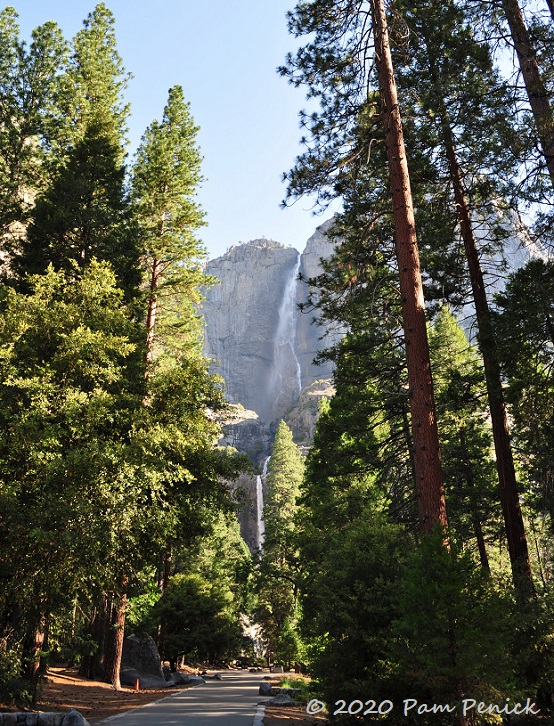 While waiting for him to hike down, we walked the trail to Yosemite Falls, a double cascade that flows thunderously in spring, falls in two white plumes in early summer, and dries up in late summer.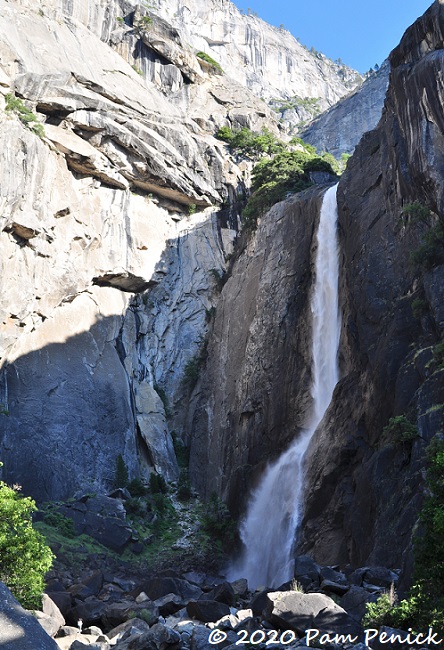 The lower fall crashes into a boulder-strewn riverbed.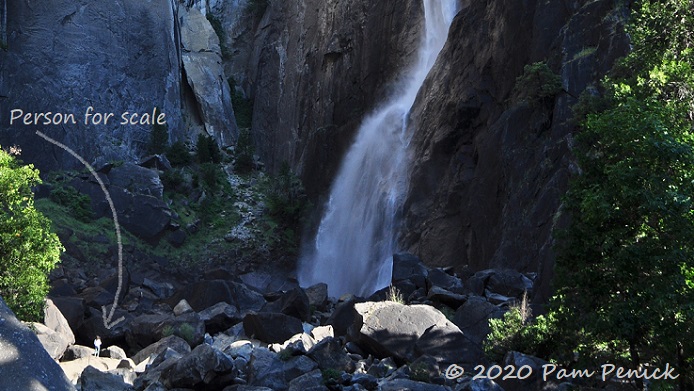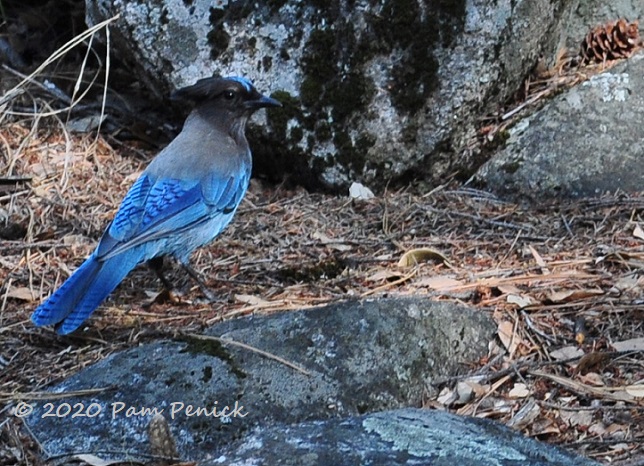 Along the wooded trail we admired azure-feathered Steller's jay.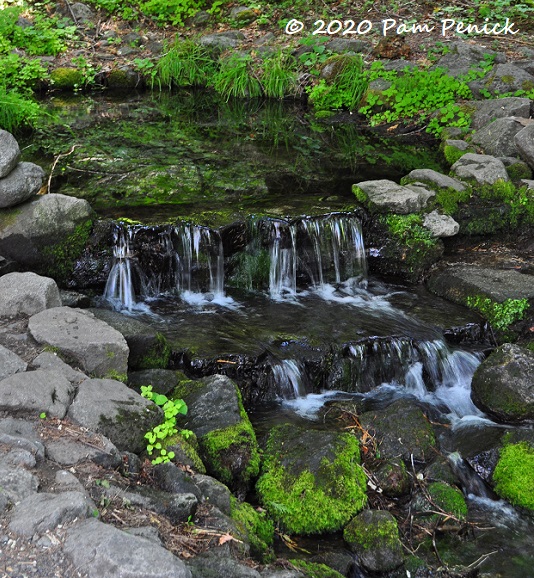 Along the valley road we spotted Fern Spring, a small pool with two lilliputian waterfalls. We were astonished to see a woman get out of her car here, bend to fill her water bottle, and take a swig. Is it really that clean, I wondered?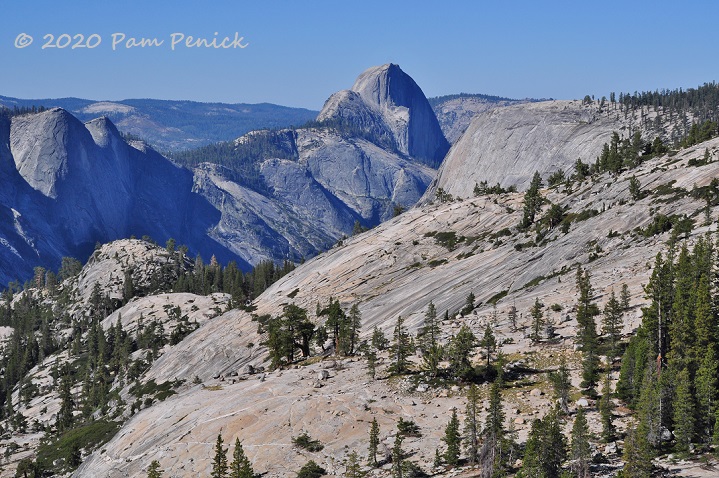 J. and I also hiked around Cook's Meadow that day, but I'll save those images for my final post. Let's finish out this one with a few more pics of majestic Half Dome, as seen from a trail at Olmsted Point along Tioga Road.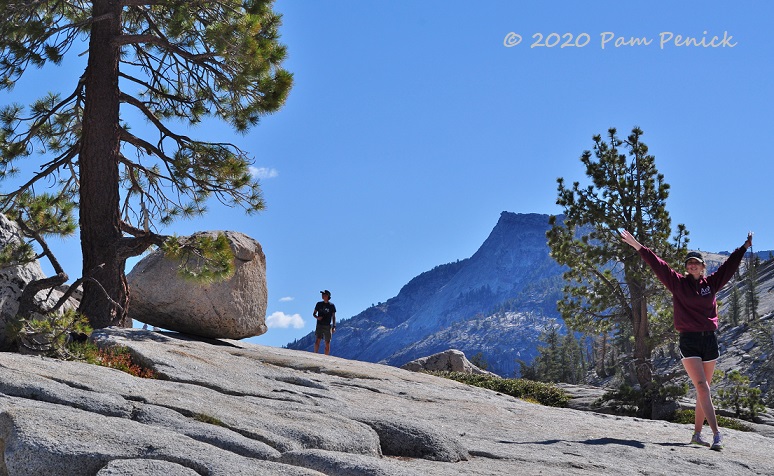 Elevation: 8,300 feet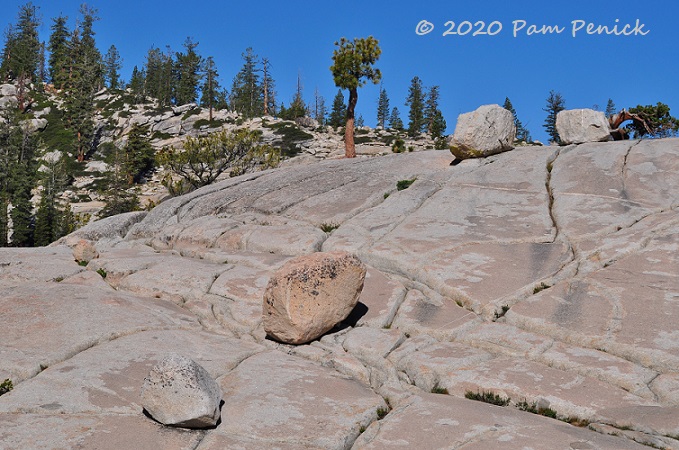 Boulders stranded by the last glacier as it retreated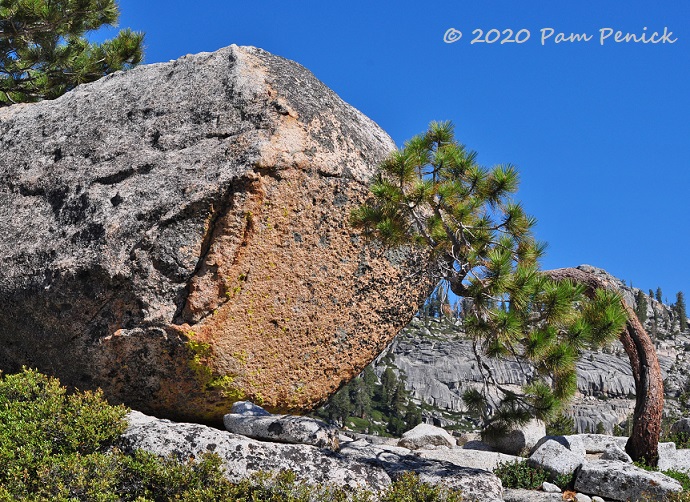 Inspiration for Japanese gardens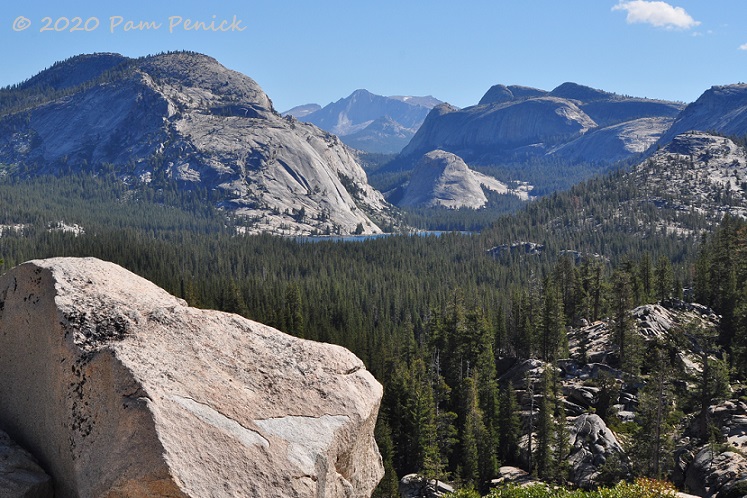 Lake Tenaya just barely visible beyond the trees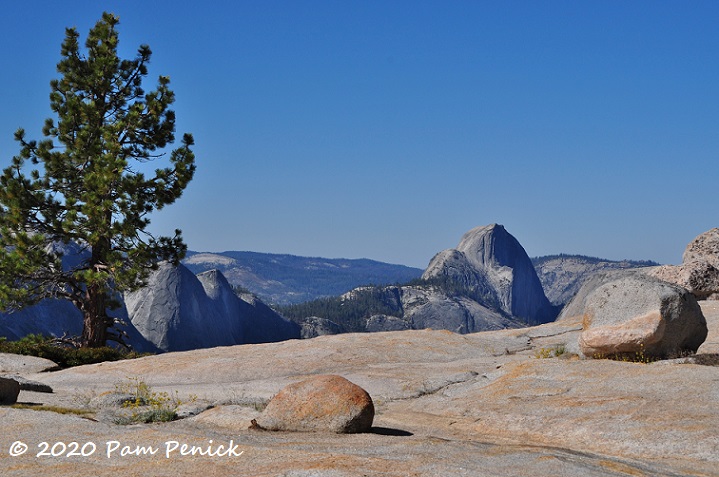 More stranded boulders and Half Dome in the distance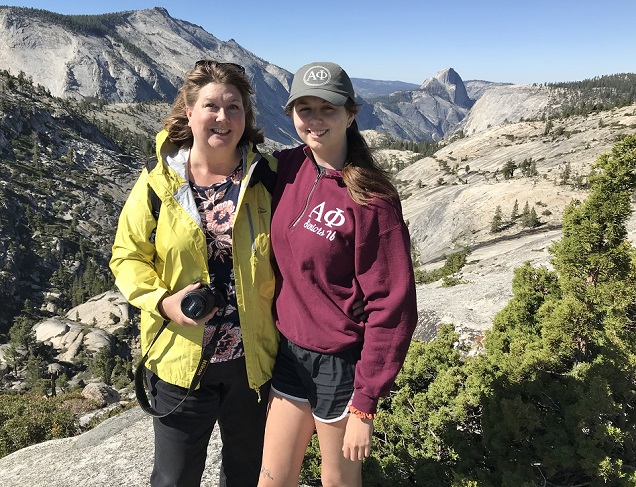 Feeling pretty pleased with our trip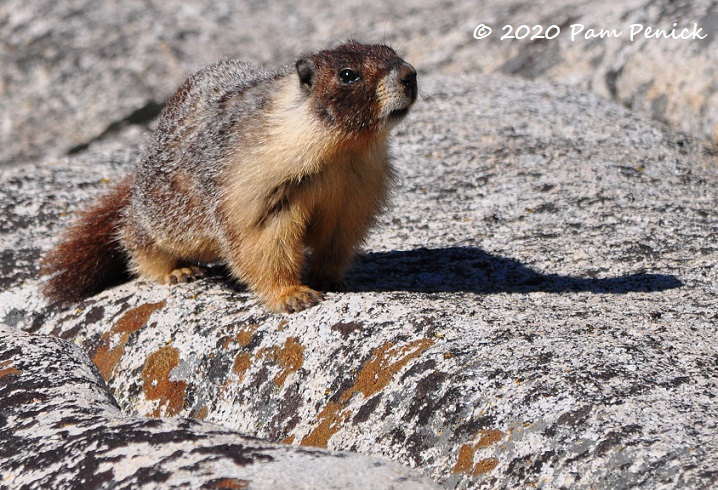 We spotted a cute, furry marmot here. I'm pretty sure he was sneaking up on us to see if we had any food to steal.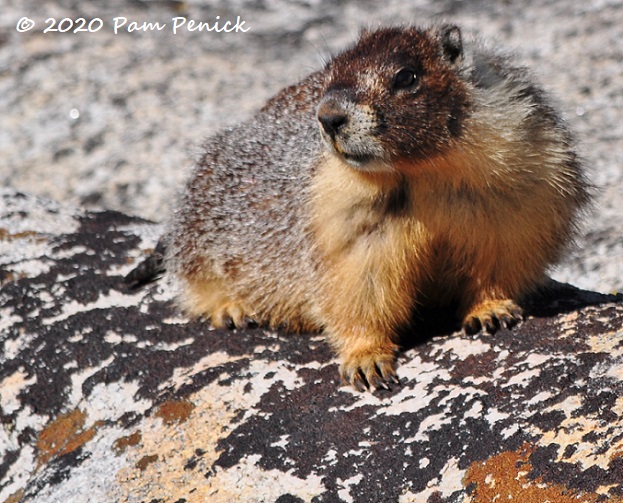 Sorry, marmot. Keep wildlife wild.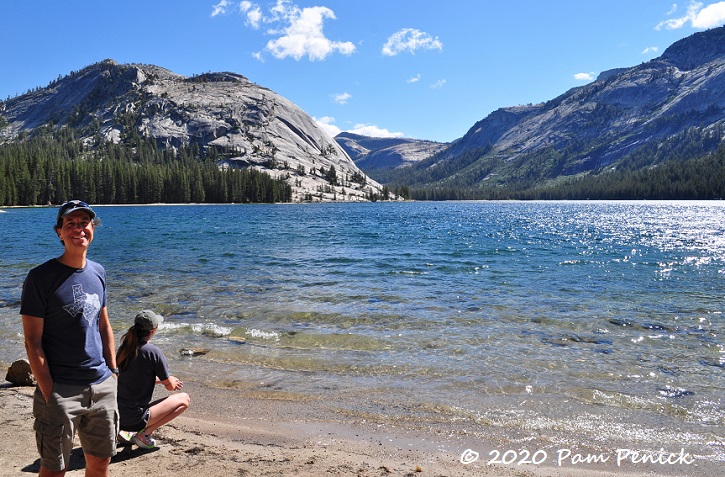 At Lake Tenaya we enjoyed the alpine scenery: a sapphire lake surrounded by granite domes and cliffs.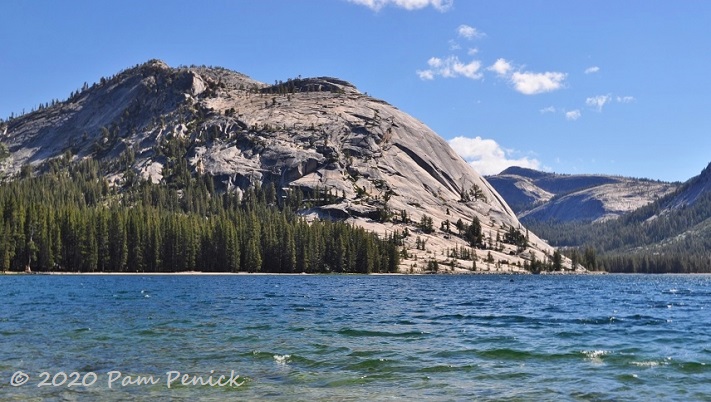 It was breezy enough to create whitecaps.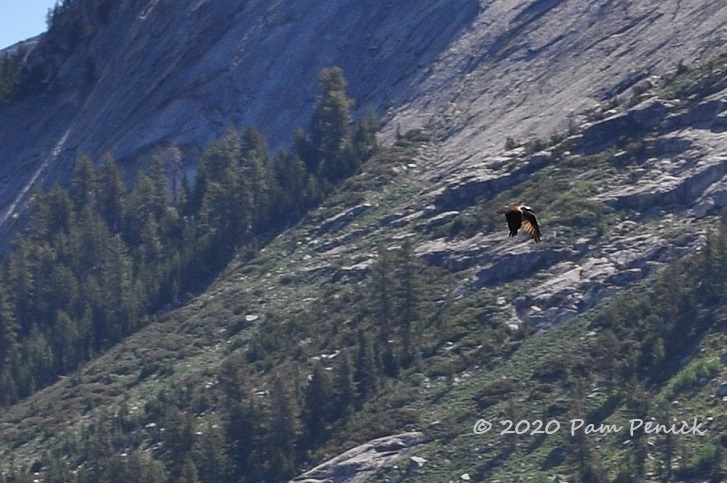 A raptor of some kind swooped low over the lake, and then we saw it dive.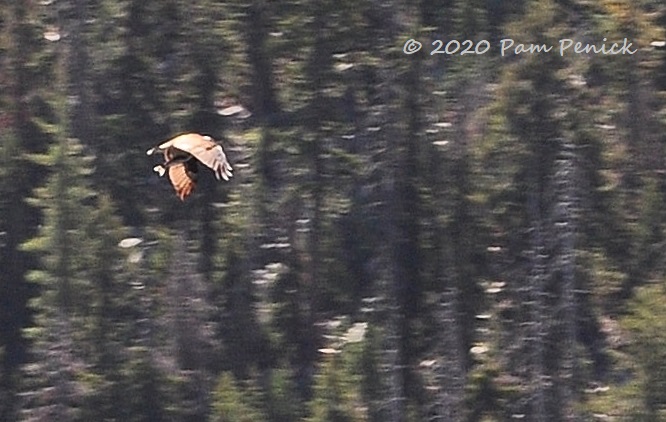 It flew away with its prize: a fish! You can just see the tail under the bird's own tail.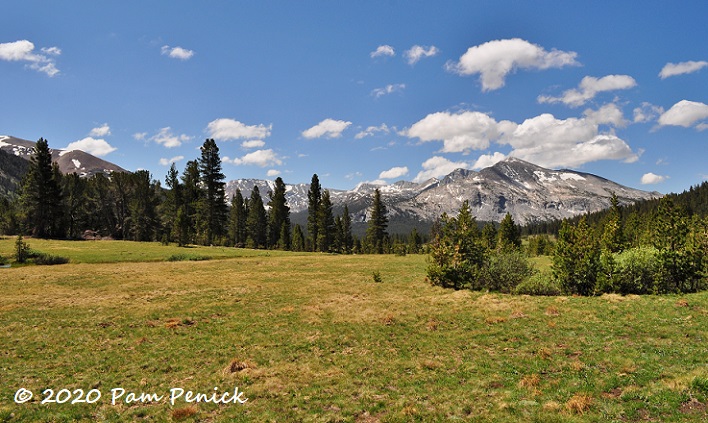 Picturesque Tuolumne Meadows glowed golden-green against a backdrop of dark firs and snow-patched peaks. What a beautiful place!
Up next: My final post about Yosemite: Cook's Meadow and its flora and fauna. For a look back at my introductory post about Yosemite, click here.
I welcome your comments; please scroll to the end of this post to leave one. If you're reading this in a subscription email, click here to visit Digging and find the comment box at the end of each post.
_______________________
Digging Deeper: News and Upcoming Events
Join the mailing list for Garden Spark! Hungry to learn about garden design from the experts? I'm hosting a series of talks by inspiring garden designers, landscape architects, and authors a few times a year. Held in Austin, the talks are limited-attendance events that sell out quickly, so join the Garden Spark email list to be notified in advance. Simply click this link and ask to be added.
All material © 2020 by Pam Penick for Digging. Unauthorized reproduction prohibited.
[ad_2]

Source link