[ad_1]

November 17, 2020
Fall pounced on Austin quickly this year, then retreated for nearly a month, and then dashed back in, ushering in a brief flare of color. We'd planned to visit Lost Maples this month in hopes of seeing the bigtooth maples flaming red and orange, but we missed that window because reservations were so hard to get.
Still, I got my fill of leaf-peeping last week at the Lady Bird Johnson Wildflower Center, where I was greeted by these smoldering flameleaf sumacs (Rhus lanceolata). As you'll see, I also enjoyed a few bigtooth maples in full color, but that'll be in Part 2 of my post.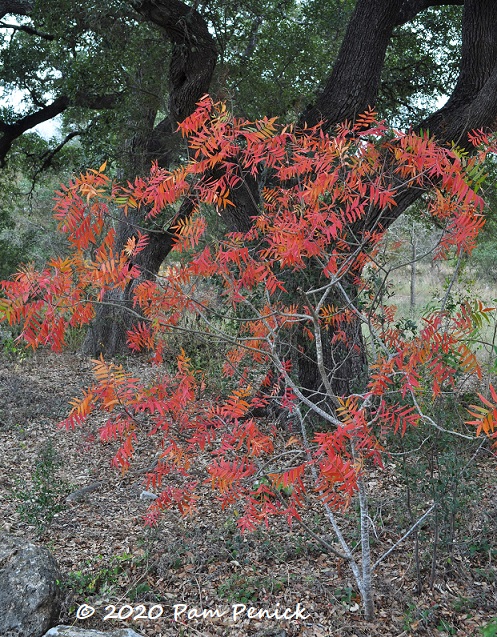 Flameleaf sumac lives up to its common name in autumn. For those not familiar with the Wildflower Center, all plants grown here are native to Texas, and you'll often see them growing wild in greenbelts and state parks.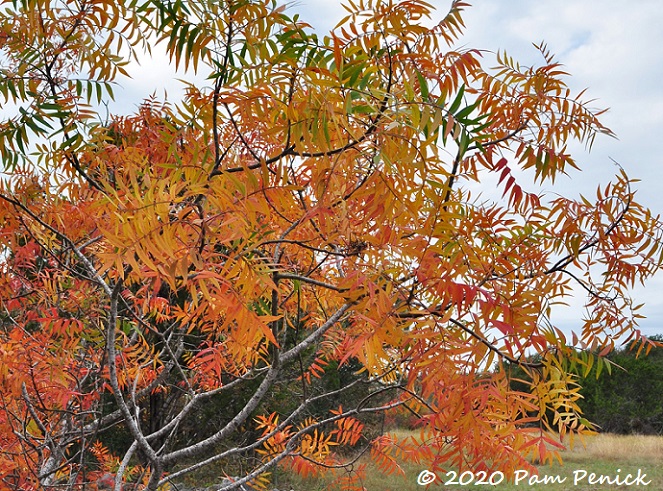 A thicket of sumacs near the parking lot were putting on a bright show.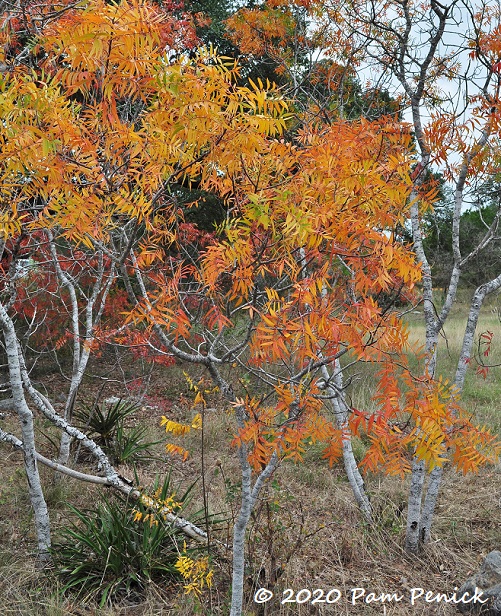 Contrasting with their pale gray trunks, the leaves look even prettier.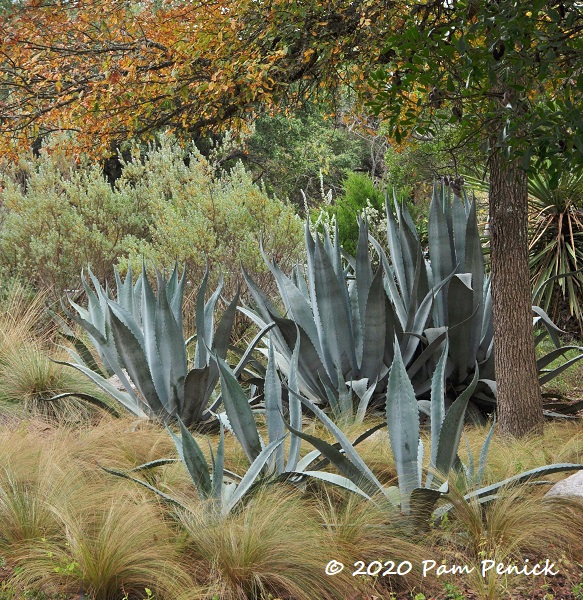 Silver agaves lounge in a soft bed of tawny Mexican feathergrass, under the orangey leaves of a cedar elm.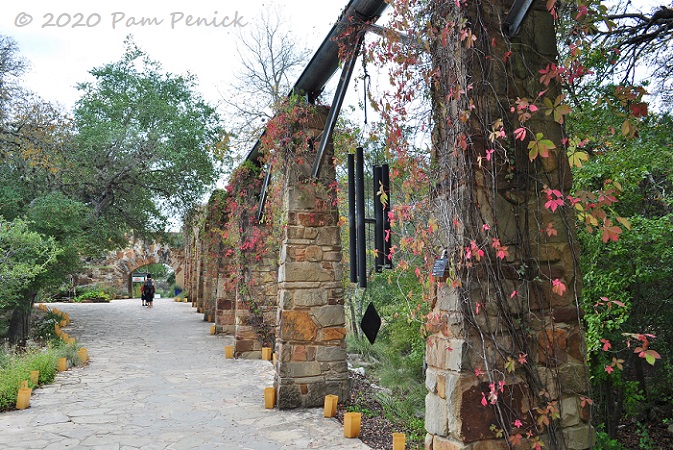 The aqueduct is festooned with red leaves of Virginia creeper. Luminarias already line the path for the holiday show Luminations.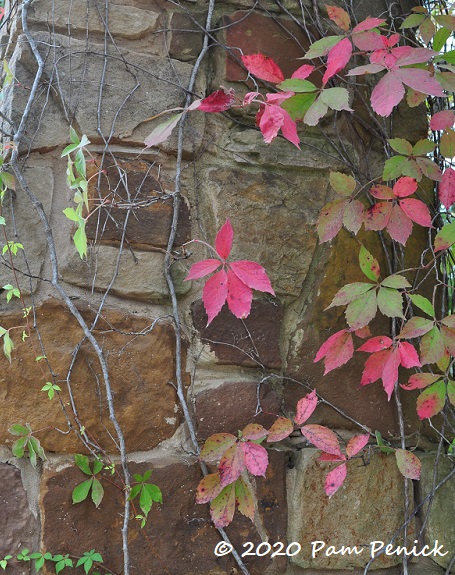 Virginia creeper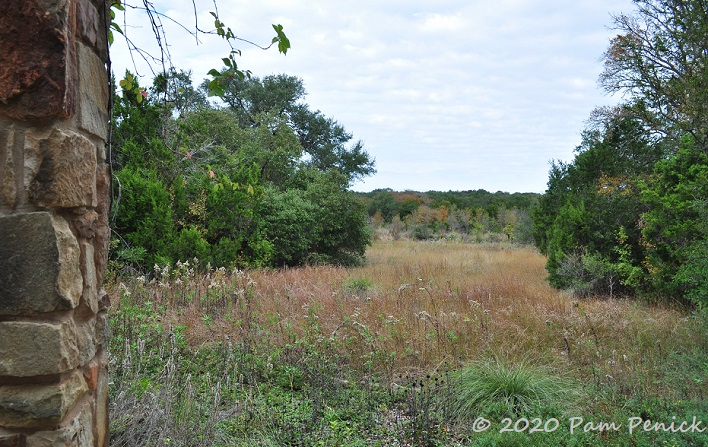 Meadow view between aqueduct columns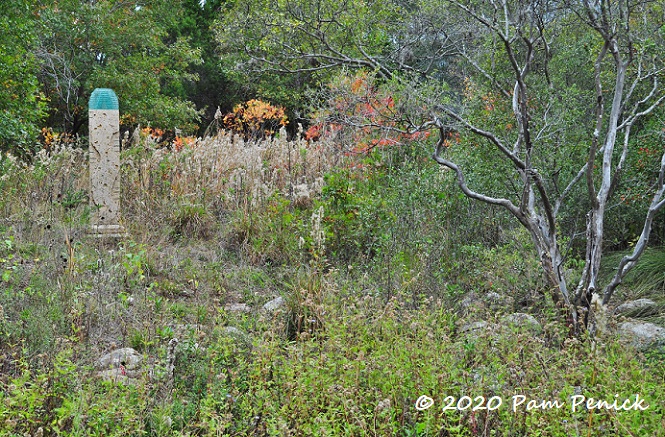 On the other side of the walk you see a smaller meadow with a limestone-and-glass sculpture.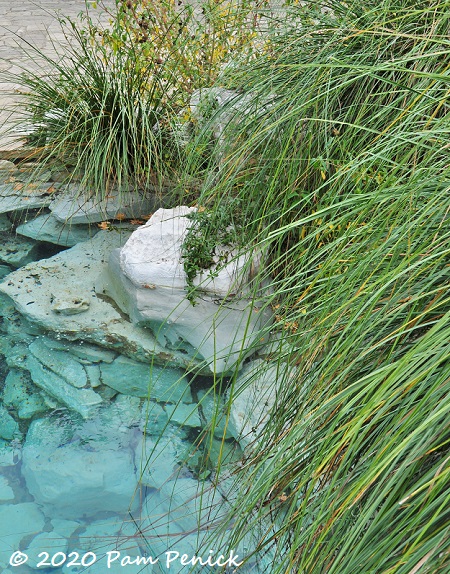 At the spring-like pool in the main courtyard, something perched on the melted-marshmallow rock caught my eye…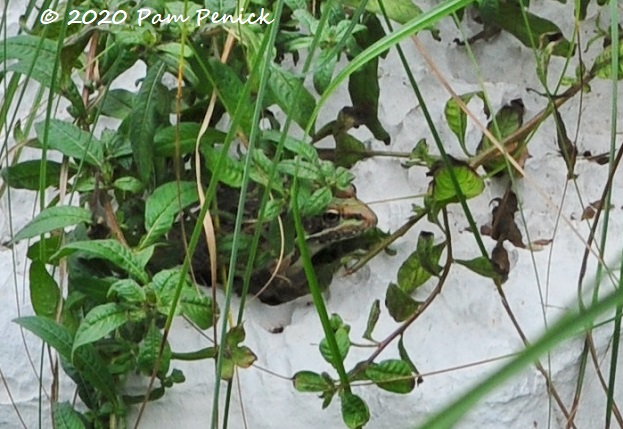 …a frog in hiding. I see you!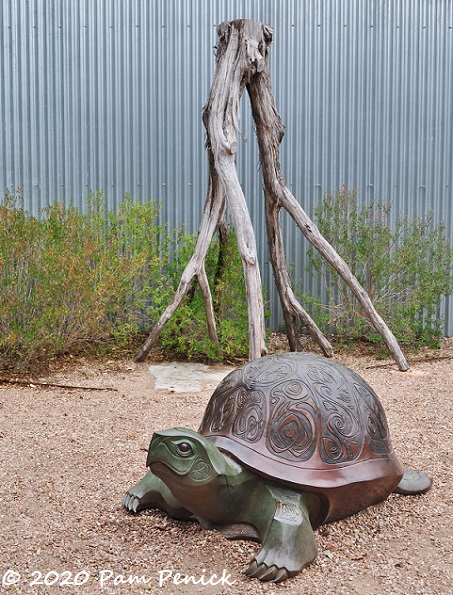 A jacquard-shelled tortoise sculpture resides in the courtyard by the kid-friendly Little House.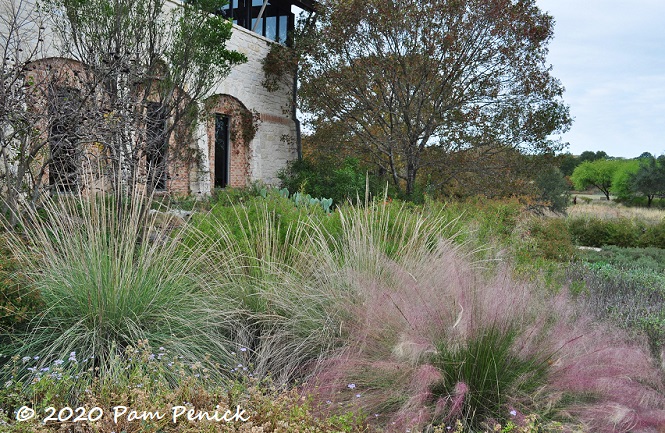 Grasses shine in autumn, of course, like Gulf muhly (Muhlenbergia capillaris) and Lindheimer muhly (Muhlenbergia lindheimeri).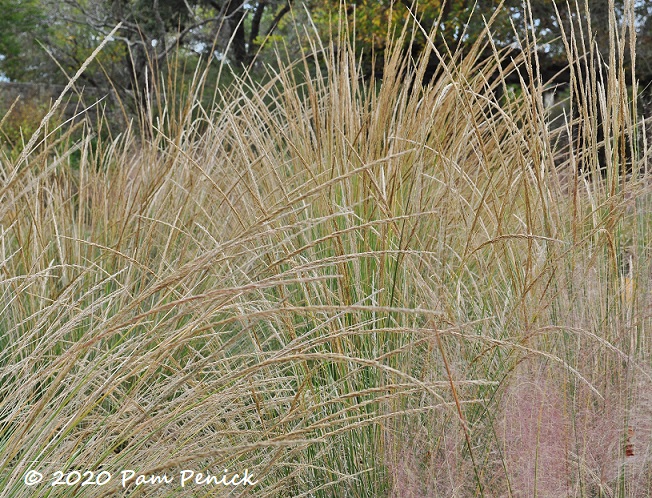 You can't help trailing your fingers through them.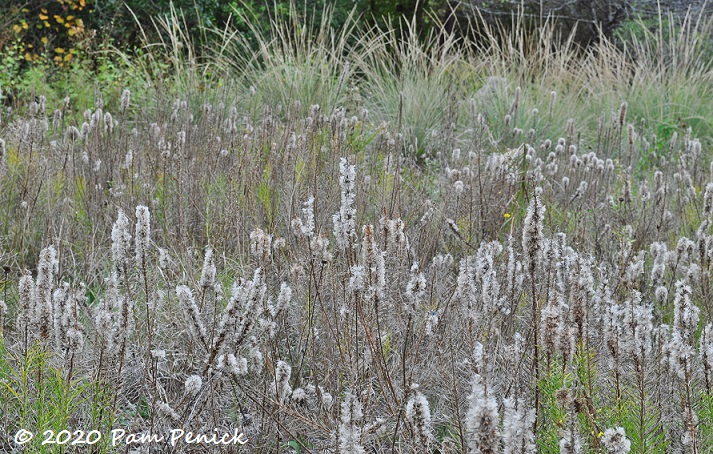 Fuzzy bottlebrushes of spent liatris flowers adorn a meadow with muhly grasses.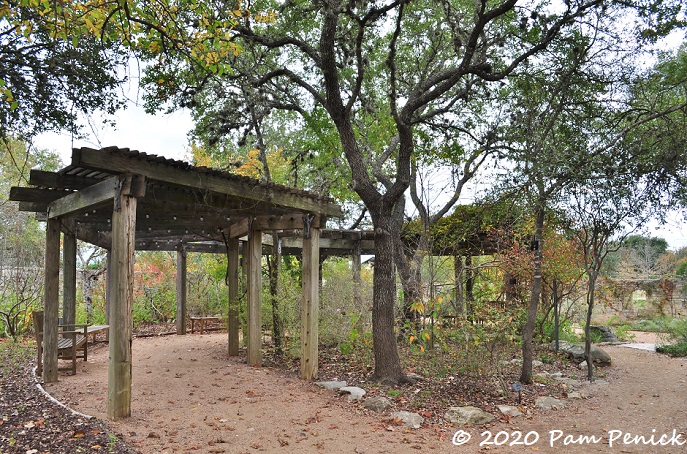 The curved arbor in the Woodland Garden…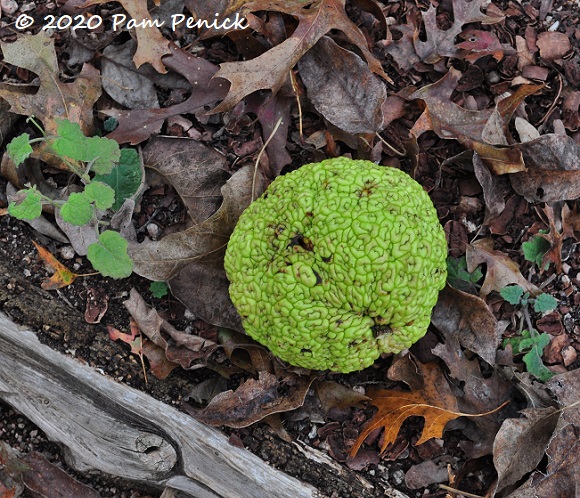 …where brain-like horse apples, the fruit of an osage orange tree (Maclura pomifera), litter the ground.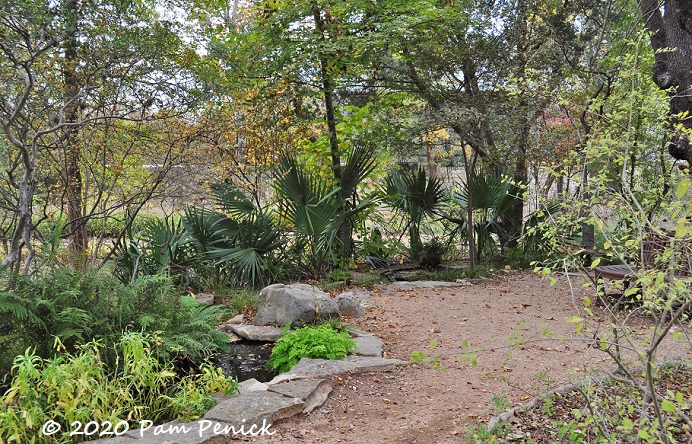 Dwaf palmettos (Sabal minor) line the moist edge of the stream.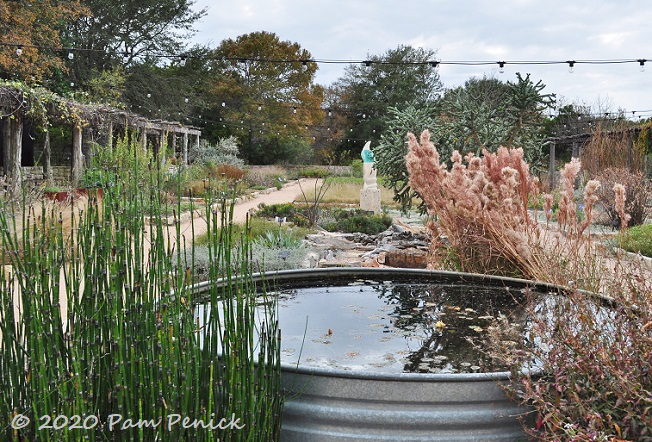 Ah, a stock-tank pond in the Theme Gardens brings back fond memories.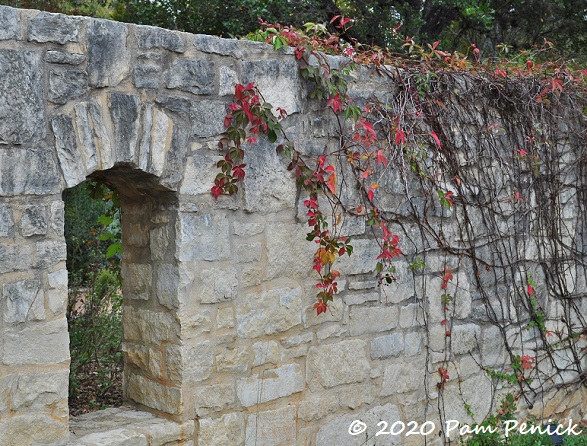 Virginia creeper tracing thin arteries of color on a limestone wall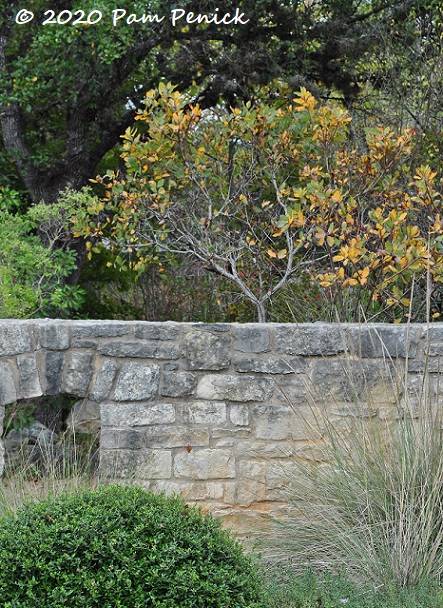 A yellowing sycamore-leaf snowbell (Styrax platanifolius) pokes its head above a low wall.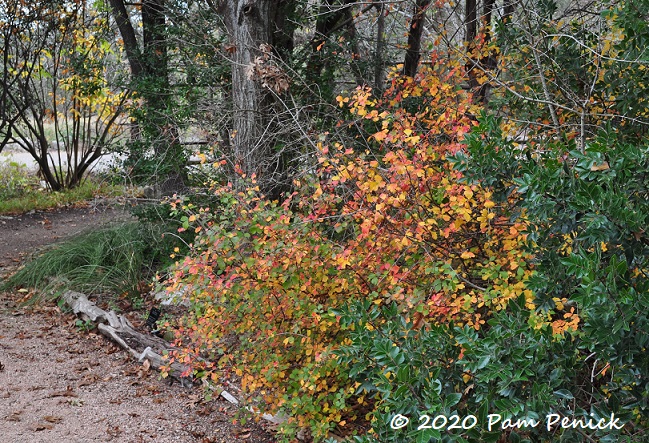 But what's this? Check out that stunning color — in a wooded garden, no less. I looked around for a plant tag and could find none.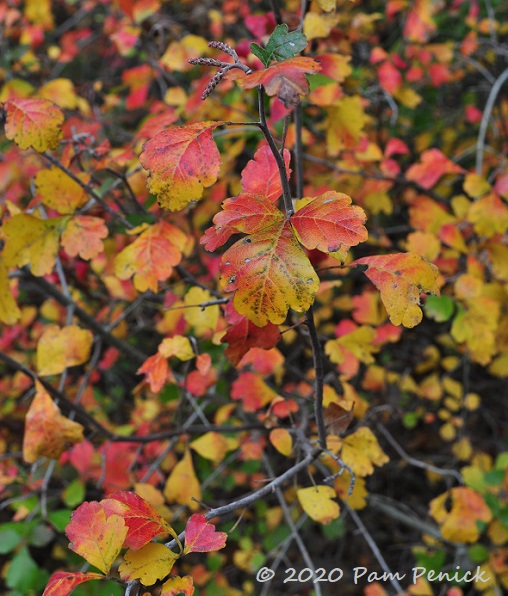 It's fragrant sumac (Rhus aromatica), with thanks to Lori for the ID!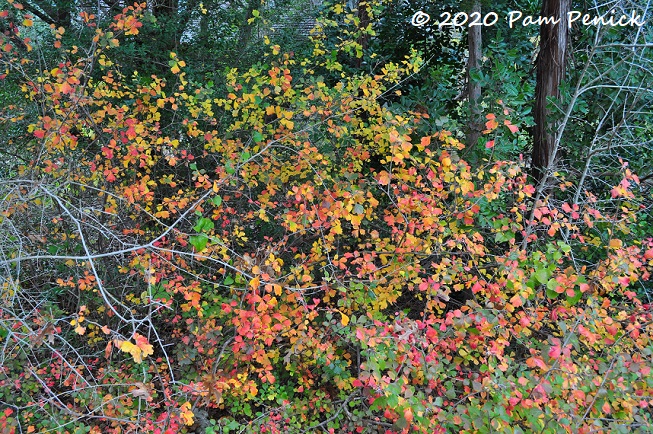 A pointillist's dream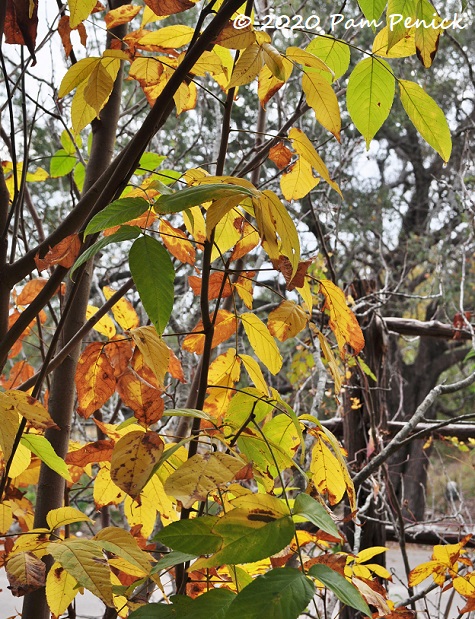 A Mexican buckeye (Ungnadia speciosa) still hanging onto yellowing leaves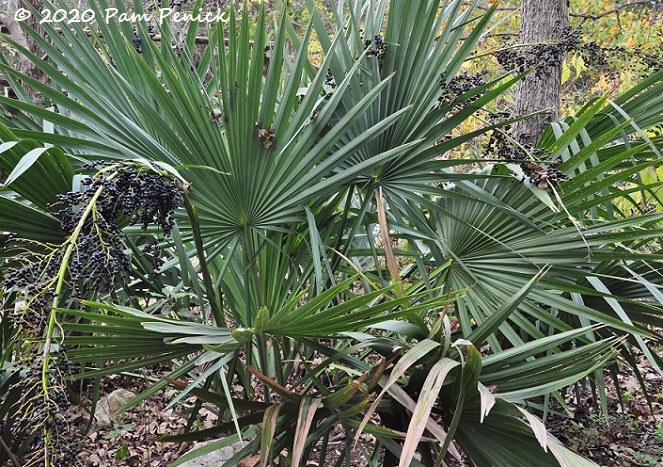 Another dwarf palmetto, with sprays of black fruit that birds and mammals love to eat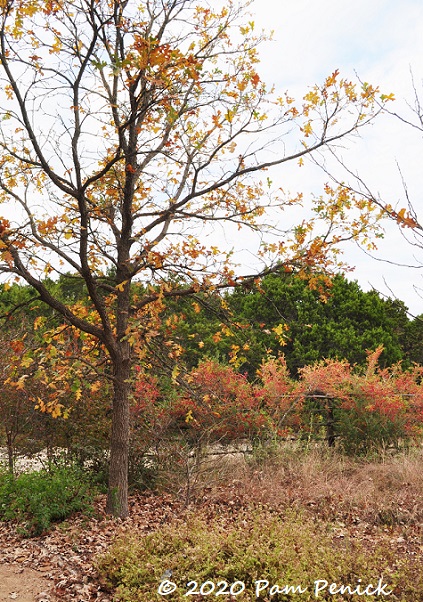 A nearly naked bur oak reigns over a fencerow of red-berried possumhaw hollies.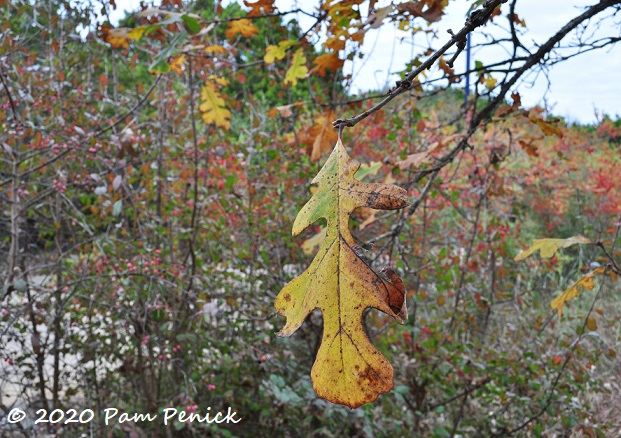 Going, going, nearly gone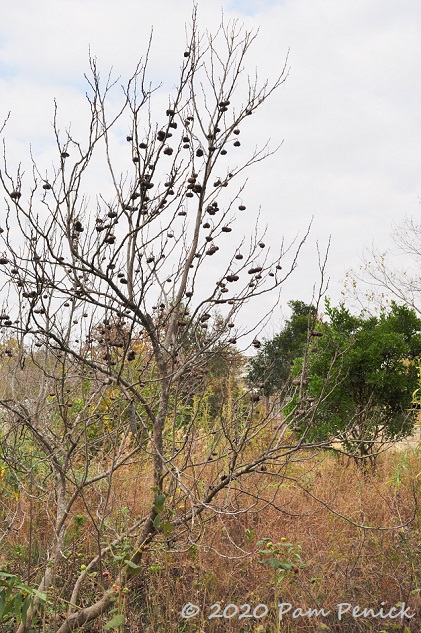 This Mexican buckeye already shed its leaves, but it's easy to identify thanks to dangling, dark-brown seedpods. They rattle when you shake them.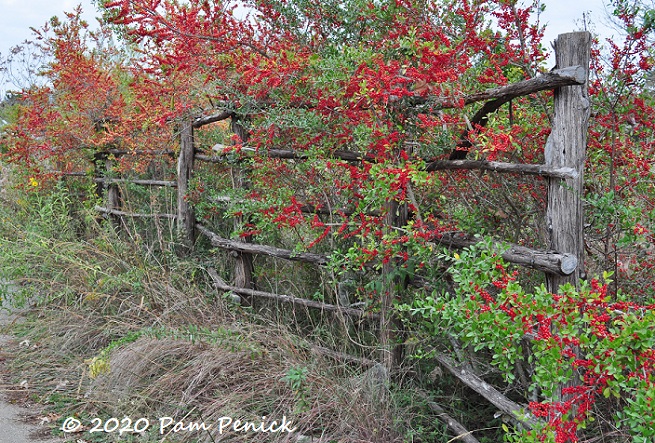 Fiery color from possumhaw holly (Ilex decidua) berries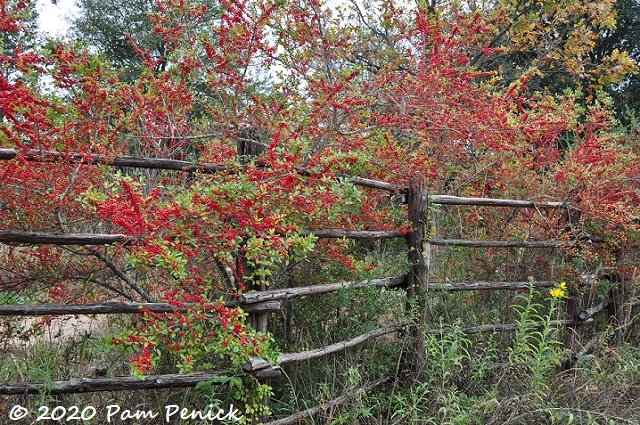 Cedar waxwings will be feasting on these this winter.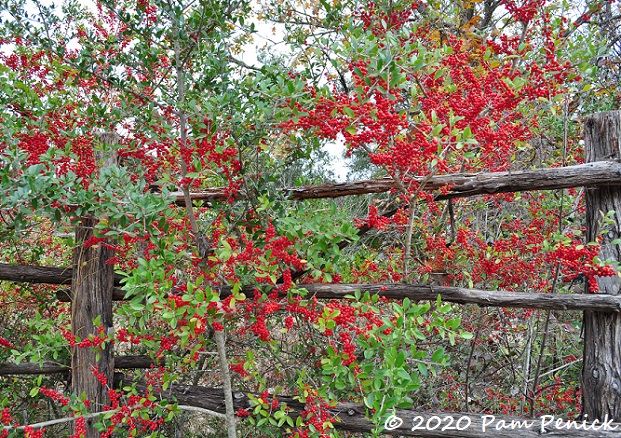 Ka-pow!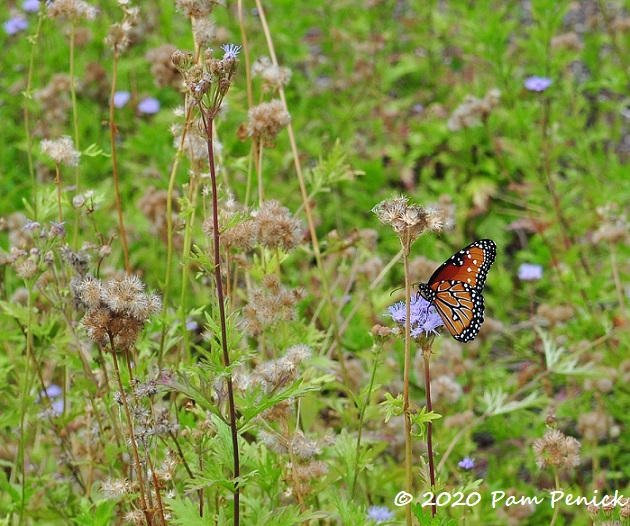 In a patch of Gregg's mistflower (Conoclinium greggii), a queen butterfly made the rounds…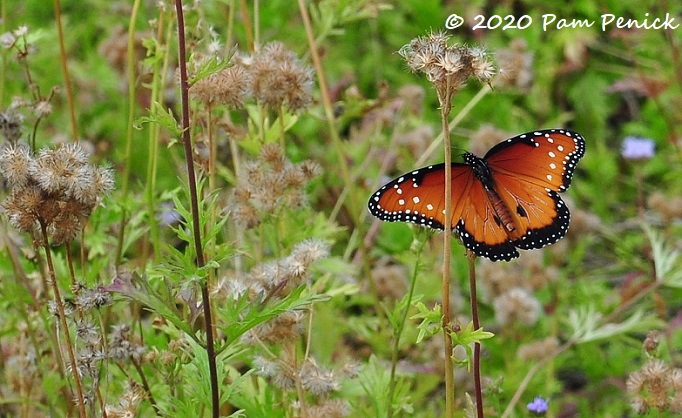 …adding fall color of her own.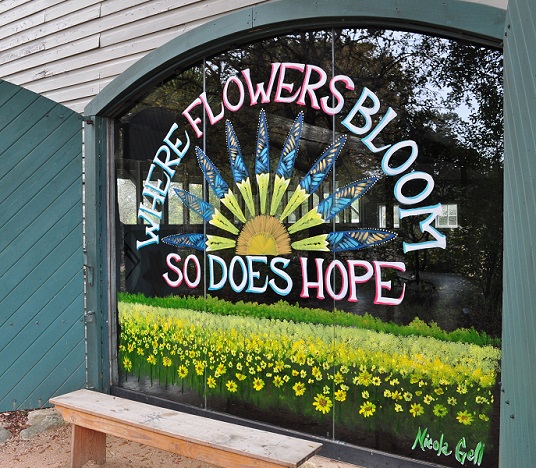 "Where flowers bloom, so does hope," said founder Lady Bird Johnson. True enough, but fall's foliage is a source of joy too.
Up next: Part 2 of my leaf-peeping visit to the Wildflower Center, with bigtooth maples in their fall finery.
I welcome your comments; please scroll to the end of this post to leave one. If you're reading this in a subscription email, click here to visit Digging and find the comment box at the end of each post.
_______________________
Digging Deeper: News and Upcoming Events
Join the mailing list for Garden Spark! Hungry to learn about garden design from the experts? I'm hosting a series of talks by inspiring garden designers, landscape architects, and authors a few times a year. Held in Austin, the talks are limited-attendance events that sell out quickly, so join the Garden Spark email list to be notified in advance. Simply click this link and ask to be added.
All material © 2020 by Pam Penick for Digging. Unauthorized reproduction prohibited.
[ad_2]

Source link