[ad_1]

August 18, 2020
Our elevated deck offers a nice overhead view of the Circle Garden. And as I recently discovered, when you climb a stepladder on the deck, you can get almost the whole garden in the frame, including the new rose and salvia planting at the base of the deck. Just don't fall off.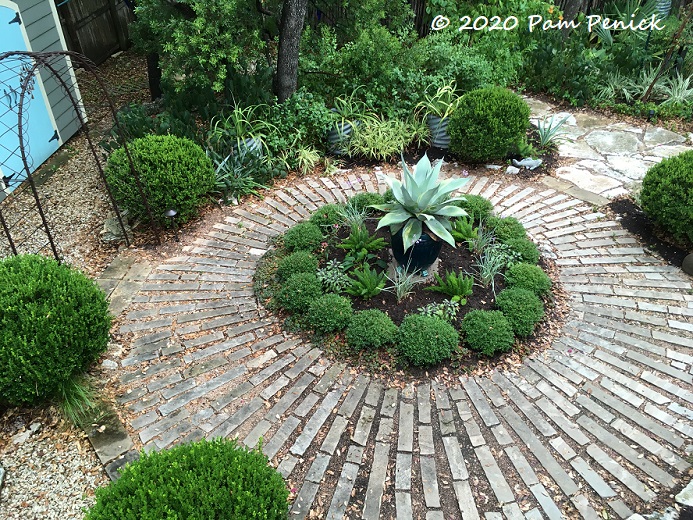 'Winter Gem' boxwoods, after 11 years finally at the size I envisioned when I planted them as tiny 1-gallons, anchor the four doorways into the circle. Miniature 'Micron' yaupon hollies ring the center bed, where a variegated whale's tongue agave (A. ovatifolia) has pride of place.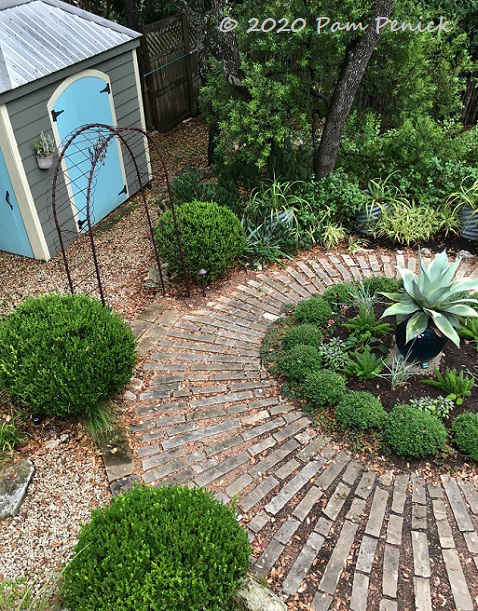 Everyone asks about the sunburst path around the circle. It's made of chopped stone.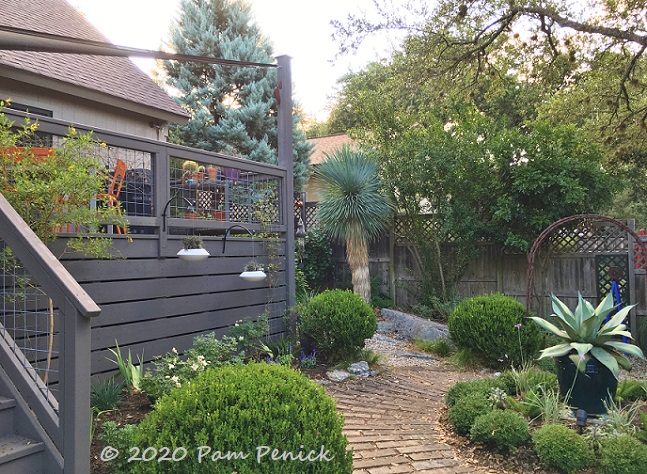 The new rose bed is in its infancy (where I pulled out bamboo muhly grasses that had grown overwhelmingly large), but the 'Icecap' roses are supposed to stay small. So I decided to fly in a couple of round UFO planters — what else?? — to help tie the ground level to the deck.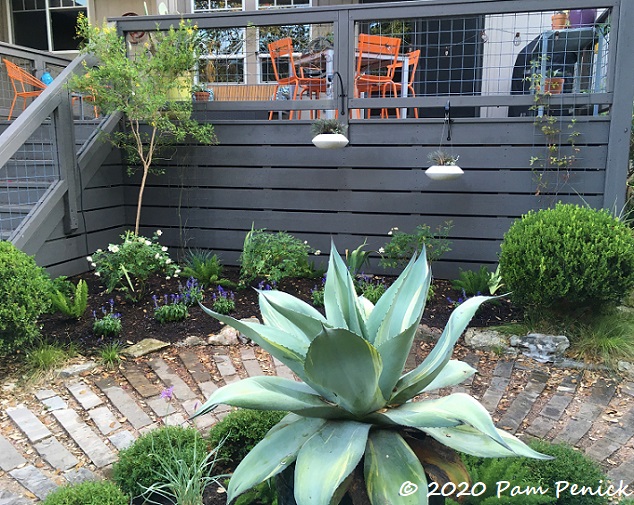 They're Orbit planters from one of my favorite garden shops, Los Angeles's Potted (yes, they have an online shop), and aren't they fun? 'Frazzle Dazzle' dyckia and silver ponyfoot pilot the two flying saucers. I'm hopeful that soon the ponyfoot will cascade over the rim like Spanish moss.
I welcome your comments; please scroll to the end of this post to leave one. If you're reading this in a subscription email, click here to visit Digging and find the comment box at the end of each post.
_______________________
Digging Deeper: News and Upcoming Events
Garden Bloggers Fling, the online community and annual meet-up for garden bloggers since 2008, has expanded to include garden vloggers, podcasters, and Instagrammers. Check out their announcement AND their newly revitalized Instagram page, which is sharing pics from past Fling tours as well as community member profiles.
Join the mailing list for Garden Spark! Hungry to learn about garden design from the experts? I'm hosting a series of talks by inspiring garden designers, landscape architects, and authors a few times a year. Held in Austin, the talks are limited-attendance events that sell out quickly, so join the Garden Spark email list to be notified in advance. Simply click this link and ask to be added.
All material © 2020 by Pam Penick for Digging. Unauthorized reproduction prohibited.


[ad_2]

Source link