[ad_1]

August 20, 2020
No, I have not recently traveled to Chicago (I wish!). But I did just come across photos from the 2009 Garden Bloggers Fling in Chicago and was stunned to realize I'd never written about one of the gardens we visited: the home garden of chef, restaurateur, TV show host, and cookbook author Rick Bayless.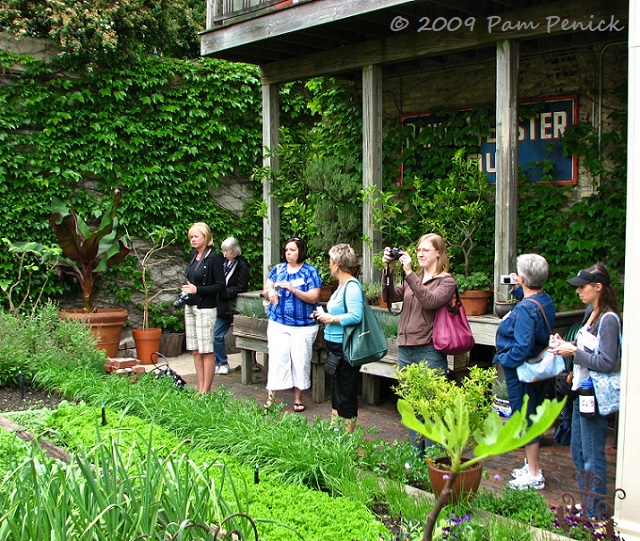 In 2009 I didn't know anything about Rick Bayless, who hosts the PBS cooking show Mexico–One Plate at a Time and owns several Mexican restaurants in Chicago, including Frontera Grill and the Michelin-starred Topolobampo. But I could tell he was a big deal from the reactions of some of my fellow bloggers, especially the foodies.
Bayless lives in-town in Chicago, with two or three lots behind his house, allowing space for an extensive vegetable garden plus an arbor-covered deck, fishpond, and grilling kitchen. Here we are, listening to garden manager Bill Shores explaining that the garden produces $20,000 worth of food each year for Bayless's restaurants.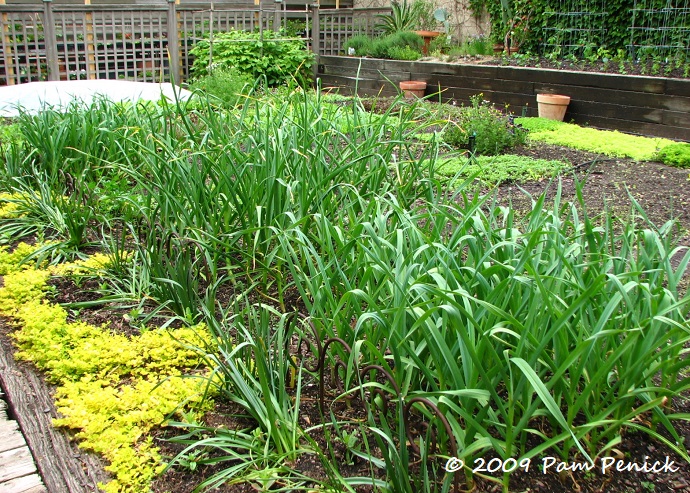 In late May 2009 it was still cool, so the edible garden was not yet in full, lush growth.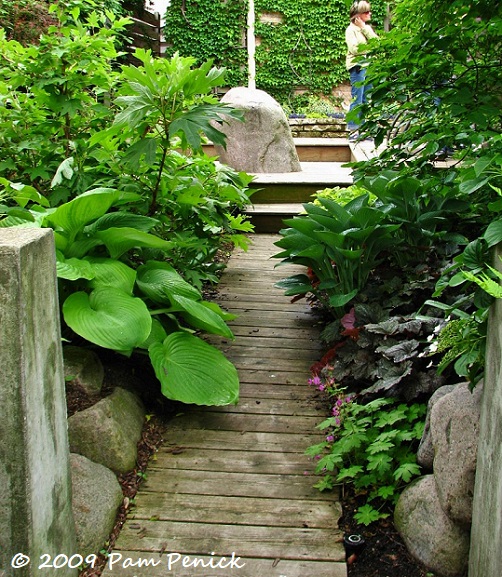 The rest of the garden sure looked lush and full though, including this shady path lined with bold foliage.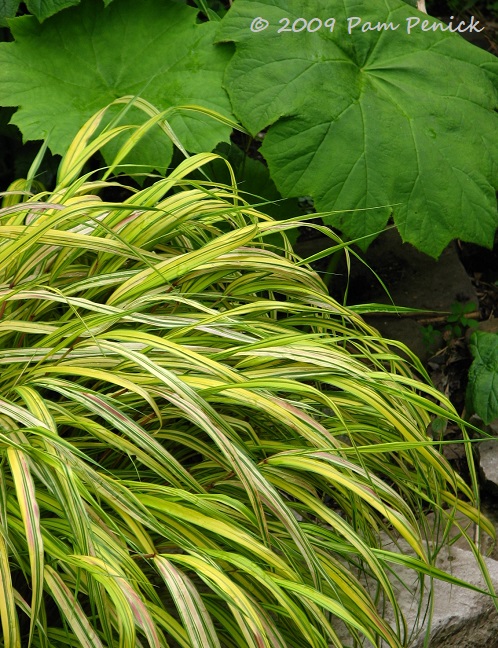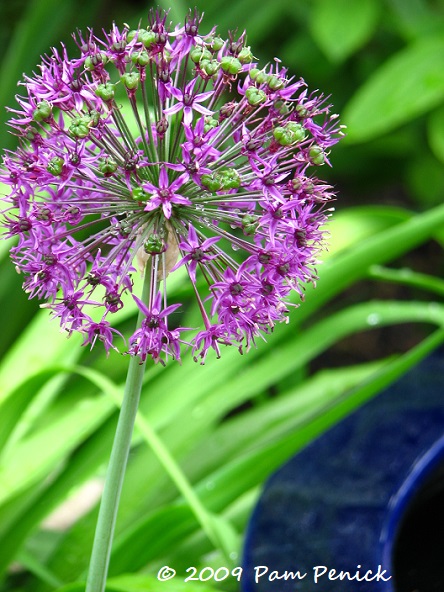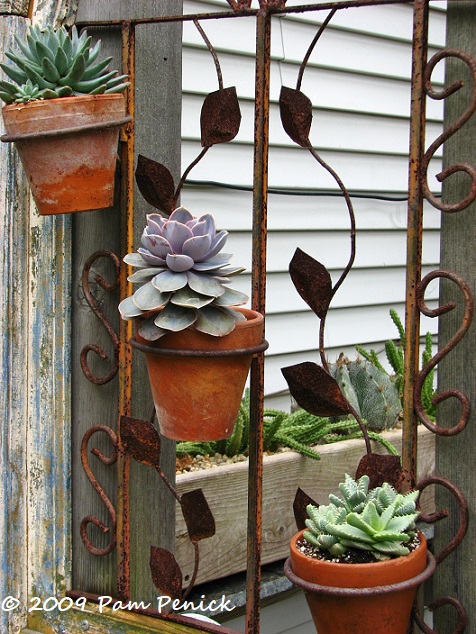 Mostly I took close-ups of details that appealed to me. I remember thinking there were too many people in the garden to get photos of the overall layout. But I know better how to do that now.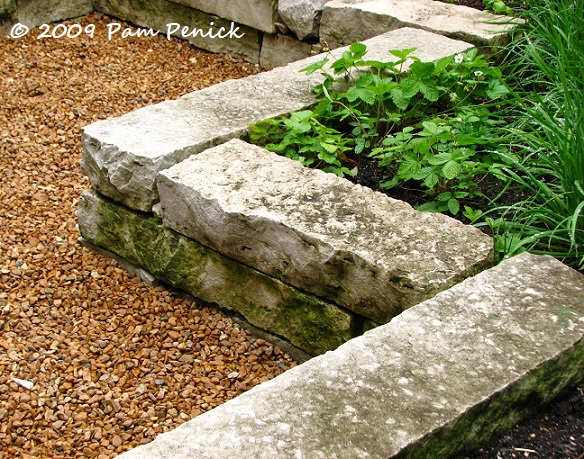 Still, the details are appealing, like this stacked, chopped-limestone edging.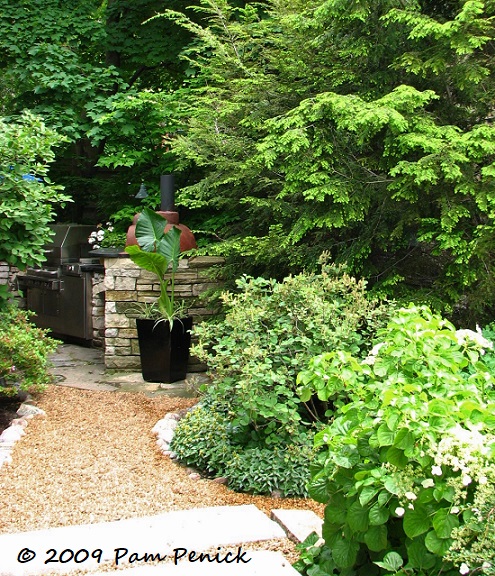 And this pretty path to the grill. This is probably the latest Fling post ever! But better late than never, right?
Why the trip down memory lane?
If you're wondering why I was going back through my old Fling photos, I hope you'll check out the newly refreshed Instagram page for Garden Bloggers Fling and give it a follow! Each Thursday we're sharing pics of past Flings in our Story. If you're not that familiar with Instagram, you may wonder, what's a Story? It's photos or video that can only be seen by followers of the account. If you're a follower, you'll see circular icons at the top of your Instagram screen. Click the green Fling icon whenever you see it, and you'll be rewarded with that day's Story, which disappears after 24 hours. But fear not if you miss one, because we're archiving our Stories by Fling city/year, so you can view them anytime you want. Every day we're adding to our Story. And on Mondays we're sharing fun, conversational profiles of people in the Fling community. So check us out, and follow along!
And a shout-out to my college-age daughter, a digital native, who is managing the account for us now and showing us how to make the most of Instagram!
I welcome your comments; please scroll to the end of this post to leave one. If you're reading this in a subscription email, click here to visit Digging and find the comment box at the end of each post.
_______________________
Digging Deeper: News and Upcoming Events
Garden Bloggers Fling, the online community and annual meet-up for garden bloggers since 2008, has expanded to include garden vloggers, podcasters, and Instagrammers. Check out their announcement AND their newly revitalized Instagram page, which is sharing pics from past Fling tours as well as community member profiles.
Join the mailing list for Garden Spark! Hungry to learn about garden design from the experts? I'm hosting a series of talks by inspiring garden designers, landscape architects, and authors a few times a year. Held in Austin, the talks are limited-attendance events that sell out quickly, so join the Garden Spark email list to be notified in advance. Simply click this link and ask to be added.


[ad_2]

Source link