[ad_1]

September 24, 2020
Austin, Dallas, Fort Worth, and San Antonio all have botanical gardens, but until now, the biggest and most international city in Texas did not. Last weekend Houston finally got its due with the long-anticipated opening of Houston Botanic Garden. I road-tripped with my daughter three hours east to Houston to check it out.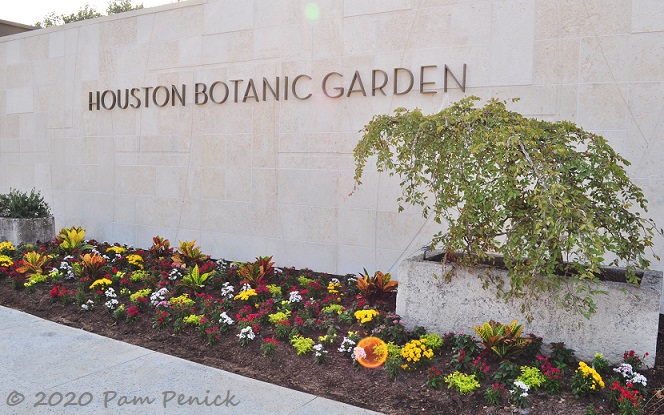 The garden occupies a former golf course in southeast Houston near Hobby Airport, embraced by Sims Bayou, one of the slow-moving channels that meander through flat, flood-prone Houston. The 132-acre garden's 30-year master plan, according to Inhabitat, includes "conserving water, promoting biodiversity and providing habitat for butterflies, birds and other wildlife. Garden designers integrated the plans into the surrounding Sims Bayou, allowing for the flooding and intense weather events so prevalent in Houston."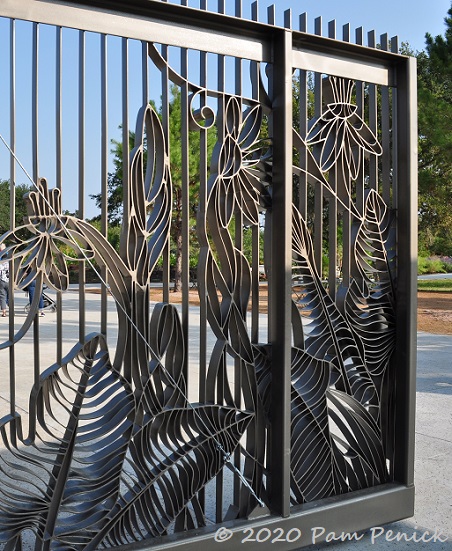 We arrived right at opening on Saturday, entering through floral-themed gates.
Pine Grove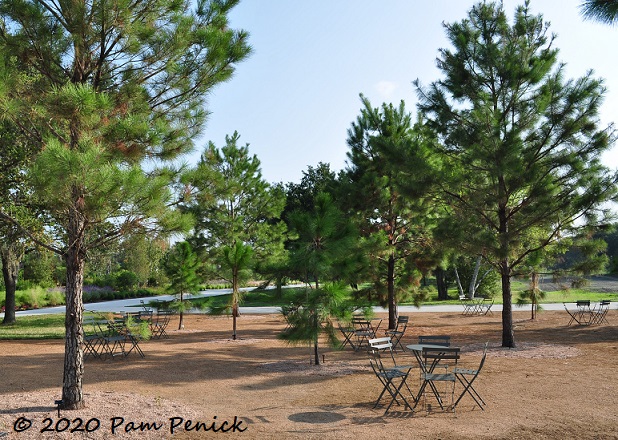 And hey, we're not in Austin anymore, as evidenced by the pine trees of Pine Grove, one of many seating areas throughout the gardens. Some of the trees are already fairly large, but as they grow this space will eventually offer a shady, forest-like hangout right at the entrance. I like that it's paved not with concrete but water-permeable decomposed granite.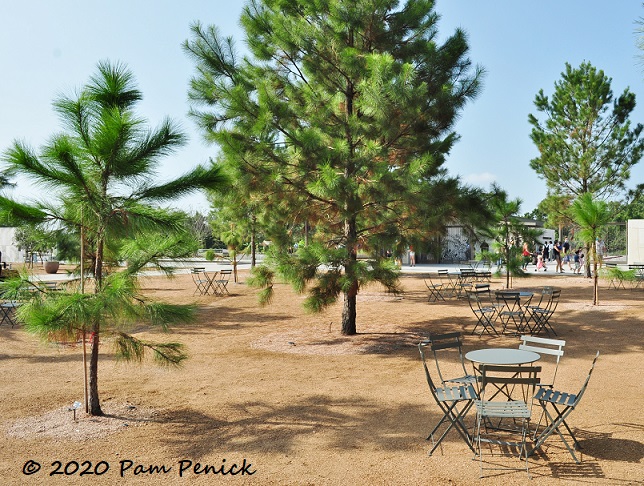 Slash pine (Pinus elliottii) on the left has long, feathery needles.
Welcome Fountain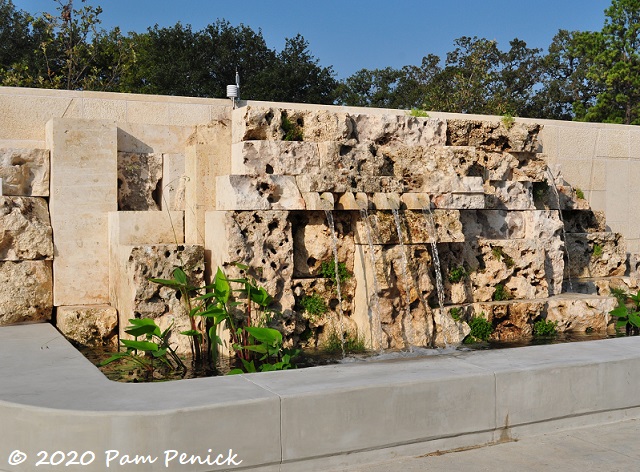 A wall fountain invites you into the garden. Water spills from four stone sluices into a narrow pool greened up with pond plants.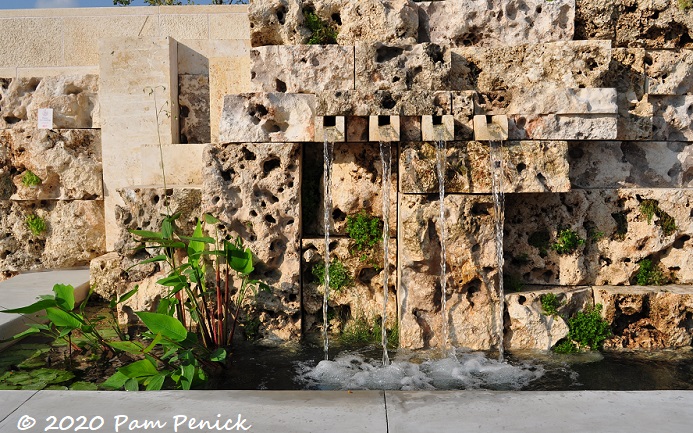 The holey rock, coral stone from the Dominican Republic, gives a tropical look.
Global Collection Garden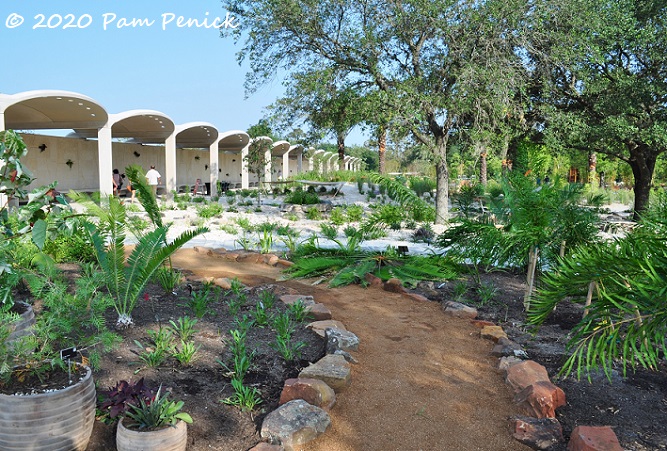 And then you enter the garden proper, where paths wind through newly planted beds of often quite exotic-looking plants. This is the Global Collection Garden, 3 acres of tropical, subtropical, and arid gardens with plants from all over the world that can be grown in Houston's zone 9 humid subtropical climate.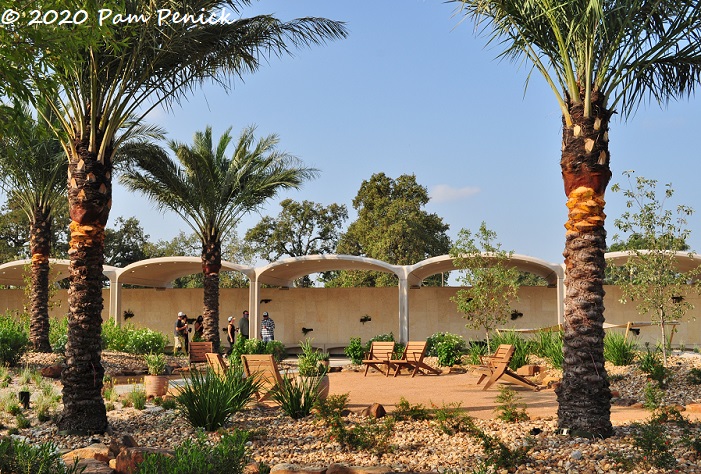 The fountain wall, in a bold architectural move, runs the length of this garden, shaded by an arching portico reminiscent of 1950s or '60s Space Age Houston. I like it a lot.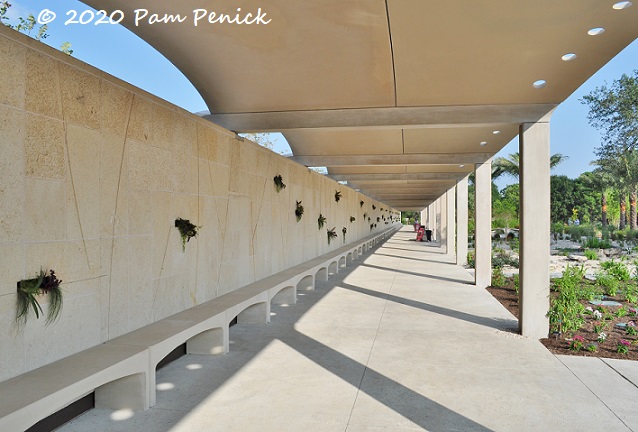 As anyone in Texas knows, shade is critical for much of the year when you're outdoors. This arcade delivers. Extending the length of a football field, a bench runs all the way along the wall, inviting visitors to sit and look out over the garden. Punctuating the stone wall, plants tucked into narrow openings add color and texture and move the eye up and down.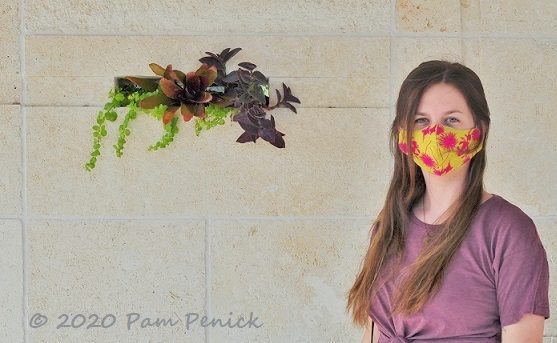 Wall bouquets!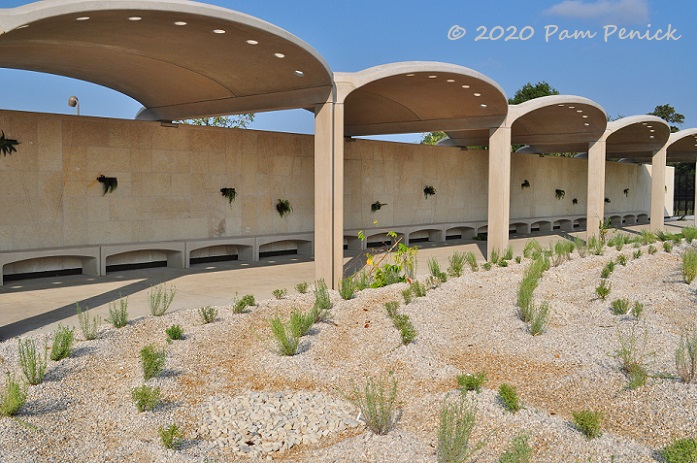 At one end, curved, gravelly berms are planted with xeric-looking plants. It'll be interesting to come back and see how this space looks when the plants mature.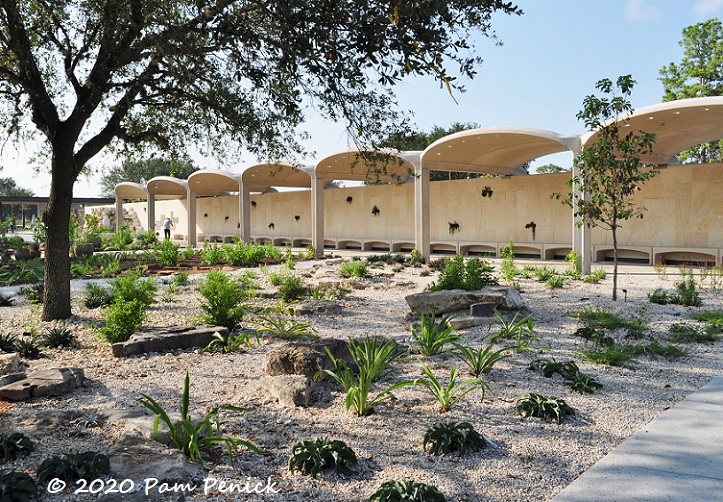 In another area, under the shade of a large tree, a collection of mangaves set my heart aflutter. Some seem to crawl across the ground like green spiders.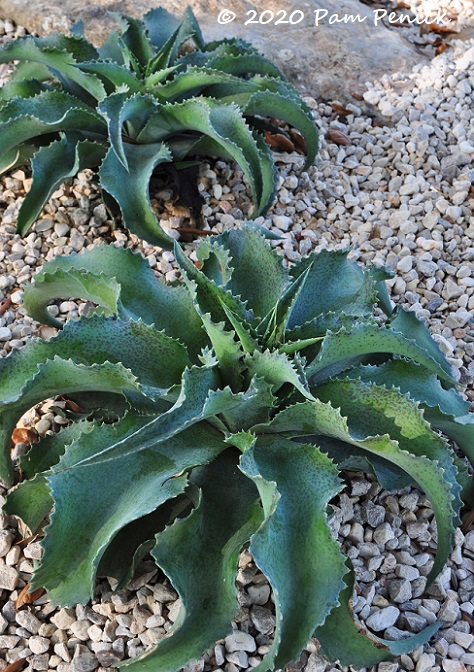 I covet this one, 'Falling Waters' mangave.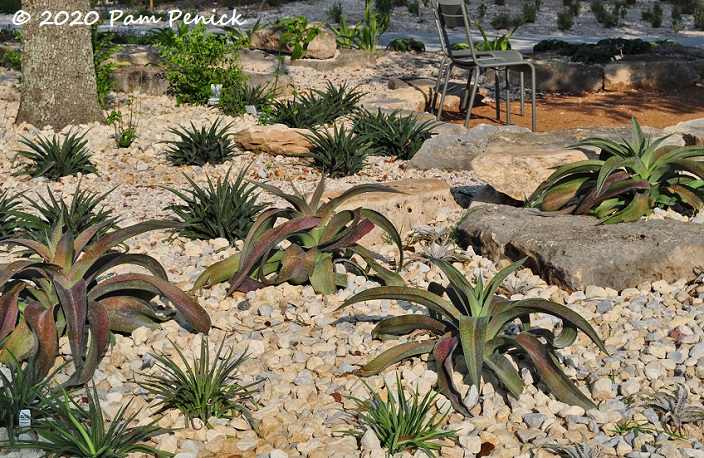 Purplish 'Macho Mocha' mangave, one of my faves. The smaller ones in front are 'Bad Hair Day' mangave.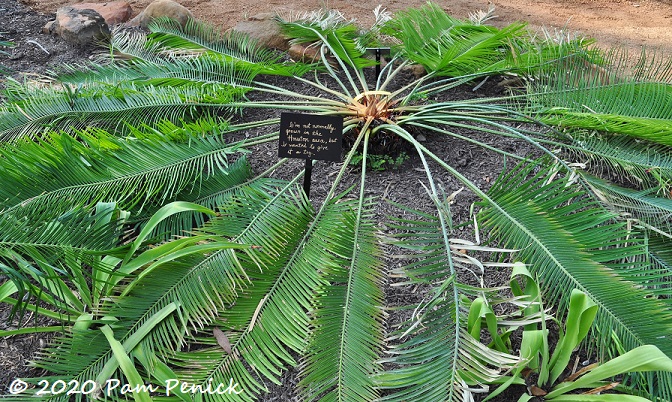 Uh-oh. One cycad lay as if stomped flat by an elephant.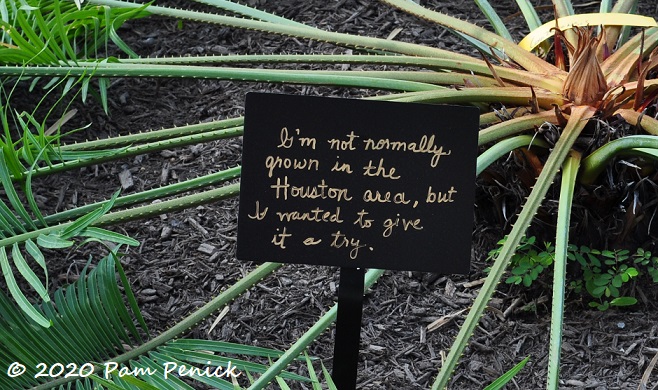 A sign explains, "I'm not normally grown in the Houston area, but I wanted to give it a try." Right on! A botanical garden should be experimenting. I'll be curious to see how the plantings change as the garden gets established.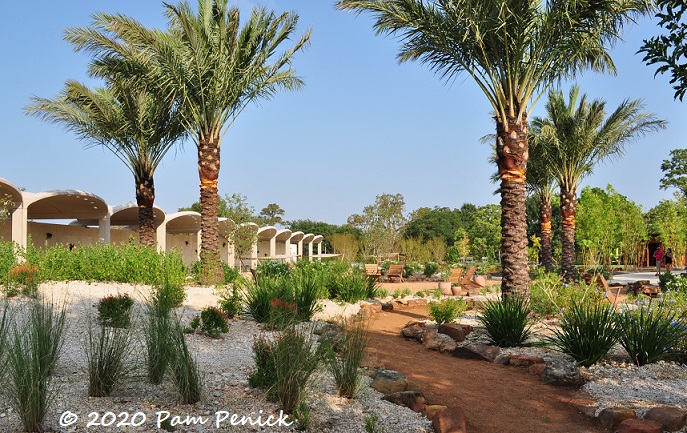 Although common throughout Houston, palms create a tropical vibe.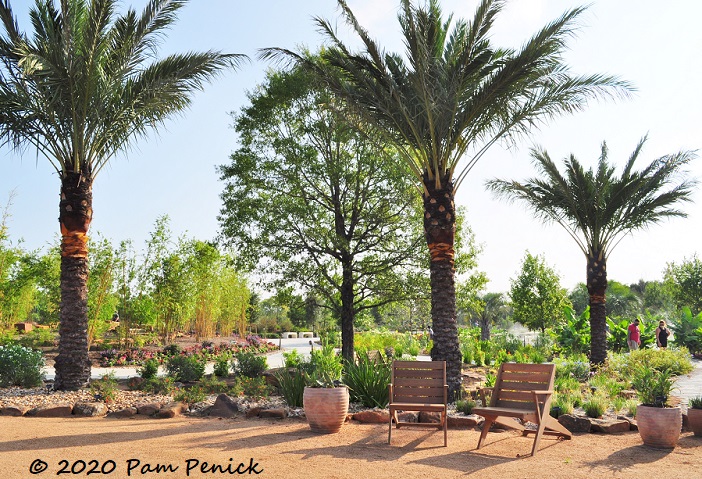 I really like the various seating areas in the garden, and comfortable seats too, not just benches. It reminds me of Chanticleer in that way. You're invited to hang out and just be in the garden.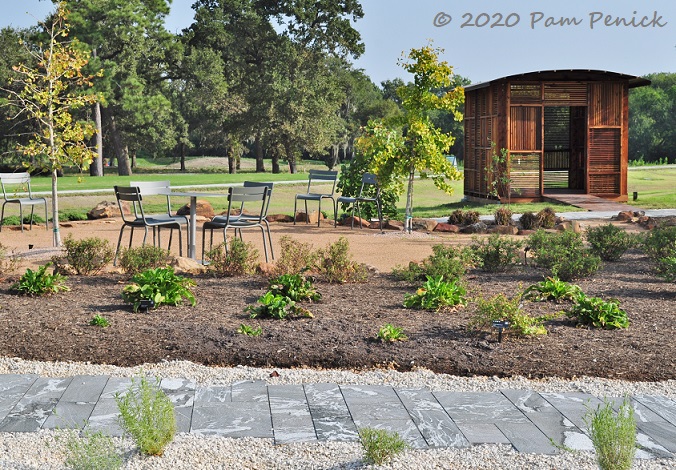 Another patio with tables and chairs. Off to one side stands a slatted, open-air structure, which the garden calls a "curiosity cabinet."
What's it for? It looks like a shade structure, but there's no seating inside. A low opening, low enough that you'd have to crawl through, exits out the back. A mystery.
Update 9/24: Justin Lacey, the garden's director of communications, emailed me to explain (thanks, Justin!): "The Curiosity Cabinets will one day have hands-on learning opportunities in them (fun and unique natural items – like pine cones, palm fronds, etc. – that visitors of all ages can handle). And, although the one you photographed doesn't yet have anywhere for the shorter, rear exit to go – that's coming in a future phase of the Garden's development – the one in the Upland Forest does have plantings on both ends. The shorter door is for our littler visitors."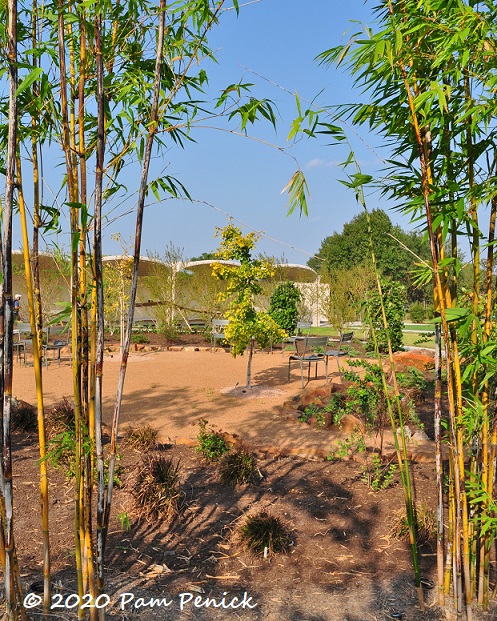 A gap in a bamboo screen allows a glimpse of a young ginkgo tree. One day, imagine — a tall, graceful ginkgo in golden autumn glory.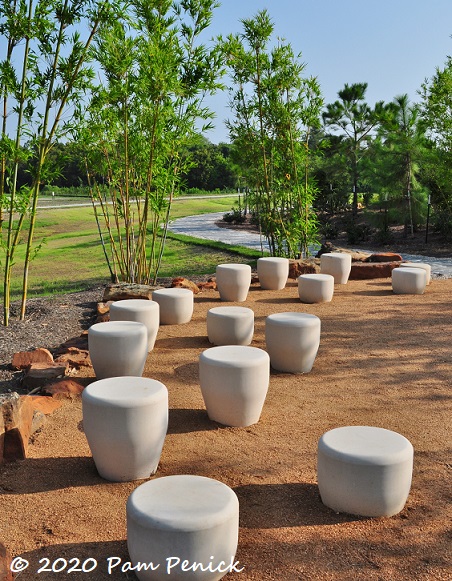 Another patio, this one with more than a dozen white stools resembling marshmallows. Cute!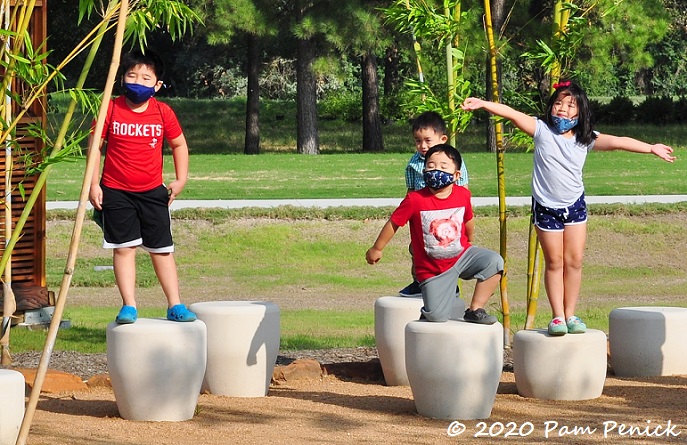 A few minutes later an adorable group of siblings posed on them for their mom as she snapped a photo.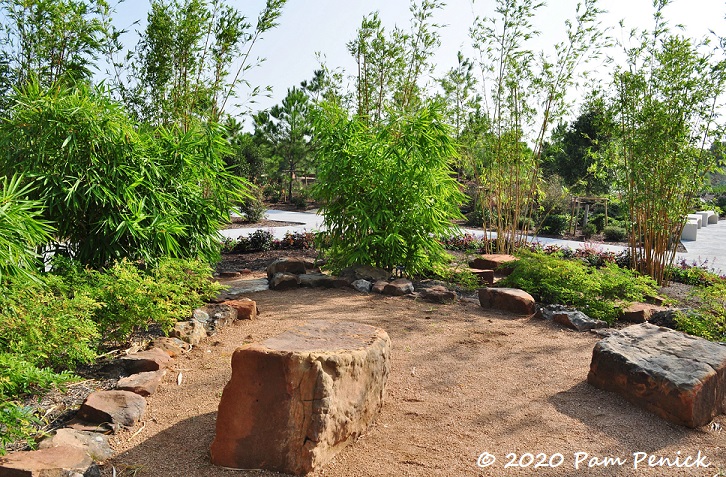 Houston is flat, flat, flat, but a number of low hills have been built up for interest — and drainage, presumably — with paths that wind to the top. At the center of this one, boulders provide a spot to sit amid the bamboo.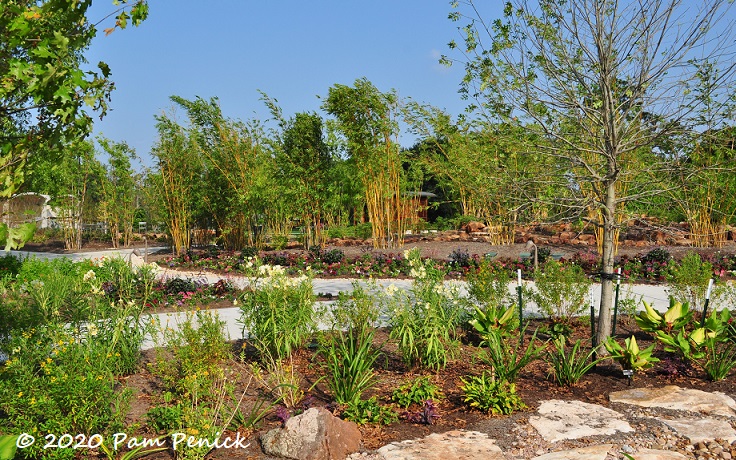 A long view shows the hillock of the bamboo garden (in the background).
Tropical Garden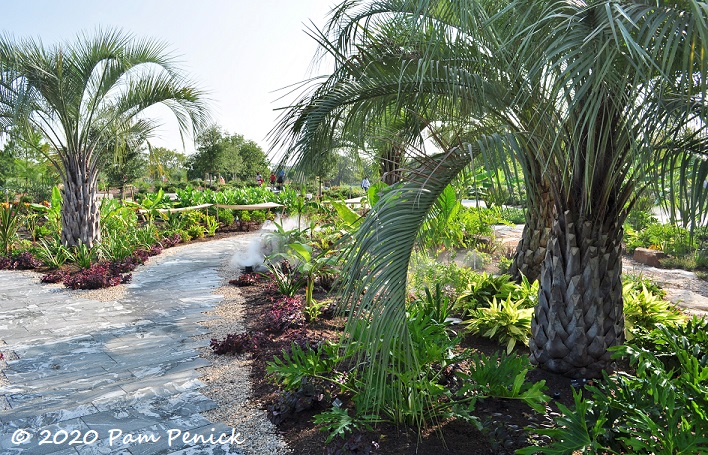 We followed a handsome stone path into a lush planting of palms, philodendron, colocasia, ginger, and spider lilies. Low clouds of mist issue from hidden emitters to create a rain forest effect. I was reminded of the mist machines in Hartman Prehistoric Garden at Austin's Zilker Botanical Garden, which only worked for a short while before being turned off permanently. I'll be interested to see if these last.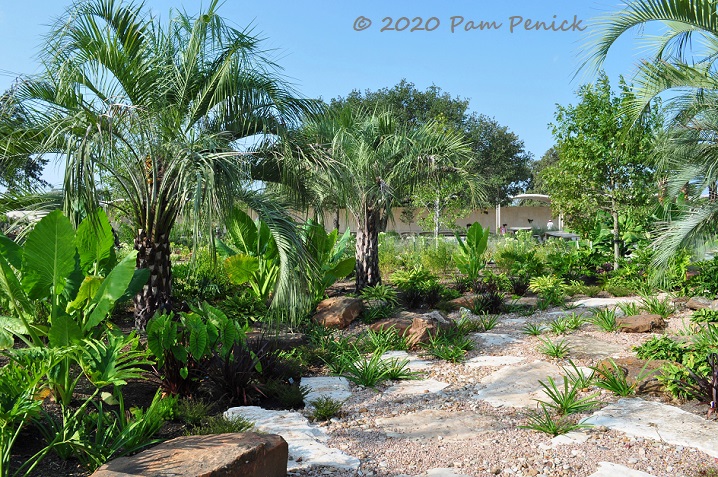 A side path of flagstone leads you on a more exploratory journey.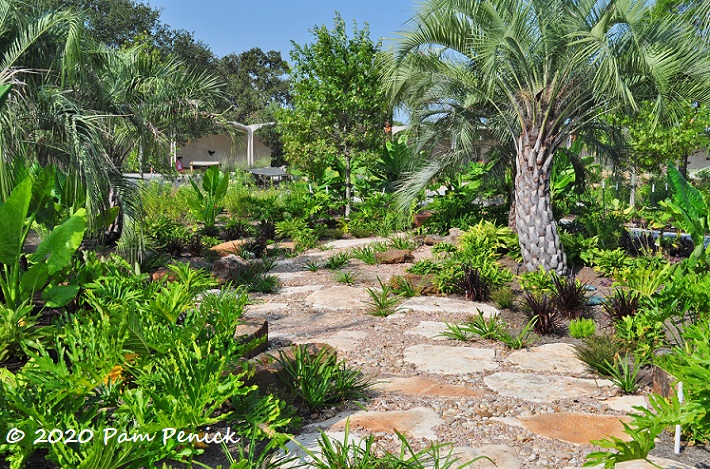 The plantings are so full already, considering how new this garden is.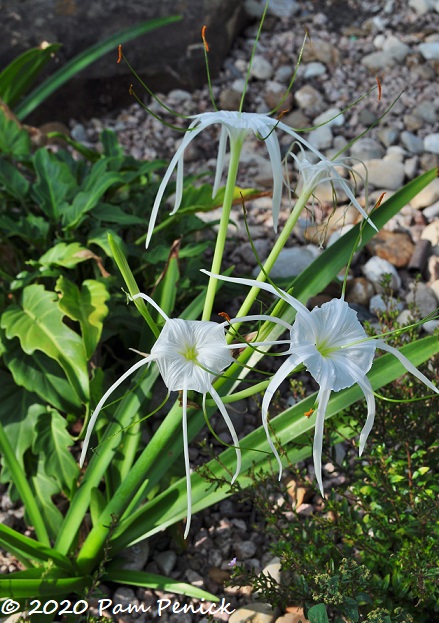 A tropical white spider lily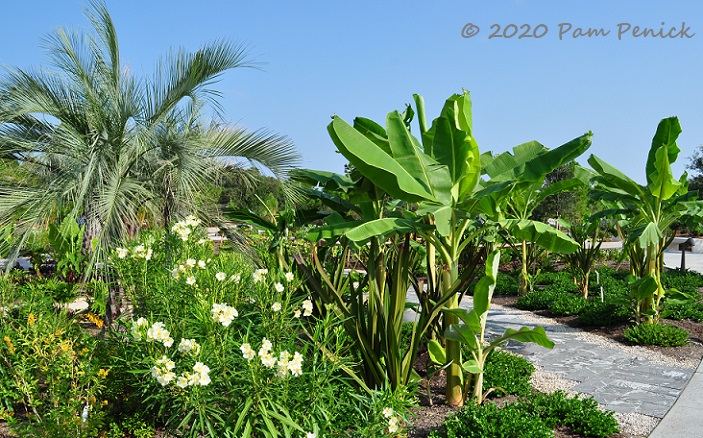 Bananas really create a tropical mood, seen here with white oleander and a silvery palm.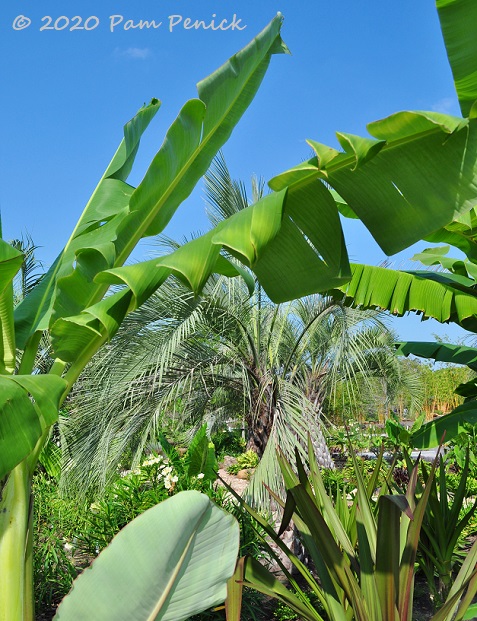 Foliage power!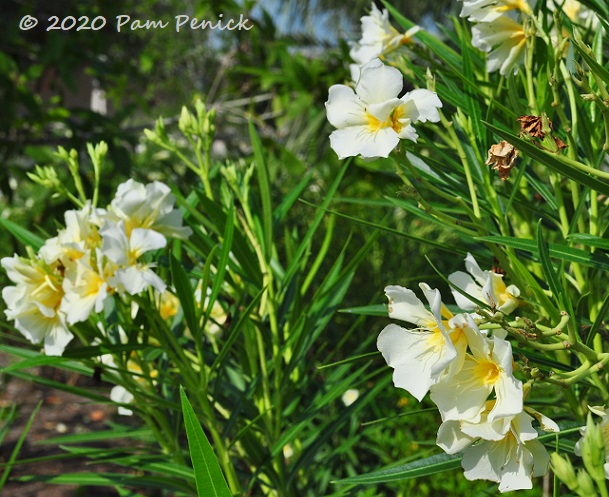 Oleander's beautiful flowers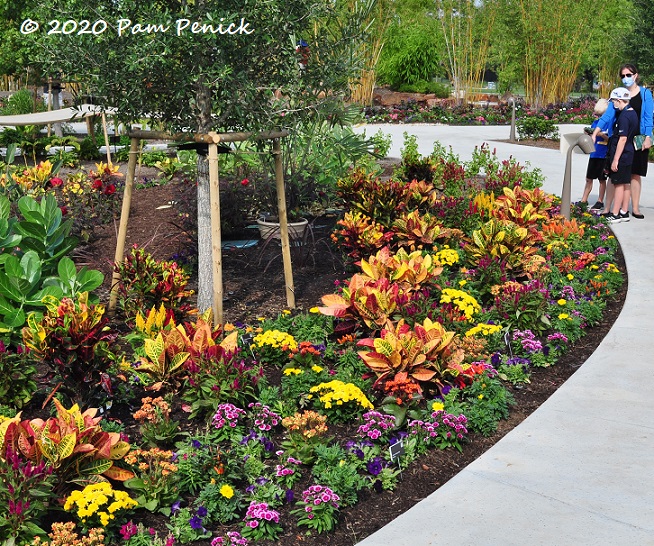 Ka-pow color from tropical shrub 'Petra' croton mixed with yellow chrysanthemums, peppers, and other annuals.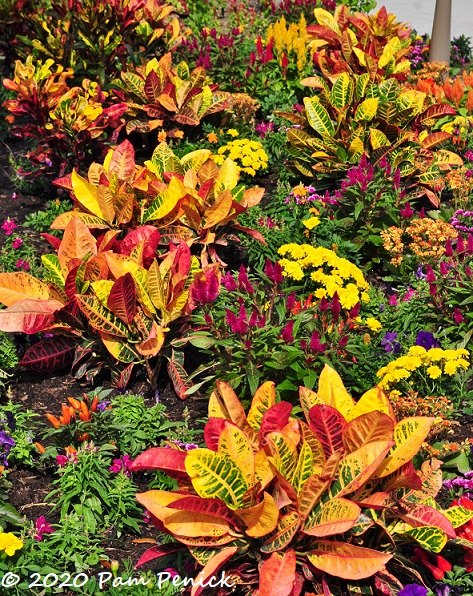 The colors of fall, way earlier than any trees would turn in Houston.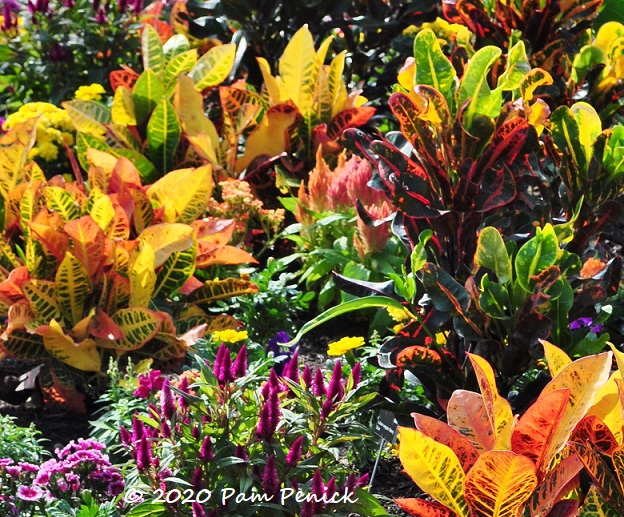 And that's a wrap for the first half of my tour. Up next: Cactus in Houston? Yes! An arid garden at Houston Botanic Garden surprises with agave and cactus, plus a grassy savanna, pollinator garden, and more in part 2 of my tour.
I welcome your comments; please scroll to the end of this post to leave one. If you're reading this in a subscription email, click here to visit Digging and find the comment box at the end of each post.
_______________________
Digging Deeper: News and Upcoming Events
Join the mailing list for Garden Spark! Hungry to learn about garden design from the experts? I'm hosting a series of talks by inspiring garden designers, landscape architects, and authors a few times a year. Held in Austin, the talks are limited-attendance events that sell out quickly, so join the Garden Spark email list to be notified in advance. Simply click this link and ask to be added.
All material © 2020 by Pam Penick for Digging. Unauthorized reproduction prohibited.
[ad_2]

Source link