[ad_1]

May 27, 2020
The early summer flowers are strutting their stuff, so come along for a virtual tour! Here's dazzling 'Peter's Purple' monarda (Monarda fistulosa 'Peter's Purple') in the driveway bed.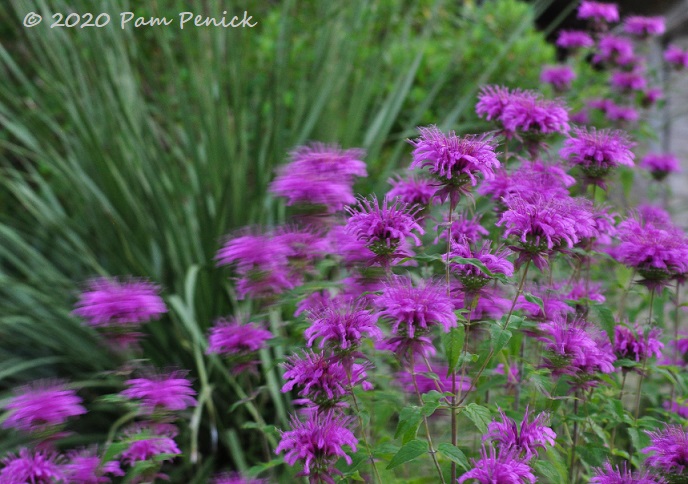 It was a breezy day.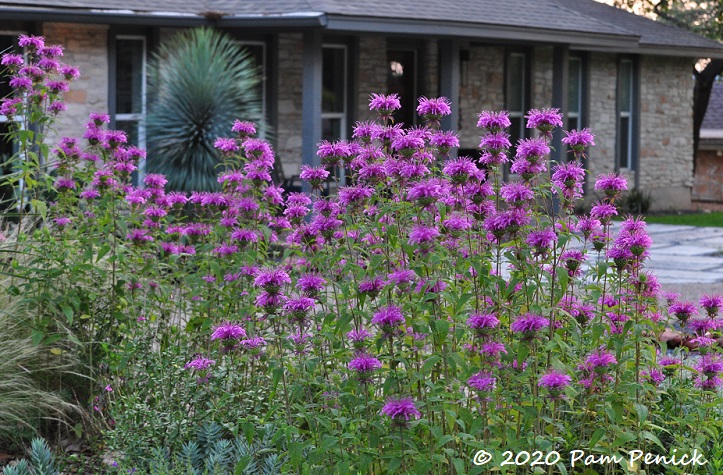 Looking toward the neighbors' house and their fast-growing Yucca rostrata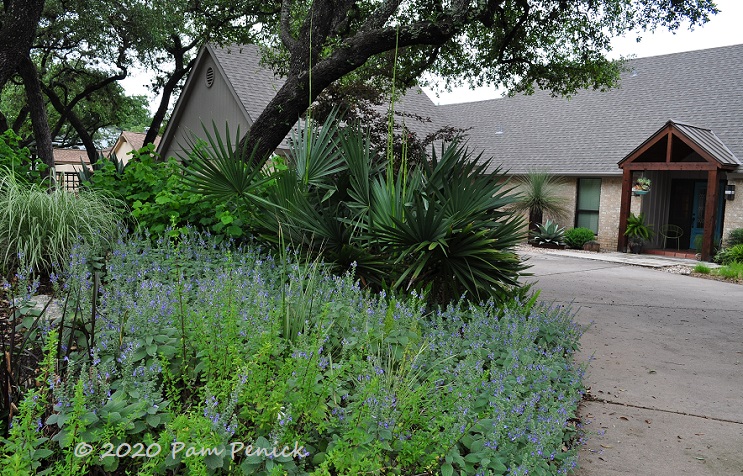 In the shady island bed along the driveway, native heartleaf skullcap (Scutellaria ovata) paints a softer picture.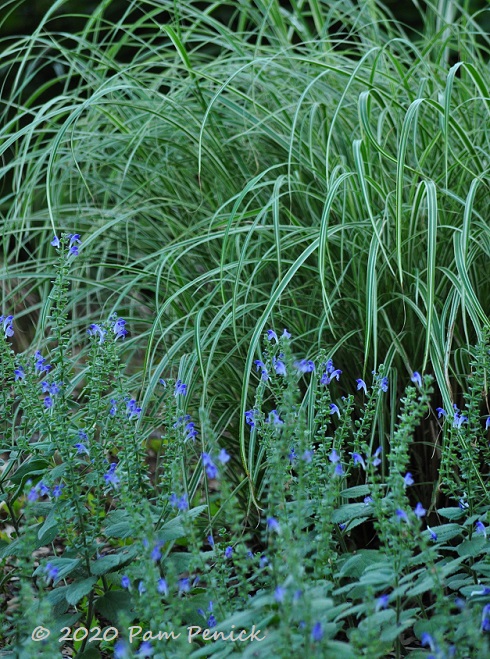 It looks great with fine-textured variegated miscanthus.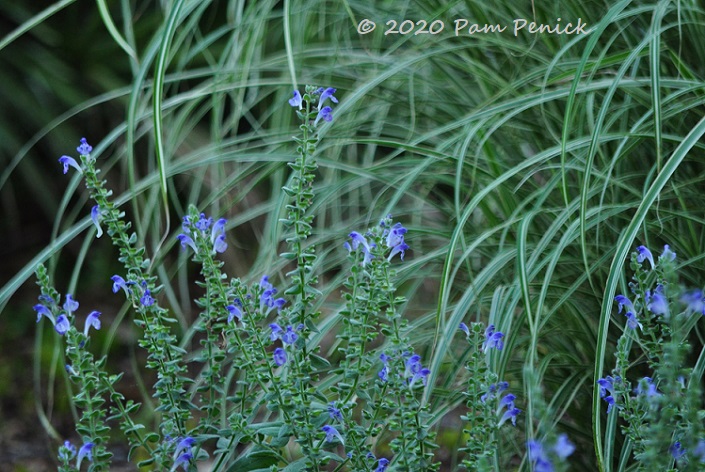 A closer view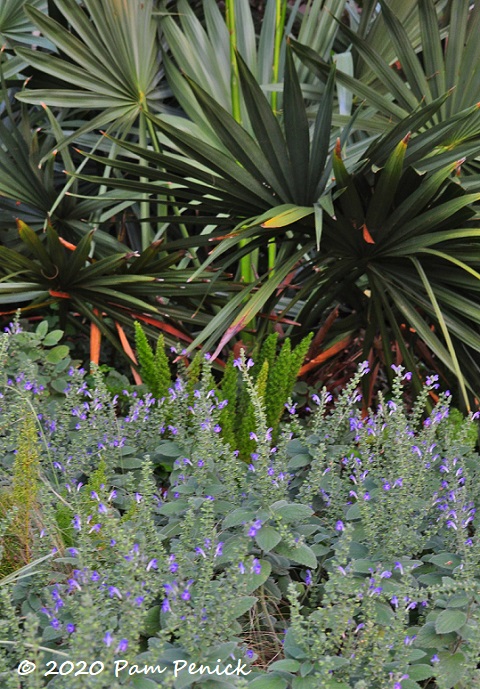 But also — this time in late-afternoon light — with bold-textured Texas dwarf palmetto (Sabal minor), another native plant.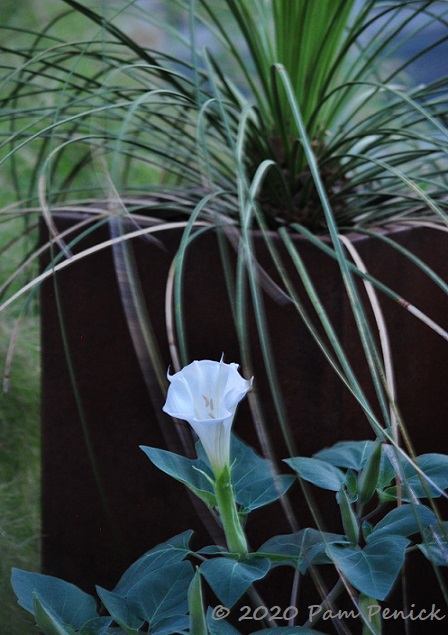 Sacred datura (Datura wrightii) unfurls glowing white blossoms as evening comes on.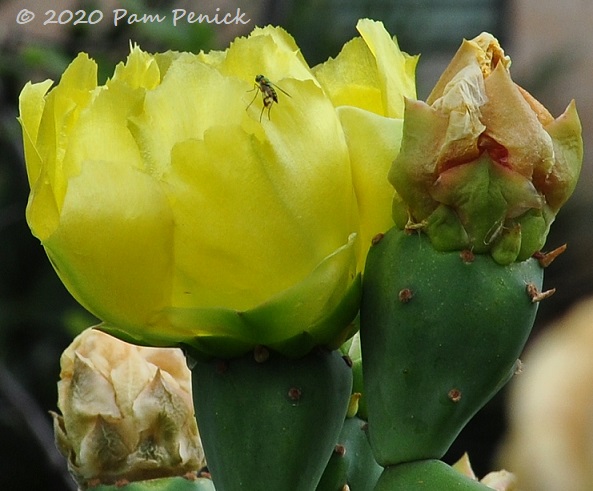 By day, 'Old Mexico' prickly pear is still popping out a few flowers.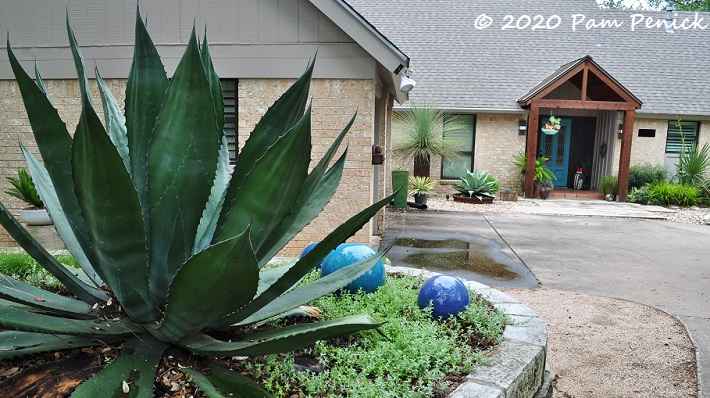 The sawtoothed, dusty blue-green leaves of 'Green Goblet' agave (Agave salmiana var. ferox 'Green Goblet') greets visitors along the other side of the circular drive.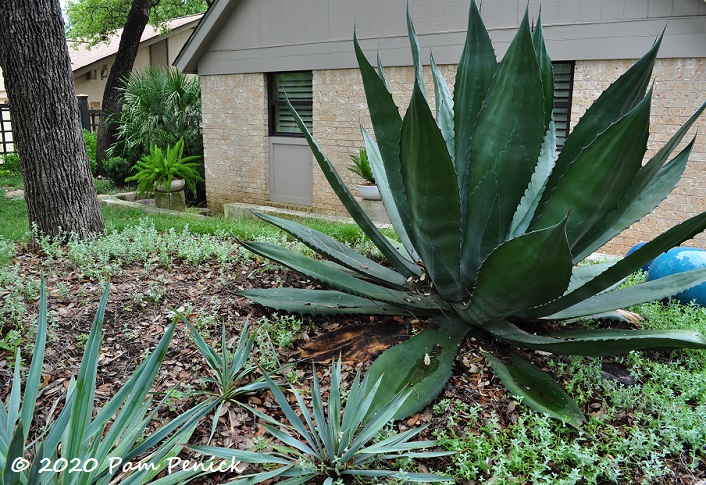 It's underplanted with two hardworking natives: paleleaf yucca (Yucca pallida) and woolly stemodia (Stemodia lanata).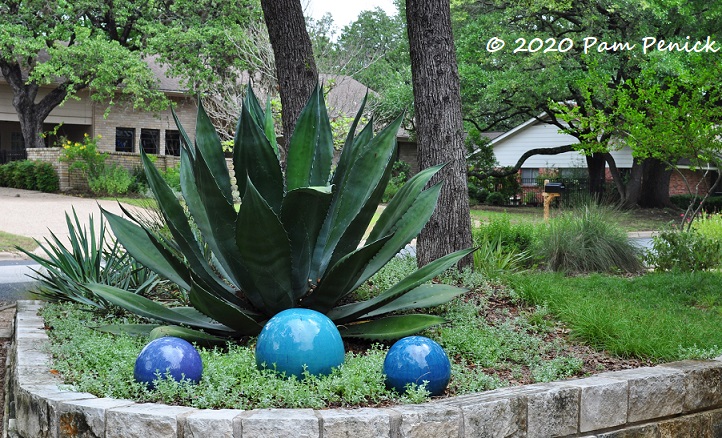 A few blue ceramic balls carry along the color scheme.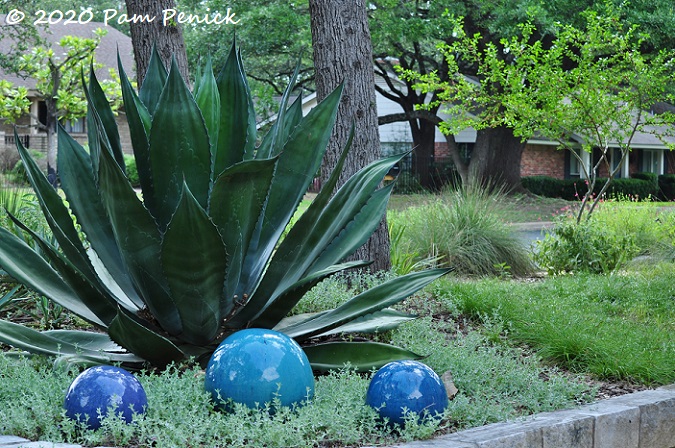 The woolly stemodia thrives where there's more sun. In the dappled shade of the live oaks, Berkeley sedge (Carex divulsa) makes a meadowy lawn substitute.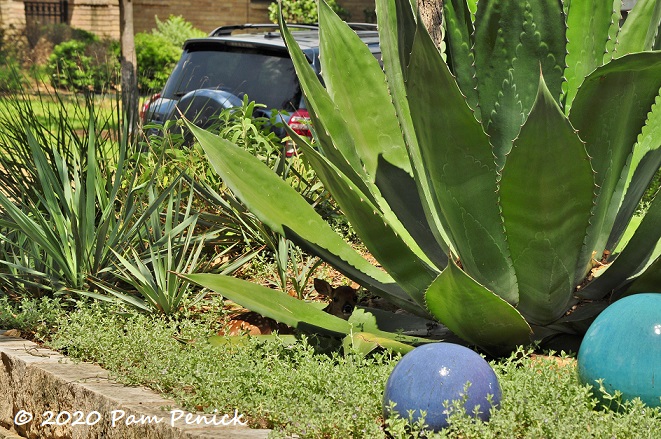 The 'Green Goblet' agave caused some concern a few days ago. Do you see what I'm talking about?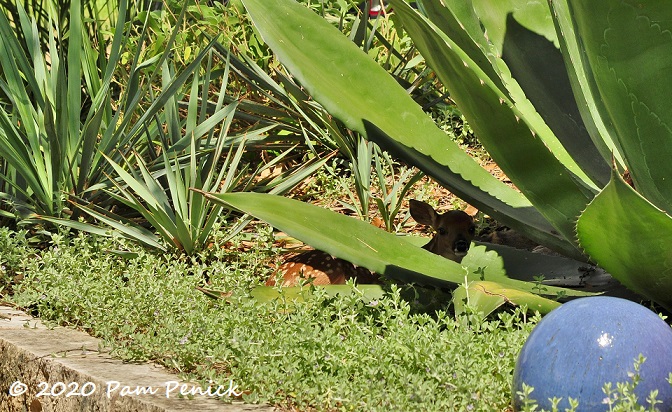 My daughter and I were loading the car with items for Goodwill, oblivious to the fawn tucked under one thorny agave leaf. When we hopped in the car and started the engine, the sound or activity flushed the fawn from its hiding spot, but its gangly legs got hung up in the thorny leaves as it tried to flee.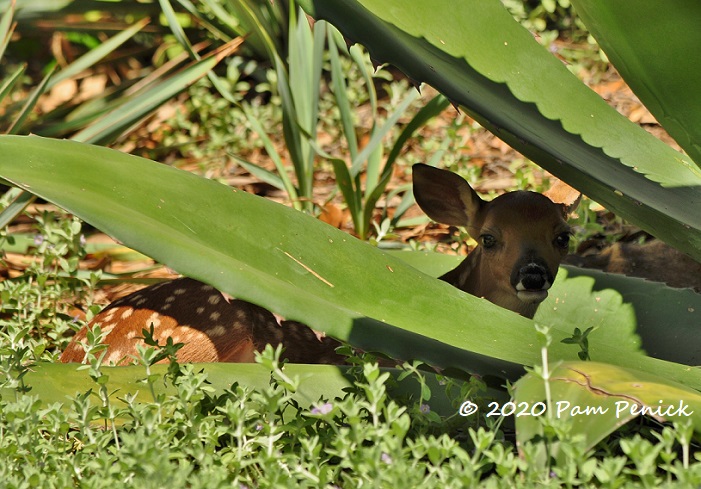 We gasped in horror and slowly backed the car away, which calmed the fawn. As we drove off we could see him settling back down among the leaves, which mama deer must have decided was good protection when she left him there. Later I snapped a few photos from a non-threatening distance.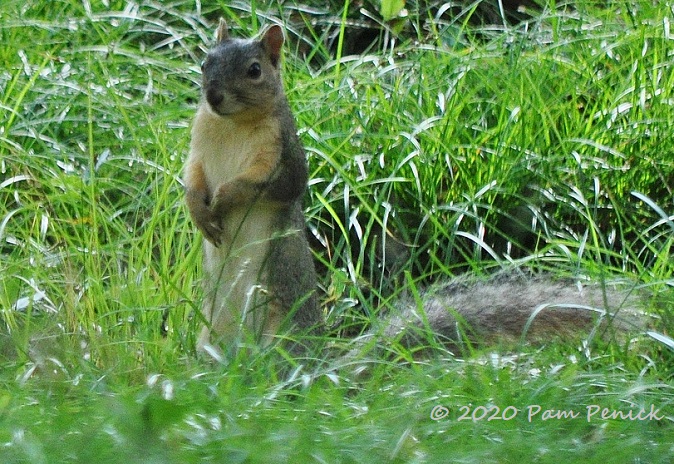 Other creatures are less wary and more curious.
The possumhaw holly (Ilex decidua) leans gracefully in the streetside bed.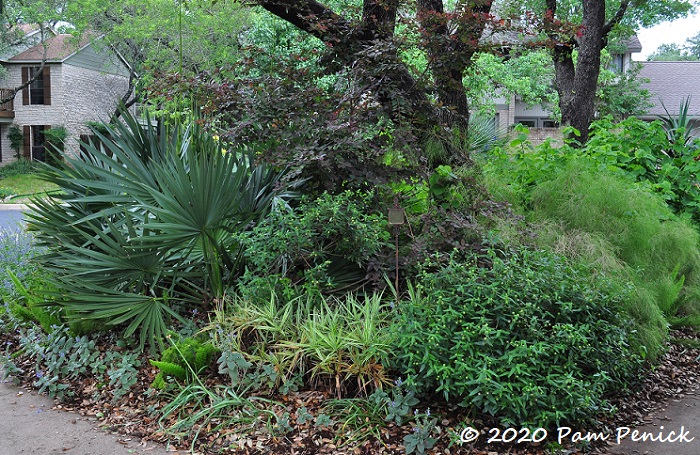 In the center of the circular drive, the island bed has achieved a nice fullness, at least from this angle, which is our view from the front door. The plants do a good job of screening the street view. Now that seemingly everyone has a Ring camera on their front porch, I like having some privacy out front, plus the island bed screens parked cars from view too.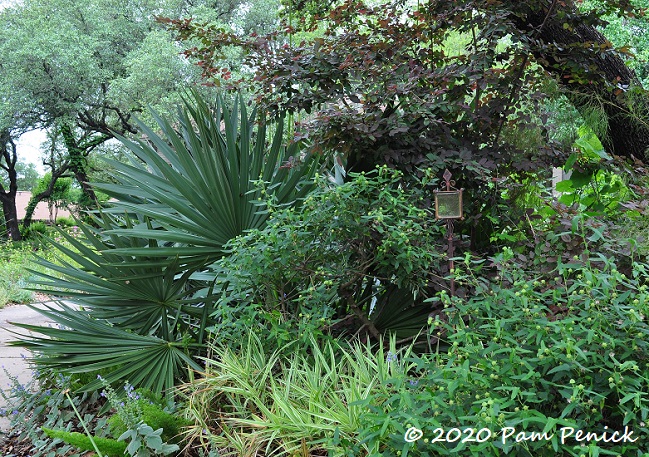 Texas dwarf palmetto, 'Sparkler' sedge, pale pavonia (Pavonia hastata), and loropetalum are some of the shade lovers thriving under the live oaks.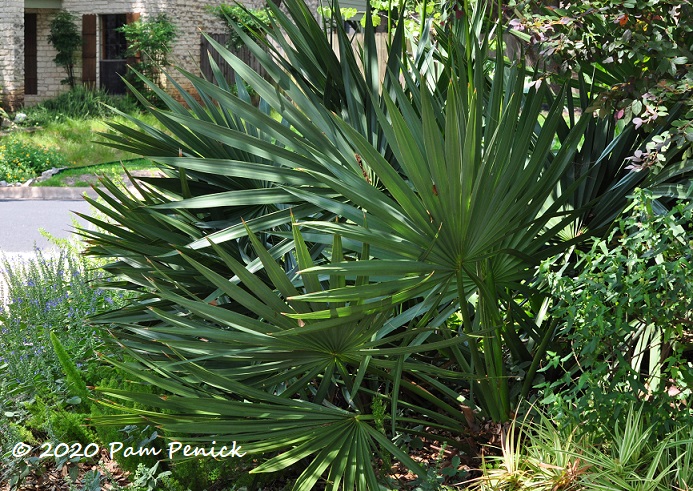 Texas dwarf palmetto doing its fan dance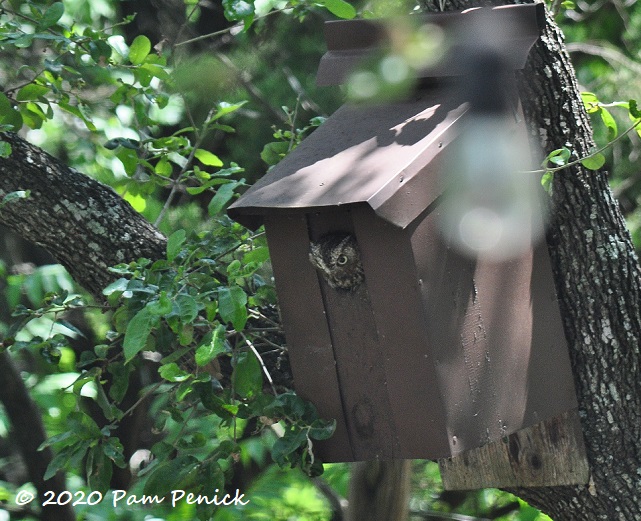 In the back garden, our little screech owl occasionally shows itself.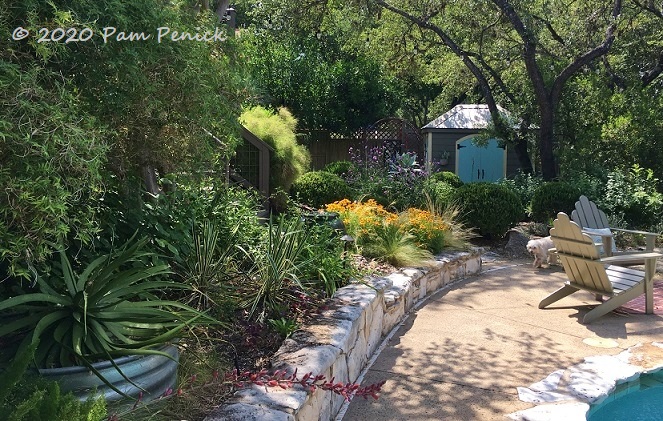 And I've been enjoying the newly colorful view of the Circle Garden.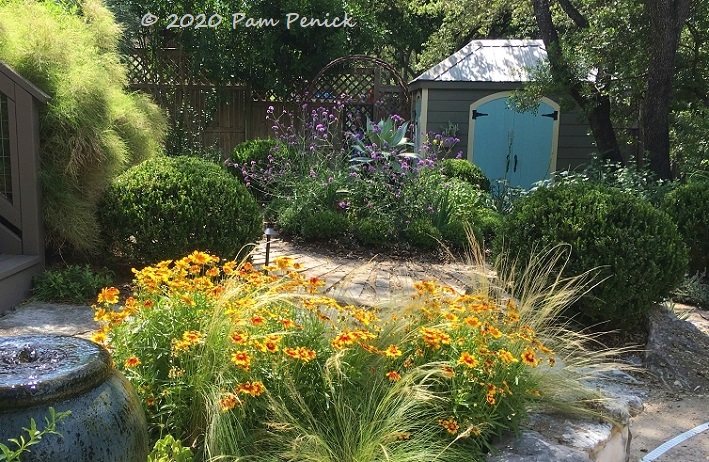 'Sterntaler' coreopsis makes the biggest splash right now, dancing with Mexican feathergrass for a very Hill Country look. Looking past the 'Winter Gem' boxwood balls…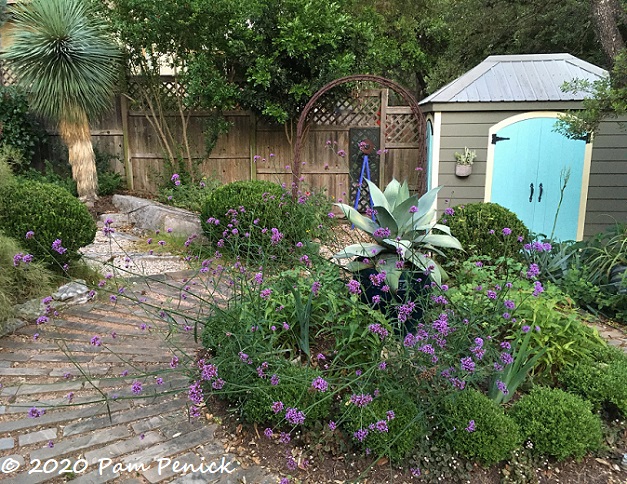 …tall verbena (Verbena bonariensis) sprawls across the path in an effort to reach more sunlight. Romantic but impractical, so I recently trimmed the horizontal stems back to the circle of 'Micron' hollies. A whale's tongue agave (A. ovata) regally presides over the scene in her blue pot.
I welcome your comments; please scroll to the end of this post to leave one. If you're reading this in a subscription email, click here to visit Digging and find the comment box at the end of each post.
_______________________
Digging Deeper: News and Upcoming Events
Donate to the Tom Spencer Million Trees for Austin Fund, established by TreeFolks in March 2020 to honor Tom Spencer, a tireless environmental advocate and longtime host of Central Texas Gardener. Tom's bold vision of planting another million trees in the Austin community inspired TreeFolks to pursue this goal, and they invite others to join the campaign. In Tom's own words, "Plant trees, plant hope."  For information about making an annual gift, stock donation, or charter contribution, please call Andrew W. Smiley, TreeFolks Executive Director at 512-413-7774, or visit their website for additional information.
Join the mailing list for Garden Spark! Hungry to learn about garden design from the experts? I'm hosting a series of talks by inspiring garden designers, landscape architects, and authors a few times a year. Held in Austin, the talks are limited-attendance events that sell out quickly, so join the Garden Spark email list to be notified in advance. Simply click this link and ask to be added.
All material © 2020 by Pam Penick for Digging. Unauthorized reproduction prohibited.
[ad_2]

Source link