July 08, 2020
After detouring to visit the Grand Canyon in Arizona (see our route in my previous post), we continued westward through California's sere Mojave Desert. At last the land rose and formed the Golden State's crinkled, tawny hills, stubbled with spreading, olive-green live oaks.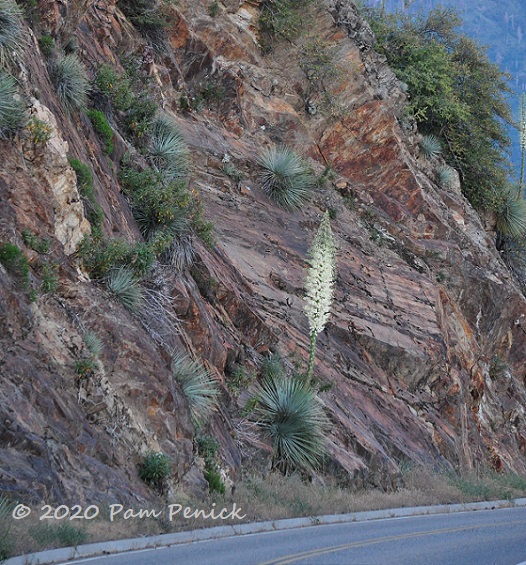 By mid-afternoon we'd reached the Sierra Nevada mountains and the entrance to Sequoia National Park. For a good while we didn't see any sequoias. I admired sea urchin-spined chaparral yuccas (Hesperoyucca whipplei) clinging to every hillside and sheer, rocky cliff, many topped by 10-foot-tall bloom spikes.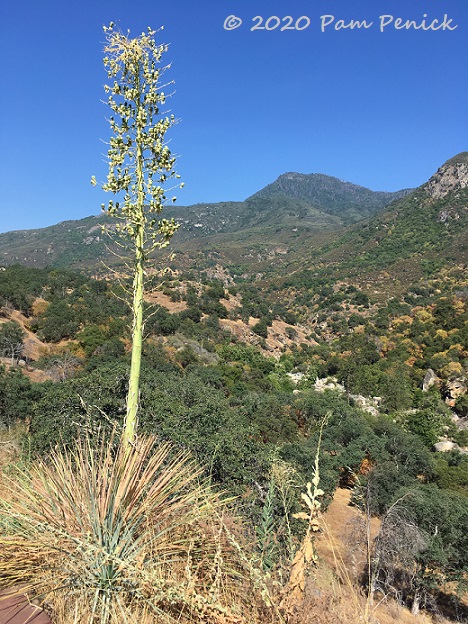 Chaparral yucca dies after flowering, like an agave. But man, does it go out with a bang! The towering stalks of creamy white flowers lit up seemingly inhospitable craggy cliffs.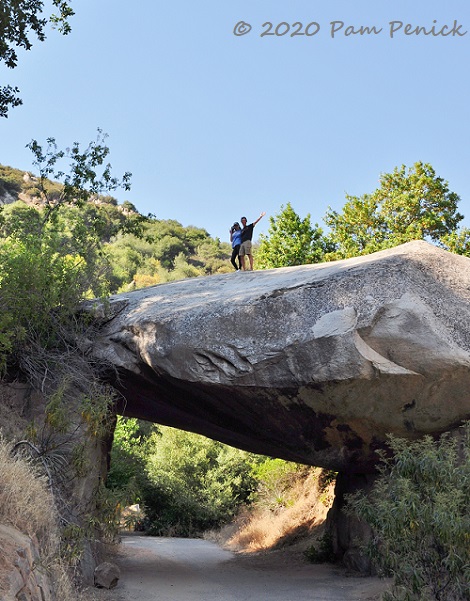 Like probably millions before us, we stopped for a photo at Tunnel Rock, through which cars once passed. In 1997 the road was widened and moved out of the tunnel, which is now accessible only to pedestrians.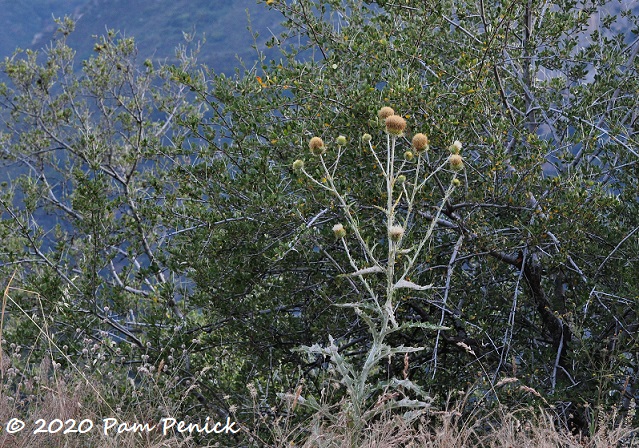 Thistle gone to seed along the road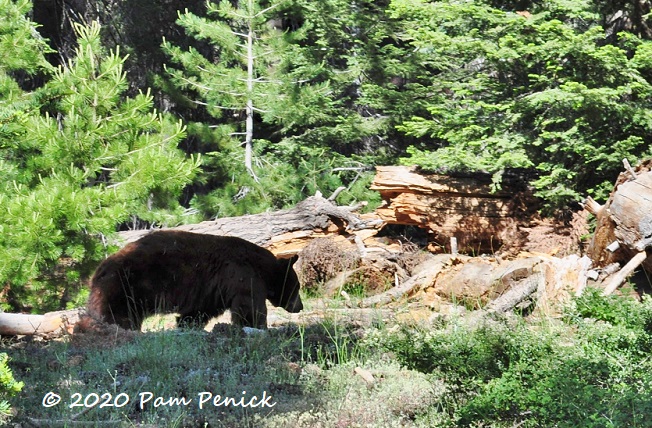 At last tall trees appeared — and so did bears! Sequoia is black bear country, and within the space of an hour we saw two. We spotted this cinnamon-colored bear nosing through the undergrowth just off the road. We pulled over and watched from the car.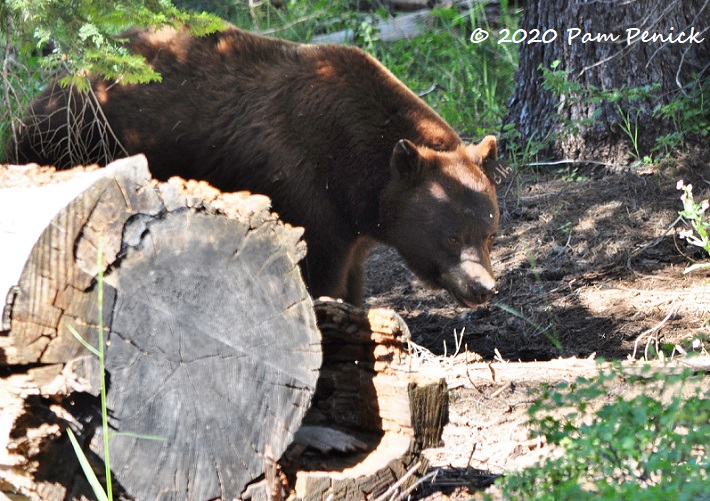 With my zoom lens I took some close-ups from inside the car, where we spoke in hushed voices, awed by the sight of a wild bear.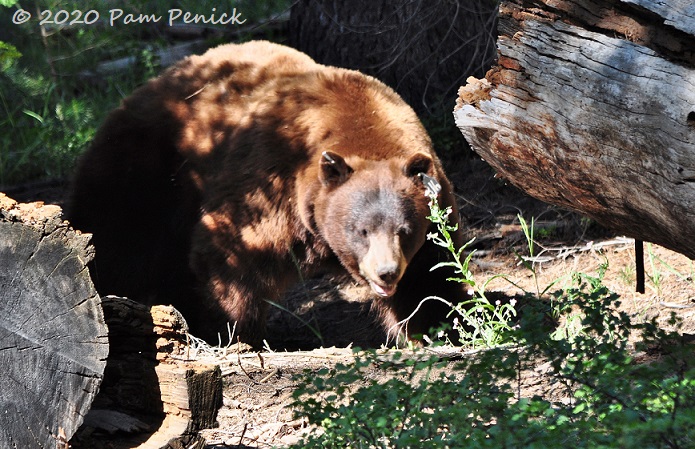 He's a big fella!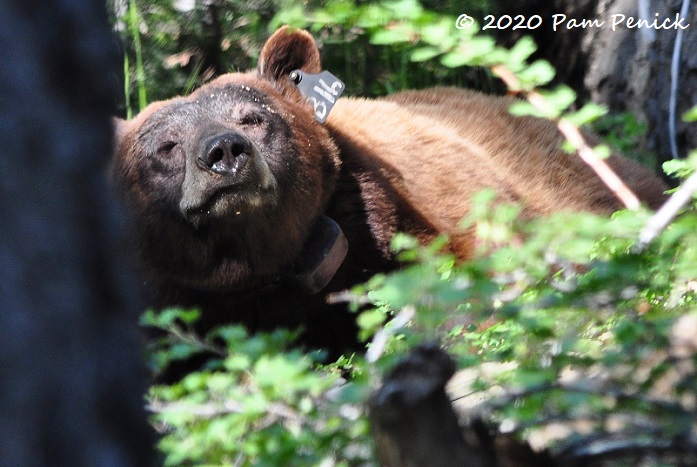 And he's been tagged and collared.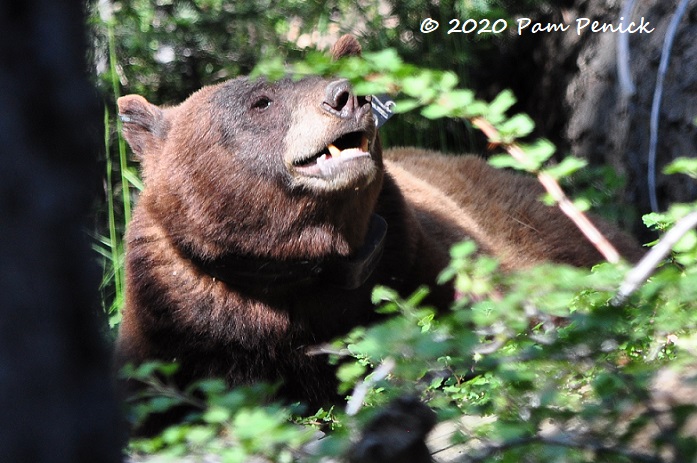 Sniffing the air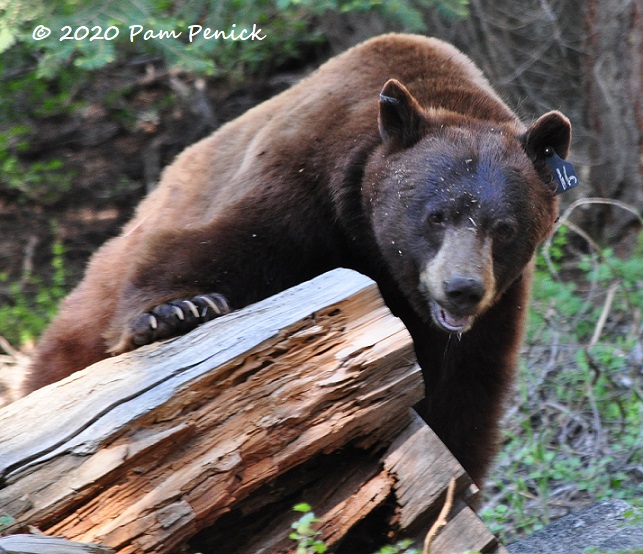 A rotting log prompted some impressive clawing and gnawing.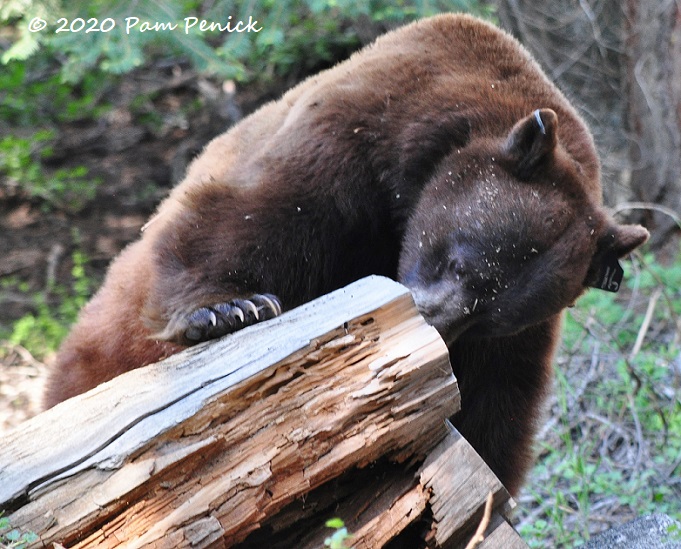 Any grubs or bugs in there?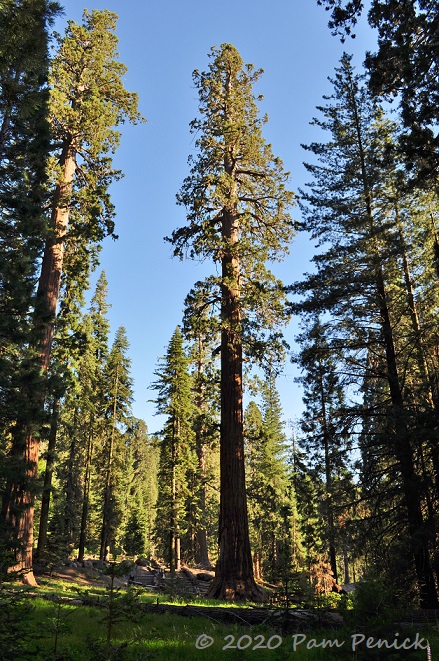 But enormous sequoia trees, not bears, are what Sequoia is famous for. These forest giants utterly dwarf you as you stand at a knobby root flare, gazing up a straight, stout trunk soaring skyward. Giant sequoias grow only on the western slopes of the Sierra Nevada, at an elevation of 4,000 to 8,000 feet. While not as tall as coastal California's giant redwoods, they are much thicker and grander.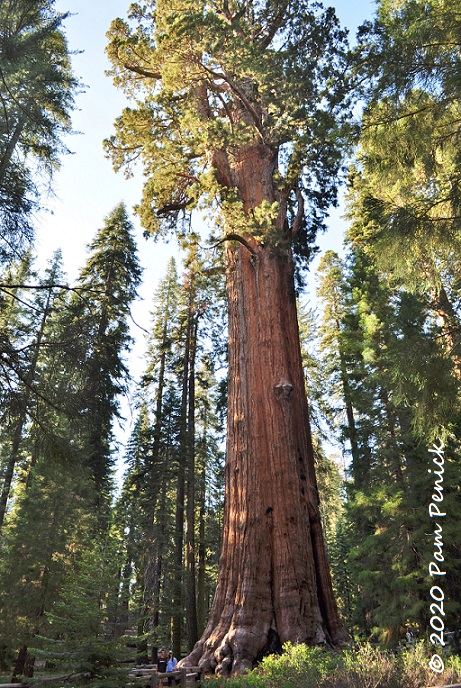 We walked half a mile down a paved trail to reach the General Sherman sequoia, the world's largest tree measured by trunk volume. Reigning over a grove of somewhat lesser sequoias, the 2,200-year-old tree measures 275 feet tall and more than 36 feet in diameter at the base, according to the park website. Standing next to it, you're the equivalent size of a tiny mouse looking up at a 6-foot-tall person.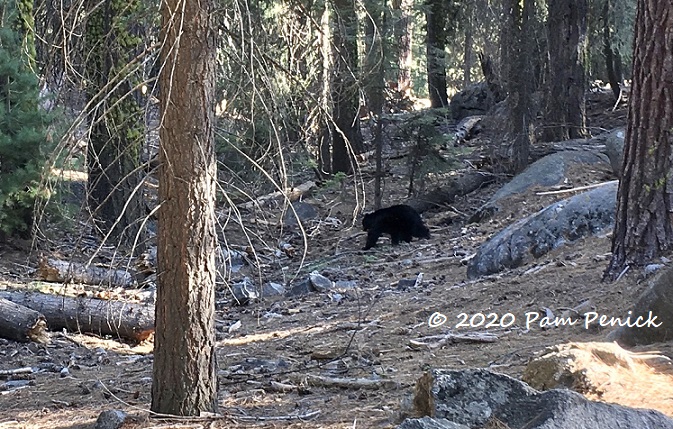 Oh yes, that second black bear! My daughter spotted it climbing down an embankment toward us as we descended the trail toward the grove. "Bear!" she exclaimed. "Where? Where?" I asked, before spotting it myself. By that time it was nearly on the trail right before us. Surprised, I backed up the trail to give it space. It crossed swiftly and hustled into the woods below.
Little did we know this exciting encounter would be just the start of bears we'd see in the Sierra Nevada parks. Over the next several days we'd see three more, but none so close as Trail Bear or even Car Bear. Yes, we gave them names to keep them straight.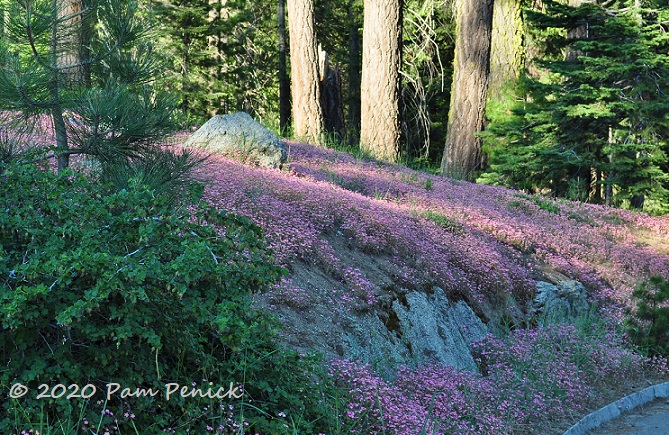 Wildflowers were blooming in mid-June, like this cascading carpet of pink something-or-other. Anyone know the ID?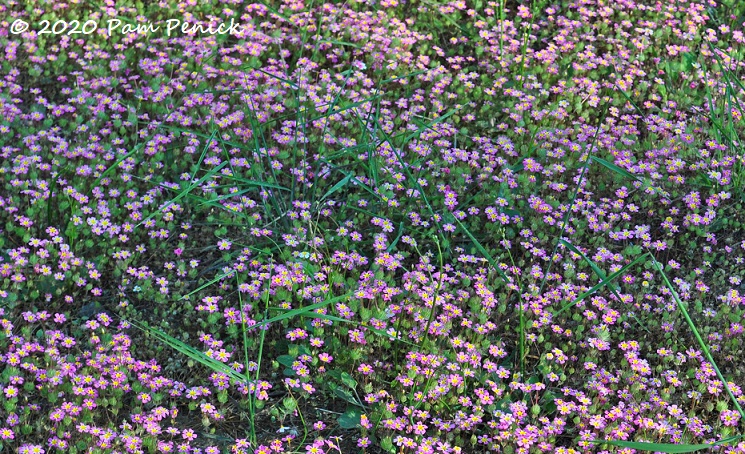 Charming flowers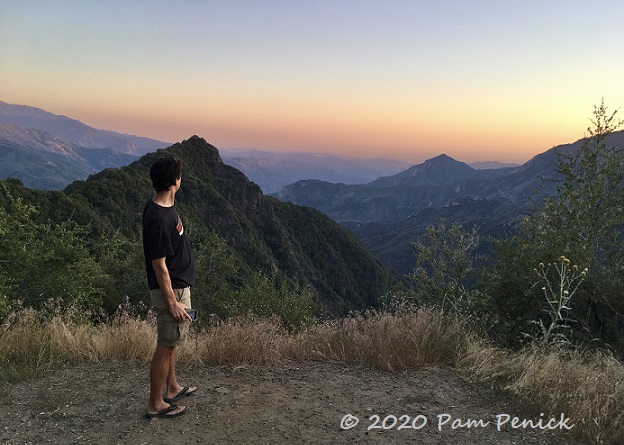 On the road outside the park that evening, we enjoyed a sunset view of the knife-edged Sierra Nevada hills.
Up next: Wildflowers and vertiginous views at Kings Canyon National Park. For a look back at majestic Grand Canyon National Park, click here.
I welcome your comments; please scroll to the end of this post to leave one. If you're reading this in a subscription email, click here to visit Digging and find the comment box at the end of each post.
_______________________
Digging Deeper: News and Upcoming Events
Join the mailing list for Garden Spark! Hungry to learn about garden design from the experts? I'm hosting a series of talks by inspiring garden designers, landscape architects, and authors a few times a year. Held in Austin, the talks are limited-attendance events that sell out quickly, so join the Garden Spark email list to be notified in advance. Simply click this link and ask to be added.
All material © 2020 by Pam Penick for Digging. Unauthorized reproduction prohibited.