[ad_1]

April 24, 2020
Y'all may get weary of seeing my garden each week while I hole up at home during the pandemic. While I'm missing all the gardens I'm usually able to visit and photograph — and share here at Digging — I am enjoying the time spent in my own garden, especially now that the live oak pollen drop is finally cleaned up. Let's take a tour around the back garden, shall we?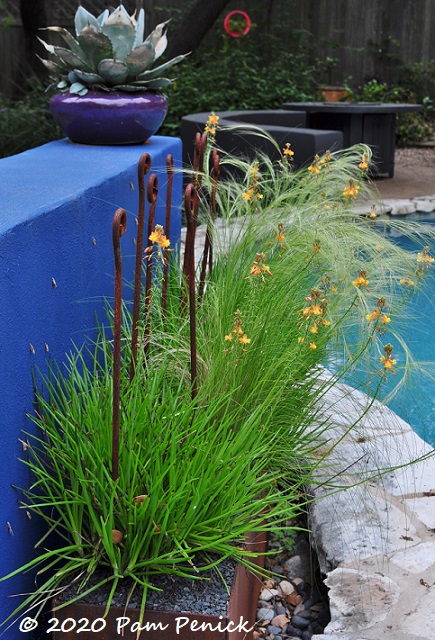 Bulbine and Mexican feathergrass are both abloom in the steel planter by the blue wall.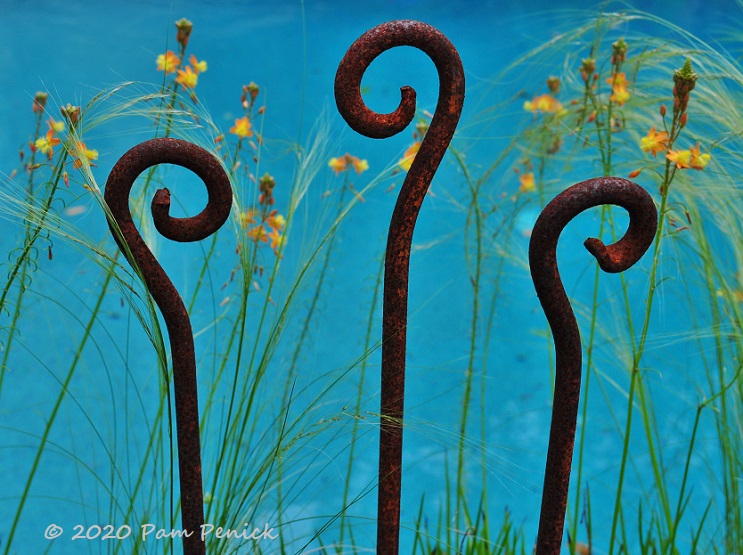 From behind the wall, the swimming pool makes a turquoise backdrop for bulbine and fiddlehead-shaped steel ornaments.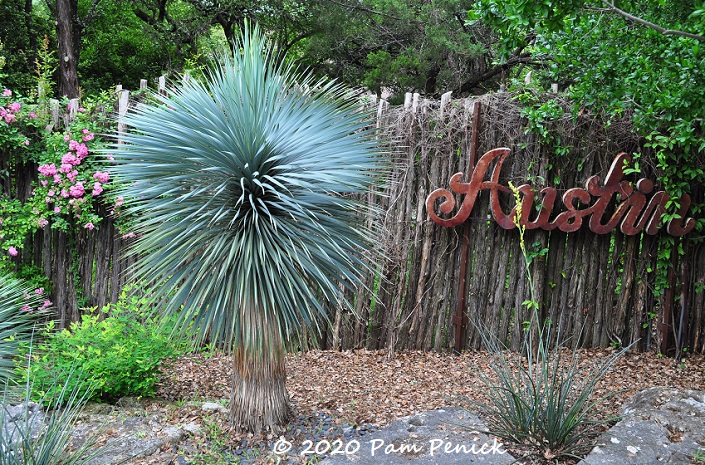 Behind the blue wall stands a Yucca rostrata, my Better Homes and Gardens prize-money plant. Look how big it's getting!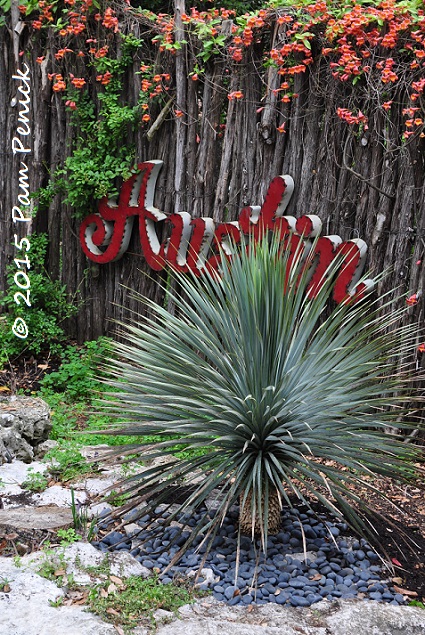 I planted it exactly 5 years ago, pictured here newly installed. It's grown fast and now stands about 6-1/2 feet tall.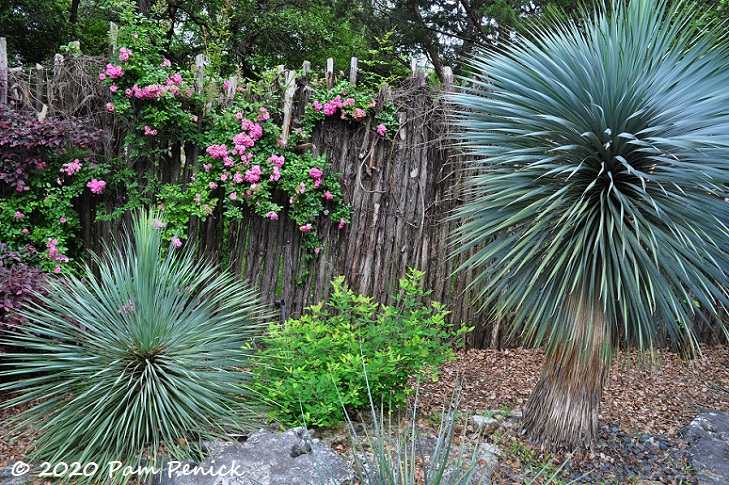 I planted a little brother next to it a couple of years ago. In between is 'Little Volcano' bush clover (Lespedeza thunbergii subsp. thunbergii), a fall-blooming exotic I first saw in Ruthie Burrus's garden. It dies to the ground in winter but has come back the past two springs. The pink rose is 'Peggy Martin', which I was inspired to try after seeing a cascade of flowers in my friend Vicki's garden.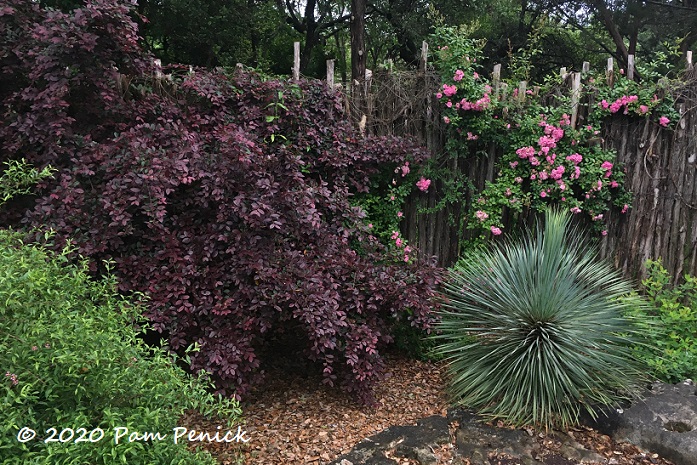 'Peggy Martin' looks terrific paired with moody 'Sizzling Pink' loropetalum (Loropetalum chinense).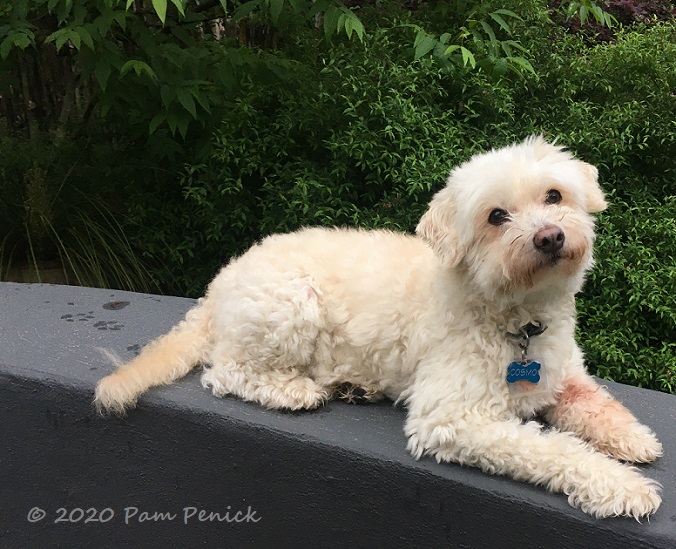 Lounging in his favorite spot — a low wall — Cosmo keeps me company.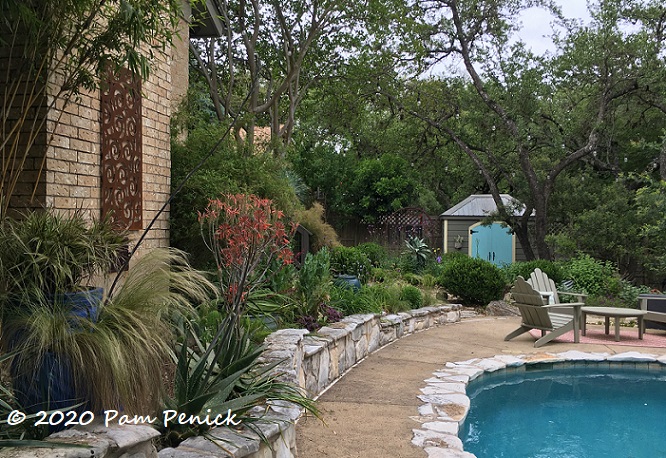 The back garden is shallow but wide, as seen in the long view along the back of the house. A trio of soap aloes (Aloe maculata) in the raised bed have been blooming for weeks. The metal screen on the chimney wall…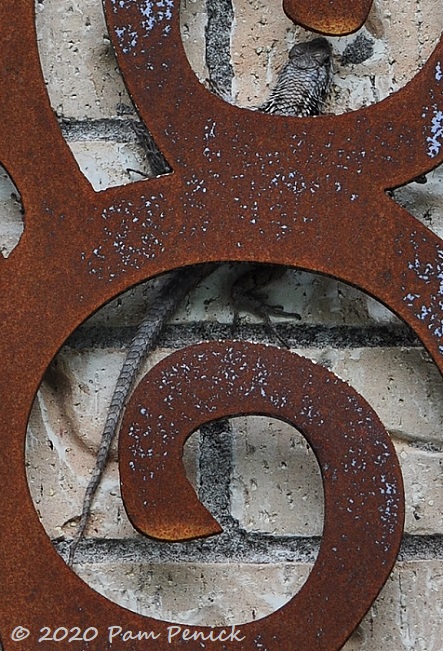 …is a favorite hangout for a big Texas spiny lizard. I see it there nearly every day. Hello, my bug-eating friend!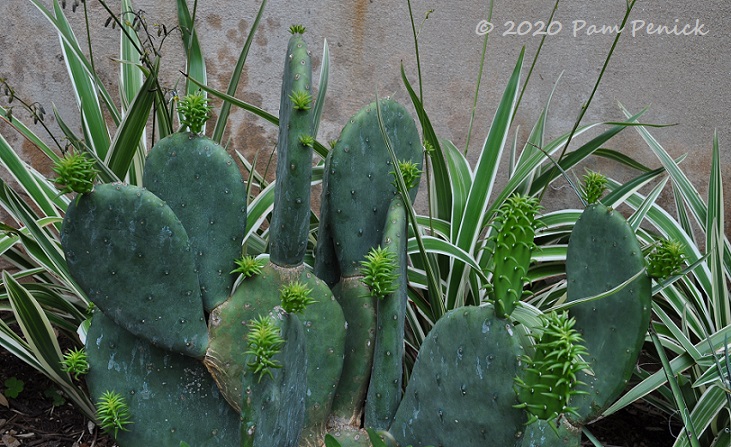 Below the screen grow variegated flax lily (Dianella tasmanica 'Variegata') and a native prickly pear, plants that can take the blast furnace of summer in this south-facing, reflected-heat spot.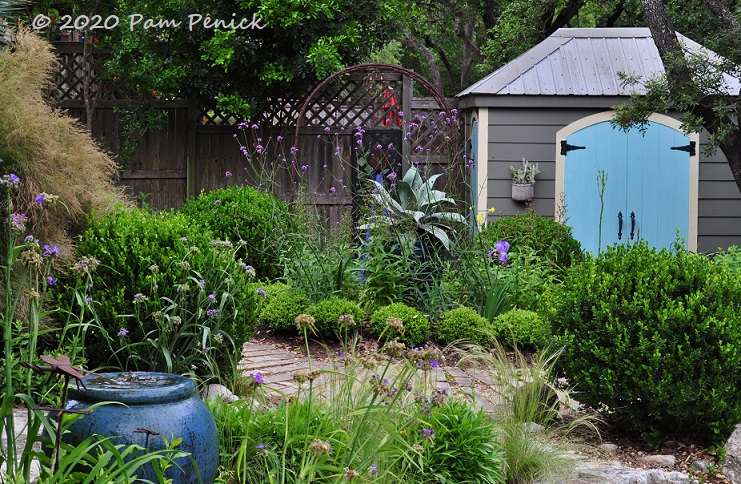 The new Circle Garden, defined by 11-year-old 'Winter Gem' boxwood balls and a necklace of new 'Micron' holly balls, is viewed through a scrim of Verbena bonariensis.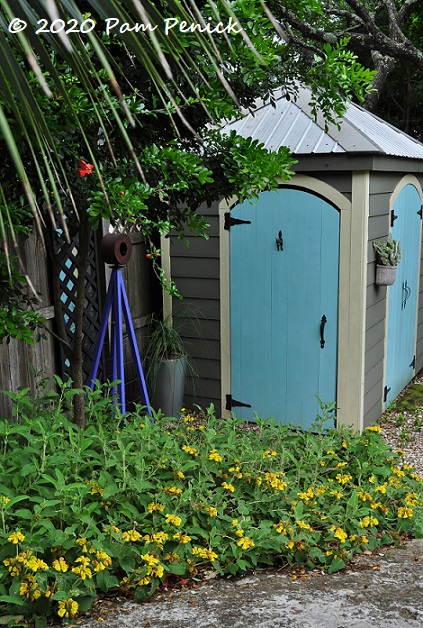 A shade-sprawling Jerusalem sage (Phlomis fruticosa) in golden bloom looks pretty against the turquoise door of the pool-pump shed.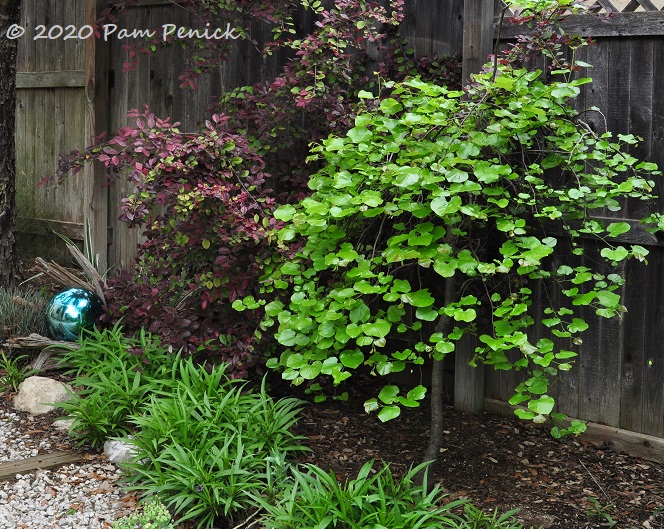 Along the eastside path, 'Traveller' weeping redbud (Cercis canadensis var. texensis 'Traveller') is clothed in new green leaves that contrast with a 'Plum' loropetalum. A fringe of 'Katie' dwarf ruellia (Ruellia brittoniana 'Katie') will be blooming in a few more weeks.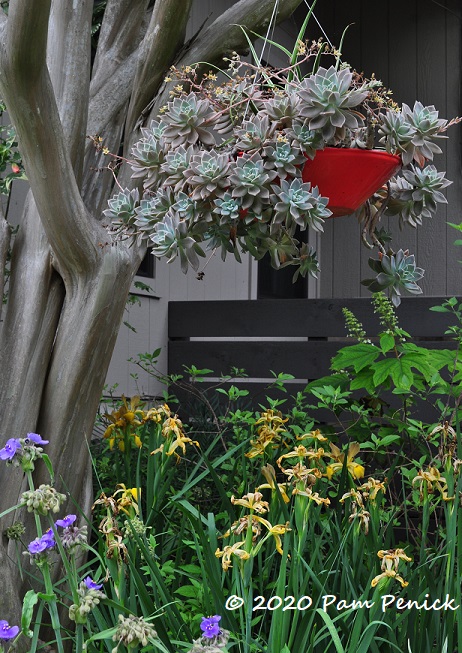 The gold spuria iris are finished, but purple spiderwort (Tradescantia occidentalis) still ekes out a few more blooms each day. Suspended from a crape myrtle, an orange Hover Dish overflows with flowering ghost plant (Graptopetalum paraguayense).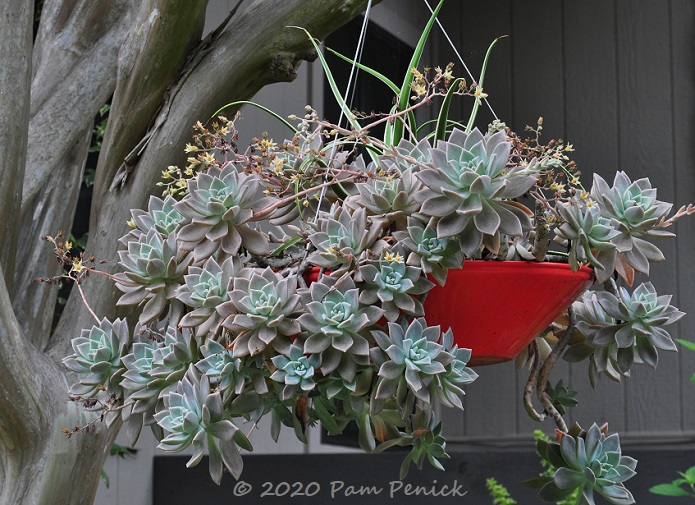 Check out those gorgeous succulent leaves of pinkish gray and pale aqua! I love this hardy (in an Austin winter) succulent. Hummingbirds have been visiting those delicate, straw-colored flowers too.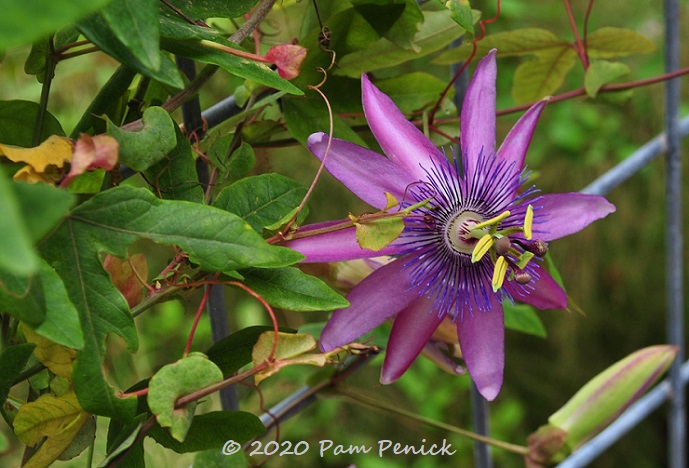 Twining through the deck's cattle-panel railing, 'Lavender Lady' passionflower is putting on a good show too. Gulf fritillary butterflies visit daily, laying eggs on the leaves, so I expect to see hungry orange caterpillars any day now. And that's OK. They need to eat, and butterflies are a pretty ornament in the garden when flowers are gone.
I welcome your comments; please scroll to the end of this post to leave one. If you're reading this in a subscription email, click here to visit Digging and find the comment box at the end of each post.
_______________________
Digging Deeper: News and Upcoming Events
Stream Five Seasons: The Gardens of Piet Oudolf, a film about the celebrated plant designer of NYC's High Line and other gardens, previously watchable only through special screenings, this Friday through Sunday on Hauser & Wirth's website.
Join the mailing list for Garden Spark! Hungry to learn about garden design from the experts? I'm hosting a series of talks by inspiring garden designers, landscape architects, and authors a few times a year. Held in Austin, the talks are limited-attendance events that sell out quickly, so join the Garden Spark email list to be notified in advance. Simply click this link and ask to be added.
All material © 2020 by Pam Penick for Digging. Unauthorized reproduction prohibited.
[ad_2]

Source link