[ad_1]

September 30, 2020
The yellow spider lilies (Lycoris aurea) are up 3 weeks earlier than last year, perhaps due to our cooler than usual early fall, and I am here for it.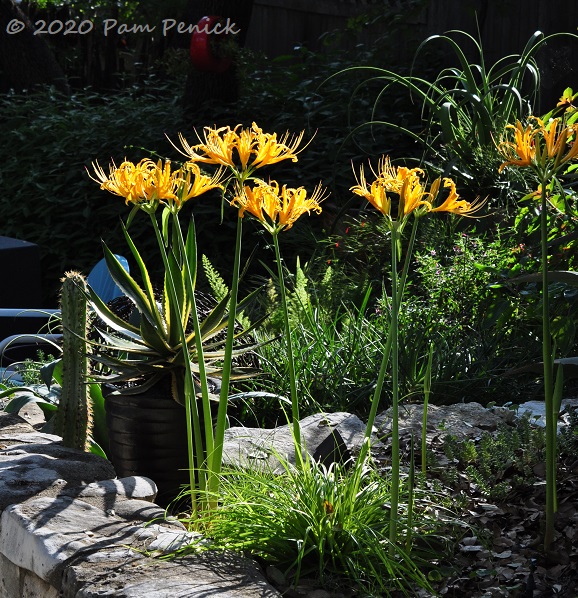 Each afternoon the sunlight slants under the live oaks and hits the lilies like a spotlight, an effect I enjoy even indoors from my office window.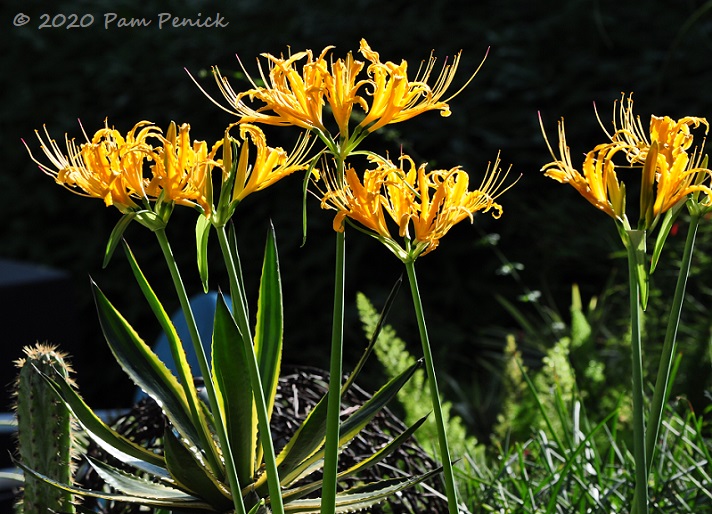 Golden hour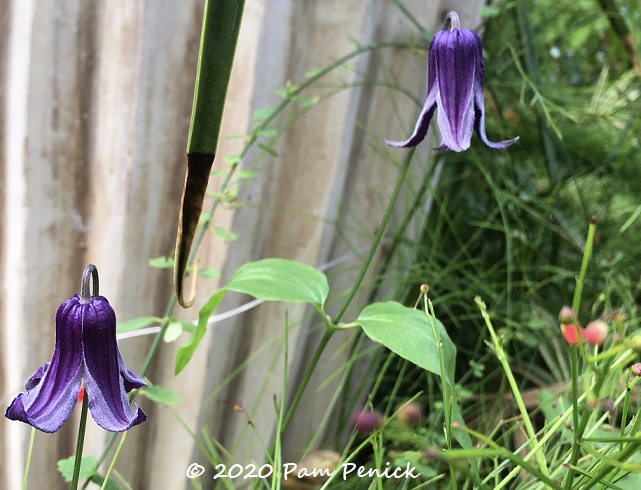 I've also got purple power going on. 'Rooguchi' clematis rambles across red firecracker fern and foxtail fern, dangling bell-shaped flowers from shepherd's-hook stems.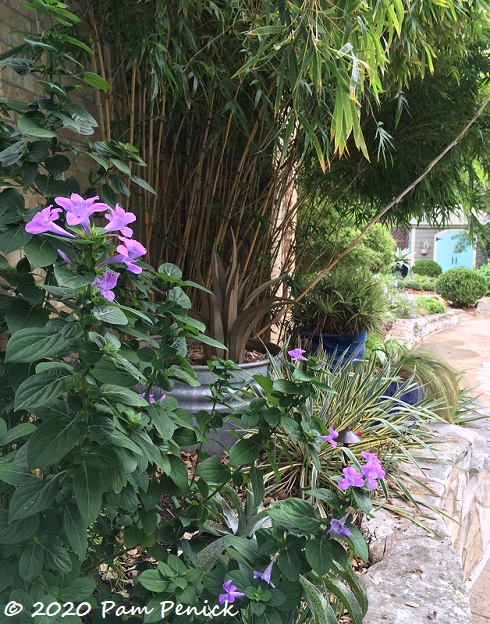 Philippine violet (Barleria cristata) opens more purple flowers every day.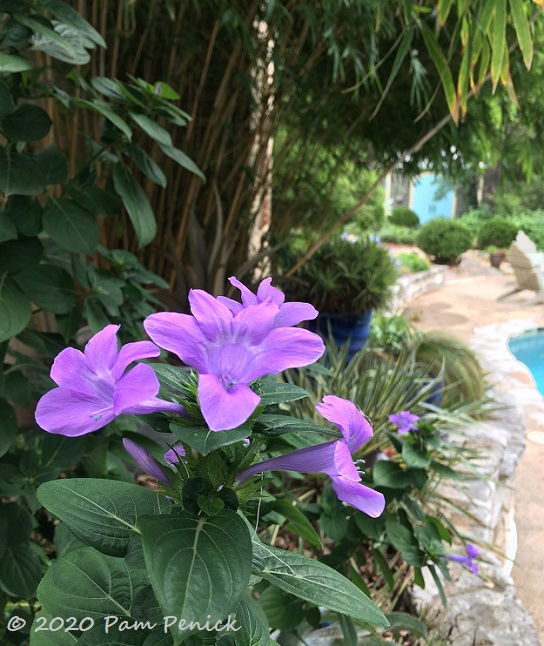 One of my fall faves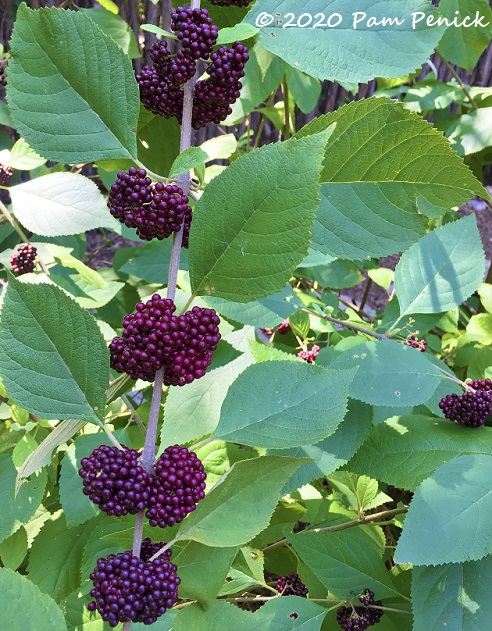 And the dark-purple berries of Mexican beautyberry (Callicarpa acuminata) are fully ripe and on offer for the birds.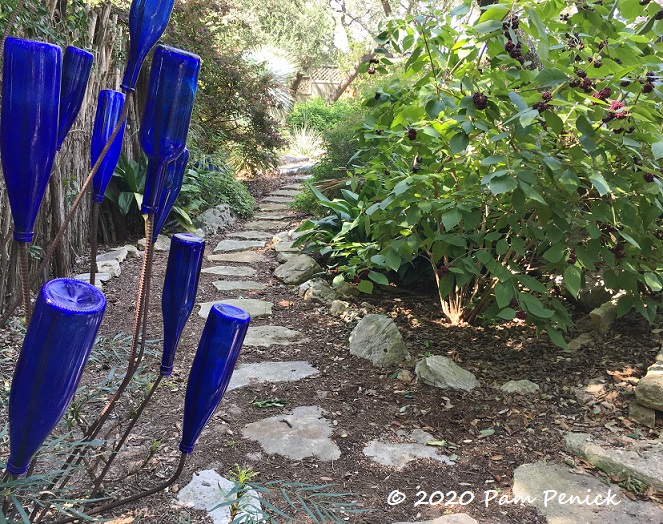 You can see the 7-foot-tall shrub in the background. Mexican beautyberries are nearly black in the shade. Birds seem to prefer American beautyberry though, devouring those berries as soon as they ripen. They work on these later in the fall and winter, giving me plenty of time to enjoy them too.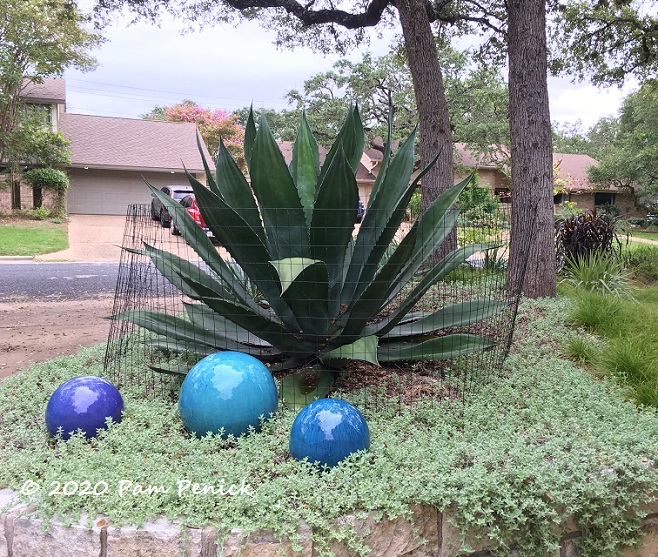 Fall also means that male deer with itchy velvet on battle-ready antlers are looking for rubbing posts. So I've encircled my biggest agaves, giant hesperaloes, and small trees with black coated fencing wire. It's not a look I love, but it's the only thing that really works to save my plants from major damage. The black wire is less noticeable than regular silver wire, but it can be harder to find. I just got a new roll at Lowe's on Shoal Creek, if anyone in Austin is looking.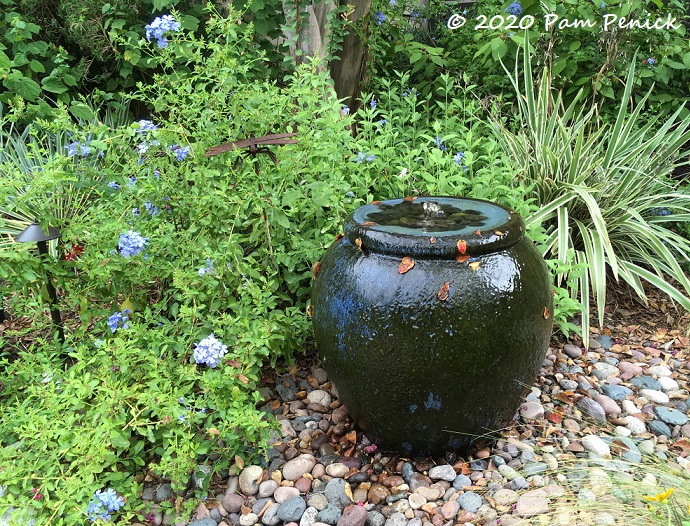 Another recent change is my bird-bathing fountain, which sits just off the back deck. I loved the blue disappearing fountain (click the link to see it all clean), but it needed scrubbing with a wire scouring pad at least once a week in summer or else it looked like this, completely covered in slimy algae.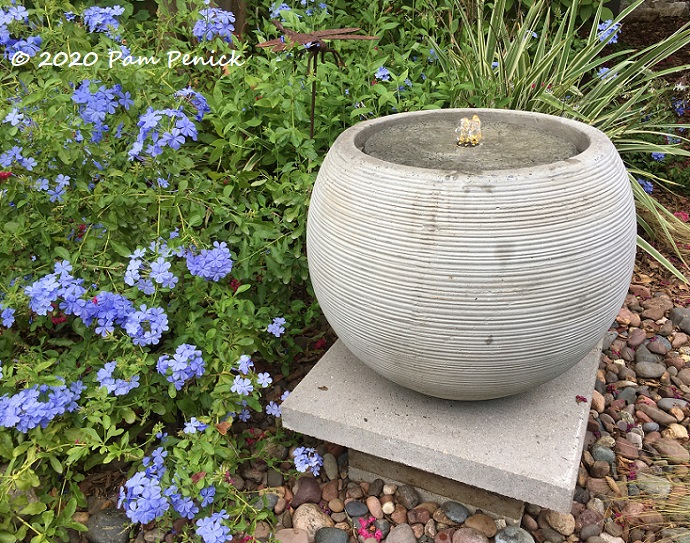 I'm continually looking for ways to make my garden less work, so I recently replaced my old fountain with this free-standing, cast-stone fountain from Hill Country Water Gardens & Nursery. The new fountain bubbles up and across a removeable lid that acts as a bathing platform for birds. Best of all, because water doesn't flow down the outside of the fountain, there's no algae to worry about.
I set it on a tamped base that supports a stack of 12×12-inch concrete pavers, topped with one 18×18-inch paver. I really like the more contemporary look. Nothing is maintenance free, of course, and unlike my earlier fountain, which drains into a hidden basin when unplugged, this one will have to be emptied before a freeze or risk hairline cracks developing.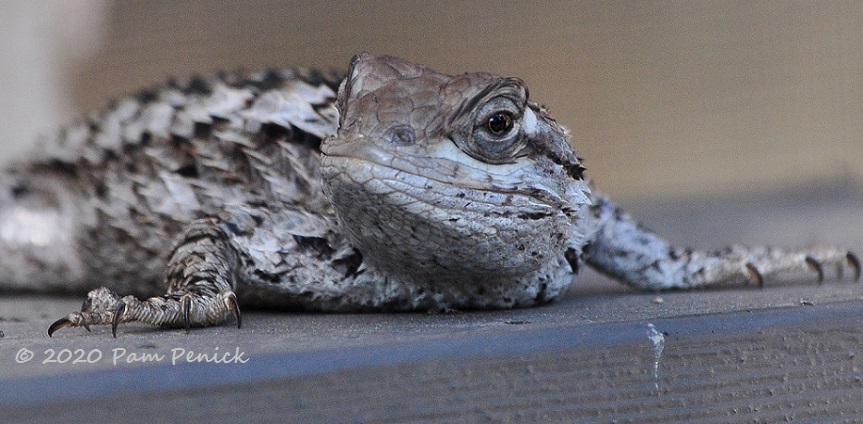 I've got a bigger project in the works, a redesign of part of a side-yard garden, but I'm taking my time and thinking through what I want it to be. Fall is a perfect time for garden projects. I have an audience as I make the rounds in the garden — a Texas spiny lizard who lounges every day on a patio table and keeps an eye on things. Cute, isn't he?
I welcome your comments; please scroll to the end of this post to leave one. If you're reading this in a subscription email, click here to visit Digging and find the comment box at the end of each post.
_______________________
Digging Deeper: News and Upcoming Events
Join the mailing list for Garden Spark! Hungry to learn about garden design from the experts? I'm hosting a series of talks by inspiring garden designers, landscape architects, and authors a few times a year. Held in Austin, the talks are limited-attendance events that sell out quickly, so join the Garden Spark email list to be notified in advance. Simply click this link and ask to be added.
All material © 2020 by Pam Penick for Digging. Unauthorized reproduction prohibited.
[ad_2]

Source link