March 30, 2020
The garden reemerged last weekend, after copious raking and blowing and bagging, from the annual spring deluge of last season's live oak leaves and subsequent pollen catkins. I ran around with the camera, capturing the gorgeousness of new flowers and fresh foliage, like this pretty combo of 'Tangerine Beauty' crossvine (Bignonia capreolata 'Tangerine Beauty') and wine-leaved 'Sizzling Pink' loropetalum (Loropetalum chinense) on the cedar fence in the backyard.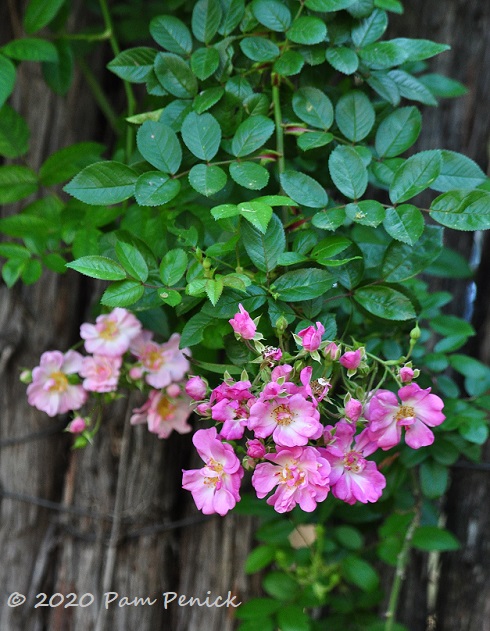 The center of the fence offers a rare sunny spot in my garden, for half the day anyway, and this year the Katrina rose (Rosa 'Peggy Martin') sports dozens of clusters of pink flowers.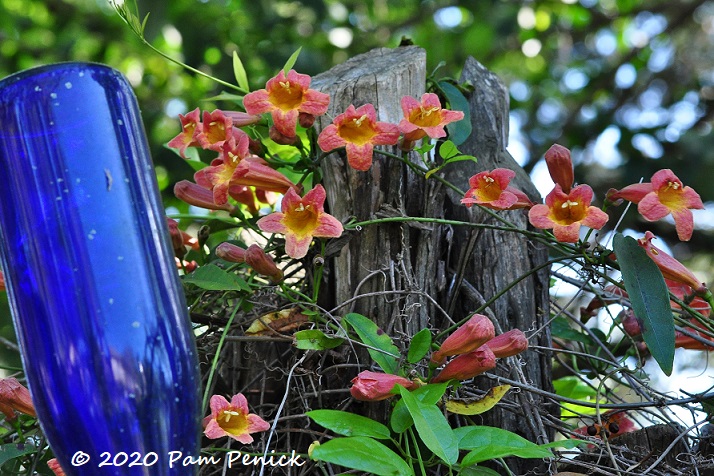 'Tangerine Beauty' crossvine rambles all along the length of the fence…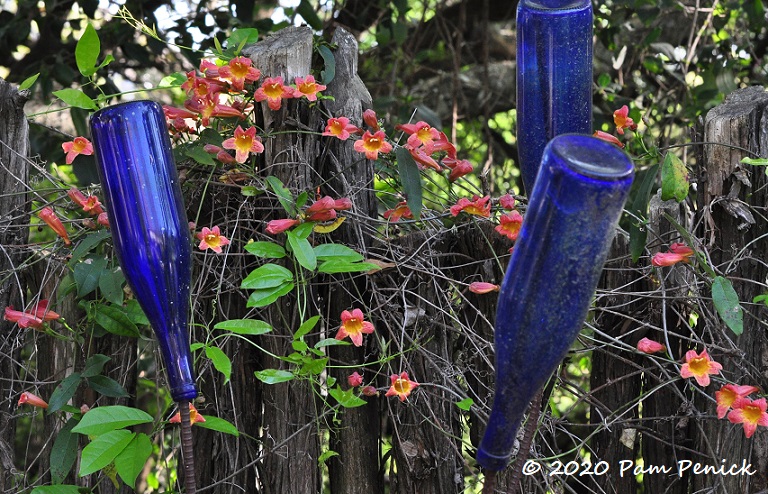 …keeping company with blue bottles on the bottle tree.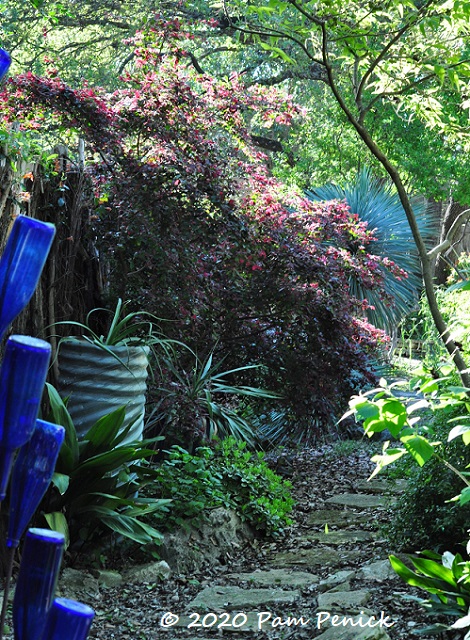 Looking lengthwise past the bottle tree, 'Sizzling Pink' loropetalum reappears, backed by a spiky blue fringe of Yucca rostrata.
Still on my to-do list: lightly prune the loropetalum, which threatens to overrun the path.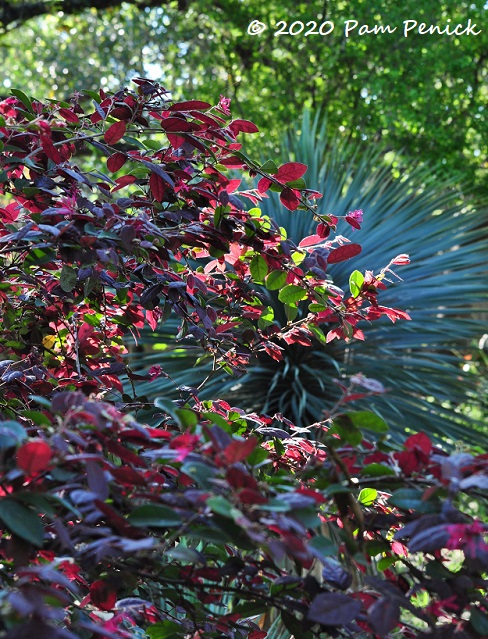 I adore those burgundy leaves as they catch the sunlight.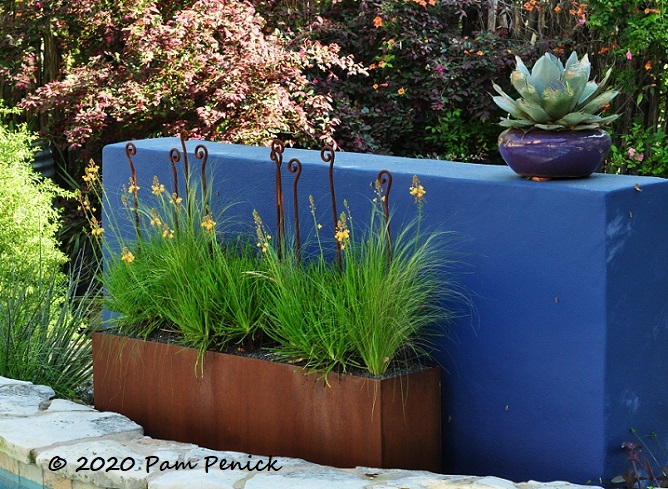 The loropetalum echoes the rusty steel planter in front of the blue wall. Orange bulbine has just started blooming again, mingling with the soft texture of Mexican feathergrass.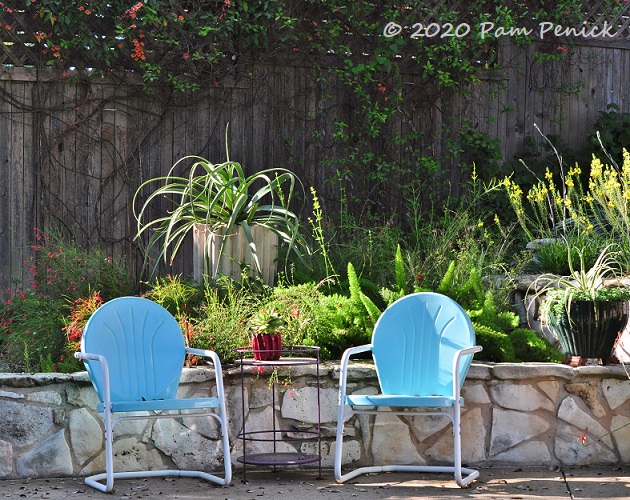 On the west end of the garden, the motel chair patio looks cheerful with a writhing squid agave (A. bracteosa) standing guard in a tall pot.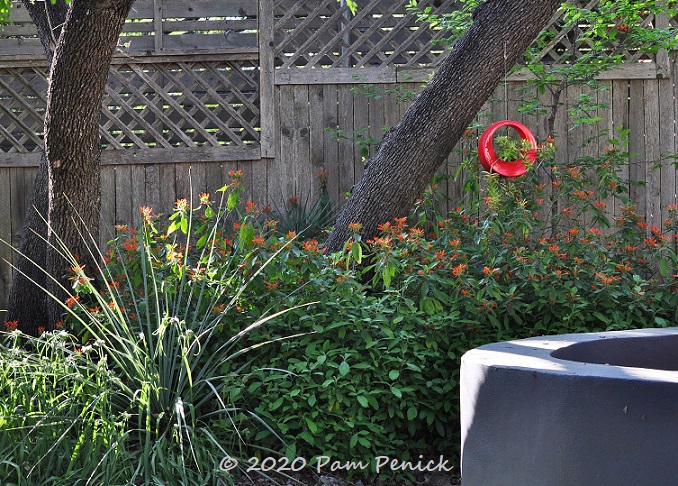 Panning left, a soft hedge of Mexican honeysuckle (Justicia spicigera) sends out its siren song to hummingbirds. Strappy blue nolina (Nolina nelsonii) emerges from a bunch of purple-flowering spiderwort (Tradescantia occidentalis), all closed up for the afternoon.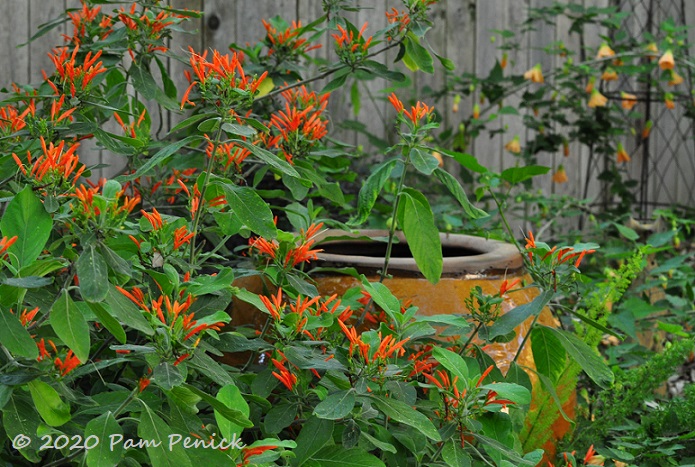 I love this combo of Mexican honeysuckle, an orange glazed pot, and 'Bartley Schwarz' abutilon.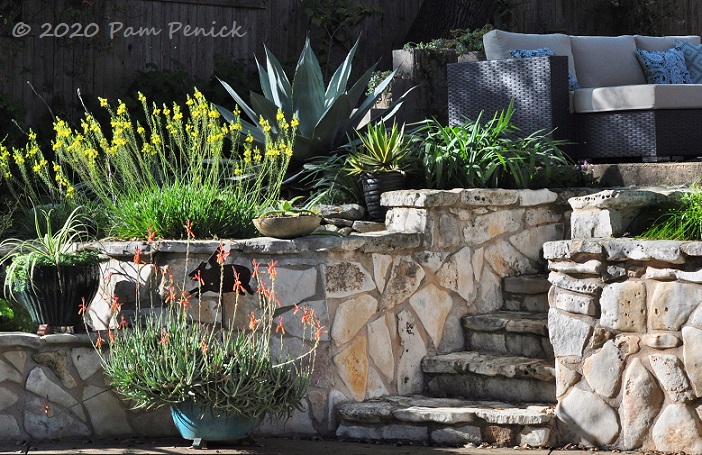 Panning right you can see my new outdoor sofa, perfect for lounging, on the upper patio, with whale's tongue agave (A. ovatifolia) and yellow bulbine catching the afternoon sunlight.
Potted up in front of the wall is 'Blue Elf' aloe, which I've had in this same pot for some 17 years. I periodically prune it back hard in late spring and let it come up afresh.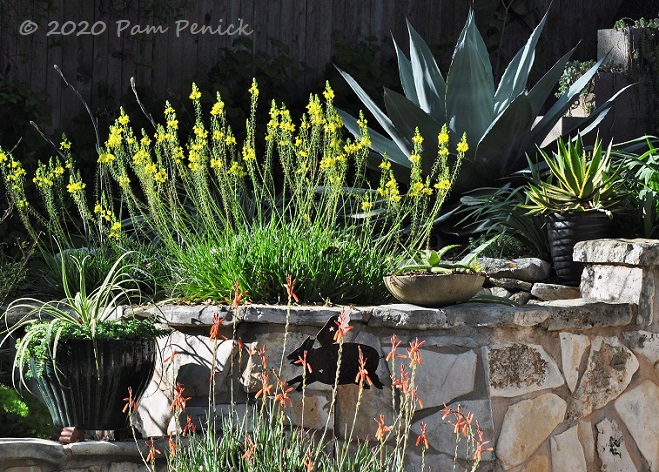 Sunny flower spikes!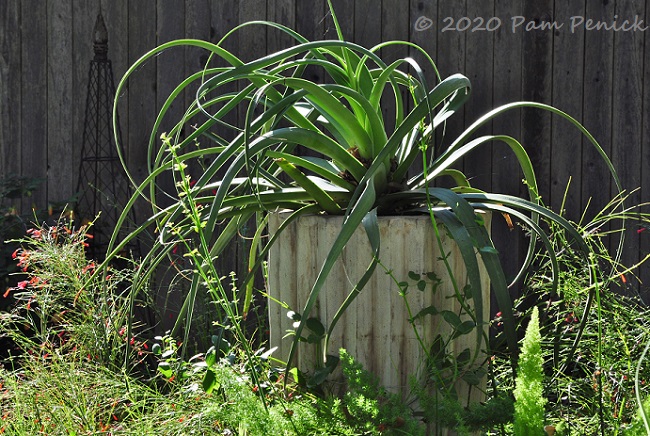 And more swirly squid agave arms.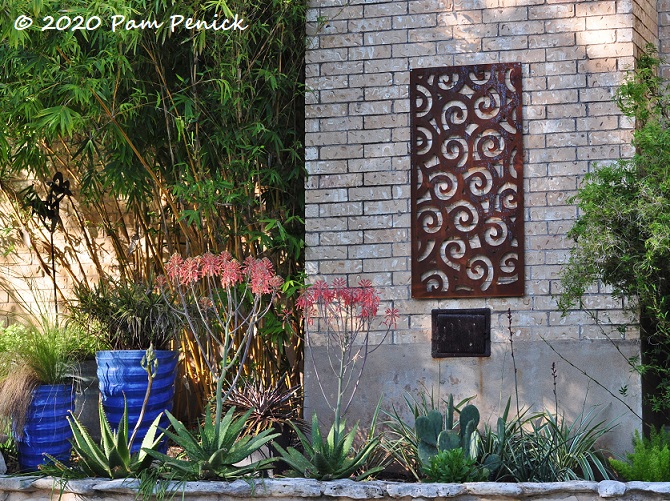 Behind the chimney, soap aloe (Aloe maculata) hoists its red candelabra flowers. Of course all I can see when I look at this view is an 'Alphonse Karr' bamboo that needs thinning and stripping. A task for another day.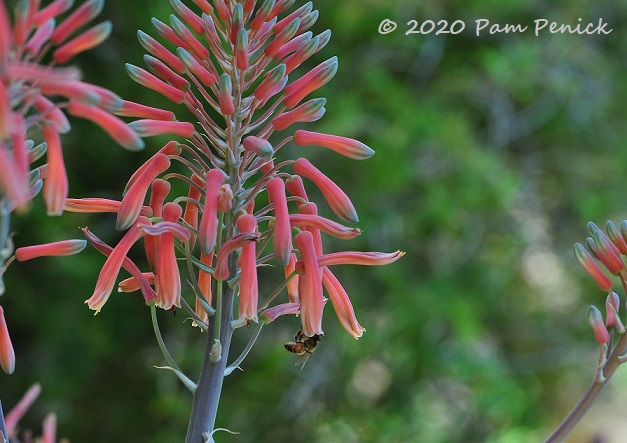 I'm also disturbed by a lack of honeybees in my garden this spring. Normally the spring garden would be buzzing with bees on Gulf Coast penstemon, spiderwort, and other spring flowers. This spring I've only seen a handful, including on the soap aloe, crawling way up inside the tubular blossoms.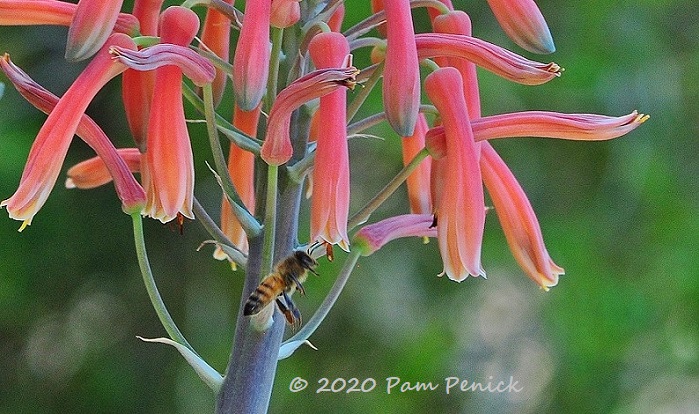 Here's one cutie. But seriously, where are all the bees?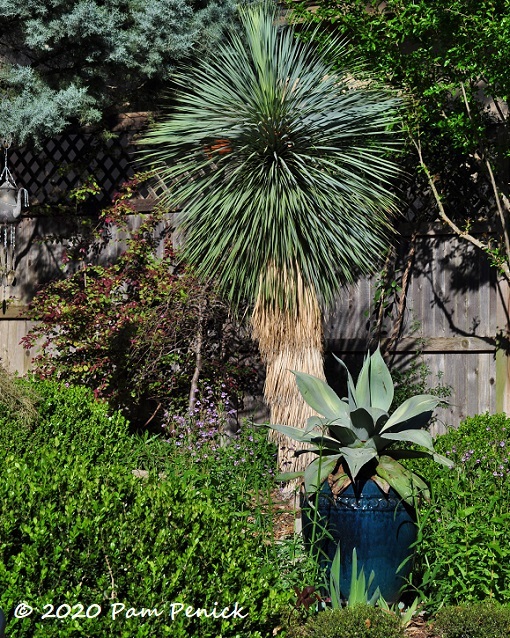 Looking across the garden toward my first Yucca rostrata 'Sapphire Skies', I notice how HUGE it's getting. It's developed a tall trunk with a grassy hula skirt, and it dwarfs the variegated whale's tongue agave potted up in front of it.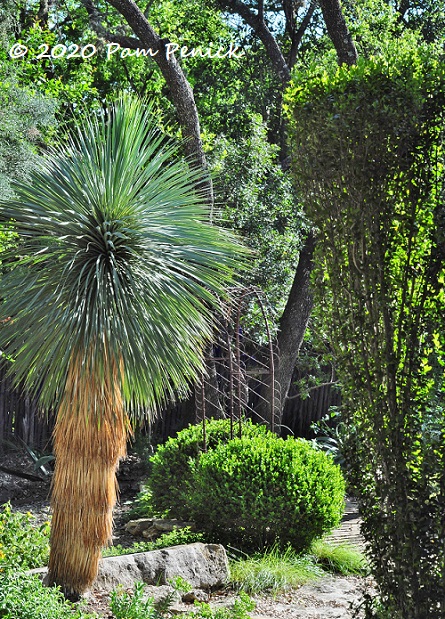 Here's a different view, from up the hillside path. That's a columnar 'Will Fleming' yaupon in the foreground at right.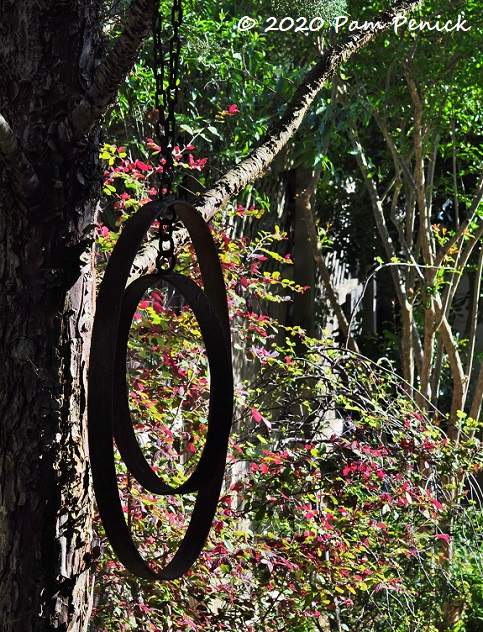 Metal hoops adorn a branch of an Arizona cypress, framing a view of another loropetalum.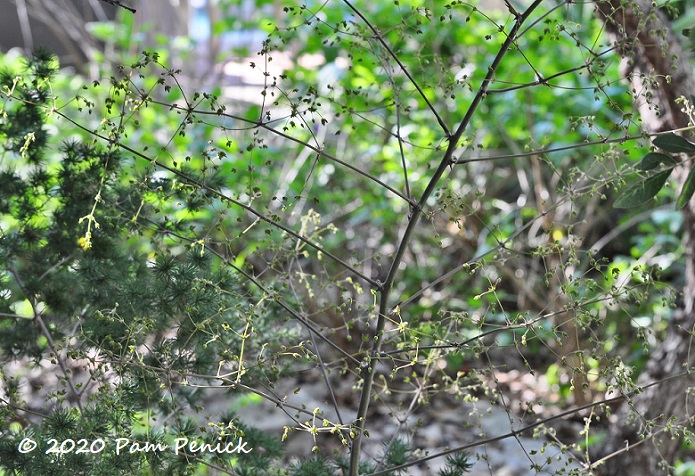 Here's something I don't think I've ever photographed: Ming fern's airy flower stalk (Asparagus retrofractus).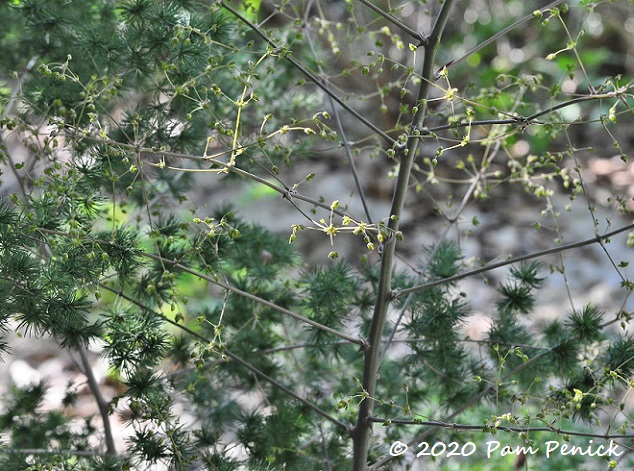 It's quite pretty rising from Ming fern's soft, conifer-like foliage.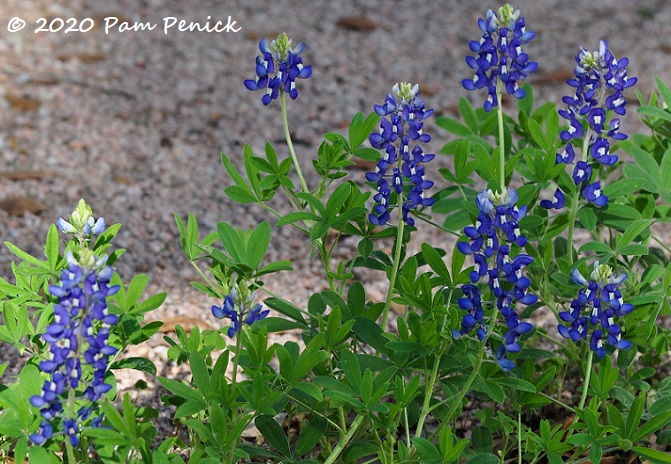 Now let's head out front, where a few bluebonnets grow in the gravel path beside the driveway. These self-seeders have managed to avoid being trod on by Amazon delivery guys, and these days that's saying something.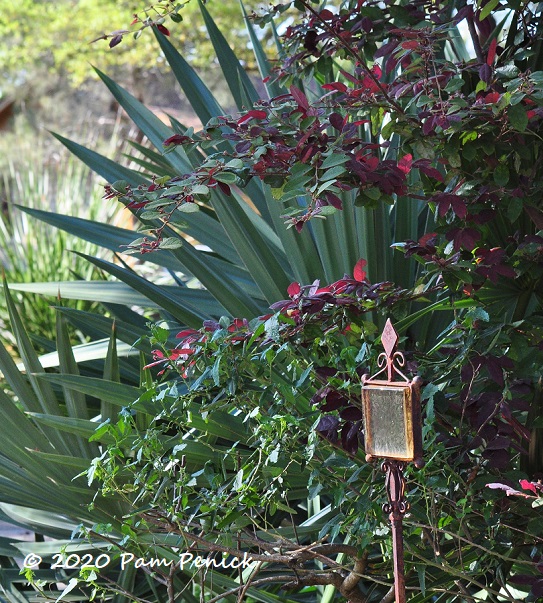 Yet another loropetalum ('Rubrum') adds its richly colored foliage to the Sabal minor palmettos in the island bed.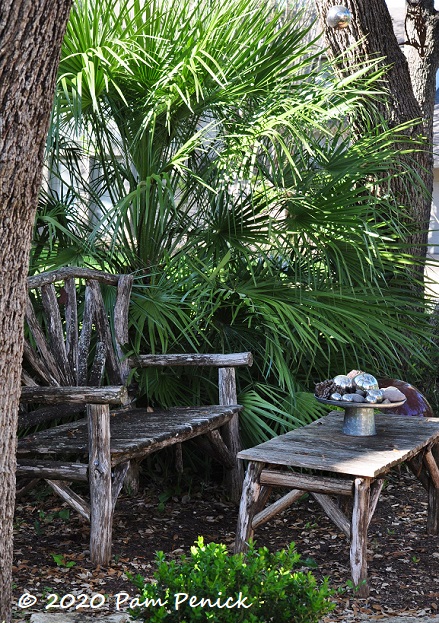 A side-yard cedar bench offers private seating behind an increasingly massive Mediterranean fan palm (Chamaerops humilis).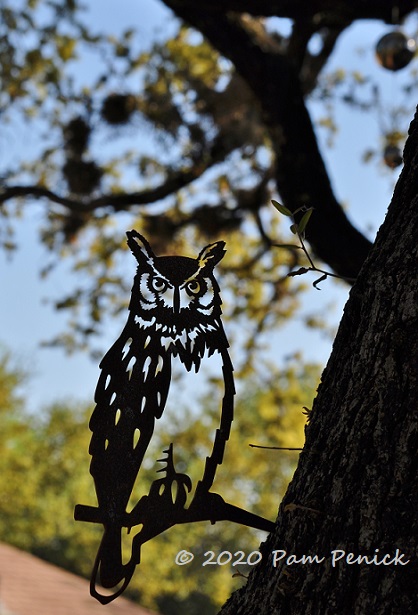 A metal great horned owl watches over the bench.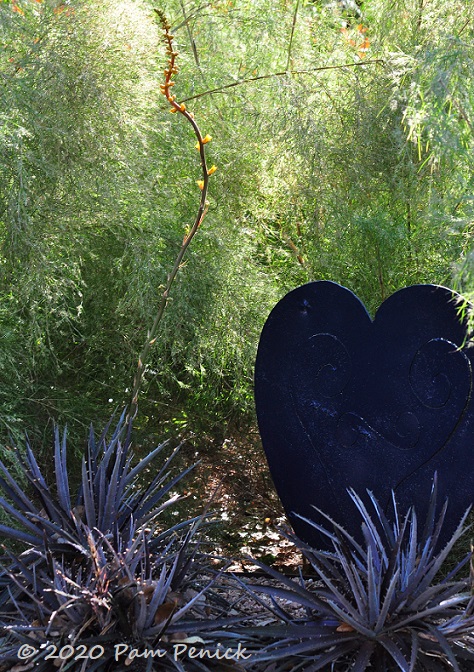 Our resident deer herd loves to nosh on yucca, hesperaloe, and dyckia bloom spikes, but somehow they missed this one.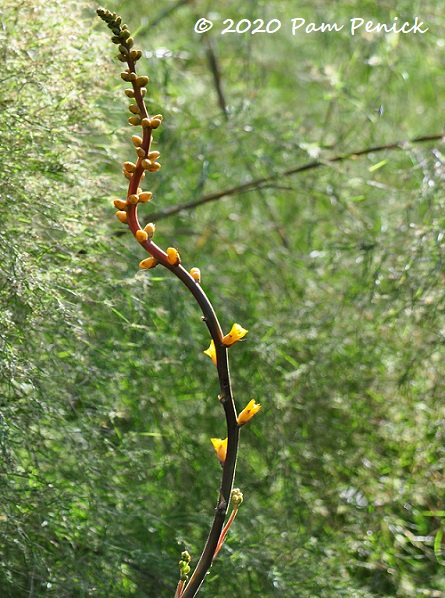 Its furry gold flowers open from the bottom up.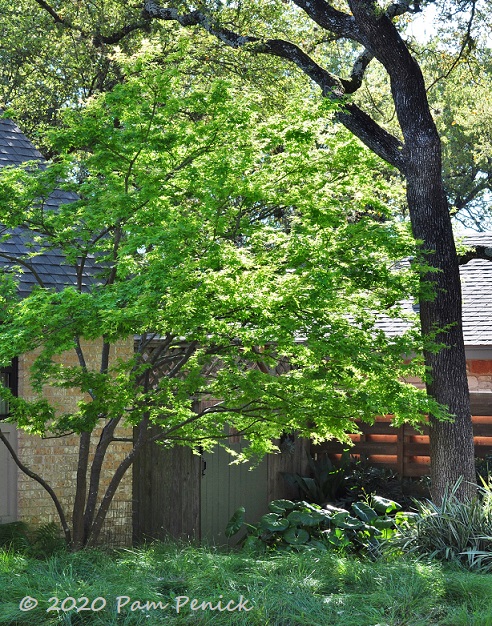 The Japanese maple (Acer palmatum), one of the few plants in my garden that I didn't plant — has fully leafed out and now glows bright green.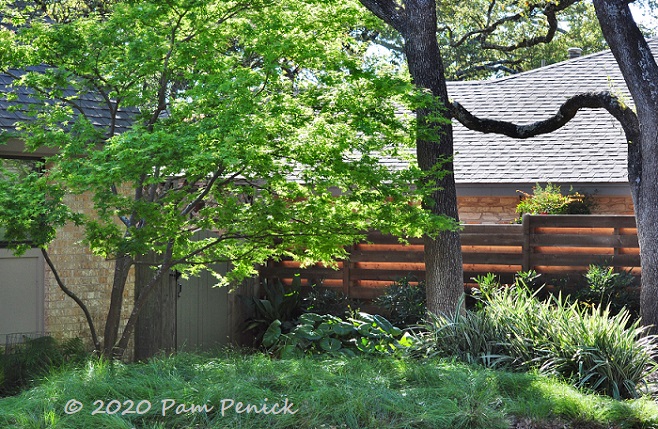 Combined with a meadowy sedge lawnette, giant leopard plant (Farfugium japonicum 'Gigantea'), and variegated flax lily (Dianella tasmanica 'Variegata'), it's a study in green foliage and texture.
I welcome your comments; please scroll to the end of this post to leave one. If you're reading this in a subscription email, click here to visit Digging and find the comment box at the end of each post.
_______________________
Digging Deeper: News and Upcoming Events
Join the mailing list for Garden Spark! Hungry to learn about garden design from the experts? I'm hosting a series of talks by inspiring garden designers, landscape architects, and authors a few times a year. Held in Austin, the talks are limited-attendance events that sell out quickly, so join the Garden Spark email list to be notified in advance. Simply click this link and ask to be added.
All material © 2020 by Pam Penick for Digging. Unauthorized reproduction prohibited.