July 24, 2020
We detoured to San Luis Obispo after Yosemite National Park (click here for the how and why of our socially distanced road trip in June) in order to see our niece, who attends college there. To be safe, we met up outdoors at Spooner's Cove in scenic Montaña de Oro State Park, 30 miles west of town, where we ate Thai takeout on appropriately separated picnic blankets on the beach.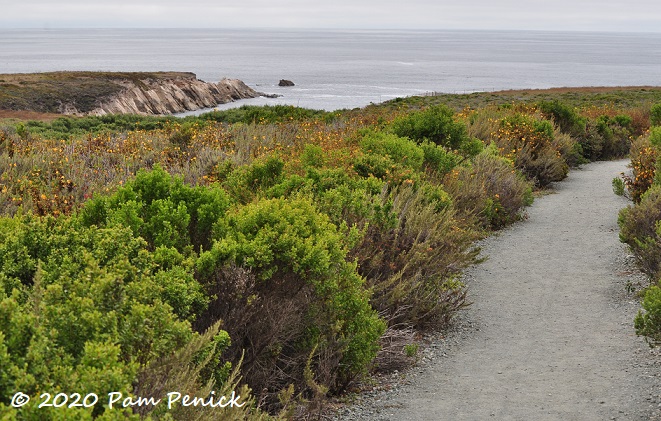 After a long lunch we parted by blowing kisses (no hugs — dang Covid) and took her advice to drive farther into the park and walk along the Bluff Trail for the ocean views. As soon as I started down the half-mile trail through the chaparral, I realized the ocean view was not going to be the main attraction for me.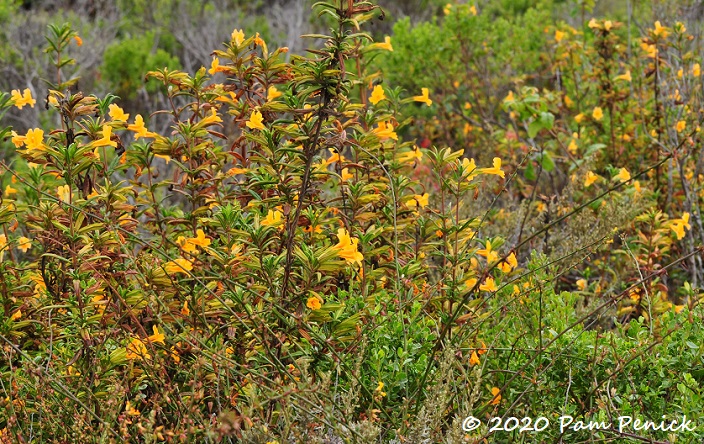 Not when so many beautiful plants were flowering! I pulled out my camera and aimed it at a mass of shrubby plants with tangerine flowers.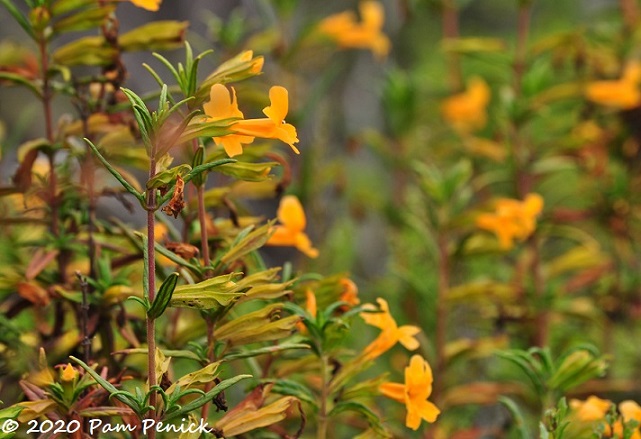 Bush monkey flower (Diplacus aurantiacus) painted swaths of chaparral a golden orange — appropriate considering the park's name, Montaña de Oro, which translates to "mountain of gold."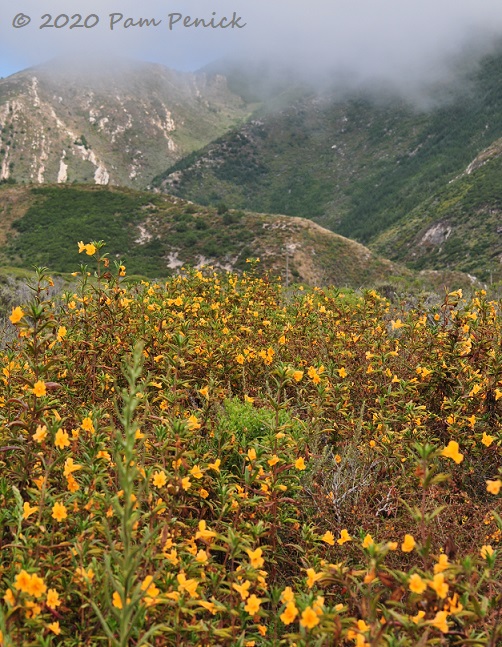 Turn around and you see the mountain, swathed in fog, with monkey flower lighting up the chaparral.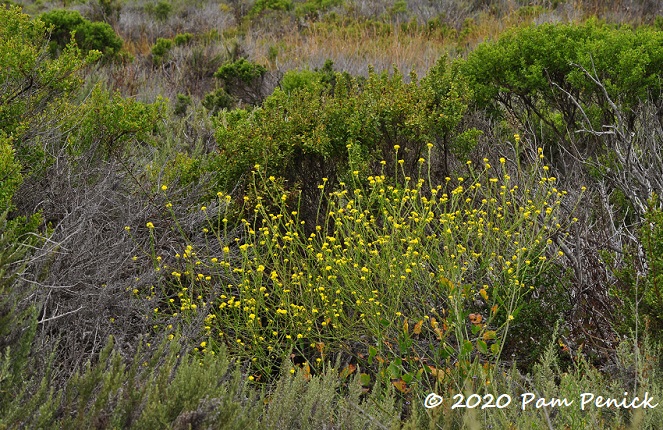 Amid the scrubby greenery, other wildflowers were glowing lemon-lime.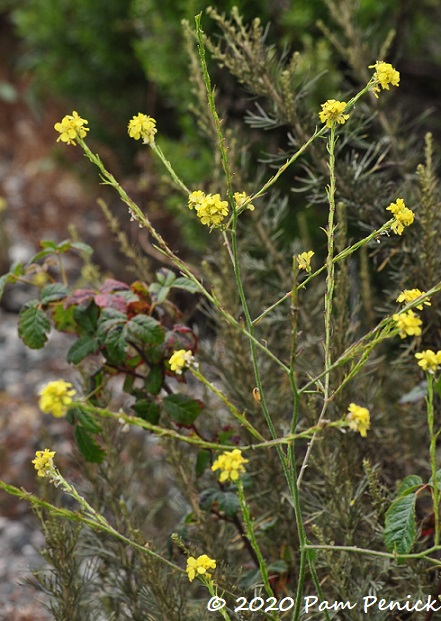 Anyone know the name of this one?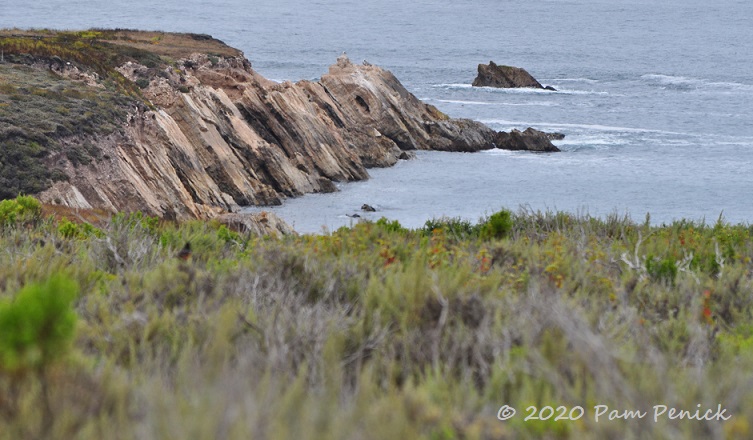 As I inched my way along the trail, I caught glimpses of the sea and dramatic rocks holding up the bluff.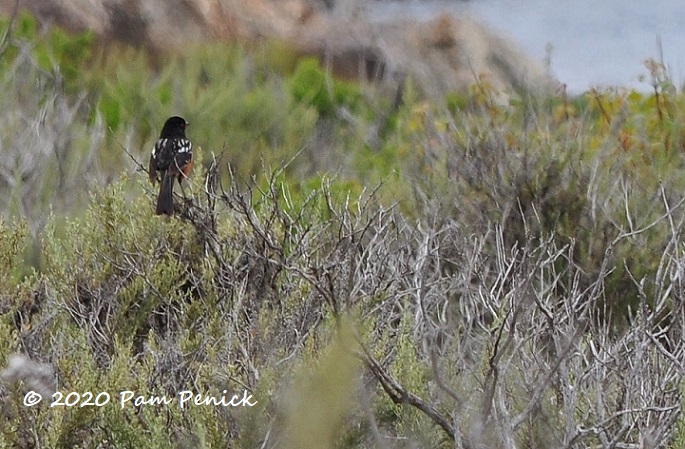 A spotted towhee was taking in the view as well. I soon realized that the Bluff Trail is a terrific birding area.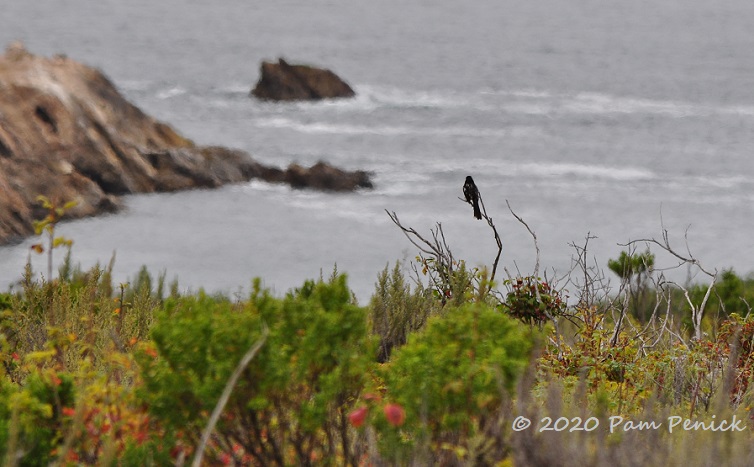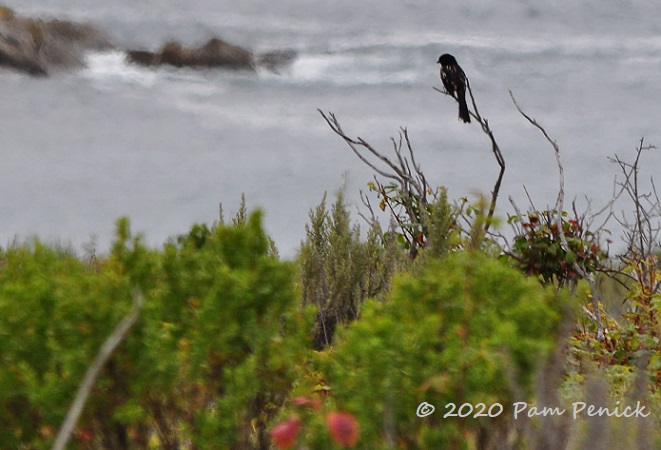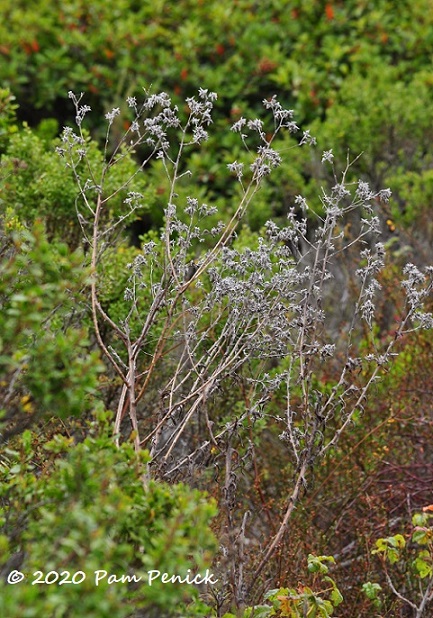 Even plants gone to seed have a skeletal beauty.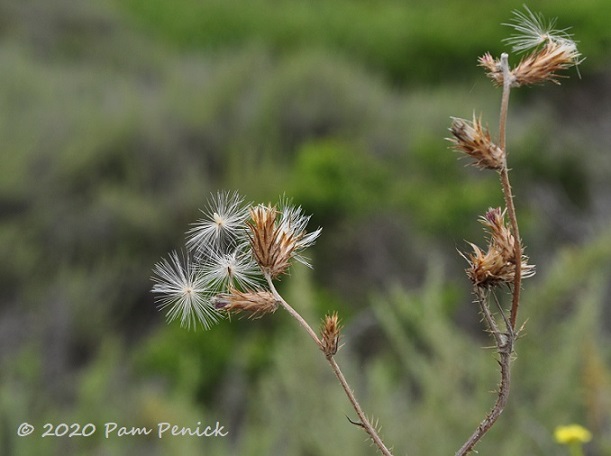 Seeds ready to take flight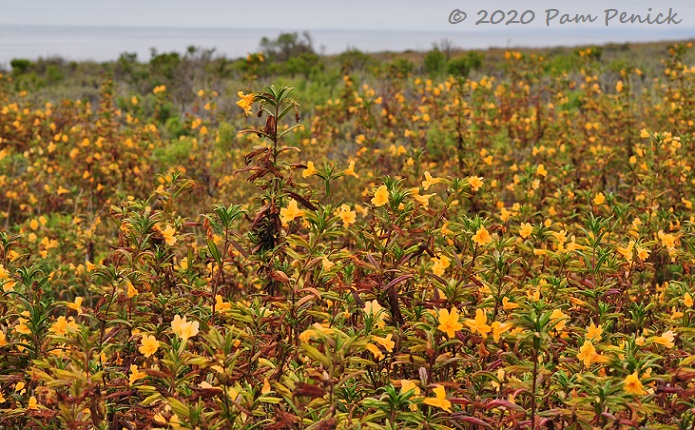 Another swath of bush monkey flower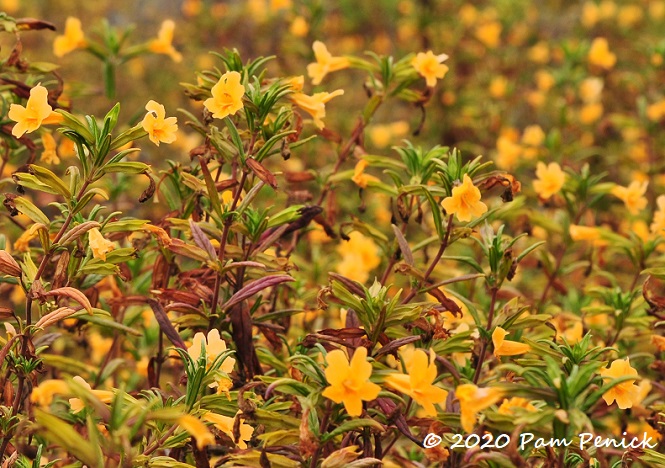 Do the flowers look like monkeys to you? That's where the common name comes from, apparently.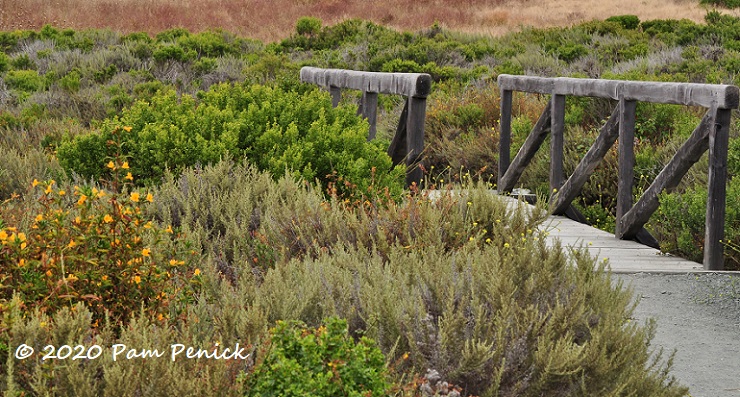 The trail was picturesque, the day wonderfully cool, and a dramatic seascape lay ahead — coastal California at its best.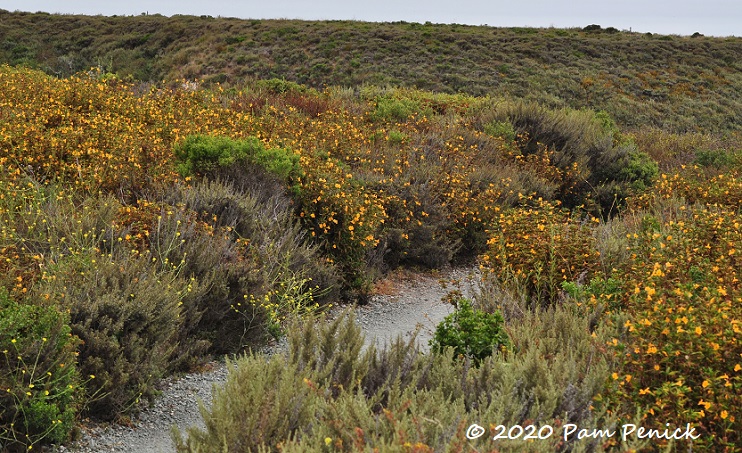 Yes, more monkey flower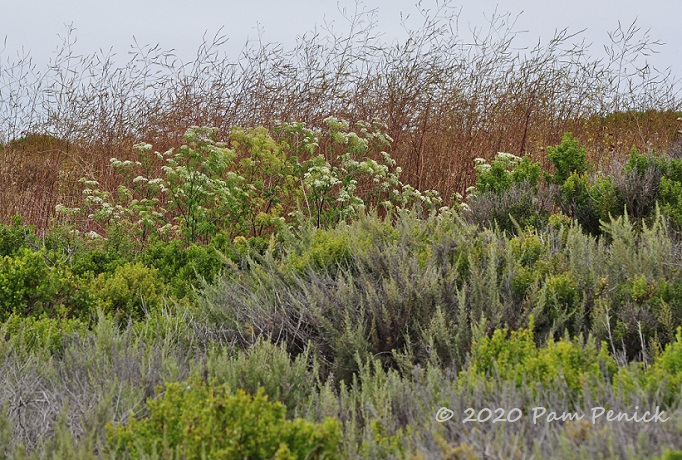 Shades of green with bronze grasses waving behind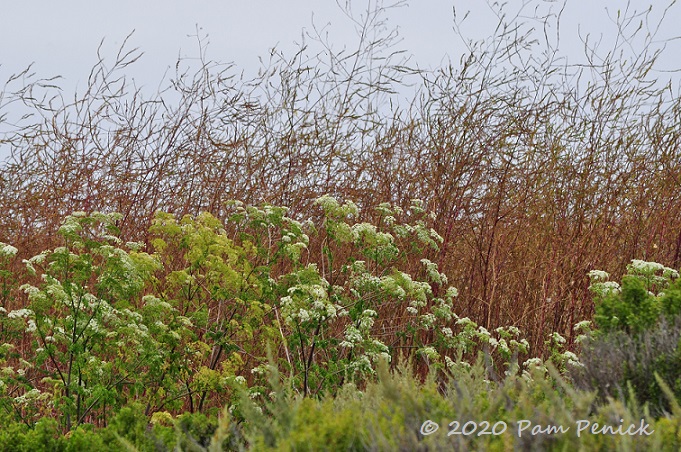 A closer view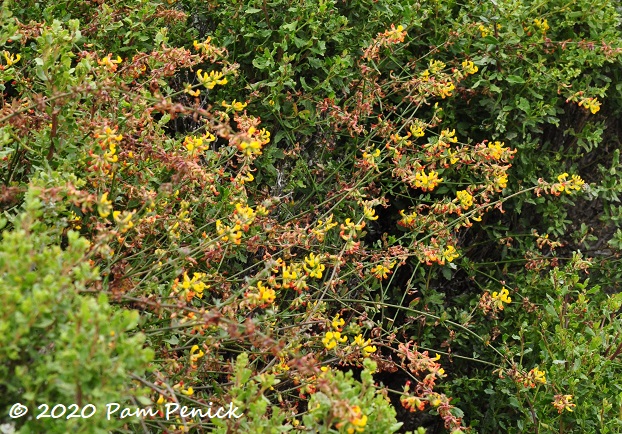 Deerweed (Acmispon glaber), with long stems of banana-yellow flowers tipped with red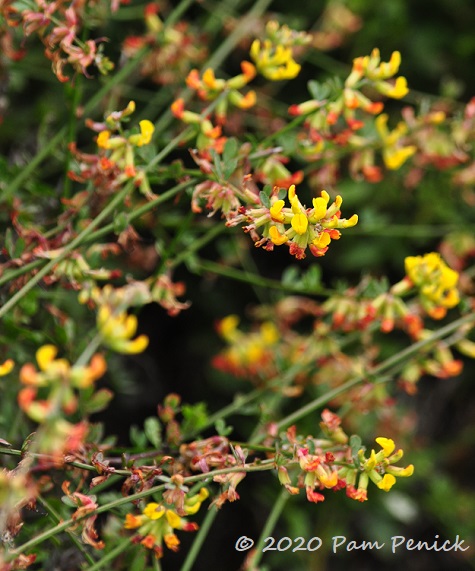 A closeup of deerweed's festive flowers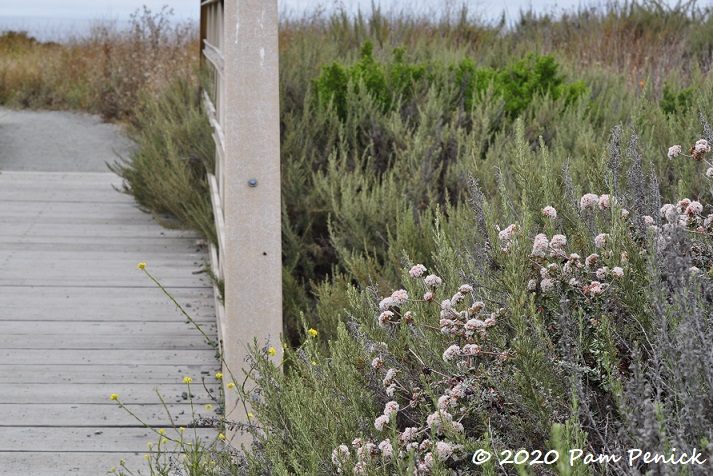 Blush-pink pom-poms of sea cliff buckwheat (Eriogonum parvifolium) peek out of the gray-green scrub.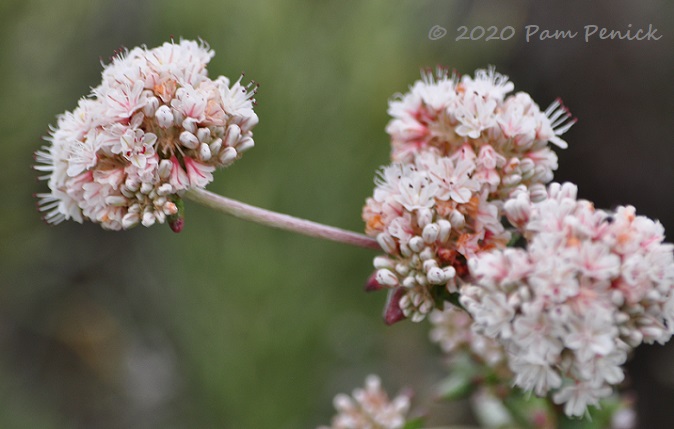 The flowers are lovely up close, like bridal bouquets for fairies.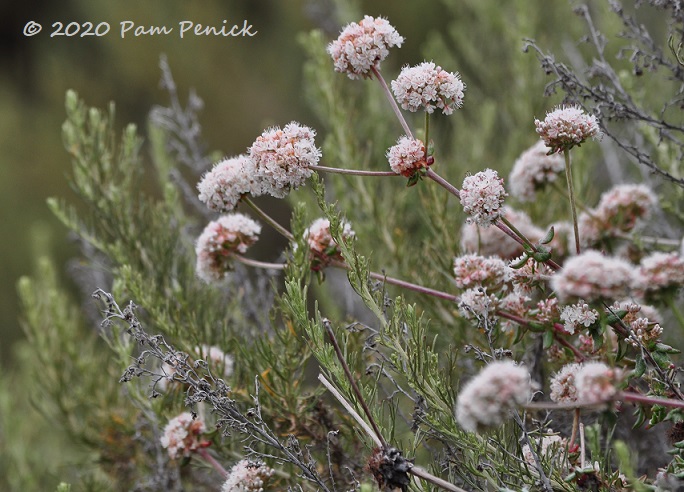 Another look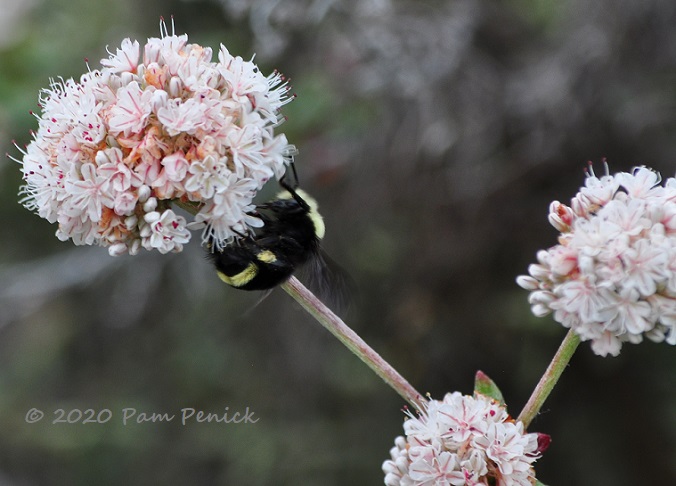 One more with a fuzzy bumblebee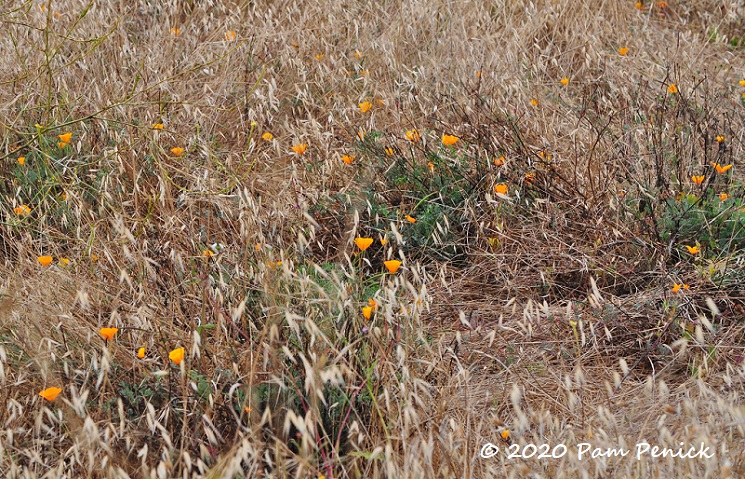 What's a wildflower scene in the Golden State without California poppies (Eschscholzia californica)? The orange chalices shone like half-hidden Easter eggs amid oaty grasses.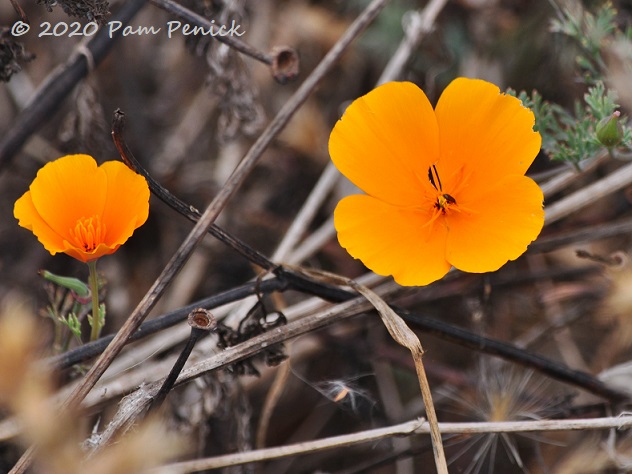 Orange crush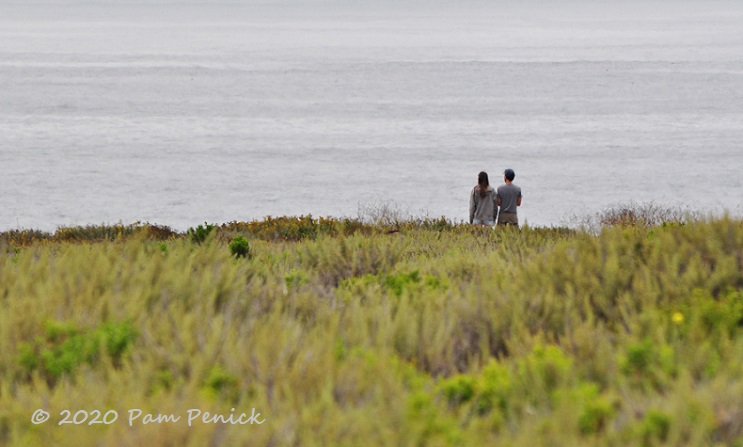 There's the fam, already taking in the ocean view.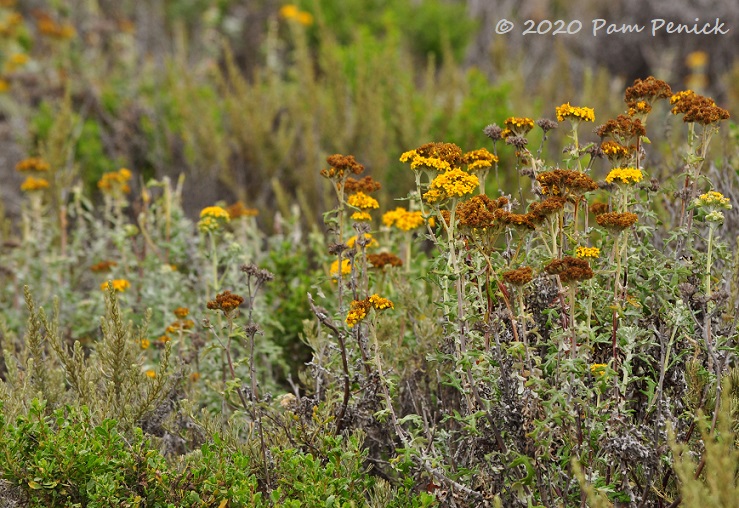 Seaside woolly sunflower (Eriophyllum staechadifolium) going to seed, its mustard-yellow flowers turning a toasted brown.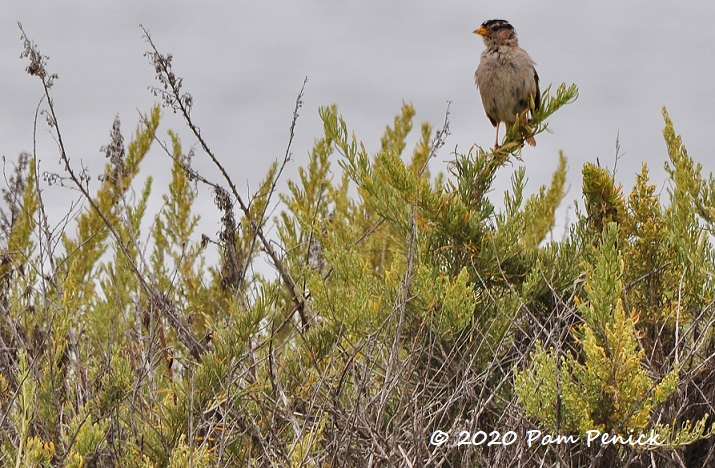 One of the many birds flitting through the chaparral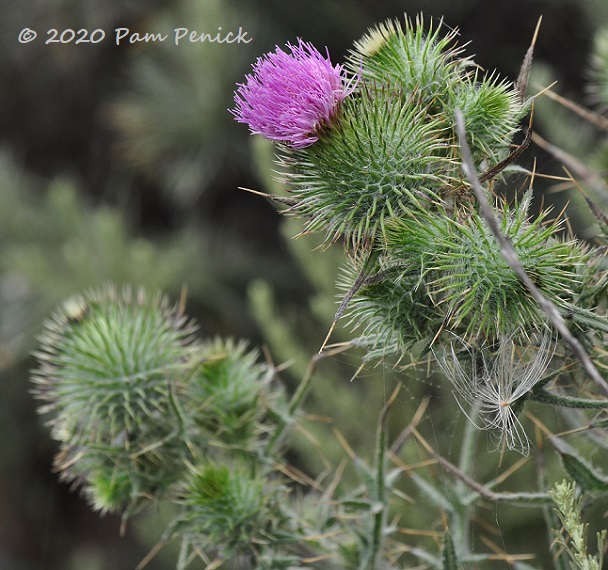 Nonnative bull thistle (Cirsium vulgare) — pretty but on the invasive-plants list in California.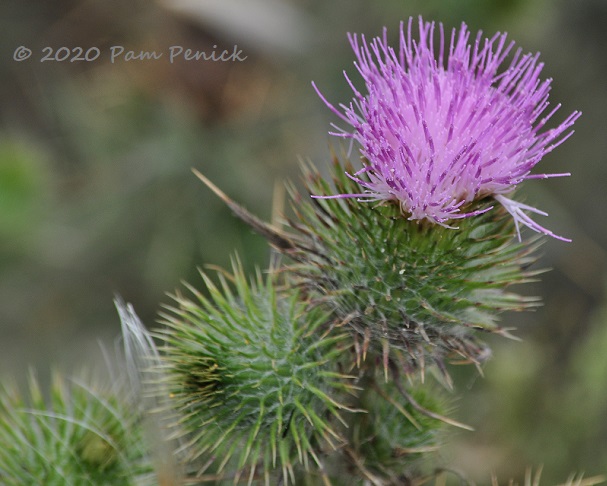 Bull thistle flower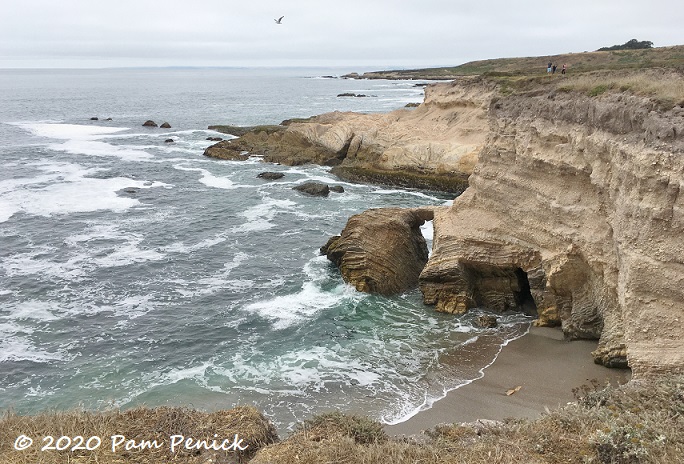 At last I reached the bluff's edge and the Pacific Ocean view.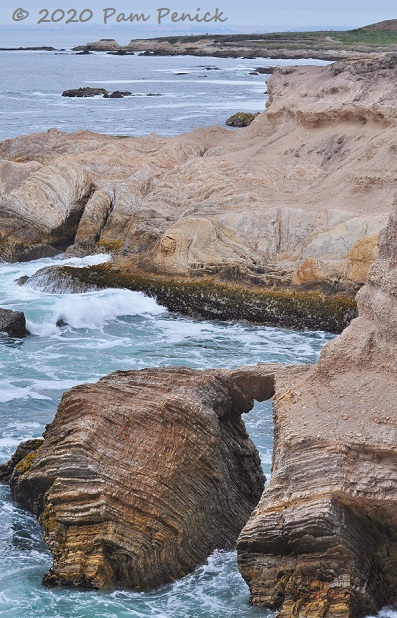 That ridged rock lying in the waves looks like a croissant to me. What do you see?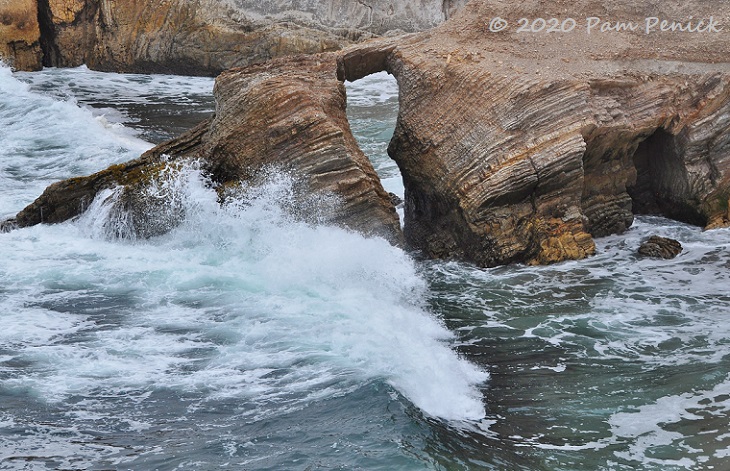 From this angle, no croissant, but a window appears to frame foaming waves.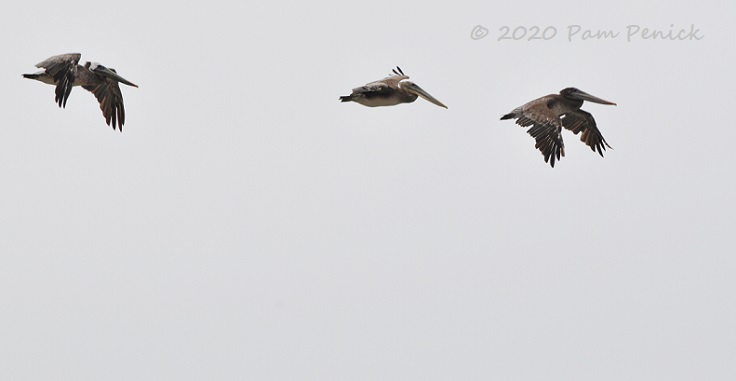 Now the seabirds took their turn doing fly-bys. First pelicans flying high…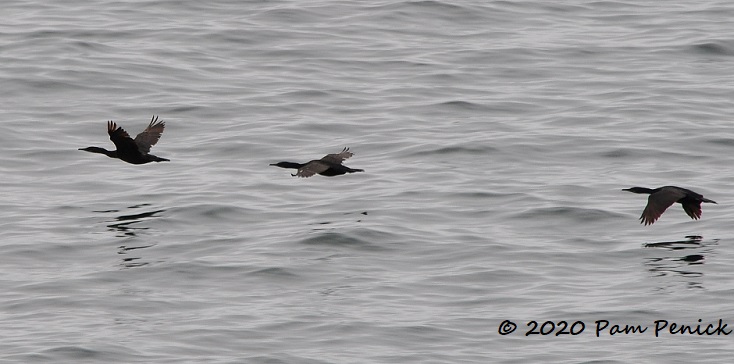 …then cormorants skimming low.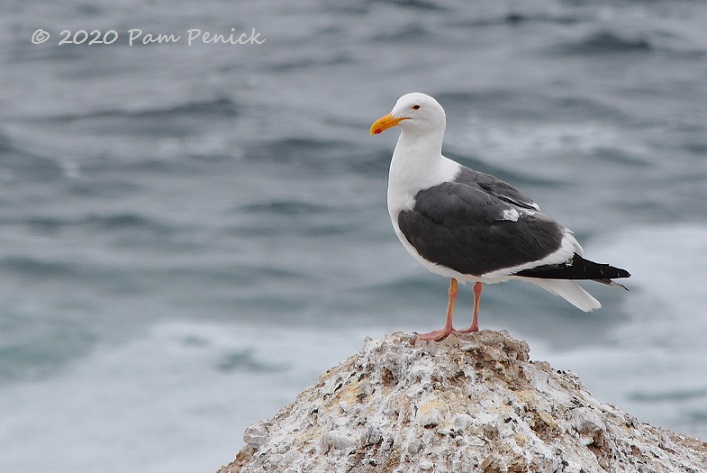 A Western gull perched on his "throne" and took it all in.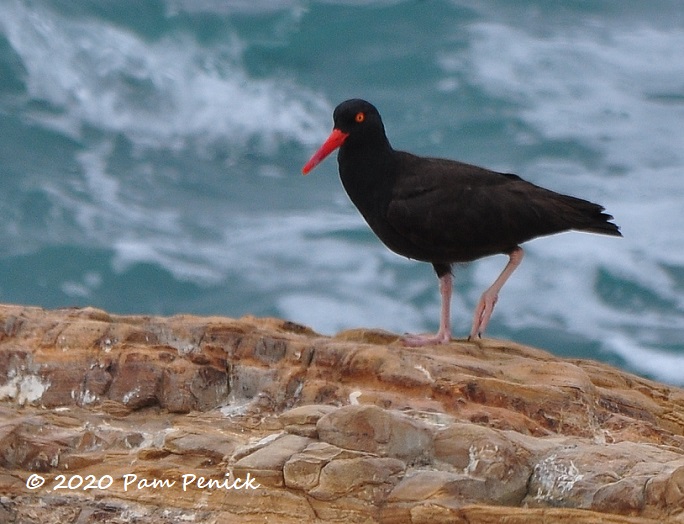 I'd never seen this red-eyed, red-billed bird before, a black oystercatcher.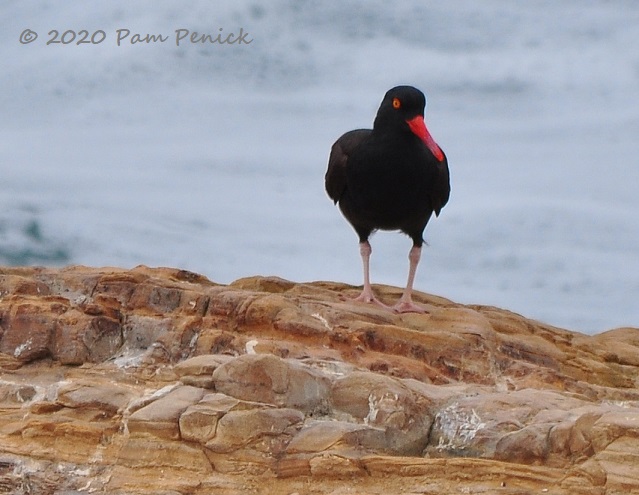 Oystercatchers live in a narrow band along the West Coast and dine on — what else? — shellfish.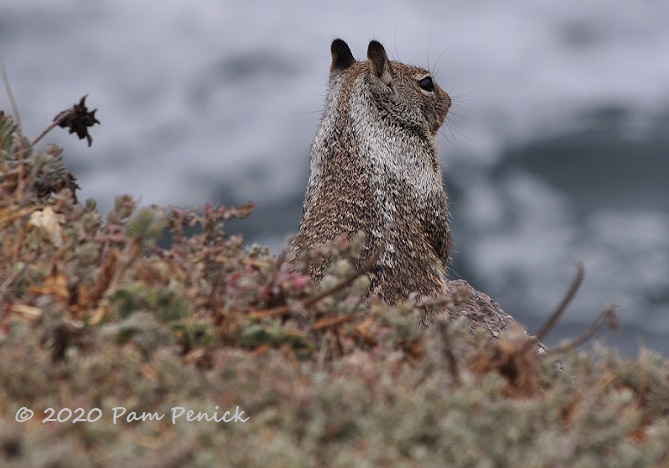 On the sandy edge of the bluff, a ground squirrel with grizzled shoulders was doing what we were doing: gazing out to sea.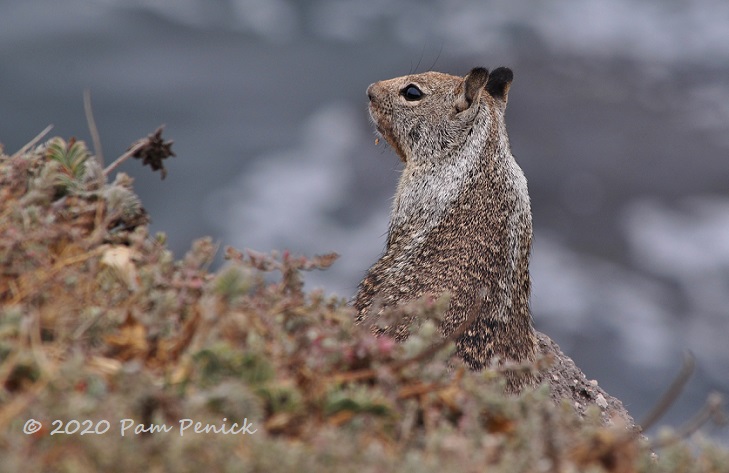 Now that's a burrow with a view.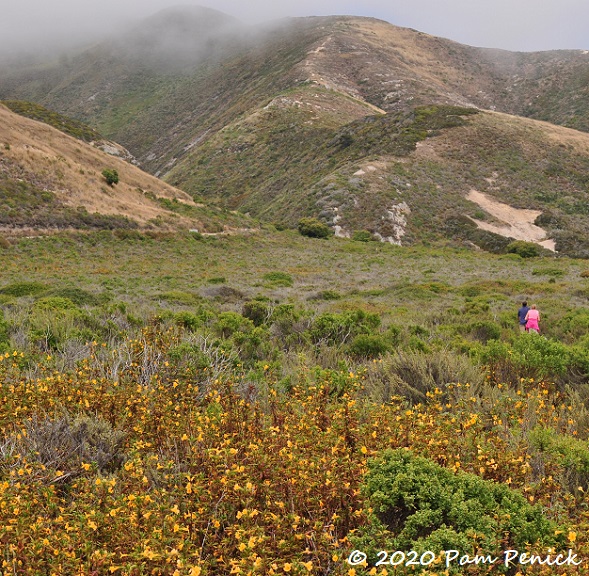 At last it was time to head back to the car, and now our view was of fog-shrouded hills.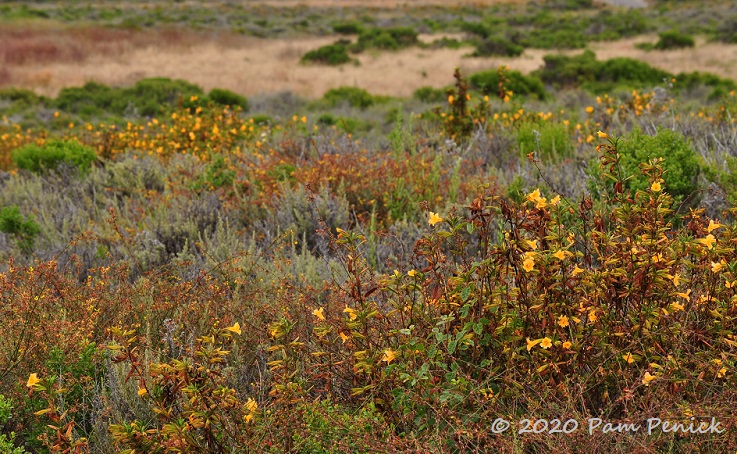 And of course more monkey flower amid the greens and tans of the coastal chaparral.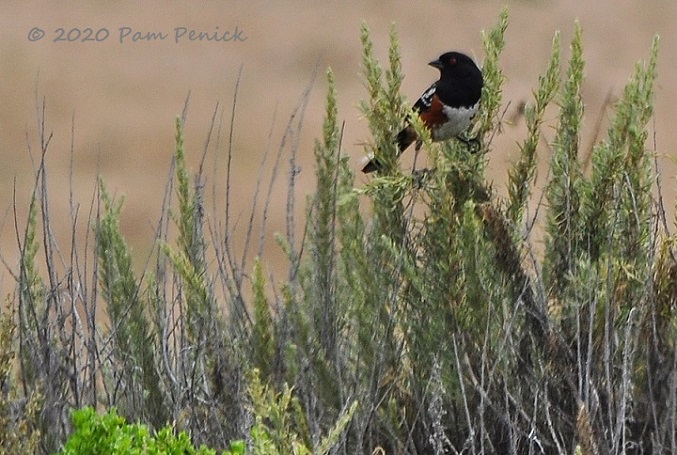 A spotted towhee watched us go. What a beautiful place! My thanks to our niece for introducing us to it.
Up next: The otherworldly flora of Joshua Tree National Park. For a look back at a trio of posts about Yosemite National Park, click here and follow the links at the end of each post.
I welcome your comments; please scroll to the end of this post to leave one. If you're reading this in a subscription email, click here to visit Digging and find the comment box at the end of each post.
_______________________
Digging Deeper: News and Upcoming Events
Join the mailing list for Garden Spark! Hungry to learn about garden design from the experts? I'm hosting a series of talks by inspiring garden designers, landscape architects, and authors a few times a year. Held in Austin, the talks are limited-attendance events that sell out quickly, so join the Garden Spark email list to be notified in advance. Simply click this link and ask to be added.
All material © 2020 by Pam Penick for Digging. Unauthorized reproduction prohibited.