[ad_1]

September 17, 2020
With the arrival of cooler weather it's garden visiting season, and I've started calling on gardening friends who are willing to have me over for a socially distanced, masked, outdoor visit. How I love touring gardens! This week's tour is at Tanglewild Gardens, a 1.7-acre garden in north Austin's Wells Branch neighborhood, the creation of Skottie O'Mahony and Jeff Breitenstein.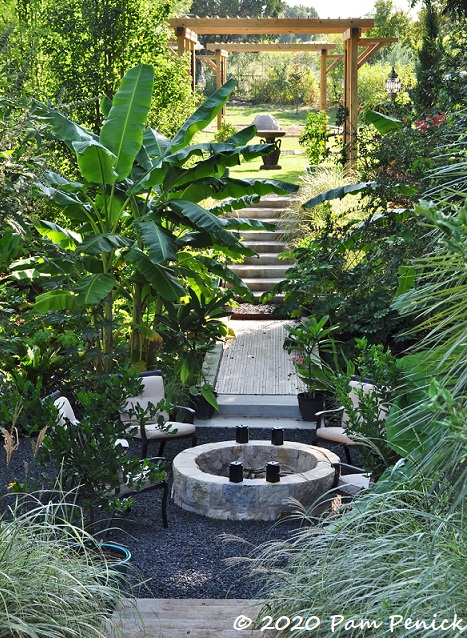 It's been two years since I saw Tanglewild on the Garden Bloggers Fling tour, and wow, what a lot has changed since then. In the spring of 2018, the lower part of the garden by the creek was just starting to be planted, and pathways in that area were simple mown-lawn or mulch. Today a limestone fire pit encircled by banana trees and other tropical-looking plants beckons you down a flight of stairs to a gravel patio.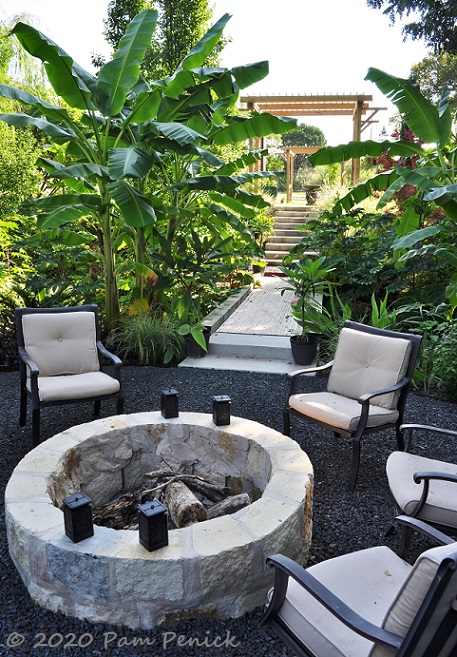 Cushy chairs invite you to sit a while, and a low-profile, wood-plank bridge leads on across the creek to another flight of stairs and a tall arbor doorway.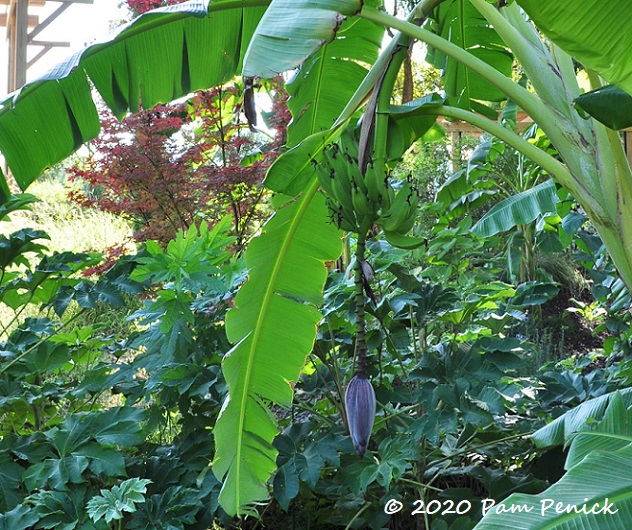 Skottie pointed out that their bananas are producing! See the cluster of upside-down, green bananas at the top of the spent flower stem? I didn't know bananas would produce fruit in our 8b hardiness zone, but obviously certain ones will. When I asked about taste, though, Jeff made a face.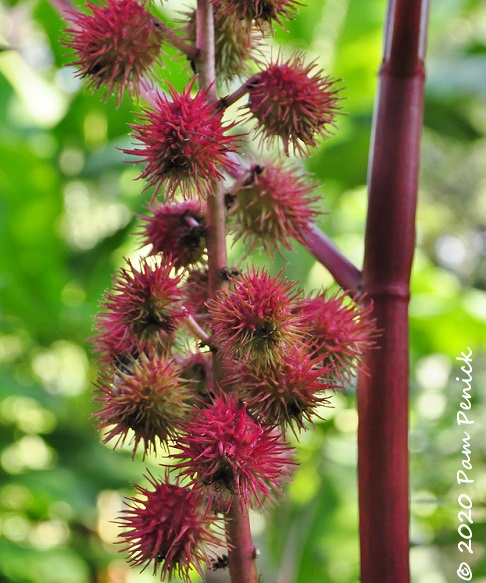 Castor bean seedpods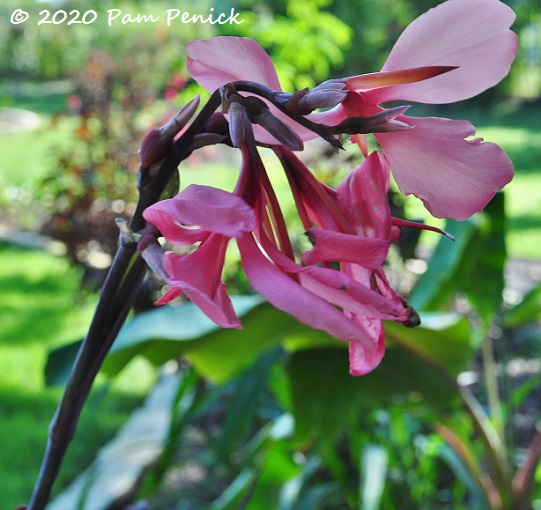 Canna flower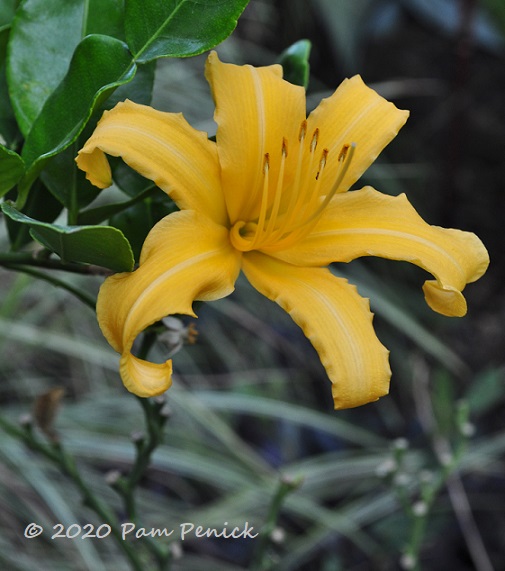 Jeff and Skottie are into daylilies and are hybridizing them to find the hardiest ones for Austin's hot, drought-prone climate. They have 800 different daylily varieties, or maybe more by now. On the mid-September day I visited, this was the last one in bloom for the season.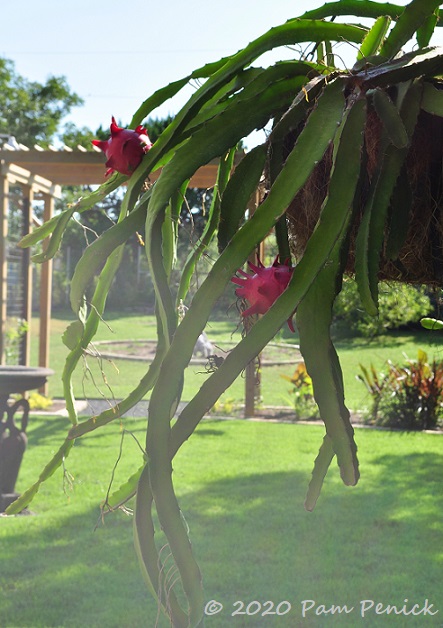 A hanging dragon fruit cactus caught my eye at the top of the stairs.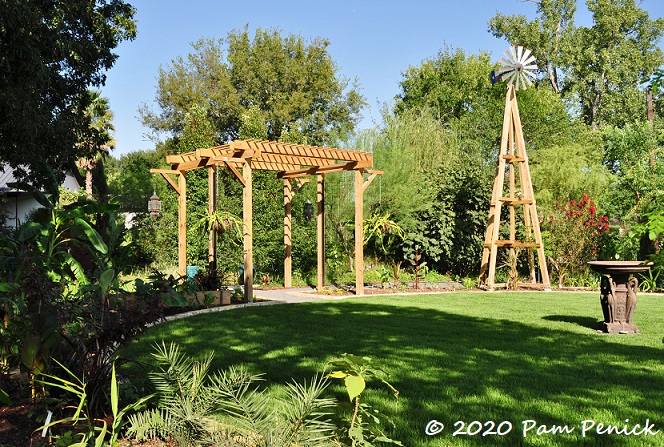 A circular lawn framed by arbors, a windmill, and beds of tropicalesque plants is Jeff and Skottie's latest project. They intend to create a wedding venue and event space in this part of their garden.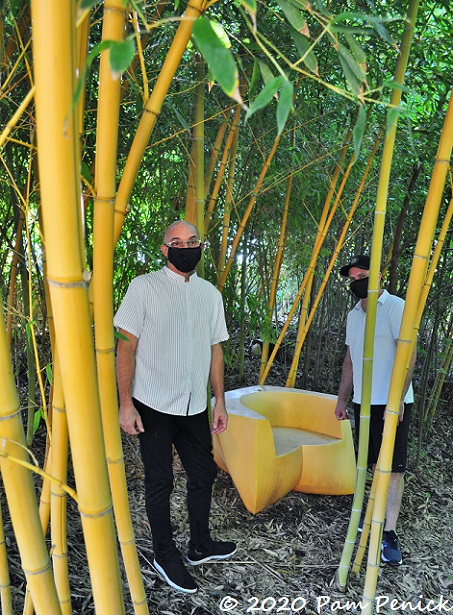 Hidden in a stand of yellow bamboo overlooking the creek is Jeff's man cave, complete with banana-yellow lounge chair. Skottie (left) and Jeff provide a sense of scale — it's almost a bamboo forest!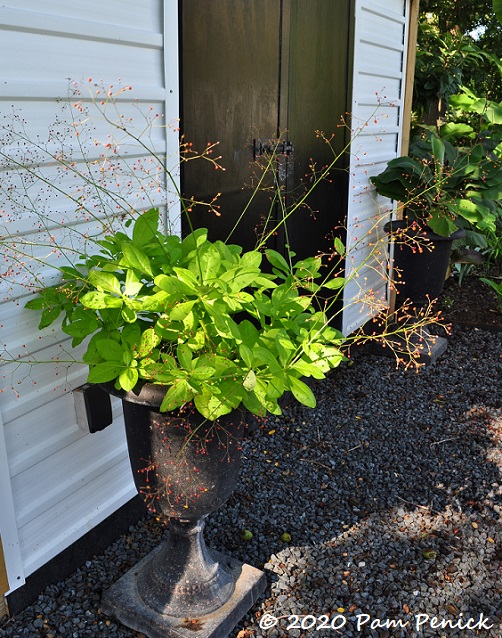 Jewels of Opar (Talinum paniculatum) offers up sparkling sprays of seedpods atop chartreuse leaves — such a pretty plant, but also an aggressive self-seeder. I may have to try it next year. Anyone want to talk me out of it?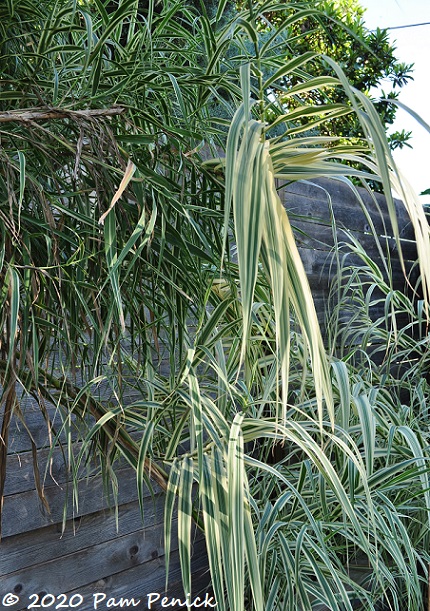 Variegated giant reed grass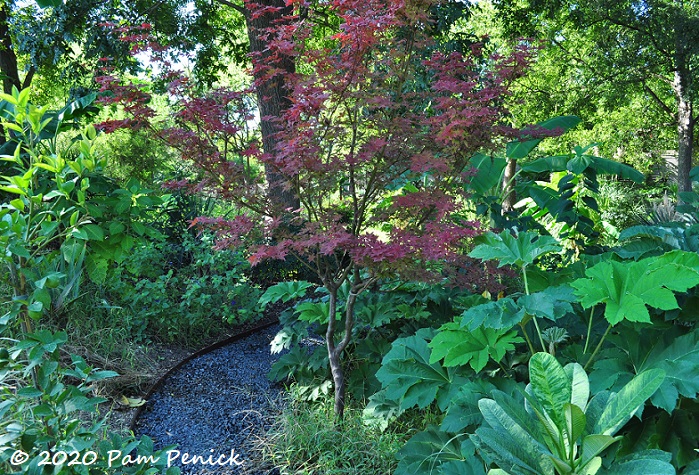 Back at the fire pit circle, we took a new path (new since May 2018) curving past a red Japanese maple.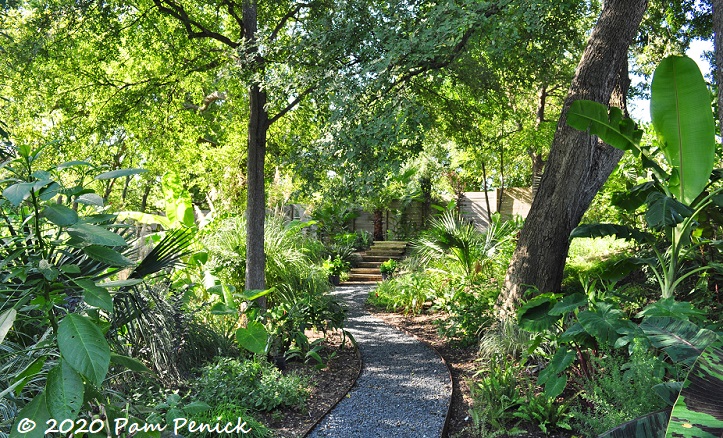 This area is shaded by tall trees, including the sword tree with Texcalibur (see my previous post about Tanglewild). The black gravel path winds past bananas, palmettos, and other bold-leaf subtropical plants.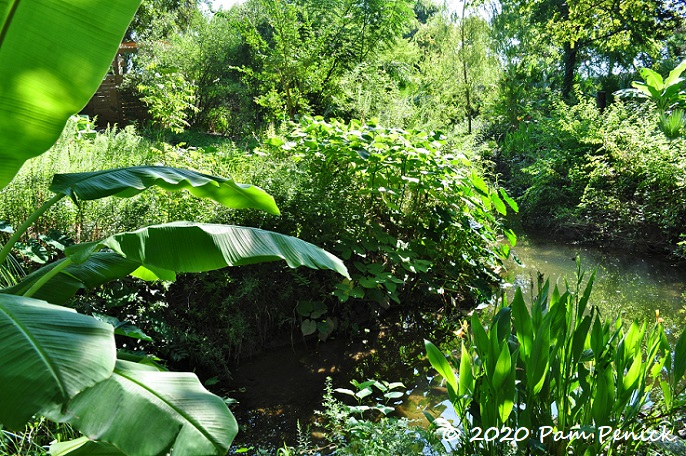 Tar Branch Creek curves placidly through the lower garden, home to several snapping turtles and at least one big water moccasin (they showed me a photo!). The water sometimes climbs its steep banks and overflows across the fire pit patio and bridge when Austin gets one of its epic rainstorms.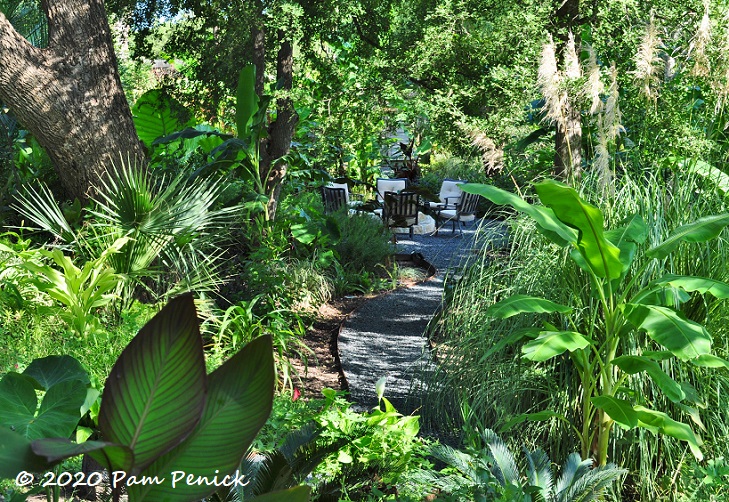 Looking back along the path, the fire pit patio draws your eye through the jungly understory.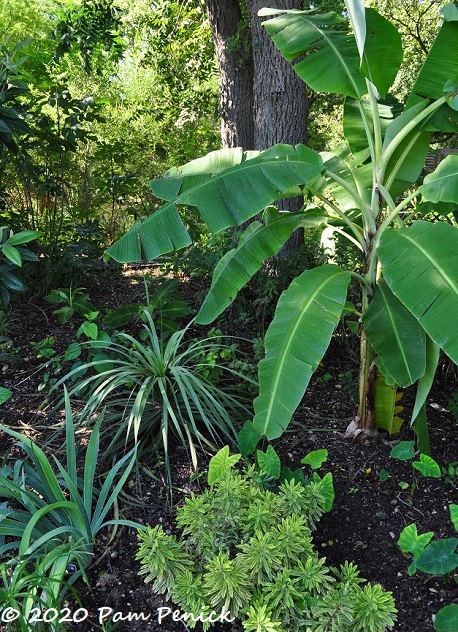 Skottie and Jeff grow many kinds of plants I've never attempted, or have attempted and failed at, including 'Ascot Rainbow' euphorbia (the yellow-green plant at bottom. I've killed 3; Skottie confessed to killing more to end up with a handful of survivors), bananas, tropical annuals, and all kinds of broad-leaf plants. As such, they have an exotic (to my eyes) plant palette. It feels like entering another part of the world when exploring their garden.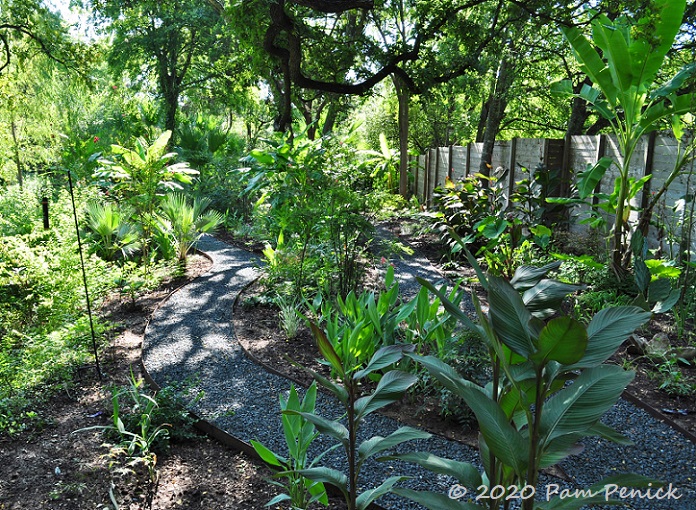 The path divides down this long stretch that runs along the creek, allowing you to explore one side and then the other as you return, immersing you in foliage.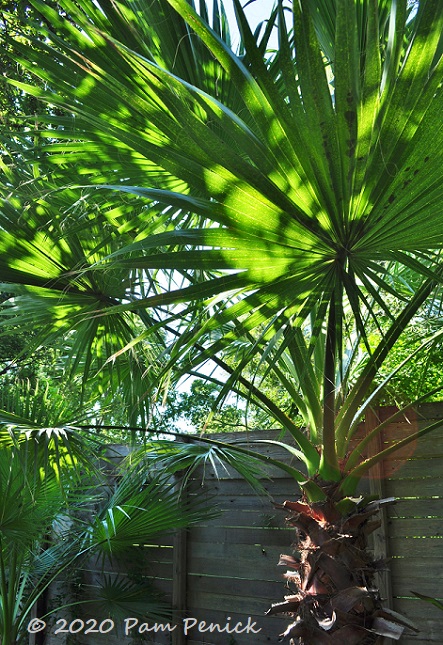 Palms and palmettos grow abundantly throughout the garden, adding to the tropical vibe even though they are perfectly hardy here.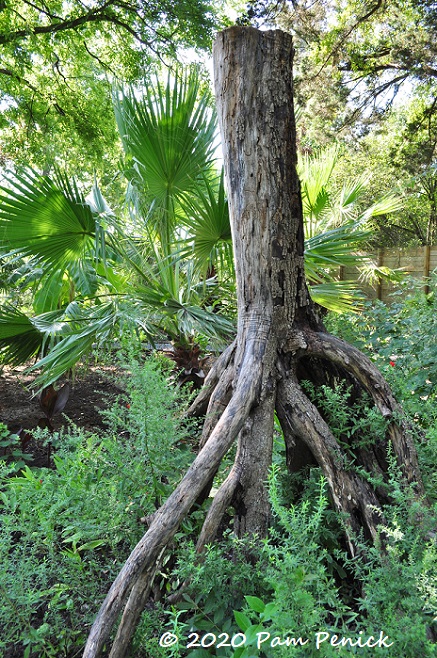 This upside-down tree trunk makes a natural sculpture and focal point.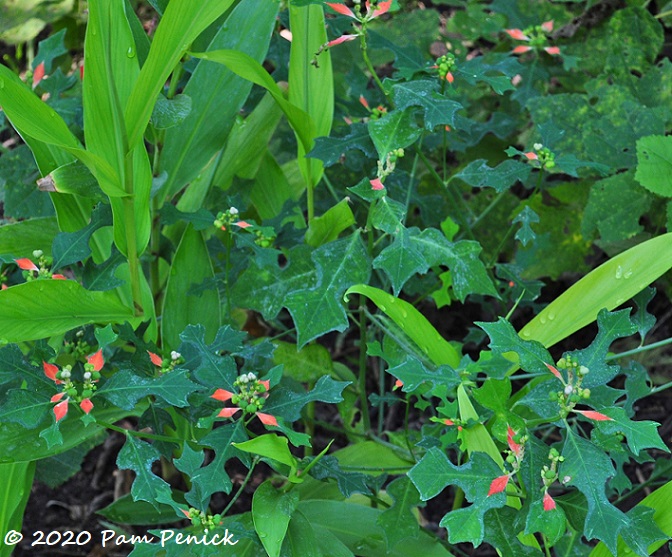 Texas's native poinsettia (Euphorbia cyathophora)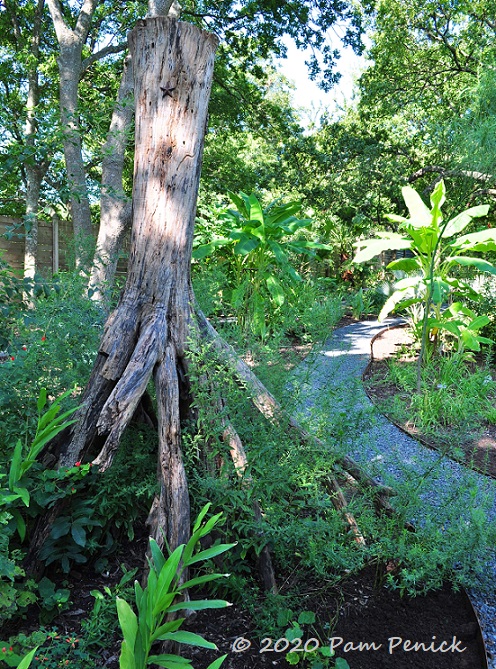 Coming back up the trail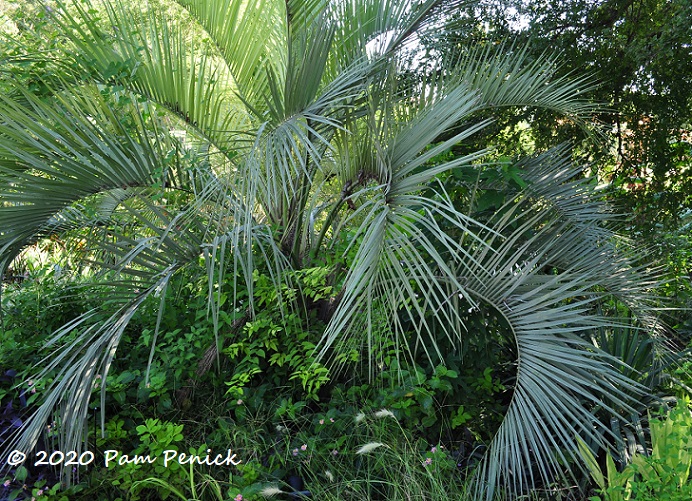 I kept asking Skottie about the palms, which add so much texture and drama to their garden. I think this is a pindo palm. (Should have taken notes!)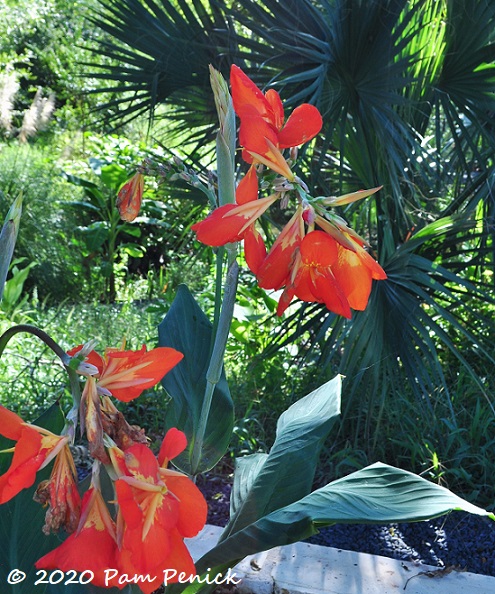 A stunning orange canna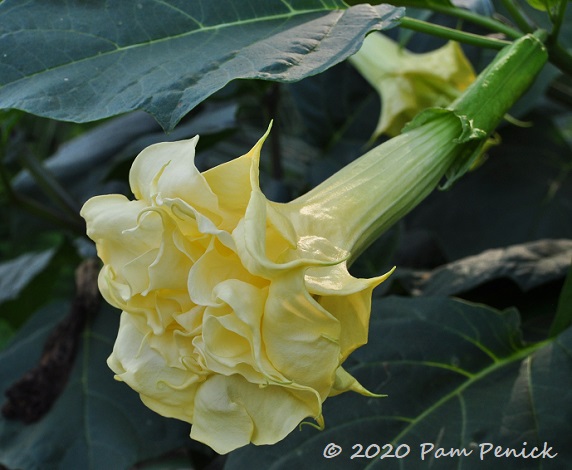 And check out this gorgeous double yellow datura! I'd love to try this one.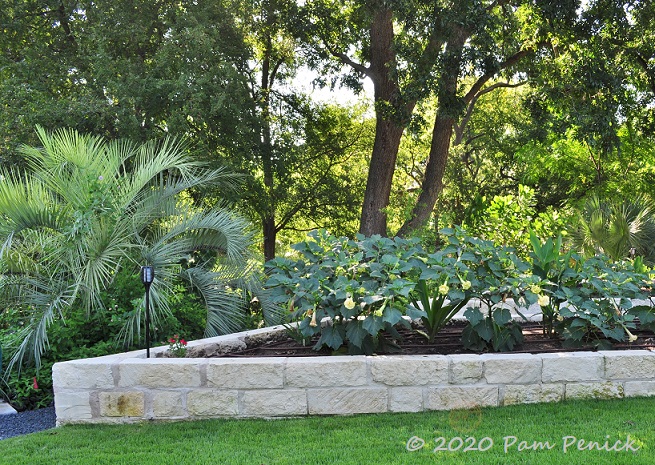 Raised beds of limestone hold a long swath of the yellow datura and orange canna.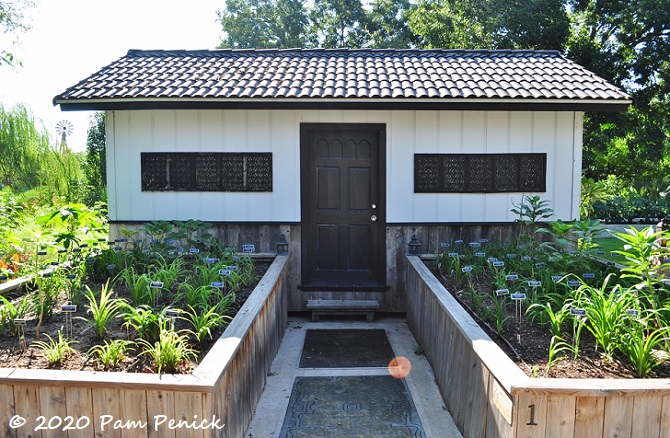 Daylily trial beds and an outbuilding with Southeast Asia style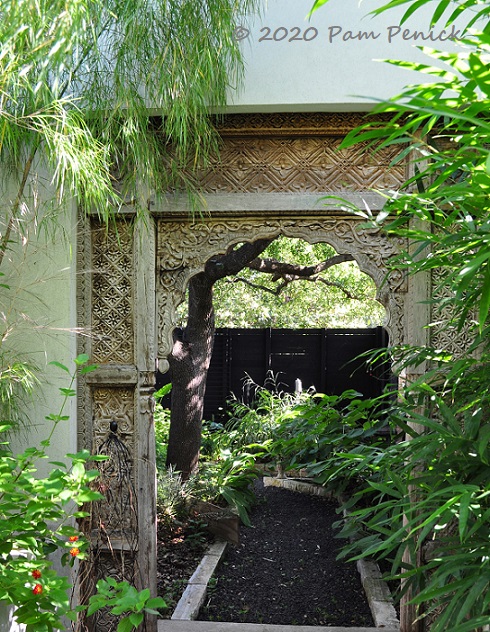 An antique teak doorway frames a view of the Moon Garden, where flowers and foliage glow white or pale yellow.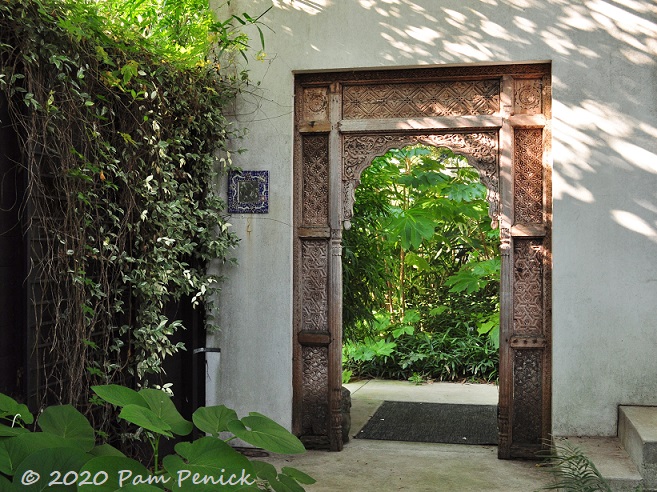 Skottie and Jeff built the white stucco wall to enclose their swimming pool patio and garden, on the opposite side.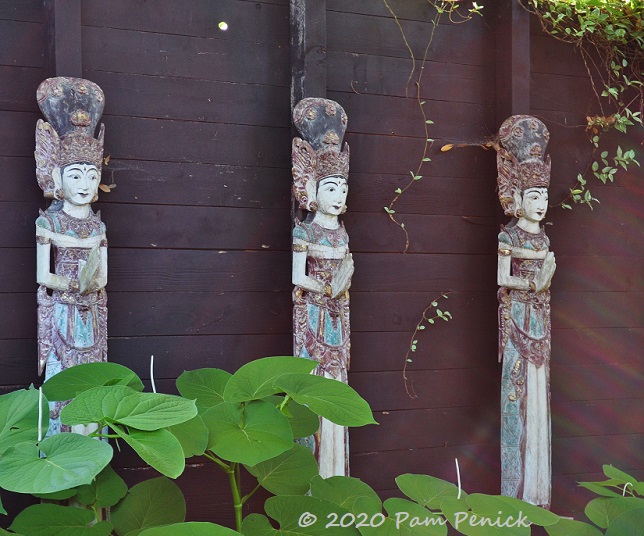 Thai rice goddess carvings hang on the dark-stained fence.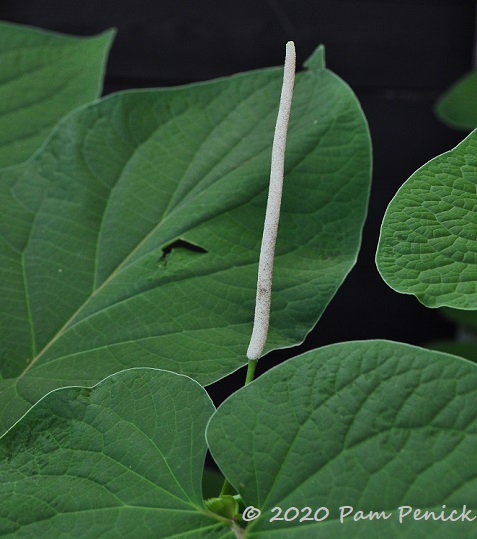 Root beer plant — named for the fragrance of its leaves — aka hoja santa (Piper auritum), is popular among Austin gardeners. Native to Central America, it's hardy here but pouts if it doesn't get regular water, and it returns from the roots each spring. Its leaves can be used to wrap fish and other meats for flavor when cooking. Upright, pencil-thin, white flowers add interest among the large leaves.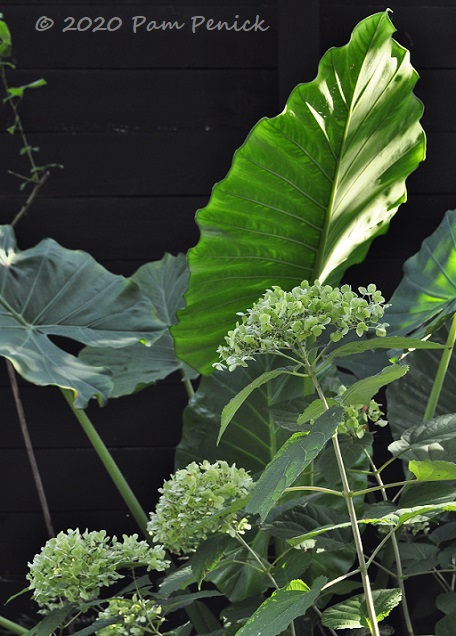 Pale-green hydrangea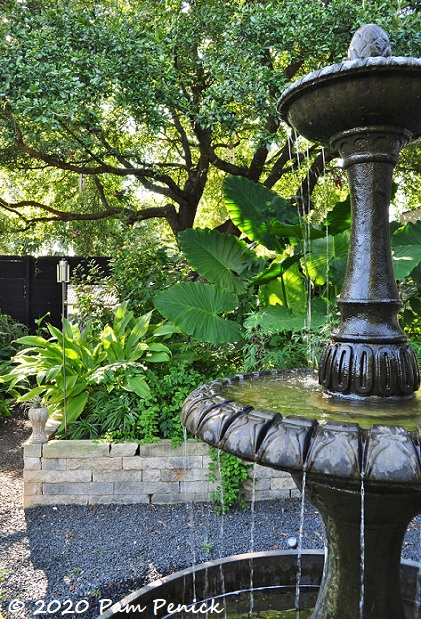 A tiered fountain in the center of the Moon Garden evokes New Orleans for me.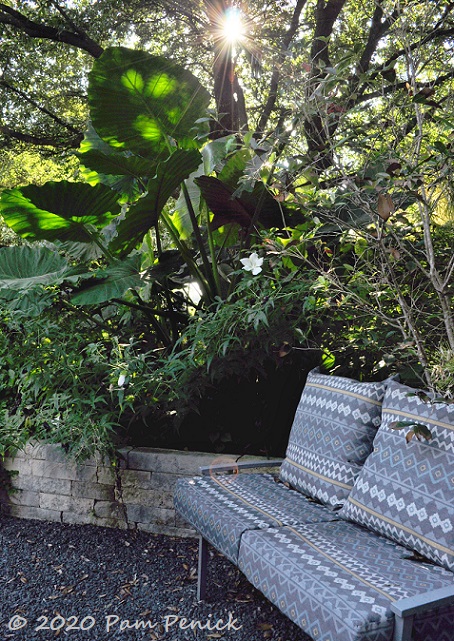 Secluded benches invite you to sit and enjoy the spilling water.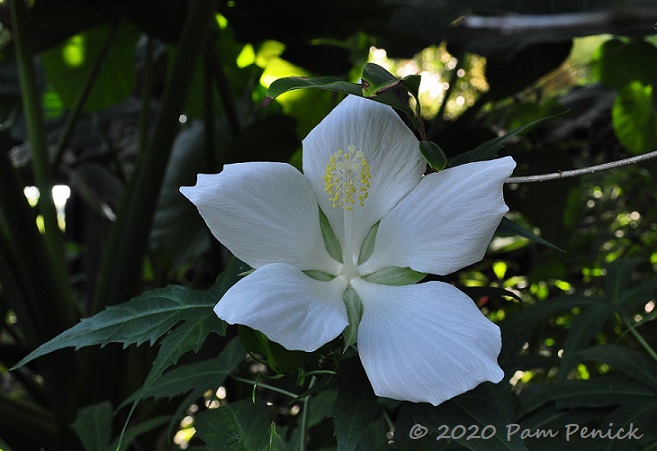 A hibiscus I think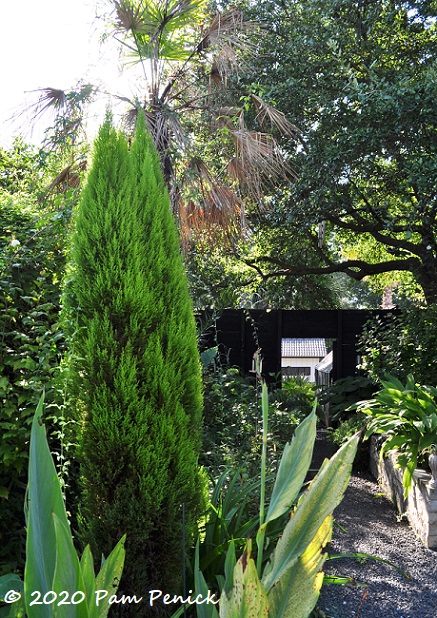 The plants, and especially the pale flowers when in bloom, are set off by tall, black fencing that surrounds this garden.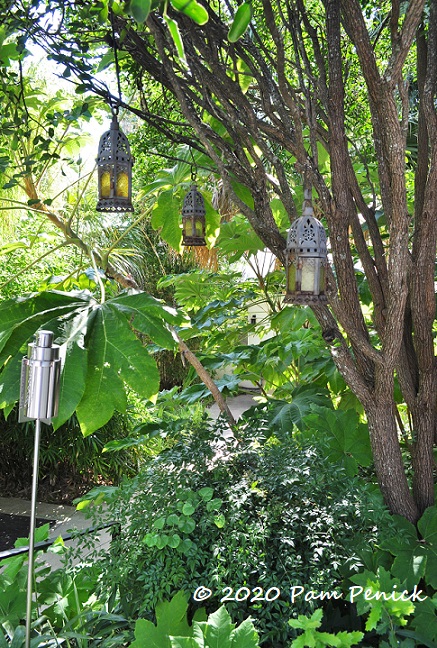 Hanging lanterns for nighttime ambience near the swimming pool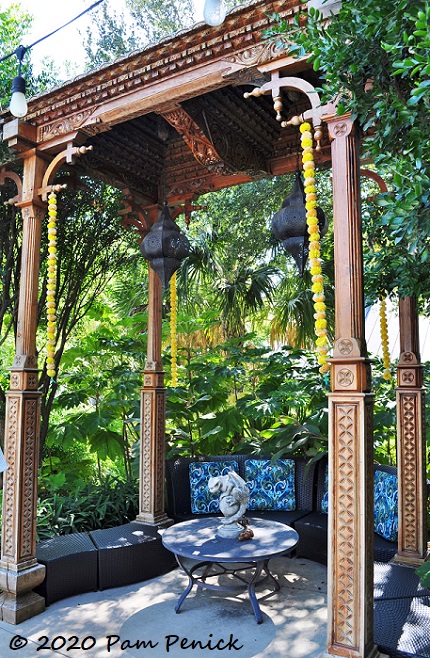 A tall carved Thai or Bali-style arbor shelters a poolside sofa.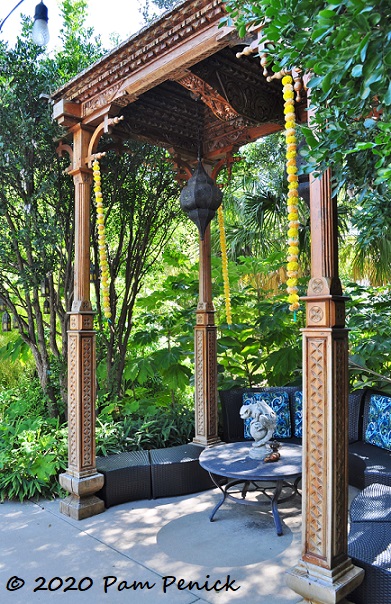 It also makes a terrific focal point from the back porch.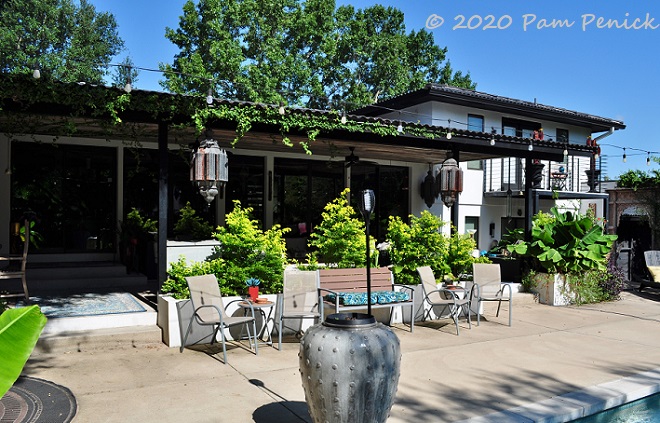 Jeff and Skottie have many inviting seating areas throughout their garden, perfect for guests to spread out at parties in pre- (and post-) Covid times.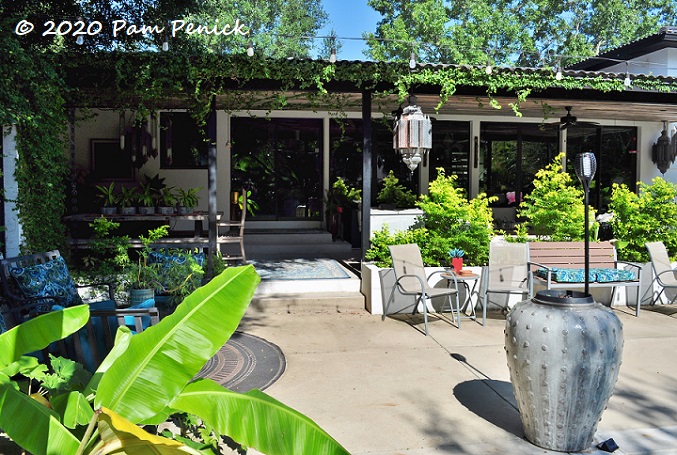 Their deep back porch offers shelter from the Texas sun.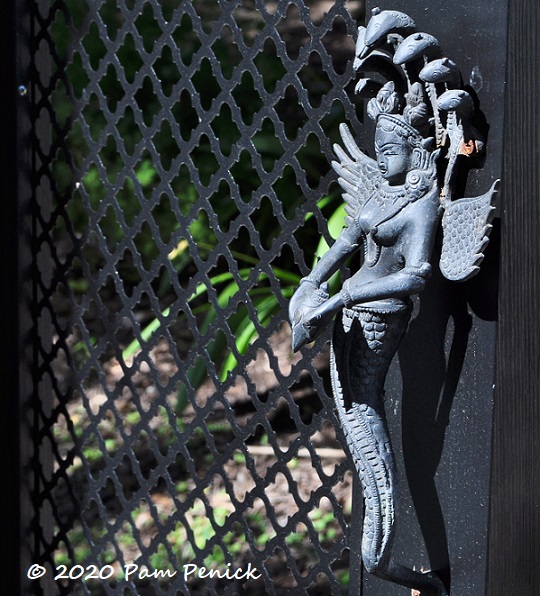 A goddess gate handle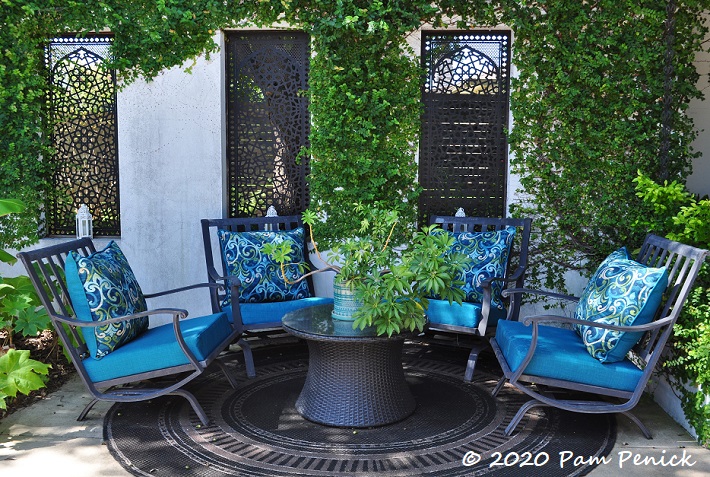 Laser-cut Moroccan-style screens allow views, light, and breezes to come through the stucco privacy walls around the pool.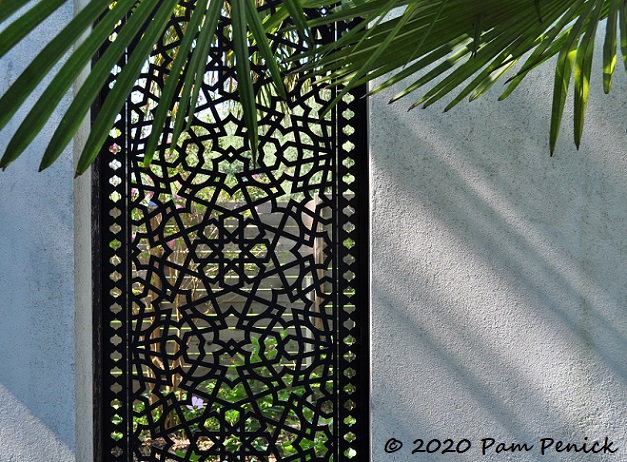 They're part of the exotic magic of Tanglewild Gardens. My thanks to Skottie and Jeff for sharing their beautiful garden with me again!
To see pics from my visit to Tanglewild in May 2017, click here.
I welcome your comments; please scroll to the end of this post to leave one. If you're reading this in a subscription email, click here to visit Digging and find the comment box at the end of each post.
_______________________
Digging Deeper: News and Upcoming Events
Join the mailing list for Garden Spark! Hungry to learn about garden design from the experts? I'm hosting a series of talks by inspiring garden designers, landscape architects, and authors a few times a year. Held in Austin, the talks are limited-attendance events that sell out quickly, so join the Garden Spark email list to be notified in advance. Simply click this link and ask to be added.
All material © 2020 by Pam Penick for Digging. Unauthorized reproduction prohibited.
[ad_2]

Source link