January 12, 2021
The biggest snowfall in a decade turned Austin into a floofy white wonderland on Sunday, January 10. All day long, fat snowflakes floated down from the sky, as if the clouds were having a pillow fight. Sure, this may not look like much to you northerners, but it's a pretty epic snow for central Texas. Two inches piled up in my garden, although with temperatures at or just above freezing and warm soil, most of it didn't last the night.
My kids are grown and out of the house, so I didn't witness any snowball fights or snowman-rolling, alas. The snow was a novel experience for the pup though! Enlarge the video to get a better look at small, white Cosmo against the snow.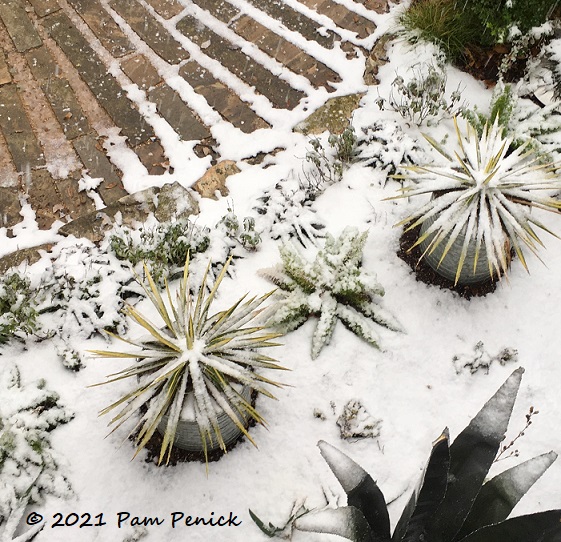 I'd moved my tender potted plants into the house, and I'm not worried about other plants because it just didn't get very cold — down to 30 degrees F for a couple of hours overnight.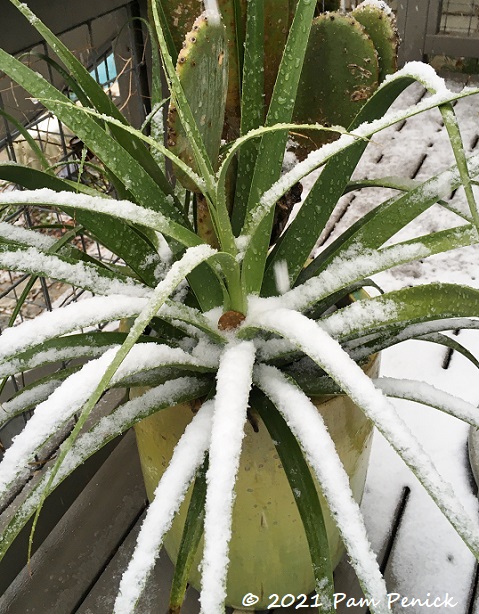 Nothing a squid agave can't handle with good-draining soil.
It really was a magical day!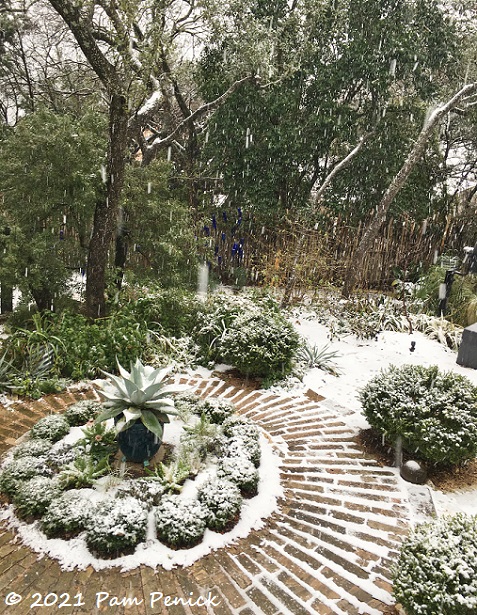 This will be the snow Austin kids remember for a long time to come. When asked, I tell people we get a little snow accumulation about once every 7 years. But this is the biggest snow I can remember in my northwest Austin neighborhood since 2011. We got another memorable snow in 2004, but that was before I'd started blogging.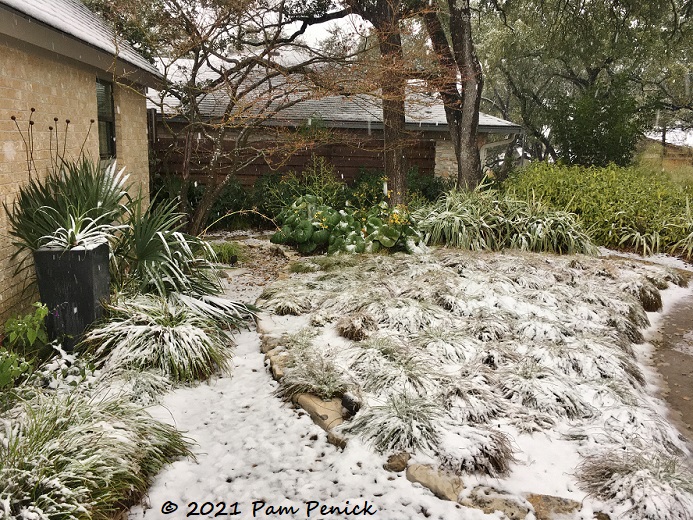 Snowy sedge in the front garden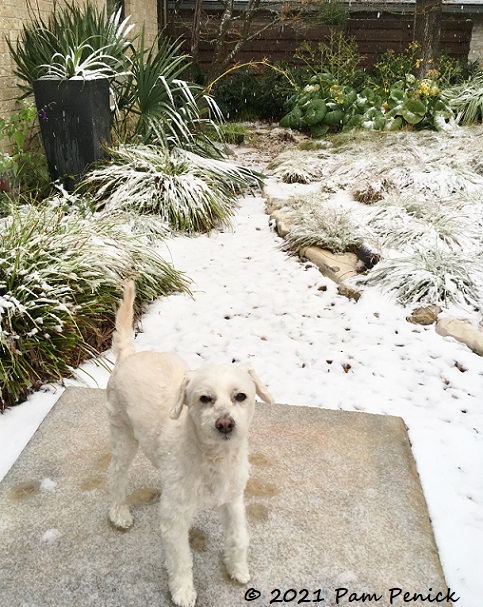 And a puzzled Cosmo stepping out into it for the first time that day. The poor dog — he'd just gotten a much-needed haircut. Good thing he prefers cold weather to hot, just like his mom.
I welcome your comments; please scroll to the end of this post to leave one. If you're reading this in a subscription email, click here to visit Digging and find the comment box at the end of each post.
_______________________
Digging Deeper: News and Upcoming Events
Enter my giveaway of new book Fearless Gardening by Loree Bohl of the popular blog Danger Garden. To enter, simply comment on my blog post about the book (click the link above). Giveaway rules can be found in that post. Good luck! The winner will be announced on the 16th.
Join the mailing list for Garden Spark! Hungry to learn about garden design from the experts? I'm hosting a series of talks by inspiring garden designers, landscape architects, and authors a few times a year. Held in Austin, the talks are limited-attendance events that sell out quickly, so join the Garden Spark email list to be notified in advance. Simply click this link and ask to be added.
All material © 2021 by Pam Penick for Digging. Unauthorized reproduction prohibited.