September 28, 2020
I've known Amy since I was 17 years old. We met as freshmen at Rice University and became good friends. She was a bridesmaid at my tiny wedding in South Carolina, and I was there for her when she and husband Gary tied the knot. We've spent Thanksgivings together and ridden mules to the bottom of the Grand Canyon together.
In recent years she told me about her dream of having a garden — a garden where she could grow vegetables and flowers, with a screened gazebo where she could sit and read and look at the garden all around her. But her L-shaped backyard in Houston's West University Place neighborhood was not much more than a patio and dense shade.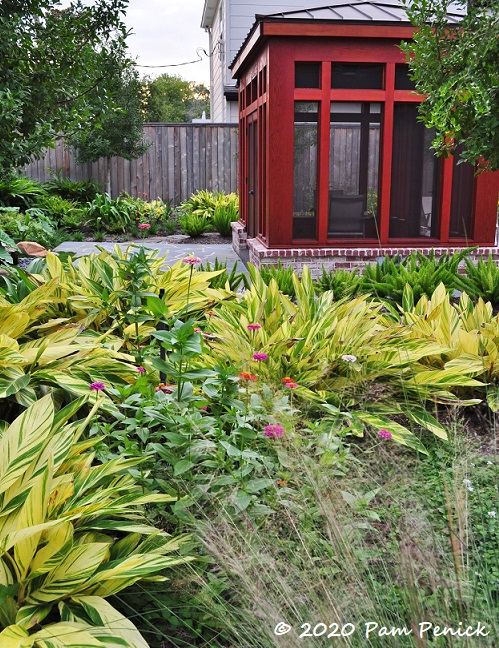 Thinking outside the box, Amy and Gary acquired the property next door when it became available a few years ago. They razed the small house, and Amy set about making her vision into reality. She hired designer David Morello to transform the empty lot into a formal-style garden with a screened gazebo at its heart, lots of pollinator plants including milkweed, and raised beds for growing edibles.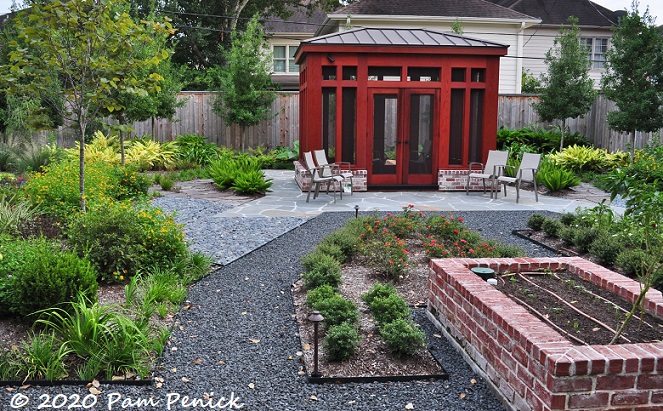 And by last fall, she was able to sit in her brand-new gazebo, watch monarchs flitting around the milkweed, and plant her first rows of vegetables. She's thrilled with her new garden, and I couldn't be happier for her!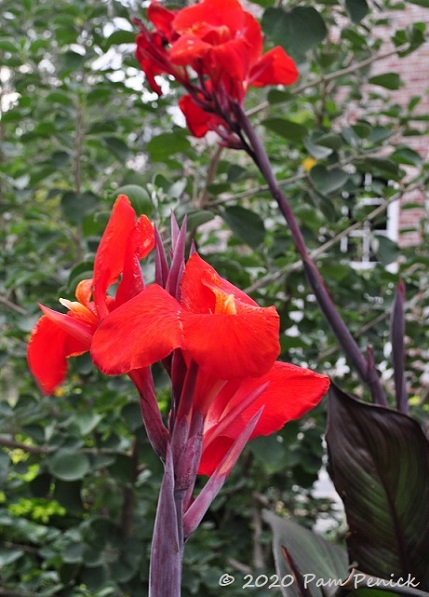 I stopped by recently for a late-afternoon, socially distanced visit on the patio outside the gazebo. The weather was blissfully mild, the garden lovely and full after a year of growth.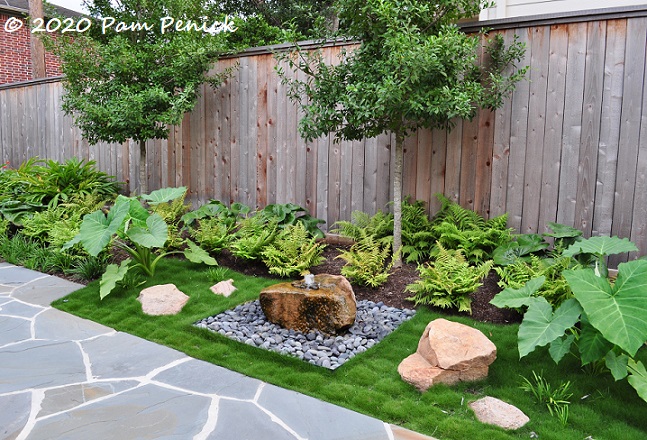 Amy gave me a tour before it got dark, including this hidden space behind the gazebo. A small boulder has been drilled to create a bubbling fountain set in a square of Mexican beach pebbles, surrounded by a quilted swath of zoysia grass.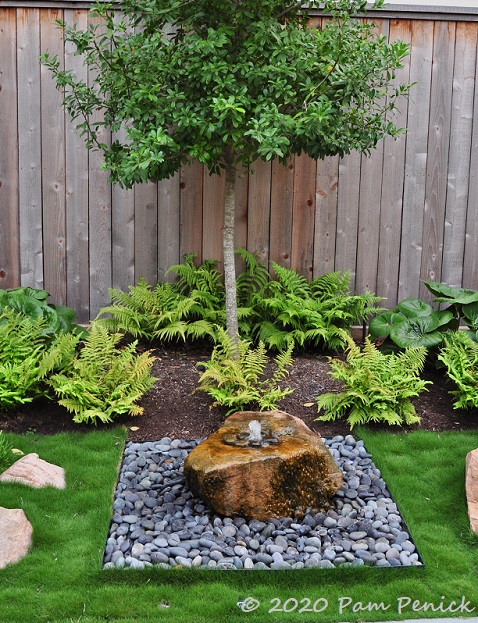 I bet the birds love this shallow fountain.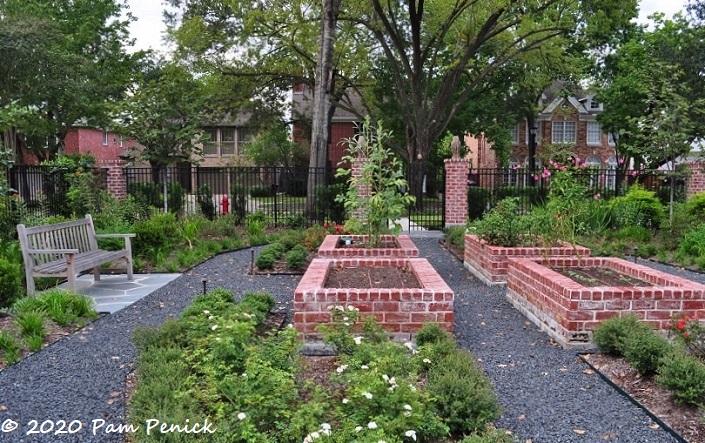 Amy's vegetable beds are mostly empty right now, after the summer harvest and before the fall crops have gone in. The brick raised beds occupy the sunny center of the garden, and if Amy ever tires of growing edibles she can fill them with flowers. Their neighbors surely enjoy the garden view too.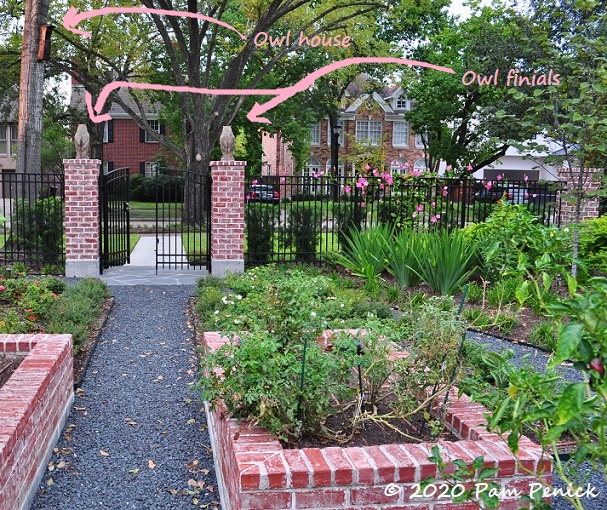 Amy and Gary have both remained very active as Rice alumni. Amy served as a Rice University Trustee from 2014 to 2018, and Gary is currently board president of the Rice Owl Club. Their Owls pride runs deep. So it's completely in character and utterly charming that their entry gate pillars are topped by large owl finials. (I wish I'd taken a photo from the front!) Notice also the screech owl box on a tree in the front yard.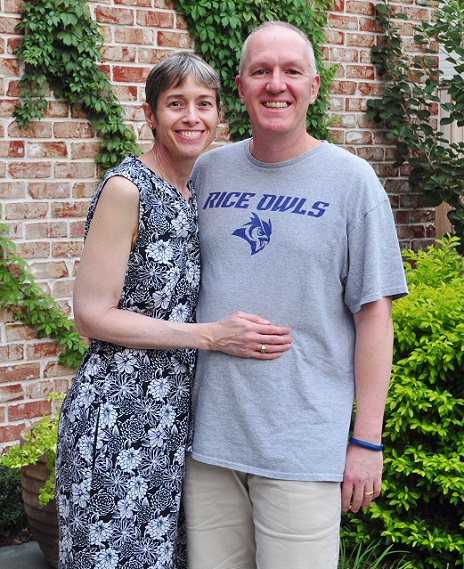 It's wonderful to spend time in the garden that Amy wished for and brought to fruition. My thanks to Amy and Gary for hosting me and letting me share their garden here at Digging, where I'm sure there are more garden dreamers reading this. Make it happen!
I welcome your comments; please scroll to the end of this post to leave one. If you're reading this in a subscription email, click here to visit Digging and find the comment box at the end of each post.
_______________________
Digging Deeper: News and Upcoming Events
Join the mailing list for Garden Spark! Hungry to learn about garden design from the experts? I'm hosting a series of talks by inspiring garden designers, landscape architects, and authors a few times a year. Held in Austin, the talks are limited-attendance events that sell out quickly, so join the Garden Spark email list to be notified in advance. Simply click this link and ask to be added.
All material © 2020 by Pam Penick for Digging. Unauthorized reproduction prohibited.