July 29, 2020
The summer doldrums, I call it. When it feels like a sauna outside, and it won't rain, and yet the plants and especially the weeds grow like Jack's magical beanstalk until the garden feels suffocated by vegetation. That's where I was a couple weeks ago, with tree limbs drooping over paths, shrubs outgrowing their space, and early-summer flowers looking spent — and with me hunkered down in the A/C, looking out the windows and wanting to whack it all back.
So that's what I did. I sprayed myself with Off! and sunscreen, put on a brimmed hat, got out my electric trimmers, and just went at everything: Mexican buckeye, bamboo muhly, pale pavonia, autumn sage, Mexican honeysuckle, 'Peter's Purple' bee balm, tall verbena. Whack, whack! Even the spring-revamped Circle Garden, pictured above, got a major cut-back.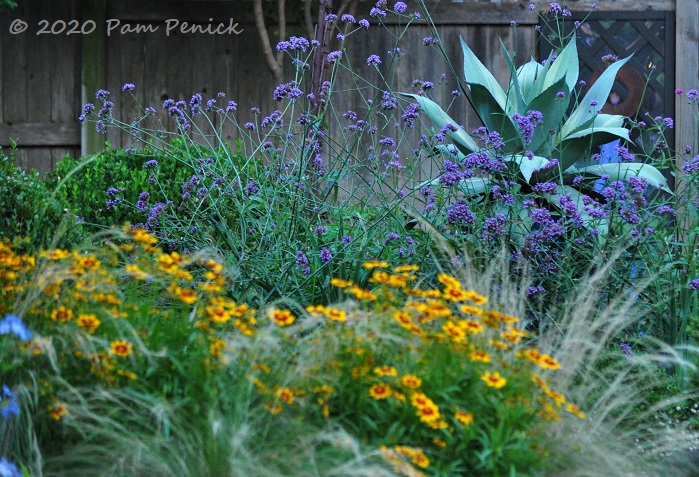 Looking back, oh how I'd loved the colorful blowsiness of the Circle Garden in spring and early summer! And how I hated it by midsummer, when the Verbena bonariensis had faded, its lanky stems collapsed across the path, and 'Fireworks' gomphrena towering spindly-legged over the potted agave.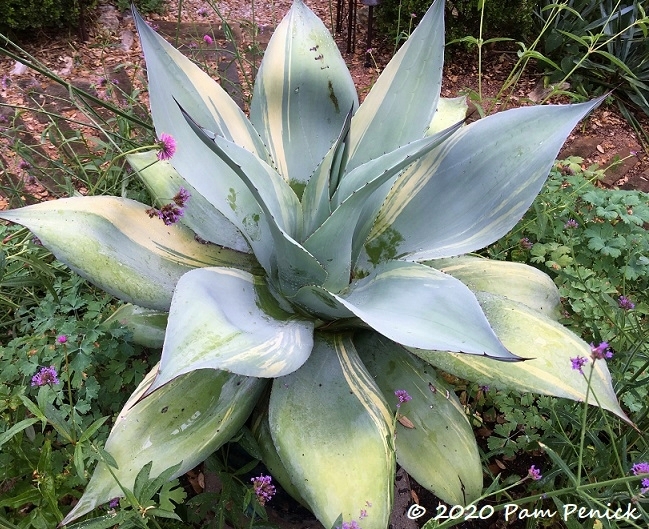 Speaking of which, I don't think I've shared a close-up view of the agave centerpiece, a stunningly variegated whale's tongue agave passed along by my friend Jennifer Brown before she moved abroad. She told me she'd found it at a local nursery, labeled as regular Agave ovatifolia despite unusual streaks of moonshine-yellow variegation on powder-blue leaves. She snapped it up, feeling like she'd gotten it for a steal, although she wondered whether the variegation would fade over time. It hasn't, to my delight.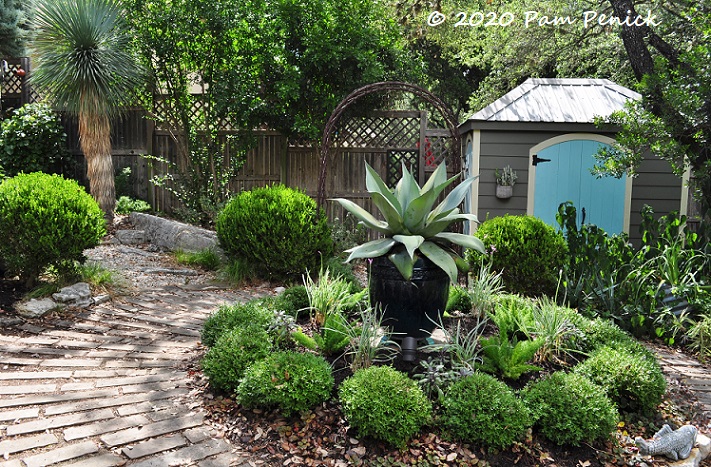 Anyway, I ripped out the verbena, gomphrena, and a mishmash of other early-flowering perennials around the agave but kept the evergreen 'Micron' hollies and the pink knotweed around the perimeter. Inside the ring I planted a matrix of low-growing foxtail fern (Asparagus densiflorus 'Myersii'), variegated society garlic (Tulbaghia violacea 'Variegata'), and purple sage (Salvia officinalis 'Purpurascens'), which should look tidier for most of the year.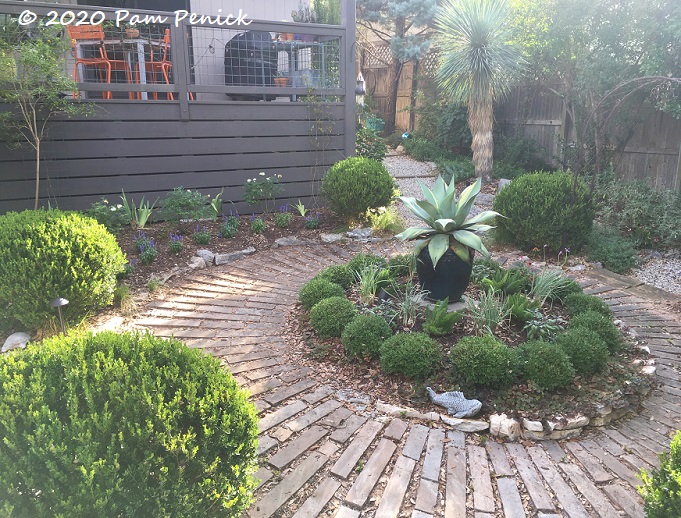 And then I kept going, ripping out the bamboo muhly grass at the base of the deck, which had grown to immense proportions. It completely filled the space and towered over my head (and I'm nearly 6 feet), blocking the view from the deck unless you stood right at the rail.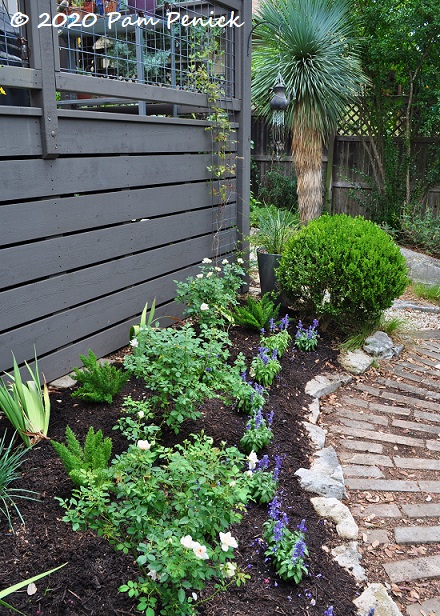 With a new patch of sun and no deer in the backyard, I planted a trio of 'Icecap' roses, which are supposed to stay small (2 to 3 feet tall and wide) and whose white flowers show up nicely against the dark-gray deck stain, especially in the evening.
For the front edge I spontaneously bought a flat of Salvia farinacea 'Midnight Candle' from Shoal Creek Nursery. And I transplanted iris and added foxtail fern for winter interest.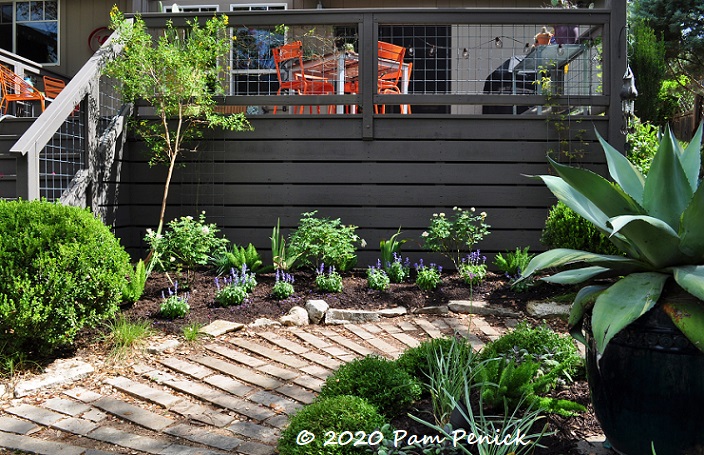 The spindly golden thryallis in the corner will be replaced this fall with a 'Purple Pillar' rose of Sharon I've ordered from Proven Winners.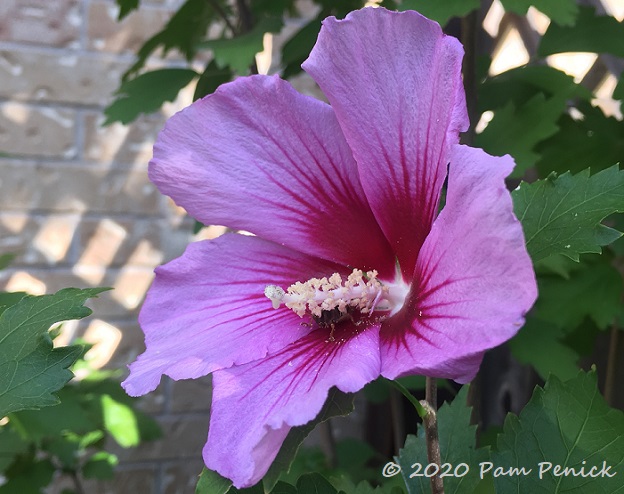 I've got lots of golden thryallis, and I've been delighted with the upright form and reliable flowering of a 'Purple Pillar' I received as a trial plant. This should be a good spot for another to enjoy from the deck.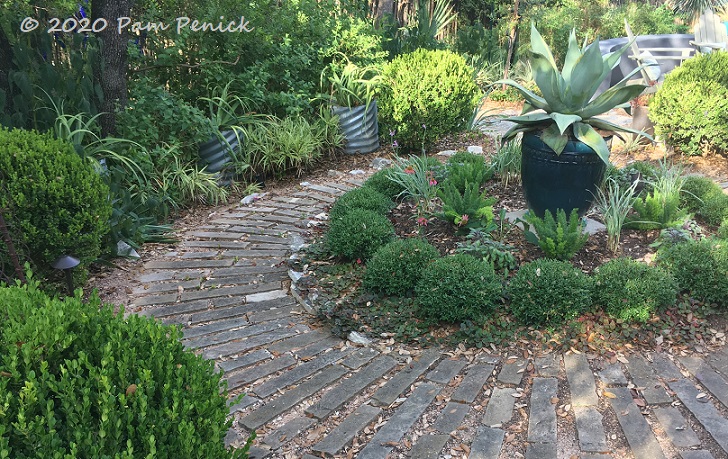 The back and shadier side of the Circle Garden. With mostly shade on the back and afternoon sun on the front (which faces the pool), this has proved a challenging space to plant, at least with flowering plants that end up leaning for the light. The new plants around the agave offer a mix of foliage texture and color with a long season of interest.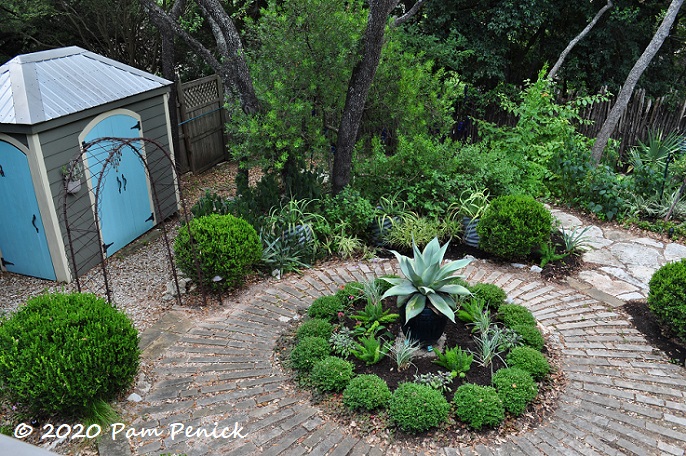 I know, I know — it's July. Why am I planting in the hottest doldrums of summer, breaking my own rule never to plant between May and early October except for agave, yucca, or the like?
Because. Because I couldn't stand it anymore. Because it's a pandemic, and what else have I got to do? Because even drenched with sweat and filthy with dirt stuck to sweat and mosquito repellent, it makes me happy to be working in the garden.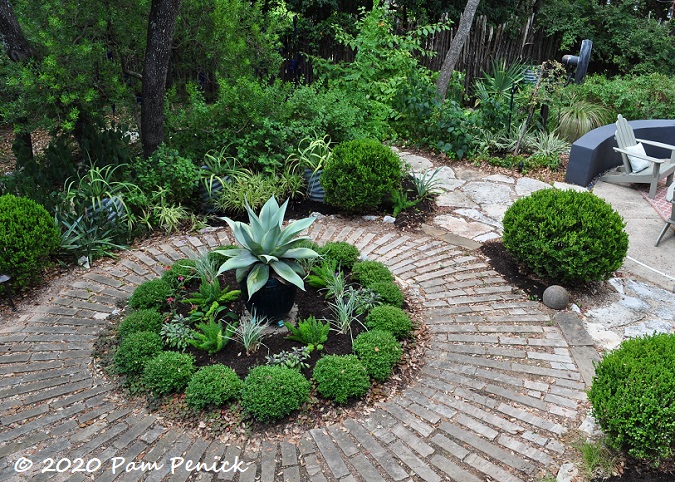 Now of course I've got to be out there every morning, watering all my new plants before it gets up to 100 F. But that's OK too because I'm seeing how pretty it all looks, and I'm saying hi to the fawn every morning, and I'm seeing the garlic chives sending up flowerbuds, which tells me summer will be waning soon. OK, maybe not soon. But eventually, at last, even the summer doldrums must pass.
I welcome your comments; please scroll to the end of this post to leave one. If you're reading this in a subscription email, click here to visit Digging and find the comment box at the end of each post.
_______________________
Digging Deeper: News and Upcoming Events
Join the mailing list for Garden Spark! Hungry to learn about garden design from the experts? I'm hosting a series of talks by inspiring garden designers, landscape architects, and authors a few times a year. Held in Austin, the talks are limited-attendance events that sell out quickly, so join the Garden Spark email list to be notified in advance. Simply click this link and ask to be added.
All material © 2020 by Pam Penick for Digging. Unauthorized reproduction prohibited.