[ad_1]

May 05, 2020
Women's contributions have been long overlooked in the gardening world, particularly at recognized levels of design and horticulture. So too with the contributions of women of color and those whose work doesn't cater to the 1% (or even 10%) whose gardens have traditionally filled the pages of magazines and books.
Convinced that the plant world benefits from greater representation and diversity, and that women are doing important and creative work in that arena, author Jennifer Jewell shines a spotlight on women in her new book The Earth in Her Hands: 75 Extraordinary Women Working in the World of Plants (Timber Press, 2020).
Behind the book's retro-1970s cover are the stories of 75 women passionately invested in all kinds of work touching on plants. Designers, botanists, and horticulturists, of course. But also artists and activists, photographers and scientists, writers and herbalists, educators and entrepreneurs — women from North America, northern Europe, Australia, India, and Japan (regions Jewell says she's most familiar with). Reading about them is eye-opening and inspirational. And not just for readers who are also women in plants. It's a book for young people interested in a career in the plant world or who want to do work that helps the environment; for men in plants who mostly know other men in their field and are curious about what the other 50% of the population is working on; and for anyone keen to read stories about plant passion and a longing to make a difference through one's work.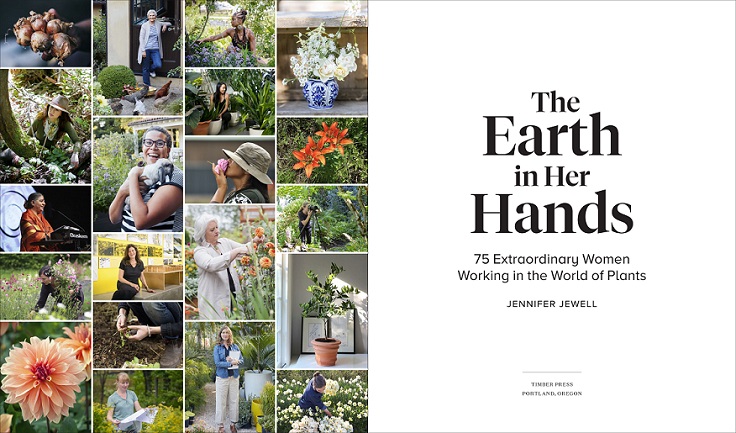 I was pleased to read profiles of Austin's own Andrea DeLong-Amaya, horticulture director at the Lady Bird Johnson Wildflower Center, and Colorado-based plantswoman and designer Lauren Springer, whose own books are must-reads. Other featured women I've been privileged to meet include author/designer Leslie Bennett, editor/author Lorene Edwards Forkner, Slow Flowers-founder Debra Prinzing, Sunset Western Garden Collection developer Janet Sluis, and author/artist Amy Stewart. Others I've admired from afar: Claire Takacs, Julie Moir Messervy, Flora Grubb, Marion Brenner, Margaret Roach, and Claudia West.
But it's the stories of women I'd never heard of, doing work I'd never read about, that really struck a chord. They showed me that there are endless avenues to fulfilling work in the plant world, and many women bringing their unique backgrounds and perspectives to bear on that work, which makes the world a better and more beautiful place for all of us.
Although she's not profiled in her own book, Jewell is one such woman herself as the creator, writer, and host of Cultivating Place: Conversations on Natural History and the Human Impulse to Garden, a highly regarded weekly public radio program and podcast. (In full disclosure, I've been a guest on her podcast.) The Earth in Her Hands continues Jewell's efforts in mining the human impulse to garden and sharing those stories.
Disclosure: Timber Books sent me a copy of The Earth in Her Hands for review. I reviewed it at my own discretion and without any compensation. This post, as with everything at Digging, is my own personal opinion.
I welcome your comments; please scroll to the end of this post to leave one. If you're reading this in a subscription email, click here to visit Digging and find the comment box at the end of each post.
_______________________
Digging Deeper: News and Upcoming Events
Take a virtual garden tour May 1 through 31! From the comfort of your home, stroll through lovely, quirky gardens and meet the amazing gardeners who created them. This is a month-long, online version of the annual Cooper-Young Garden Walk in Memphis, Tennessee, a self-guided tour of private gardens and businesses highlighting urban gardening throughout the historic Cooper-Young neighborhood.
Join the mailing list for Garden Spark! Hungry to learn about garden design from the experts? I'm hosting a series of talks by inspiring garden designers, landscape architects, and authors a few times a year. Held in Austin, the talks are limited-attendance events that sell out quickly, so join the Garden Spark email list to be notified in advance. Simply click this link and ask to be added.
All material © 2020 by Pam Penick for Digging. Unauthorized reproduction prohibited.


[ad_2]

Source link