[ad_1]

May 01, 2020
Slow-growing Coahuila lace cactus (Echinocereus pectinatus var. coahuila) bloomed in one of my wall planters recently. Tight quarters and dry, gravelly soil don't bother cacti and succulents (that's a little ghost plant tucked in there with it), which makes them perfect for small containers.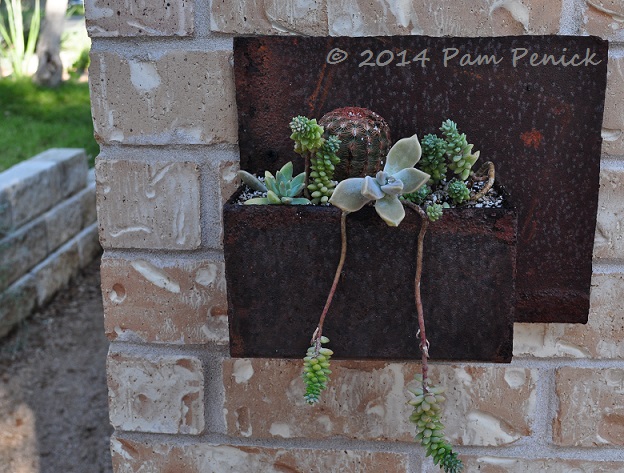 Speaking of slow-growing, here's how the lace cactus looked when I bought it from The Natural Gardener 6 years ago. It's doubled in size since then but remains compact.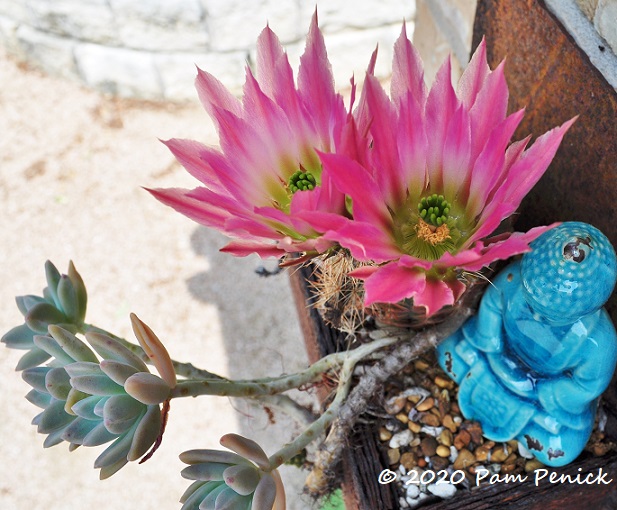 In fact its feather-petaled, hot-pink flowers are almost bigger than the plant itself! It blooms each spring, with one or two colorful flowers peeping open and lasting a few days before furling back up and shriveling to a nub.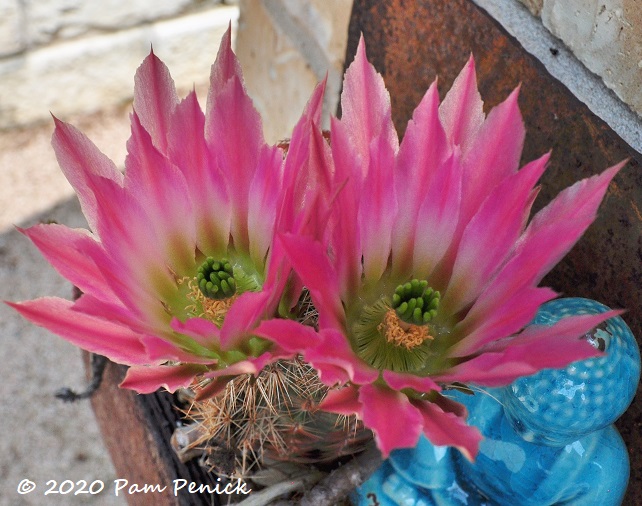 Dave's Garden deems Coahuila lace cactus hardy only to zone 10. But it's been living outdoors in my zone 8b garden for 6 years with no winter damage, albeit next to a sheltering brick wall. So I checked my excellent reference book by Scott Calhoun, The Gardener's Guide to Cactus, which devotes a whole chapter to hedgehog cacti, and it pronounces Echinocereus pectinatus hardy to zone 8a.
It needs excellent drainage, like all cacti. As for sunlight, mine thrives in a few hours of hot, direct sun and bright shade otherwise. It's a spiny beauty and an easy-care plant that offers up stunning flowers in spring.
Note: My Plant This posts are written primarily for gardeners in Central Texas. The plants I recommend are ones I've grown myself and have direct experience with. Check online forums for your region or local independent nurseries to see if a particular plant might work in your area.
I welcome your comments; please scroll to the end of this post to leave one. If you're reading this in a subscription email, click here to visit Digging and find the comment box at the end of each post.
_______________________
Digging Deeper: News and Upcoming Events
Take a virtual garden tour May 1 through 31! From the comfort of your home, stroll through lovely, quirky gardens and meet the amazing gardeners who created them. This is a month-long, online version of the annual Cooper-Young Garden Walk in Memphis, Tennessee, a self-guided tour of private gardens and businesses highlighting urban gardening throughout the historic Cooper-Young neighborhood.
Join the mailing list for Garden Spark! Hungry to learn about garden design from the experts? I'm hosting a series of talks by inspiring garden designers, landscape architects, and authors a few times a year. Held in Austin, the talks are limited-attendance events that sell out quickly, so join the Garden Spark email list to be notified in advance. Simply click this link and ask to be added.
All material © 2020 by Pam Penick for Digging. Unauthorized reproduction prohibited.
[ad_2]

Source link