April 29, 2020
Were it not for Tom Spencer, longtime host of Austin-based PBS television show Central Texas Gardener, public speaker, and environmental advocate, I may never have fallen in love with agaves, planted my first whale's tongue agave, or known and shared the joy of Moby. Tom planted lots of agaves and showed off their spiky, muscular beauty on his groundbreaking blog Soul of the Garden (no longer online), and my eyes were opened.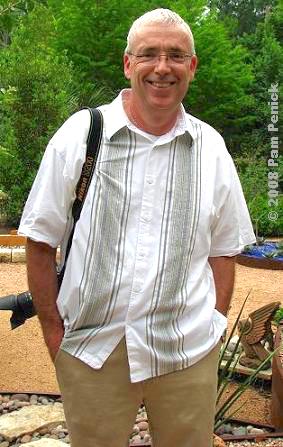 Were it not for Tom, I may never have begun blogging. Back in 2005, I awaited each new blog post from Soul of the Garden, drinking in his gorgeous photos and thoughtful musings about gardening, and absorbing design lessons as he created his dream garden. Wanting to join the conversation begun by early garden blogs like Tom's, I launched Digging in 2006.
Were it not for Tom, I might not have begun designing gardens, starting with my own and eventually making a career of it for about 7 years. As a stay-at-home mom who'd stepped back from editorial work in publishing, I surprised myself by falling in love with gardening and then design, inspired by Tom's own designs, classes he taught, and his weekly interviews with designers, gardeners, and plant people as host of Central Texas Gardener. The day Tom first interviewed me on the show felt like coming full circle.
Were it not for Tom, I wouldn't have been as effective a writer or speaker, or as motivated to improve my photography. Tom has a gift for communication, and he showed me through his many public talks, including an excellent one for Garden Spark, how to be a better, more engaging speaker myself. However, my preferred mode is writing and photography, and once again his Soul of the Garden was a daily lesson in creating meaningful and beautiful content that engages with fellow garden lovers.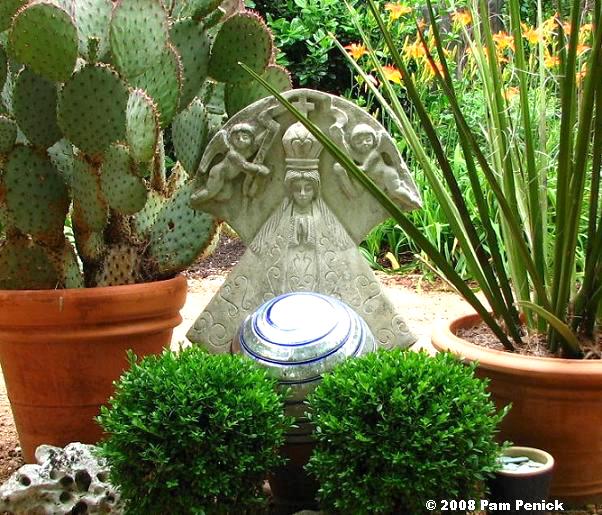 All this is to say that Tom has been a tremendously positive influence on my life as a gardener and garden communicator, more so than he would ever guess.
Tom Spencer Million Trees for Austin Fund
Last September Tom suffered a serious stroke, in an instant removed from his public roles and advocacy work and thrown into a personal struggle for recovery. He has difficulty speaking right now, and yet he continues to make his voice heard, thanks to a recent article in the Austin American-Statesman. And his message is, Plant trees!
Only a few months before his stroke, Tom was named executive director of TreeFolks, an Austin nonprofit focused on urban tree planting to offset some of the effects of climate change. While Tom has had to step down from that role, he's still able to have an impact. In his Statesman interview, he promotes the Tom Spencer Million Trees for Austin Fund, a TreeFolks initiative to plant one million more trees in Austin. "These millions of trees will stand as part of Tom's legacy, to be celebrated now and by generations to come," according to its website.
TreeFolks says the fundraiser is a collaborative, regional effort that will:
Rally our many businesses, government, nonprofit, and individual partners around a shared goal in Central Texas — planting a million trees or more, for our planet and for our communities.
Advance the nation's first large-scale pilot project using local tree planting to generate carbon off-set credits.
Enhance Austin's urban tree canopy through the aggressive expansion of TreeFolks' on-going tree planting and tree adoption programs.
Support an extensive tree planting and tree care public information campaign directed at select audiences and the general public.
Enable large-scale planting efforts that will restore native woodlands along highly degraded streams that flow through the Blackland Prairies and are tributaries of the Colorado River in Eastern Travis County and Bastrop County.
Build additional organizational capacity for TreeFolks and our partners by providing the infrastructure and equipment needed to accomplish this goal.
Establish the groundwork for multi-year funding to expand this million-tree effort by initiating new partnerships with public entities to utilize reforestation as a nature-based solution to flooding.
In honor of all that Tom has taught me, and in recognition of his years of public service, I've donated to the Tom Spencer Million Trees for Austin Fund. I hope you will consider making a donation too. Let's make him proud!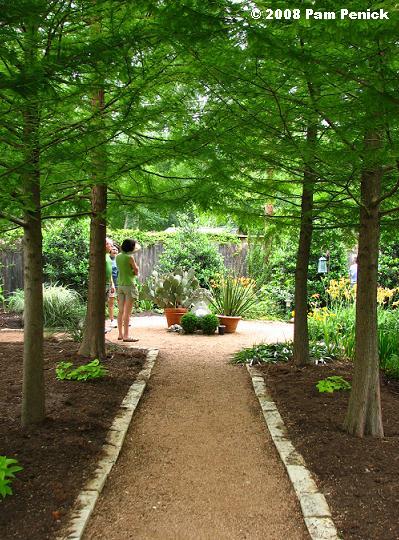 I welcome your comments; please scroll to the end of this post to leave one. If you're reading this in a subscription email, click here to visit Digging and find the comment box at the end of each post.
_______________________
Digging Deeper: News and Upcoming Events
Take a virtual garden tour May 1 through 31! From the comfort of your home, stroll through lovely, quirky gardens and meet the amazing gardeners who created them. This is a month-long, online version of the annual Cooper-Young Garden Walk in Memphis, Tennessee, a self-guided tour of private gardens and businesses highlighting urban gardening throughout the historic Cooper-Young neighborhood.
Join the mailing list for Garden Spark! Hungry to learn about garden design from the experts? I'm hosting a series of talks by inspiring garden designers, landscape architects, and authors a few times a year. Held in Austin, the talks are limited-attendance events that sell out quickly, so join the Garden Spark email list to be notified in advance. Simply click this link and ask to be added.
All material © 2020 by Pam Penick for Digging. Unauthorized reproduction prohibited.