September 10, 2020
A couple days ago, between rainstorms, I returned to Tom Ellison's garden to see his crop of oxblood lilies (Rhodophiala bifida). Austin's gardens, especially in older neighborhoods like Tom's own Tarrytown, blaze with diminutive red flags after the first good rain of late summer. Although the oxblood lily show lasts only a week, it's a good one, especially since it heralds cooler weather and autumn's reflowering of our gardens.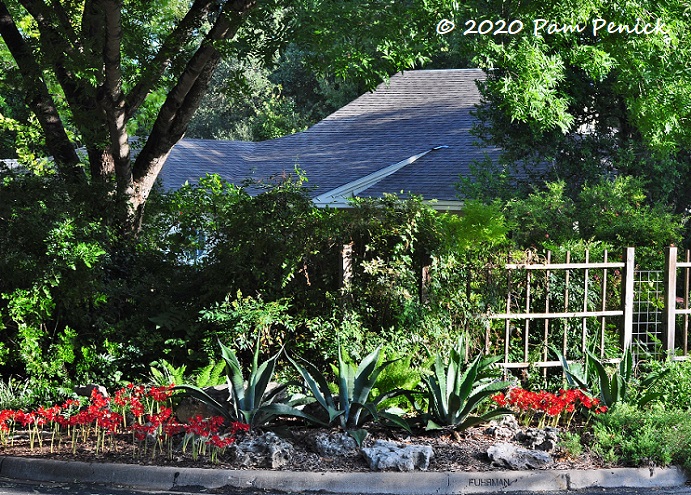 I last visited Tom's garden in May 2014, when his beloved daylilies were flowering. But Tom has a lot more going on than just daylilies. As you approach his corner lot, you see a trio of 'Green Goblet' agaves among limestone boulders, with scarlet oxblood lilies fanning out on either side. Tom fills in with annuals when the lilies are out of season.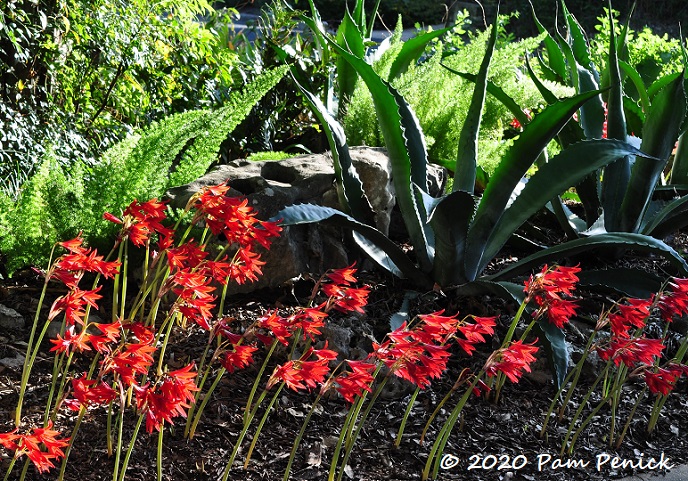 As the morning sun cleared the trees, the oxbloods began glowing like Chinese lanterns. Behind them diaphanous foxtail fern catches the light too, while the darker green agaves hulk alongside.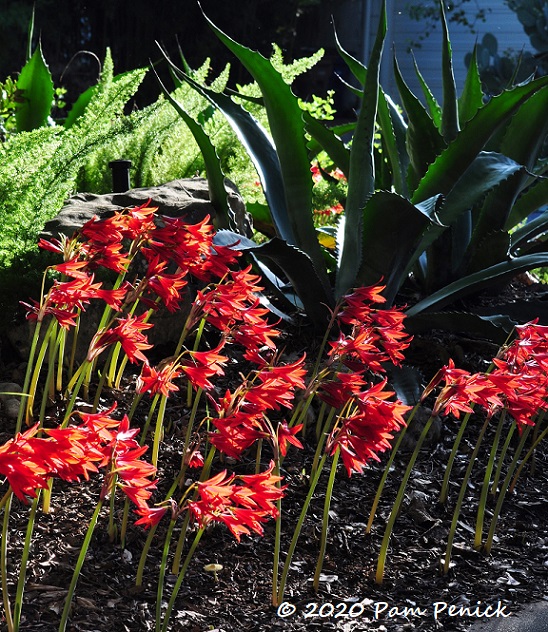 Oxblood lily's green stems are naked when the flowers pop up seemingly overnight. As flowers fade, narrow green leaves appear at ground level. These remain through winter, soaking up sunlight so the bulb can store energy for next year.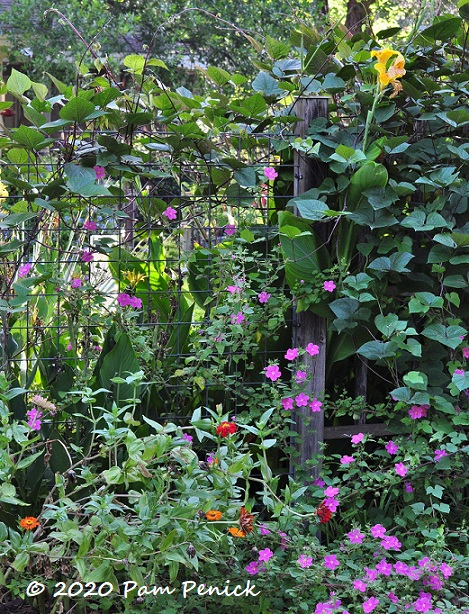 After admiring the lilies, I toured the rest of the garden with Tom and his wife, Pat. Tom's cottage-style garden is alight with colorful flowers, both inside and outside the lattice-style fence that encloses their front yard.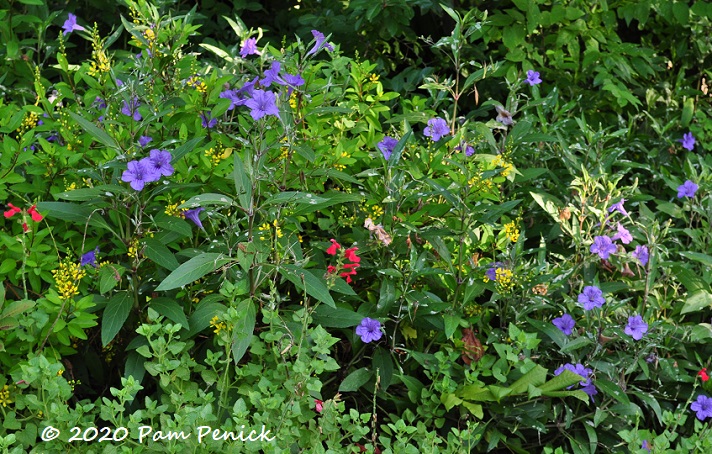 Tall ruellia mingles with golden thryallis and red salvia outside the fence.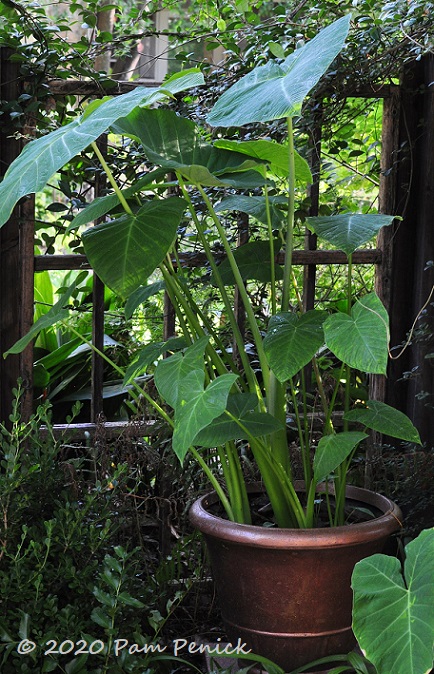 Elephant ears in a coppery pot seem to be peeking through the fence.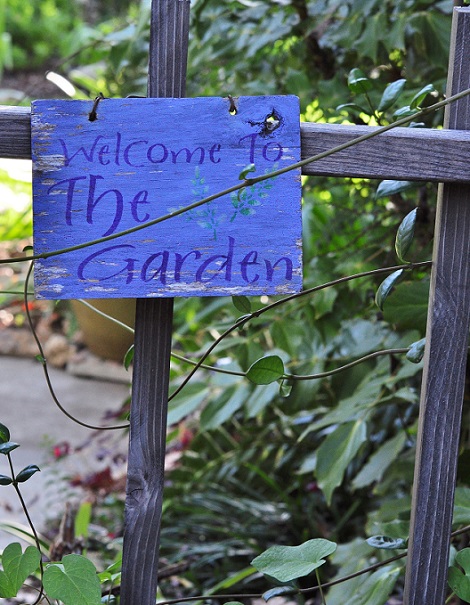 As you step through the gate into the front garden, a charming sign welcomes you.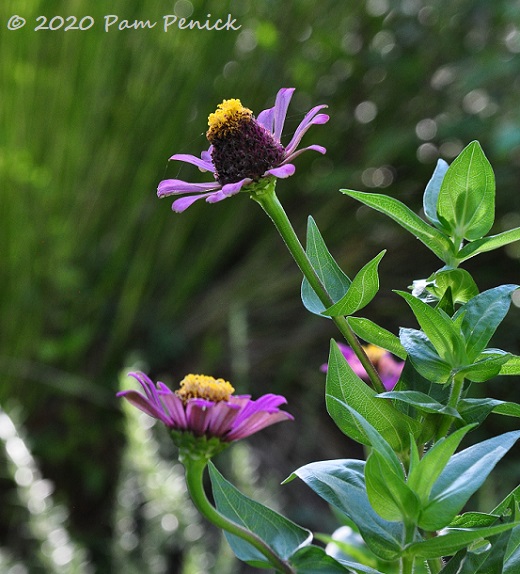 Zinnias do too.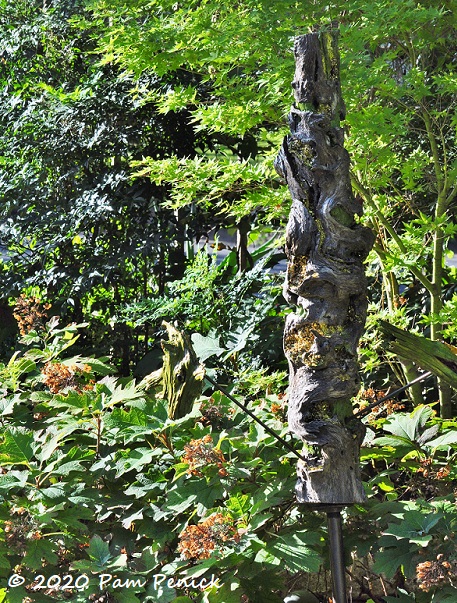 Tom makes art out of found objects, displaying it throughout his garden. The Arduous Journey is a wizened tree trunk, into whose fissures Tom glued asphalt paving gravel he picked up from the street and painted.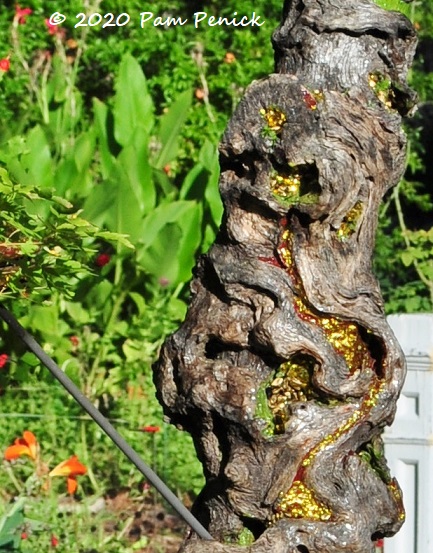 A closer look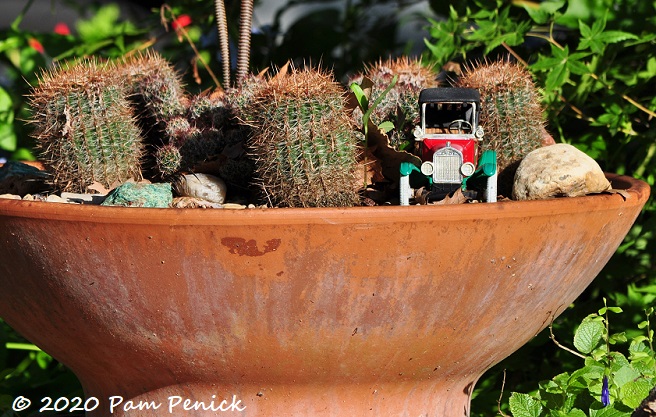 Looking around I spotted a terracotta bowl of rusty-spined cactus with an old toy car parked in it.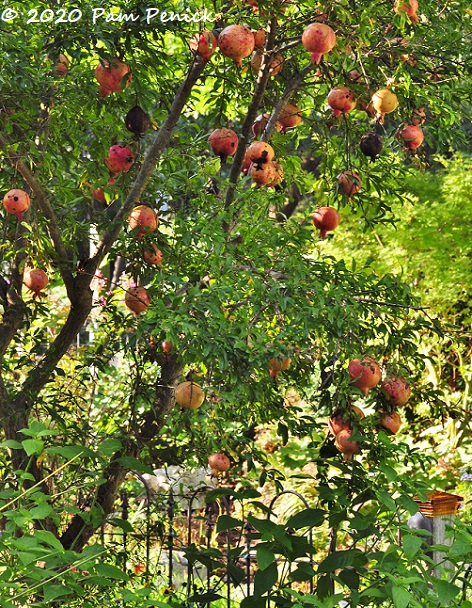 Echoing those rusty orange hues, pomegranates dangle from their tree like autumn-colored Christmas balls.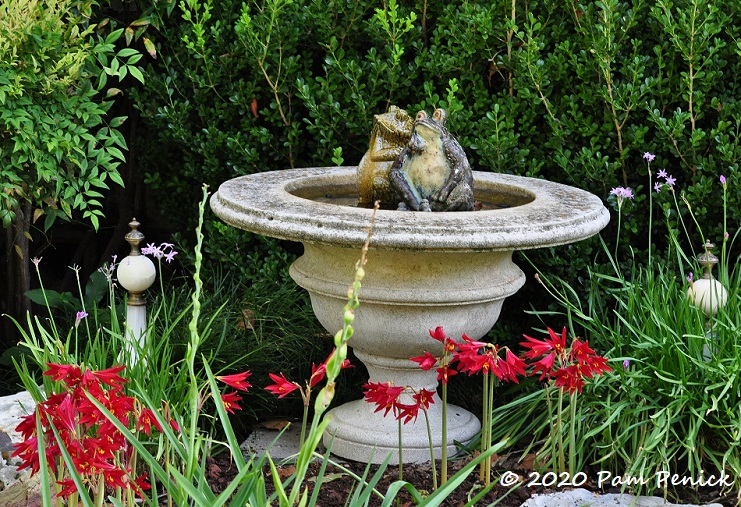 Here's my favorite vignette in Tom's garden: a froggy, classical urn-style birdbath near the front door. It charms me every time, and now there are TWO frogs where there used to be just one.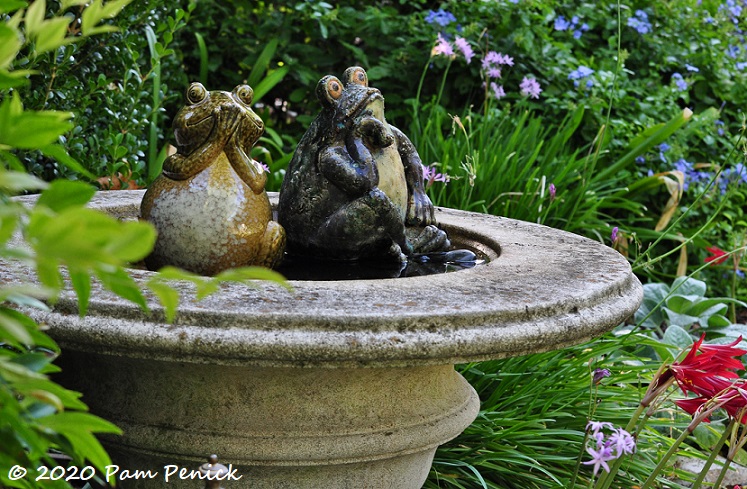 They represent Pat (left) and Tom (right). Aren't they adorable? They're sitting in a shallow pool of water with Mexican beach pebbles, with society garlic, plumbago, and oxblood lilies all around.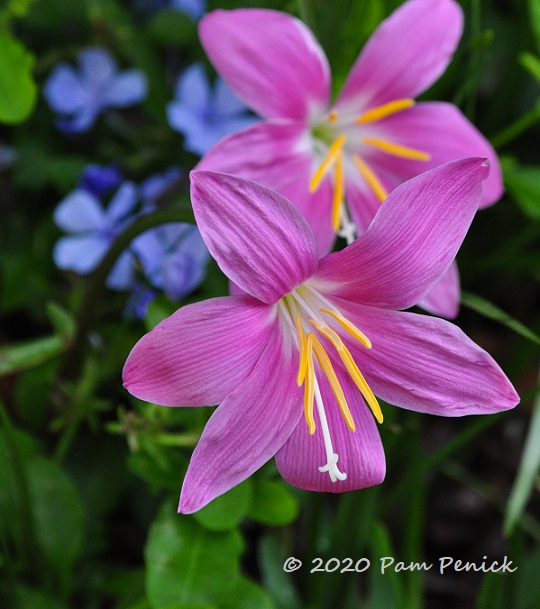 Rain lilies in a darker pink than I usually see.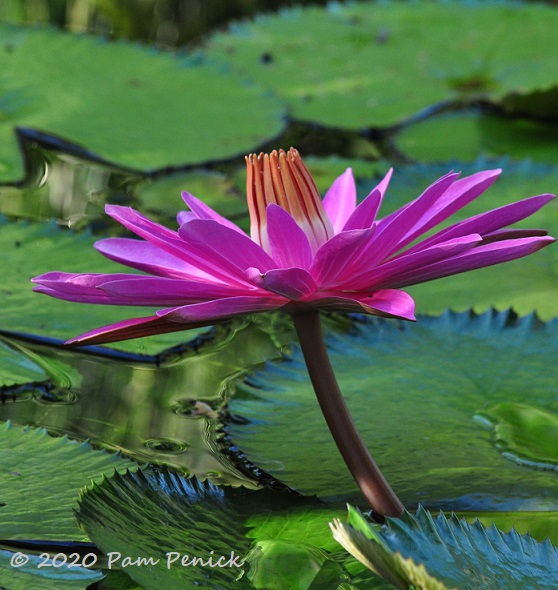 But the most beautiful flower in Tom's garden, for my money, is this tropical waterlily.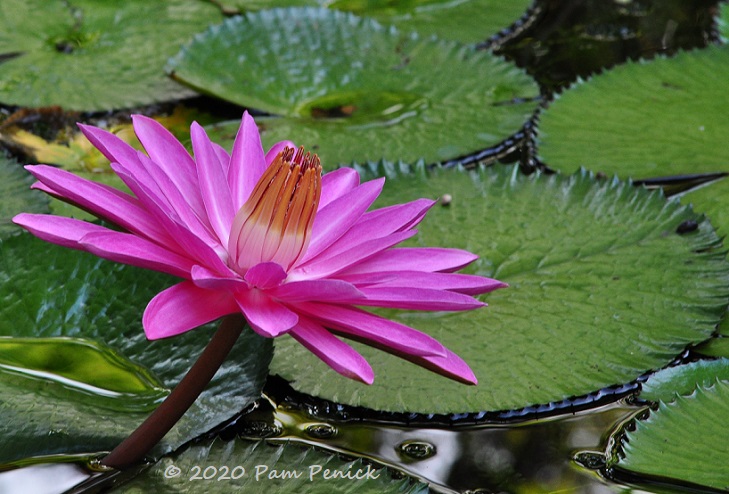 Stunning!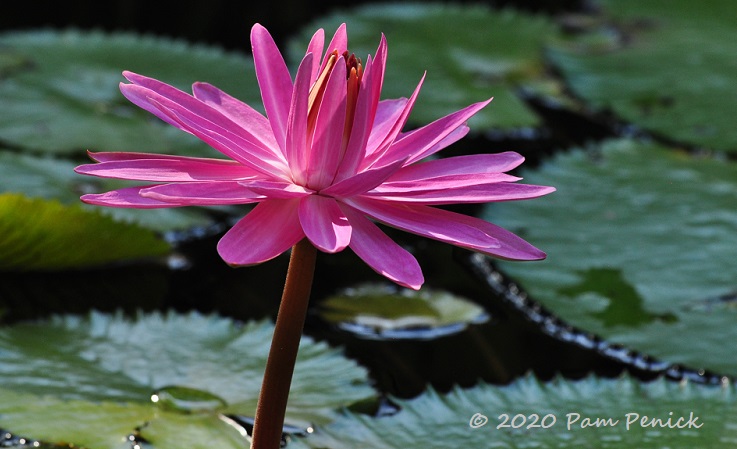 Does it make me miss my own pond? Not really. Mine never got enough sun to produce many waterlily flowers. If I ever have a sunnier spot though, who knows!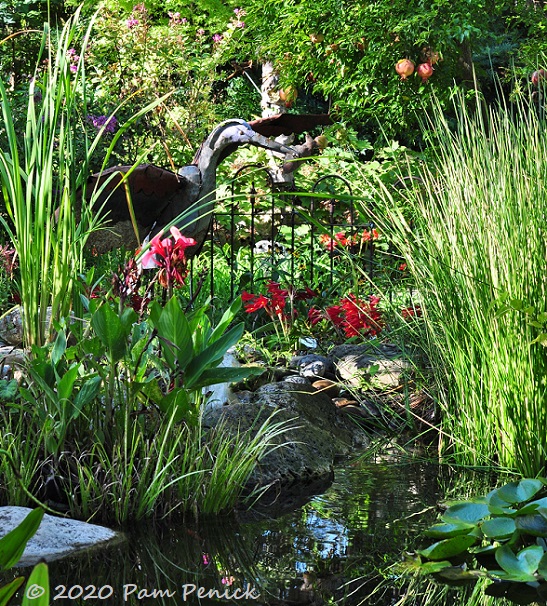 Water literally courses through Tom's garden, home to two ponds and a stream. A metal heron, with oxblood lilies blooming at its feet, has snagged a fish.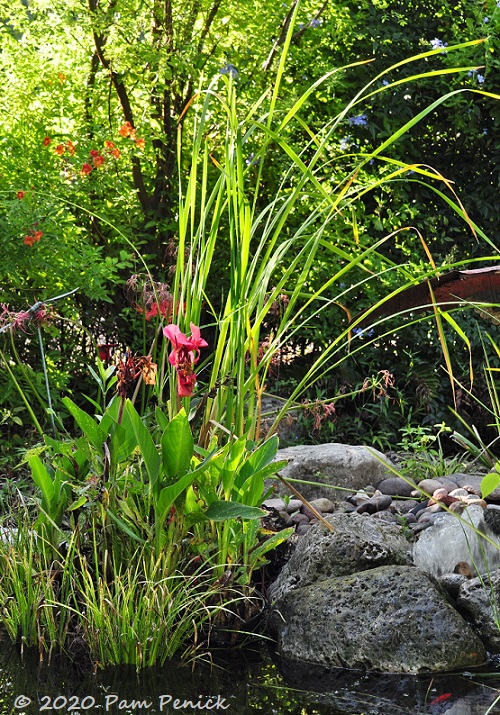 A canna lily and pond grasses catch the morning light.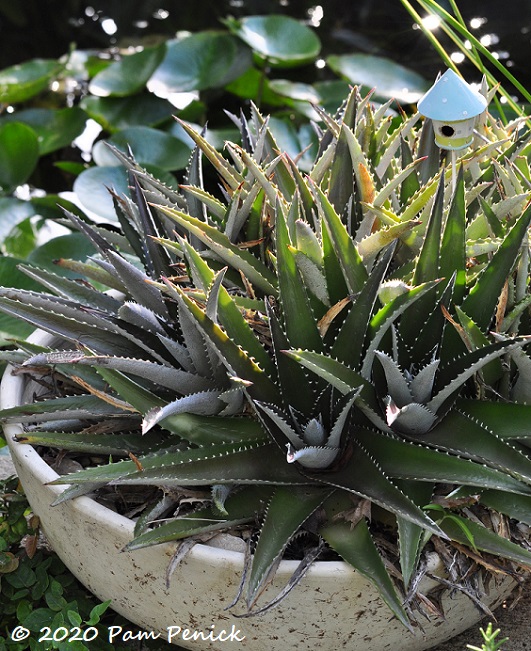 Tom says this silvery green dyckia is winter hardy. It's stunning. I love the way it gleams in its white dish, echoing the sparkles coming off the pond.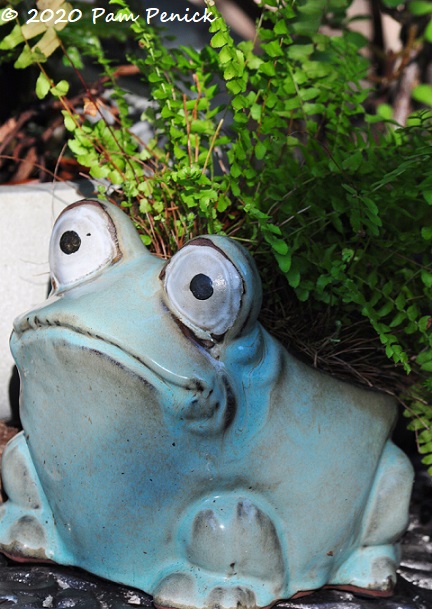 I sense a frog theme. This cutie with a wtf expression — 2020, amiright? — holds a small fern.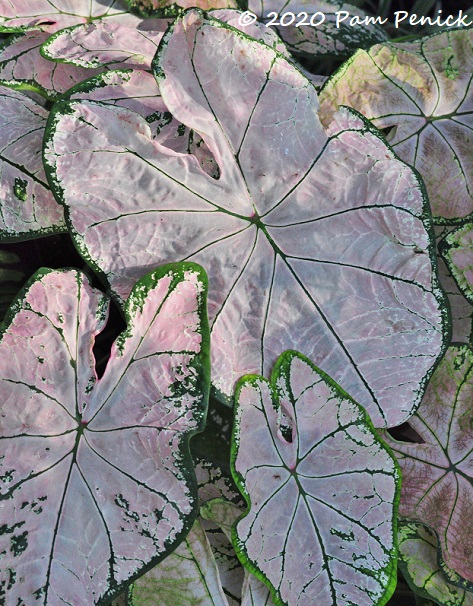 This pale-pink caladium with kelly-green edges and veins is Pat's favorite and grows by the back door.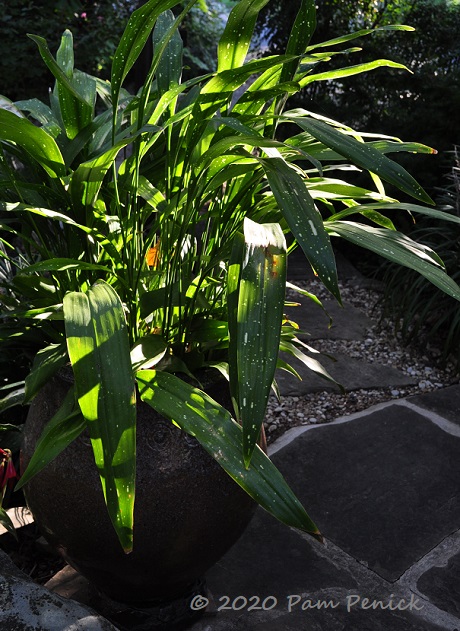 'Milky Way' cast-iron plant (Aspidistra) glows as the sunlight touches its white-speckled leaves.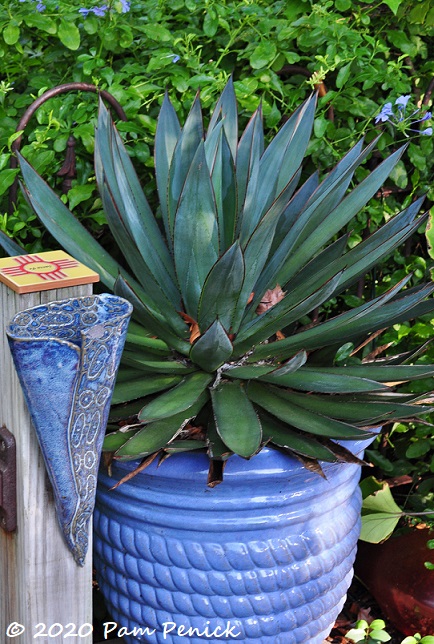 'Blue Glow' agave harmonizes with its blue pot and a ceramic vase on a fence post.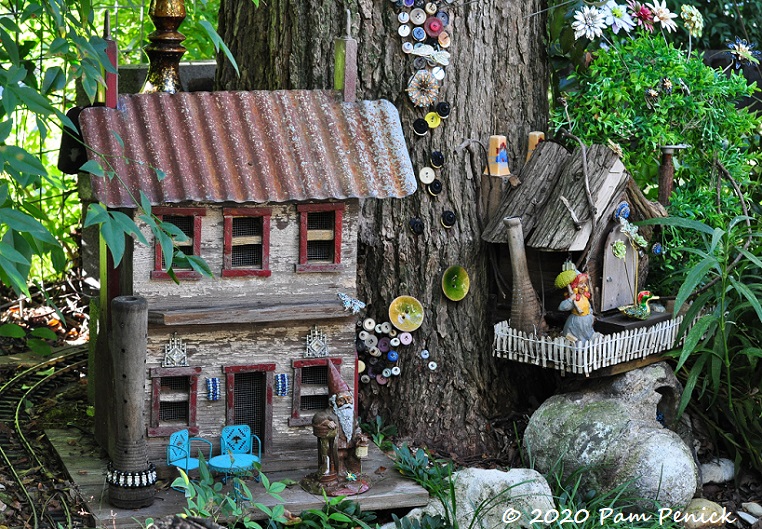 Tom and Pat's main patio is in the side yard, bordering a stream that flows between two ponds. Here Tom has created a whimsical gnome garden for his grandchildren to enjoy. Charming little houses made with scrap metal and found objects are tucked under plants, and a train track runs through the village. The train wasn't running during my visit, but I bet the grandkids love it.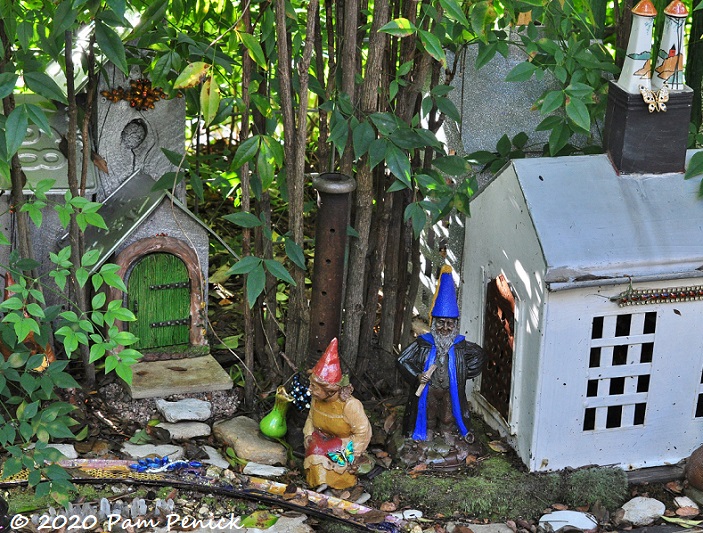 Each gnome represents a particular person in Tom and Pat's extended family. Notice the ceramic salt-and-pepper shakers for a chimney flue atop the white house.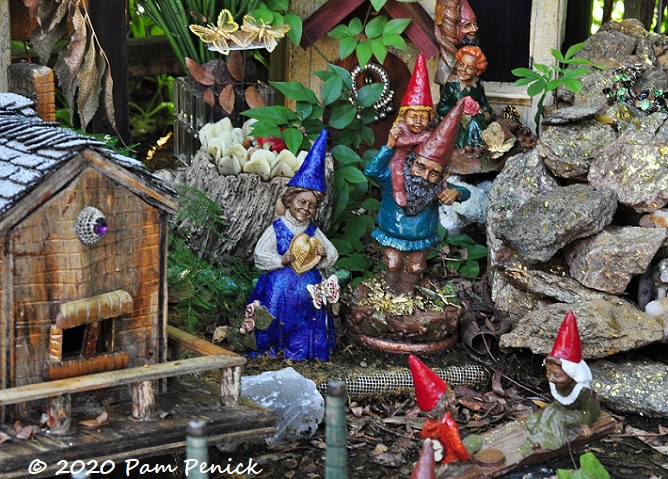 I have a feeling these two are Tom and Pat. Tom says the gnomes mine for gems and are in the jewelry business, hence the glitter and gold.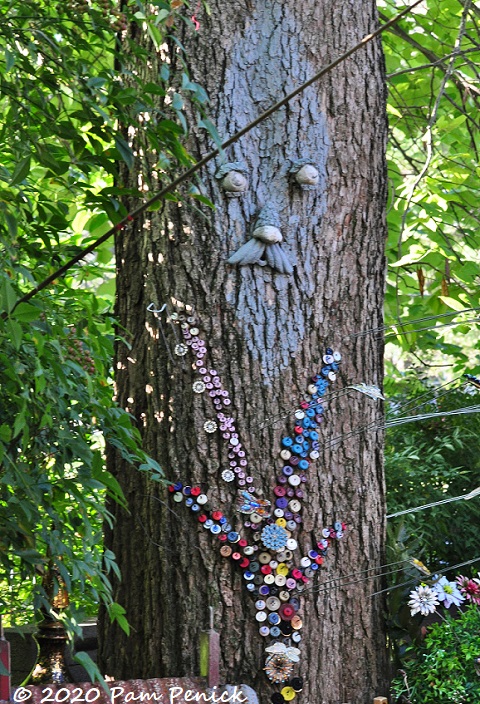 The gnomes like to decorate with colorful buttons and adorned the tree man who watches over them.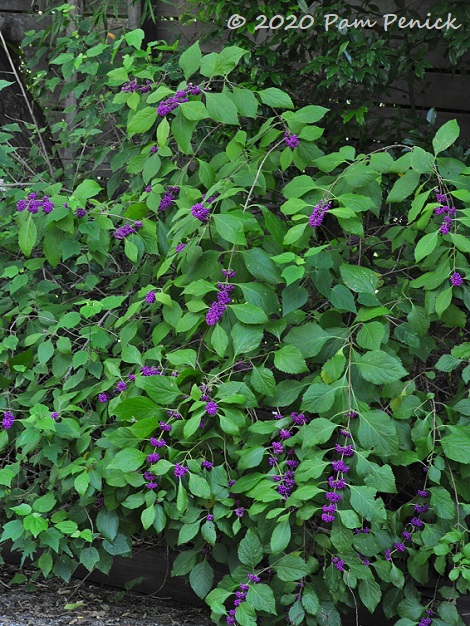 Heading around to the tiny backyard, we passed a gorgeous American beautyberry laden with purple berries.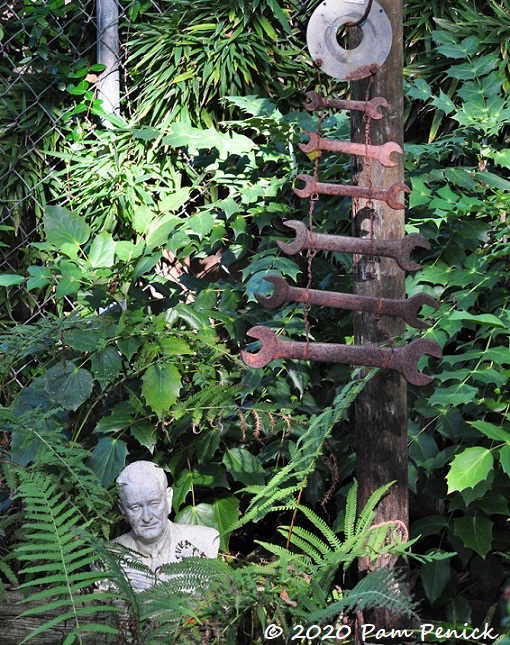 Here more of Tom's art is displayed, including Grandpa's Wrenches. A bust of Lyndon Johnson, which I mistook at first glance for Bill Murray, stares pensively from the ferns.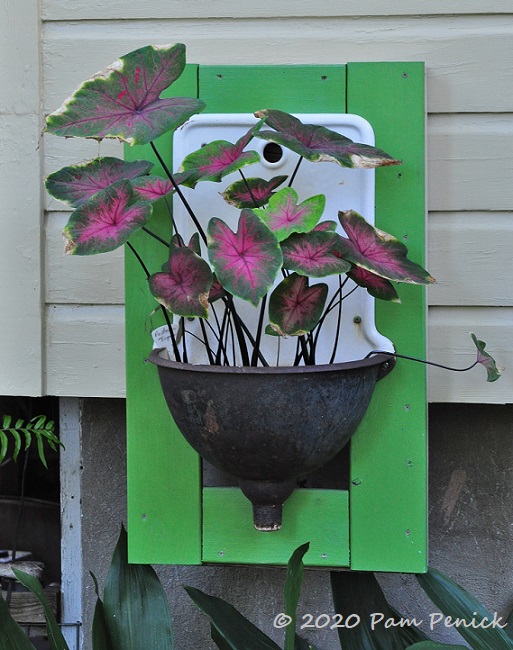 A sink hanging on the house on a green painted frame holds a pink-and-green caladium.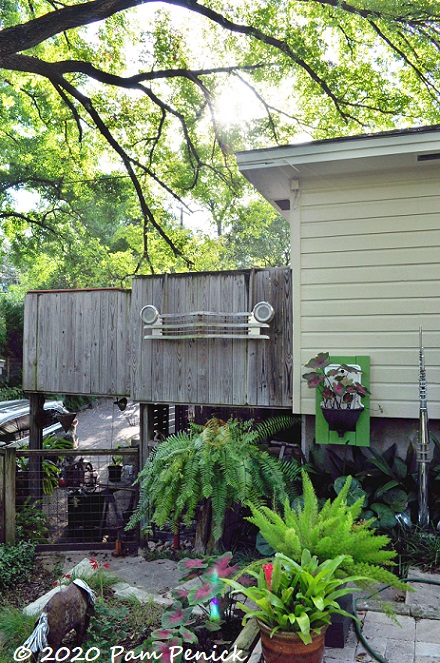 And a 1949 Plymouth grill adorns an even higher level. It kind of reminds me of frog eyes, actually.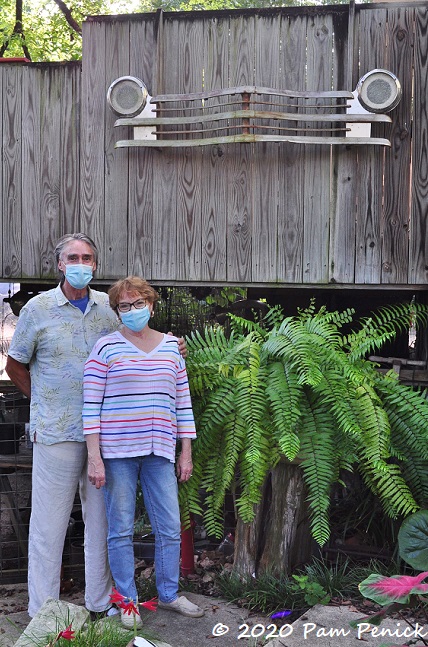 Thank you to Tom and Pat for sharing your lovely garden with me again! I'm especially glad to have seen it while the oxblood lilies are in bloom.
For more about Tom's garden, see my tour from May 2014 and watch his appearance on Central Texas Gardener in 2017.
I welcome your comments; please scroll to the end of this post to leave one. If you're reading this in a subscription email, click here to visit Digging and find the comment box at the end of each post.
_______________________
Digging Deeper: News and Upcoming Events
Join the mailing list for Garden Spark! Hungry to learn about garden design from the experts? I'm hosting a series of talks by inspiring garden designers, landscape architects, and authors a few times a year. Held in Austin, the talks are limited-attendance events that sell out quickly, so join the Garden Spark email list to be notified in advance. Simply click this link and ask to be added.
All material © 2020 by Pam Penick for Digging. Unauthorized reproduction prohibited.