[ad_1]

June 11, 2020
Any day now the owlet in our owl box will fly the nest, so I've been taking lots of photos while I can. Here's one of the parents — the mother, I think — on her favorite perch in a juniper tree behind our back fence.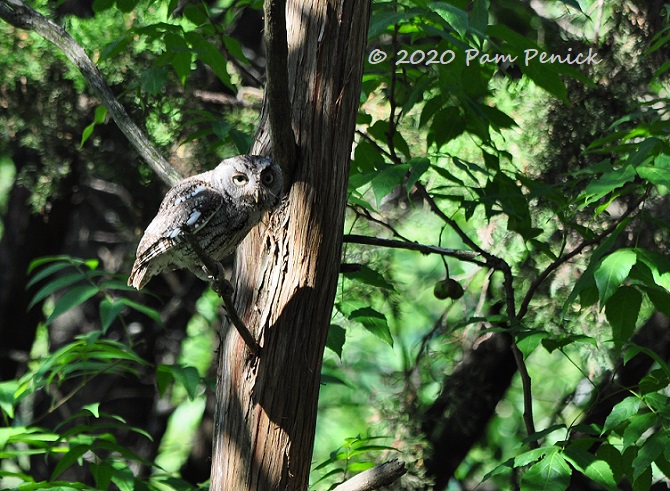 She tolerates my presence much better now that she's not in the owl box. Then, she'd hide immediately if we stepped into the back yard. But now she'll sit on the branch and even close her eyes for a catnap while I quietly sit and photograph.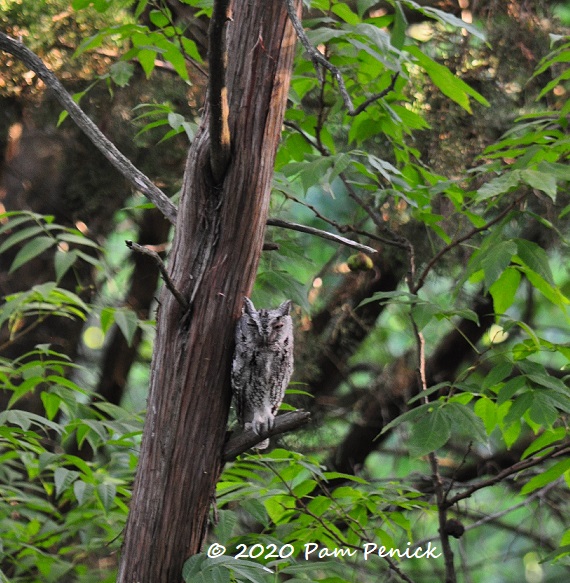 Here she is again, later in the day.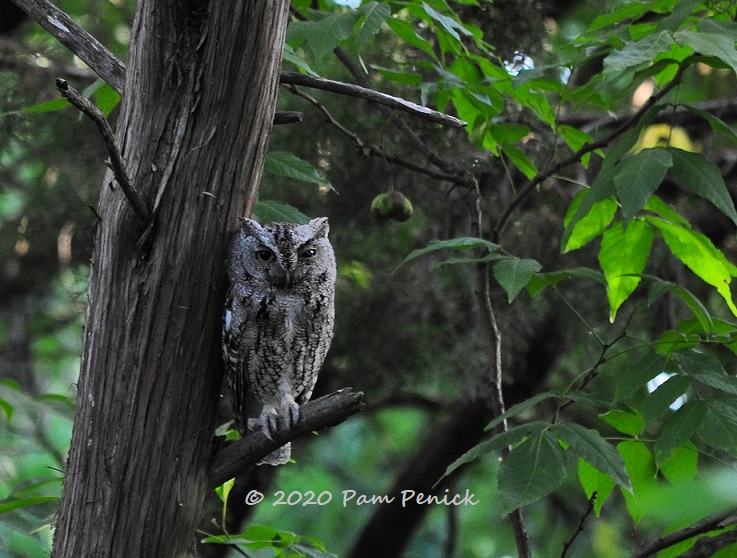 She's a beautiful bird. Tiny, of course — no more than 9 or 10 inches tall.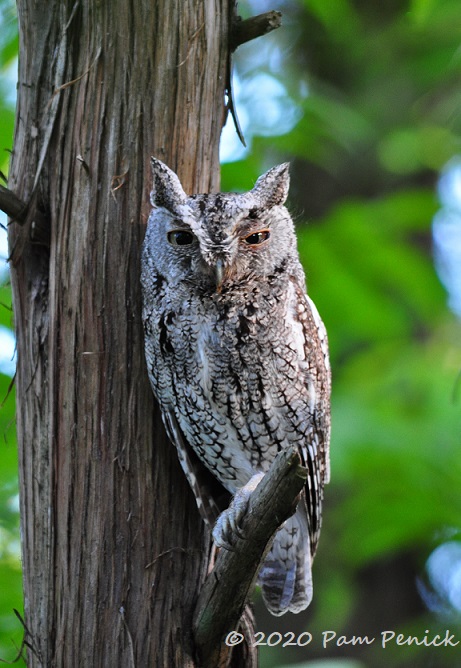 Yesterday I inched a little closer, standing next to the fence and pointing my long lens between the cedar posts, still about 10 feet away. She calmly watched. From this angle, I was concerned to see that her left eye looks irritated or inflamed.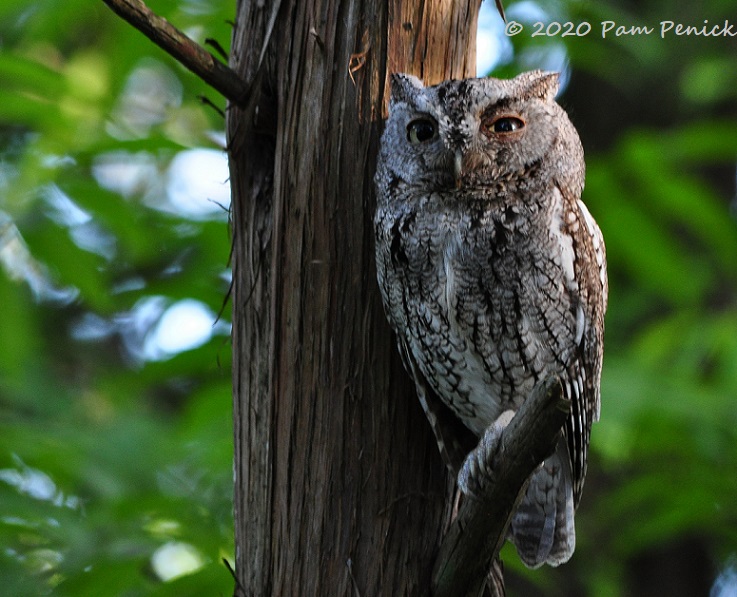 Poor mama! I wonder what happened.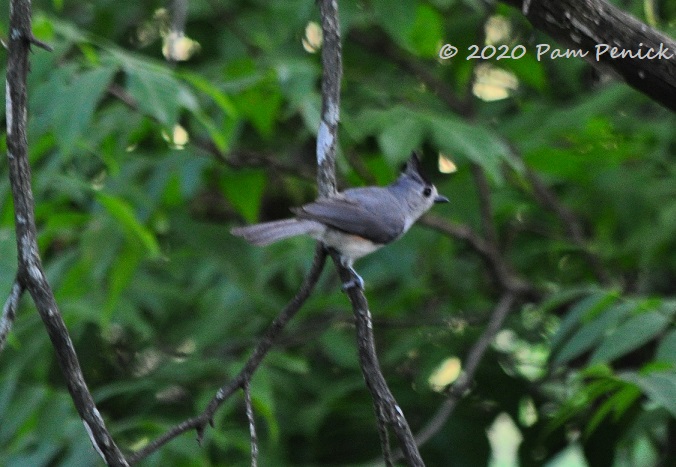 A black-crested titmouse made a bold show of fussing at the owl, as smaller birds often do throughout the day.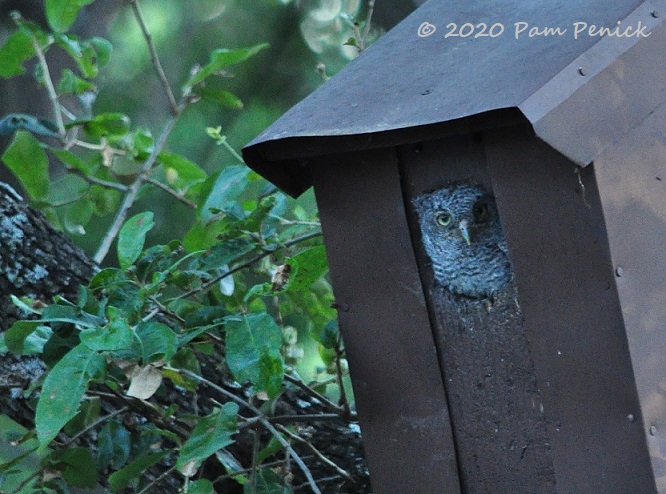 In the box, the fuzzy owlet popped up to see what I was up to.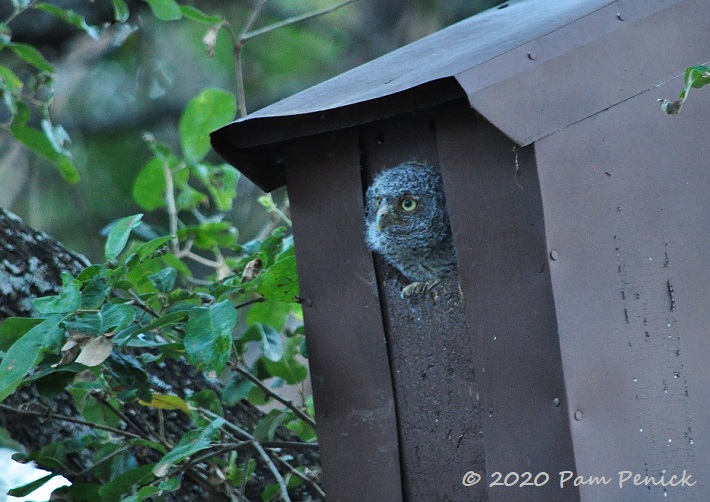 He bobbed up and down in the doorway, impatient for dinner.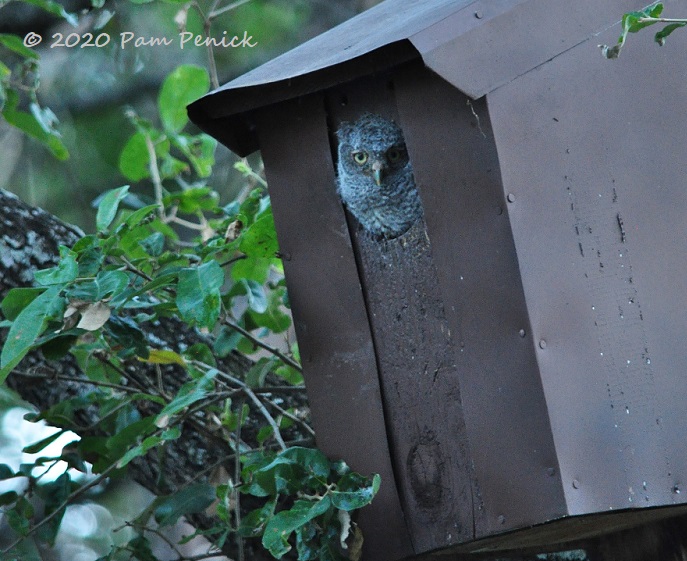 In past years we always saw two or even three chicks. I keep an eye on the box throughout the day, using binoculars through the window, curious to see if another little face will appear. But if he's an only, well, that's less work for mom and dad. And with that eye of hers, it kind of looks like Mom could use a break!
I welcome your comments; please scroll to the end of this post to leave one. If you're reading this in a subscription email, click here to visit Digging and find the comment box at the end of each post.
_______________________
Digging Deeper: News and Upcoming Events
Donate to the Tom Spencer Million Trees for Austin Fund, established by TreeFolks in March 2020 to honor Tom Spencer, a tireless environmental advocate and longtime host of Central Texas Gardener. Tom's bold vision of planting another million trees in the Austin community inspired TreeFolks to pursue this goal, and they invite others to join the campaign. In Tom's own words, "Plant trees, plant hope."  For information about making an annual gift, stock donation, or charter contribution, please call Andrew W. Smiley, TreeFolks Executive Director at 512-413-7774, or visit their website for additional information.
Join the mailing list for Garden Spark! Hungry to learn about garden design from the experts? I'm hosting a series of talks by inspiring garden designers, landscape architects, and authors a few times a year. Held in Austin, the talks are limited-attendance events that sell out quickly, so join the Garden Spark email list to be notified in advance. Simply click this link and ask to be added.
All material © 2020 by Pam Penick for Digging. Unauthorized reproduction prohibited.
[ad_2]

Source link