August 19, 2020
This isn't a post about how to install landscape lighting (click for that tutorial). It's just me enjoying our front-of-house lighting so much that I took a few pics of it again last weekend. Sometimes it's the basic stuff that makes you happy.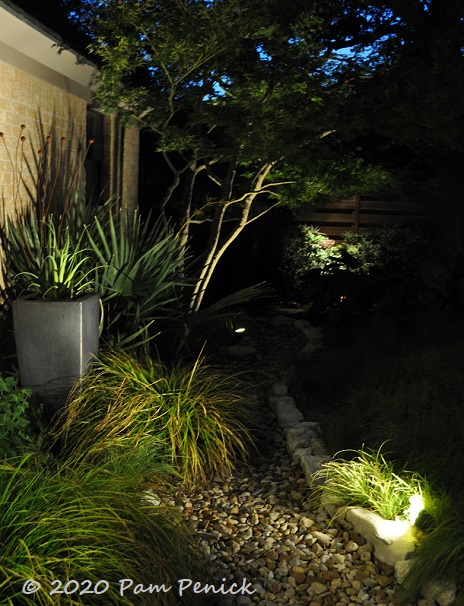 Looking along the dry creek, you see two uplights glowing up a container plant and an ornamental tree along the house, plus one downlight casting a spotlight on a piece of garden art by the fence.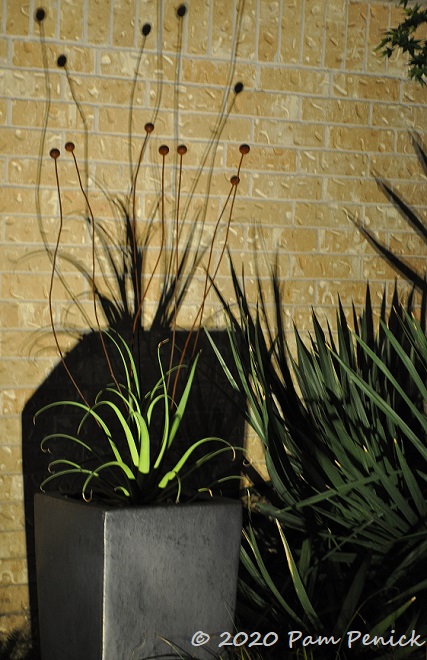 I like how the uplights cast shadows on the brick wall of the house. Here a potted squid agave and seedhead-esque garden art get the uplight treatment.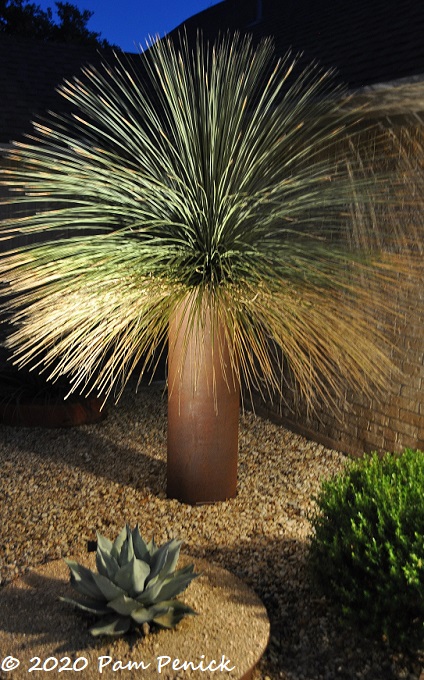 Another uplight turns a toothless sotol (Dasylirion longissimum) in a steel-pipe planter into a shimmering fiber optic light. Lighting gives you an entirely new way to enjoy your garden.
I welcome your comments; please scroll to the end of this post to leave one. If you're reading this in a subscription email, click here to visit Digging and find the comment box at the end of each post.
_______________________
Digging Deeper: News and Upcoming Events
Garden Bloggers Fling, the online community and annual meet-up for garden bloggers since 2008, has expanded to include garden vloggers, podcasters, and Instagrammers. Check out their announcement AND their newly revitalized Instagram page, which is sharing pics from past Fling tours as well as community member profiles.
Join the mailing list for Garden Spark! Hungry to learn about garden design from the experts? I'm hosting a series of talks by inspiring garden designers, landscape architects, and authors a few times a year. Held in Austin, the talks are limited-attendance events that sell out quickly, so join the Garden Spark email list to be notified in advance. Simply click this link and ask to be added.