[ad_1]

August 03, 2020
Oh hi! Let's pop back into the national park road trip. From the central coast of California, back in late June, we headed home to Austin via a more southerly route than our outbound one.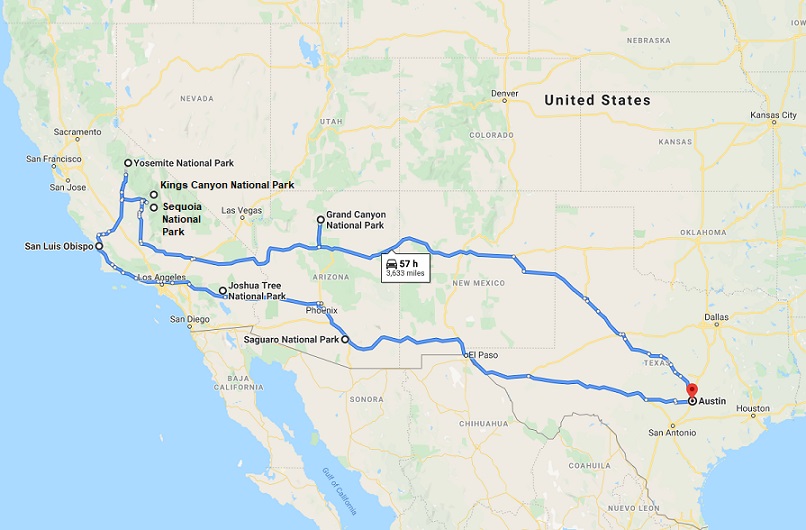 We zipped through Los Angeles — regretful that the pandemic prevented any visits with friends — and pressed on to Palm Springs.
Palm Springs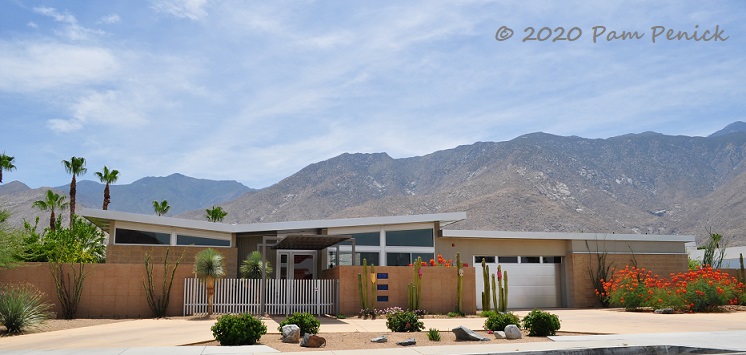 In the desert oasis of Palm Springs we cruised through town checking out the mid-century architecture and desert gardens. A home-and-garden tour would be worth a return visit one day! After a picnic lunch at a local park, we drove on to Joshua Tree National Park's west entrance, about 30 miles away.
Joshua Tree National Park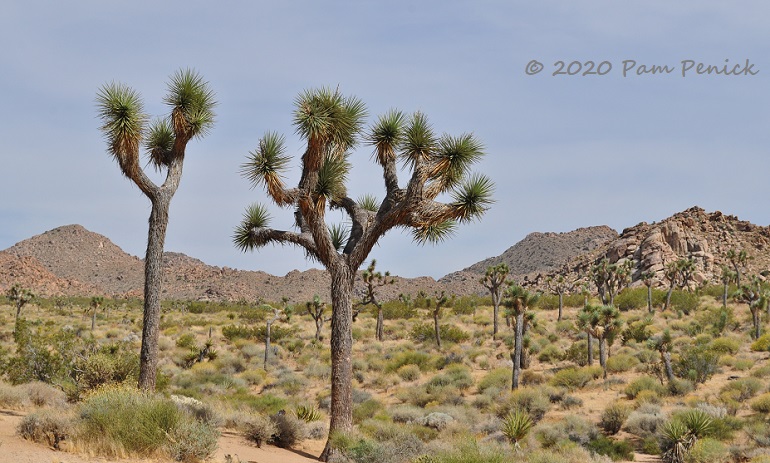 Joshua Tree straddles two of California's forbiddingly beautiful deserts, the Mojave and the Colorado, which is part of the vast Sonoran Desert. The Colorado, on the park's less-traveled southeastern side, is low desert with elevations below 3,000 feet. The Mojave, on the northwestern side, is high desert with elevations between 3,000 and 5,000 feet.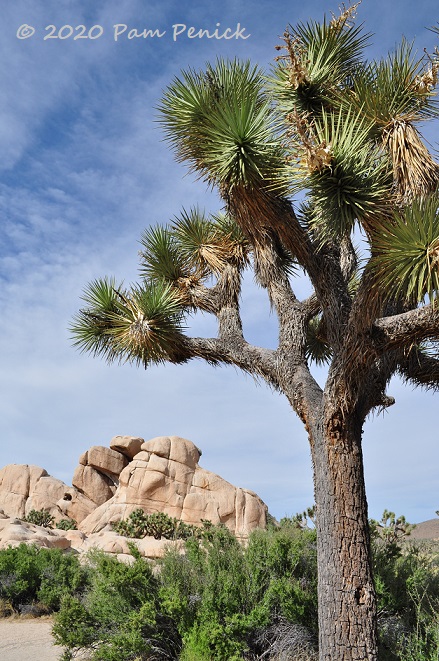 On the Mojave side you find the curious-looking Joshua tree, which isn't a tree at all but a tall, trunking yucca — Yucca brevifolia to be exact.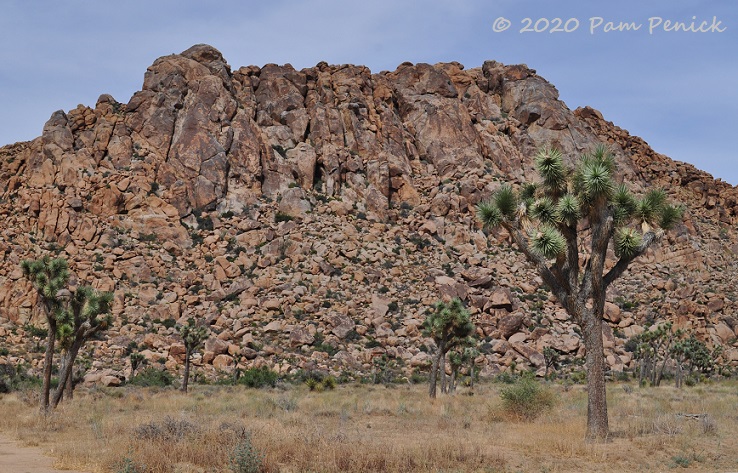 And who was Joshua? According to legend, the Joshua tree was named by Mormon settlers, who anthropomorphized the yucca, seeing in its posture the raised arms of the Biblical figure Joshua.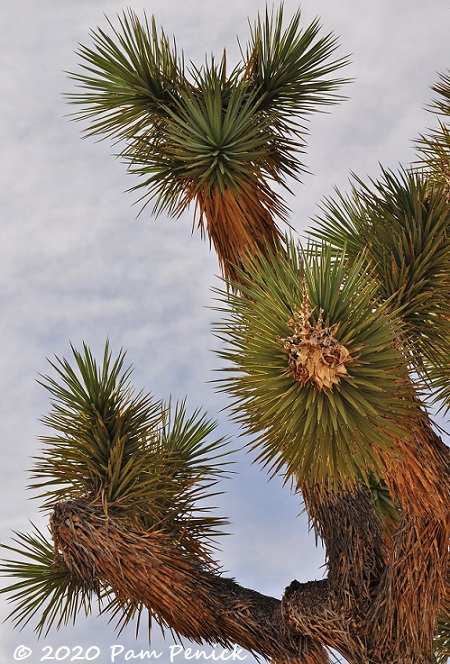 They do seem vaguely human-shaped, with multiple arms and heads — perhaps more alien than human.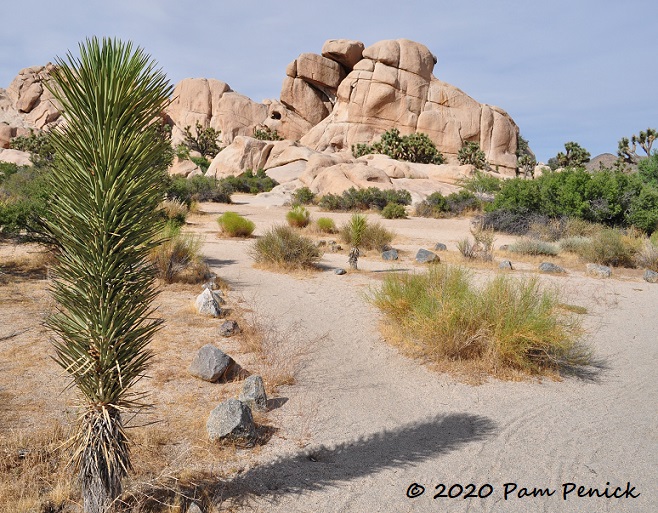 Young Joshua trees look like this: a bristling column with no branching arms. Branching comes later, after the yucca has flowered.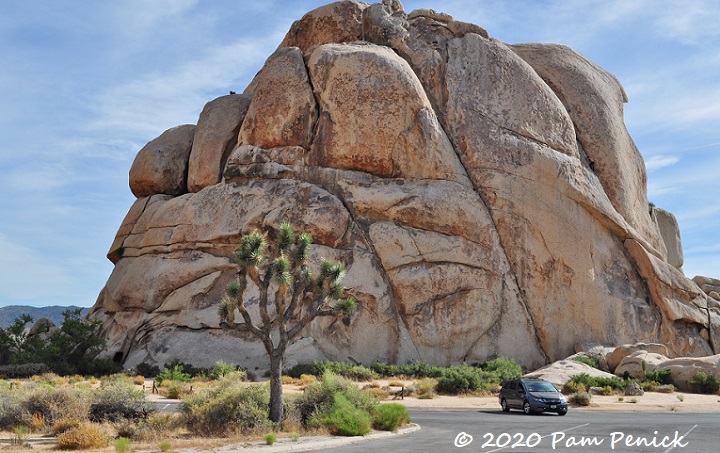 As otherworldly as the Joshua tree, massive granite boulders and mini-mountains dot the landscape as if plonked here from outer space. E.T. didn't bring them though. These rounded and fissured, pale-pink rocks were formed underground millions of years ago, when magma rose toward the surface and eventually cooled, cracked, and uplifted. Groundwater sanded down the rough edges, widened the cracks, and exposed the rocks to view. Today they attract rock climbers, boulderers, and slackliners from around the world.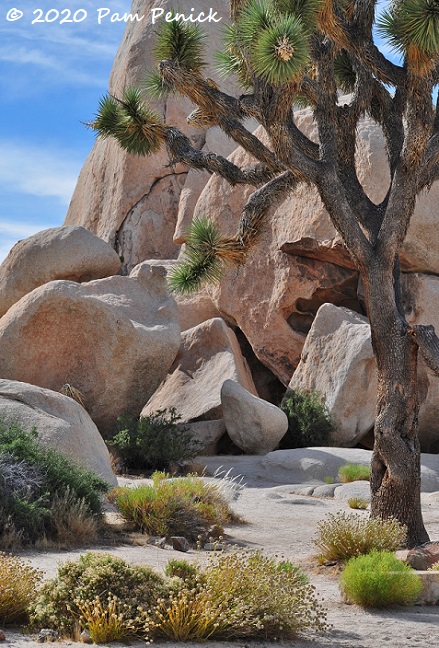 Plenty of other plants make up a supporting cast for the Joshua tree, like California buckwheat.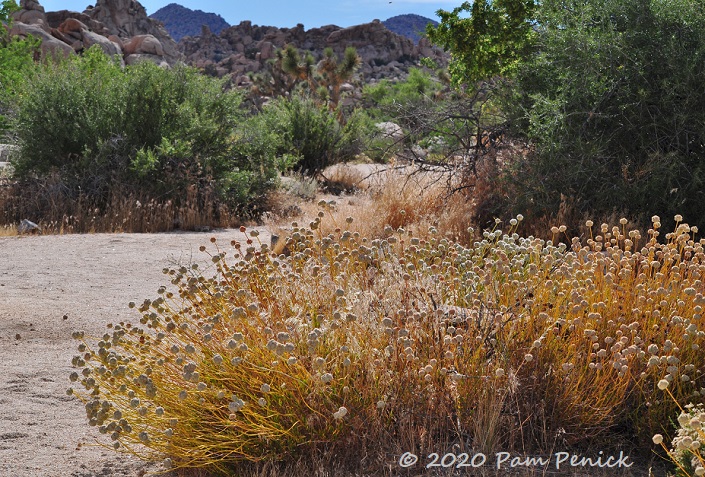 I adore this plant, with its cute button-headed flowers.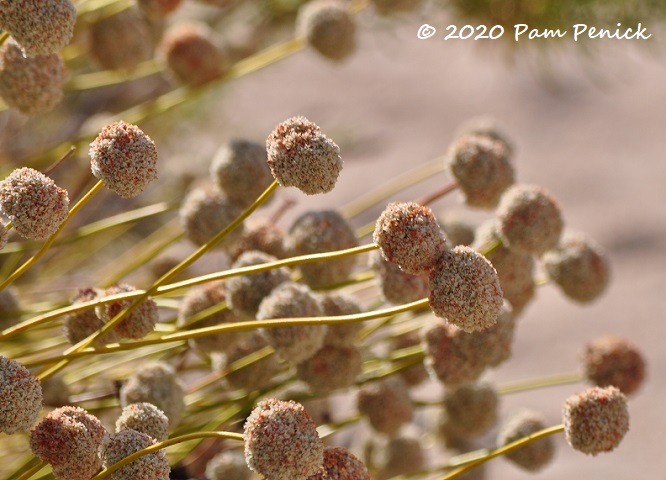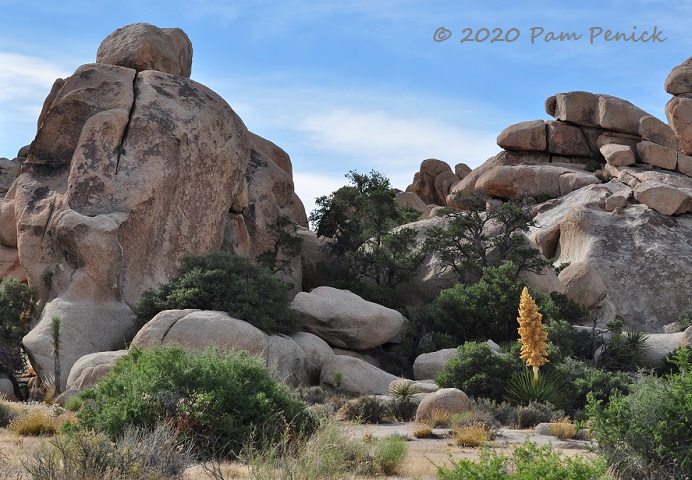 Parry's nolina (Nolina parryi) was flowering throughout the park in late June, its enormous, foxtail-shaped bloom spike giving away its location.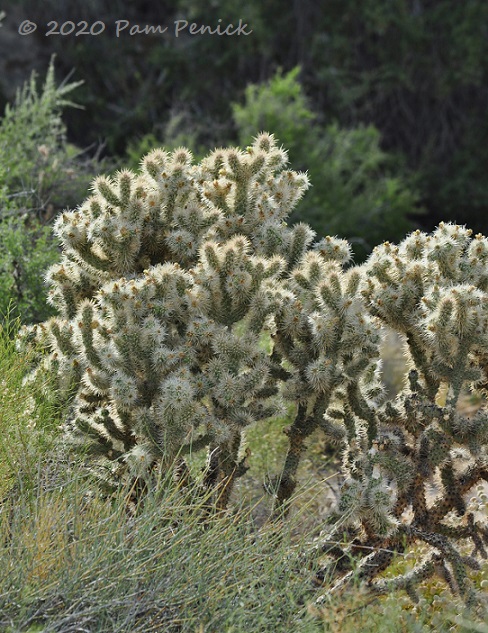 Teddy-bear cholla appeared here and there, but we'd soon see 10 astonishing acres of it at the Cholla Cactus Garden (photos below). Why terrifying? Its cylindrical "branches," which look almost cuddly when the light catches the blond spines, easily detach if you brush against them (or pick one up on your shoe) and embed their barbed spines into your skin. Watch this video to see how fun it looks when a cholla pad attaches to someone's bare leg (be aware there is understandable cursing).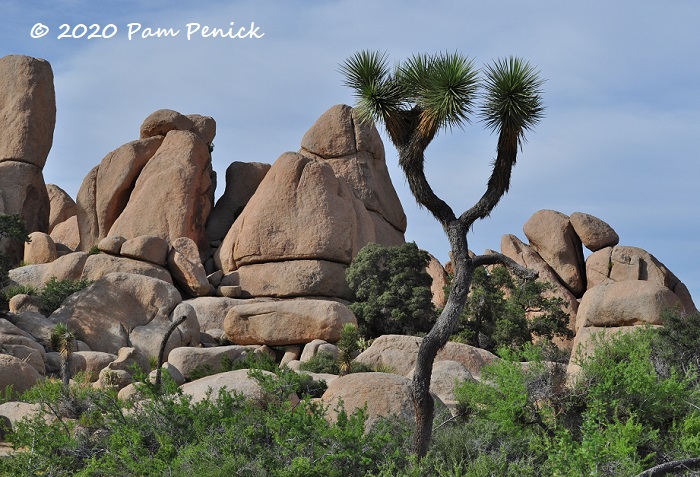 An undulating Joshua tree echoes the round shapes of the rocks.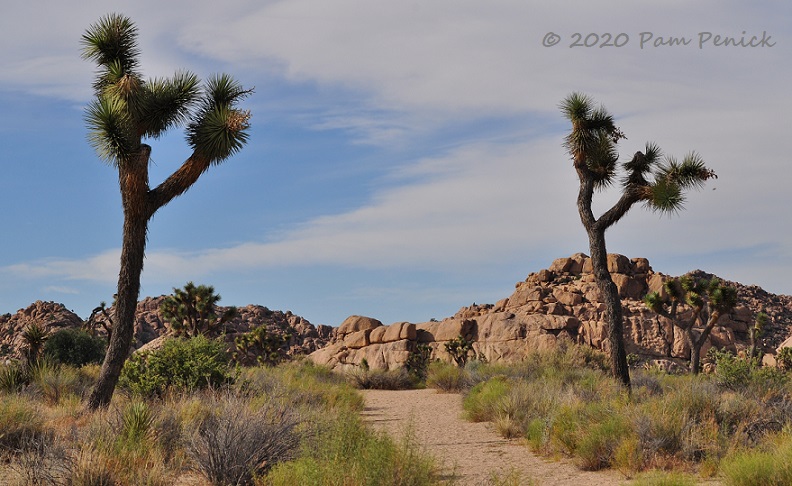 Amazingly for midsummer, it wasn't unbearably hot on the day we visited. I remember it being in the mid-80s. So we were able to explore a short trail or two, although mostly we took in the sights from pull-outs along the way.
We spotted a desert cottontail resting in the shade.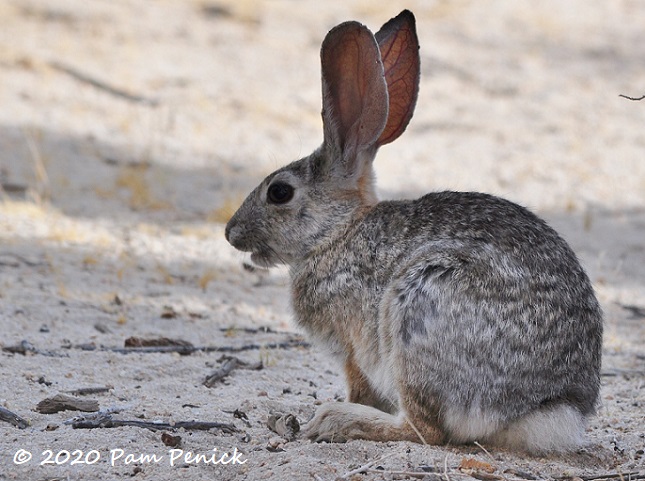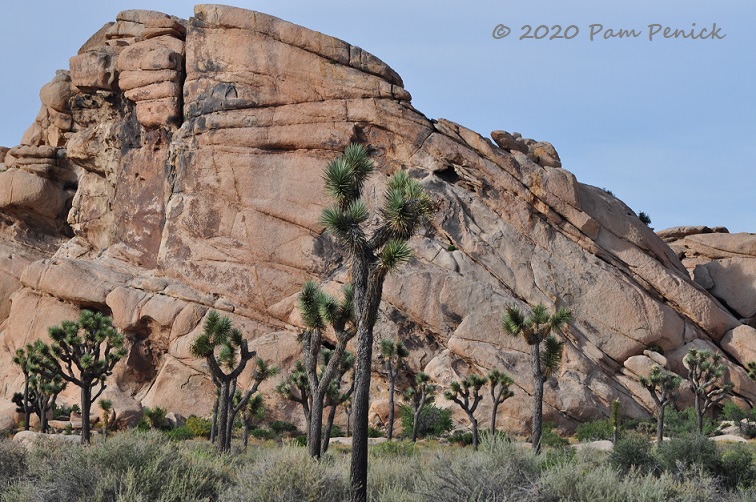 And vista after vista like this.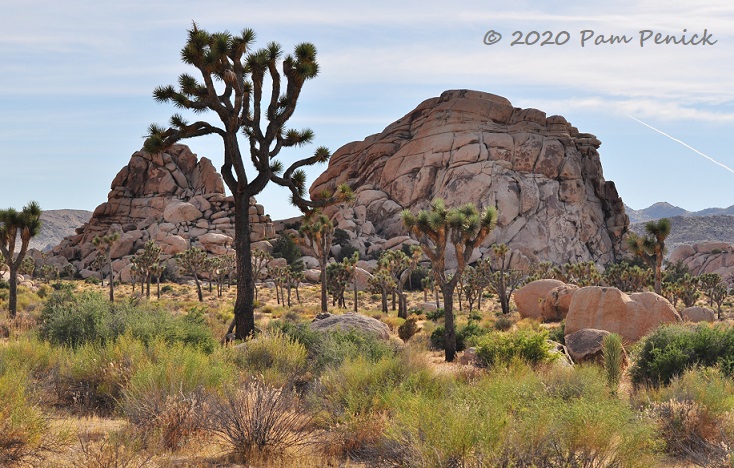 As the sun slid down the sky, the light got better, illuminating fine-textured plants and casting a warm glow on the rocks.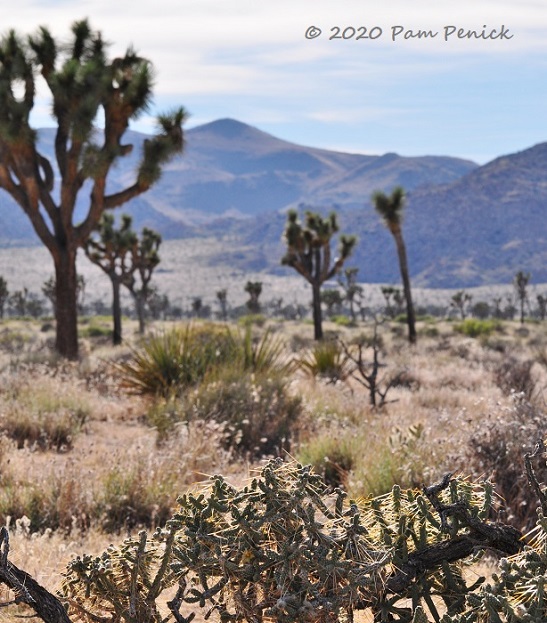 More cholla — not the teddy-bear kind — with Joshua trees and the Little San Bernardino Mountains in the distance. Or are these the Hexie Mountains? Both ranges march across the park.
Keys View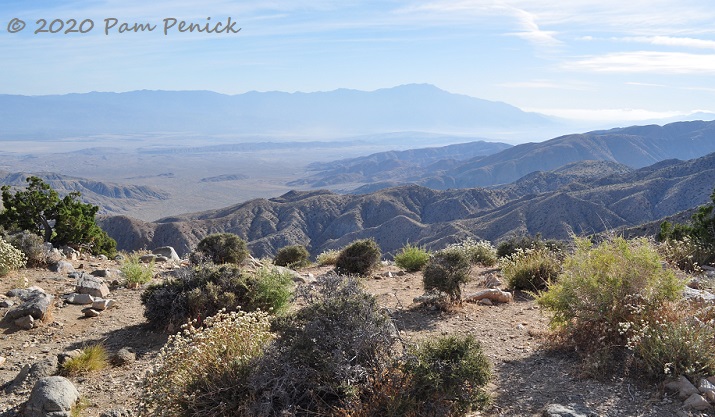 A 20-minute drive took us up to Keys View, the highest point in the park at 5,185 feet.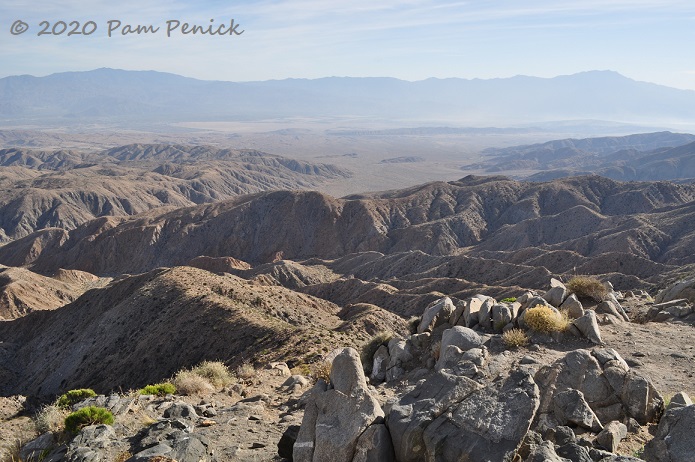 From here you can see the Coachella Valley, the Salton Sea, and even the San Andreas Fault.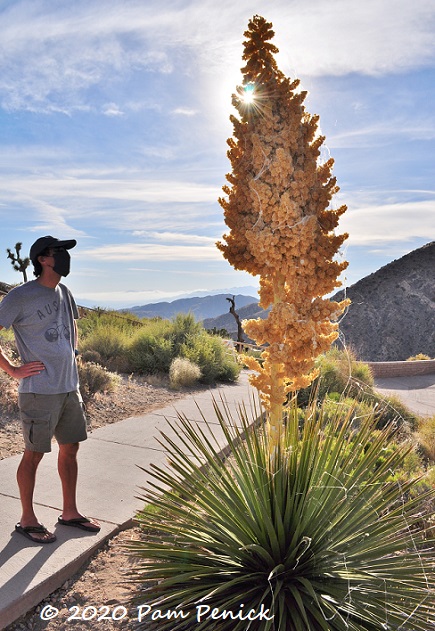 A high overlook can't compare to seeing this bad boy up close though! Check out the monstrously large bloom spike on a Parry's nolina. I got 6-foot-tall David to pose beside it for scale.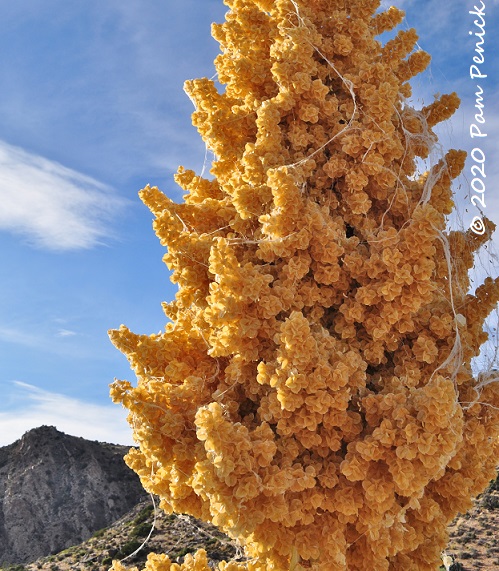 Online sources say the flowers of Parry's nolina are white. All the ones we saw were going to seed and had turned a lovely maize-yellow, and this one was festooned with gauzy silk…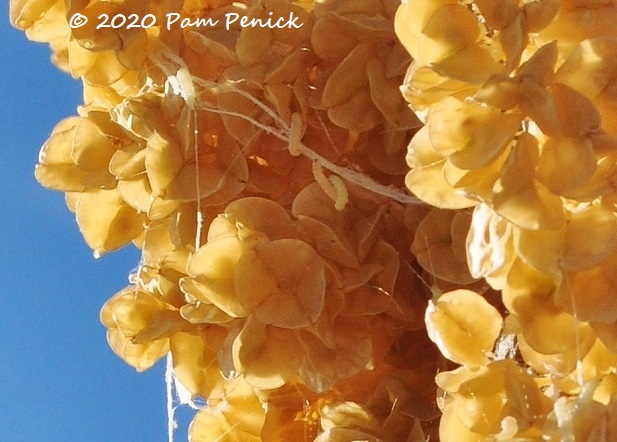 …from caterpillars?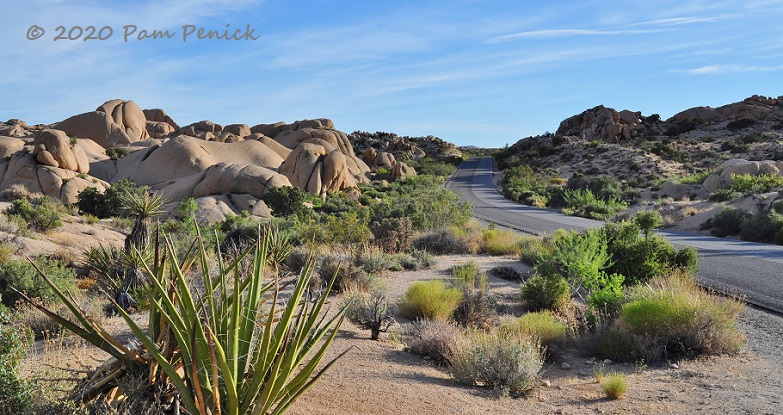 The desert road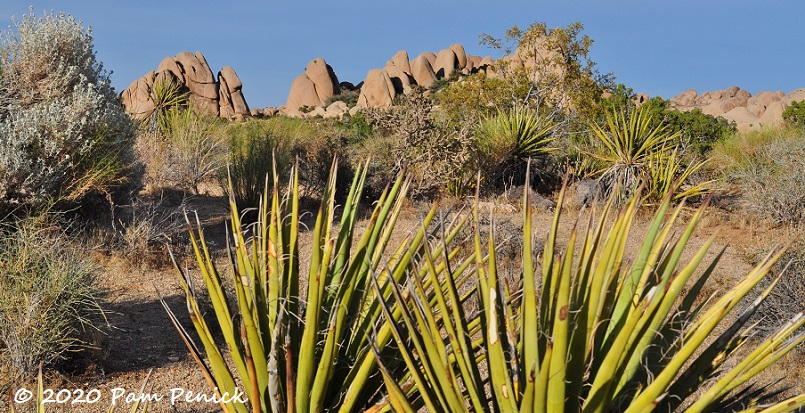 Skull Rock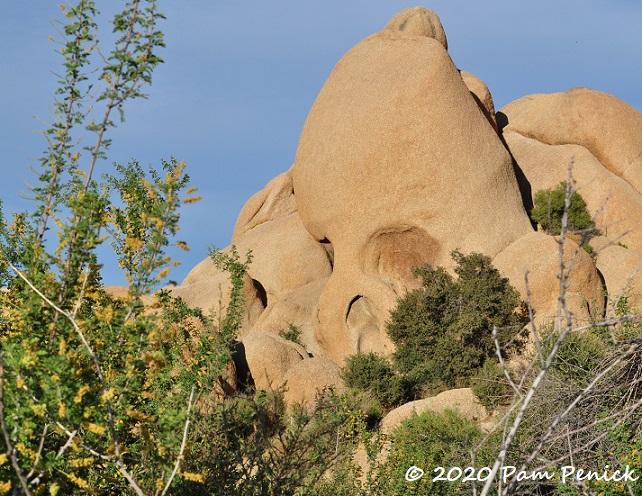 It's impossible not to squint at the rocks of Joshua Tree, as with clouds, and see animals or faces in them. Apparently everyone agreed on this one, and it's called Skull Rock.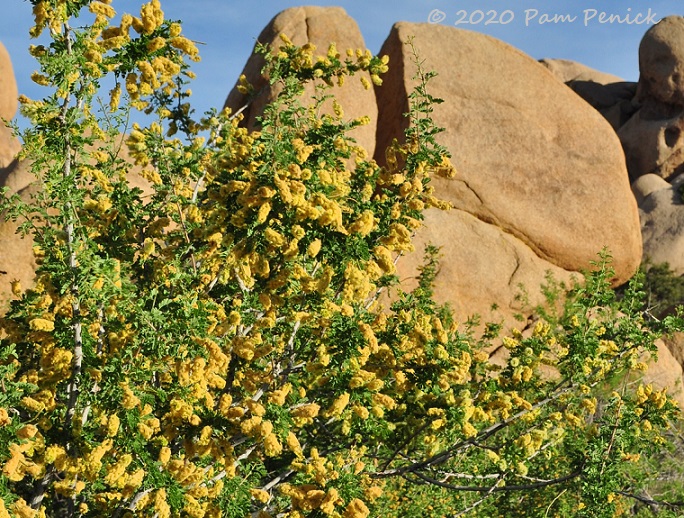 A flowering shrub nearby, maybe an acacia?
Cholla Cactus Garden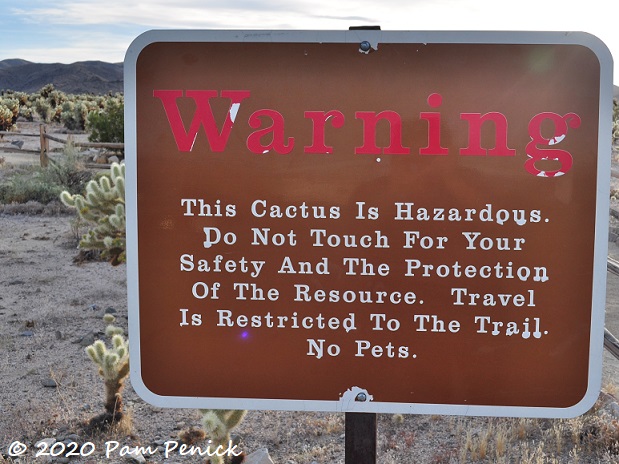 As soon as I unfolded the park map and saw Cholla Cactus Garden marked on the Colorado Desert side, I knew I wanted to see it at the golden hour. Entranced by Joshua Tree, we'd made a lot of stops along the way, and so we had to hustle to get there in time.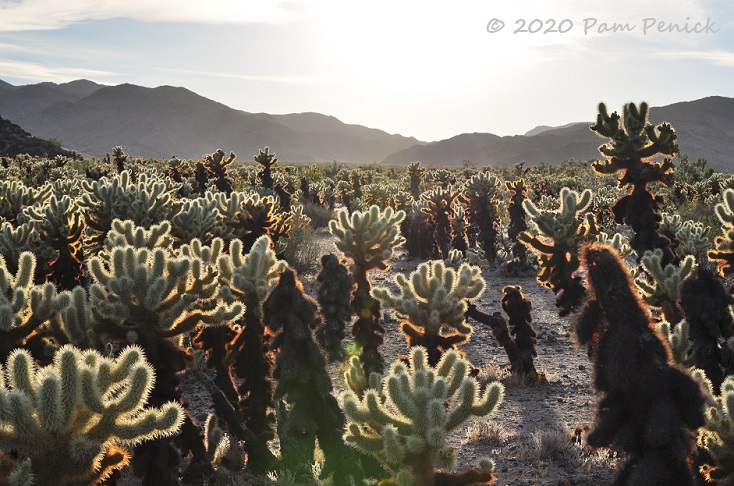 But we did. Our reward was acres of incandescent, "fuzzy" teddy-bear chollas.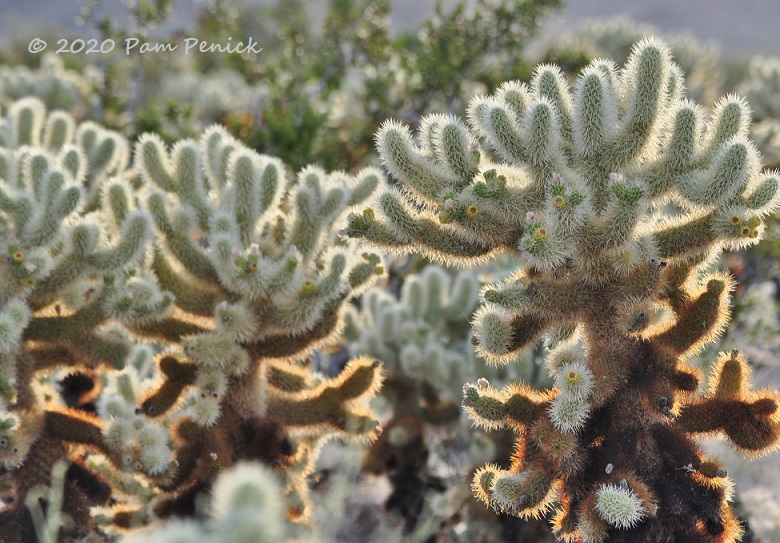 An elevated boardwalk leads through this natural cactus "garden," safe from stray cholla pads lying on the ground, although plenty were within arm's reach.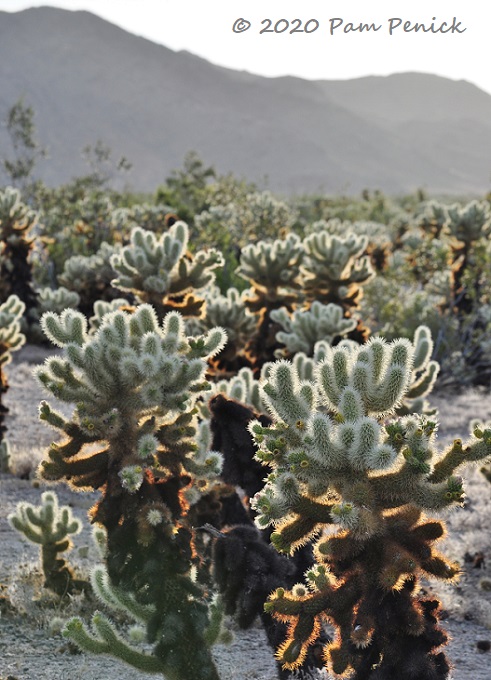 Mahogany-hued trunks of old pads support white-spined crowns.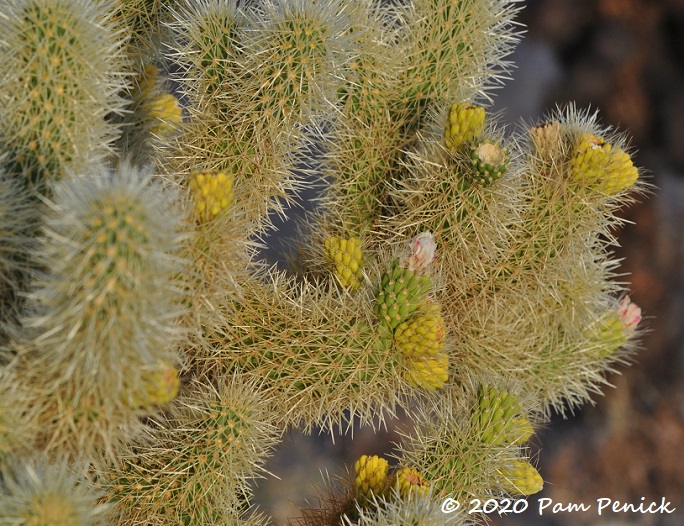 A close-up look — super spiny!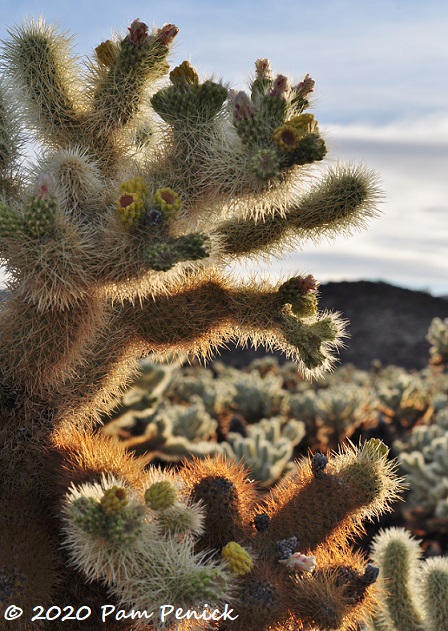 Uh-oh, it looks like this one is coming in for a hug.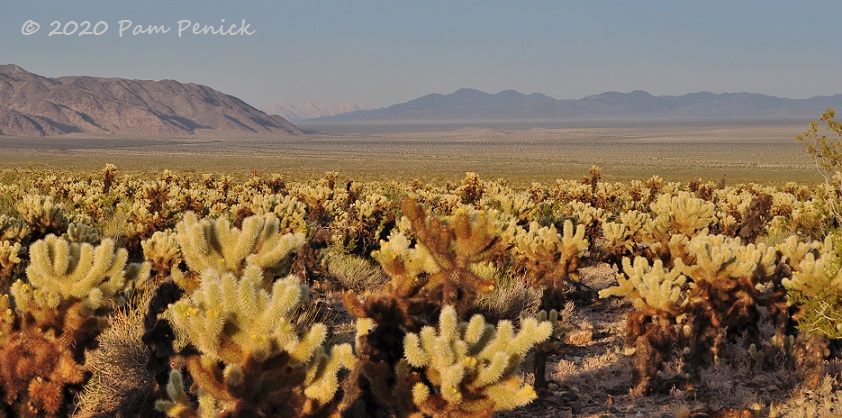 Cholla and distant lavender mountains — a harsh and dangerous landscape, but with its own beauty.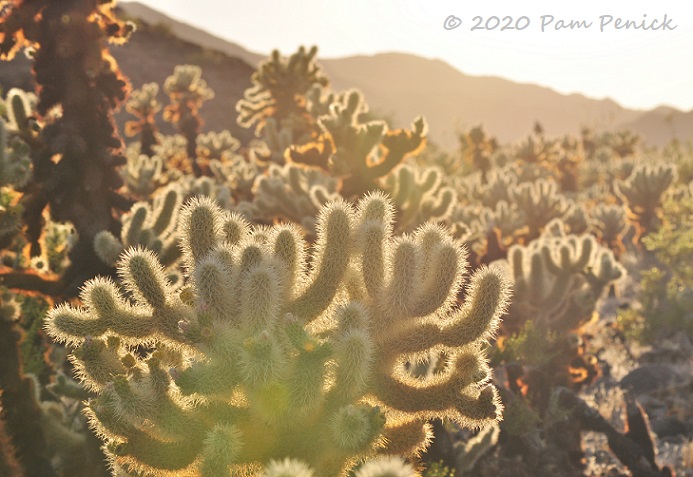 Golden hour — boom!
Up next: My final park visit, Saguaro National Park in Arizona. For a look back at the wildflowers and birds of Montaña de Oro State Park on the central California coast, click here.
I welcome your comments; please scroll to the end of this post to leave one. If you're reading this in a subscription email, click here to visit Digging and find the comment box at the end of each post.
_______________________
Digging Deeper: News and Upcoming Events
Join the mailing list for Garden Spark! Hungry to learn about garden design from the experts? I'm hosting a series of talks by inspiring garden designers, landscape architects, and authors a few times a year. Held in Austin, the talks are limited-attendance events that sell out quickly, so join the Garden Spark email list to be notified in advance. Simply click this link and ask to be added.
All material © 2020 by Pam Penick for Digging. Unauthorized reproduction prohibited.
[ad_2]

Source link