[ad_1]

December 10, 2020
Part 3 of my recent visit to San Antonio Botanical Garden to see the Origami in the Garden exhibition by Santa Fe artist Kevin Box takes us through the relatively new Culinary and Family Adventure gardens. Two festive Christmas trees greeted me just inside the entrance.
Zachry Foundation Culinary Garden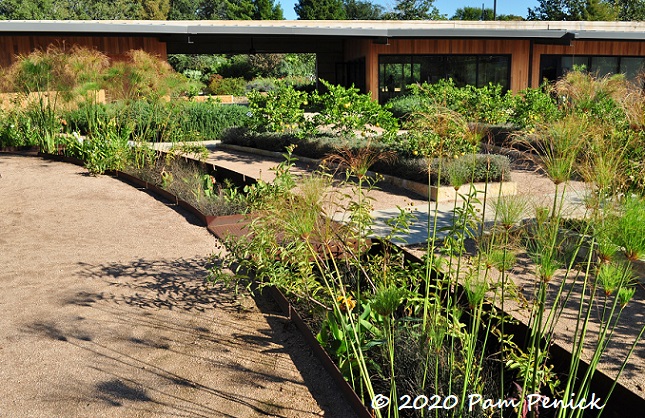 A week ago, just before an expected first freeze, the culinary garden was still green and productive. The curved bed in the foreground, with papyrus and yellow cannas popping up, is a below-grade swale garden.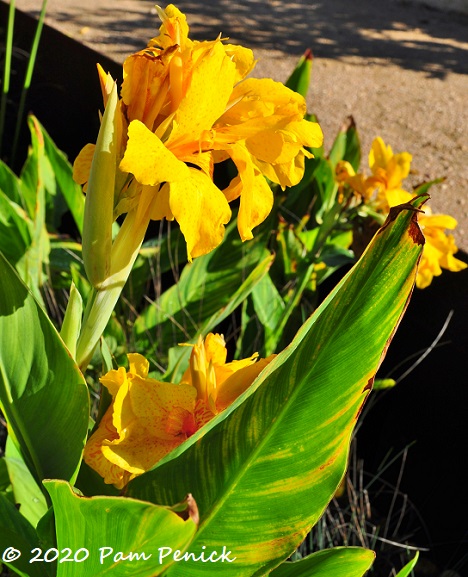 A sunny yellow canna growing in the swale is a reminder of summer.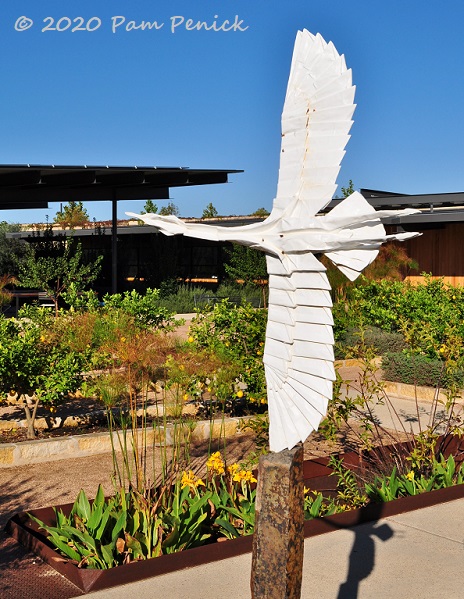 A large origami crane sculpture, Flying Peace, appears to soar across the garden.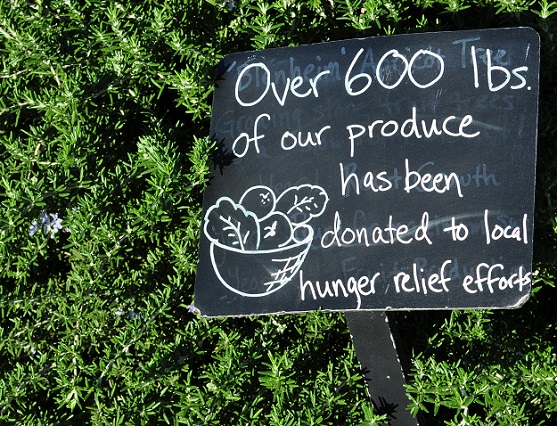 Where does all of the harvested food go? A sign indicates that a good bit of it is donated to hunger relief efforts.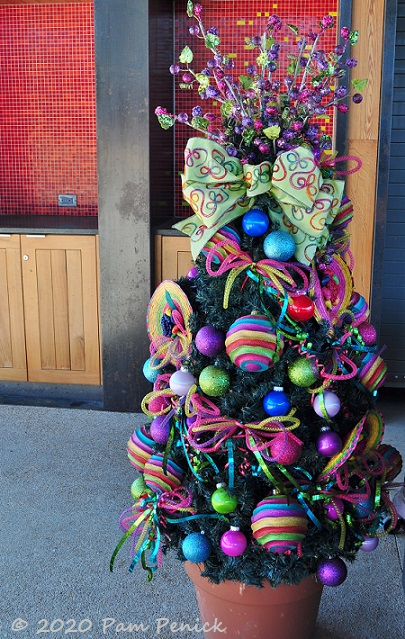 In the kitchen pavilion, a cheery little Christmas tree adds festive color.
Mays Family Display Garden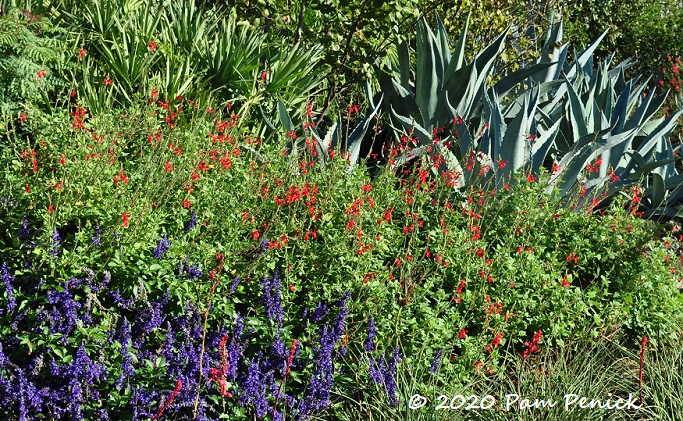 The big agaves and colorful salvias of the Mays Display Garden always make an impression as you exit the culinary garden.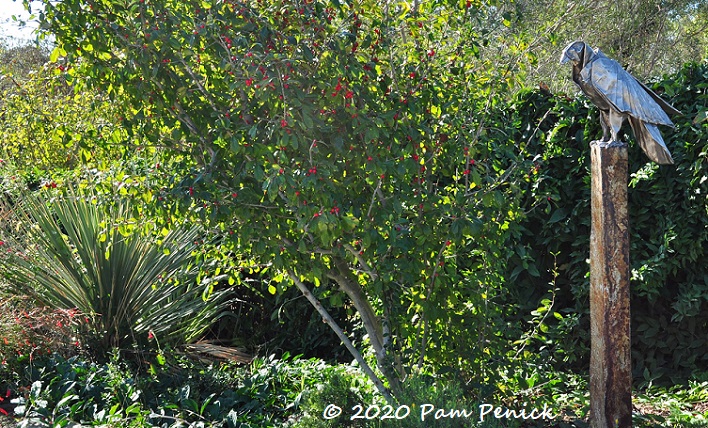 Another origami sculpture appears along the path, Who Saw Who? It's actually two parts, with a raptor perched atop a stone pillar and, out of frame to the left, a small silver mouse on a rock. I can see kids enjoying the discovery of the little mouse.
Family Adventure Garden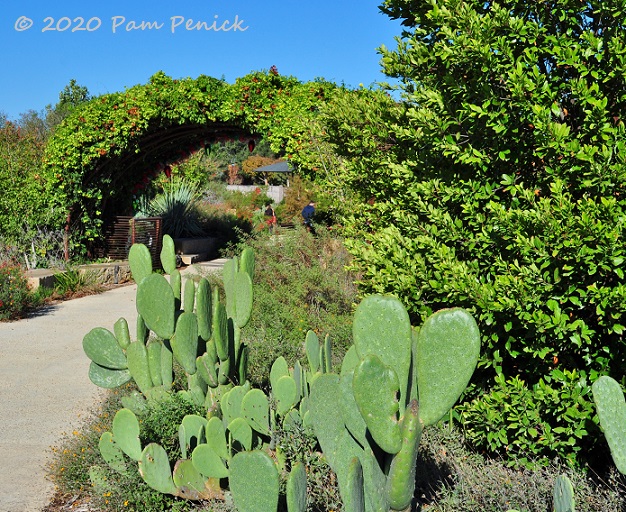 The Family Adventure Garden is one of my favorite spaces at SABG. You enter through a trellis tunnel of butterfly vine, with beds of bold native Texas plants all around.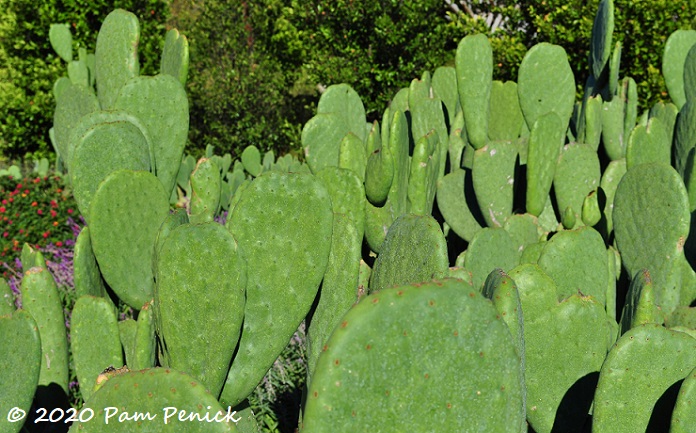 A healthy and happy hedge of prickly pear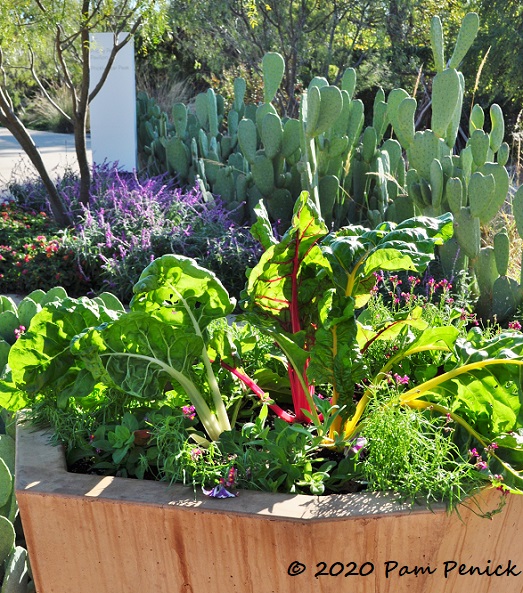 Chard is a fun surprise in a terracotta planter, with prickly pear and salvia massed behind it.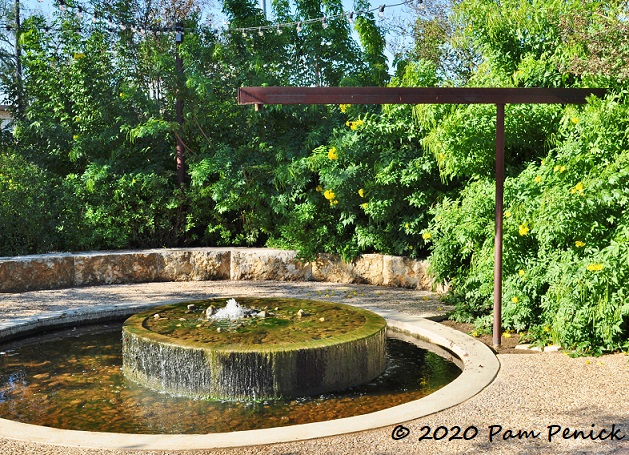 I always admire this round fountain and pool, although the steel trough wasn't running this time.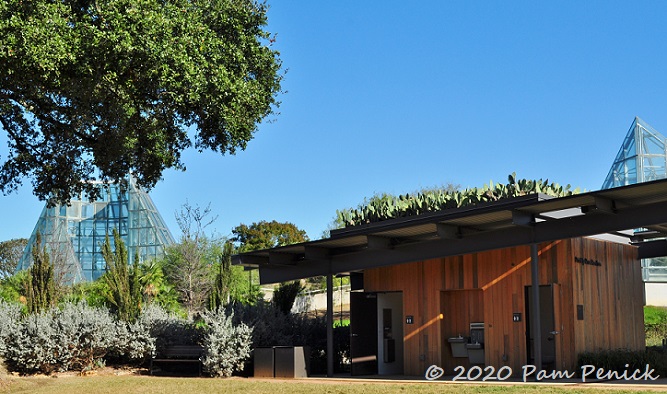 A green roof of prickly pear slants over the restrooms, with two of the conservatory's glass houses towering in the background.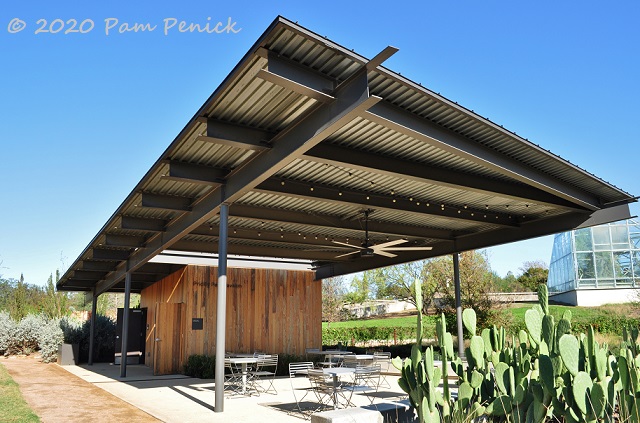 I'm kind of smitten with the design of this shade pavilion.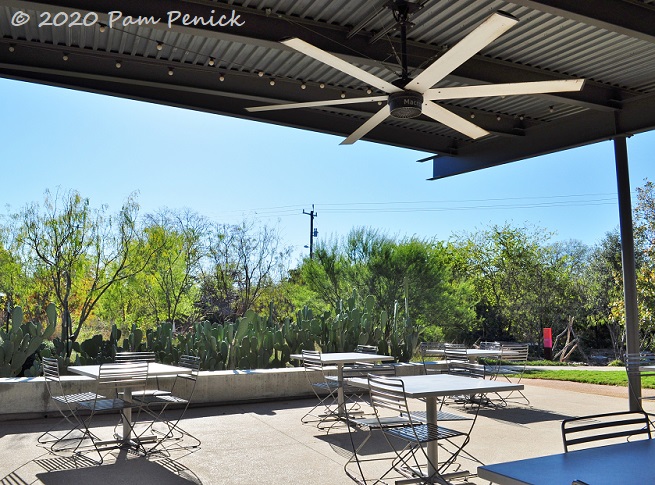 A shade roof, a big fan, and string lights — what more do you need in Texas? Maybe an ice-cold margarita.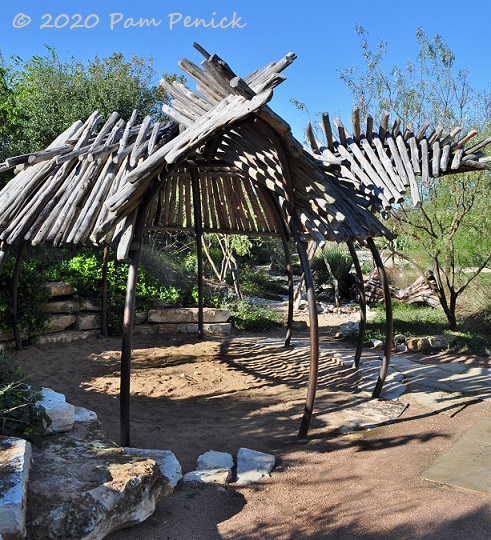 One of the sandboxes is shaded by a cedar-pole construction that reminds me of dinosaur bones.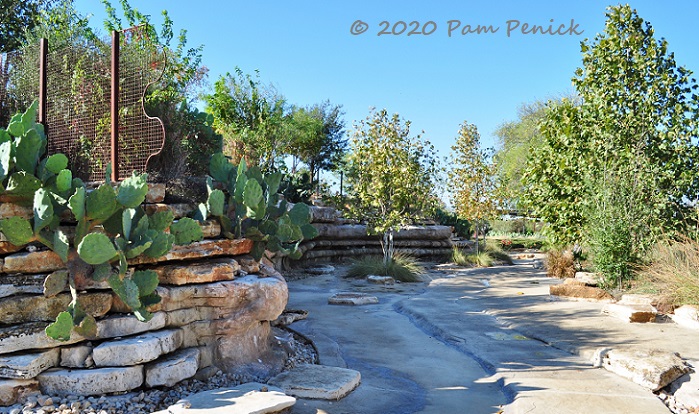 This manmade limestone cliff and creek wowed me when I first visited the Family Adventure Garden in 2018; click through to see the water feature in operation. At this time of year, the play creek is turned off, alas, presumably so parents don't have to worry about kids getting wet and cold. I wish the creek were always running, though, as the garden makes a lot less sense without it. (The Wildflower Center's family-garden creek always runs.)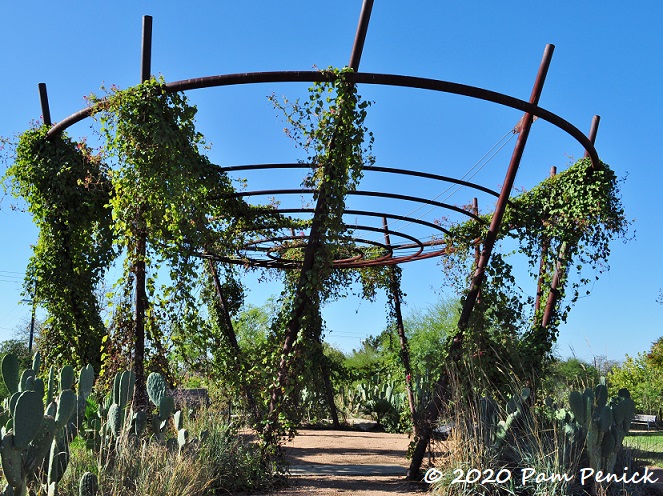 At the top of an overlook, this tornado-like arbor draws you in to sit on a bench and enjoy the view of surrounding gardens.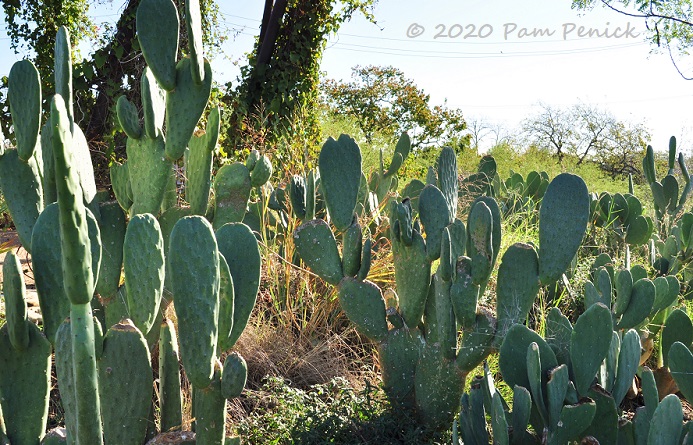 I always think of prickly pear as one of our native evergreen shrubs.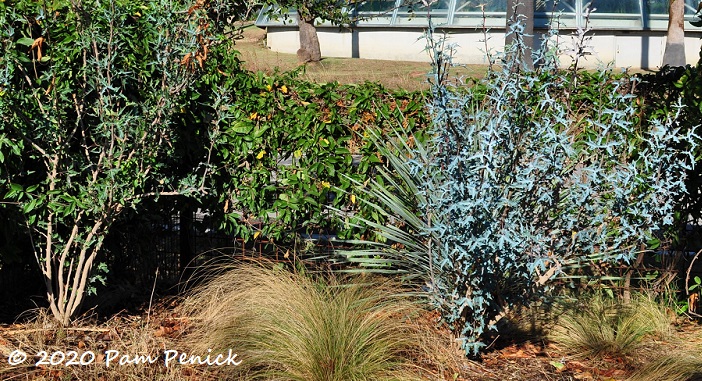 Here's another I like: agarita (Mahonia trifoliolata). Normally its holly-like leaves are glaucous green. But I saw two in this garden that were almost powder-blue. Here's a typical one (left) next to a powder-blue one. Pretty striking, right?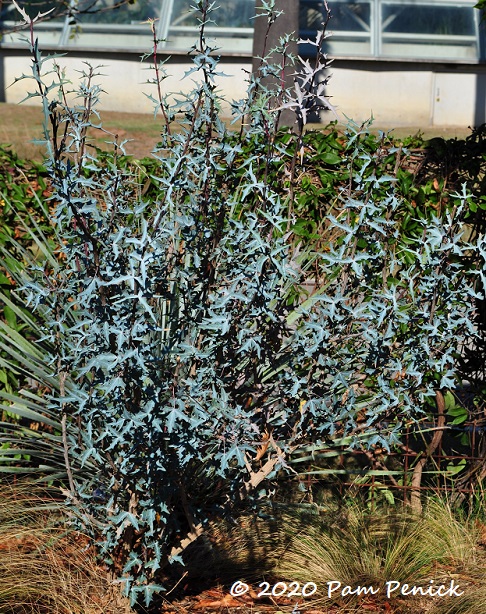 I want one of these powder-blue agaritas! Where can I find one, friends?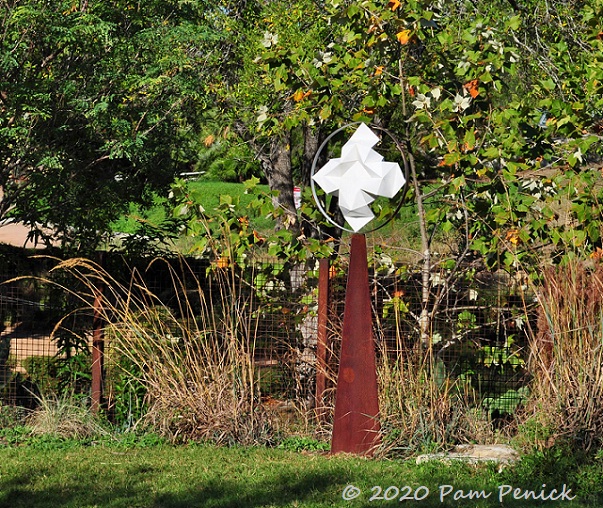 Kevin Box's Star Unfolding is a self-portrait, interestingly, and it has a particularly lovely placement amid rusty grasses and silver-flashing sycamore leaves.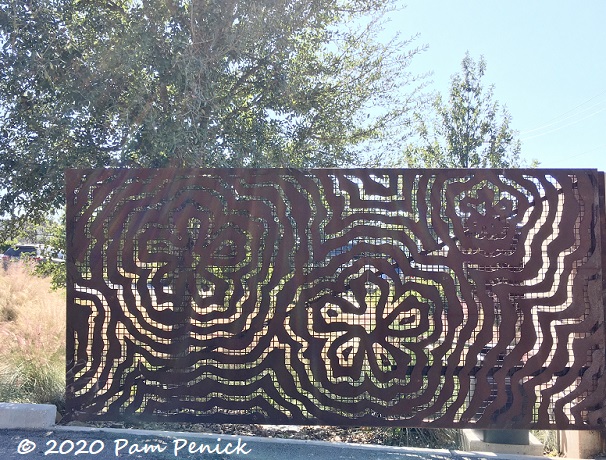 There were many more origami sculptures, not to mention other garden areas to explore, but that wraps this tour of SABG. I'll leave you with an image of a gate I coveted on my way out — a rusty steel, abstract flower design backed by a mesh grid. Wouldn't a design like this, smaller scaled, be fabulous for a residential garden gate? In my garden? Santa??
I hope you enjoyed the tour! For a look back at Part 2's exploration of the tropical conservatories, Japanese garden, and more origami sculptures, click here.
I welcome your comments; please scroll to the end of this post to leave one. If you're reading this in a subscription email, click here to visit Digging and find the comment box at the end of each post.
_______________________
Digging Deeper: News and Upcoming Events
Join the mailing list for Garden Spark! Hungry to learn about garden design from the experts? I'm hosting a series of talks by inspiring garden designers, landscape architects, and authors a few times a year. Held in Austin, the talks are limited-attendance events that sell out quickly, so join the Garden Spark email list to be notified in advance. Simply click this link and ask to be added.
All material © 2020 by Pam Penick for Digging. Unauthorized reproduction prohibited.
[ad_2]

Source link