December 07, 2020
I first admired Kevin Box's playful origami sculptures on Canyon Road in Santa Fe. Now he's exhibiting his work at San Antonio Botanical Garden through early May 2021. I kept wanting to visit this fall but couldn't find time until last weekend, when my husband and I made a quick day trip before a predicted freeze.
Origami in the Garden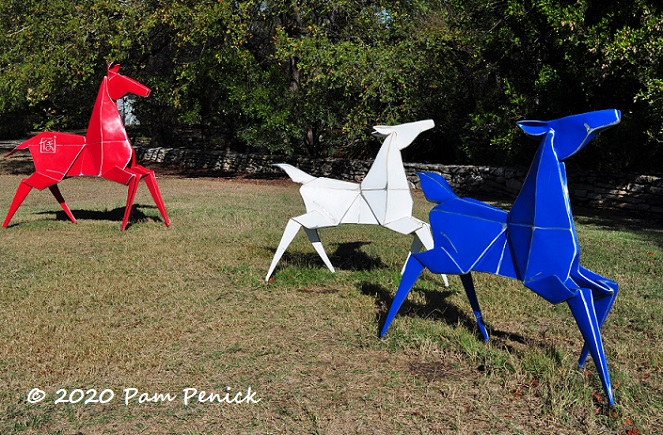 Kevin Box lives in Santa Fe, New Mexico, and some of his pieces feature Southwestern imagery, including Painted Ponies and White Bison. Others feature cranes, a traditional origami design. He made the works in collaboration with his wife, Jennifer Box, and origami artists Robert J. Lang, Te Jui Fu, Michael G. LaFosse, and Beth Johnson. Each piece began as a paper design — origami is the Japanese art of folding paper without cutting or taping to create a sculptural representation — that was then translated into steel.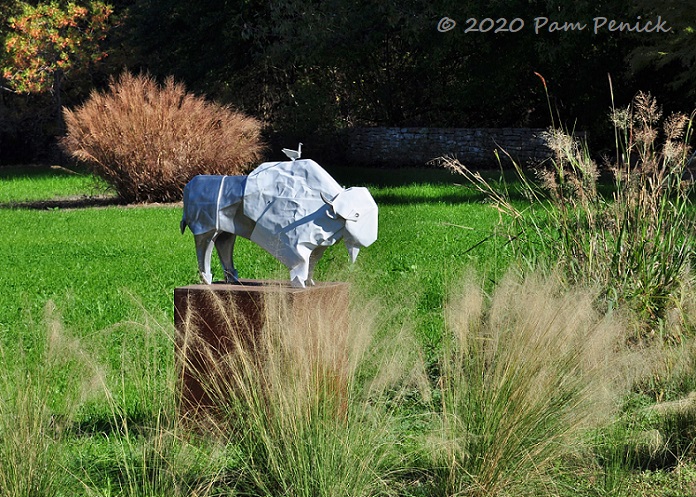 We spent a few hours soaking up the late season beauty and enjoying the sculptures placed throughout the gardens. I especially enjoyed White Bison's placement among flowering grasses, as they evoke the tall-grass prairies where buffalo once roamed — both now ghosts of their former grandeur.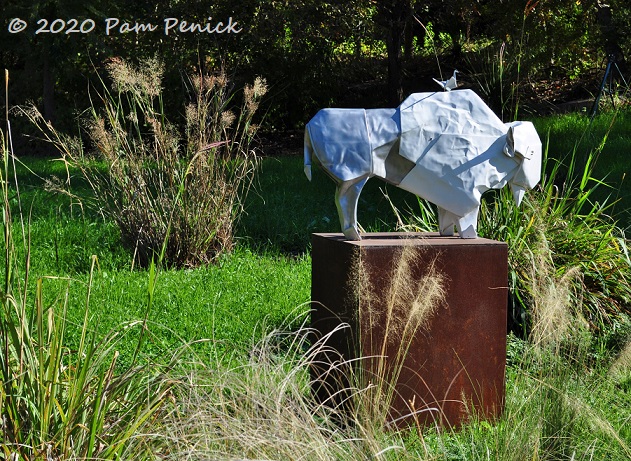 I have a lot of pictures, so this will be Part 1 of three posts about SABG and Origami in the Garden.
Texas Native Trail: East Texas Pineywoods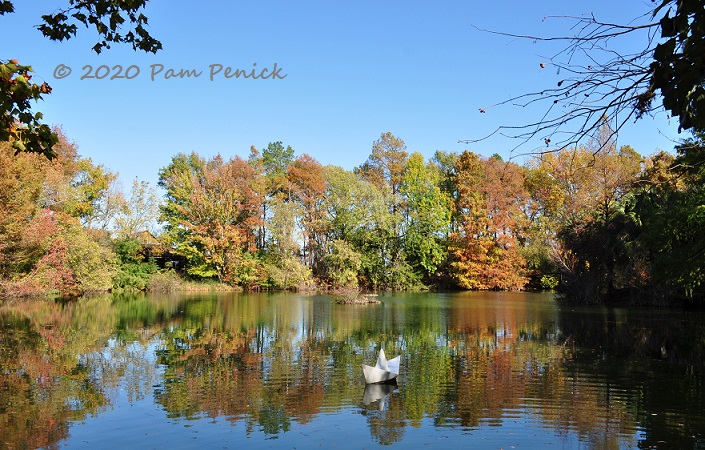 A paper boat is the one origami design I still know how to make, having learned as a kid, so I particularly enjoyed this one. Paper Navigator floats in a small lake in the East Texas Pineywoods garden along the Texas Native Trail. Some of the trees around the lake were blushing orange and yellow, making a pretty fall picture.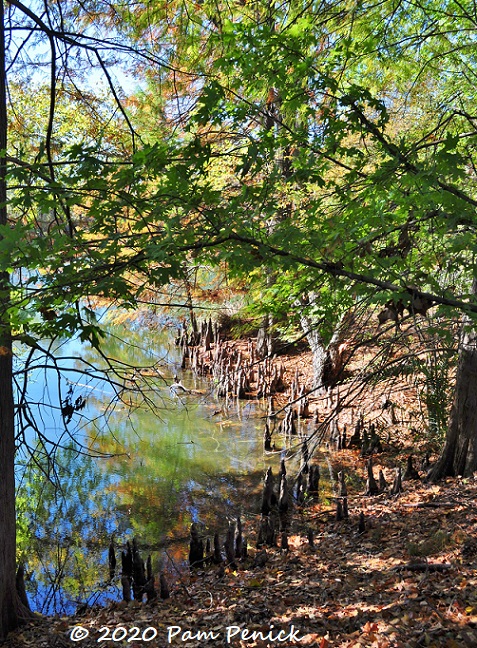 Bald cypress knees poke up from the water's edge. I had read somewhere that cypress knees help this swamp-loving tree keep its roots aerated. But I just googled it, and as it turns out, no one knows for sure why cypresses do this. For now it remains a botanical mystery.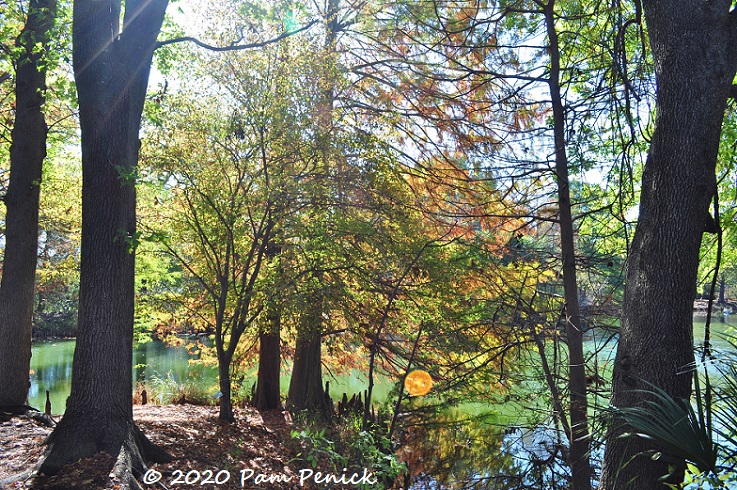 Beautiful light falling through the trees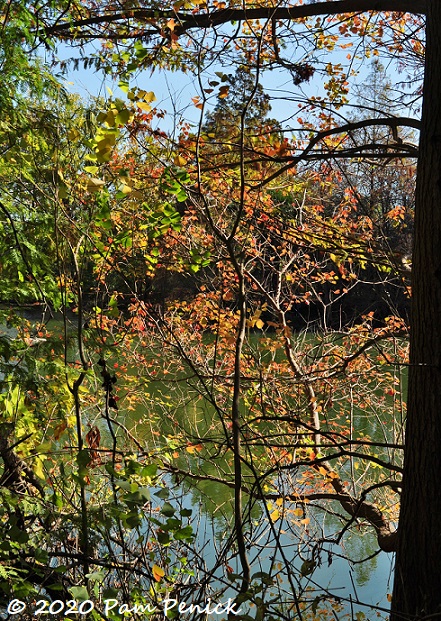 We don't get a lot of fall color in Texas, but if you look around you'll still find some.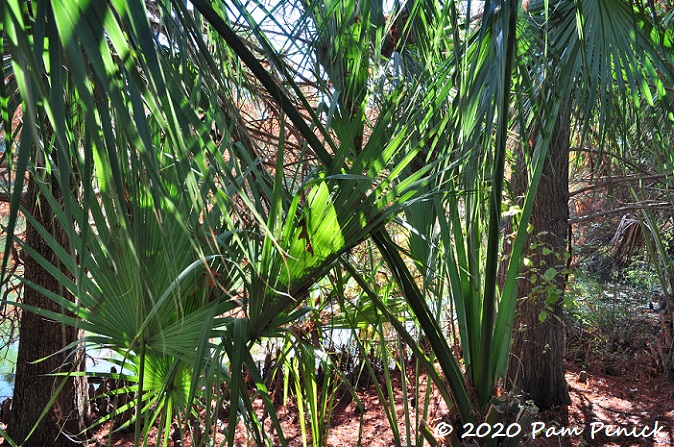 Evergreens deserve admiration too, of course, and these palmetto leaves streaked with sunlight looked especially beautiful.
Texas Native Trail: South Texas Plains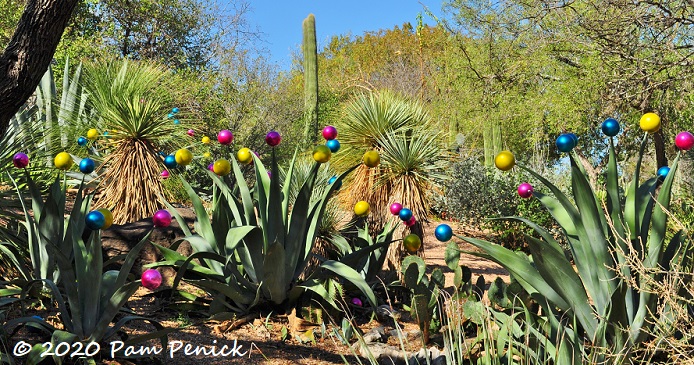 As we entered the South Texas Plains section of the Texas Native Trail, I was delighted to see agaves decked out for Christmas.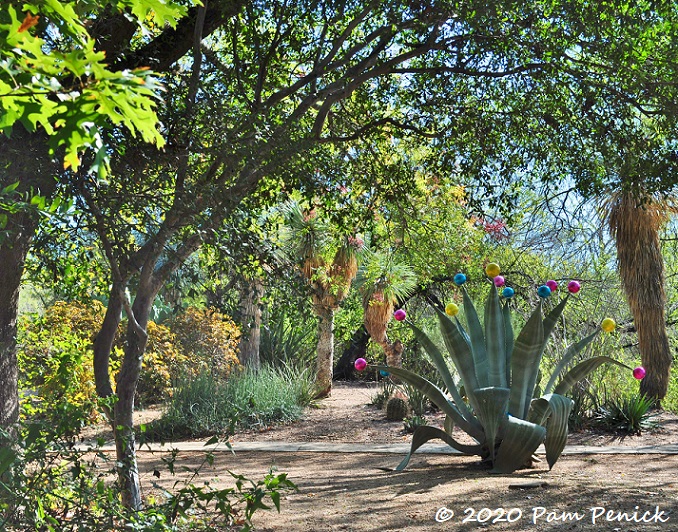 With rings on her fingers and bells on her toes…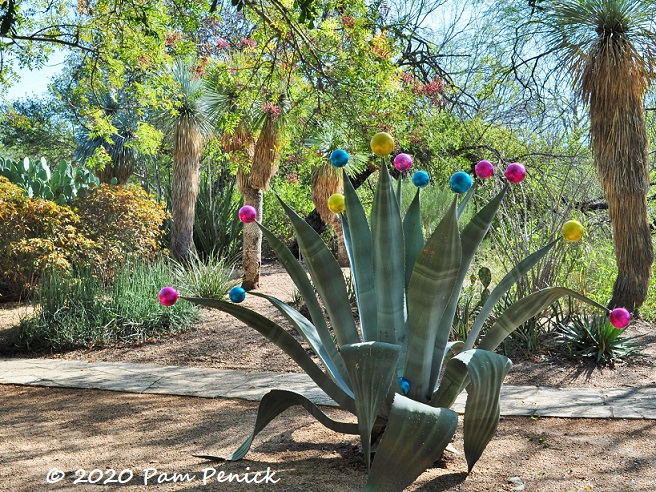 For my fellow agave-growing friends, do you decorate your agaves for Christmas? I sometimes do, but now that I'm caging my big agaves from deer, it's not quite the same effect.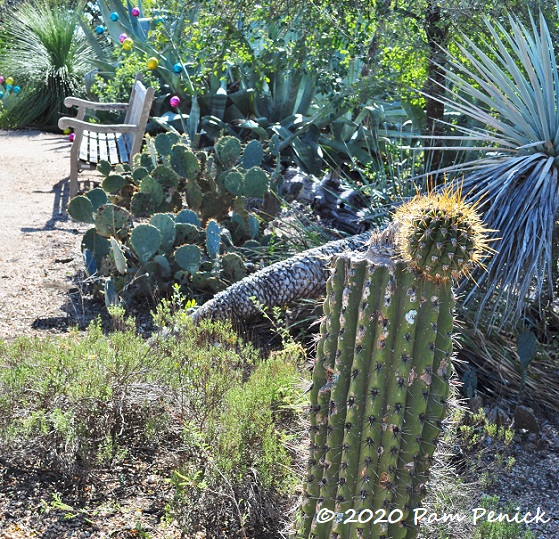 A natural ball "ornament" is growing at the top of this decapitated cactus.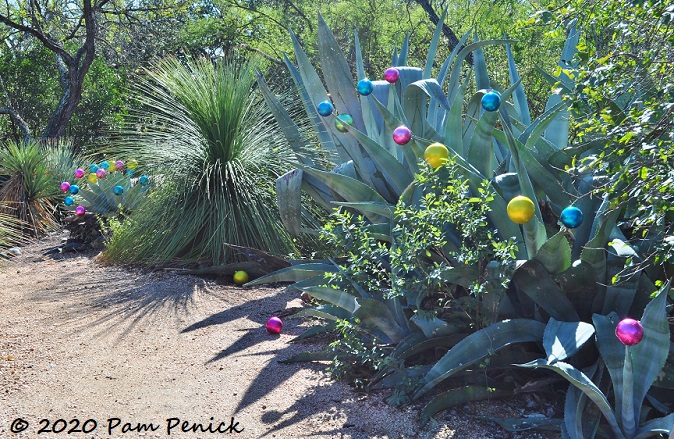 More agave holiday goodness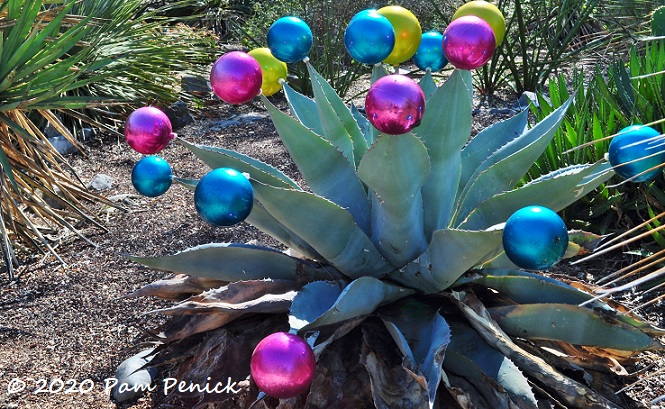 Even this little whale's tongue agave is getting into the act with oversized Christmas balls.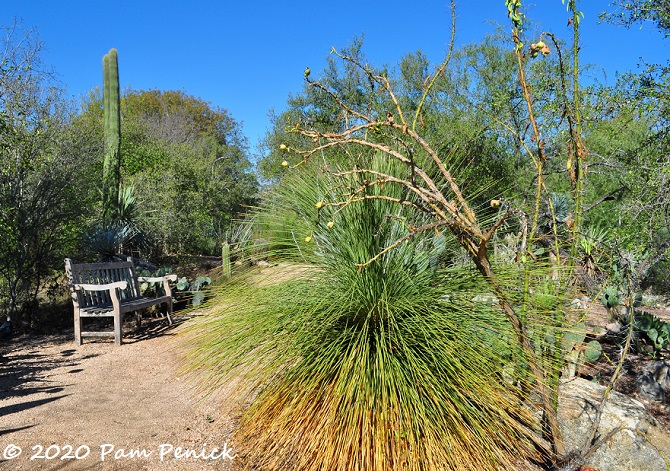 Mexican grass tree echoes the spherical shape of the glass balls.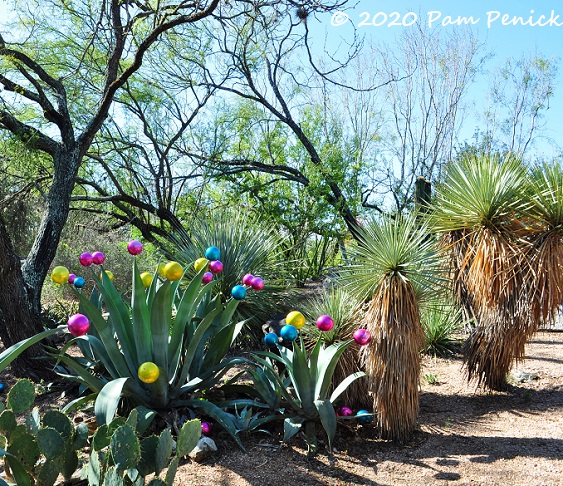 So festive!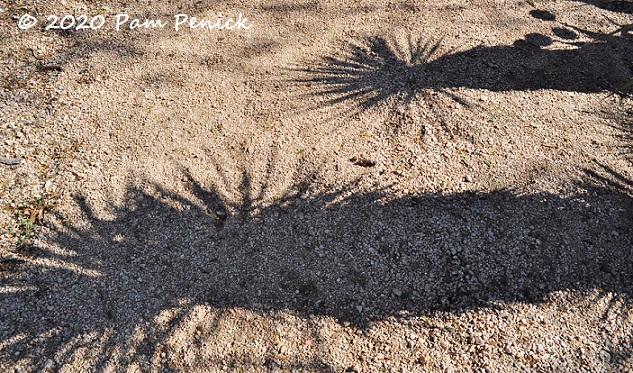 Spiky-headed yucca shadows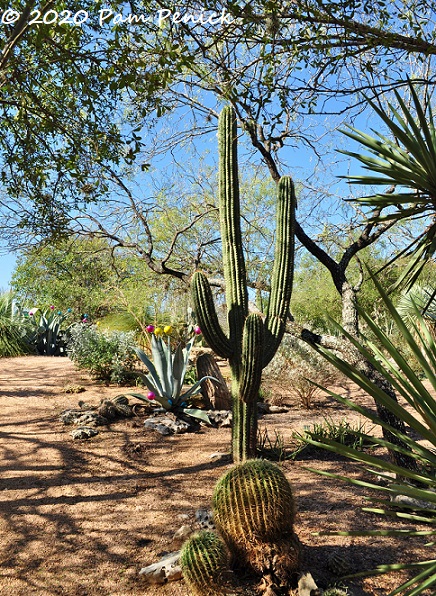 Argentine saguaro, I think, with some big golden barrel cacti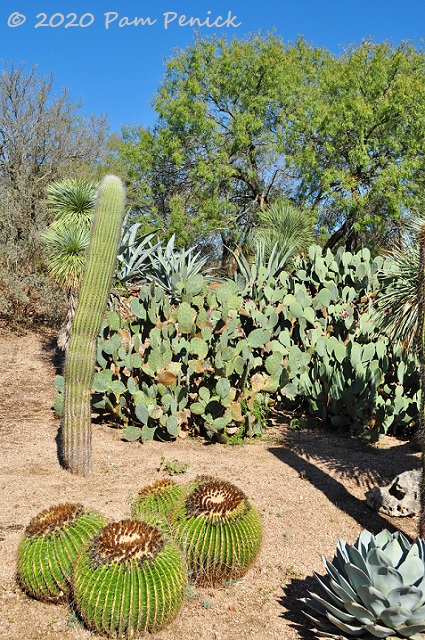 I don't think I'd ever fully appreciated this section of the garden before. Everything was looking big and beautiful under a bright blue sky.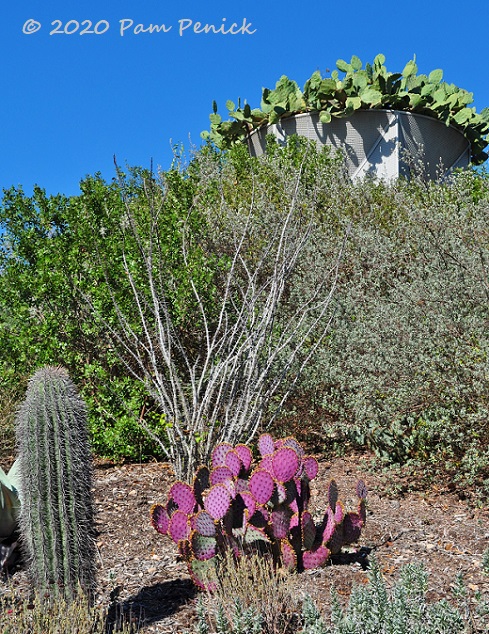 And ka-pow! Check out the purple coloring on this prickly pear — probably 'Santa Rita'. A leafless ocotillo stands behind, leading the eye up to a prickly-pear-roofed shade pavilion atop an overlook.
Watersaver Garden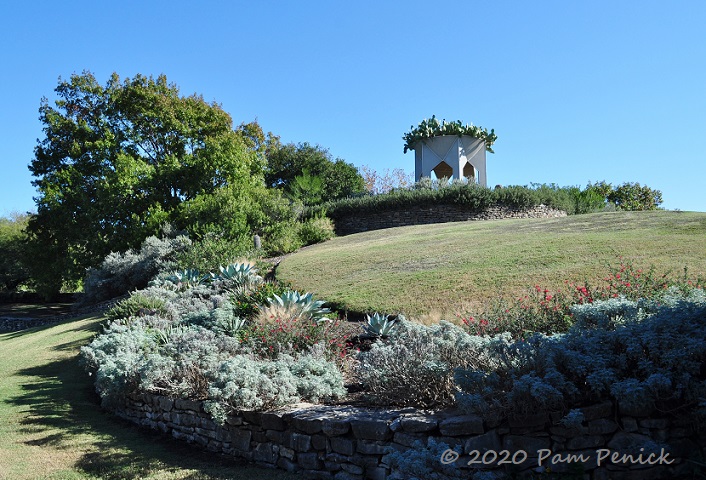 A silvery-blue xeriscape garden of artemesia, agaves, grasses, and flowering perennials swoops across the hillside below the prickly pear pavilion.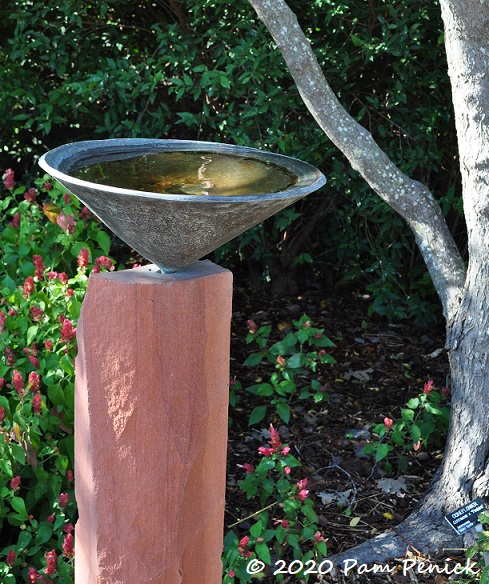 I've always admired these conical water vessels — there are 2 or 3 — in the shaded garden nearby.
More origami sculptures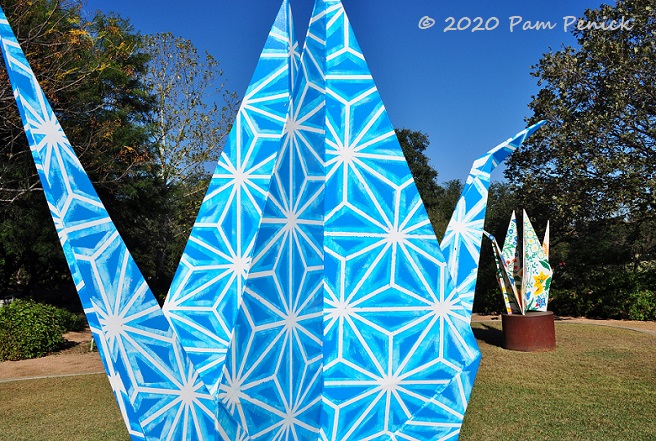 Two monumental crane sculptures occupy a small lawn near the Lucile Halsell Conservatory. This is Blooming Stars.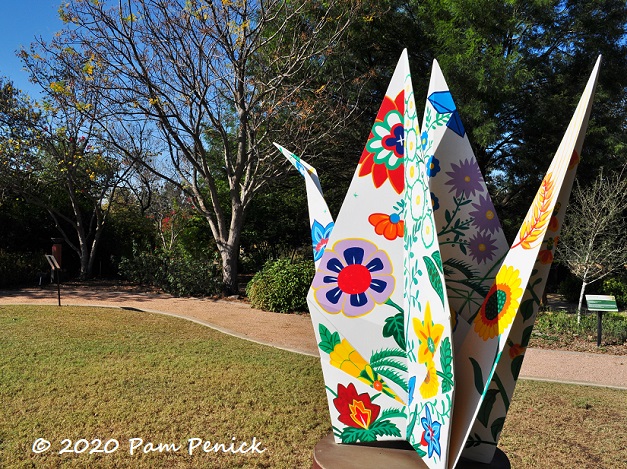 And this is Botanical Peace 2, which features on one side a flower design that "creates a habitat for a caterpillar, a chrysalis, butterflies and birds."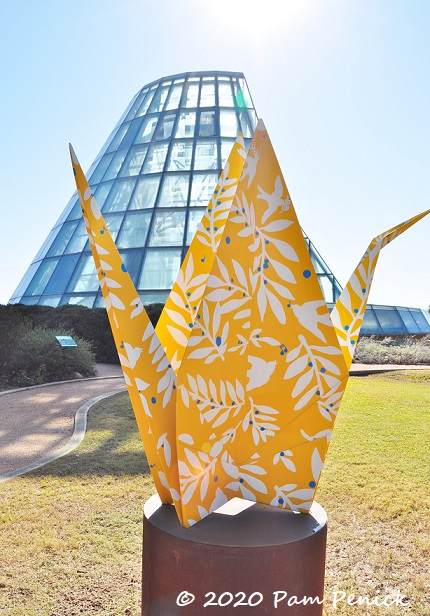 "On the other side, olives and branches offer food and shelter to songbirds." Its triangular shape riffs on the pyramidal conservatory behind it. The success of a sculpture exhibition in a garden depends largely on placement, and I think SABG has done a good job of referencing the garden with Box's origami sculptures.
Up next: Part 2 of my visit to SABG, including the tropical and desert conservatories and the Japanese Garden.
I welcome your comments; please scroll to the end of this post to leave one. If you're reading this in a subscription email, click here to visit Digging and find the comment box at the end of each post.
_______________________
Digging Deeper: News and Upcoming Events
Join the mailing list for Garden Spark! Hungry to learn about garden design from the experts? I'm hosting a series of talks by inspiring garden designers, landscape architects, and authors a few times a year. Held in Austin, the talks are limited-attendance events that sell out quickly, so join the Garden Spark email list to be notified in advance. Simply click this link and ask to be added.
All material © 2020 by Pam Penick for Digging. Unauthorized reproduction prohibited.