[ad_1]

May 24, 2020
After years of coveting oakleaf hydrangeas (Hydrangea quercifolia) I'd seen in other Austin gardens, I found a shady, relatively moist spot to plant one of my own. Near an air-conditioning unit's condensate discharge, which directs water toward this bed, and shaded by a large crape myrtle, this white-flowering, deciduous shrub has grown quickly and bloomed beautifully the past two springs.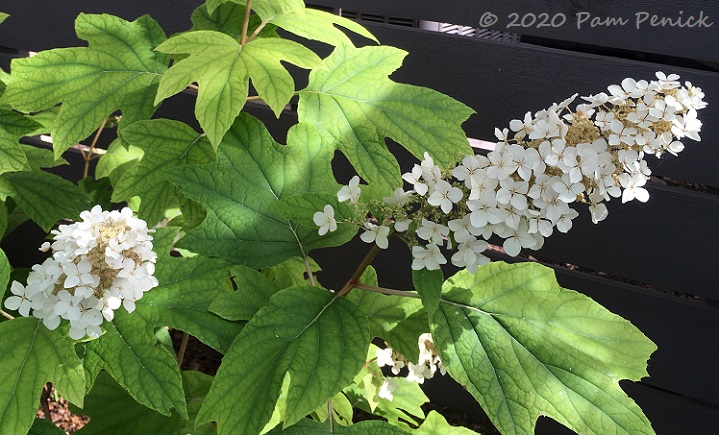 But this year it shows signs of chlorosis — yellowing leaves with dark-green veins — caused by iron deficiency in alkaline soil. I've never had my soil tested, but I can guarantee it's alkaline because of all the limestone in the ground here in Austin. Like azaleas, camellias, and other Southern garden classics, hydrangeas prefer acidic soil, which is found throughout the Southeast but not so much in Texas, except maybe the East Texas pineywoods.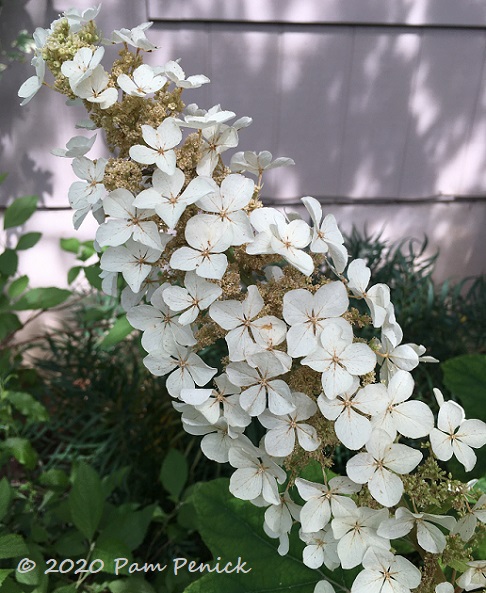 Oakleaf hydrangea can tolerate more alkalinity than other hydrangeas, so it's pretty much the only variety that grows here in Central Texas. The French mophead (Hydrangea macrophylla) found throughout the South, whose flowers turn blue or pink depending on acidity level, doesn't thrive here at all. But in richer, deeper soils around town, you'll see oakleaf hydrangea, just as you'll see Southern magnolia eking out an existence here at the western edge of its range.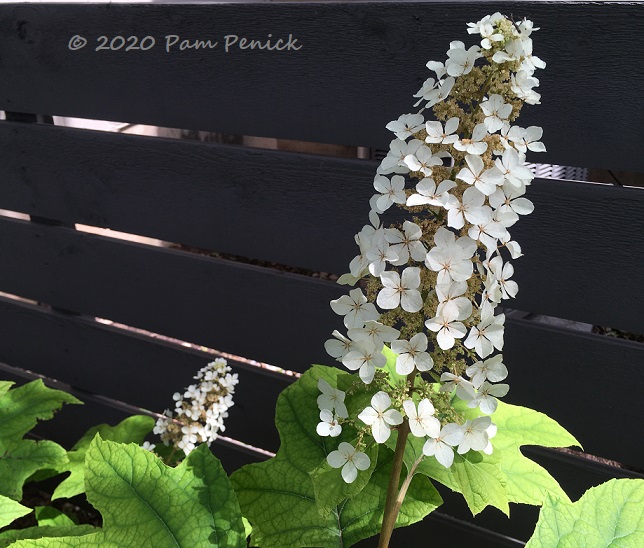 I knew this before planting my oakleaf hydrangea. It's partly why I resisted planting one for so long — that and its need for regular watering. But those beautiful white flower clusters and big, lush leaves seduced me. I've already sprinkled pellets of soil acidifier around it, as well as around some loropetalums that are also showing signs of chlorosis. I hope that'll be enough to keep them happy because I won't take extreme measures to grow a plant that would rather be growing someplace else.
How about you? Are you growing oakleaf hydrangea or any other acid-loving plant in Texas, and what has your experience been?
I welcome your comments; please scroll to the end of this post to leave one. If you're reading this in a subscription email, click here to visit Digging and find the comment box at the end of each post.
_______________________
Digging Deeper: News and Upcoming Events
Donate to the Tom Spencer Million Trees for Austin Fund, established by TreeFolks in March 2020 to honor Tom Spencer, a tireless environmental advocate and longtime host of Central Texas Gardener. Tom's bold vision of planting another million trees in the Austin community inspired TreeFolks to pursue this goal, and they invite others to join the campaign. In Tom's own words, "Plant trees, plant hope."  For information about making an annual gift, stock donation, or charter contribution, please call Andrew W. Smiley, TreeFolks Executive Director at 512-413-7774, or visit their website for additional information.
Join the mailing list for Garden Spark! Hungry to learn about garden design from the experts? I'm hosting a series of talks by inspiring garden designers, landscape architects, and authors a few times a year. Held in Austin, the talks are limited-attendance events that sell out quickly, so join the Garden Spark email list to be notified in advance. Simply click this link and ask to be added.
All material © 2020 by Pam Penick for Digging. Unauthorized reproduction prohibited.
[ad_2]

Source link